February 2015
City 1 Barcelona 2
Feb 24th 2015 45,550
Champions League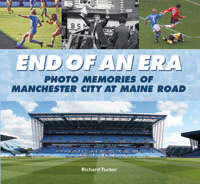 Now available from Amazon ( click on image for link)
WH Smith and the City shop
All looked lost at half time with Barcelona ahead by two goals after a poor display by a City team completely outplayed by the visitors. However City came to life in the second half and a good goal by Aguero kept us in the game. Then a clumsy foul by Clichy lead to a second yellow card and then a red so City had to see out the last 20 minutes with ten men. With only seconds to go of additional time Zabaleta fouled Messi in the penalty area and it was a penalty. Fortunately for City Joe Hart made a terrific save and Messi headed wide from the rebound. So it could have been much worse so maybe we could pull off a miracle again! Send for Paul Dickov !
It was a strange selection to see two up front. I know Dzeko had his best game for City a few days earlier against Newcastle but this was different opposition. The absence of the suspended Yaya Toure did not help and we were totally outplayed in midfield and I am afraid the defence were well out of their depth at times. The return of Suarez to these shores together with the brilliance of Messi and the power of Neymar was just too much for City in the first 45 minutes and on this form I struggled to understand Barca were beaten at home in their last game. As for City they have to get their act together ready to face Liverpool this coming weekend.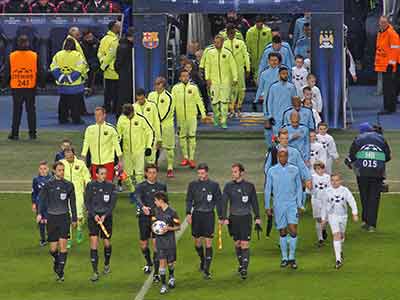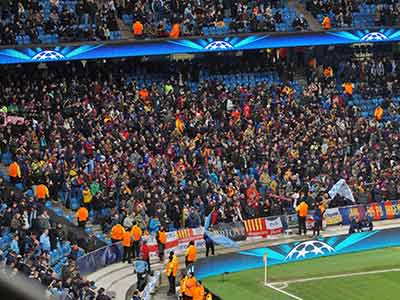 Milner returned and Dzeko and Aguero lead the line. Clichy came in at left back and Demichelis was preferred to mangala
Barcelona did not sell all their tickets so there were some empty spaces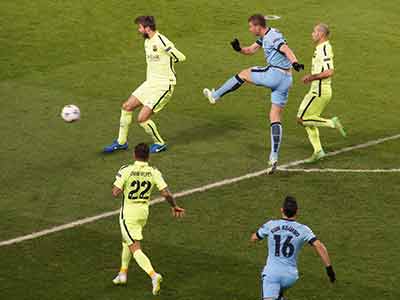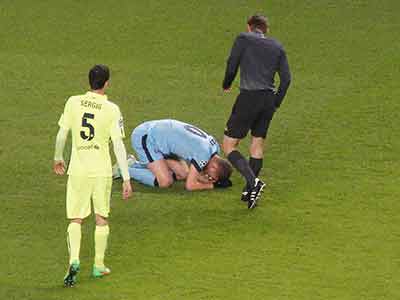 a shot by Dzeko is blocked after 6 minutes
a minutes or so later a strong clarence hits him low down - ouch!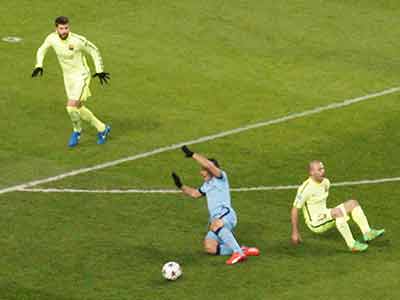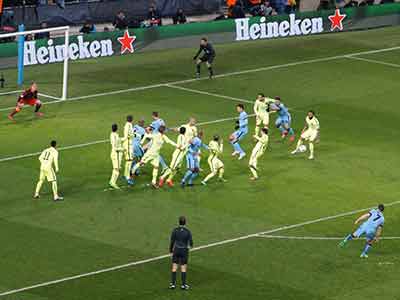 on 7 minutes Mascherano brings down Aguero but Milner's free kick hits the wall and is cleared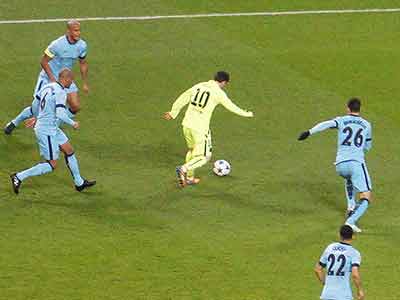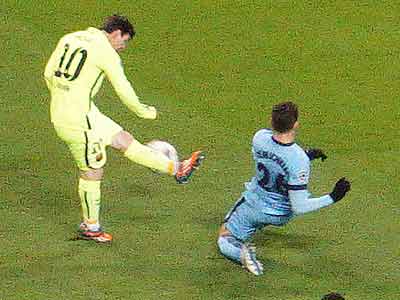 Messi is on one of his runs and just as he is about to shoot a very good block by Demichelis saves the day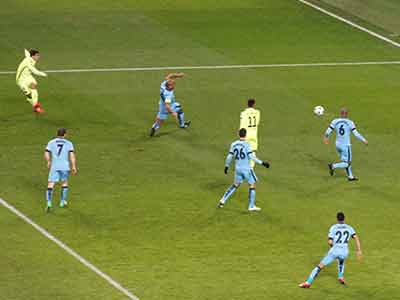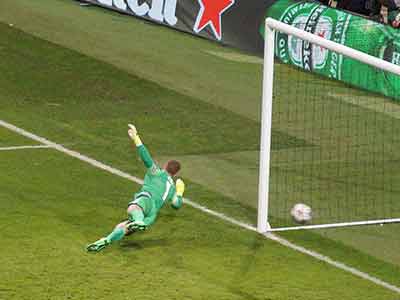 On 12 minutes a shot by Suarez hits the side netting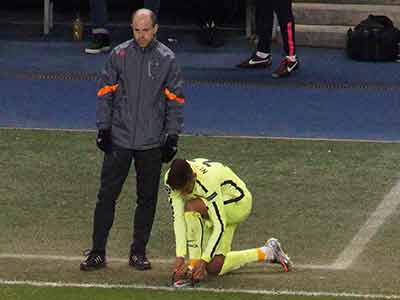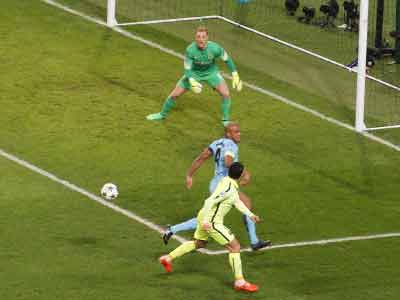 on 15 minutes a Messi cross hits Kompany and the ball.....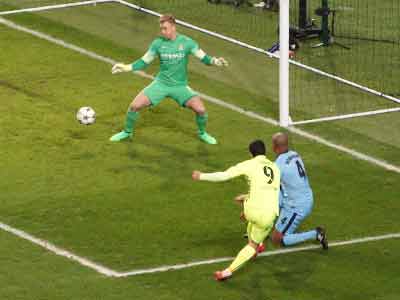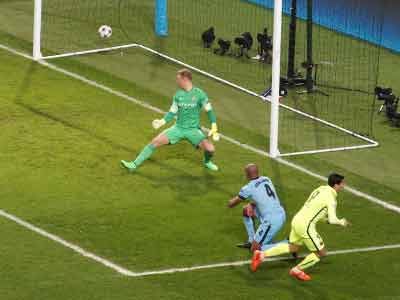 ...bounced perfectly for Suarez to shoot past Hart with his left foot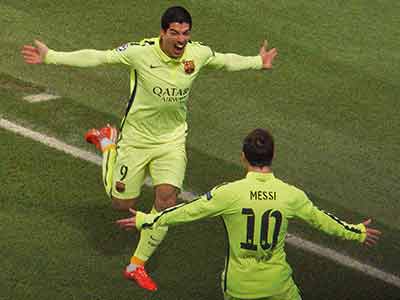 So Barcelona go a goal up and they celebrate!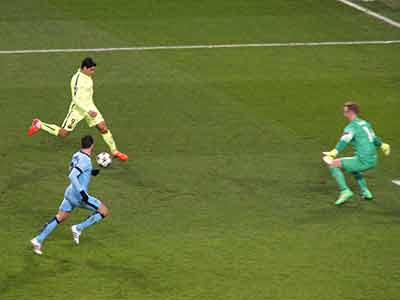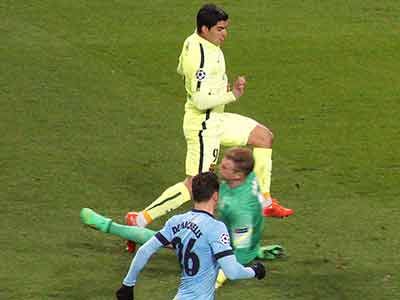 after 26 minutes Hart has to save at the feet of Suarez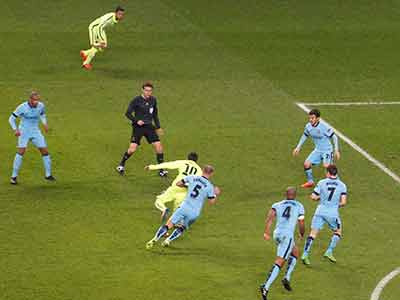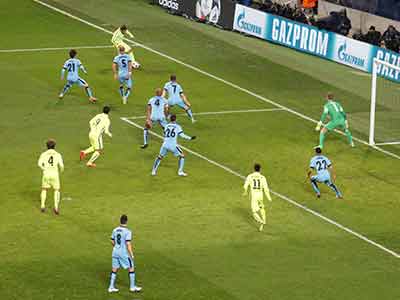 a few minutes later and Messi goes on one of his runs passes to Alba on the let who crosses...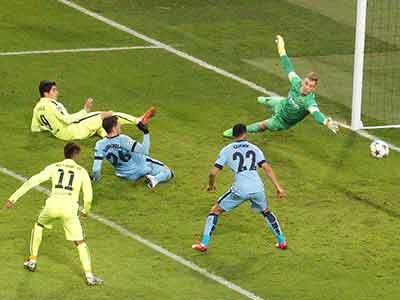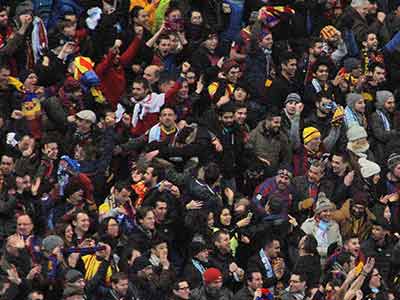 ..and there is Suarez to slide the ball home for number two for Barcelona
more celebrations by the visiting fans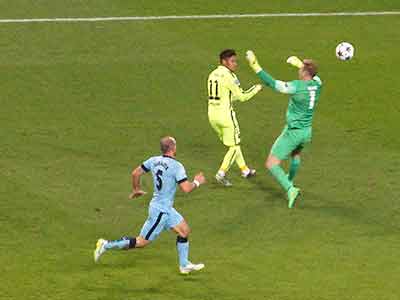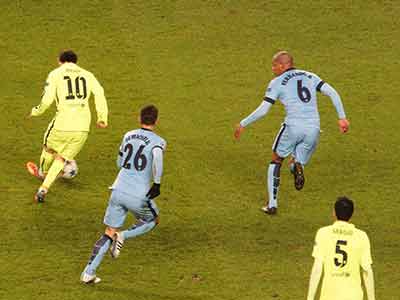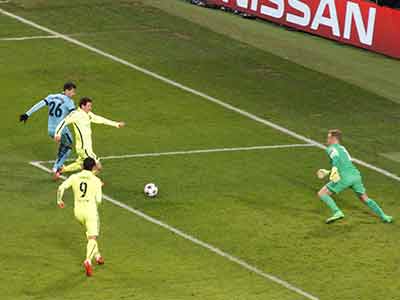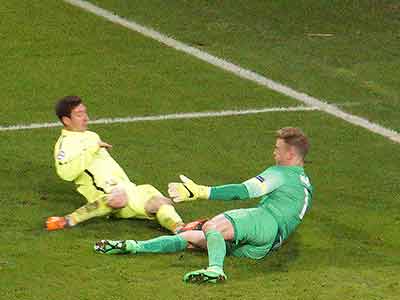 Messi on the ball once more
Neymar has a chance blocked
Hart saves at the feet of Messi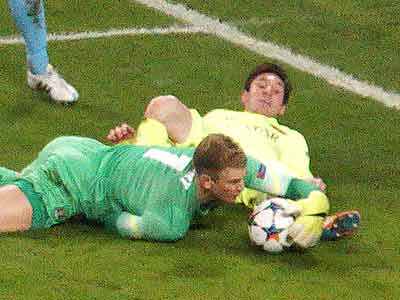 and Hart manages to keep hold of the ball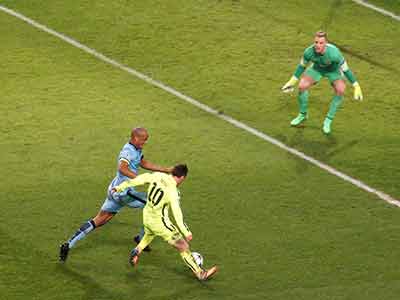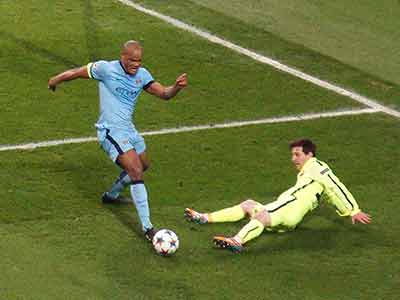 for once Kompany manages to get the ball off Messi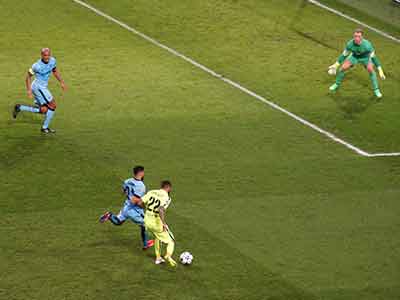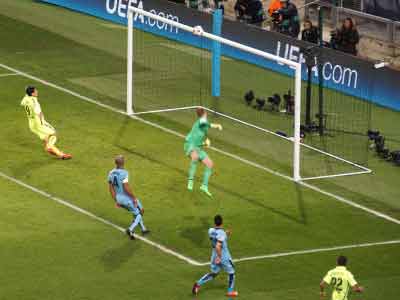 a shot by Alves hits the bar and goes over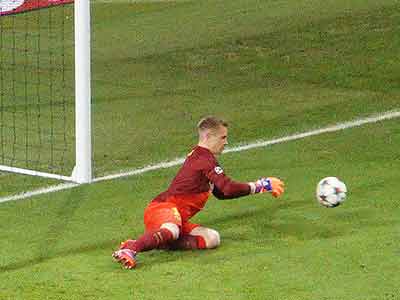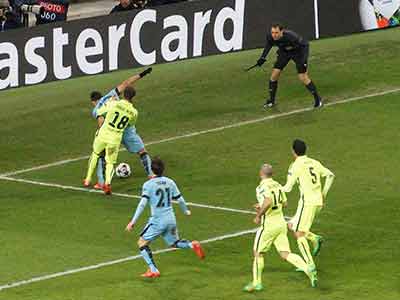 just before half time there is action at the other end! A Nasri shot is saved and though Aguero gets to rebound he can only force a corner and all City fans know what happens when we get a corner - nothing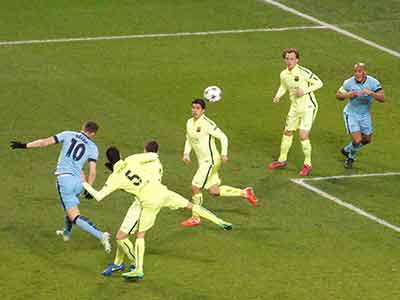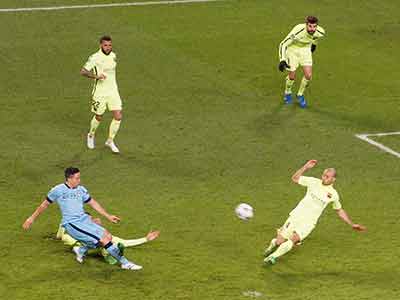 City start the second half with a bit more passion and Dzeko heads just wide before a Nasri effort is blocked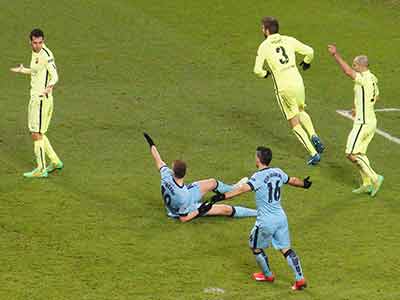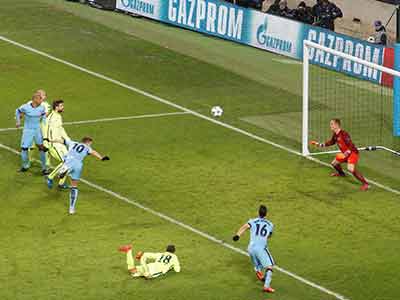 Dzeko has a penalty appeal ignored
Dzeko heads straight at the keeper -should have scored!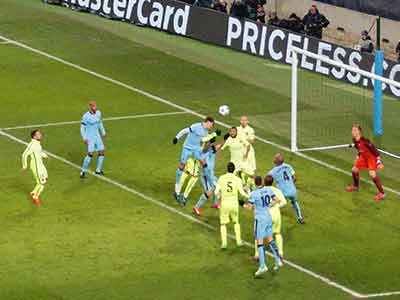 Aguero has a chance but shoots just wide of the post
Demichelis fails to score at a corner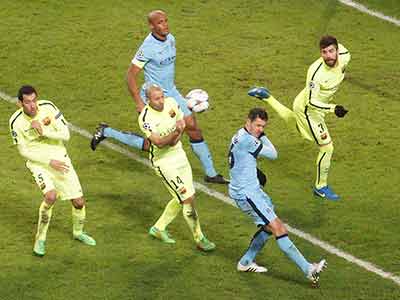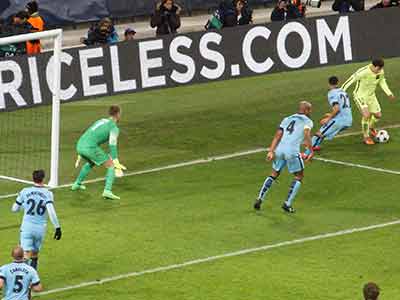 Pique heads clear at a City corner
Messi in a dangerous position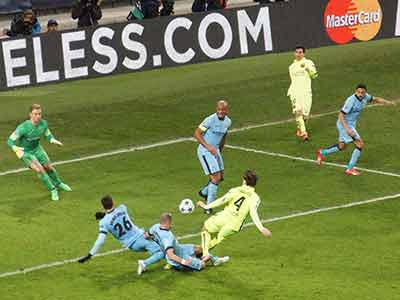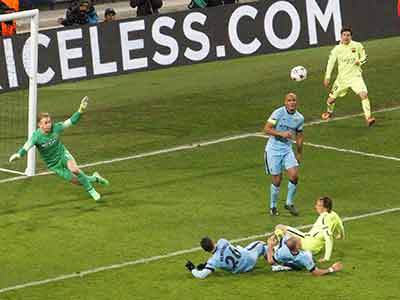 He gets it to Raditic but his shot is blocked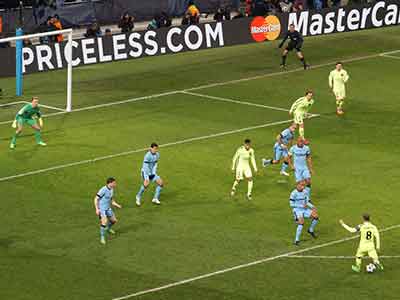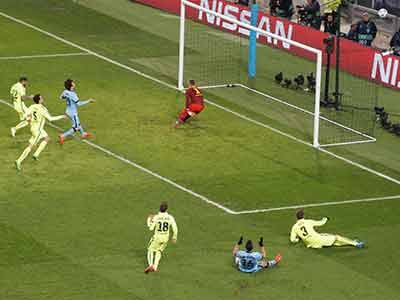 a minutes later and Iniesta has his effort blocked
at the other end City fail to score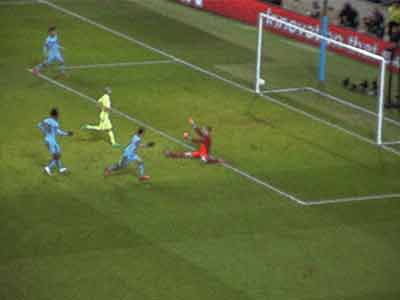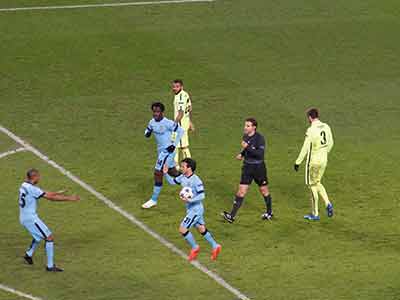 then on 68 minutes just as I was changing the battery Aguero is put through by Silva and scores a good goal - no time for celebrations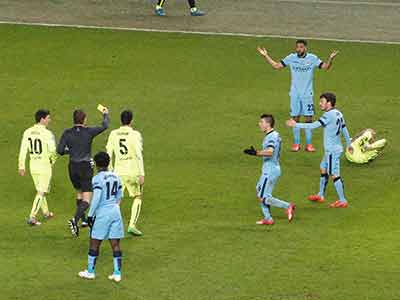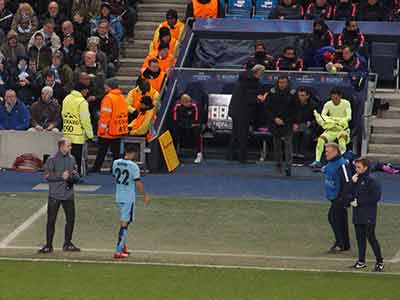 On 73 minutes a stupid clumsy foul by Clichy led to a second yellow card and he was off .City down to ten men!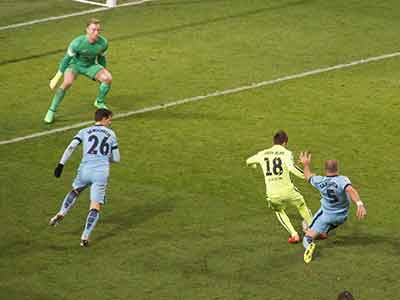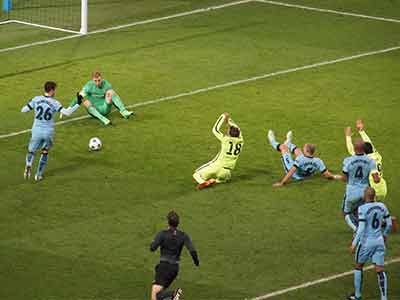 Alba goes through but Zabaleta manages to foil him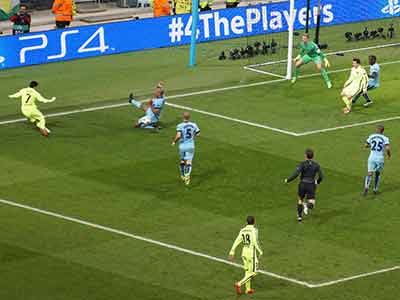 Kompany manages to block a cross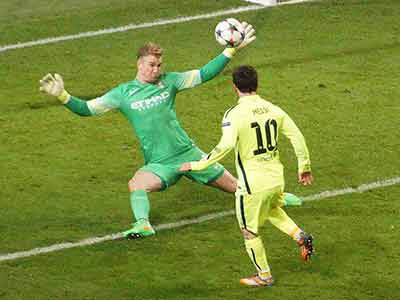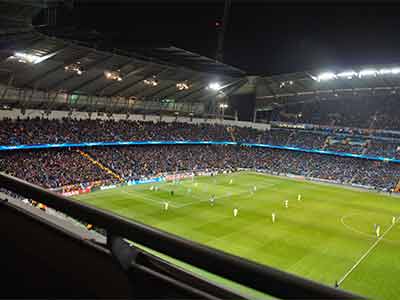 Hart saves from Messi but the flag is up for offside
With just 30 seconds to go I am just about to leave and...
..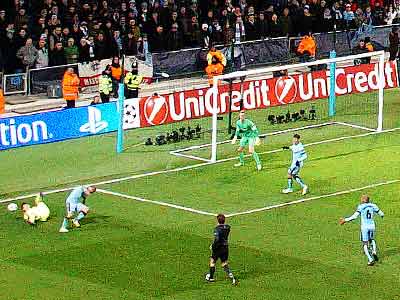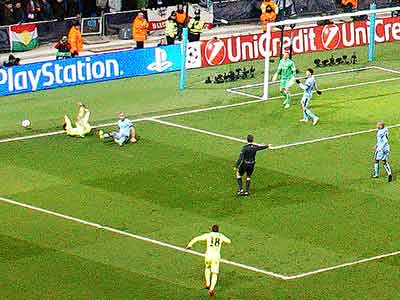 ....Zabaleta gives away a penalty - pics are crops from wider shot above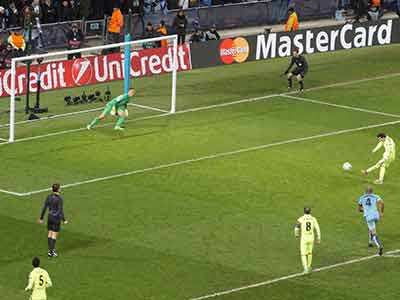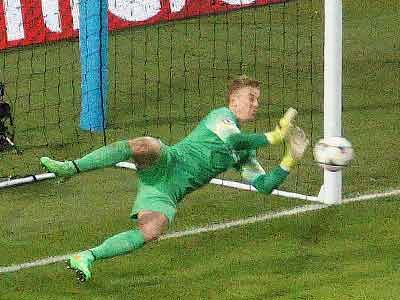 Messi takes the penalty but Joe Hart makes a great save pushing the ball out...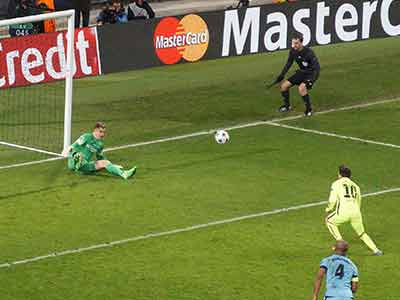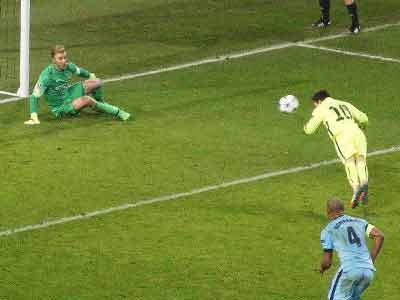 ...and Messi dives to head the ball into an empty net....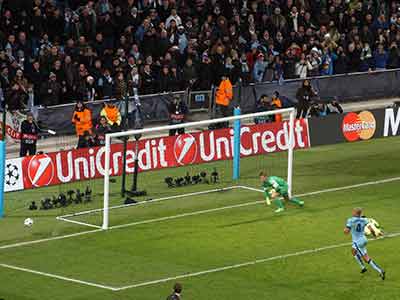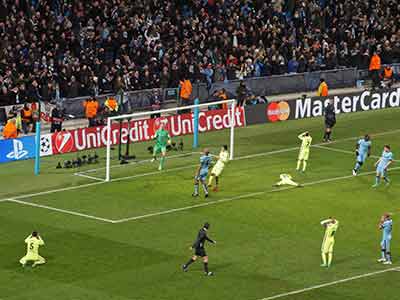 .......but the ball goes wide and City escape
It's not often you see a penalty in the first 30 seconds of one game and then in the very next one there is a penalty in the last thirty seconds!
Team
Hart 8: Zabaleta 5.5, Kompany 5.5, Demichelis 6, Clichy 5, Nasri 6 (Fernandinho ), Fernando 6, Milner 6, Silva 8 (Sagna) Aguero 7 , Dzeko 6 ( Bony)