City 3 Sunderland 2
Jan 1st 2015 45,367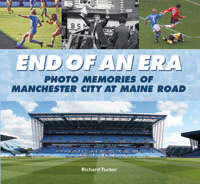 Now available from Amazon ( click on image for link)
WH Smith and the City shop
City went level with Chelsea at the top of the league after winning another game of two halves against Sunderland. The first half was dire with Sunderland defending in depth with only Wickham on his own up front. City had some half chances but the first 45 minutes ended goalless with both keepers having to make one good save each. With Sunderland having parked the bus in front of goal it looked like only a moment of brilliance would set the game alight. We had to wait until the 57th minute before City struck and what a magnificent strike it was. Jovetic was the supplier and Yaya Toure lashed a 25 yarder into the top corner that left ex City Pantilimon well beaten. Six minutes later we had a great bit of skill by Jovetic as he flicked the ball home from an excellent cross by Clichy. Two minutes later poor marking at a corner enabled ex City Jack Rodwell to head into the net to reduce the arrears. Then three minutes after that blow a scramble in the City penalty area ended with a foul by Zabaleta and a penalty was given. You can guess who scored from it - ex City Adam Johnson!. Disaster for City -Sunderland were level - echoes of the Burnley game!
However Frank Lampard had come on for Jovetic and just two minutes after the penalty a cross by Clichy was met by Lampard's head and the ball was perfectly placed into the bottom corner and City were ahead.
It was Lampard's 5th goal of the season and he might have had a hat trick but for some good saves by Pantilimon .Overall it was a good team performance with good work by Toure and Fernandinho in midfield while Clichy did well. Mangala had a better game but the surprise of the day was the inclusion of Caballero in goal in place of Hart who was 'rested'! That's 11 league games unbeaten now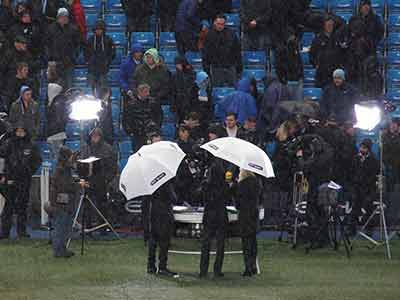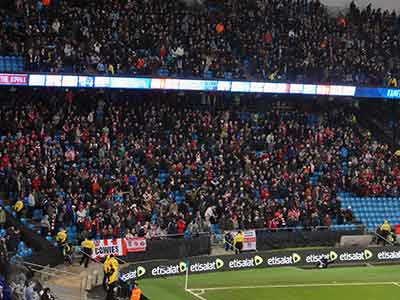 It was wet and windy for the BT TV pundits
As usual there was strong support for the visitors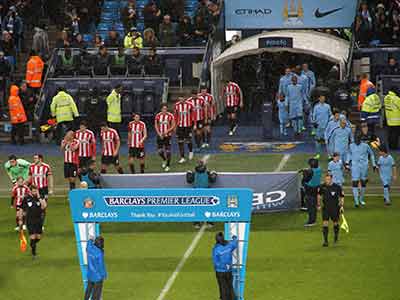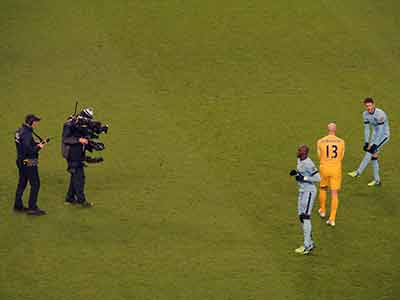 Jovetic led the attack and Clichy replaced Kolarov at left back but most attention was on Caballero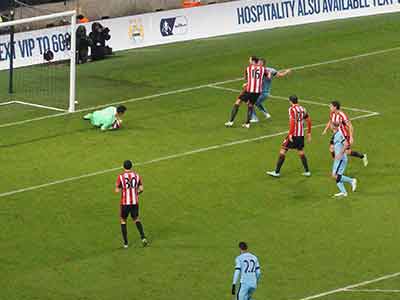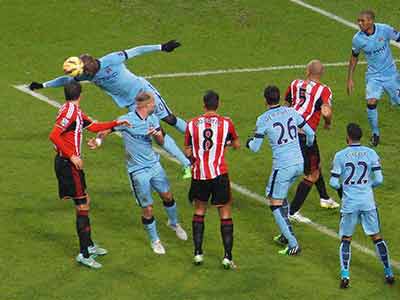 Pantilimon was first keeper in action collecting a cross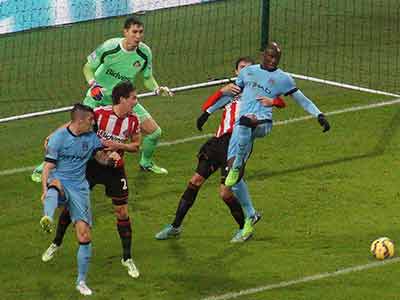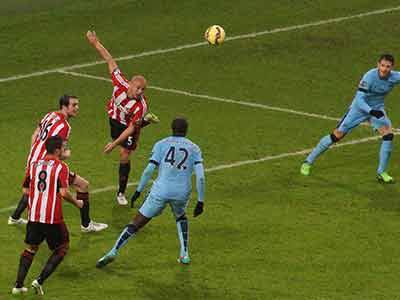 Mangala is held at a corner
Wes Brown heads a City corner clear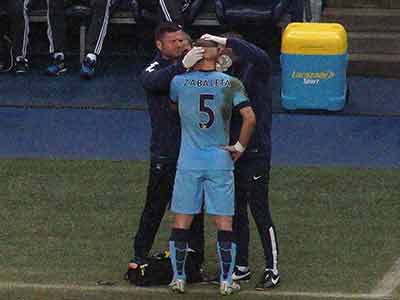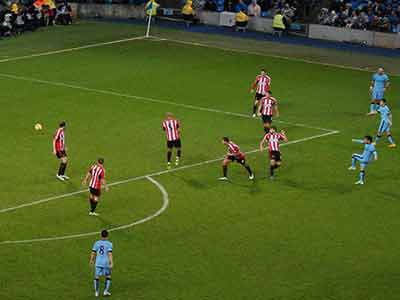 Zabaleta has to have treatment to his head wound
On 31 minutes Silva has a shot.....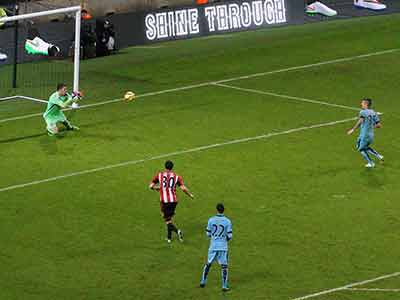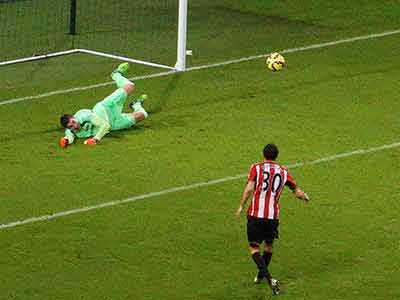 ......but Pantilimon saves the effort and pushes the ball out ....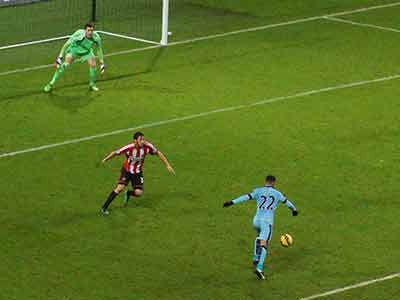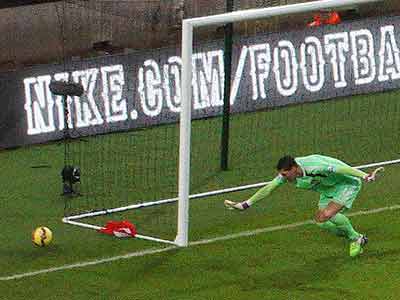 .....to Clichy but his shot goes just wide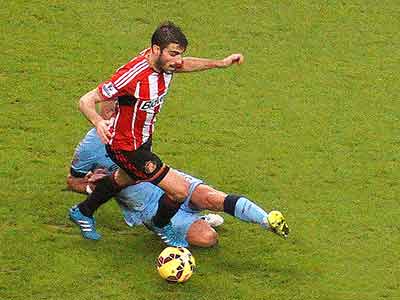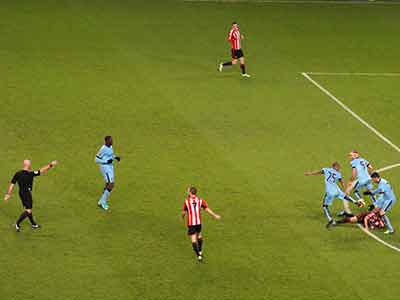 On 38 minutes Zabaleta brings down Gomez and a free kick is given just outside the box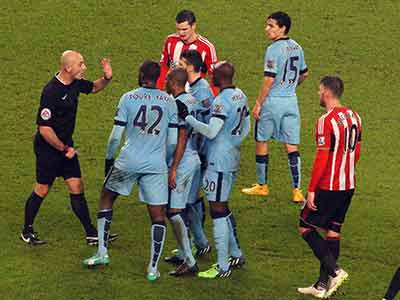 City protest unsuccessfully but the ensuing free kick taken by Larsson is well saved by the City reserve keeper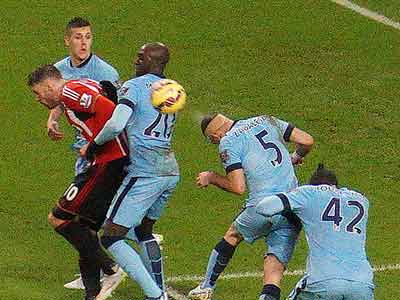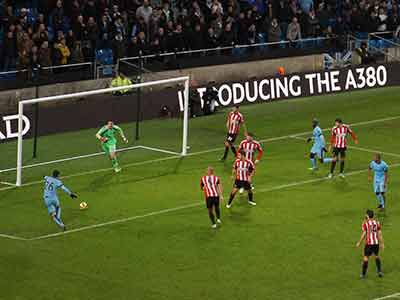 Zabeleta heads the corner clear
just on half time Clichy just fails to reach the ball at a corner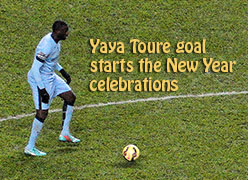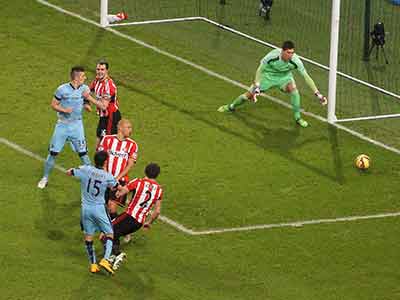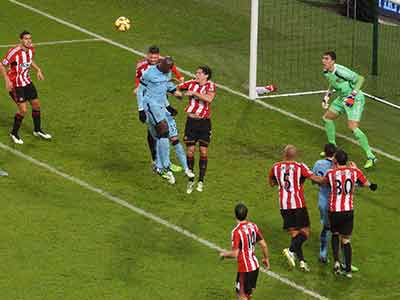 Navas misses a chance just after the interval
Sunderland under pressure

The deadlock was broken on 56 minutes when Yaya Toure took a pass from Jovetic and hit a great first time shot.....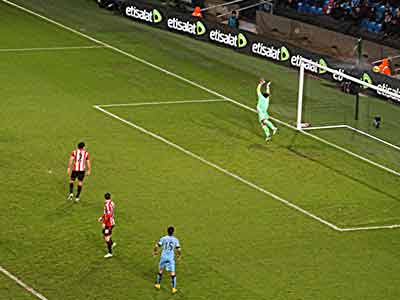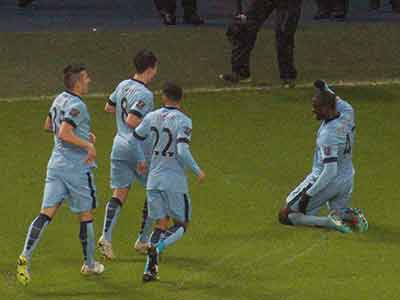 ....which hit the back of the net giving Pantilimon no chance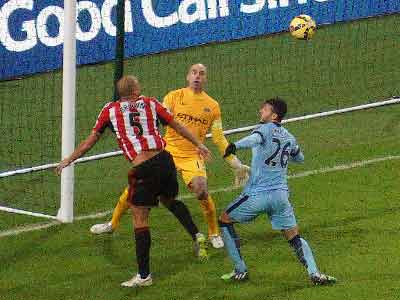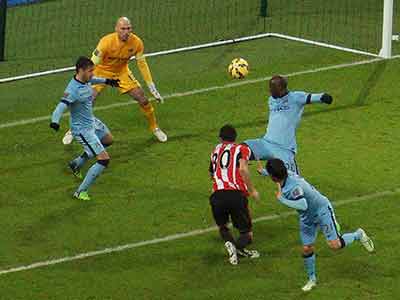 Sunderland then had to change their game plan and the City goal came under pressure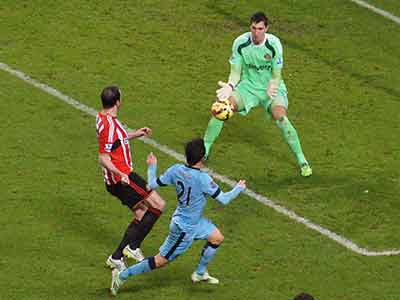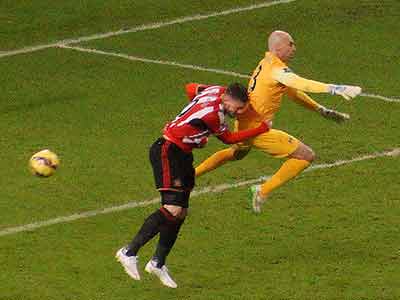 Silva has an effort saved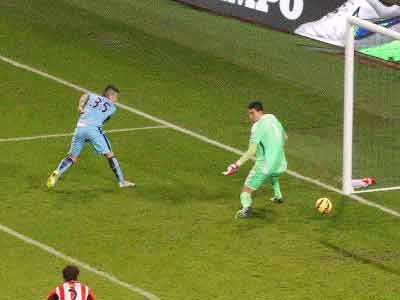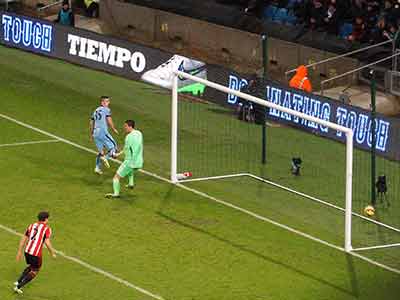 65 minutes on the clock and City add to their lead when Jovetic takes a cross from Clichy and flicks it past the keeper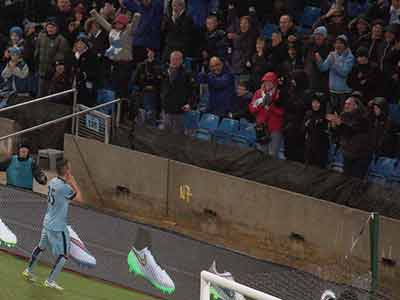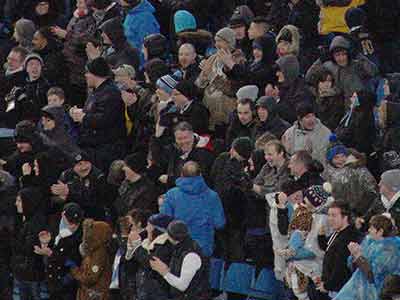 Jovetic and the North Stand celebrate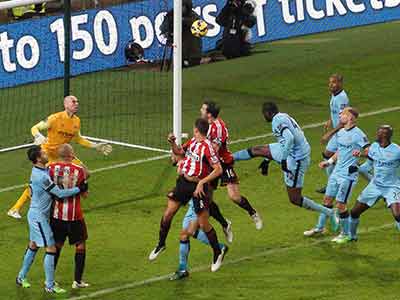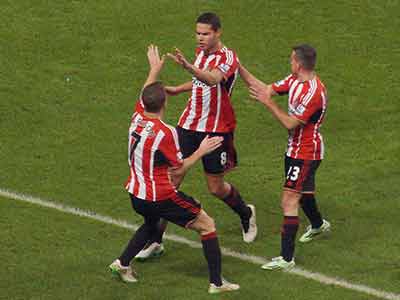 two minutes later Sunderland get a corner and the unmarked Rodwell scores with a header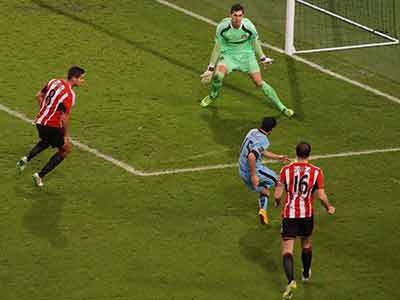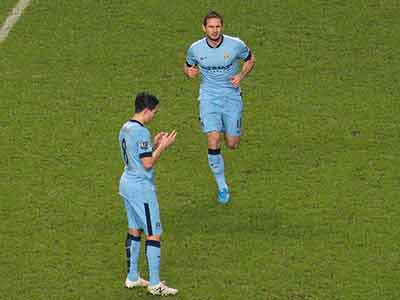 Navas hit the post with this shot
on 69 minutes on came Frank Lampard for Jovetic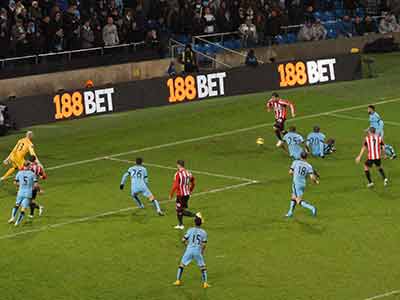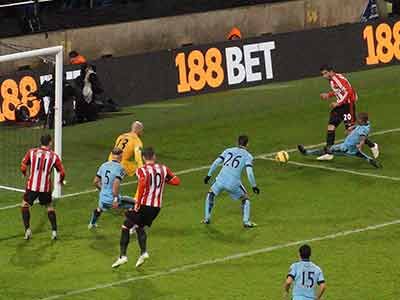 Alvarez dashes down the wing - beats several City defenders ........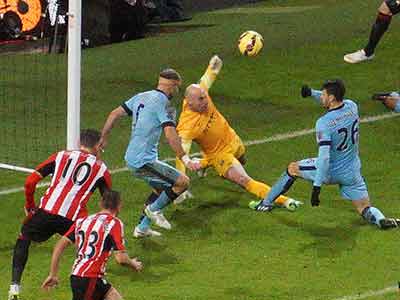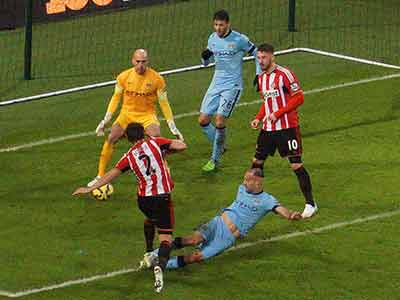 In comes the ball and its dangerous for City as Zabaleta goes in for the tackle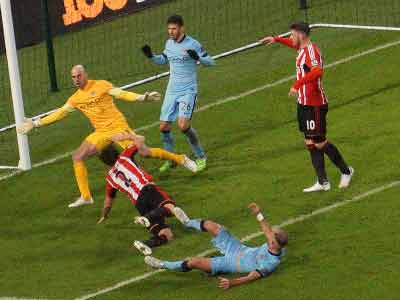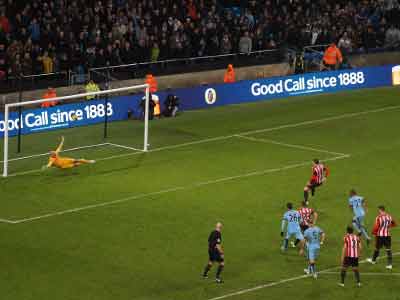 ...down goes Jones and it's a penalty which Adam Johnson takes and scores to make it 2 all. Oh dear!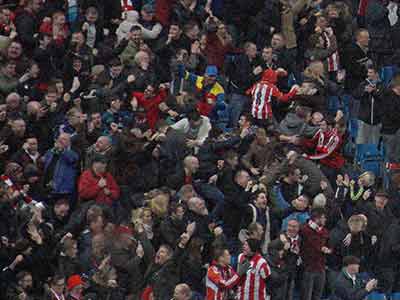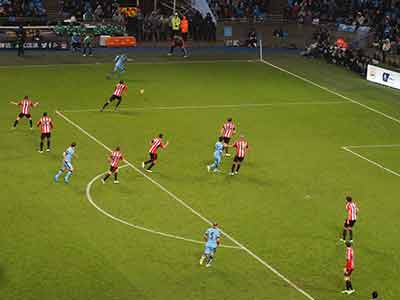 The Sunderland fans went mad but hardly had their cheers dies down than City were at the other end with Clichy who crossed.....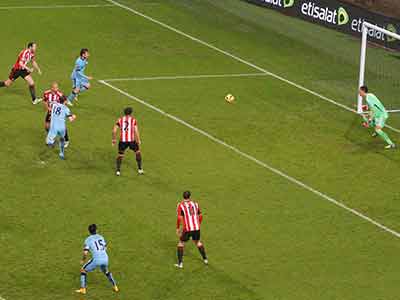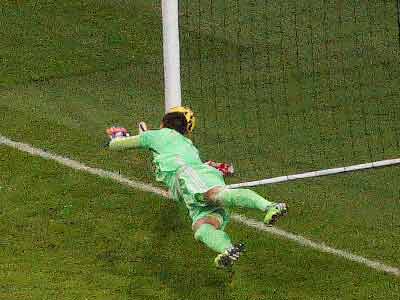 ....to the head of Frank Lampard whose header was accurate and well timed to beat Pantilimon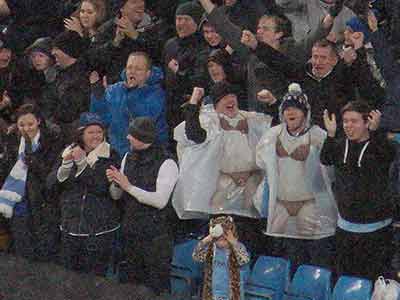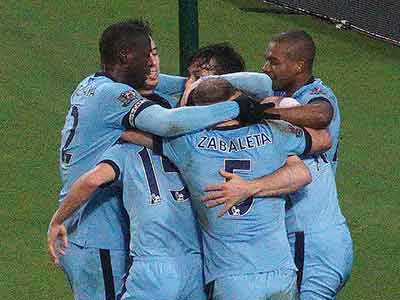 City were ahead again and there were celebrations in abundance - what a second half!

two minutes later and only a great save by Pantilimon stopped Lampard from adding to the score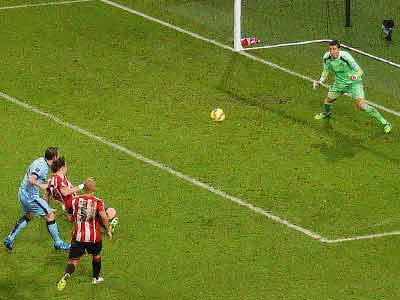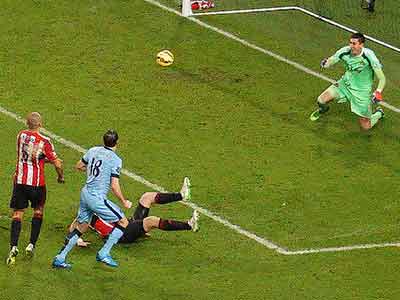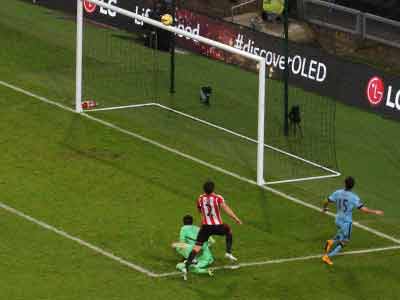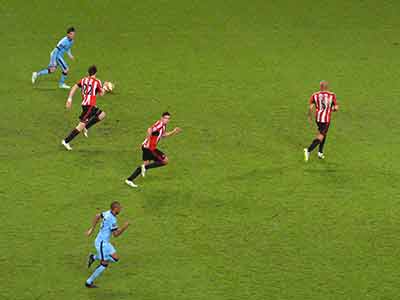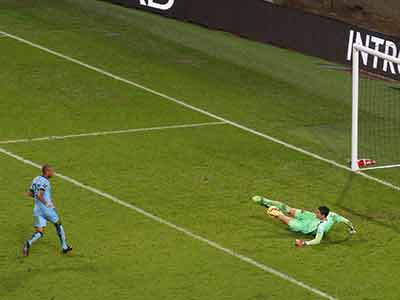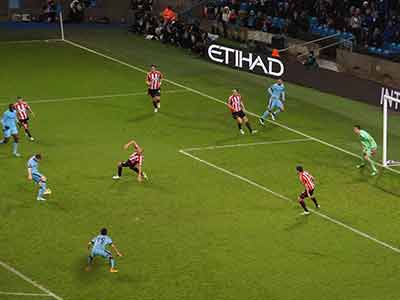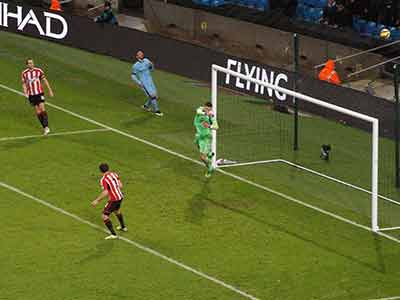 Pantilimon was in action minutes later saving from Lampard once again
Navas has a effort well saved as City try to improve the goal difference
On 85 minutes a breakaway by City gives Fernandinho a chance but Pantilimon saves again
As we went into added time Milner shot over the bar and the game ended 3-2 and it could have been 6-2!
Team
Caballero 6.5, Zabaleta 6.5, Demichelis 7, Mangala 7, Clichy 7.5: Toure 8.5, Fernandinho 7.5, Navas 7, Nasri 7 (Kolarov), Silva 7.5 (Milner) Jovetic 7.5 (Lampard 8)