City 5 Newcastle United 0
Feb 21st 2015 45,602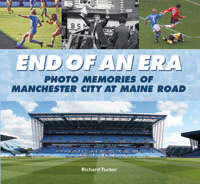 Now available from Amazon ( click on image for link)
WH Smith and the City shop
On a cold night at the Etihad Stadium City supporters hearts were warmed by an explosive display by City who put a rather pathetic Newcastle United team to the sword by five goals to nil. It could have been even more but with a vital game against Barcelona in a few days time City took their foot off the gas once three points were in the bag.
There was a great start for the sky blues. A defensive error led to Edin Dzeko being brought down in the penalty area after just 26 seconds! Aguero scored from the spot - his 17th league goal of the season.
On a lighter note for many years when a late supporter came past my seat I would say -" you've missed the penalty" !! - today for the first time I was right!
Dzeko had his best game for City ( could the signing of Bony have anything to do with it!) and he scored a great third goal after taking a fine pass from Silva on his chest and executing a great finish. He worked hard all game and fully deserved his start. His pass gave Nasri the chance to score the second goal and Newcastle had little to offer in the first half.
Joe Hart had even less to do in the second half and David Silva back to his best scored two goals within three minutes to put paid to Newcastle hopes. Silva has now scored 9 league goals this season.
With Yaya Toure back to midfield City dominated the game and their desire to get the ball was first rate. Overall a terrific team performance and with Chelsea dropping a couple of home points against lowly Burnley the gap is down to five points and three goals.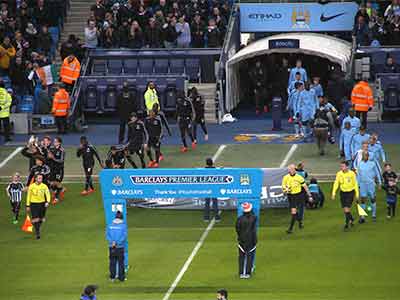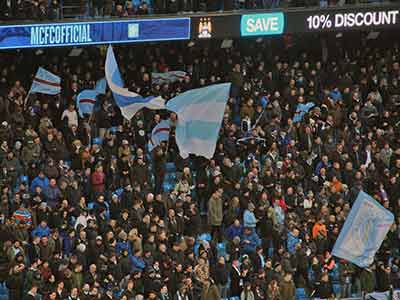 No start for new signing Bony who was on the bench so Dzeko and Aguero led the attack. Toure was back from Africa but Milner was off injured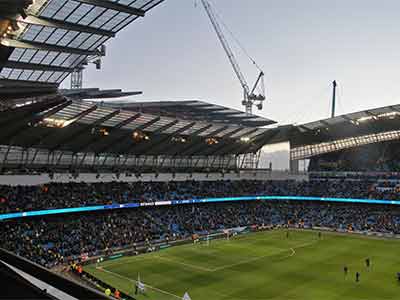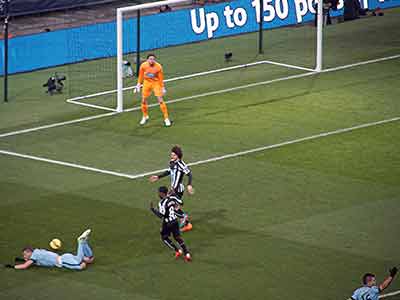 more progress has been made on the roof to the new stand
In less than 30 seconds Anita brings down Dzeko!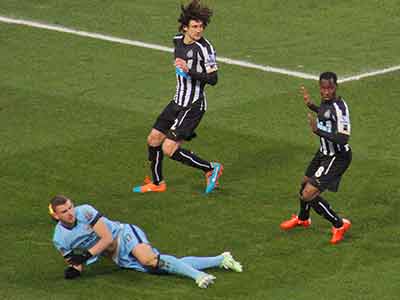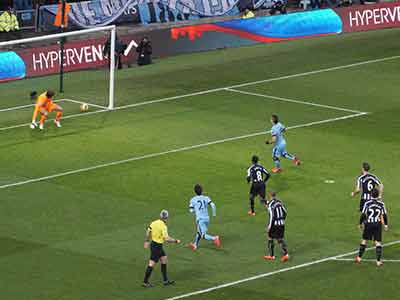 It was a bad defensive mistake and Aguero easily beat the keeper to put City ahead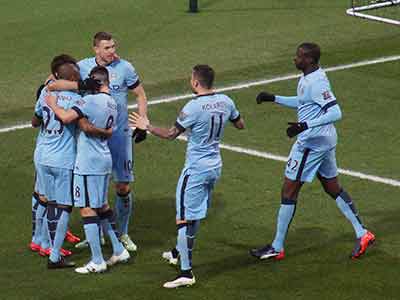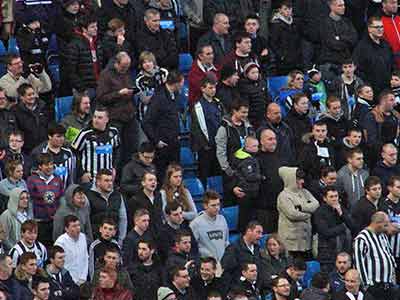 AS the City players celebrated the Newcastle fans were in shock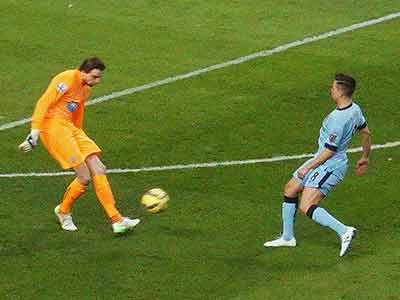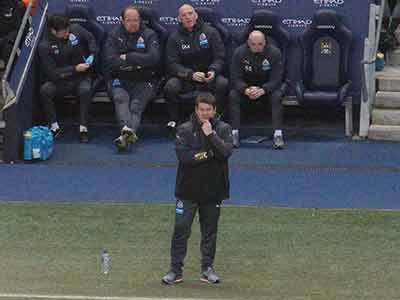 Krul just beats Nasri to the ball
Newcastle manager John Carver has much to think about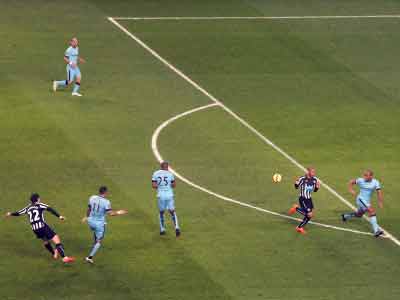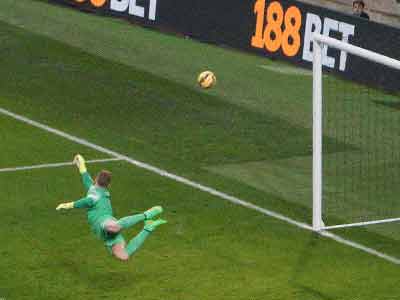 On 9 minutes Janmaat had a shot which just went wide or did Hart just touch it!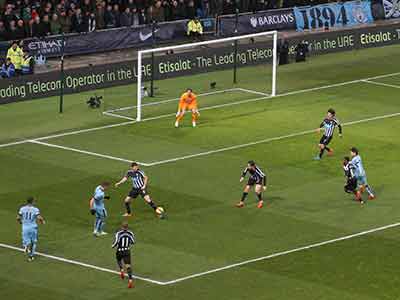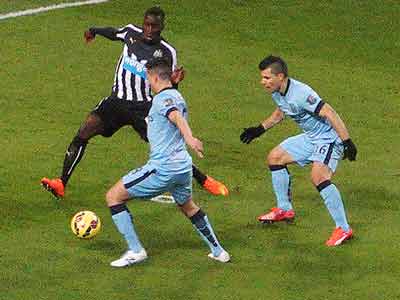 two minutes later and Dzeko passes inside and Nasri took the deflected pass and......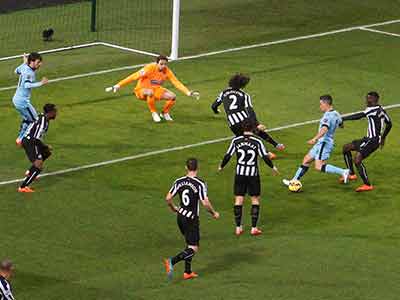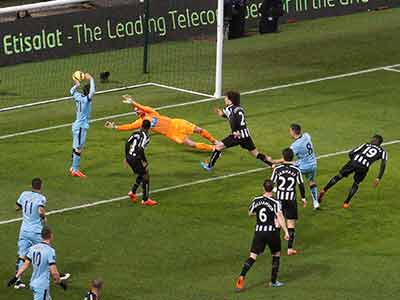 ... and shoots past Krul to make it two nil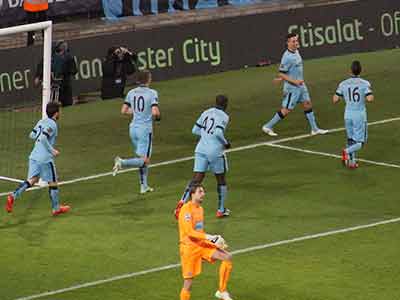 Nasri was delighted to find the net
Dzeko shoots over the bar on 17 minutes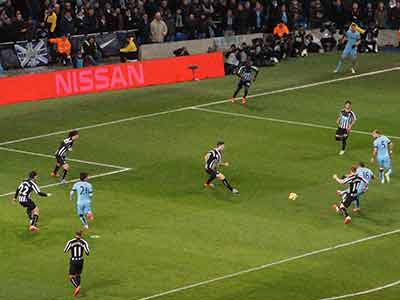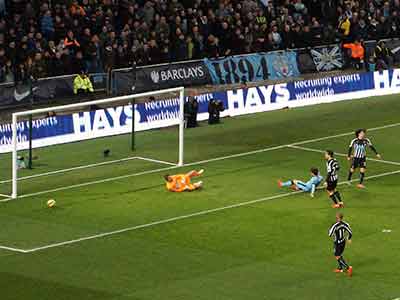 a couple of minutes later a shot from Aguero goes just wide but Silva almost makes contact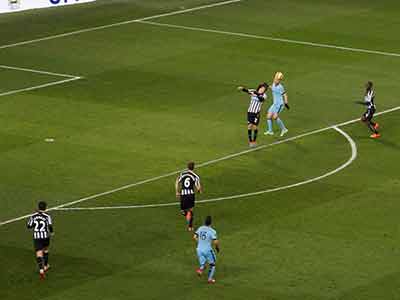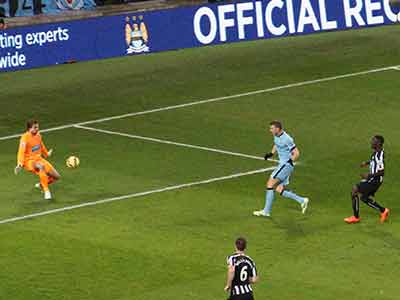 On 21 minutes a great through ball from Silva is taken well by Dzeko and he thunders the ball past Krul to make it 3-0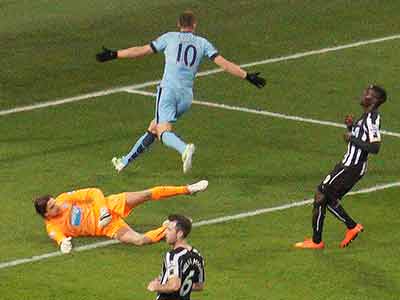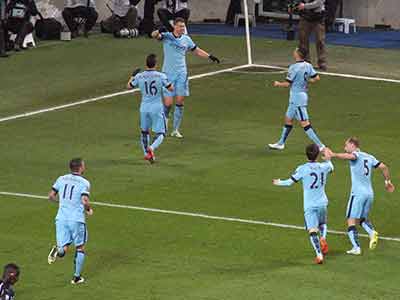 It was his first goal since since September and his first home league goal of the season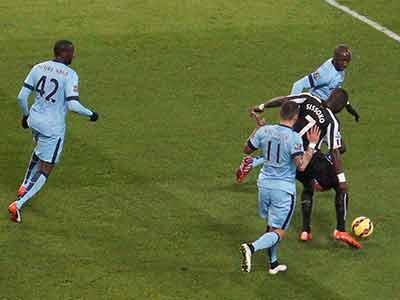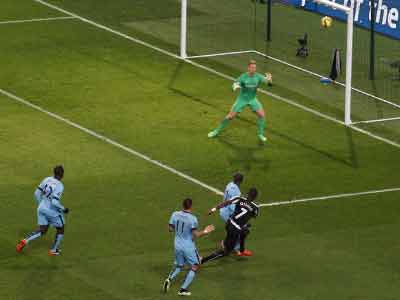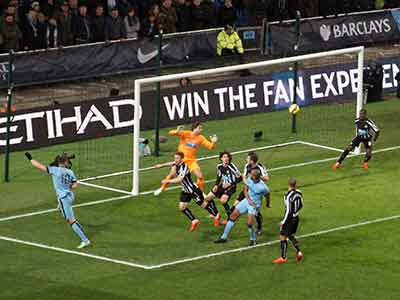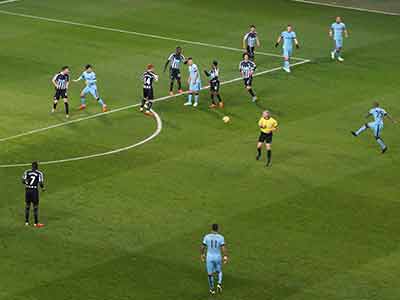 A shot by Fernandinho is easily saved by Krul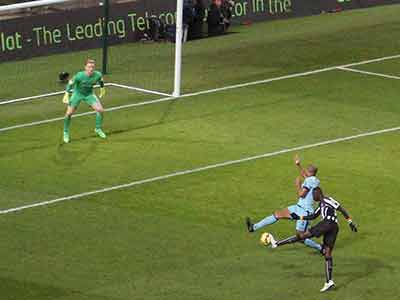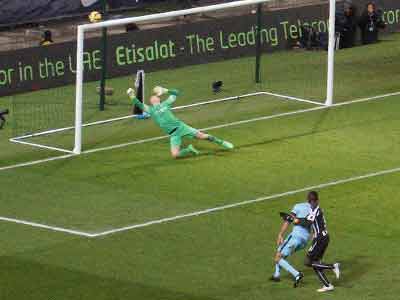 Immediately after half time Cisse had a shot saved by Hart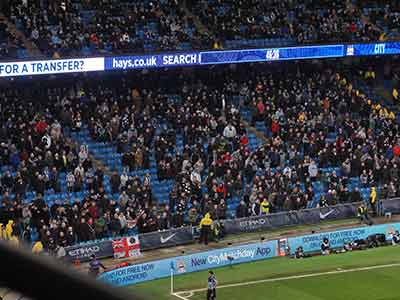 There were lots of gaps in the visiting supporters section early in the second half
Joe Hart has an easy catch at a corner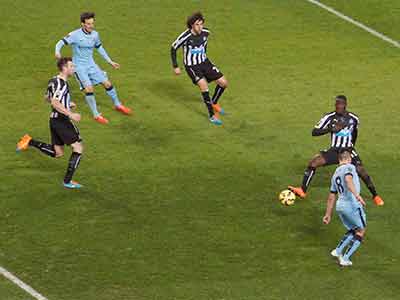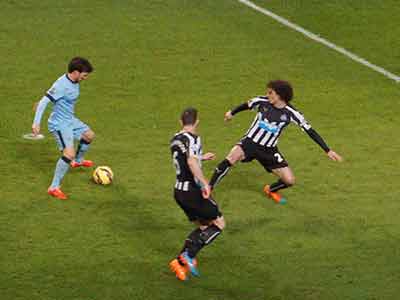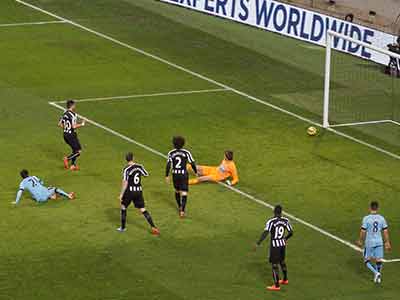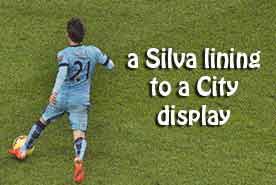 on 50 minutes Nasri passed to Silva who beat the defender......
...and shot past Krul to make it four nil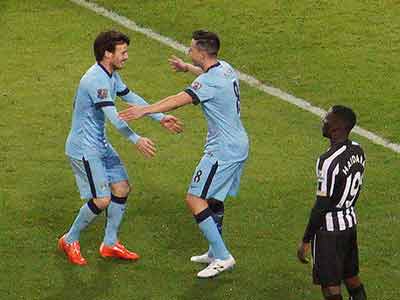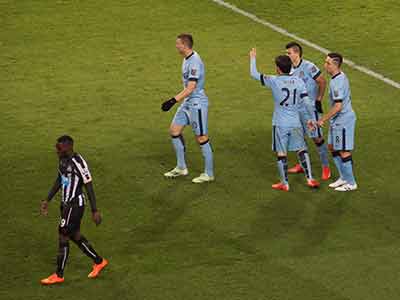 City celebrate and Newcastle look well beaten

two minutes later and Aguero passed to Silva who scores from the edge of the area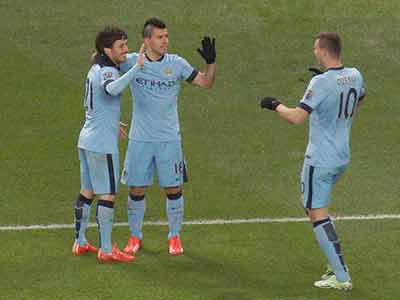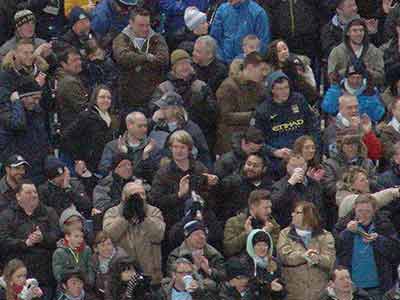 goal number five and its definitely game over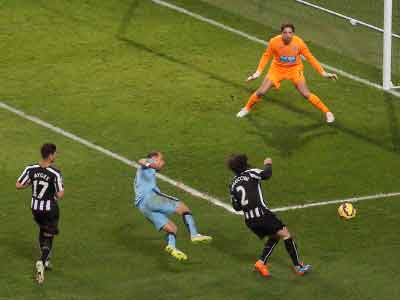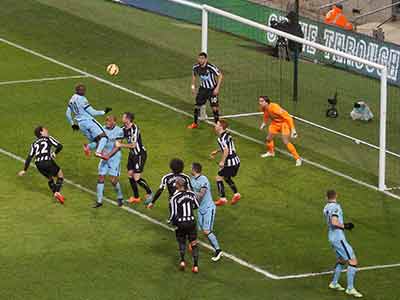 City try to add more through Zabaleta and Mangala but no luck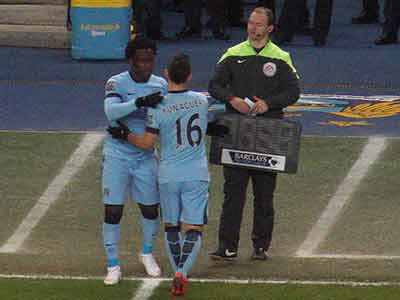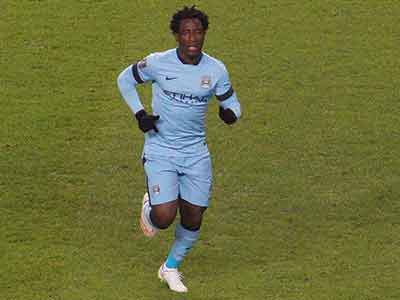 the moment we've been waiting for - Bony on for Aguero on 59 minutes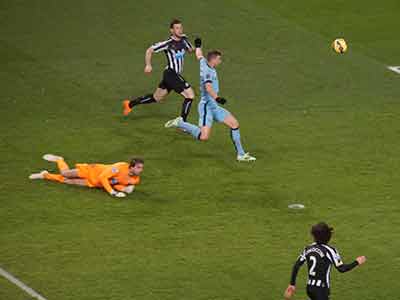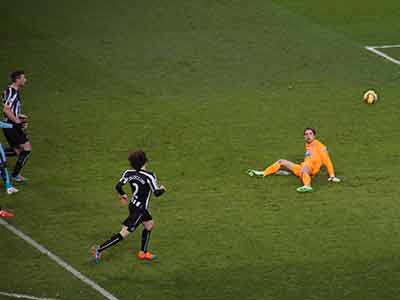 Krul is kept busy first saving from Dzeko and then Bony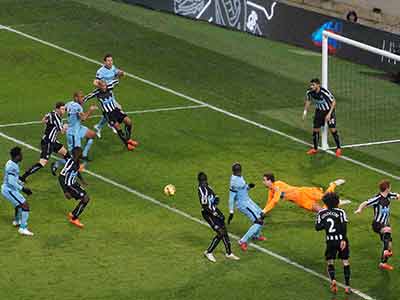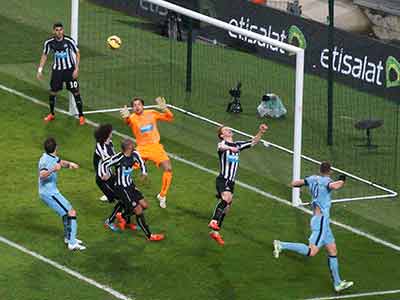 yet again City failed to score from any of the corners we had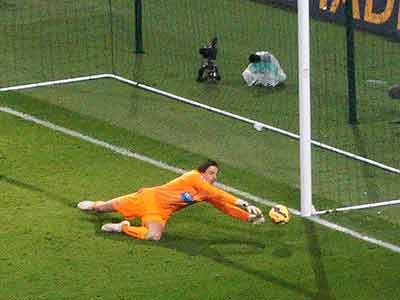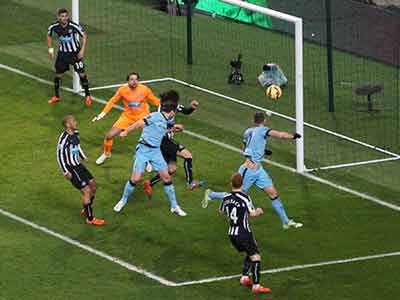 Dzeko tries to score using his hand and is booked
Team
Hart 7, Zabaleta 7, Kompany 7, Mangala 7, Kolarov 6, Toure 8.5, Fernandinho 8, Nasri 8 ( Lampard) Silva 9 (Navas) Aguero 7.5 (Bony) Dzeko 9