City 2 United 3
April 7th 2018 att.54,259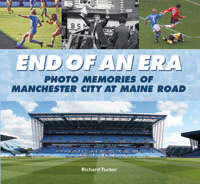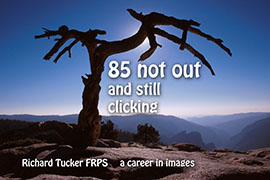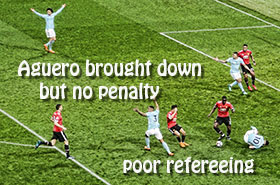 In a game of two halves it ended with disappointment for City fans as we failed to beat United and claim the Premiership title so early. Following the defeat at Anfield a few days previously I suppose it was no surprise that several key players were rested with the return Champions League game coming so soon after this match.The lack of a centre forward was a bit of a surprise though but when City went ahead on the half hour with a great header from Kompany and followed this with a good strike from Gundogan it looked like we would really be celebrating at full time. It really could have been all over at the interval as Sterling missed two really good chances and Gundagon should have had another with a header.
However it was a different story after the break with Pogba scoring a couple before Smalling scored the winner.
The City defence were really knocked out of their stride and though Aguero, De Bruyne and Jesus came on - too late I thought - City failed to get the equalizer. City should have had a penalty late on when Aguero was brought down by Young but the referee was too far behind play and Atkinson did have the best of games.

Plenty of atmosphere in the ground for this 'derby' game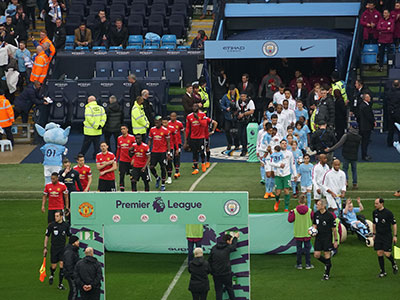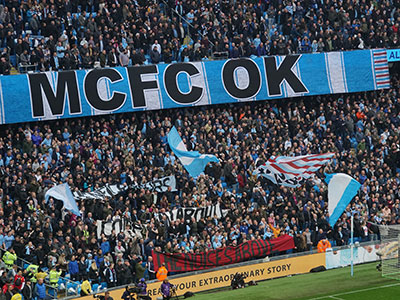 There was no Walker, De Bruyne, Jesus, Laporte or Aguero in the team - Danilo, Benardo, Gundagon and Delph coming in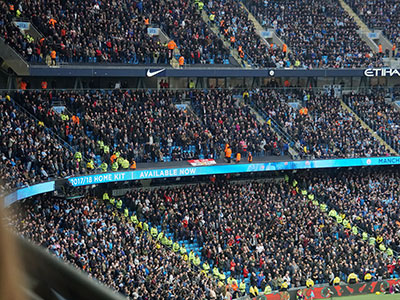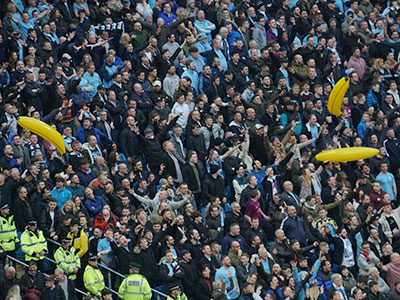 There were about 3000 United supporters in the ground and the South Stand gave them a big welcome!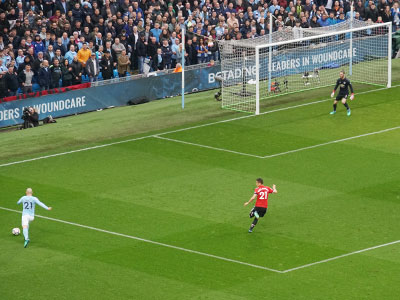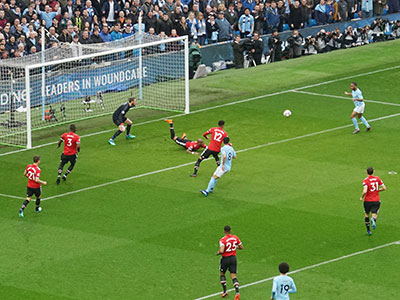 Very early on a cross from Silva looked as though it was handled by a defender but.....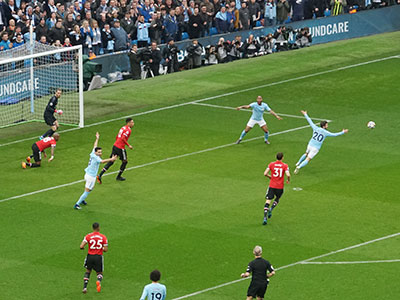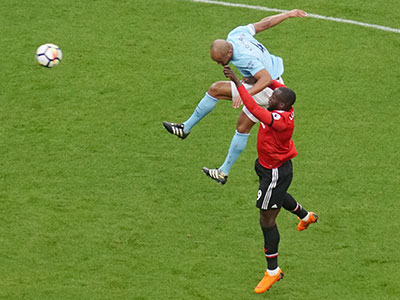 ....despite the City appeals there was no whistle and no penalty!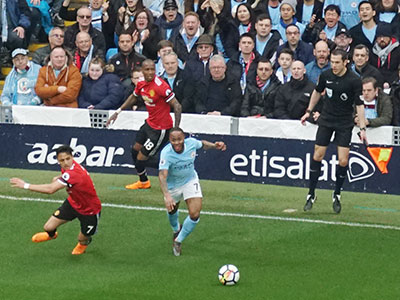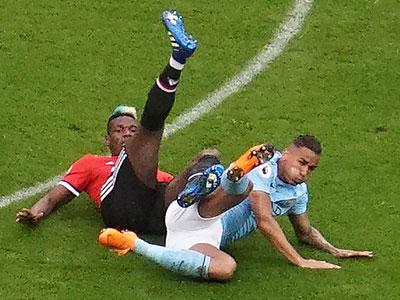 Sterling tries to break through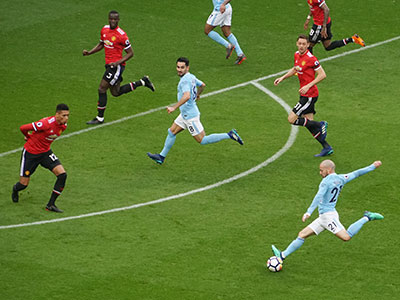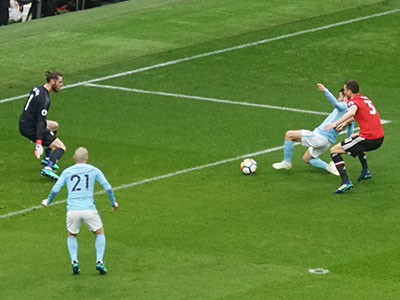 A strike by Silva on 20 minutes goes wide
Two minutes later Benardo has an effort saved by
de Gea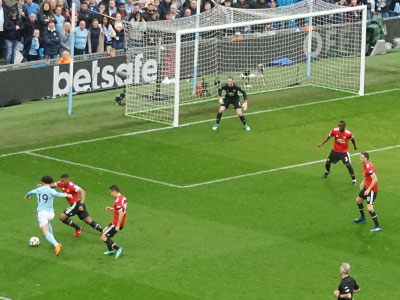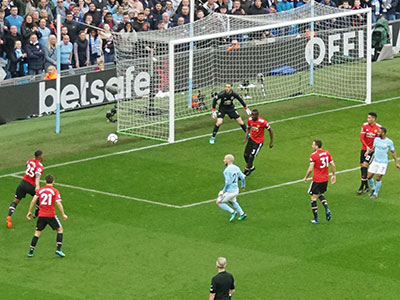 After 25 minutes City get a corner when a cross from Sane is put out by Valencia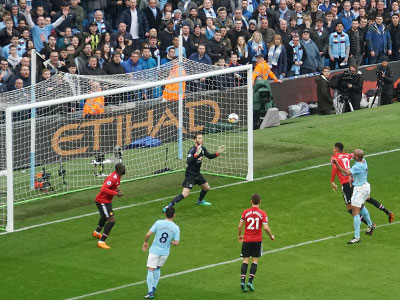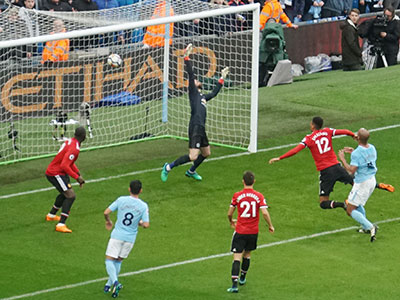 From the corner Kompany beats Smalling to head past de Gea....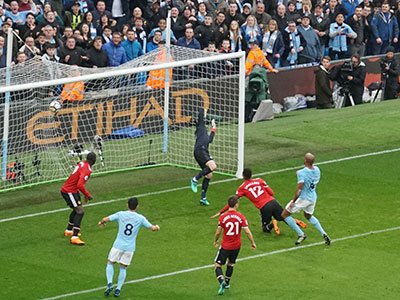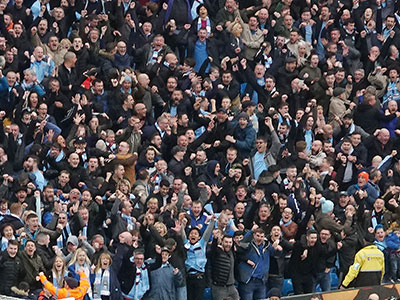 ...and give City the lead with his first league goal of the season and the South Stand erupts!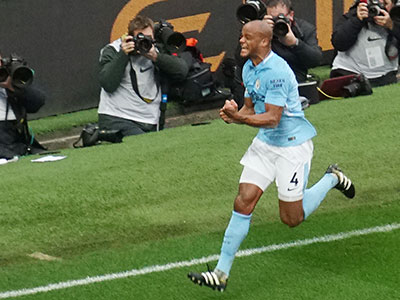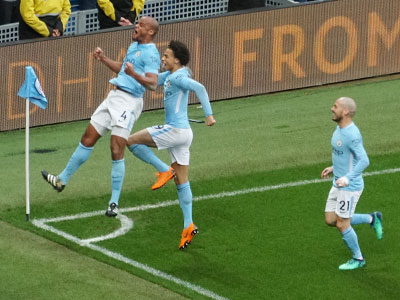 Vincent really enjoyed getting that one!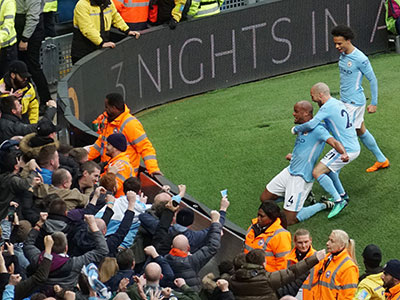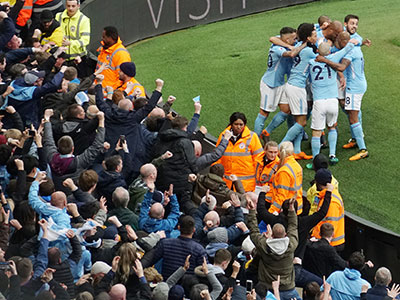 The City fans show their feelings as the players celebrate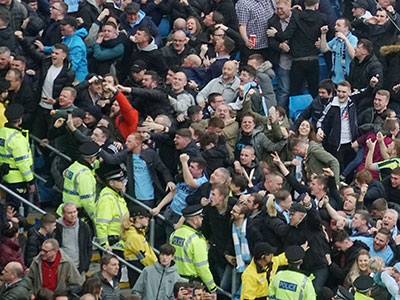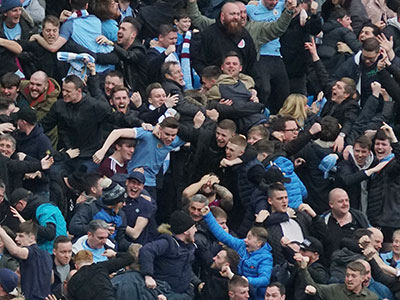 The fans continue to celebrate in the South Stand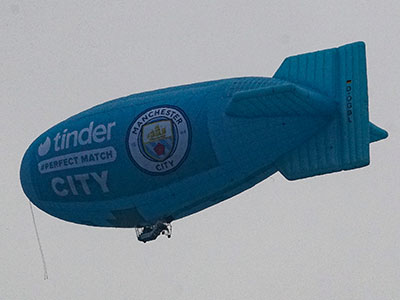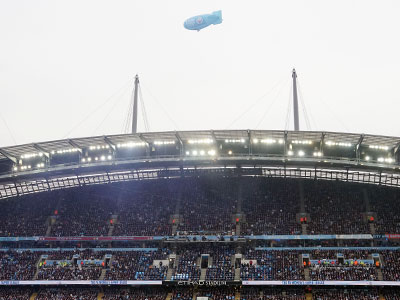 I hope he had a good view of the goal from the balloon!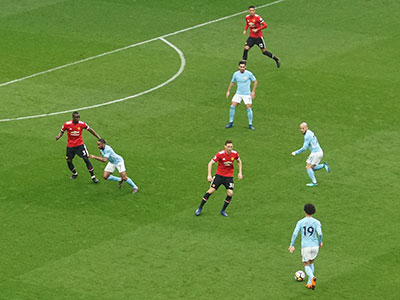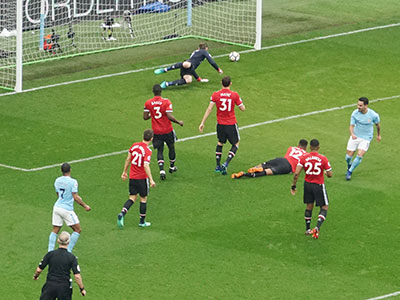 Five minutes later and a move started by Sane ends with Gundogan shooting past de Gea and City are two up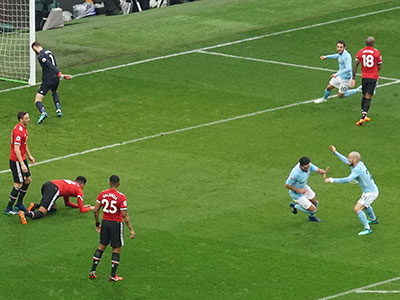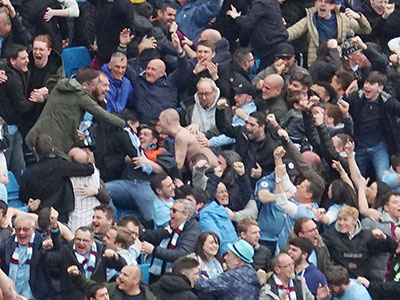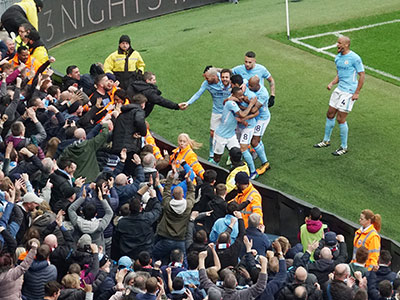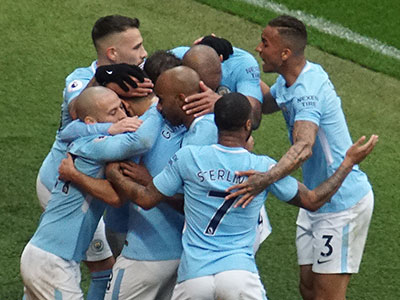 Silva gets a hand shake and the players are delighted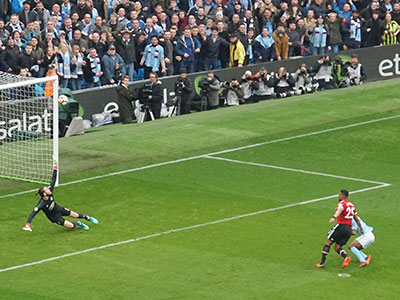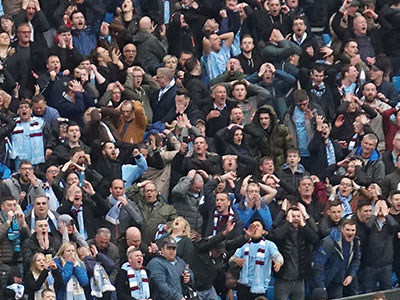 Three minutes later and it should be three nil but Sterling shoots well over the bar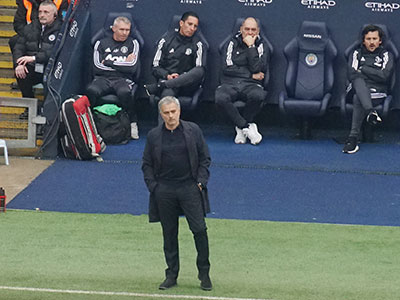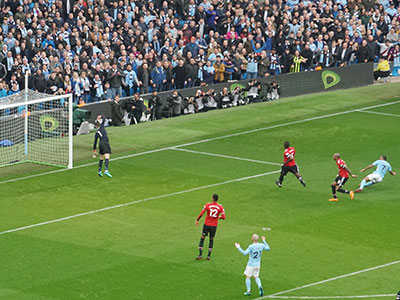 Mourinho watched as Sterling misses another great chance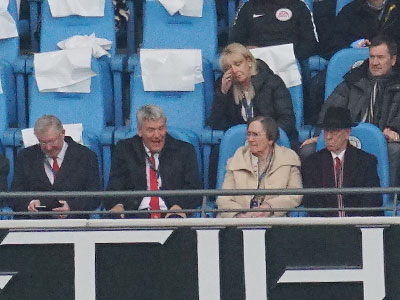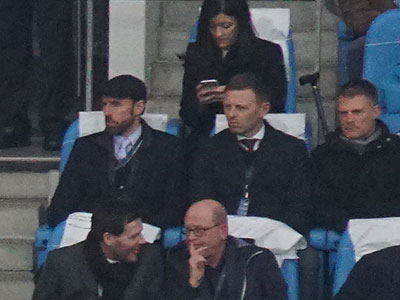 The England Manager is watching too today
Bobby Charlton keeps his hat on while Sir Alex checks his phone!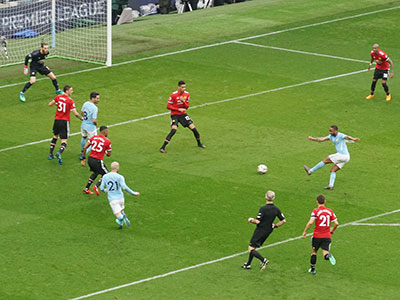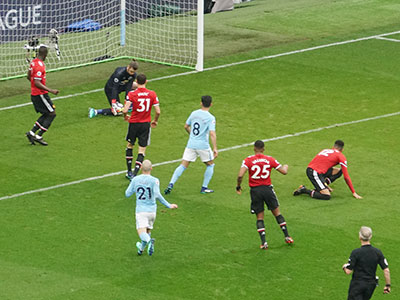 At least Sterling kept his shot down but it went straight to the keeper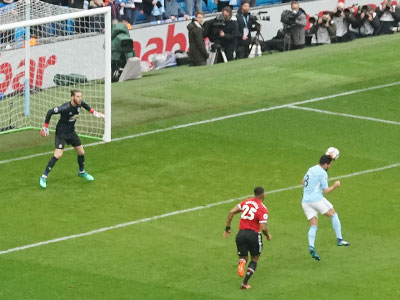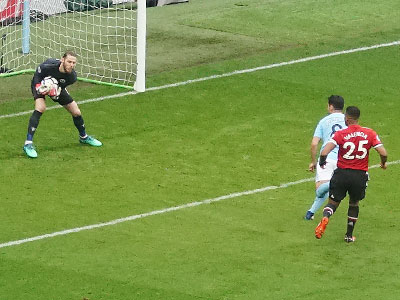 Just before half time a good ball from Fernandinho finds the head of Gundogan but his header goes right at
de Gea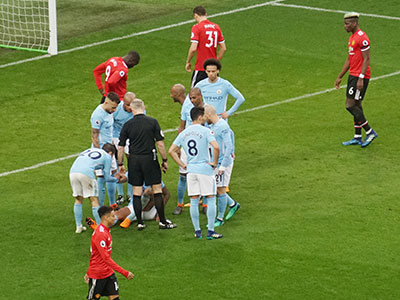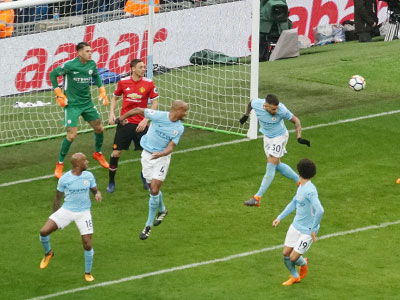 Danilo is down -the secret sniper has struck!
Otamendi heads a corner clear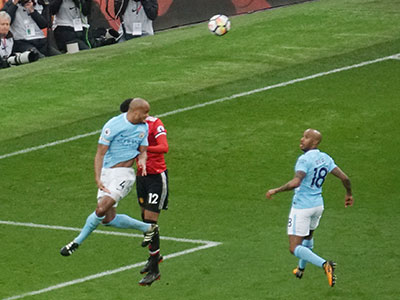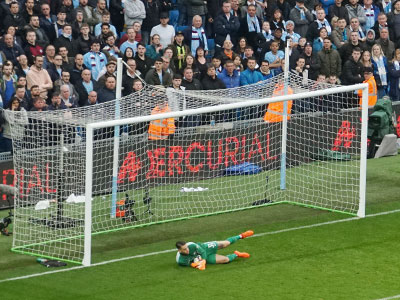 Kompany's turn to clear a corner
Ederson has to make his first save of the game from Pogba in the 48th minutes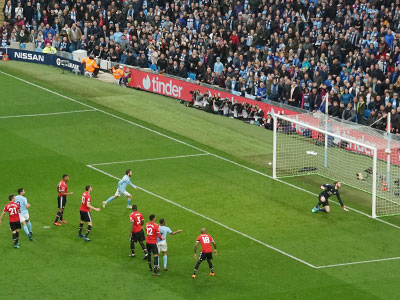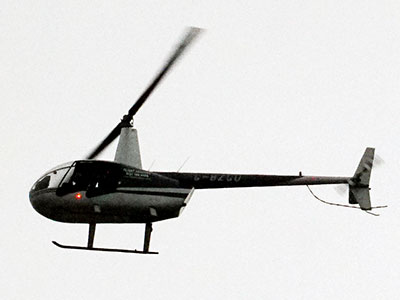 A shot from Gundogan hits the bar
A helicopter flies over the ground - no doubt looking for Russians!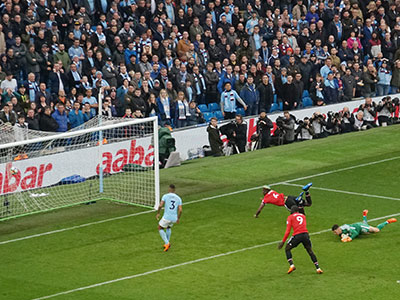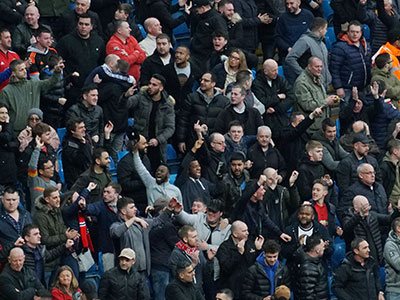 on 53 minutes United score as Pogba takes a pass from Herrera and shoots past Ederson
It gives United fans something to cheer about!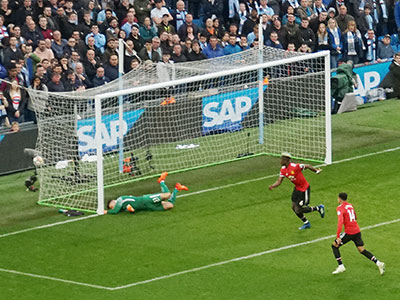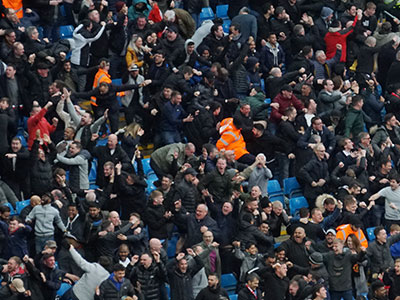 Two minutes later it's Pogba again heading down past Ederson and the United fans now do have something to shout about! Disaster for City!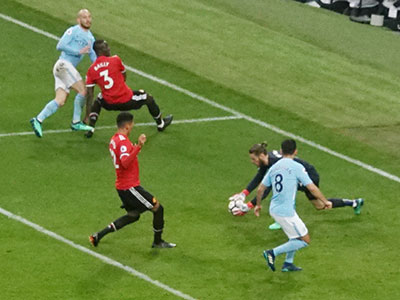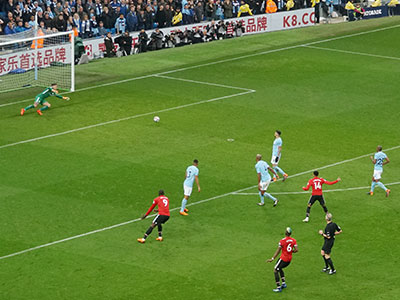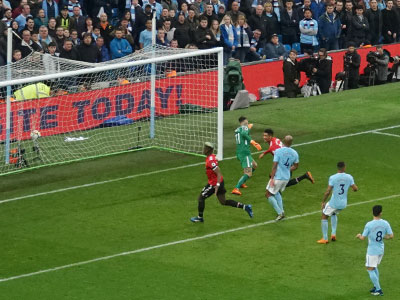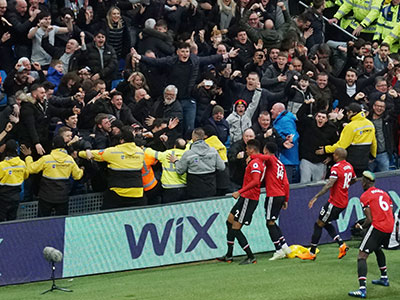 On 69 minutes Smalling gave United the lead following a free kick - unbelievable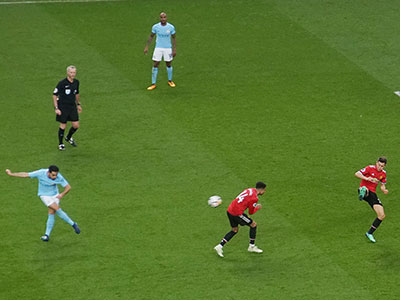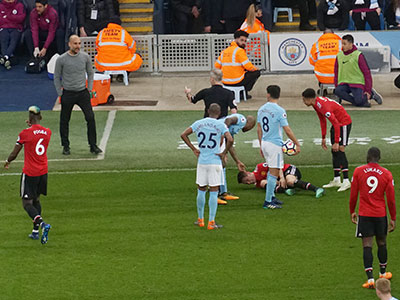 Gundogan has a shot blocked
The ref has a word with Pep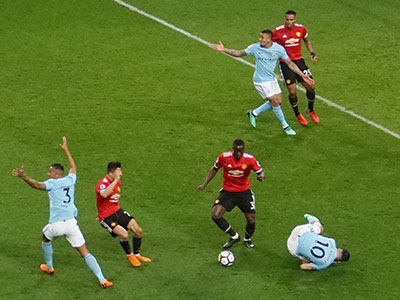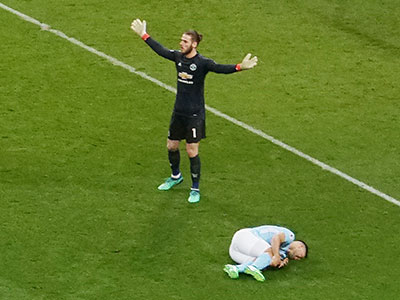 Young brings down Aguero in the penalty area but play goes on as United clear....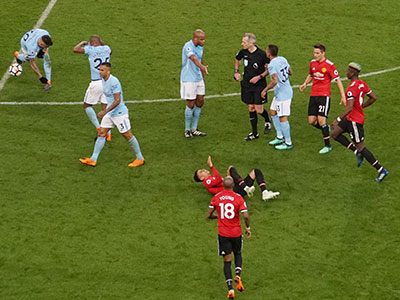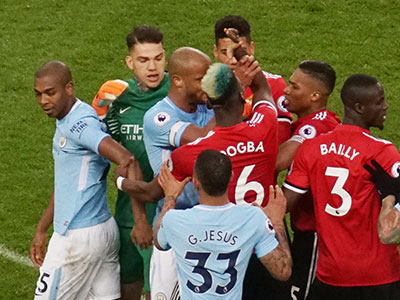 Lingard goes down at the other end and Pogba gets involved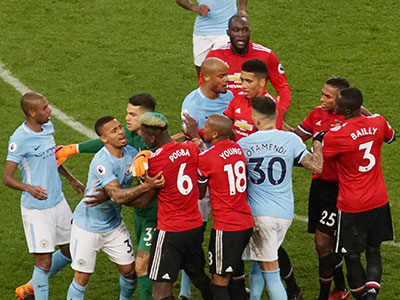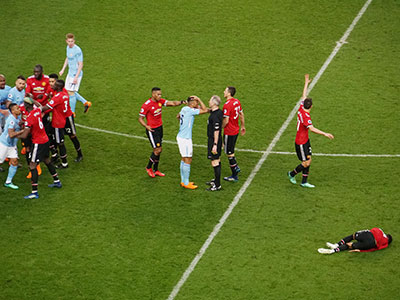 The ref has a bit of sorting out to do!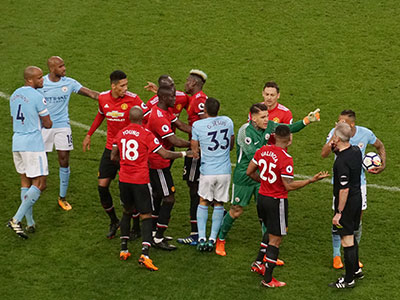 Ederson tries to point out to the ref that Aguero is still down at the other end!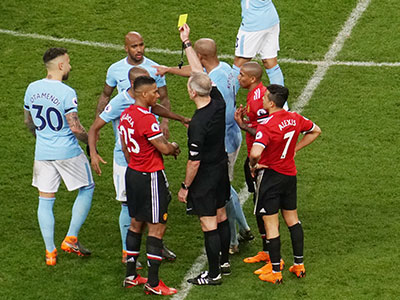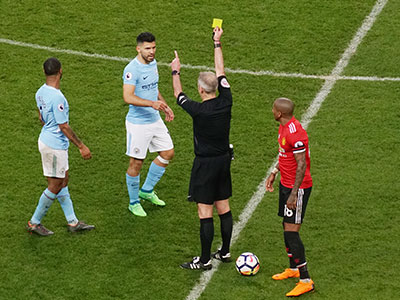 Fernandinho gets a yellow
and Aguero gets a yellow for moaning about his lack of a penalty!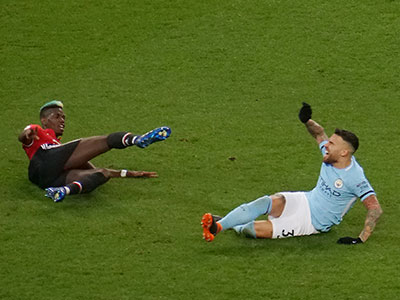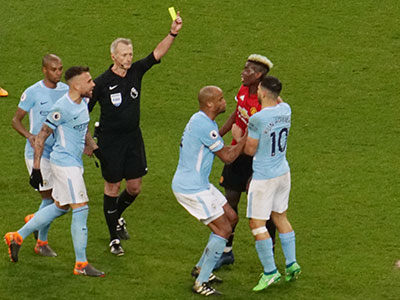 Pogba gets a yellow for fouling Otamendi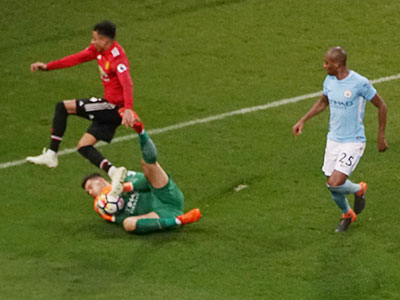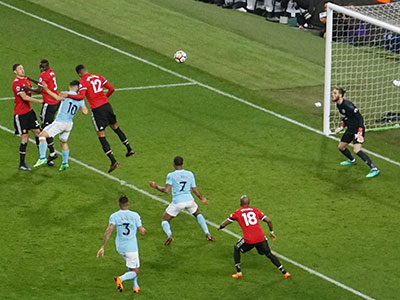 Lingard leaps over Ederson as the keeper saves
a Sane cross is headed by Aguero ......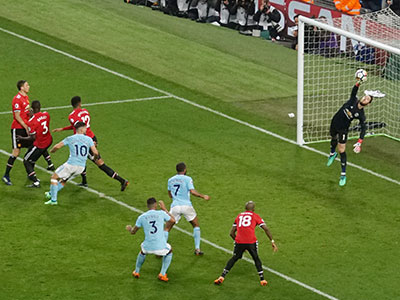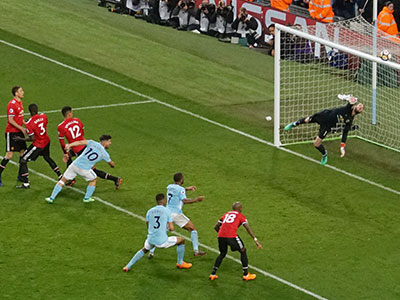 ....but de Gea makes a great save to stop Sergio's 200th goal attempt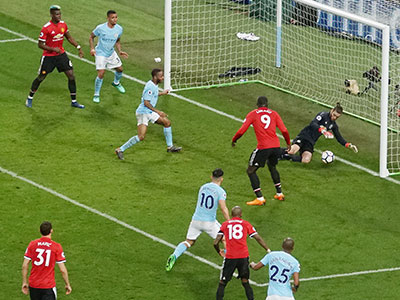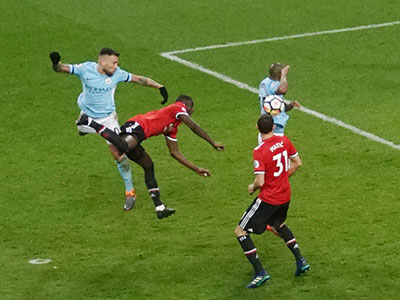 United managed to keep out efforts by Fernandinho and Otamendi as added time approached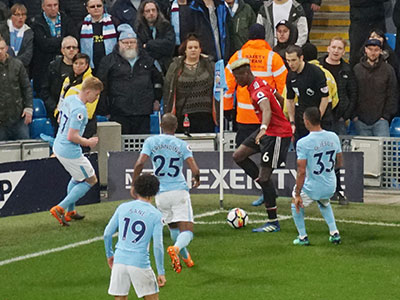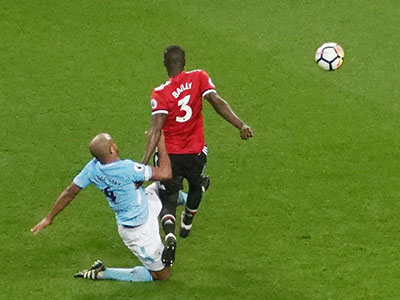 United tried to waste time at the corner flag
Kompany made one last effort but it went over the bar
team
Ederson 6.5: Danilo 6, Kompany 6, Otamendi 6, Delph 6: Fernandinho 7.5, Gundogan 6.5 (Aguero) : Sterling 6, Silva 7 (De Bruyne ) Benardo 6.5 ( Jesus) Sane 6