City 1 Juventus 2
Champions League
September 15th 2015 50,363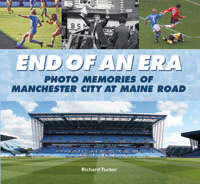 Now available from Amazon ( click on image for link)
WH Smith and the City shop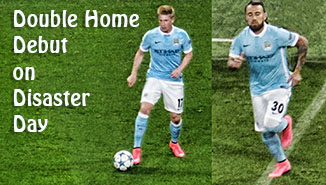 After taking the lead early in the second half City squandered several chances and then gave Juventus two goals to once again fail to impress in the Champions League. The first half was boring with Juventus quite happy to defend in depth and with City lacking their Premiership creativity Buffon now 37 had a relatively easy time. Both Silva and Sterling missed good chances and one just cannot afford to waste chances in the Champions League. Bony had some half chances but alas he is not a good deputy for Aguero who did come on very late on but certainly did not look very fit. We had home debuts for Kevin De Bruyne and Otamendi late on but neither could inspire City. It was very surprising when Kompany was subbed as he did not look injured and shortly after Juventus scored their winning goal - Otamendi failing to block Morata's shot. Fernandinho worked his socks off for City and nearly scored again but alas City's winning streak has come to a grinding halt.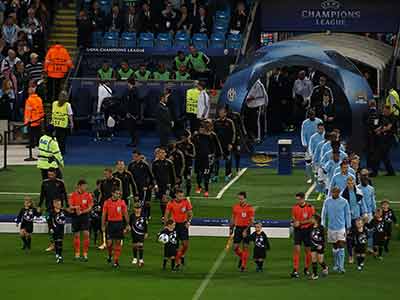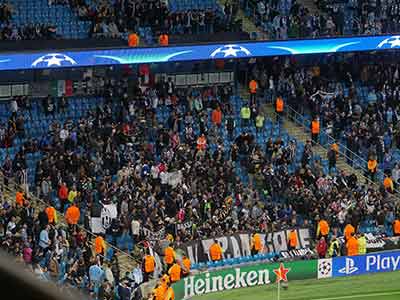 Silva and Sterling returned from injury and De Bruyne and Aguero were on the bench
Juventus had a small but vociferous group supporters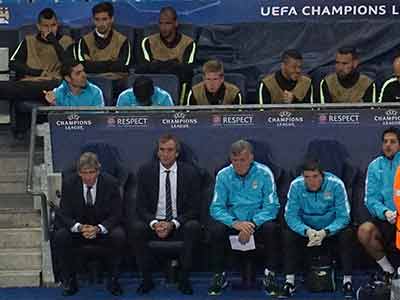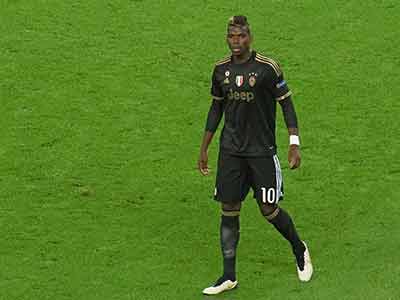 Pogba - the player City tried to sign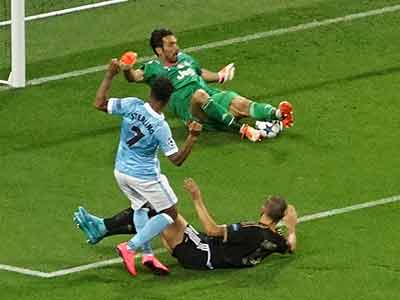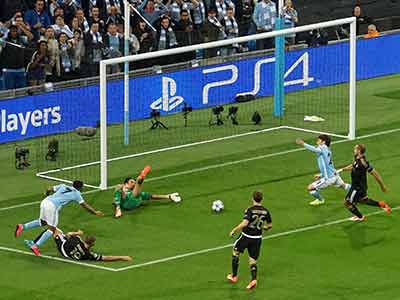 An early half chance for City but Juventus manage to survive .......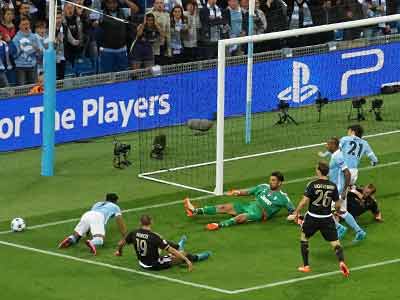 .........and concede a corner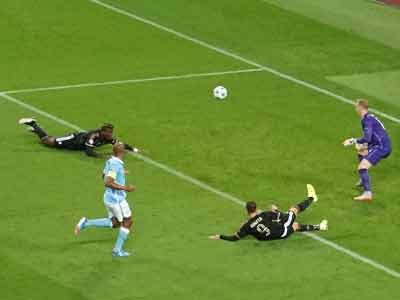 eleven minutes on the clock and Pogba heads for goal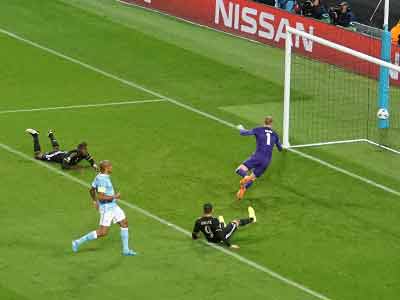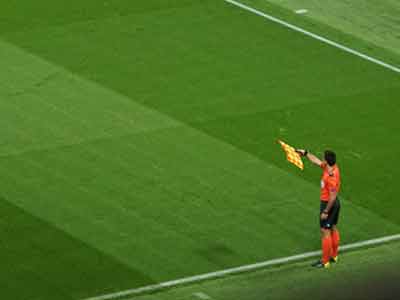 The ball is in the net but alas for the cheering Juventus fans the flag has gone up for offside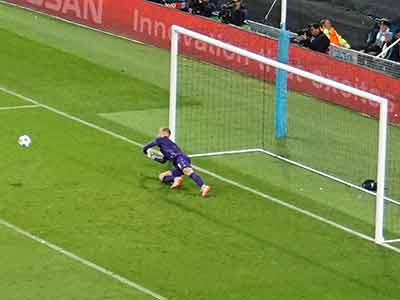 A free kick conceded by Kompany is taken by Hernanes but goes just wide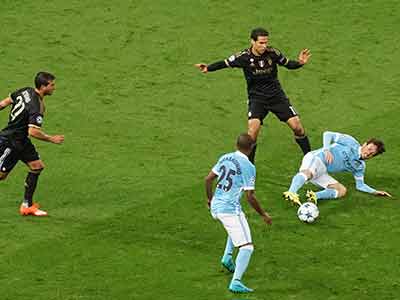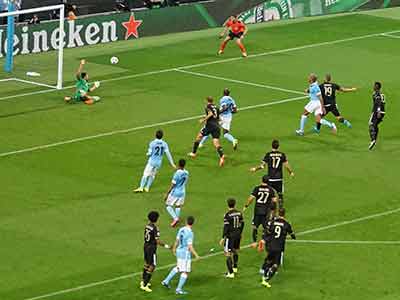 22 minutes and Silva is fouled by Hernanes but Kolarov's free kick goes wide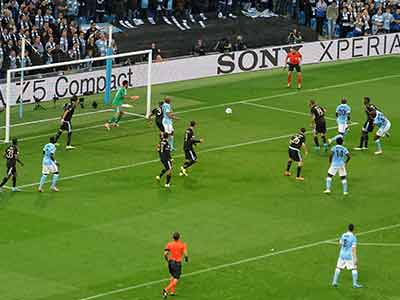 Hart dives but Morata's shot goes just wide
a shot by Toure goes wide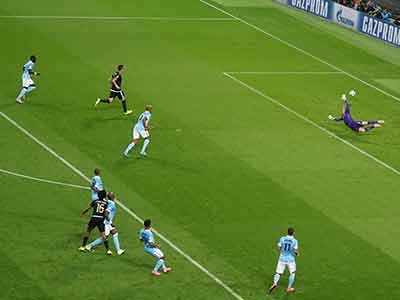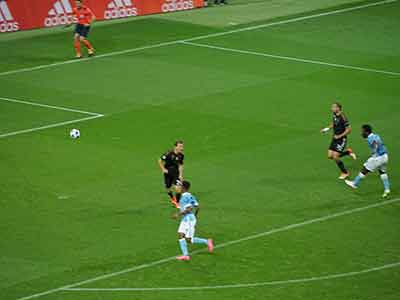 On 30 minutes a shot from Cuadrado goes just wide
a minute later Bony misses too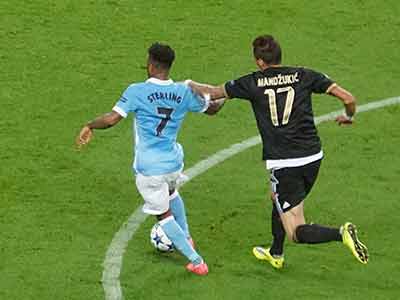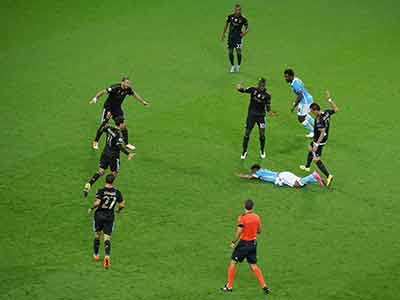 Mandzukic hauls back Sterling but no free kick!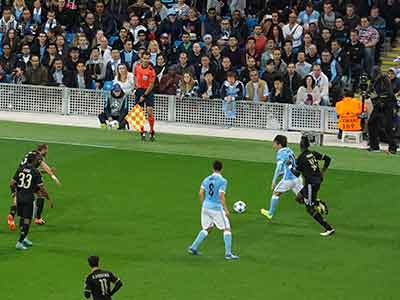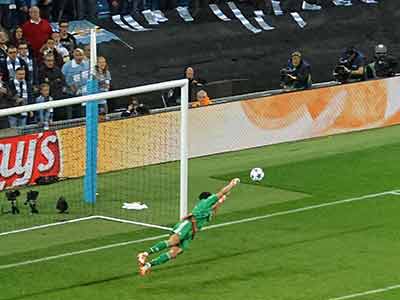 A City attack down the right flank leads to an effort by Fernandinho which goes just wide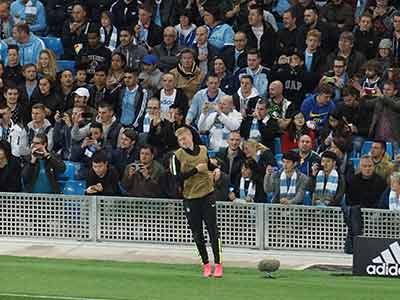 After a chess match of the first goalless half Kevin warms up on the touchline - when will he come on?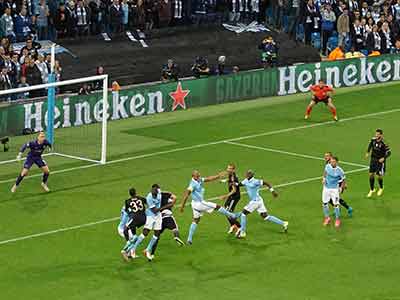 City have to defend a free kick early in the second half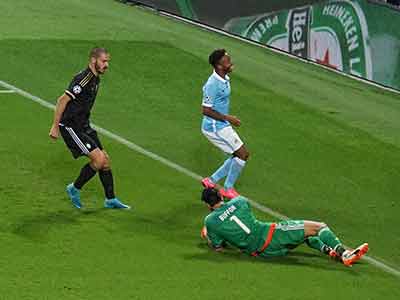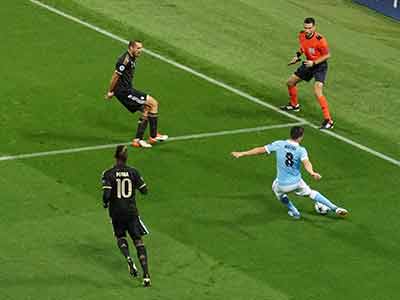 Buffon saves at the feet of Sterling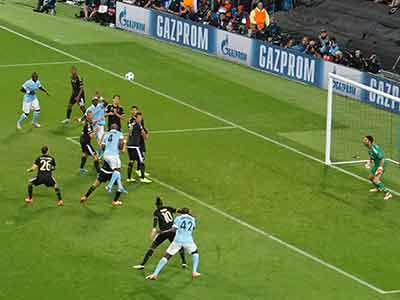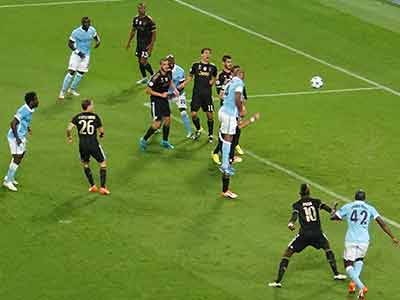 56 minutes and City have corner which Silva takes and up goes Kompany with Chiellini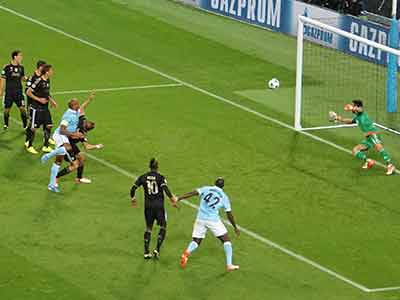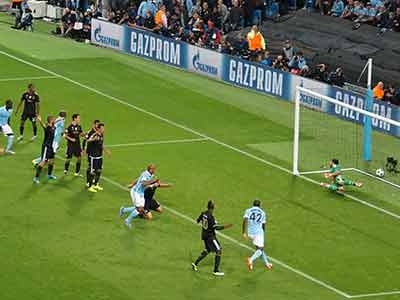 The ball flies into the net and City are ahead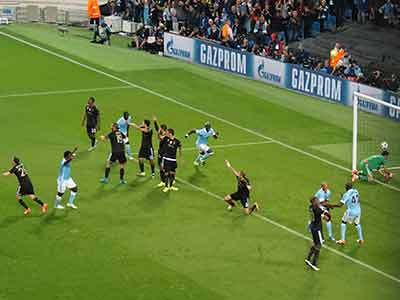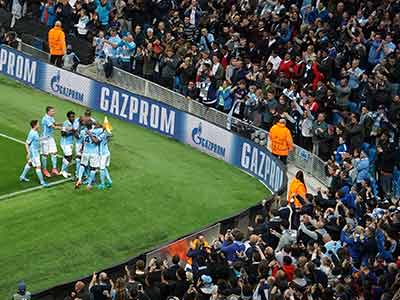 The Italians appeal as the ball went in off Chiellini and they think Kompany fouled him but the City fans and players celebrate as the goal is given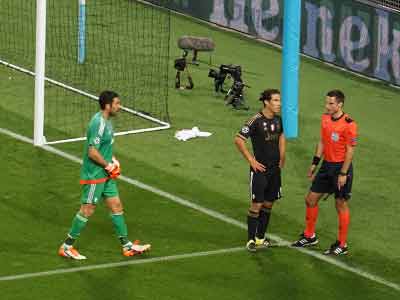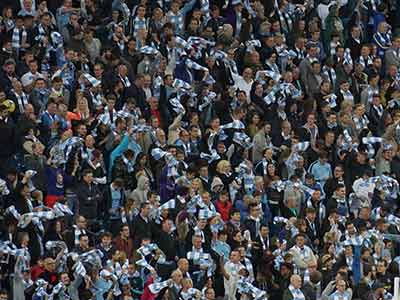 Juventus continue to be annoyed as the South Stand display their free scarves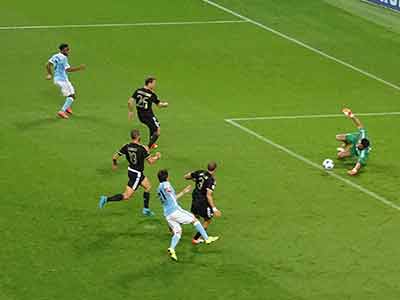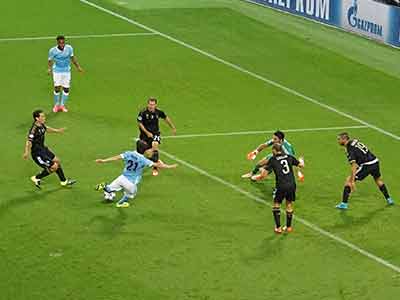 a few minutes later City should have added to their score as Sterling when well placed failed to beat Buffon and when the ball came free to Silva he too failed to net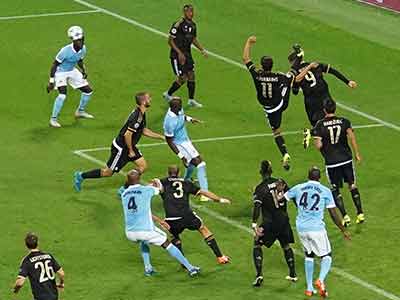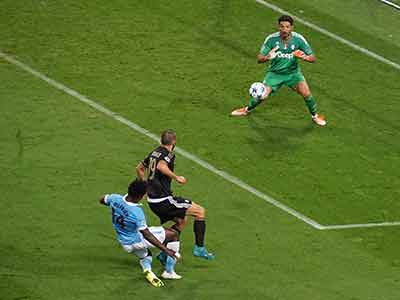 From the corner Hernanes almost kicks Morata on the head in clearing
Bony;s shot is saved by Buffon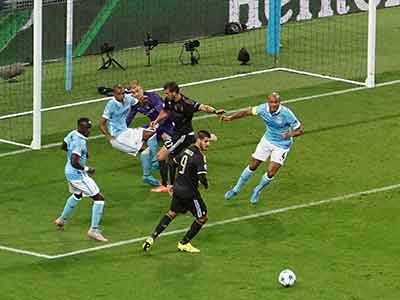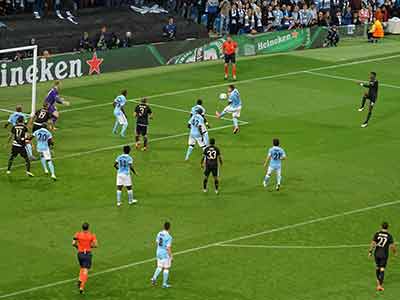 City manage to clear a Juventus attack
A shot by Pogba goes wide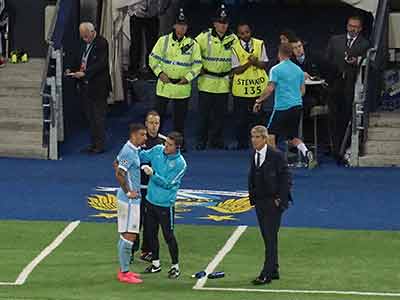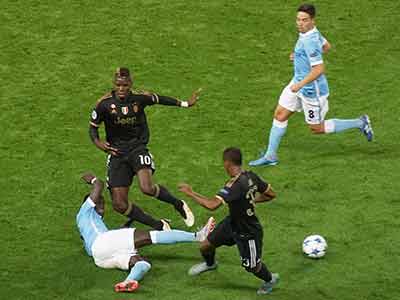 City down to ten men as Kolarov gets some treatment
Sagna manages to clear under pressure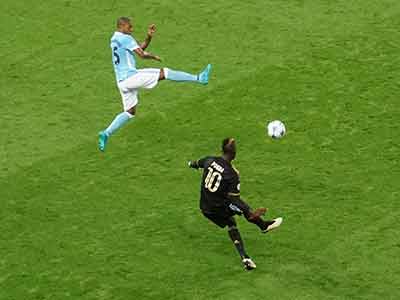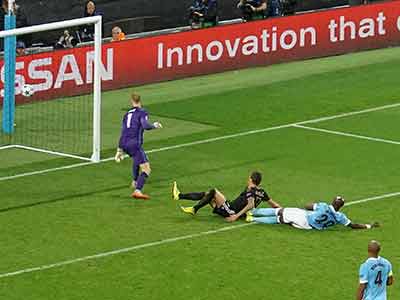 70 minutes gone and a great pass by Pogba finds Mandzukic who scores - one each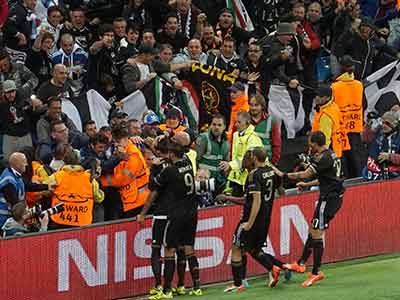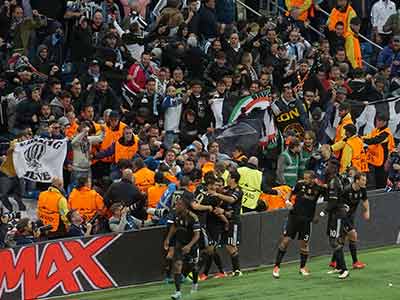 The Juventus fans enjoy their moment of joy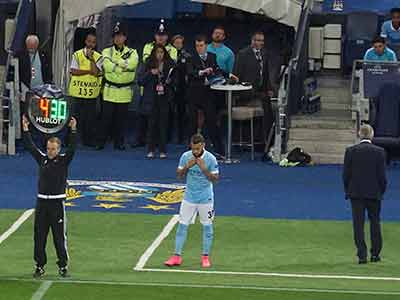 Immediately De Bruyne comes on for Sterling and 4 minutes later Otamendi comes on for Kompany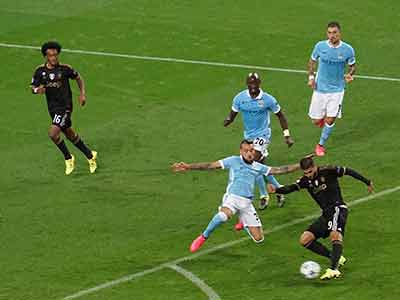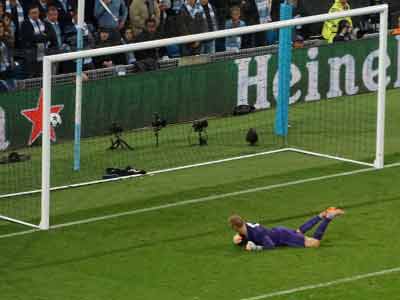 on 80 minutes Morata shoots past Hart and Juventus are ahead - disaster!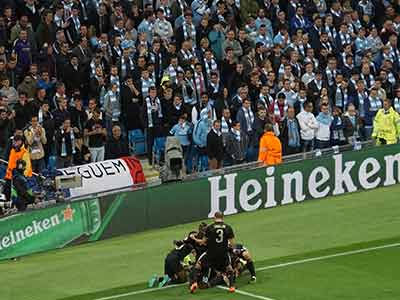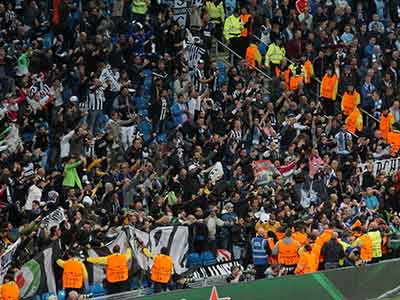 While City fans are horrified about the change in fortunes the visiting supporters are quite happy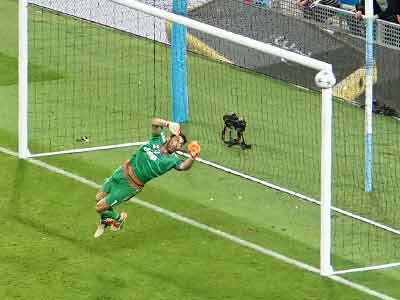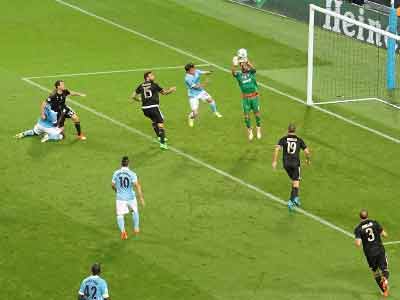 The incredible Buffon saves from Toure
Juventus hold off the remaining City attacks and it's a poor home defeat at the start of the Champions League
Team
Hart 7: Sagna 6.5, Kompany 7 ( Otamendi) Mangala 6.5, Kolarov 6.5: Toure 7,
Fernandinho 8, Silva 7, Nasri 6.5 (Aguero), Sterling 6.5 ( De Bruyne) Bony 5
Team:
Hart 5.5: Boateng 7 ( Milner), K. Toure 7, Kompany 8, Zabaleta 6.5 (Boyata 7): Johnson 7, Barry 6.5, Viera 6.5, Y. Toure 7: Tevez 7 , Adebayor 6.5 (Silva 7)
The last time we played Juventus at home was in Sept 2010 - report and pics
HERE