City 1 Juventus 1
Europa League
September 30th 2010 35,212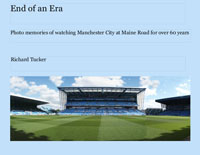 My book 'End of an Era' containing photo memories of days at Maine Road is now available from Blurb.com.
There are over 300 images on 200 pages.
Click on the image for details

I suppose it was too much to ask a repeat of the performance against Chelsea in this hard game against Juventus. The Italians did not come to Eastlands to defend and they might have won hitting the bar late in the game from a free kick With City adopting a 4-3-3 selection with Johnson, Tevez and Adebayor up front I did not think Tevez is at his best when he plays too wide. I don't think Adebayor is the complete answer up front and I can't wait for Balotelli to get fit. Kompany and Kolo Toure are making an excellent defensive partnership and we saw Boateng for 84 minutes. He appears to have the ability to throw long distances so I hope we make use of this and he cultivates the art of a lower trajectory throw which can be very dangerous as we have found when playing Stoke City! I don't think Gareth Barry had as good a game he had against Chelsea and I hope Zabaleta's injury is not too bad. Fortunately Boateng was able to switch over to left back letting the very promising Boyata sub for Zabaleta at half time. Not a bad crowd considering Juventus had only brought 500 and the game was live on C5. We need to beat Poznan in a few weeks time if we are going to be certain of progressing in this cup.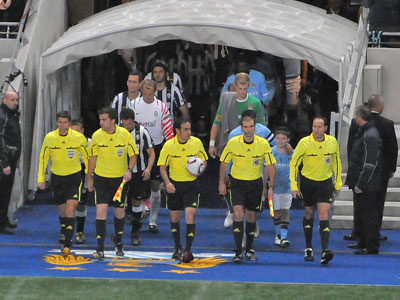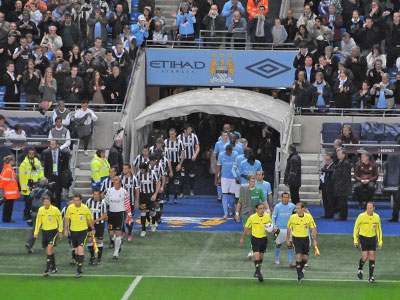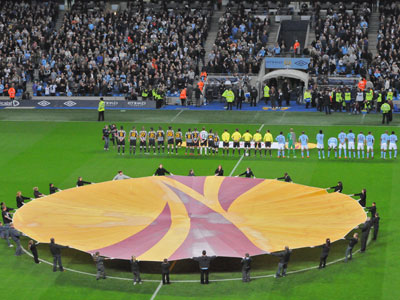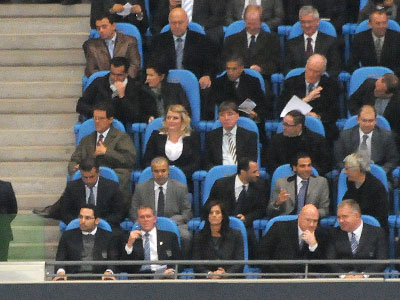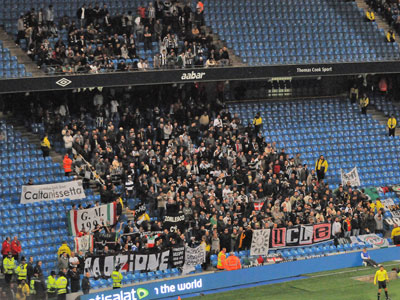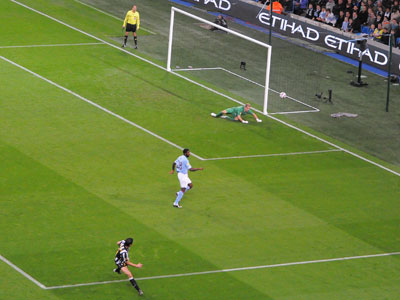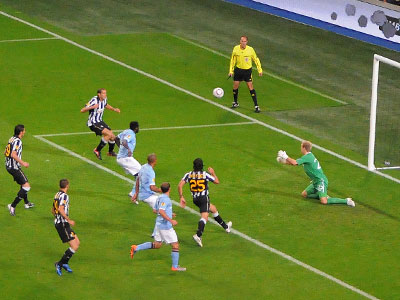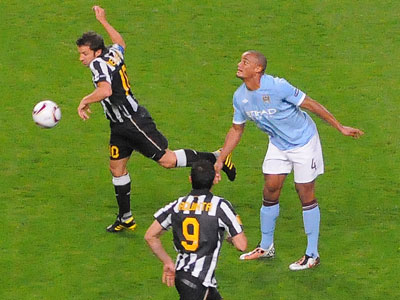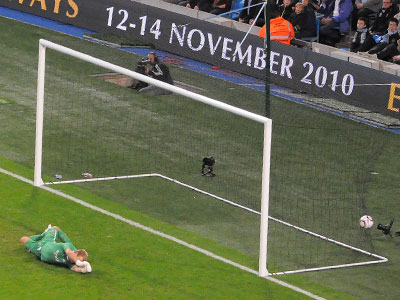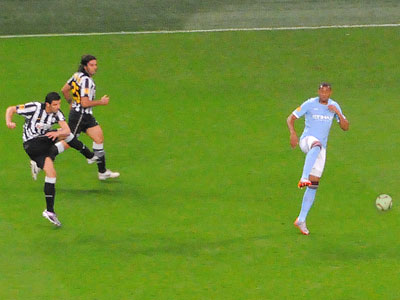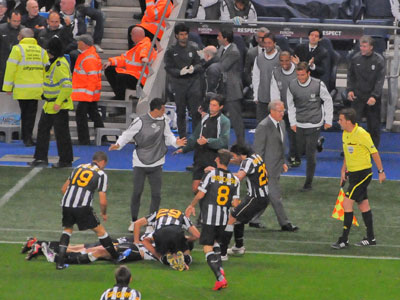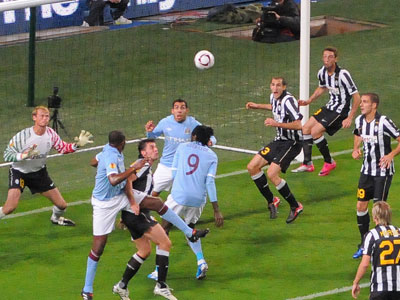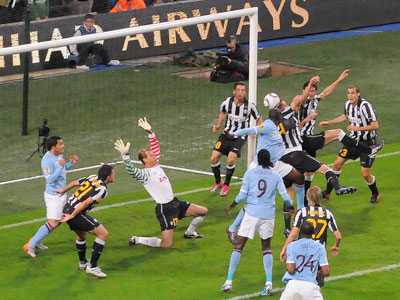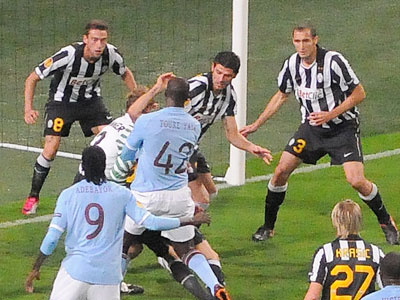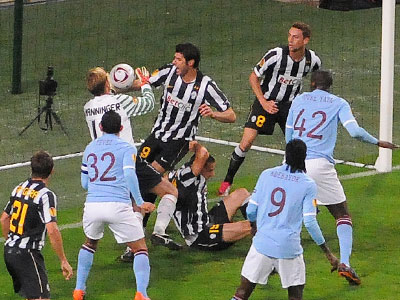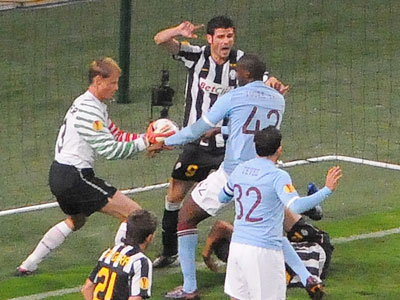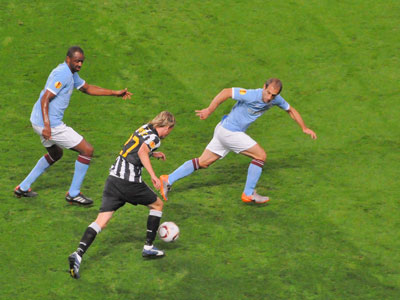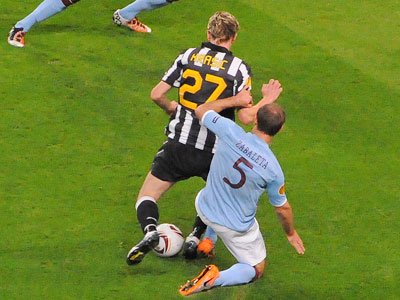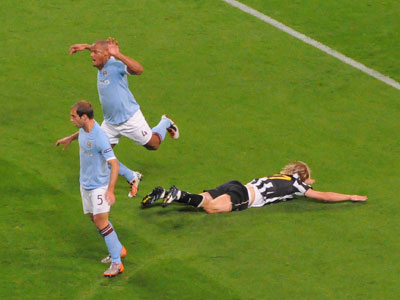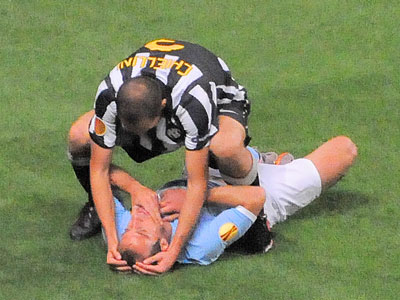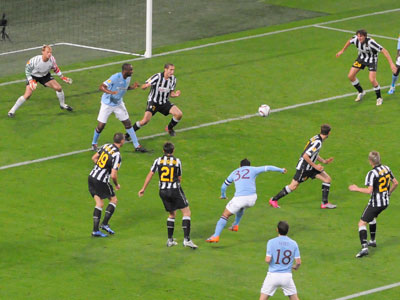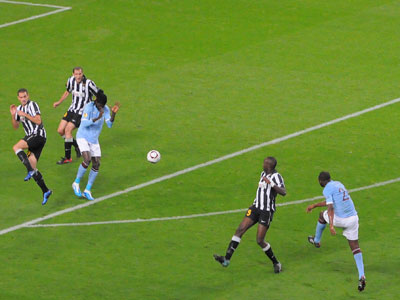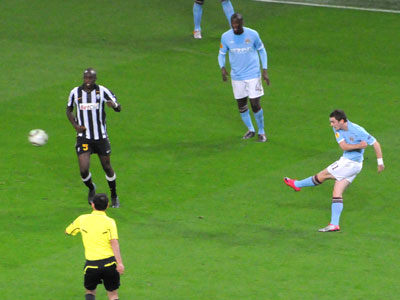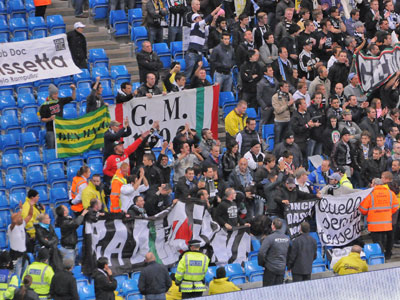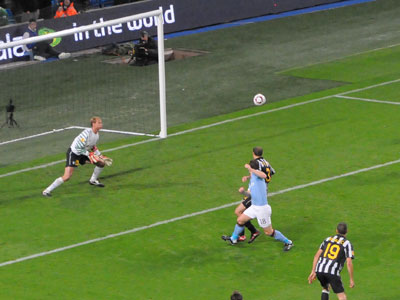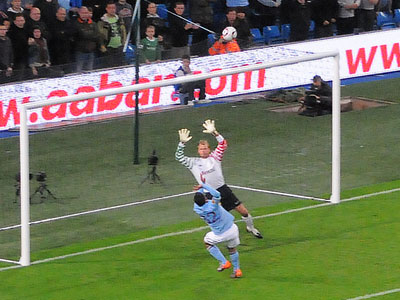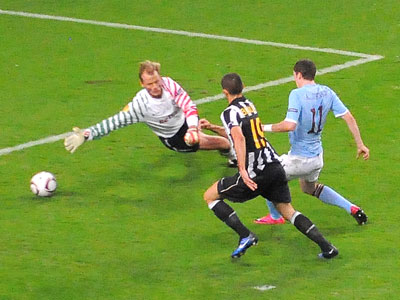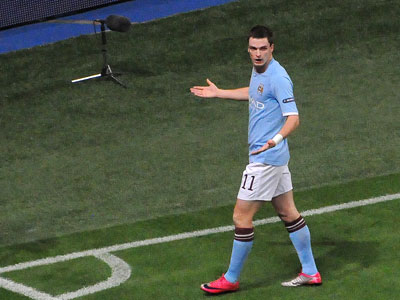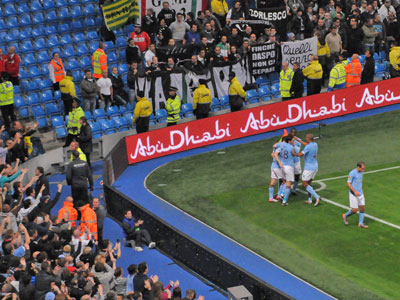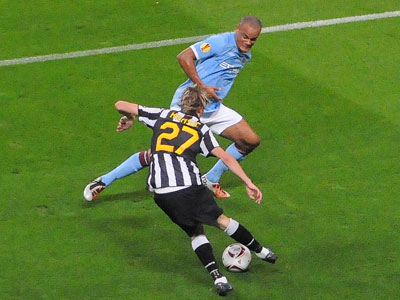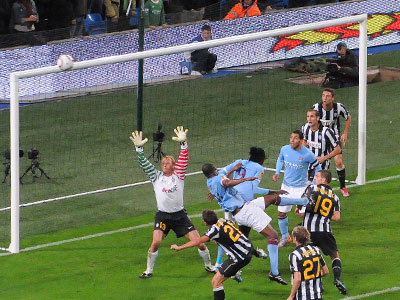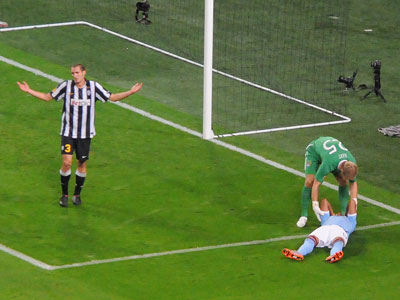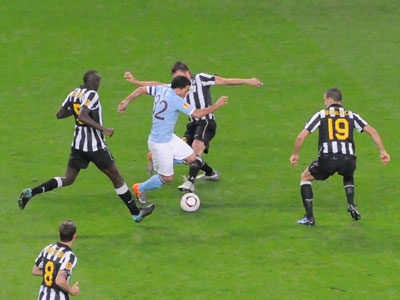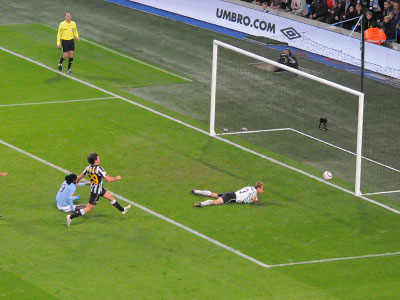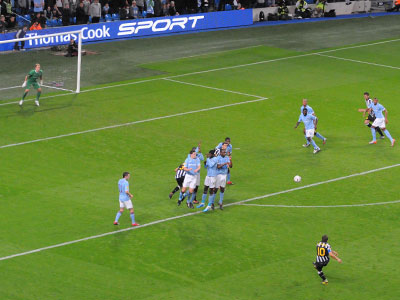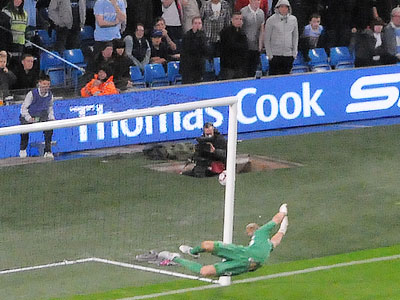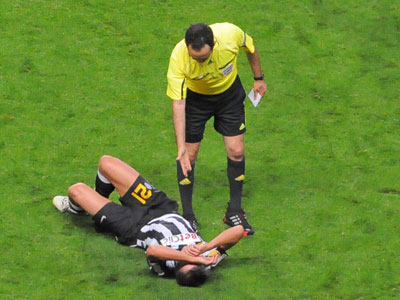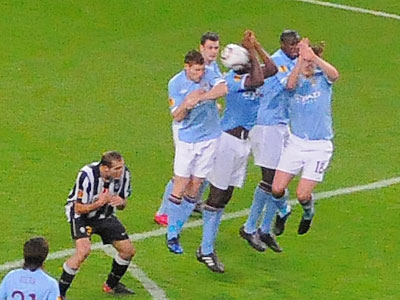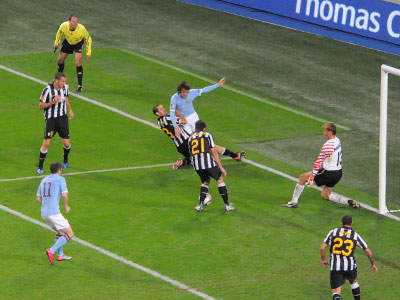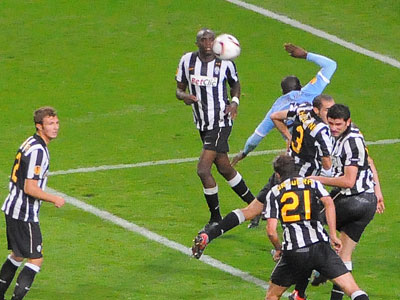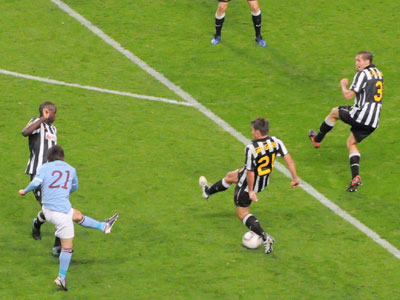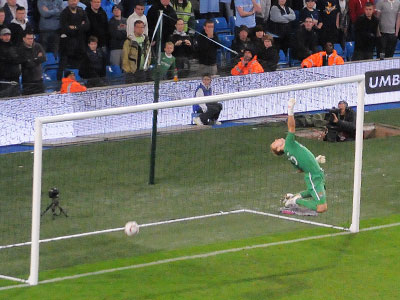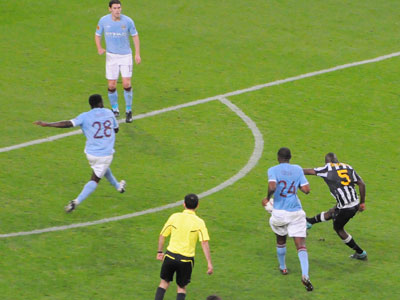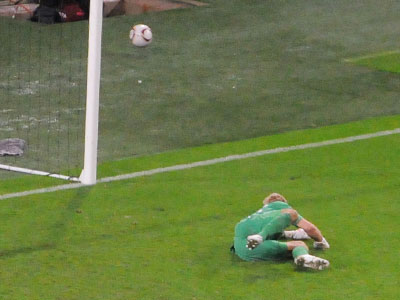 The yellow brigade of officials for the Europa game - all from Spain for this one
Adebayor and Johnson came into the lineup, Milner and Silva being rested. Boateng made his first start at right back
I noticed that the England manager was in his usual seat to watch England play Juventus - ooops sorry the England players in the City team!
There were 500 or so noisy Juventus fans supporting their team
Kompany was soon in action
In the first five minutes or so Joe Hart was busy saving -first from Iaquita and then del Piero
On 10 minutes Hart was beaten by a long range shot by Iaquita which I think he should have saved - the ball going underneath his arms. One nil to the visitors and just what we didn't need!
The Italians celebrated their early success
Three minutes later and City got a corner........
.... in the scuffle that followed Yaya Toure was adjudged to have fouled the keeper so the chance was wasted
Krasic was proving a problem down the right flank and when Zabaleta went into a late tackle......
...... Krasic went down in the area and we all feared the worst but the referee gave a free kick for diving. Phew!
Just what is Chiellini up to here!
On 18 minutes Carlos Tevez had a half chance but his shot goes miles wide
Adam Johnson shoots over the bar on 25 minutes
The visiting supporters were enjoying the fact that the City finishing was going well wide of the net
City did come near just after the half hour when a glancing header from Barry hit the bar. The Juventus defence managed to clear the danger
Tevez was offside but he missed anyway
On 36 minutes City did score. A great through ball by Yaya Toure found Adam Johnson who scored an excellent goal to even matters
It was a splendid effort by Johnson and while the visiting supporters went very quiet City supporters enjoyed the moment.
Kompany trying to prevent the dangerous Krasic from making any progress
It's hands up again for keeper Manninger at this City corner
The first half ends with Joe Hart being fouled as he tries to clear a corner and Boateng gets injured in the collision.
Tevez tries to break through but is outnumbered
Adebayor misses but is offside anyway
On 65 minutes a free kick taken by Del Piero goes just wide
The excellent referee Eduardo Gonzalez tells Grygera to get up and stop feigning injury!
The introduction of David Silva for Adebayor added more life to the City attack
With 4 minutes left City had an escape when a free kick taken by Del Piero beats Hart and hits the bar- the ball coming down just outside the goal. A narrow escape and I don't think I like the hands raised by City defenders in the wall. That could end with another free kick even nearer the goal!
As extra time started Silva had an effort saved and Juventus managed to clear the resultant corner
Just before the final whistle Sissoko shot just wide so an entertaining game ended one apiece
Team:
Hart 5.5: Boateng 7 ( Milner), K. Toure 7, Kompany 8, Zabaleta 6.5 (Boyata 7): Johnson 7, Barry 6.5, Viera 6.5, Y. Toure 7: Tevez 7 , Adebayor 6.5 (Silva 7)