City 2 Chelsea 1
Nov 23rd 2019 att.54,486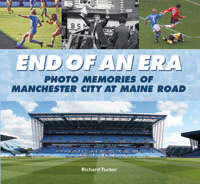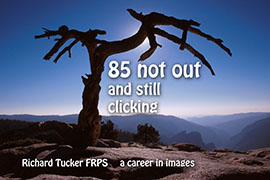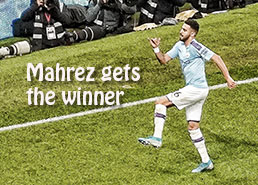 It is very rare when the opposition have more possession than City at the Etihad or even away and that must be a record for manager Pep.It was a very open game and City had plenty of defending to do for once.Our hearts dropped when Chelsea opened the scoring. Fortunately a deflection helped Kevin De Bruyne level the scores shortly after and then Mahrez scored an excellent goal to put City ahead.
There were some worries for City though. An injury to Aguero and the poor form of Sterling will give Pep plenty to think about. Silva too went off but I think that was just cramp - I hope!
Fernandinho did well at the back but Mendy not so good.
Lets hope we can keep the pressure up on Liverpool with good results in our next two away games at Newcastle and Burnley. Then we have a home against some team from Salford!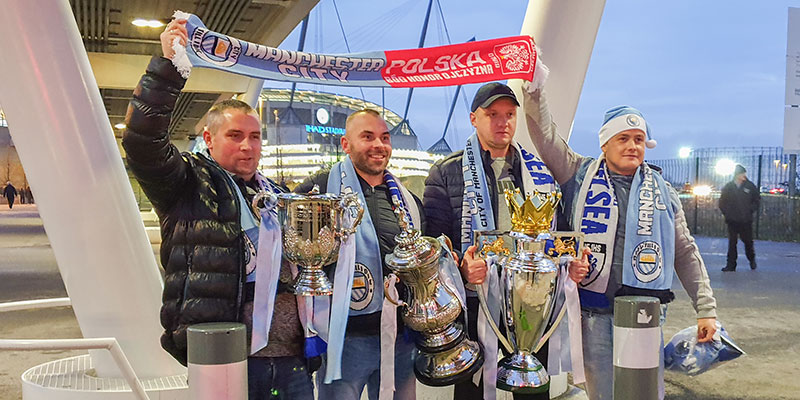 Before the game I noticed that there were pics to be taken with Cups - who won those I wonder!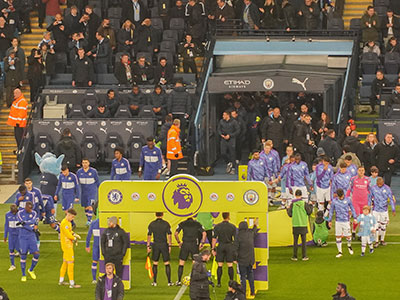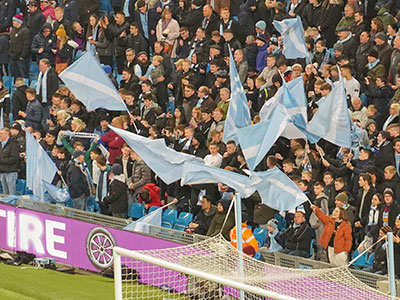 City made 5 changes from the game at Liverpool. Back came Ederson thank goodness for Bravo. Cancelo came in for Walker and Mahrez for the suspended Benardo. Mendy was preferred to Angelino and Rodri was in for Gundogan.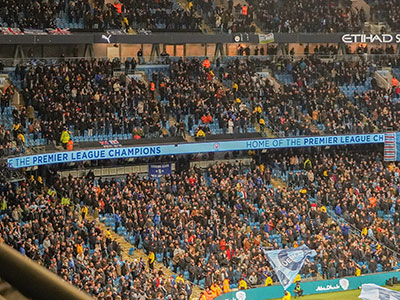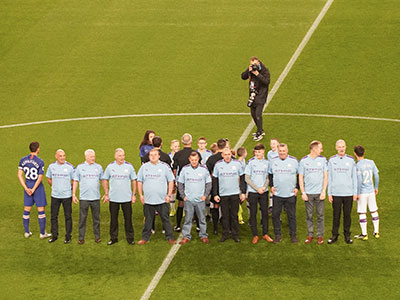 Chelsea had a lot of support for this match
I don't know who this team are but they all had 21 on their shirts!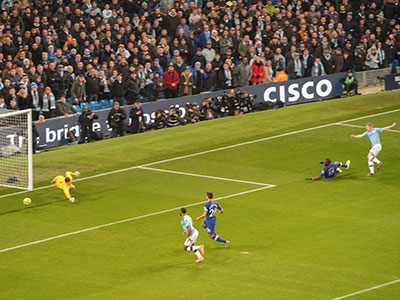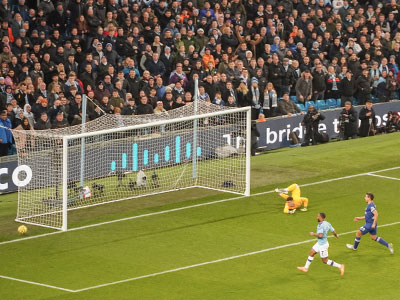 City almost took the lead in the 4th minute - this effort by De Bruyne going just wide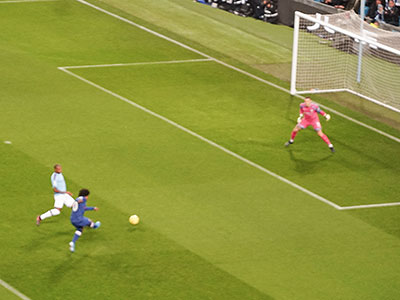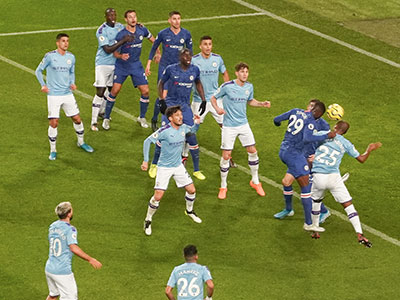 4 minutes later a shot from Willian goes just wide
City have to defend a corner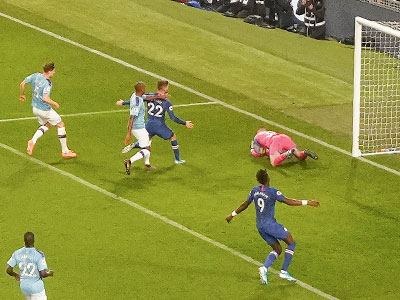 Another Chelsea effort goes wide
Ederson saves from Emerson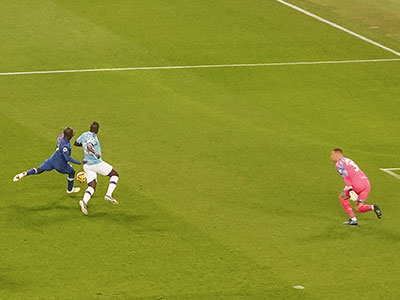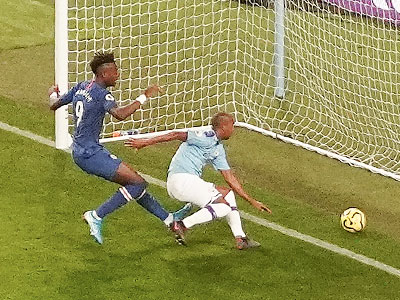 Kante outpaced Mendy and managed to shoot past Ederson to give Chelsea the lead - disaster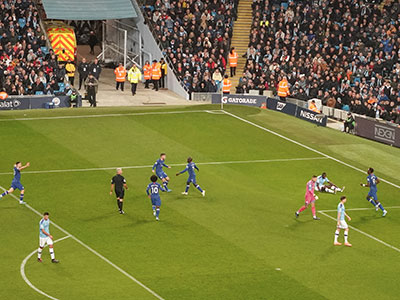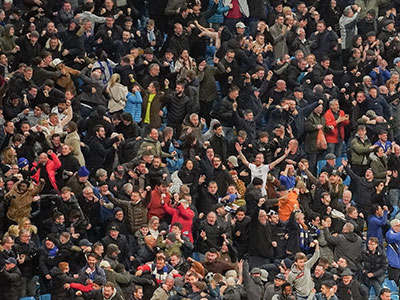 Oh dear - the visitors have something to be cheerful about ...........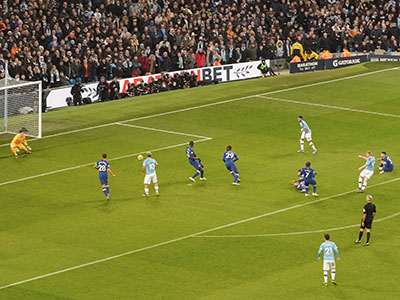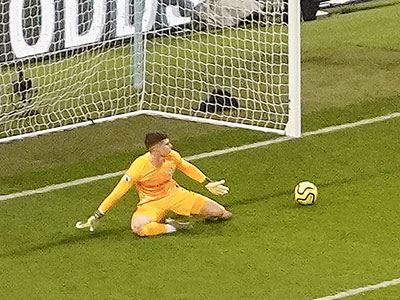 ...but not for long - as 8 minutes later De Bruyne takes a shot which is slightly deflected......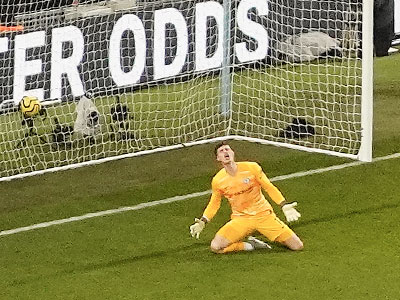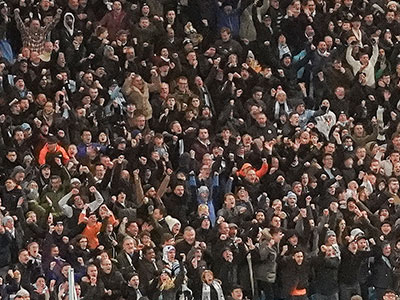 ...and past the keeper to make it one all much to the delight of the South Stand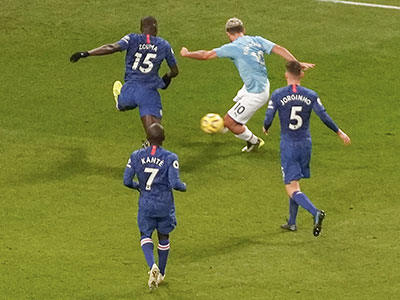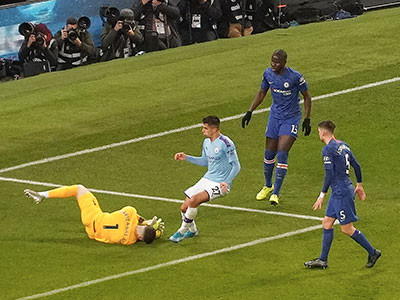 Aguero has a shot blocked and eventually Kepa saves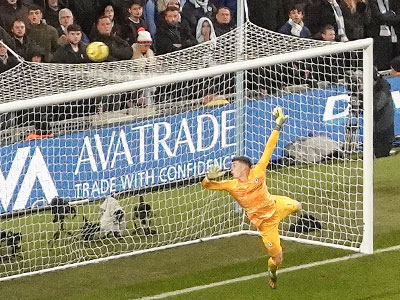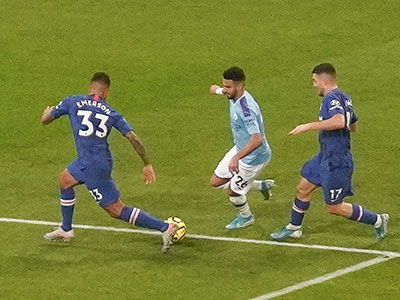 A shot from De Bruyne goes just over the bar
On 37 minutes Mahrez starts a dribble and ends with a shot.....

...which beats the keeper.....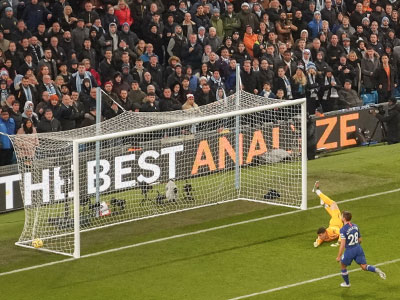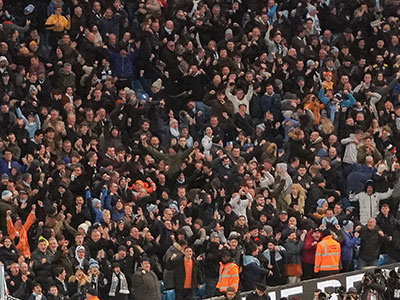 ..and ends up in the back of the net much to the delight of the City fans behind the goal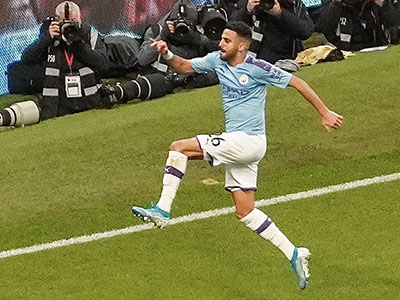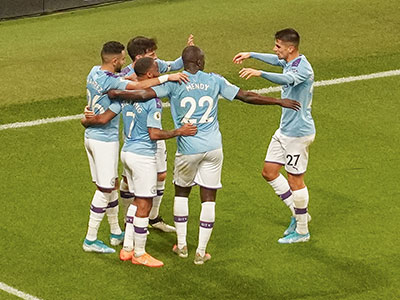 City are ahead - time to celebrate!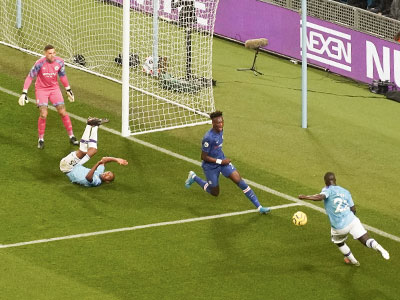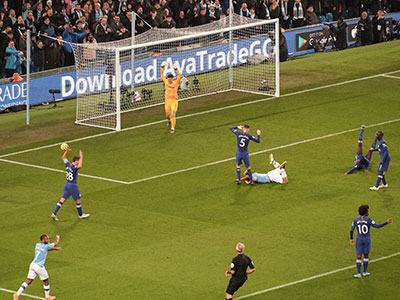 Fernandinho clears the danger
Surely a penalty --- .....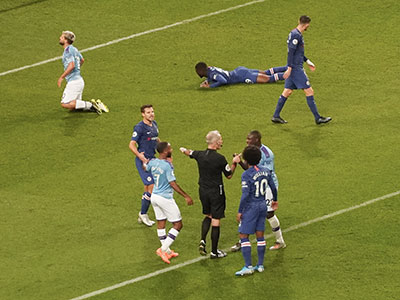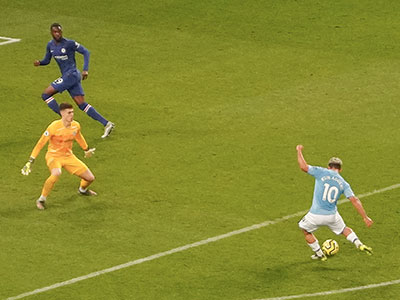 not with this ref! - no VAR either
Kepa makes an error and gives Aguero a golden chance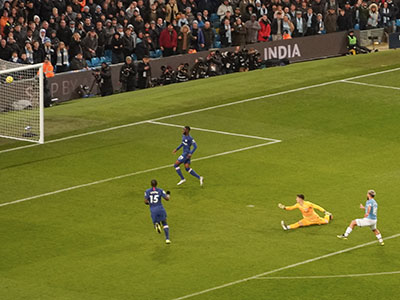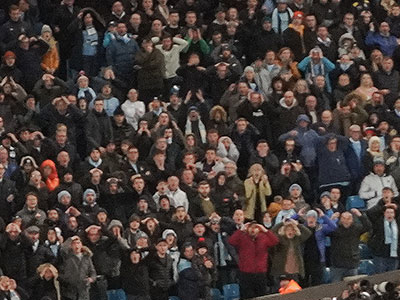 The ball hits the bar and is cleared much to the dismay of the City fans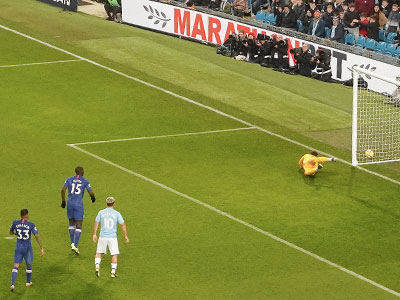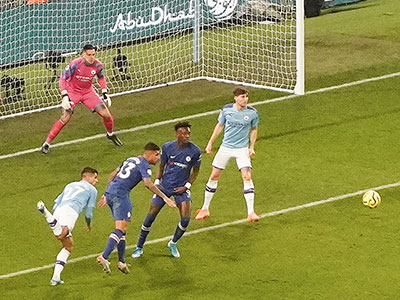 Early in the 2nd half a Mahrez effort goes just wide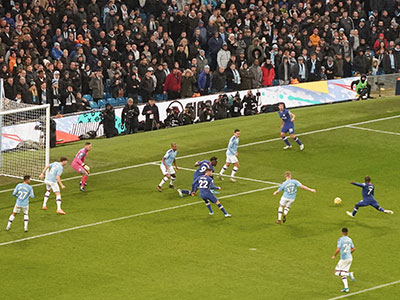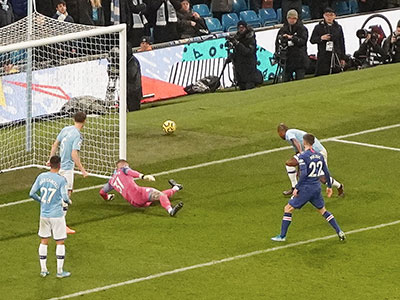 A shot from Kante is deflected for a corner by Fernandinho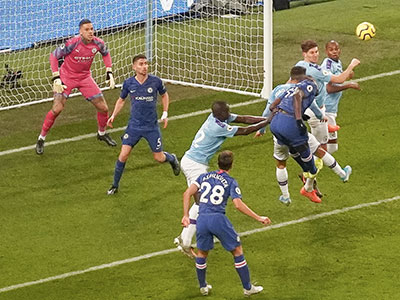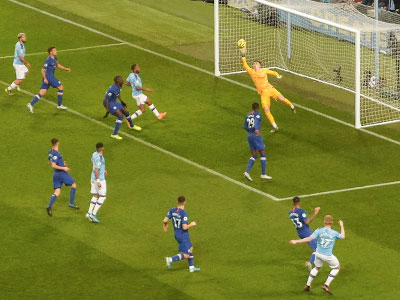 Stones heads the corner clear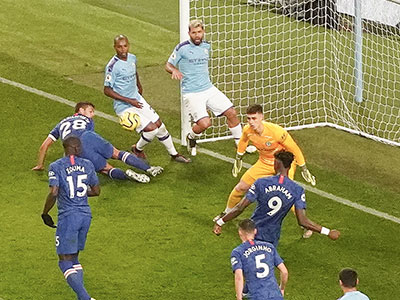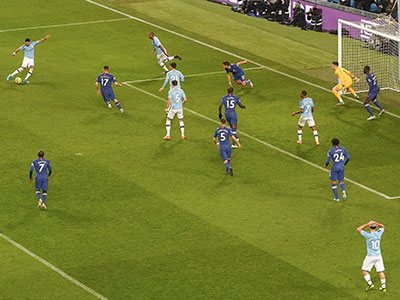 Somehow Chelsea manage to clear the corner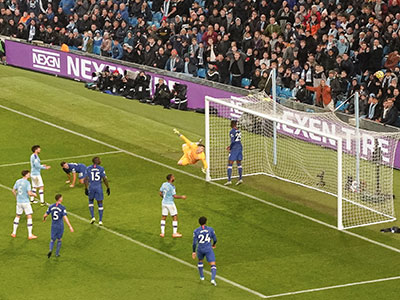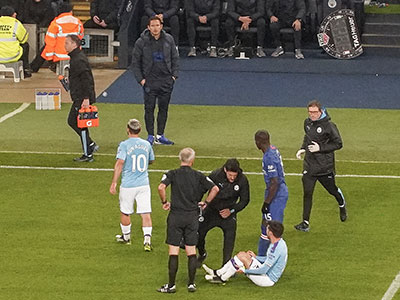 Oh dear Silva is down and is replaced by Foden on 67 minutes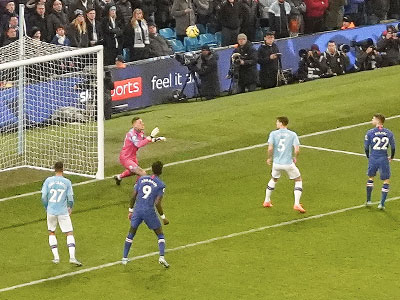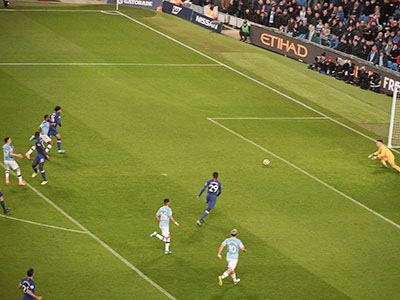 A shot from Willian goes well wide
Foden has a shot saved by Kepa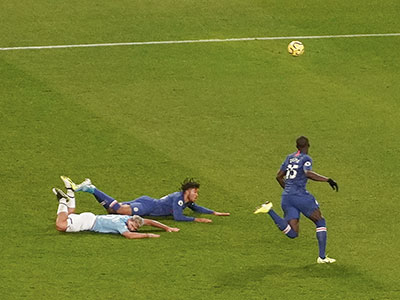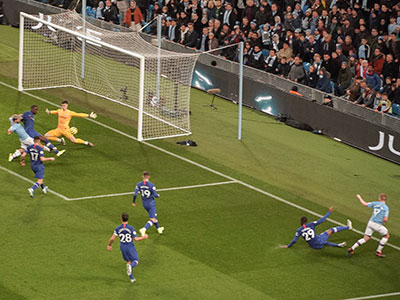 Aguero's down - no pen - yet again
A cross from De Bruyne is met by Aguero but his effort is saved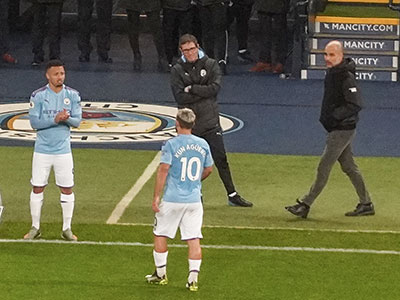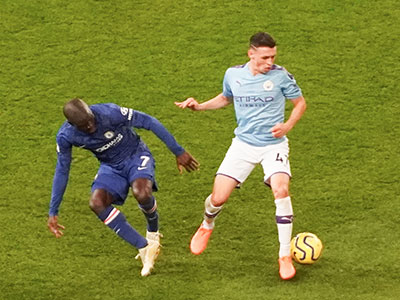 Aguero goes off very very slowly and on comes Jesus
Foden chases everything with his 100% effort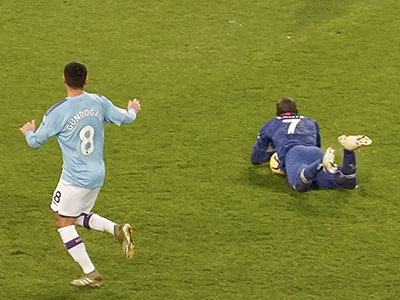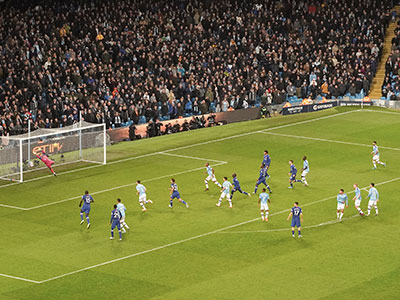 Gundogan brings down Kante and is booked but the free kick goes well wide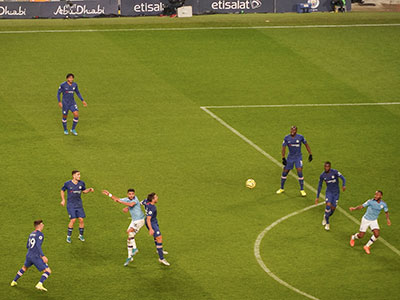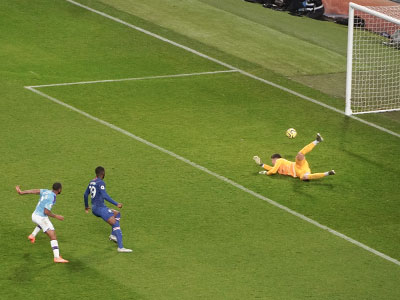 In added time Mahrez passes to Sterling whose feet are onside and he shoots past Kepa....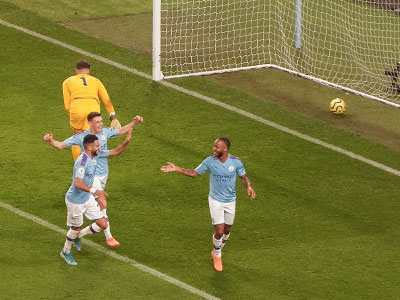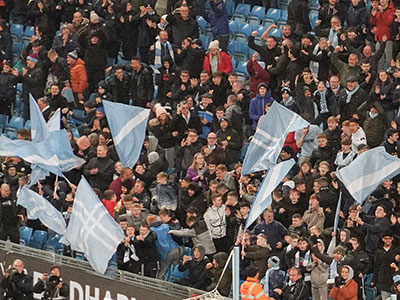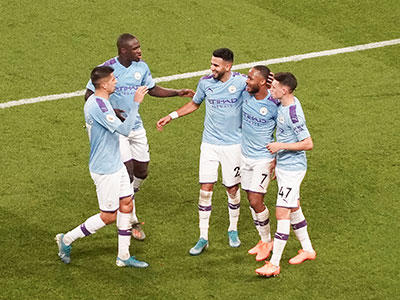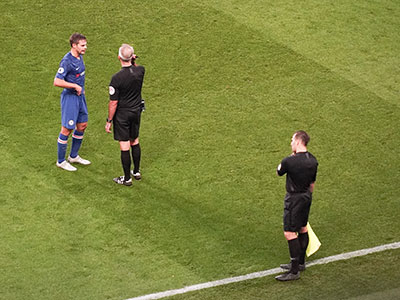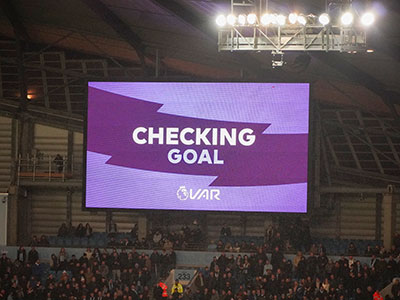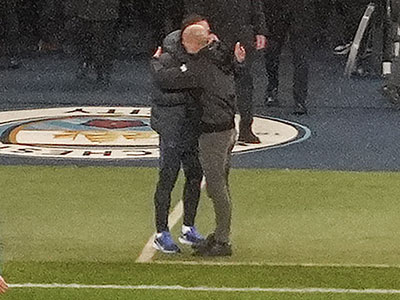 to make it 3-1 and it is game over....
..or is it as the City players celebrate The ref is on the phone to VAR
..and the goal is disallowed for offside but it is soon full time and three points thank goodness
Team
Ederson 7: Cancelo 7, Fernandinho 8.5, Stones 7, Mendy 5.5: Rodri 7.5 (Gundogan 7) De Bruyne 8.5, Silva 6.5 (Foden 7) Sterling 6, Mahrez 7.5, Aguero 6.5 (Jesus)