Well we did it - first Cup of the season. It was an excellent game full of atmosphere and will always be remembered for two magnificent goals that changed the game. When Sunderland scored first after just ten minutes in the first half we wondered whether a shock result was in store. Their supporters were in 7th heaven and when they still lead at half time I thought of last seasons Cup Final result against Wigan and hoped we could recover in the second half. Fortunately ten minutes into the second period a wonder goal from long range by Yaya Toure put City level. Then within a minute or so we were ahead. A run and cross by Kolarov was hit superbly by Nasri and the game had changed. City then ran the game and in the final moments Navas made the match safe when City broke away in a counter attack.
City were certainly not at their very best with even Kompany making an error that cost us the first goal but he did make up for that late in the first half with a wonderful late tackle that prevented Sunderland from going two up. However I am certainly not convinced that his best central defensive partner is Demichelis. Sunderland were well organized and although we did have a high percentage of the play too many passes went astray and even Silva failed to reach his target on every occasion.
It was good to see Aguero start but he needs a few games to get back to his best. Perhaps a another 60 minutes and a goal or two against Wigan next Sunday! Nasri worked very hard and fully deserved his goal. Fernandinho did his usual grafting stint in midfield and after a very average first half Yaya Toure and his goal changed the game and broke Sunderland supporters hearts.
It was good to see Pantilimon in goal as he missed out against Wigan last season.
Manager Pellegrini won his first trophy in Europe for ten years and City won the league cup only conceding two goals a record only equaled by Chelsea in 2007.
The atmosphere between the sets of supporters was very good and at the end of the game as fans were leaving it was very good to see bunches of opposing supporters applauding each other.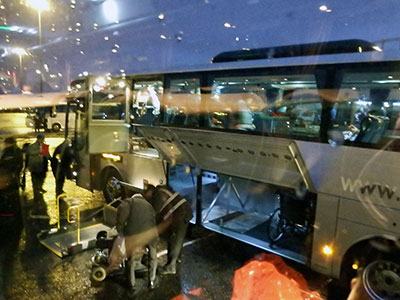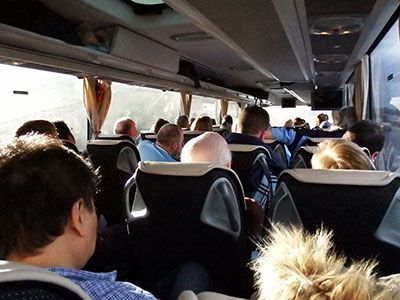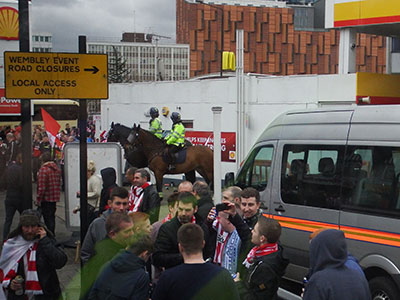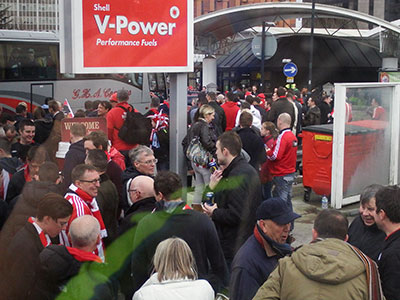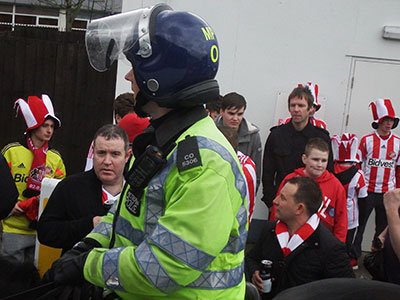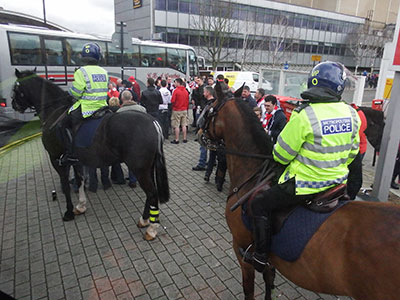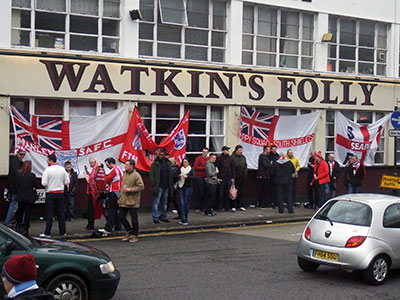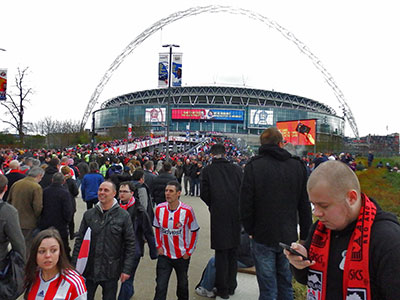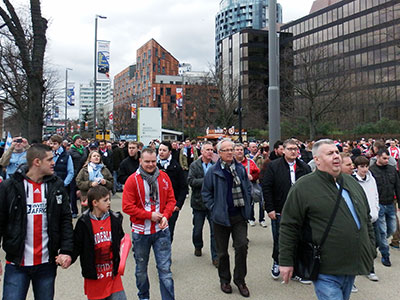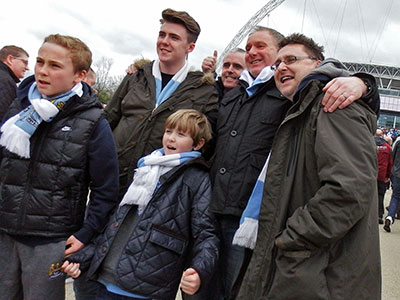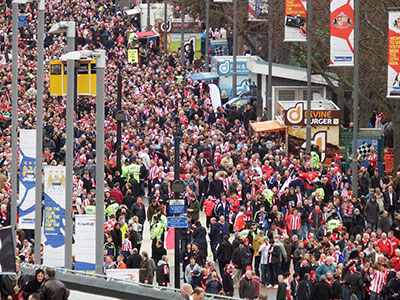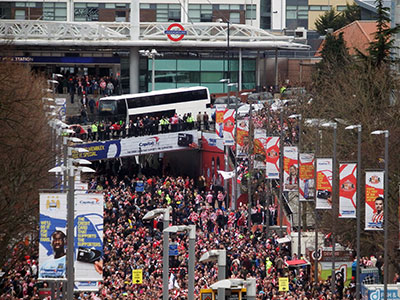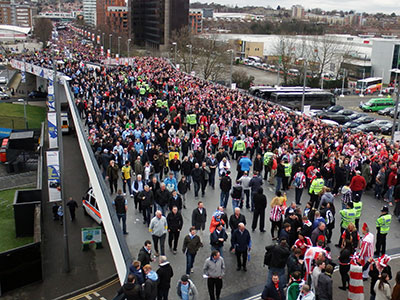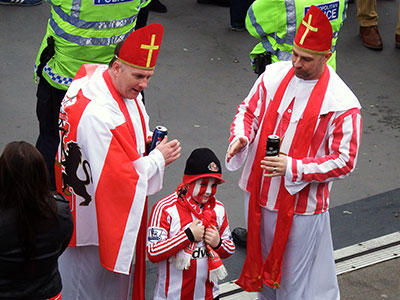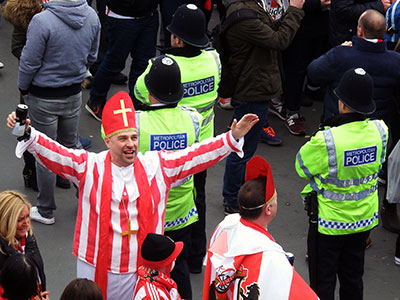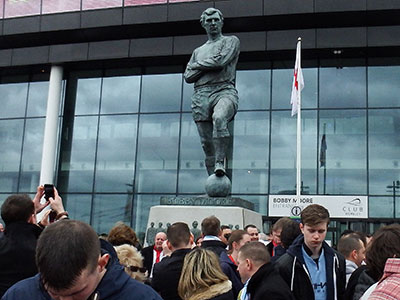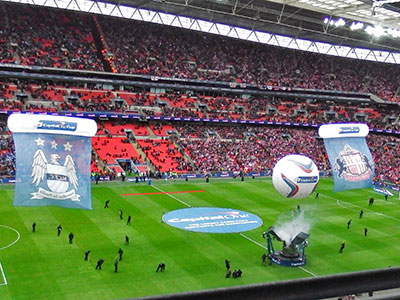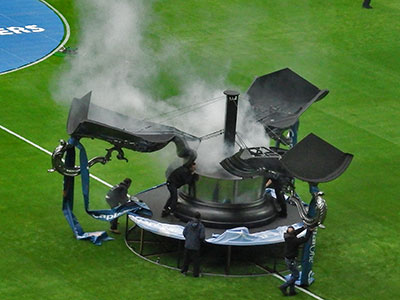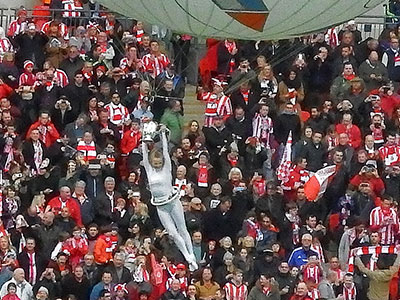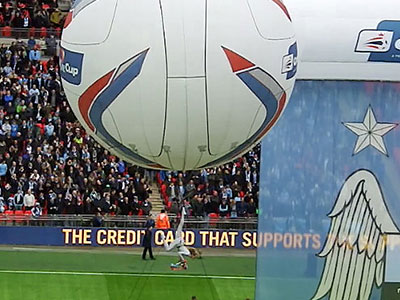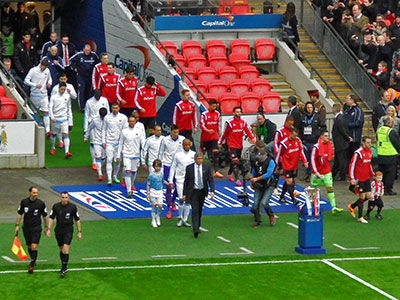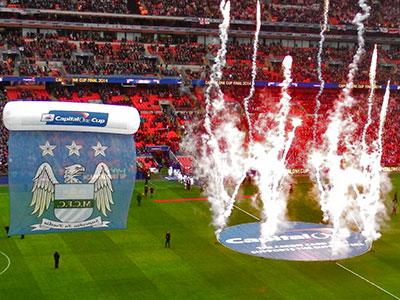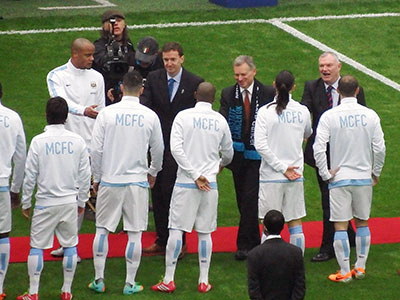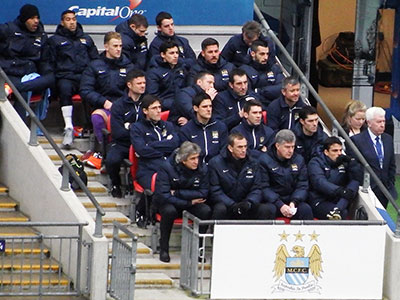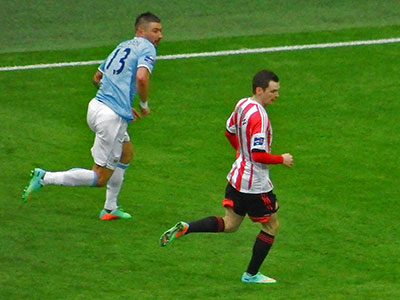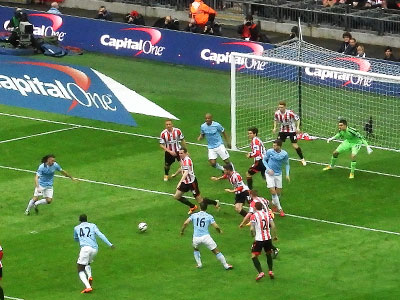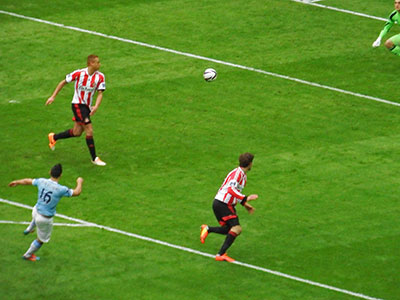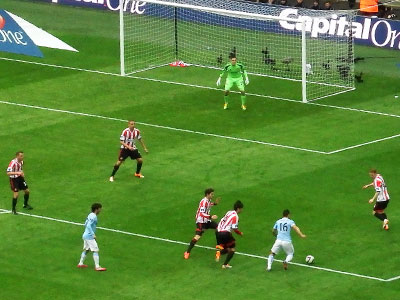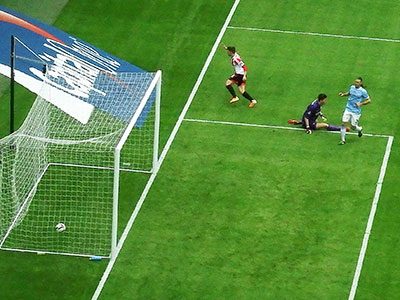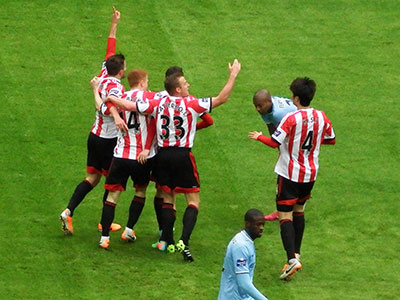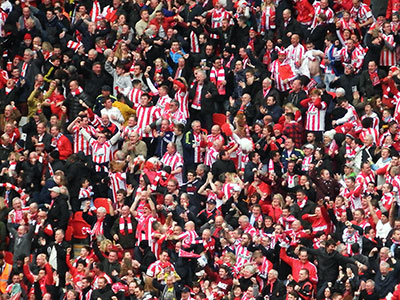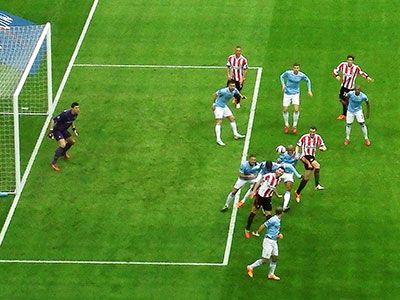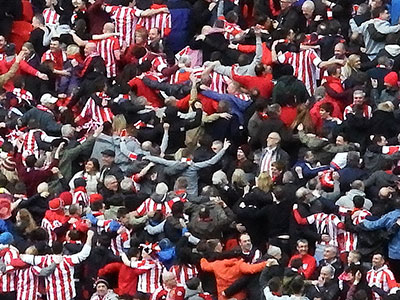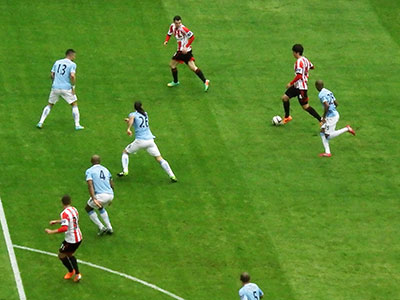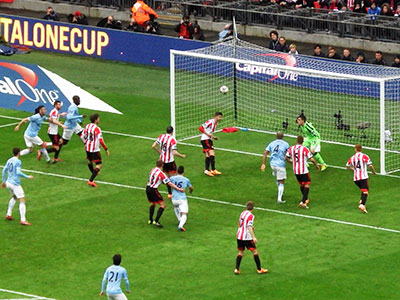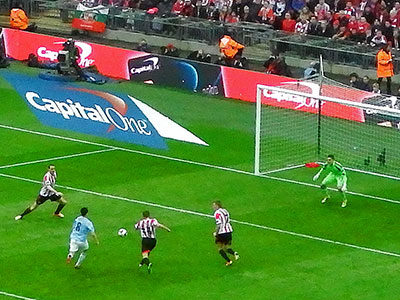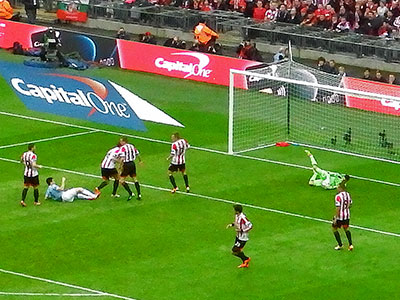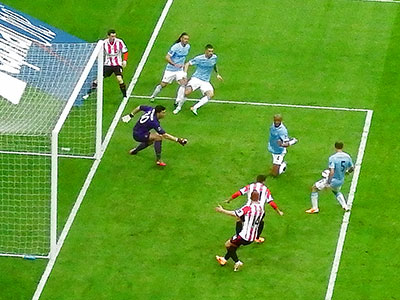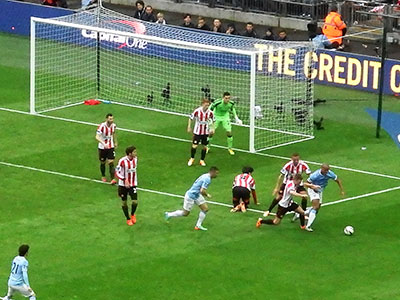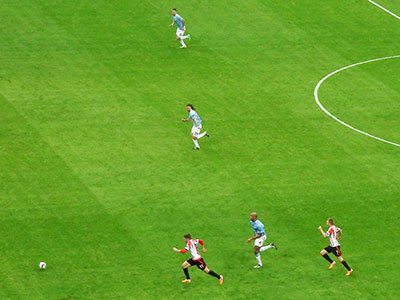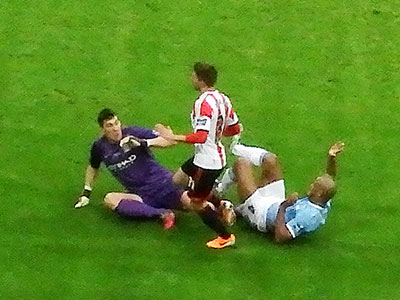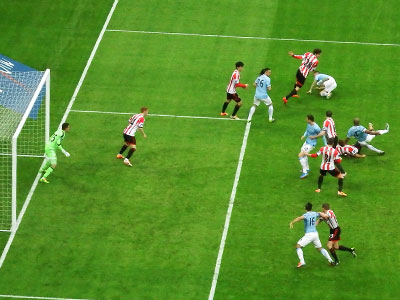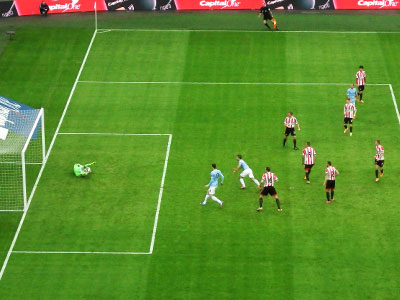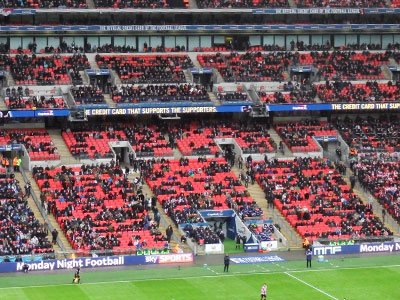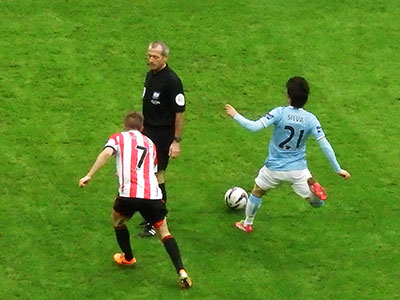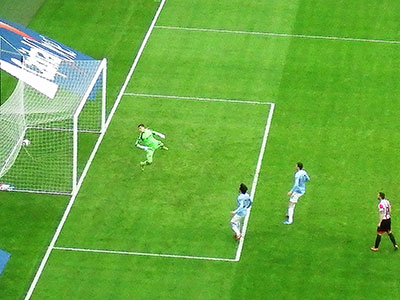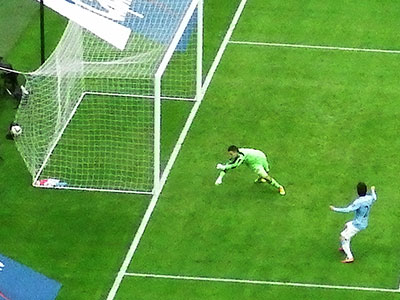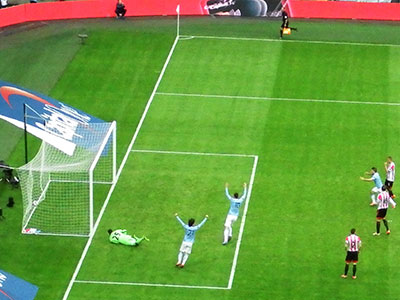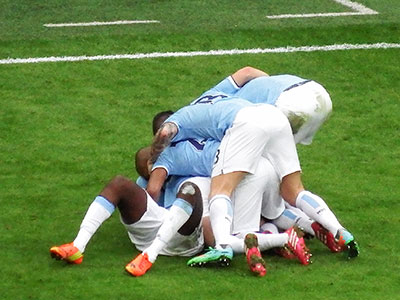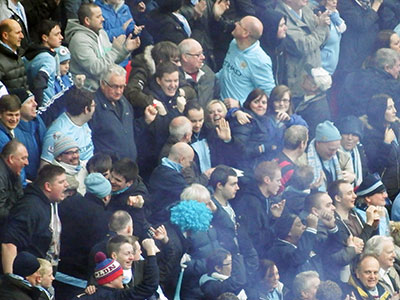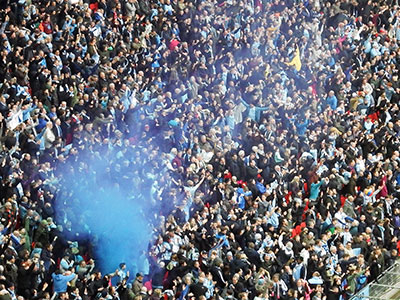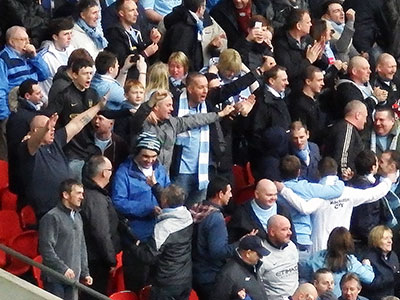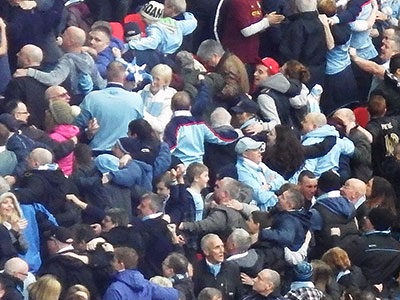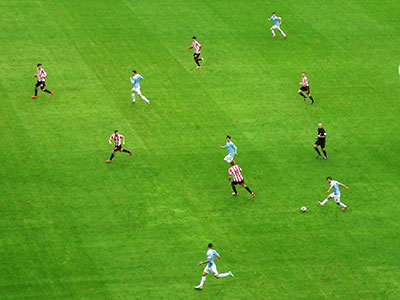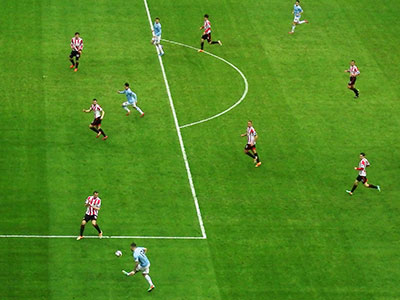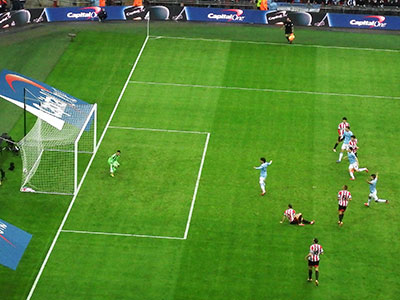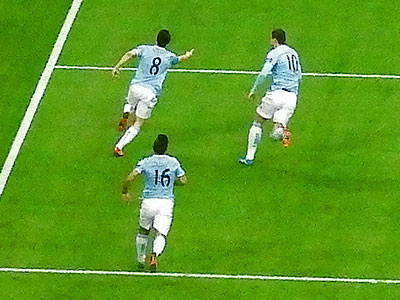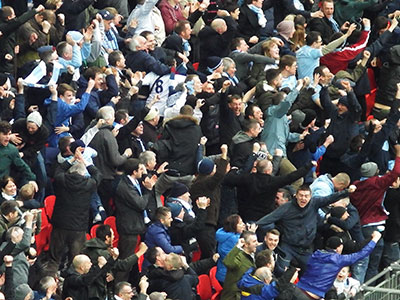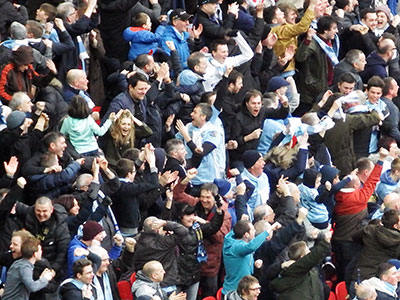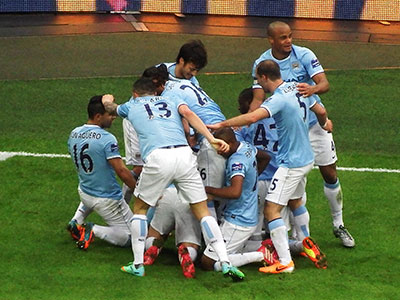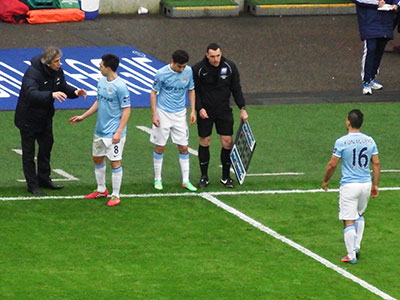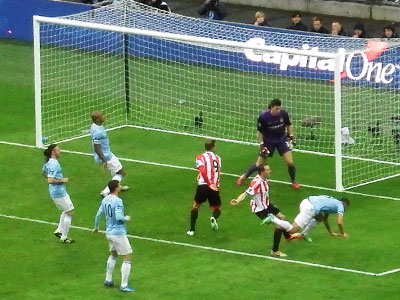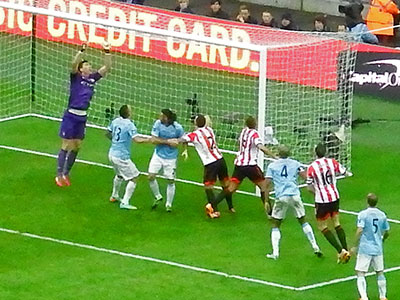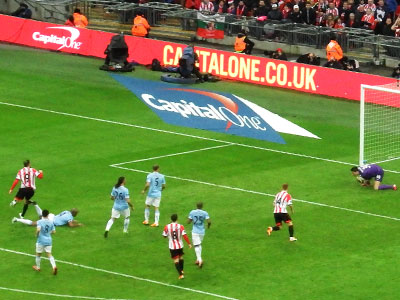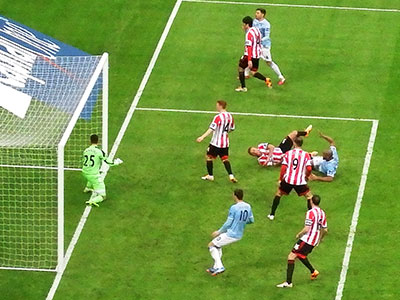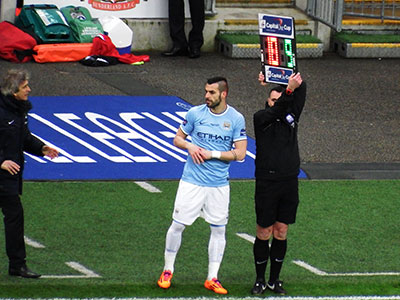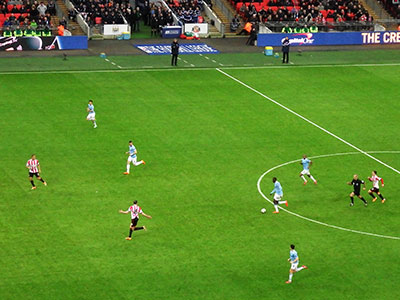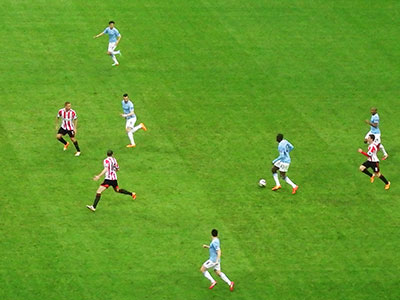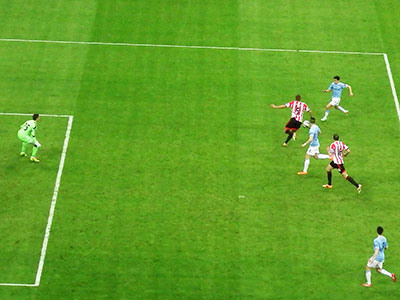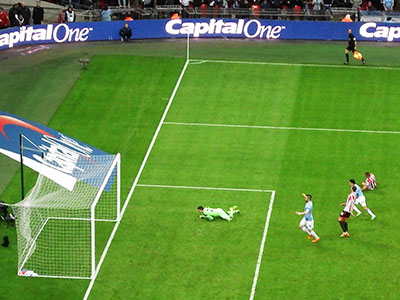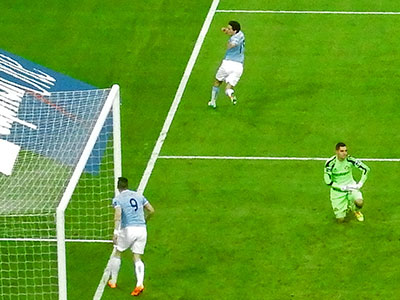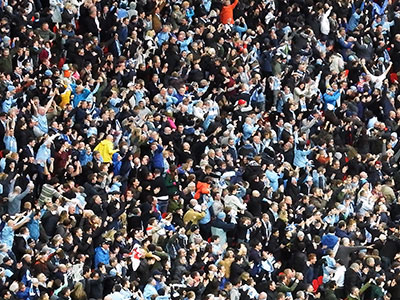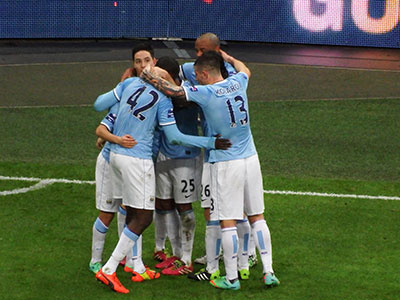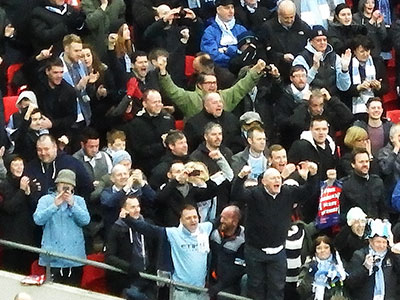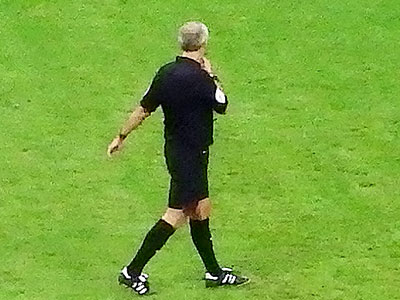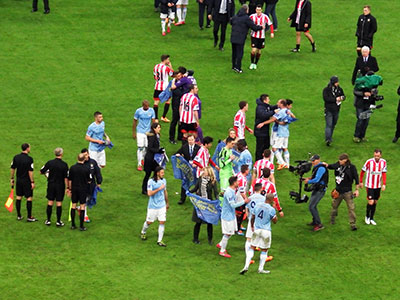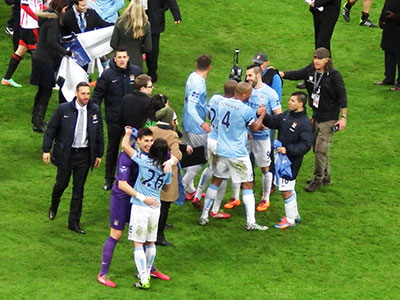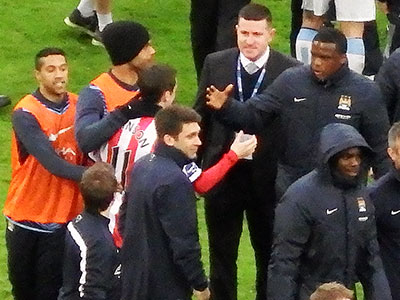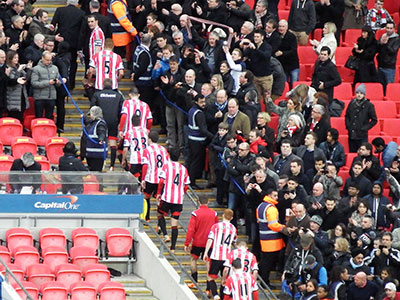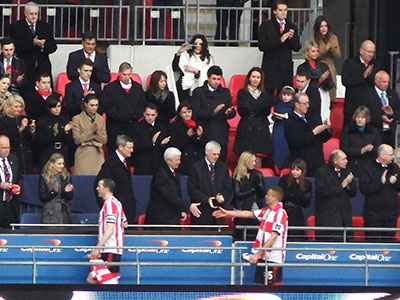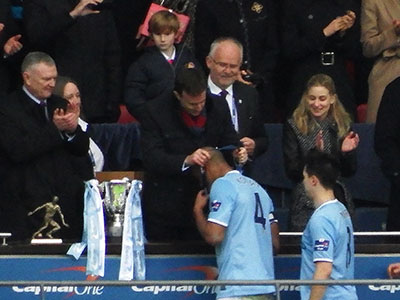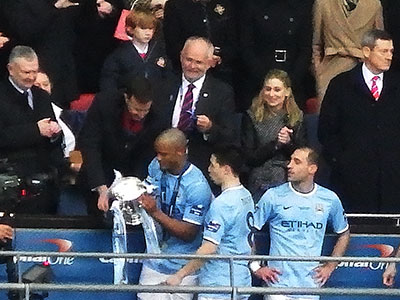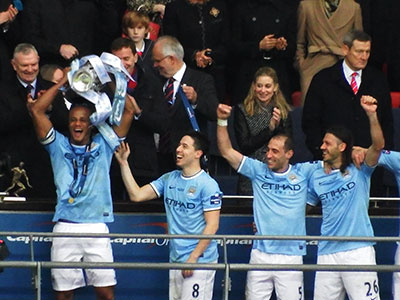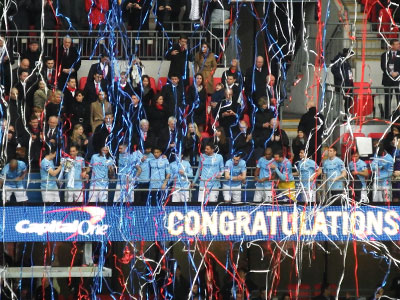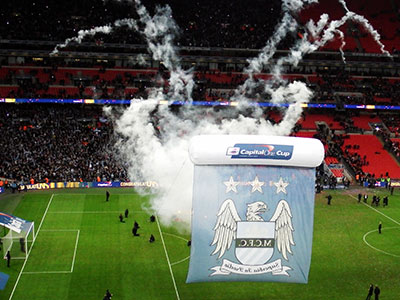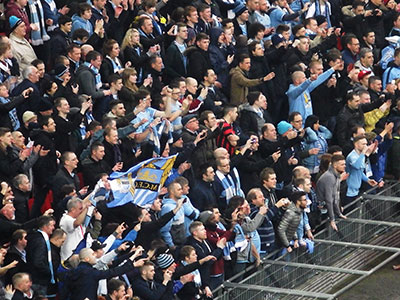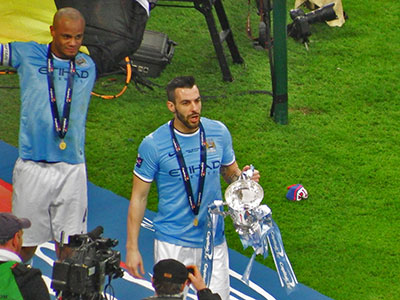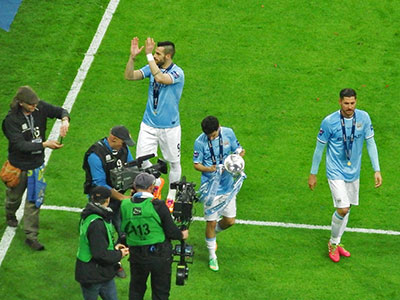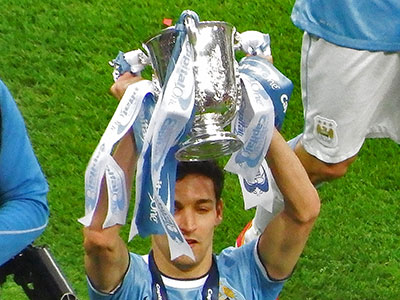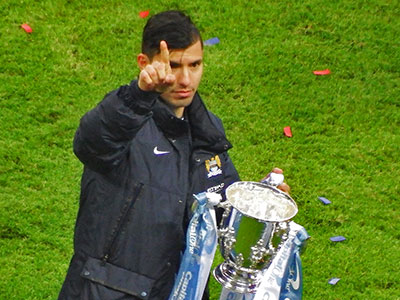 An early start - 5-0am to drive to get the coach and a rainy meeting of fans at the Etihad Stadium for a 6-45 am departure
As the coach approached Wembley there was hardly a City supporter in sight.
I doubt whether the police had many problems today
Even when we got to Wembley Way there was a lot more red and blue
The road from the station was packed as usual and gosh some visitors from the Vatican!
I don't know what Bobby Moore would think about that fancy dress!
Well we are in the Stadium and it looks a bit steamy on the pitch
The Cup is about to arrive-click on the right hand image for a slo-mo video
City had Pantilimon in goal as expected and Aguero started with Dzeko up front. No other major changes. Kolarov was preferred to Clichy and Demichelis to Lescott
Ex City player Johnson is marked by Kolarov
No idea who was being introduced to the players as the noise of the crowd drowned out the announcement!
City are first to attack but no shot on goal
Aguero gets in a shot that is saved
Defenders are quick to close Aguero down
After just ten minutes Borini breaks through past Kompany and scored with a good shot from a difficult angle
Disaster for City and a great start for Sunderland whose supporters are in heaven!
The City goal under pressure again and wonders never cease the Sunderland fans are doing the Poznan!
Ki on the attack for Sunderland
A Nasri shot is saved by Mannone
City manage to clear a corner
Kompany in action at the other end
Just before half time and Borini breaks way with only the keeper to beat but a magnificent tackle by Kompany saves the day for City
City start the second half with more determination and their keeper is kept busy
A lot of empty seats in the posh area- they must be having their afternoon tea!
Silva is about to be brought down - not by the referee though!
On 55 minutes came the moment to remember - a few passes lead to Zabeleta pushing the ball to Yaya Toure who was a good 30 years out. He curled the ball over everybody including the keeper into the top near corner of the goal - just stunning!
It was one of the best goals I have ever seen - there cannot be many better ones seen at this Stadium
It was such an important moment - bringing the scores level
City players and supporters were delighted to say the least and it was now game on
a minutes later and while Sunderland were still suffering another City attack started down the left flank with Aguero passing to Kolarov who crossed........
..... to Nasri who hit it first time past the keeper and it was 2-1 to City - amazing stuff.
It was incredible that we should have two such wonderful goals in a couple of minutes
City immediately made a change bringing on Navas for Aguero
Sunderland went on the attack getting a corner or two
Now City had the lead it was important to keep the Sunderland attack at bay
Pantilimon saves from Fletcher who was well placed to score
Kompany nearly scores from a City corner
Nearly full time and Negredo has a chance as he comes on for dzeko
*9 minutes and City break with Yaya Toure on the ball and the Sunderland defence out numbered
Yaya Toure passes to Navas who makes no mistake and its 3-1 - game over
Let the celebrations begin!
Referee Atkinson blows his whistle and the Cup is ours!
Its time for interviews and commiserations to Johnson by ex colleagues
The Sunderland players go up to collect their runners-up medals
The City team go to collect their medals....
...and the Capital One Cup of course!
It was a very long but enjoyable day at Wembley and hopefully there is more to come!
Team
Pantilimon 5: Zabaleta 7, Kompany 6.5, Demichelis 6, Kolarov 7: Yaya Toure 7.5 , Fernandinho 7.5 , Nasri 8, Silva 6.5 ( Garcia) Aguero 6.5 ( Navas 7) Dzeko 6.5 ( Negredo)