City 0 Barcelona 2
February 18th 46,013
Champions League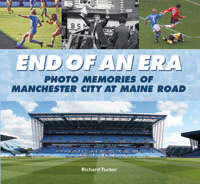 Now available from Amazon ( click on image for link)
WH Smith and the City shop
Unless a miracle occurs City can say farewell to the Champions League this season following the two goal defeat by Barcelona at the Etihad. After the controversial penalty award and sending off of Demichelis the ten men of City did well to keep it to a one goal deficit until the 90th minute when Alves scored their second goal. With luck Silva might have equalized in the second half but now at least we can concentrate on the other three trophies! With both Kolarov and Clichy starting it was not the most attacking line-up for City but all eyes were on Messi who had I thought a fairly quiet game for him. Kompany did well at the back as did Zabaleta but I am afraid the lack of pace of Demichelis is worrying and his foul on Messi was the last straw. Many would argue that the initial foul took place outside the area but multimillionaire referee Jonas Eriksson from Sweden gave a penalty. Perhaps he was making up for not giving Barcelona two penalties in their game with Milan in the 2011-12 season in the quarter final of the Champions League.
Anyway Barcelona had much too much of the possession and City gave the ball away too much. Only rarely did we see the magic from City we have seen so often this season. Indeed we had to wait until the 80th minute for our first corner!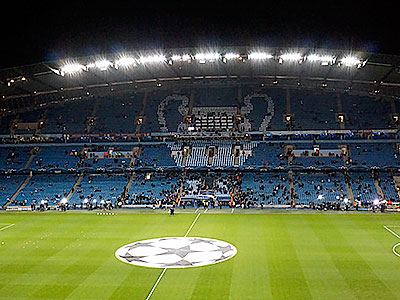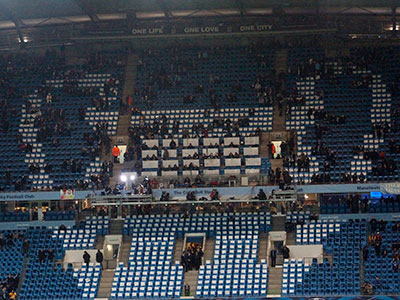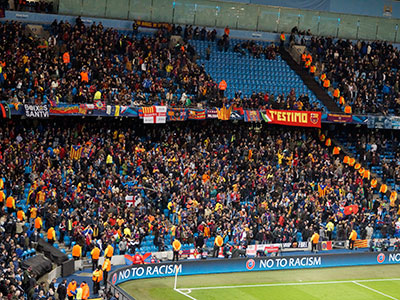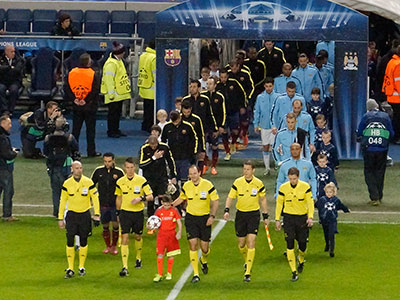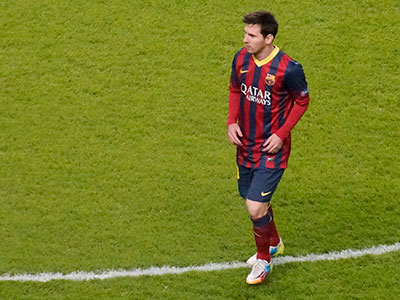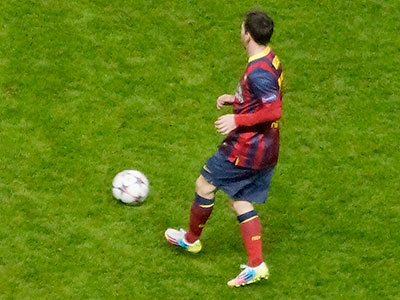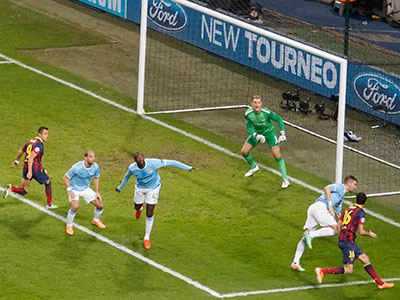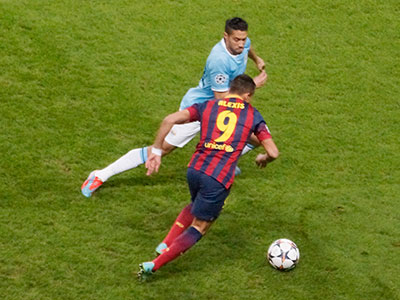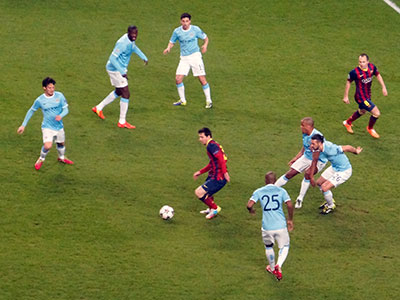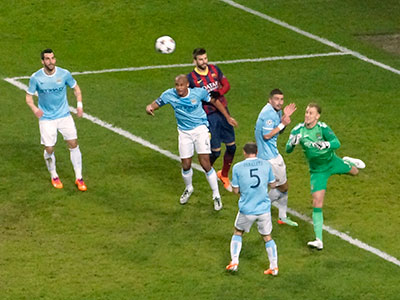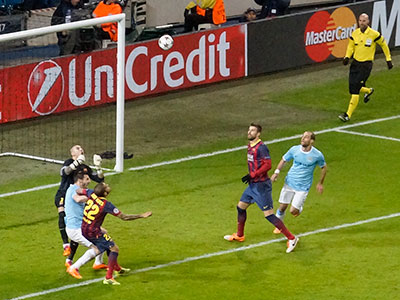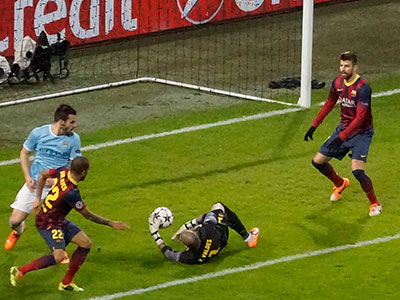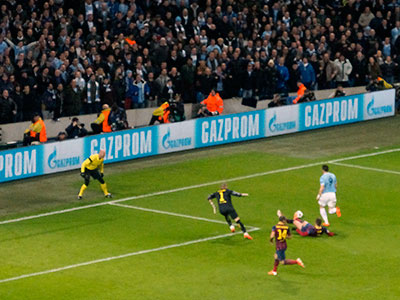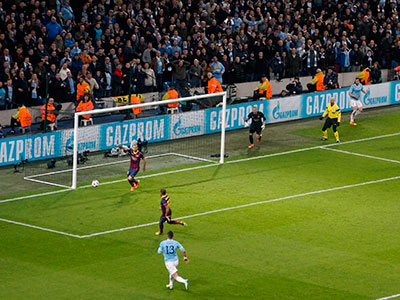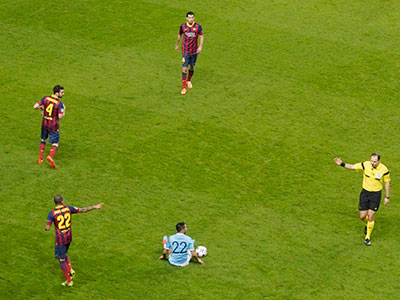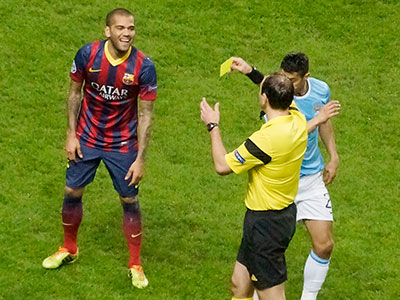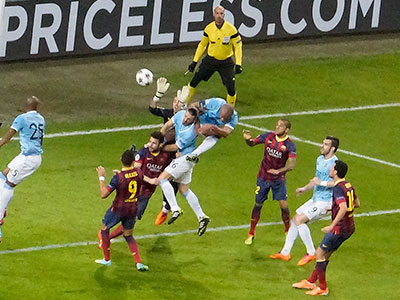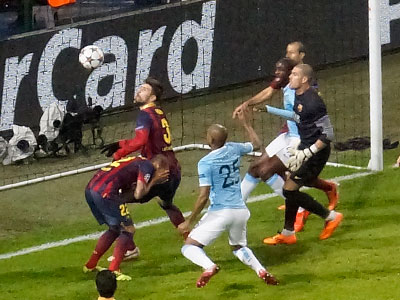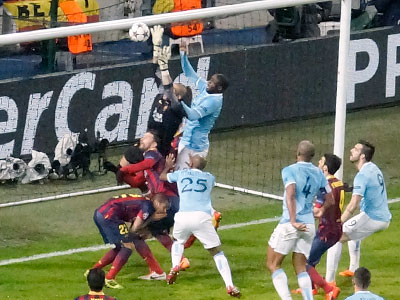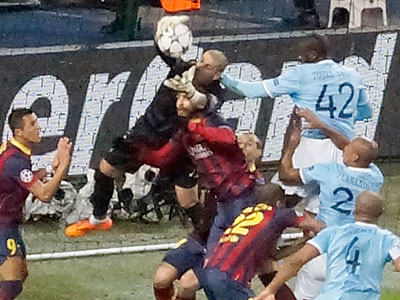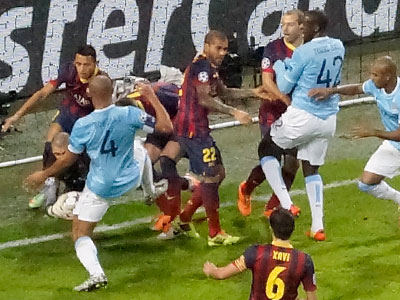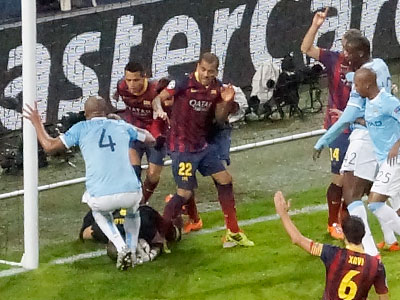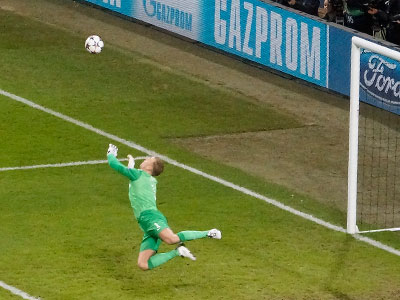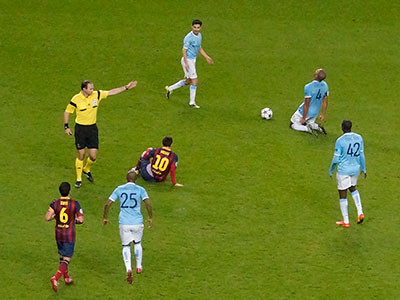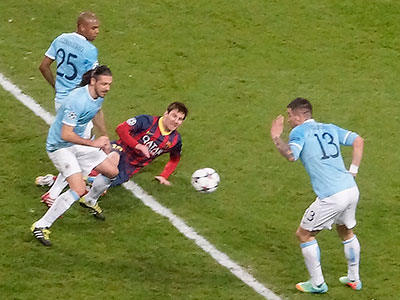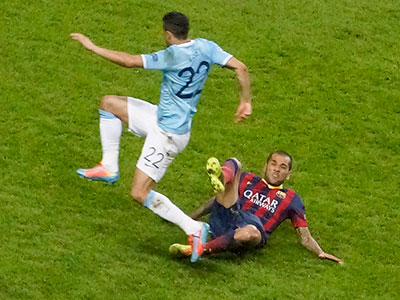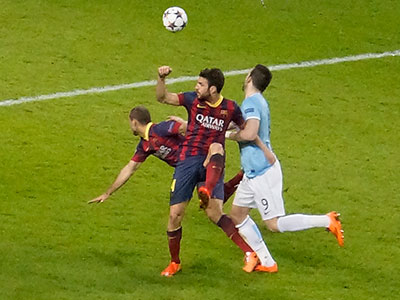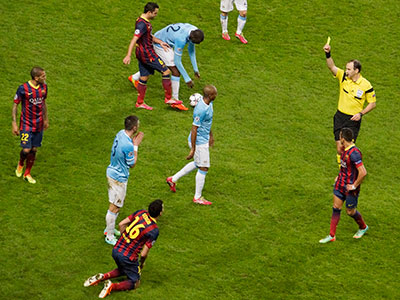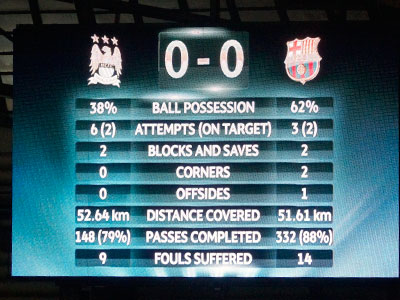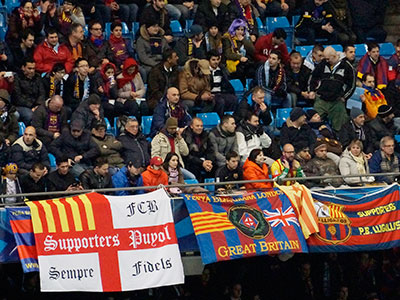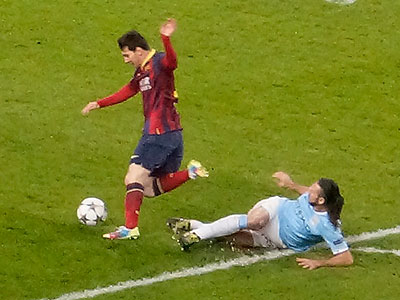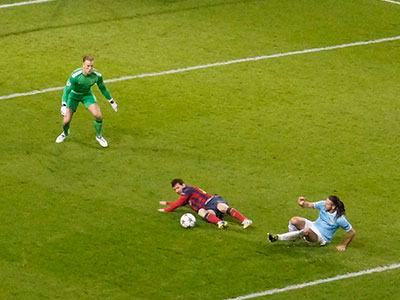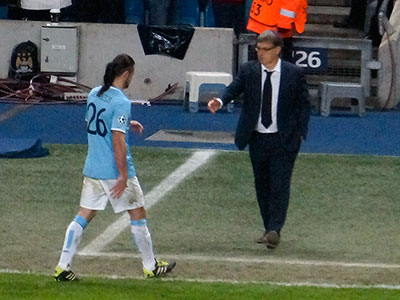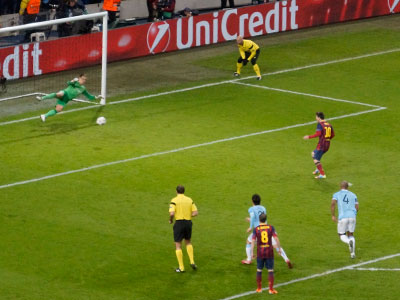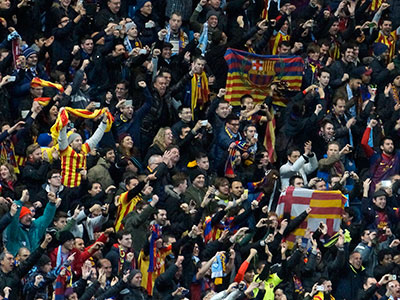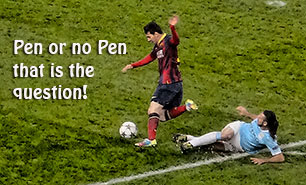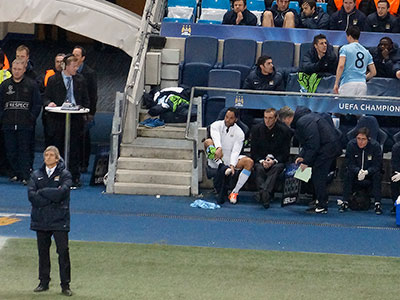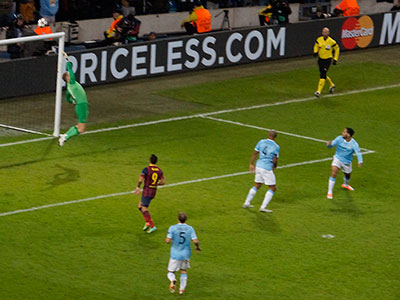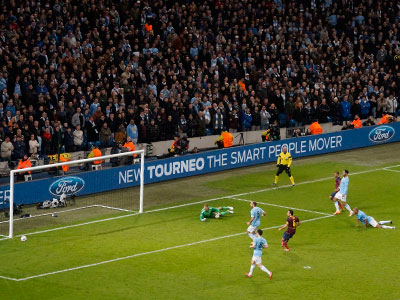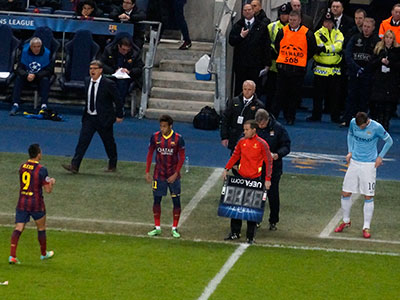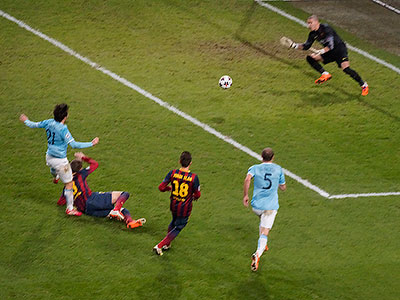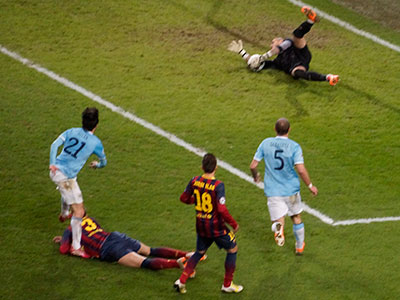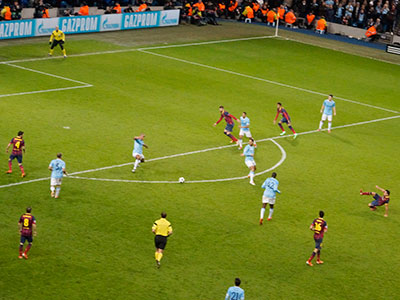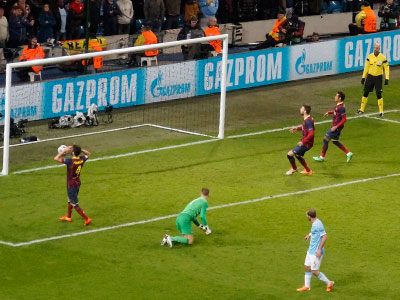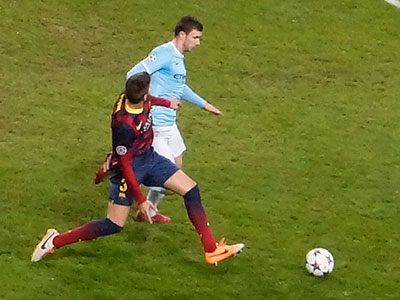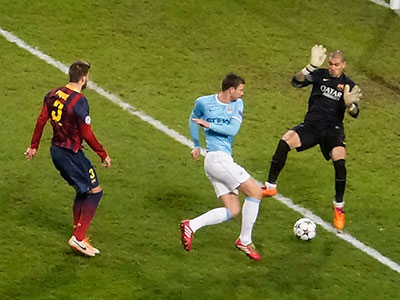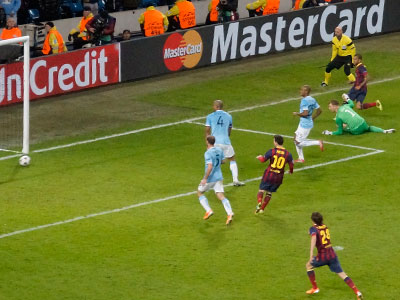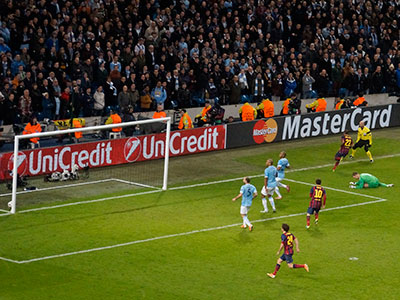 Lots of atmosphere before the game started and first time Barcelona have been to the Etihad in a competitive game though they did play City in a friendly in August 2003 - pics
HERE
Barcelona had brought a good number of well behaved supporters to the game
Good to see Fernandinho back in the team but Jovetic and Nasri were on the bench
Messi was wearing his new rainbow boots
Toure heads away an early Barcelona attack
Messi surrounded by City players
Joe Hart punches a corner clear
Valdes manages to clear from Negredo
On 18 minutes Negredo had a chance but he was forced wide and his shot went wide
Alves guilty of several fouls earlier gets booked for one on Clichy
Following the free kick there was a real scramble in the Barcelona goal box but eventually ......
...Valdes got the ball but the referee give a free kick to Barcelona anyway!
City try to deal with Iniesta
Hart has to save a long range effort by Xavi Hernandez
Kompany brings down Messi - free kick
A Negredo header goes wide
A
Kolarov is booked for a foul on Busquets
we can view the stats at half time
The visiting Barcelona fans had something to shout about early in the second half. Navas was blocked on the half way line but no foul was given and a quick through ball found Messi and Demichelis appeared to foul Messi just outside the area but the continuing movement of the players took them into the area
A penalty was given and a red card for Demichelis who got a thank you as he left the pitch from the Barcelona manager!
Hart dived to his left but Messi shot down the middle and to the delight of the visiting fans Barcelona had that vital lead
City down to ten men immediately made two changes Lescott replacing Kolarov and Nasri taking over from Navas
Alves shoots just wide of the post
on 73 minutes Dzeko replaced Negredo and Neymar came on for Sanchez
A shot by Xavi goes just over the bar
after 76 minutes Silva had a good chance but his shot was well saved by Valdes
on 81 minutes Barcelona scored again but the goal was disallowed for offside - touch and go decision!
Dzeko has a chance but is pulled up for a foul
Disaster hit in the final minute when danger man Alves broke through and scored through Hart's legs to make it two nil. Game and tie ( probably ) over
Team
Hart 6.5: Zabaleta 7, Kompany 8, Demichelis 5 , Clichy 6.5: Toure 7, Fernandinho 7.5, Navas 6.5 ( Nasri 7) Kolarov 6 ( ( Lescott 6) Silva 7.5 , Negredo 7 ( Dzeko)