City 0 Middlesbrough 2
FA Cup R4 - Jan 24th 2015 44,836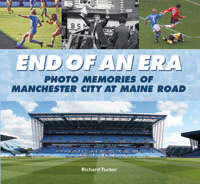 Now available from Amazon ( click on image for link)
WH Smith and the City shop
Like Chelsea and Spurs - City were victims of a FA Cup surprise. Though City played a strong team Middlesbrough deserved their win Several excellent saves by their keeper in the first half kept them in the game and when they came under more pressure in the second half their well organized defence played well. Had City taken the lead in that first half the game may have ended differently. We also had a good shout for a hand ball in the penalty area. However that would have done Middlesbrough an injustice as they deserved at least a replay. Now they will be looking forward to Monday night's draw!
City were again guilty of sloppy passing and a lack of higher tempo when needed. The speed of the Borough counter attacks was often too quick for our average midfield and they might have gone ahead before they scored.
How much the City visit to Abu Dhabi in the week prior to the game and only returning the night before affected them I don't know but who ever made that decision has to live with it and the chance of another visit to Wembley has gone for this season. Several City players were well below their best on this cold afternoon at the Etihad so with the six pointer against Chelsea coming up in a weeks time there is going to have to be some hard training and preparation this coming week. I did notice that we did vary the corners a little and we almost scored from one!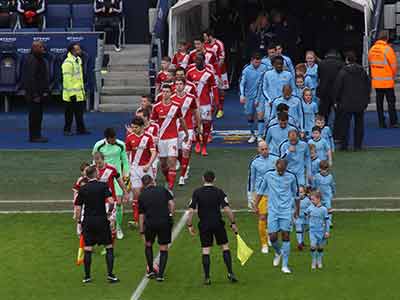 City brought back Kolarov and Boyata partnered Kompany.
Middlesbrough filled the South Stand with their support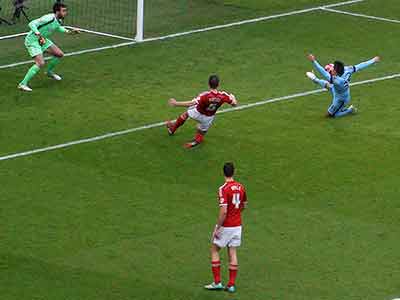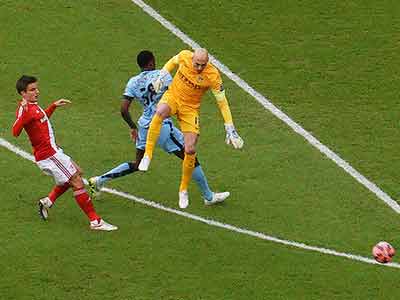 Both sides had early escapes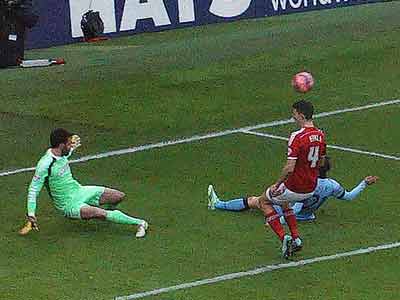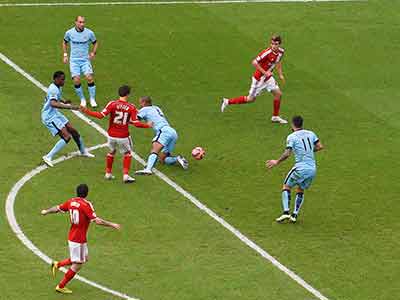 Mejias manages to clear City attack
On 18 minutes the ball is passed to Bamford......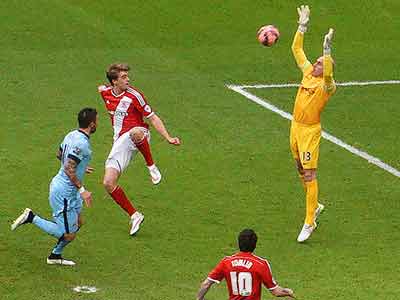 ...who gets it over the head of the keeper to Tomlin who scores......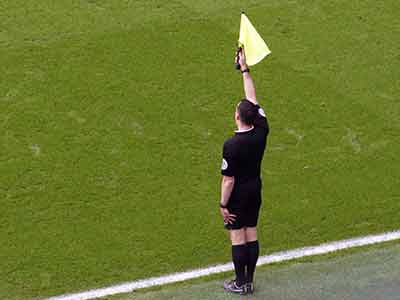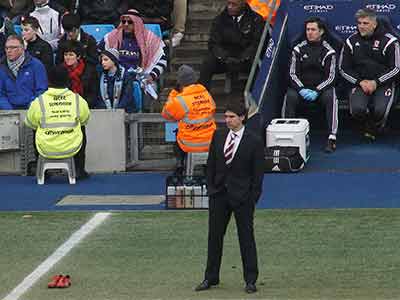 ...but the flag is up for offside against Bamford
Borough manager Karanka keeps an eye on the game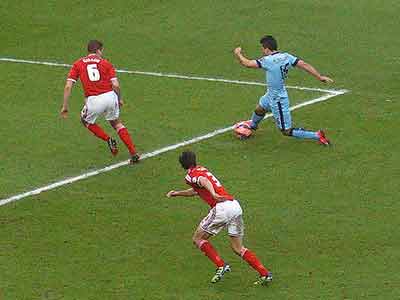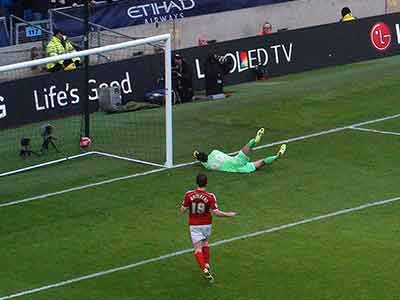 On 24 minutes Aguero has a shot but the ball goes just wide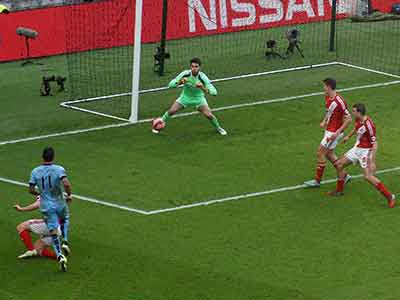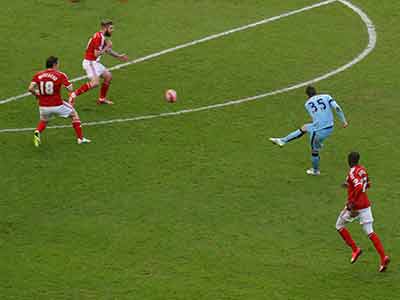 A shot from Kolarov is saved three minutes later
a minutes later an effort by Jovetic is saved .....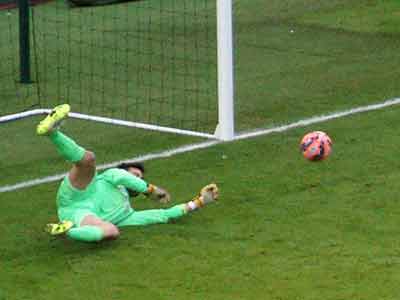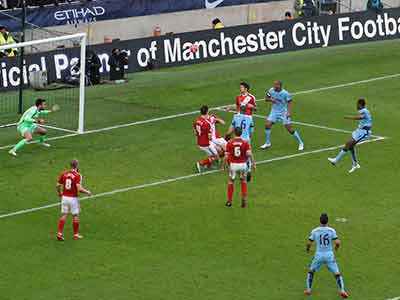 on 30 minutes a shot from Boyata at a corner goes sailing over the bar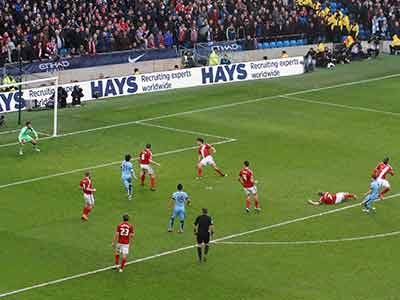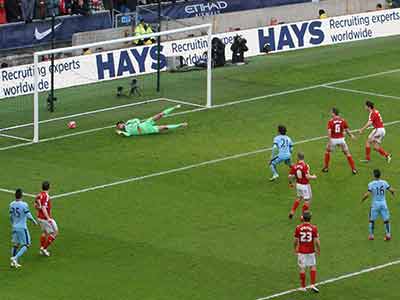 a minute later a shot from Milner is well saved by the keeper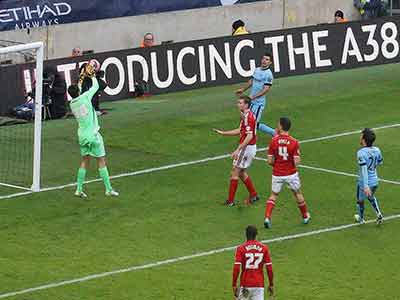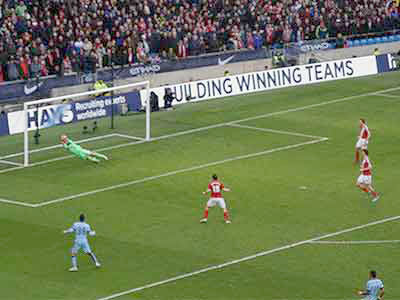 Mejias makes an easy catch but shortly after has to make a good save from David Silva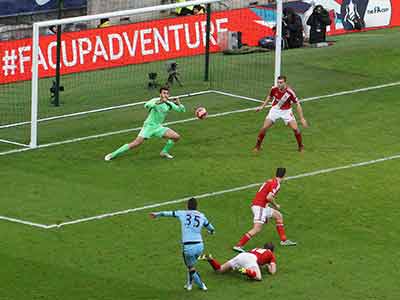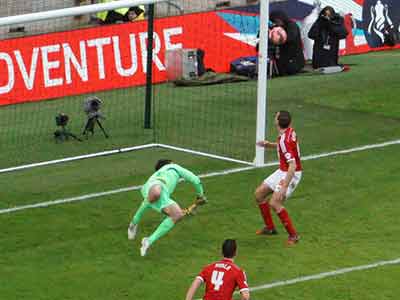 On 38 minutes Jovetic has a good chance but his effort is well saved by keeper Mejias - what a game he is having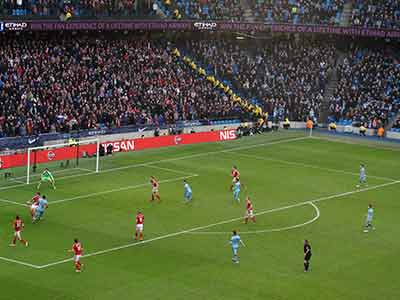 A moment to change the game? On 42 minutes Ayala handled the ball to deprive Kolarov of a chance and with referee Dowd static and too far away and no linesman up with play no penalty was given!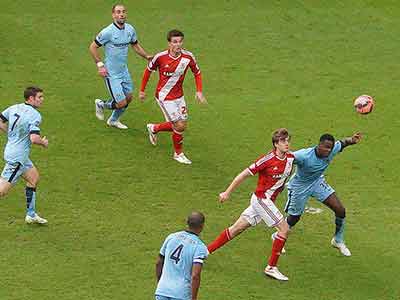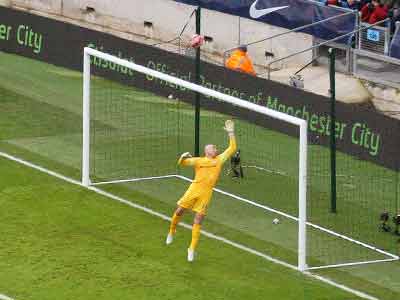 at the other end a header by Bamford goes too high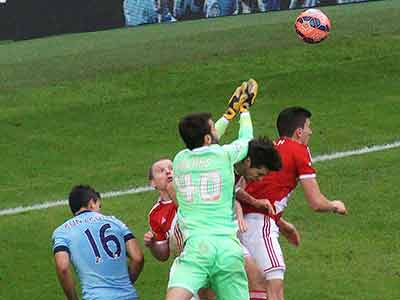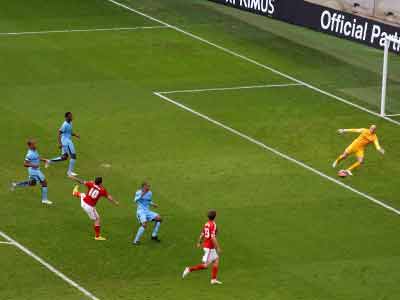 A City corner is cleared by the keeper
In added time a shot from Tomlin is blocked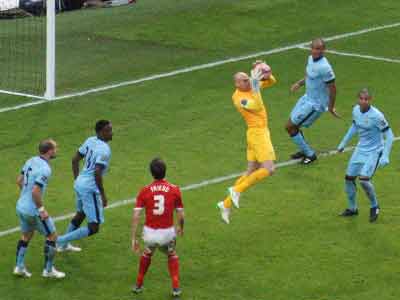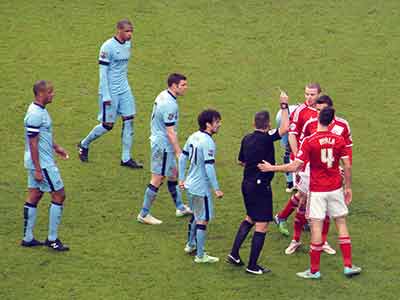 Caballero saves at a free kick early in the second half
Ayala gets a yellow card for a foul on Aguero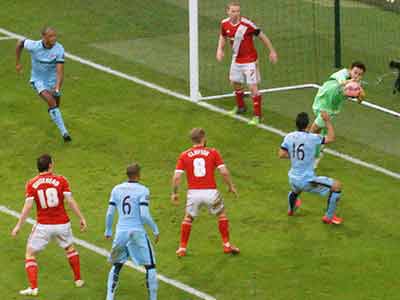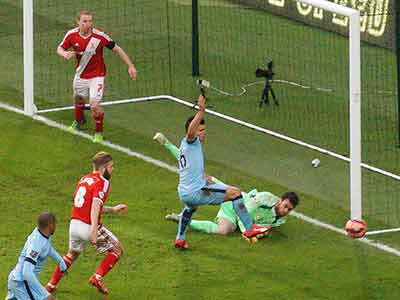 Mejias has to save with Aguero in close attendance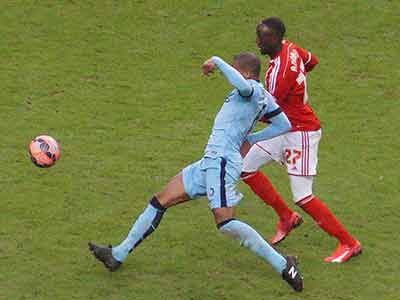 Adomah beats Kompany and clashes with the City keeper.....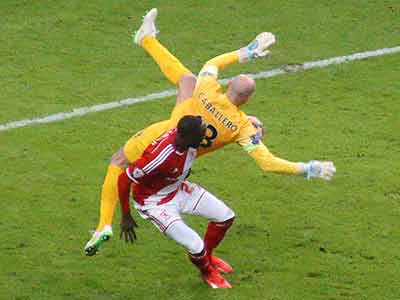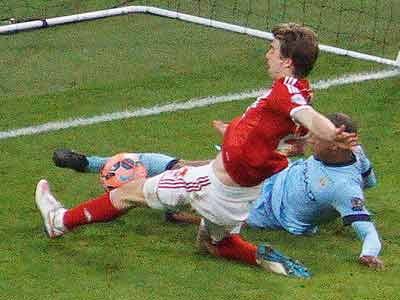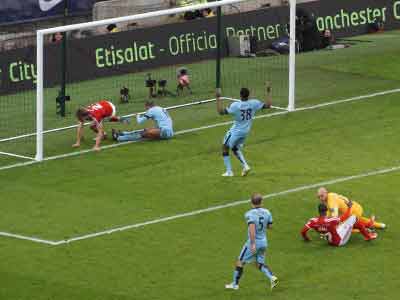 ..the ball rolls free and Bamford is quick to pounce beating Fernando and the ball is in the net while Caballero and Adomah are still on the ground!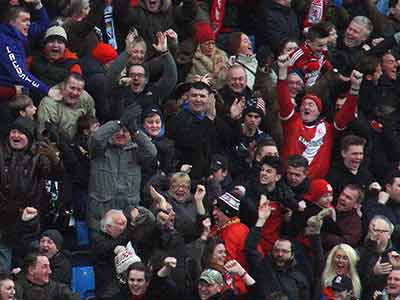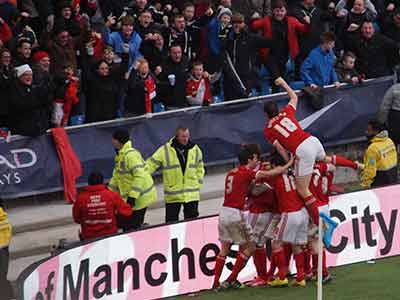 The Middlesbrough players and fans celebrate and City are a goal down gain in a cup tie!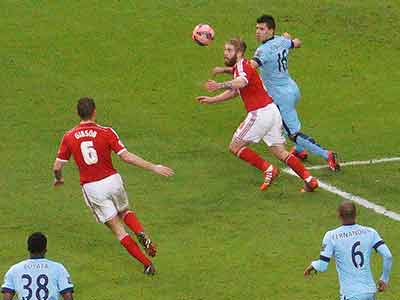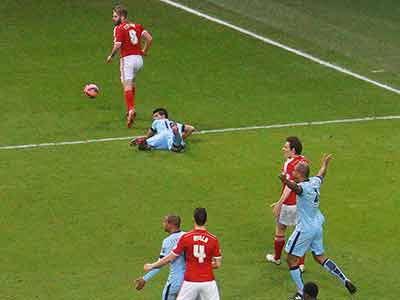 two minutes later Aguero clashes with Clayton and falls to the ground. A penalty perhaps!. Not given !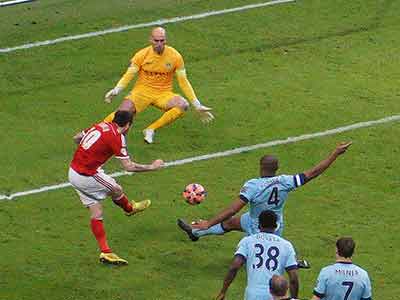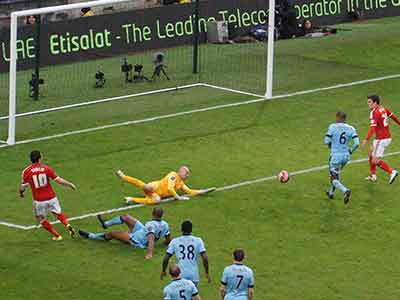 Caballero saves from Tomlin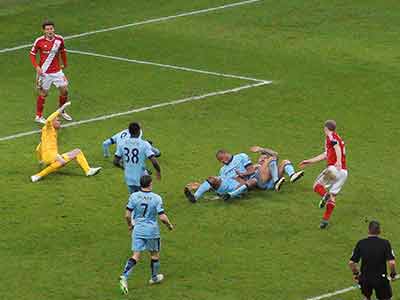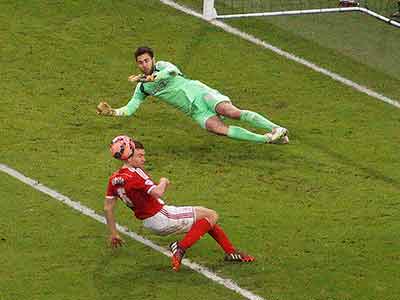 then he has to save from Leadbitter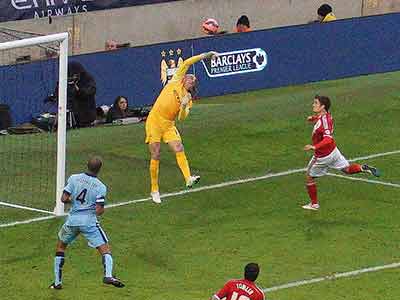 Plenty of action at both ends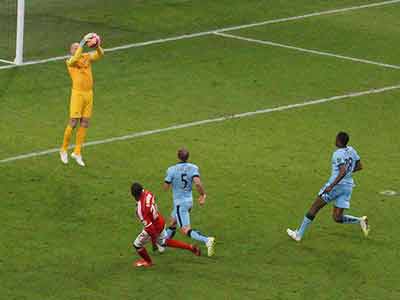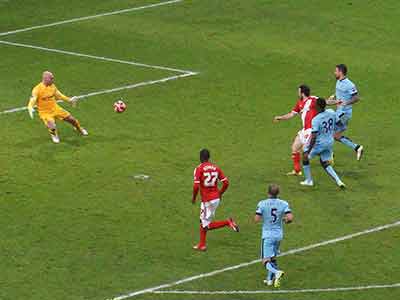 Adomah misses a great chance and Caballero has an easy save to make
three minutes later nd Tomlin beats the keeper.....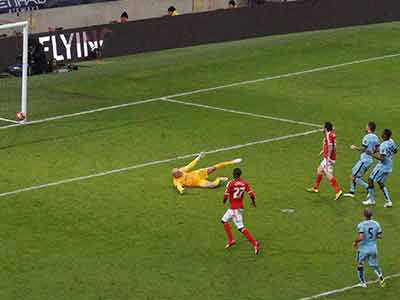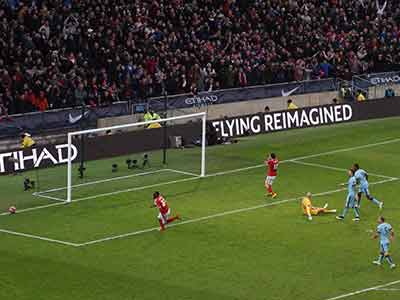 ....but the ball hits the post and runs clear across the goal to the other side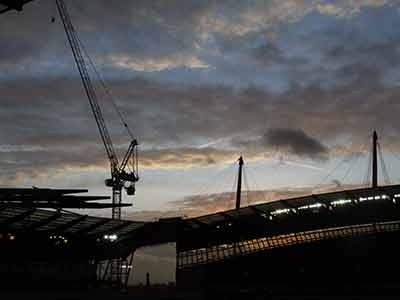 Well Boss - shall we bring on Mannion or Camsell!!!?
Is the sun going down on City's Cup hopes?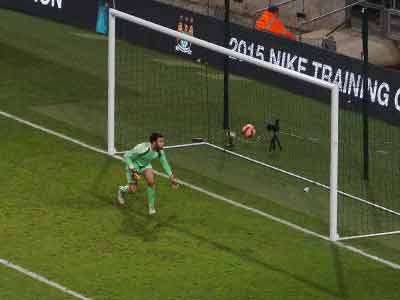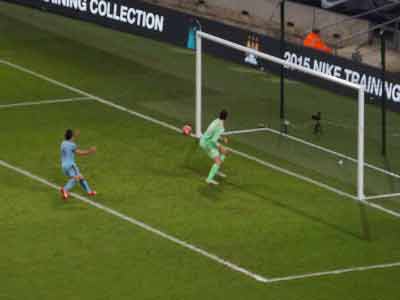 With two minutes to go Lampard ( on for Navas) hits the post and the ball runs clear across goal -
It's not City's day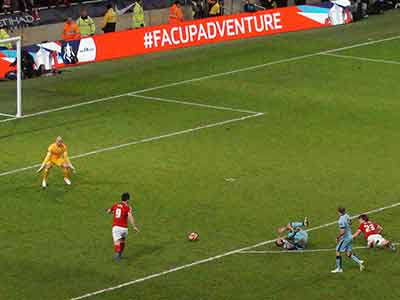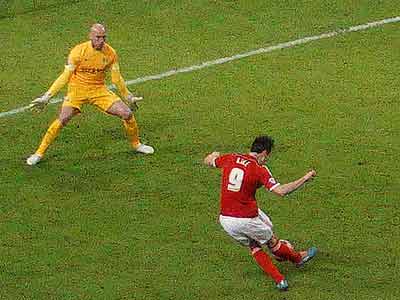 As added time started Middlesbrough broke and Kike took a pass from Bamford and shot past Caballero.....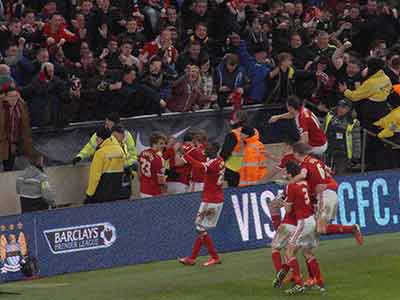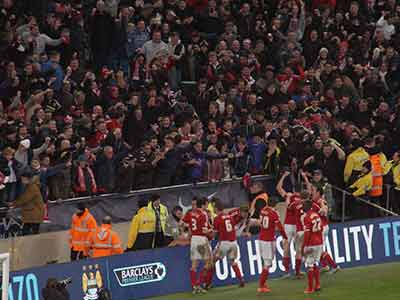 It was game over for City
Team
Caballero 6, Zabaleta 6.5, Boyata 6.5, Kompany 6, Kolarov 6: Fernando 5 ( Dzeko) Milner 6, Navas 6 (Lampard) Silva 7, Jovetic 6(Fernandinho) Aguero 6