City 1 Everton 0
Dec 6th 2014 45,603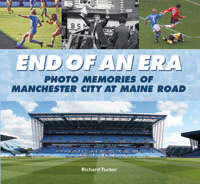 Now available from Amazon ( click on image for link)
WH Smith and the City shop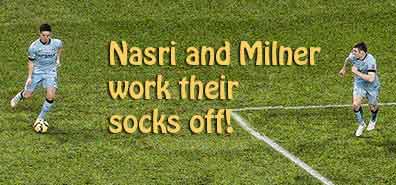 A tough three points by City puts them just three points behind Chelsea but the bad news is the injury to Aguero who had to leave the field in the first few minutes. Though Dzeko was on the bench on came young Pozo for his home league debut. Despite the loss of Aguero it was a good team performance with Nasri and Milner giving 110% . At times City played some nice football but on several occasions gave the ball away in their own half with sloppy passing. Our corners too rarely gave Everton any problems so more work there is needed. A couple of unnecessary challenges by Mangala and Fernando ended in yellow cards. They need to be more careful. The penalty award was a bit soft really. Milner was going away from goal and the challenge by Jagielka was unnecessary. However in the last game City were denied a certain penalty so you win some you lose some ! Today City were fortunate. Joe Hart did not have a lot to do but he did make a great save in the second half. There was good combination play between the City fullbacks and wingers . We now have to hope for a miracle in Rome without Aguero.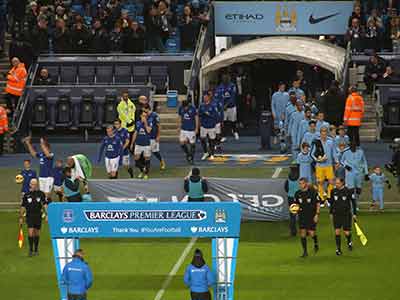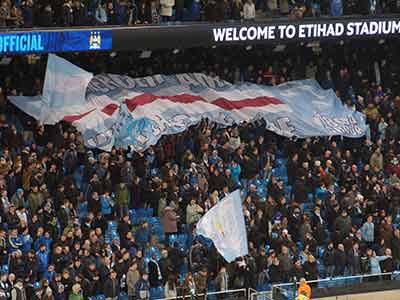 Mangala returned to partner Demichelis in the absence of Kompany and Fernando came in for Fernandinho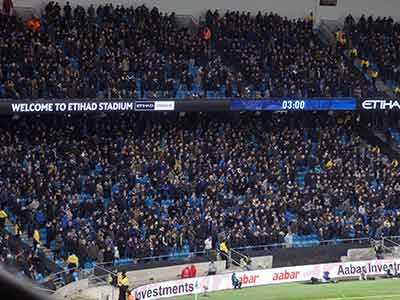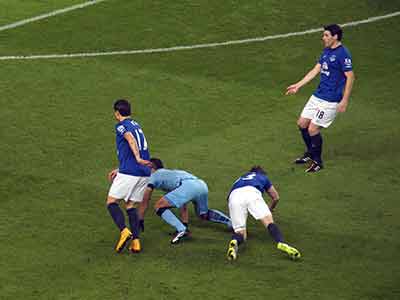 as usual Everton had excellent support
In the opening minutes Aguero went down as a result of two challenges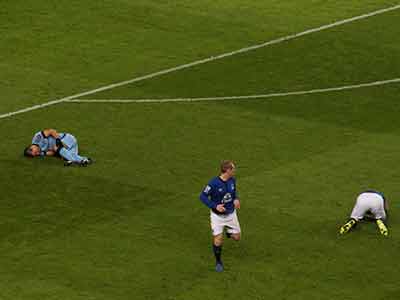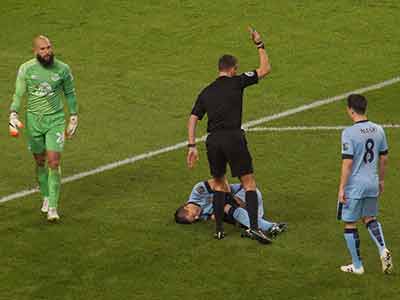 It did not look good and City kicked the ball out to let the trainers on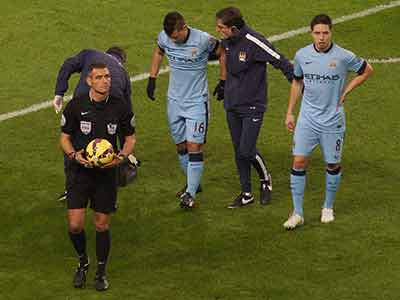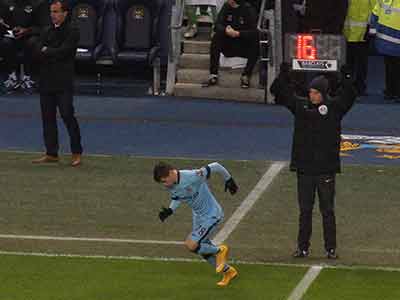 Eventually he got up and was helped off the field to be replaced by Pozo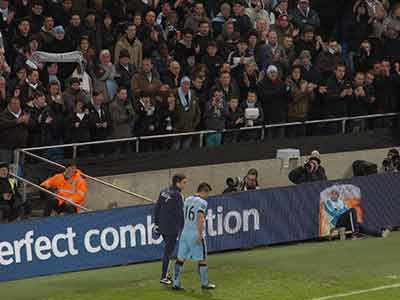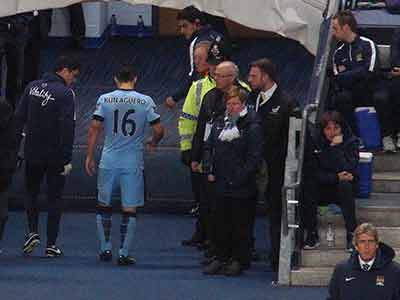 while play went on Aguero had to walk round the touchline and disappeared down the tunnel for treatment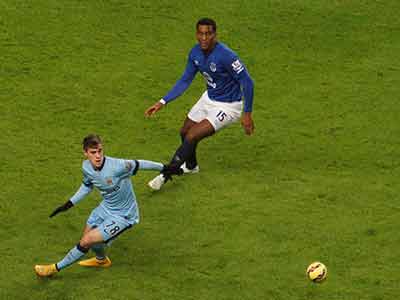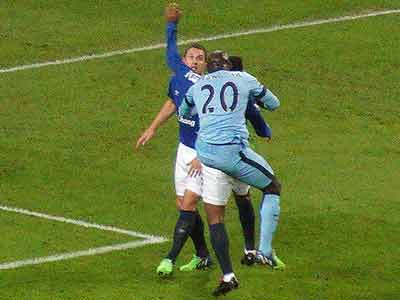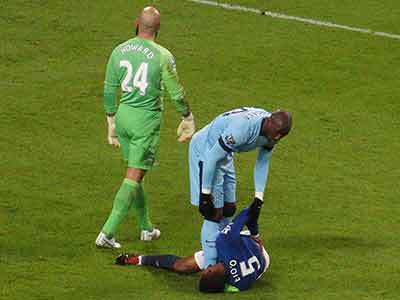 At a City corner Mangala went to head the ball with one foot up which caught Eto in the chest.
So unnecessary -and he got a yellow card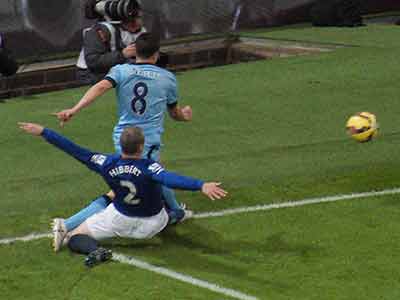 18 year old Pozo was playing his part despite lacking the strength of Aguero
A Nasri dash down the wing almost resulted in a goal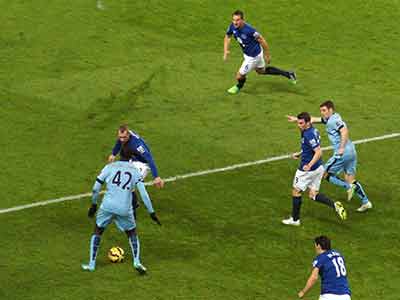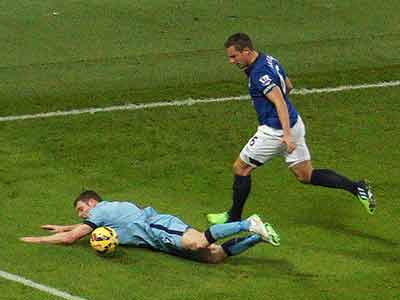 On 22 minutes Milner points where he wants the ball and Toure duly obliges . Milner dashes down the wing but is brought down by Jagielka just inside the box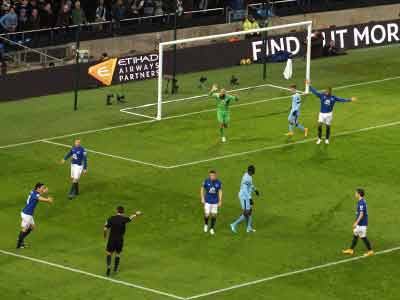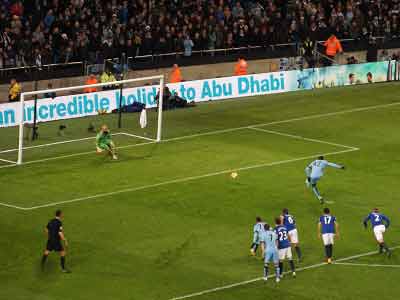 The referee points to the spot and in the absence of Aguero Yaya Toure takes the kick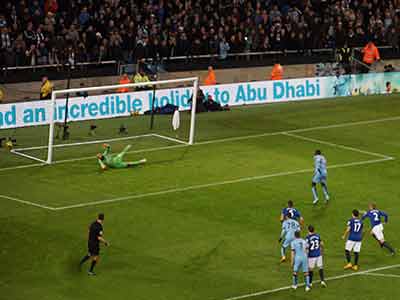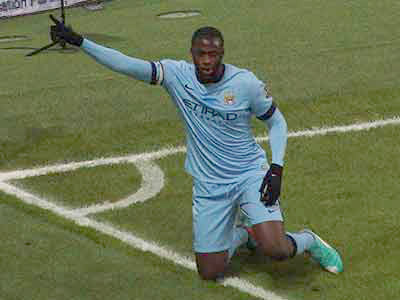 Though Howard dived the right way the pace beat him and City were one up.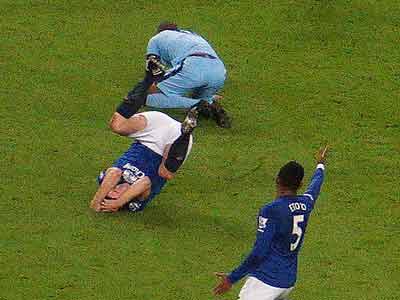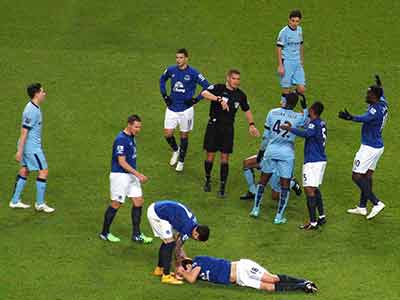 a few minutes later and Fernando's high boot catches Barry and it's a yellow card
and a painful few minutes for Barry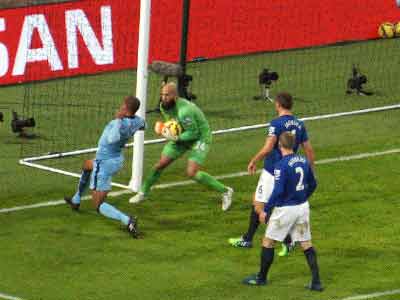 City continued to attack and Howard was the busiest of the keepers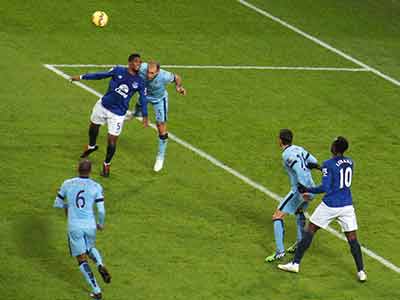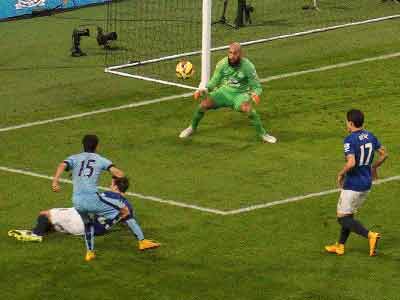 Distin and Zabaleta clash at a corner
Navas has a shot saved by Howard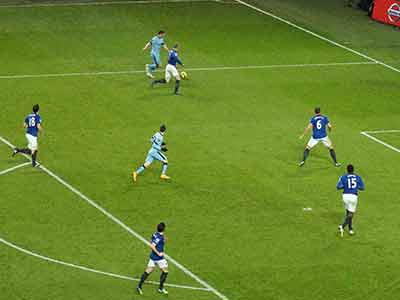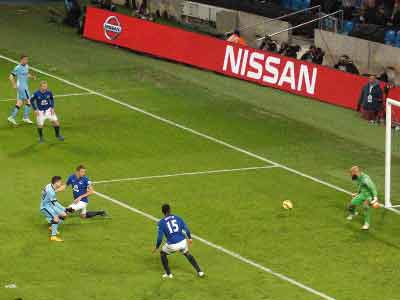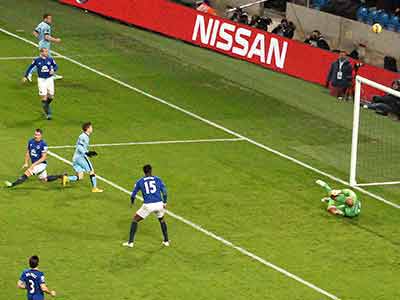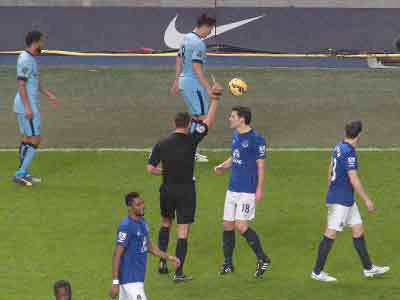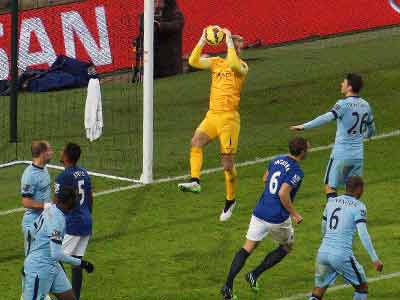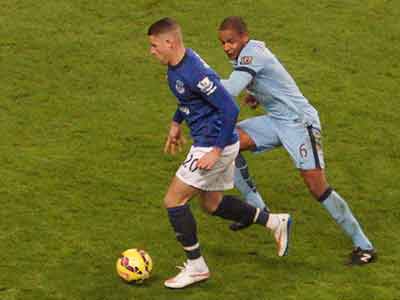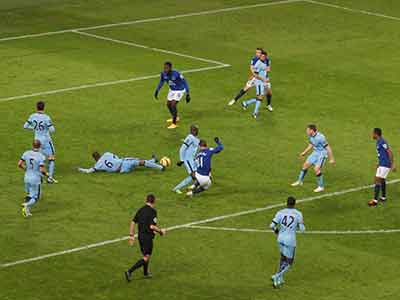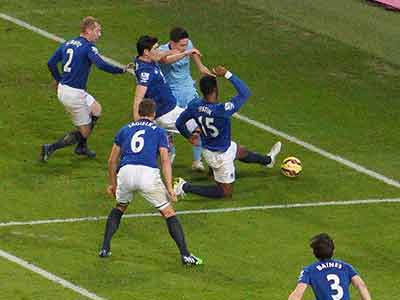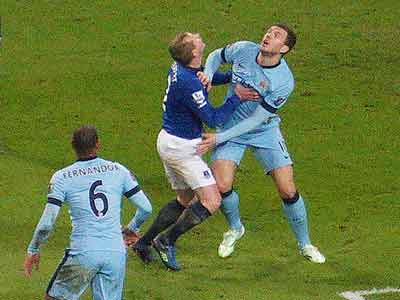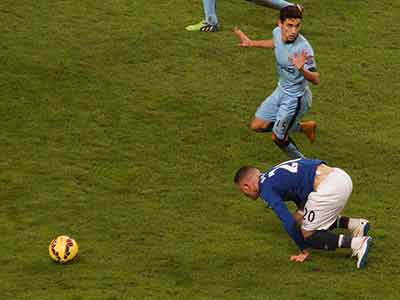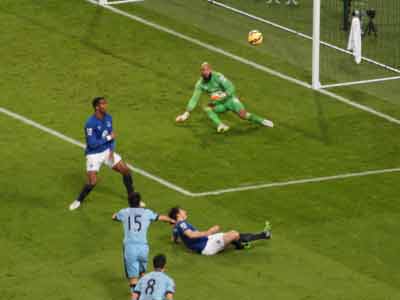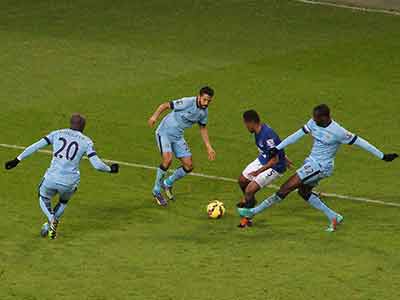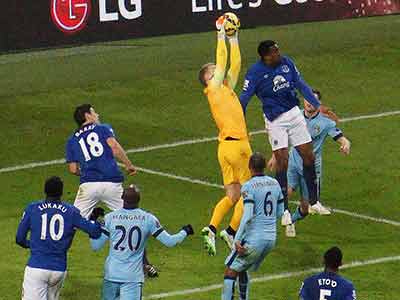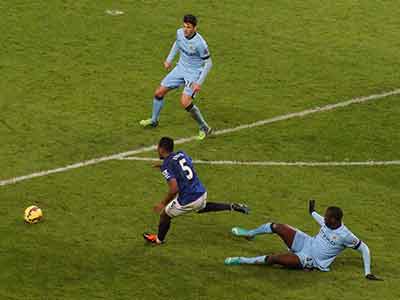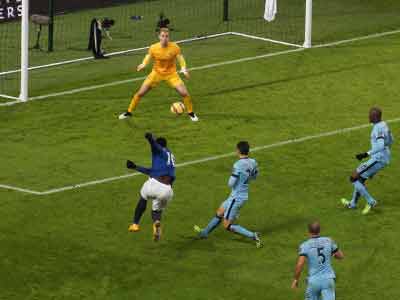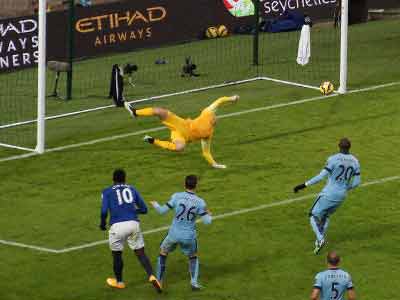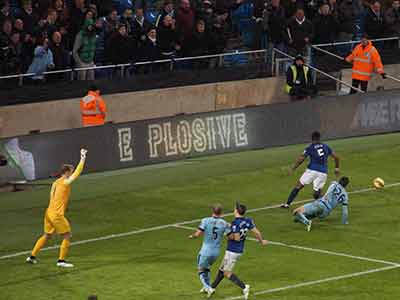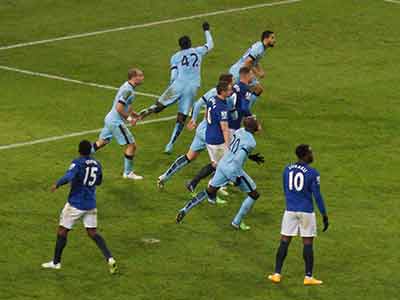 At the start of the second half a good run down the left and cross by Milner gave Pozo a chance......
..but alas Howard made a very good save
Barry goes into the record books with his 99th league booking!
Hart has to do some work at a corner
Barkley came on ten minutes into the second half
Mirallas has a shot blocked
Nasri has to deal with four defenders
Dzeko ( on for Pozo) and Hibbert battle for the ball
Oh dear Barkley does a dive - he got booked later for another one - it's getting a bad habit!
Everton block a Navas effort
a good late tackle by Toure
This time Yaya fouls Eto'o but Everton waste the free kick
On 81 minutes Lukaku has a good chance but Joe Hart makes a wonderful save
in the final moments Everton forced a corner which was cleared by Toure and City had the vital three points
Team

Hart 8: Zabaleta 8, Mangala 7, Demichelis 7.5, Clichy 8, Fernando 7.5, Toure 7.5, Navas 7 (Lampard) Nasri 9, Milner 9, Aguero ( Pozo 6.5 - Dzeko)