City 3 Bayern Munich 2
Nov 25th 2014 47,726
Champions League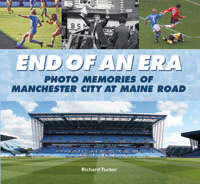 Now available from Amazon ( click on image for link)
WH Smith and the City shop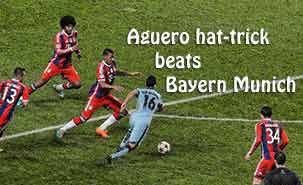 Unbelievable! An incredible match which Aguero won for City in the final few minutes against a very good German side that had played with ten men for most of the game. A result that leaves City with a good chance of staying in the Champions League. The early draw result between Roma and CSKA Moscow helps a lot and a good result in the final game in Rome will complete the miracle.
A penalty after 20 minutes gave City the start they wanted and with Bayern down to ten men after Benatia had brought down Aguero surely City would now romp home! Oh no - Bayern still dominated play a man down with their passing and movement very impressive. A poorly constructed wall - come on Pellegrini -you're an engineer- let in a free kick from Alonso and Bayern were level. A minute or so later a cross found Lewandowski's shoulder and the ball found the back of the net! Bayern ahead 2-1 at half time with ten men - though it looked like they had 12 at times the way they played. I bet some City fans felt like going but just when all looked lost Alonso gave the ball away and Aguero was on it in a flash and away he went to shot past Neuer to equalize. There were six minutes to go and when the 4th official put up only three minutes of extra time we thought we would have to settle for a point but no ex City player Boateng got his feet mixed up and away went Aguero to complete a magnificent hat-trick to put us back in the Champions League battle for second place.
A simply amazing game full of good football and one that City fans will remember.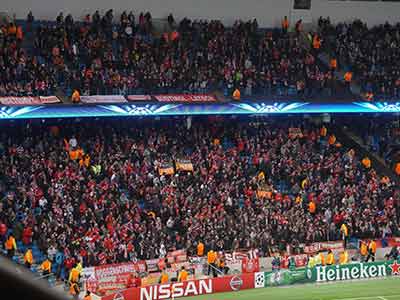 City made several changes due to the absence of Toure and Fernandinho but I was surprised to see Sagna in place of Zabaleta
As expected Bayern brought a huge band of very noisy passionate supporters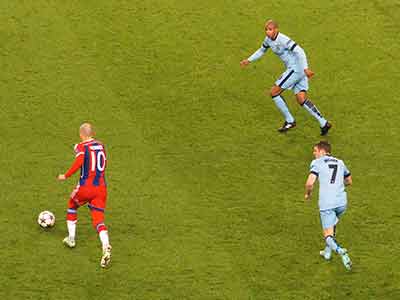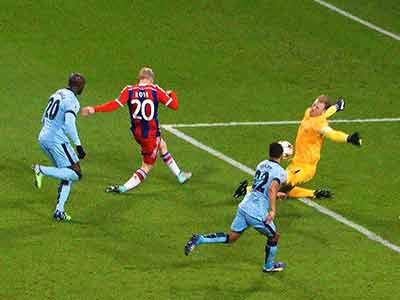 Danger man Robben soon provided an early chance to Rafinha but Hart made a good point blank save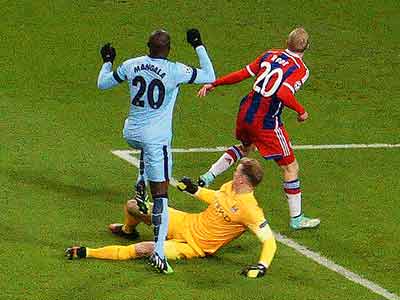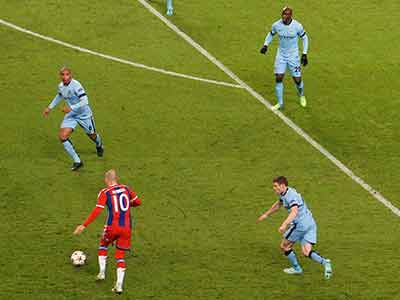 the ball was finally cleared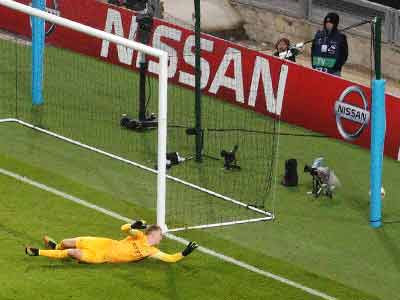 Then Robben had a go himself .....
...but the ball went just wide of goal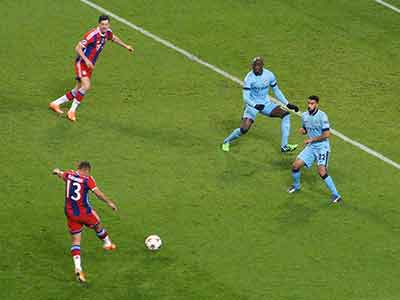 Rafinha has another go but this time defenders block his effort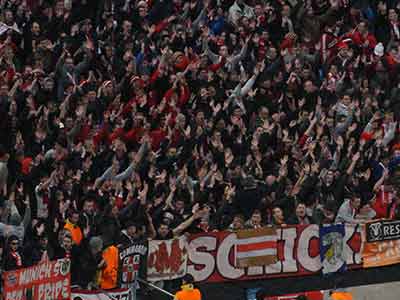 The Bayern fans created lots of atmosphere
Their manager Pep Guardiola is one of the best in the world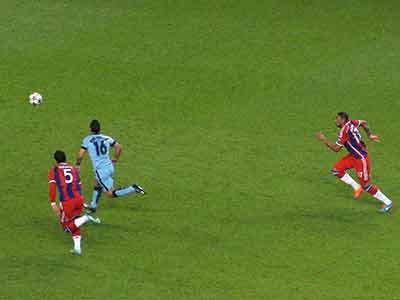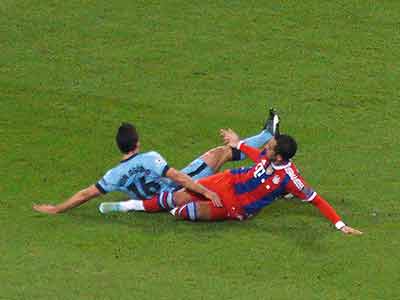 On 20 minutes a good pass from Lampard found Aguero who dashed down the pitch and into the penalty area where he was brought down by Benatia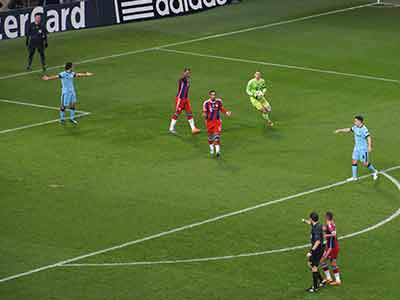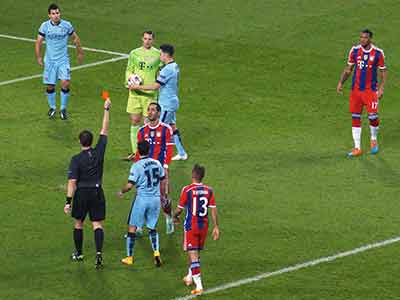 After what seemed an eternity the referee pointed to the spot and Benatia got his marching orders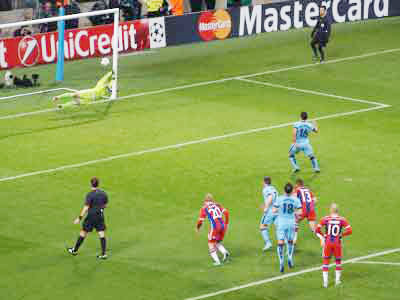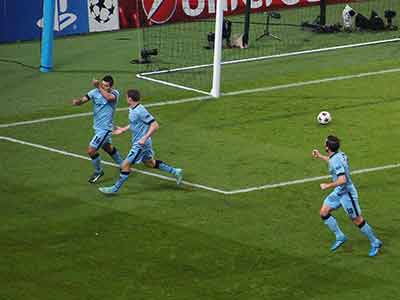 Aguero duly cracked the ball past the diving keeper and City were one up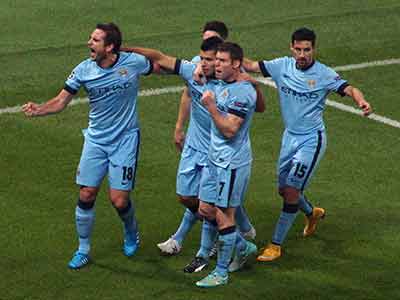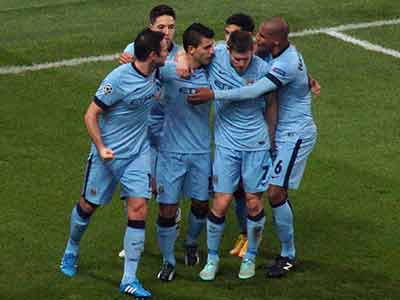 The players showed their thoughts to the City fans and celebrated a vital goal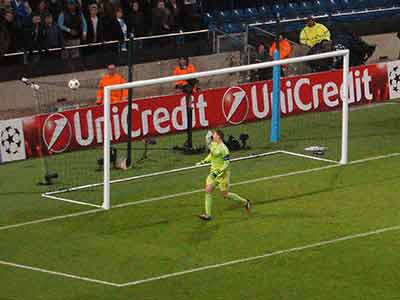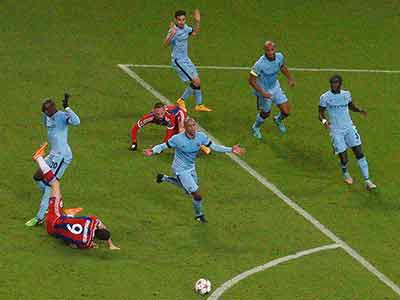 After 34 minutes a Frank Lampard shot went very close
a few minutes later Lewandowski is brought down by Mangala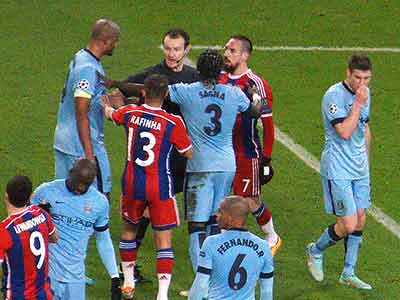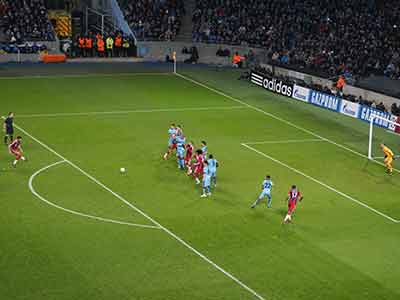 Ribery and Kompany have a disagreement
Instead of Robben taking the kick Alonso shoots through a gap left by a moving Bayern player......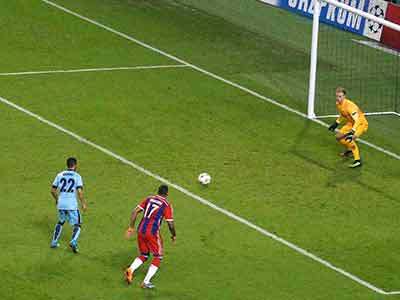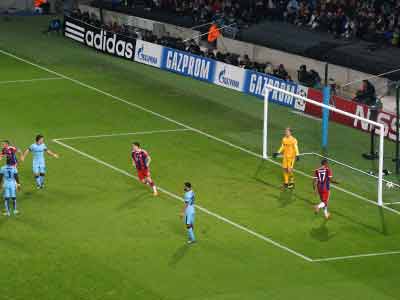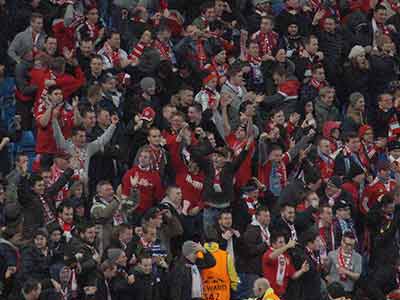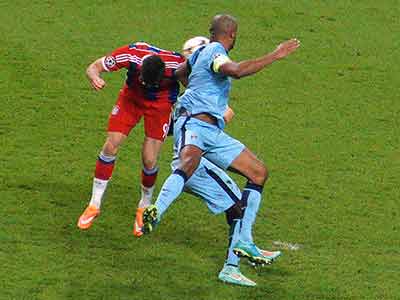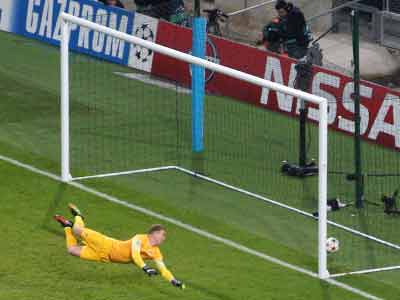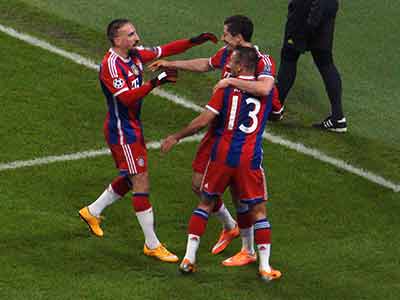 ...and the ball ends up in the back of the net with Joe Hart completely wrong footed- oh dear-
there will be an after the match chat about that!
The visiting fans went mad and there was even more to come as a cross from Boateng found the shoulder of Lewandowski despite being marked by two defenders and....
the ball flew into the goal to give ten men Bayern a 2-1 lead at half time.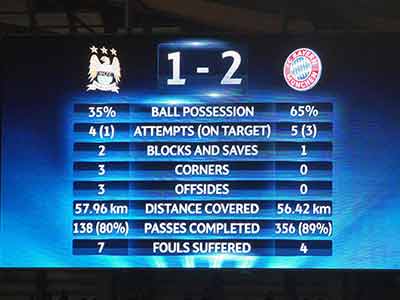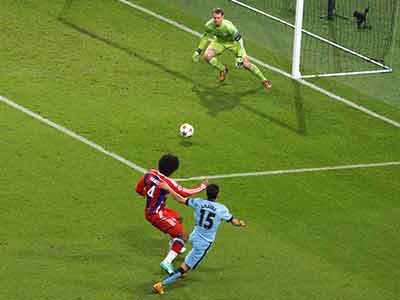 The half time stats are not good reading!
on 49 minutes Navas has a shot...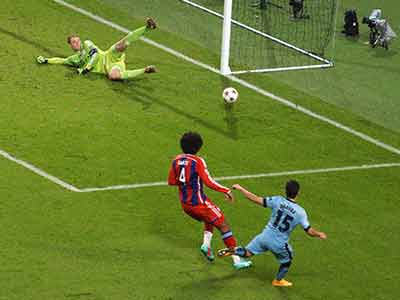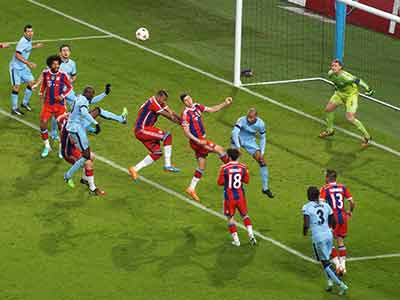 ........but the keeper saves for a corner which is cleared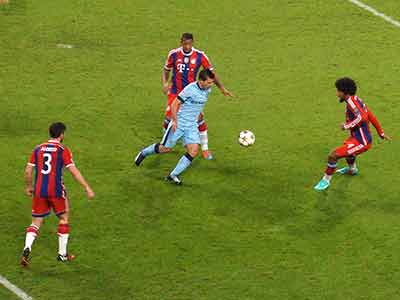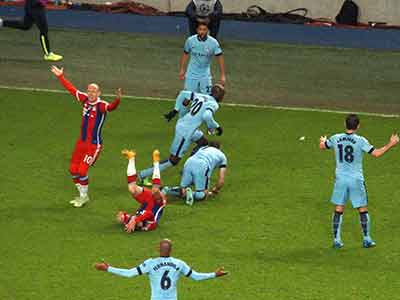 Aguero is well marked and cannot break through
a few players take a tumble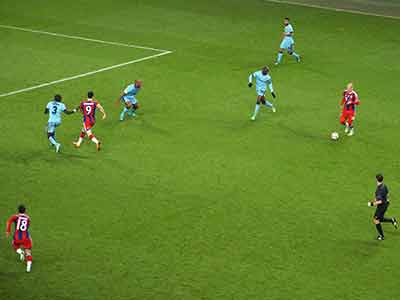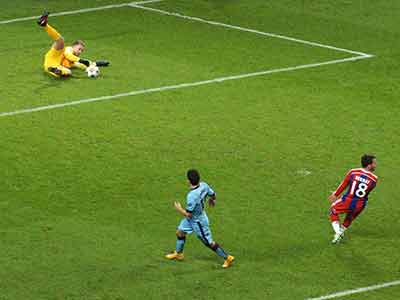 The ever dangerous Robben has a shot which Hart saves comfortably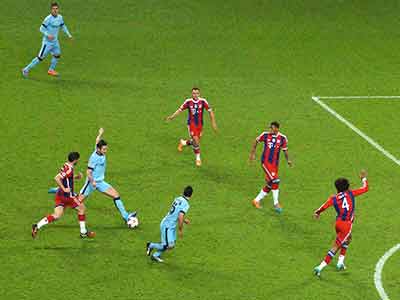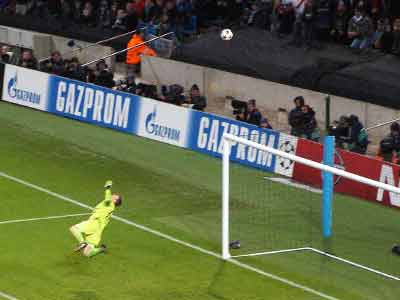 On 69 minutes Lampard has a good effort which is saved by Neuer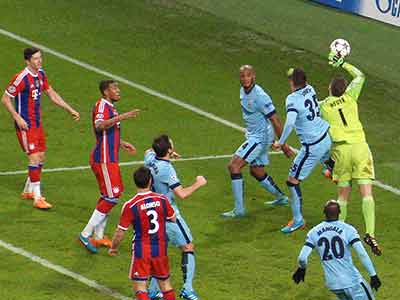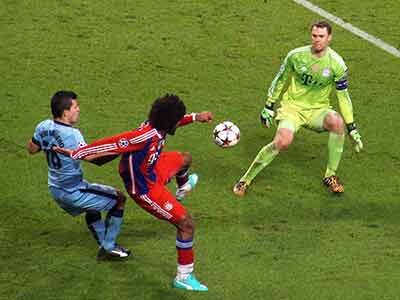 Neuer then has to catch the corner under pressure
Aguero is foiled by Dante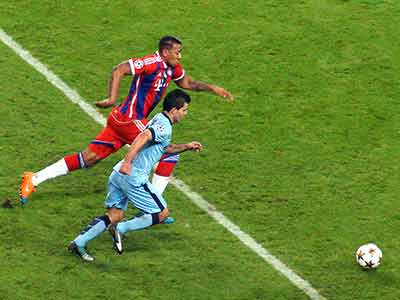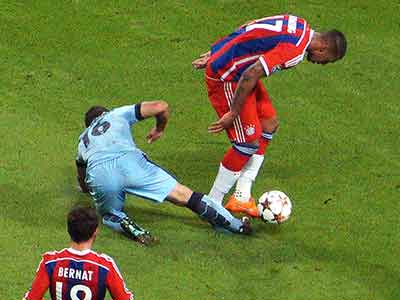 Aguero and Boateng compete for the ball and this time Boateng wins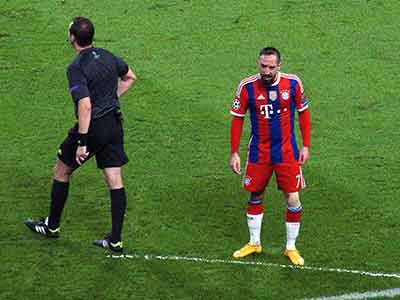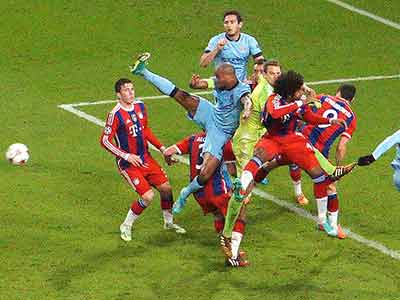 Ribery is told to stay behind the line and behave!
The free kick is cleared by the keeper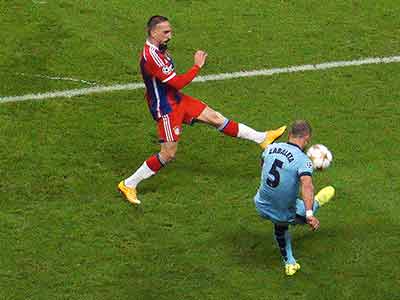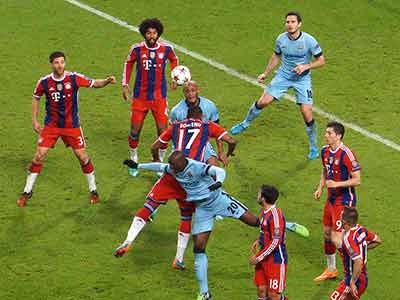 Zabaleta on for Sagna crosses
Bayern manage to clear again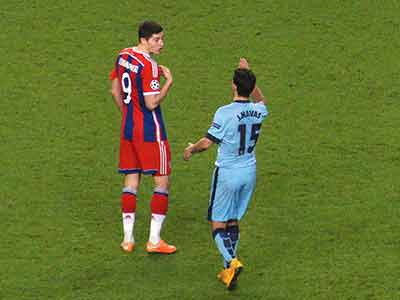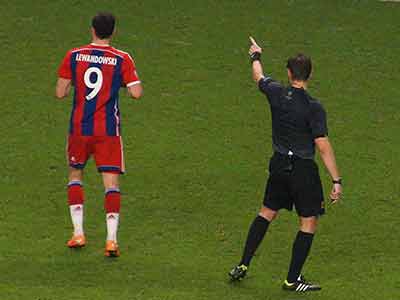 Lewandowski is subbed but does not want to go!!!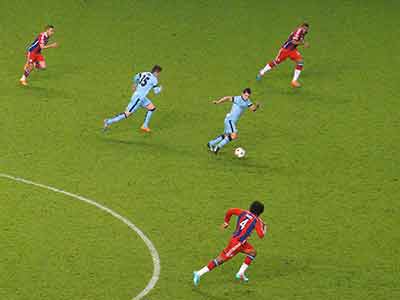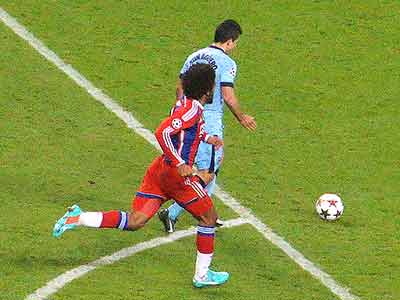 on 84 minutes an error by Alonso gives Aguero possession and away he flies towards goal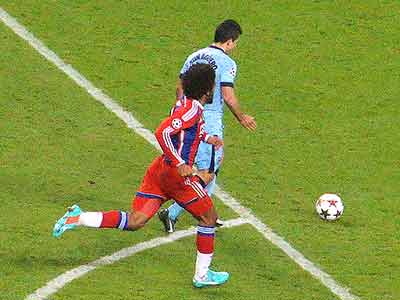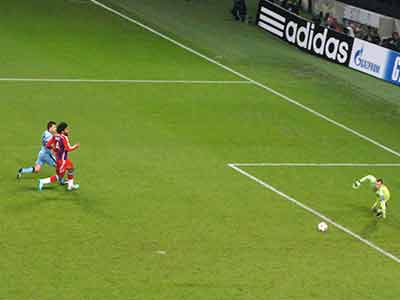 just inside the penalty area he shoots ......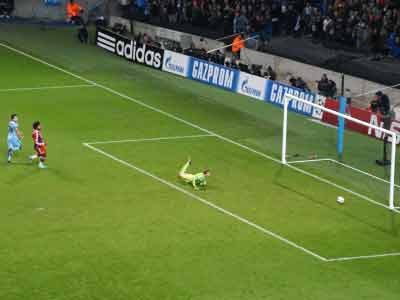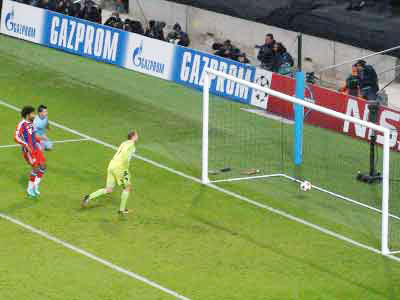 ....and the ball whips past the keeper and into the net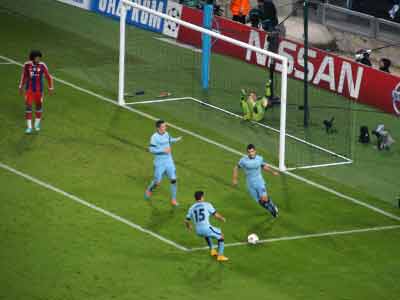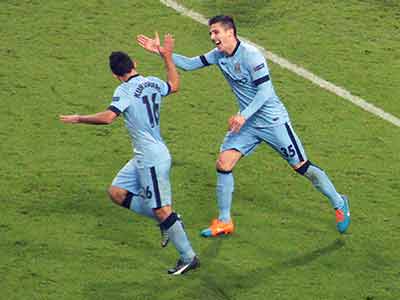 the ball is retrieved from the net and the players rush back to the middle - no time for celebration -
its 2-2 and all to play for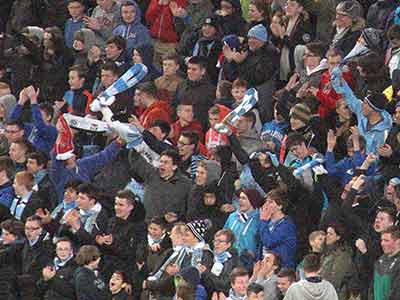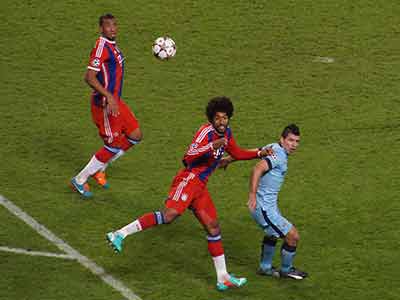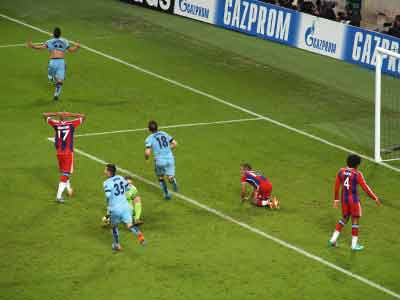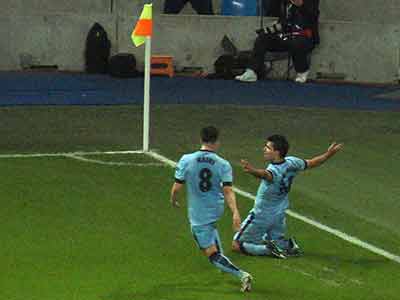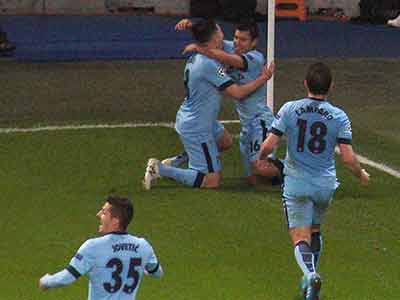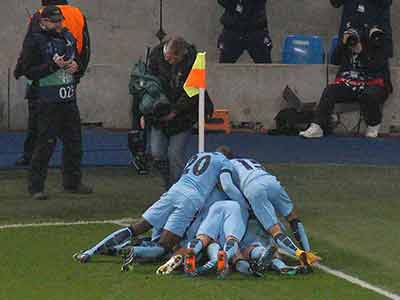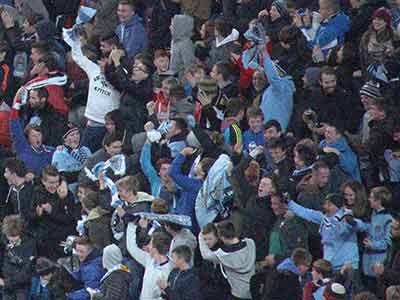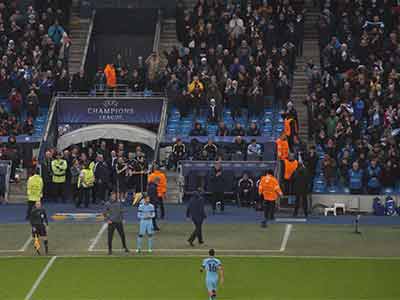 The North Stand celebrate but City are not finished and Dante has to clear from Aguero but then just as extra time starts .....
...Boateng makes an error and Aguero takes advantage to slot the ball past Neuer to win the game for City
many supporters may have left and they missed a sublime moment
The City players celebrated
Just before the end Aguero was subbed and went off to a standing ovation and the match ended
Aguero 3 Bayern Munich 2
team
Hart 6.5: Sagna 7 (Zabaleta), Kompany 7 Mangala 6.5 Clichy 7: Fernando 7 Lampard 7 , Navas 6.5, Milner 6.5 ( Jovetic) Nasri 7.5, Aguero 9.5 Demichelis)