City 4 Watford 2
January 25th 46,514
FA Cup R4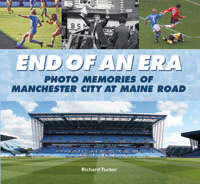 Now available from Amazon ( click on image for link)
WH Smith and the City shop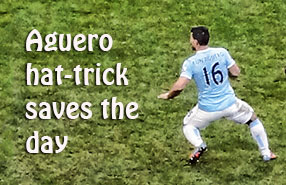 Definitely a game of two halves! After a poor first half display by City the visitors went back to their dressing room two goals up and deservedly so too. They had worked harder and counter attacked with speed and with numbers. The City defence was often outpaced and things looked pretty bad for the sky blues. At Half time manager Pellegrini made two changes bringing on Kompany and Zabaleta for Richards nd Rodwell and no doubt gave the team a good talking too! It was a different City team in the second half with Aguero scoring three goals and Kolarov getting a gift from young keeper Bond as his shot from outside the box went between the keepers legs and rolled over the line. No doubt he has been watching de Gea !
Navas had another good game and worked well with Zabaleta in the second half. Dzeko alas was well below form today. Lopes showed some talent but was subbed by Jovetic and then the goals arrived for City as they started to make some chances. I hope the lesson will be learnt. Watford certainly played a lot better than their middle of the Championship position suggested and they gave City a wake-up call. However City continued their good run of home form and reached 110 goals for the season and round 5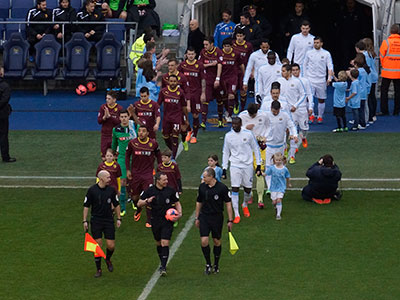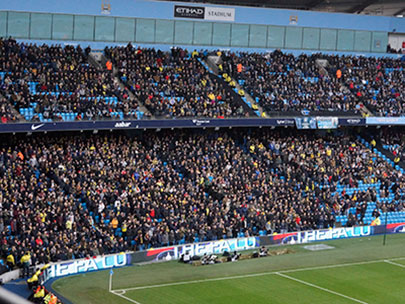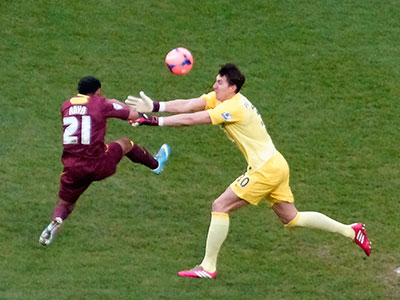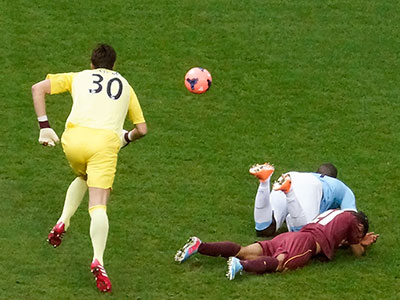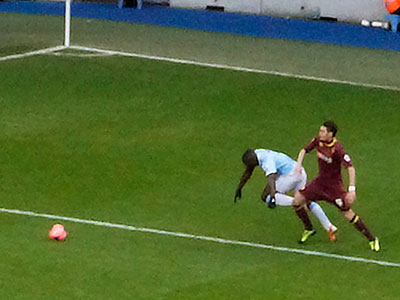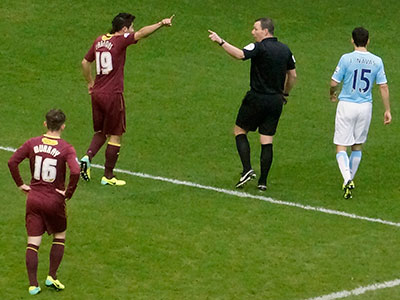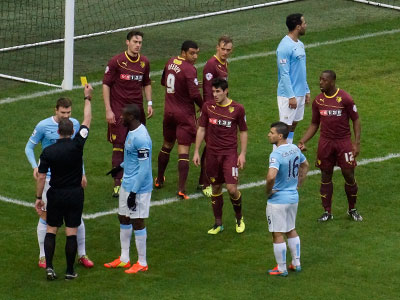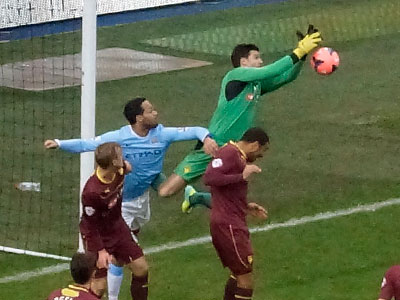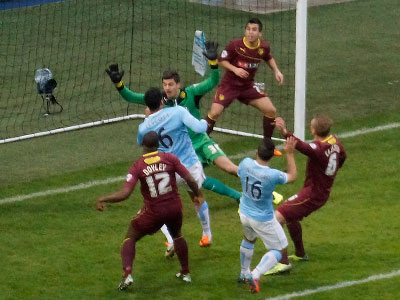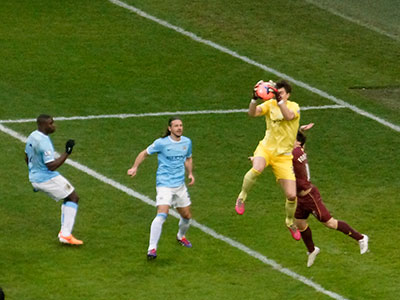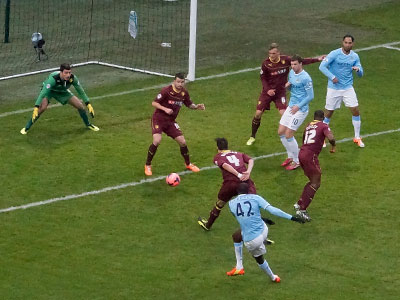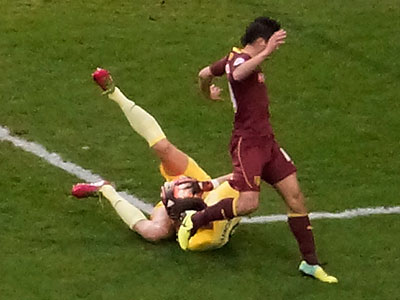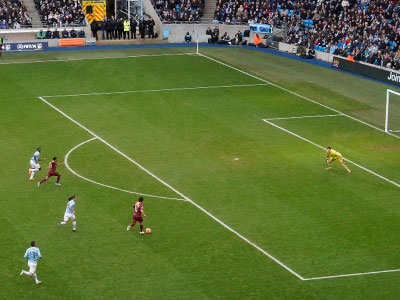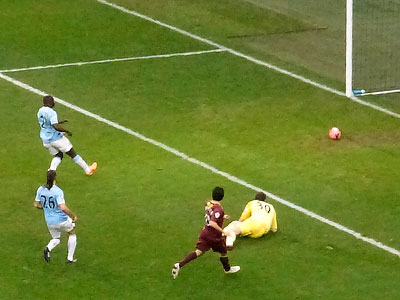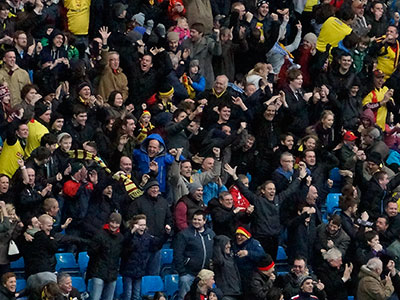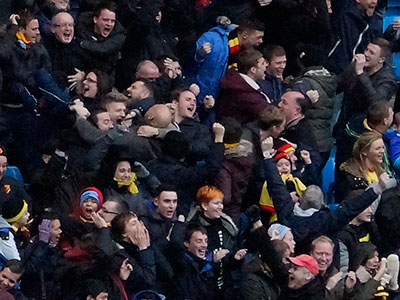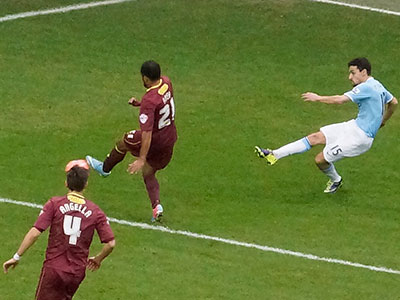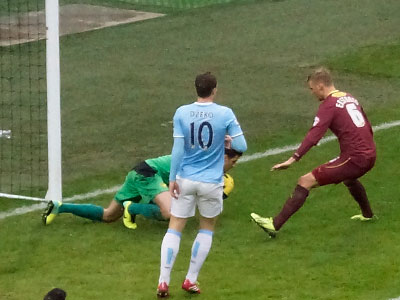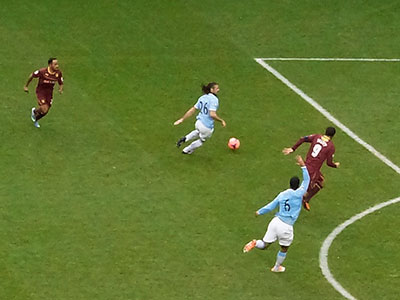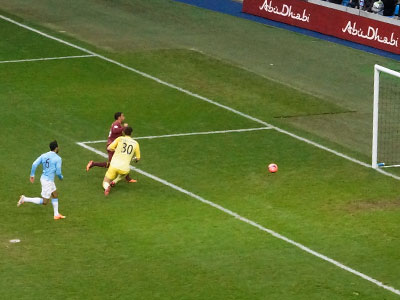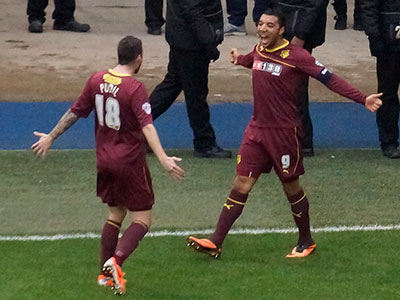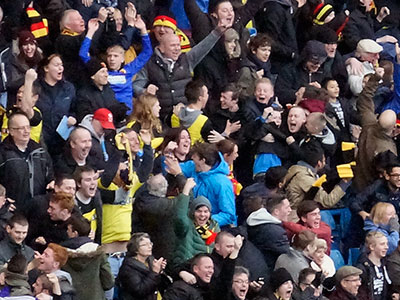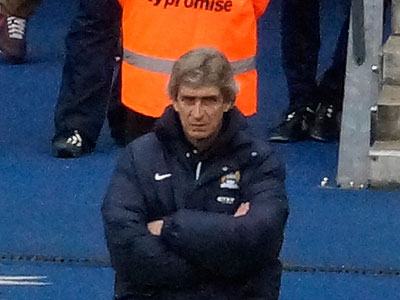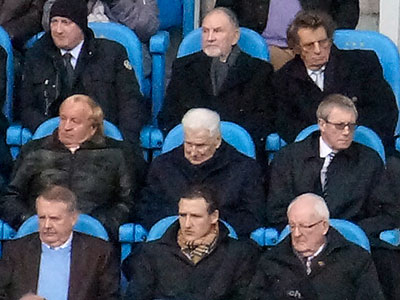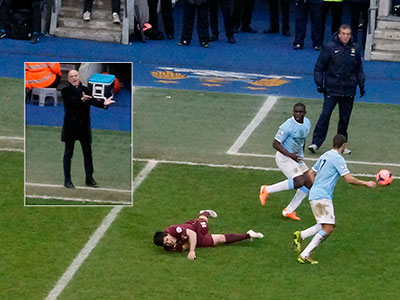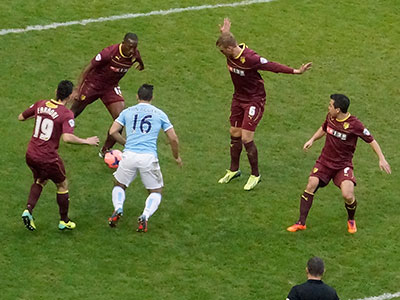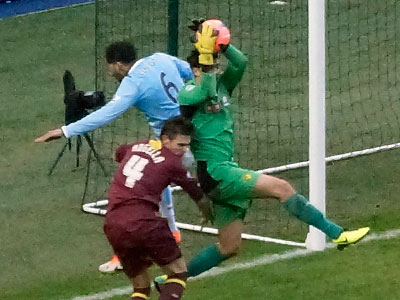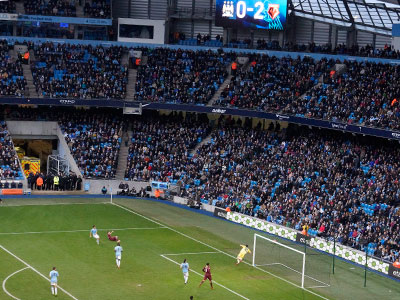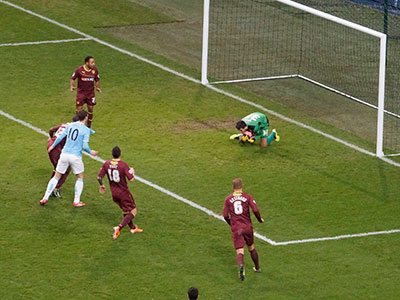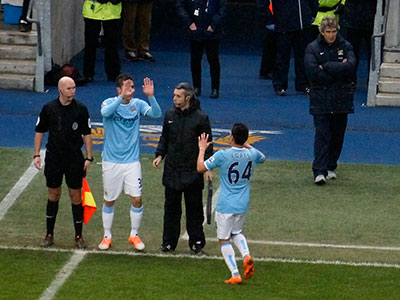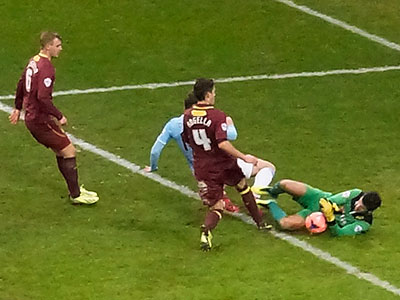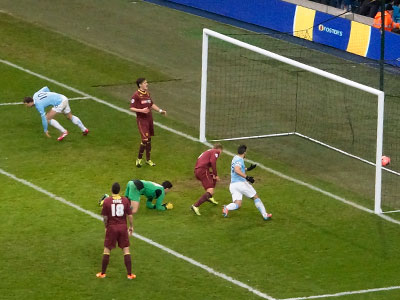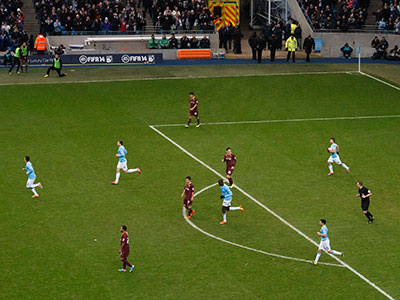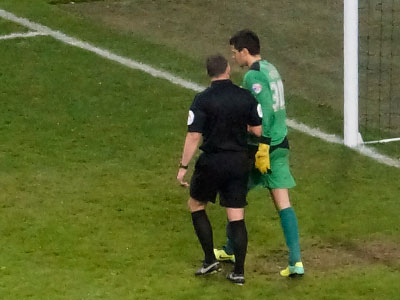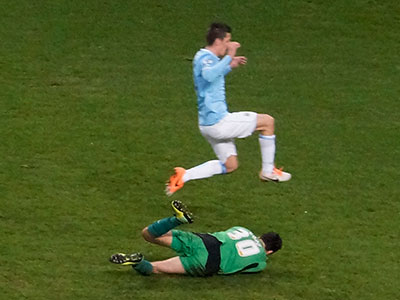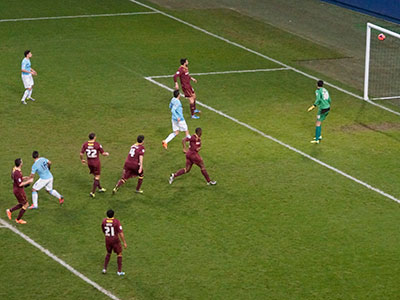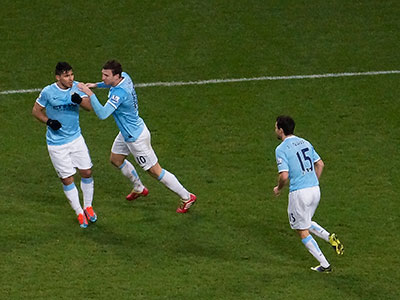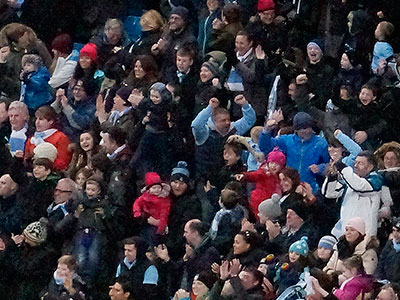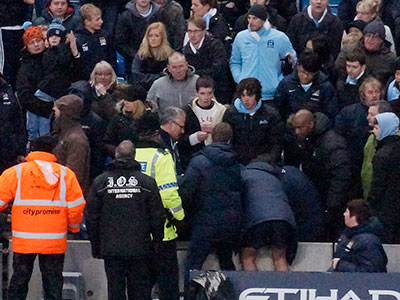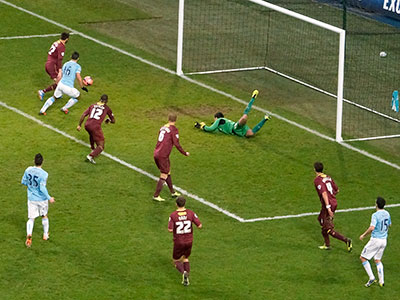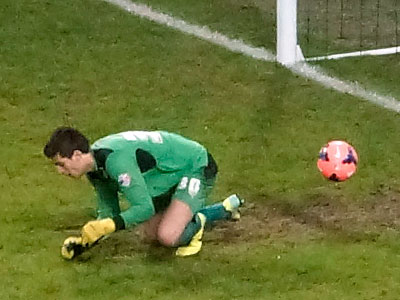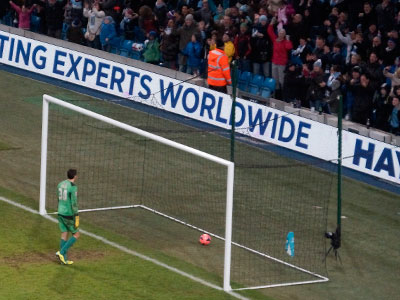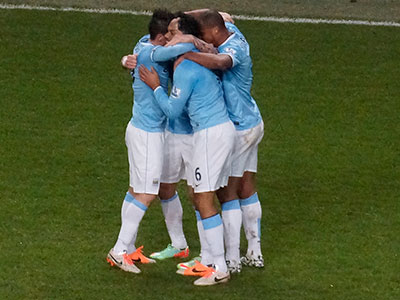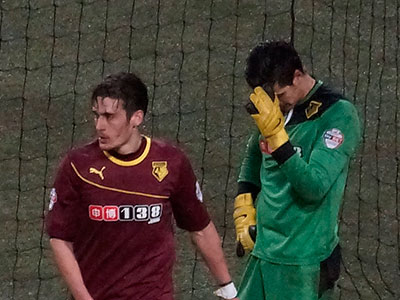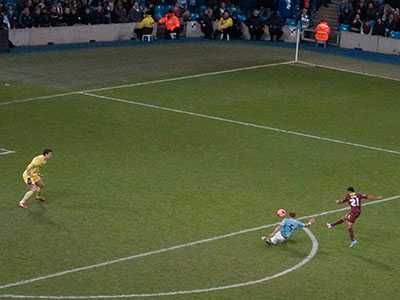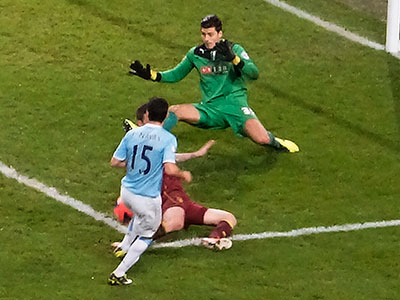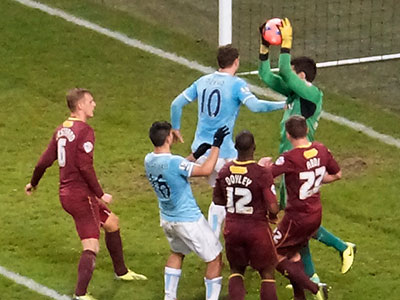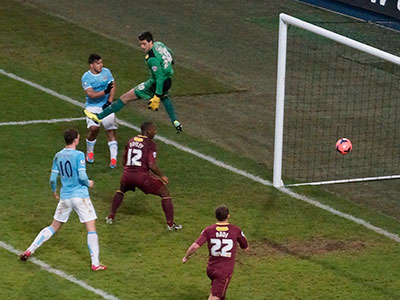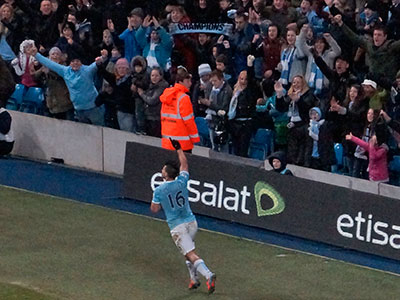 City made six changes from the last game - resting Silva, Negredo, Kompany and Zabaleta. First start for Rodwell for a while and Lopes continued
Watford brought a good noisy bunch of supporters with them
City were lucky not to concede an early penalty when Anya and Pantilimon clashed
Faraoni brings down Richards on the edge of the penalty area and then he has a few words with the referee
At the free kick there was something going on in the box and Dzeko got a yellow card
Pantilimon takes an easy catch at the other end
Toure has an effort blocked
On 20 minutes City were slow to defend a counter attack and Forestieri easily slotted the ball past Pantilimon
The Watford supporters could not believe their luck and were quite cheerful to say the least!
a Navas cross to too near the keeper who saves
On 29 minutes and Watford went two up! An error by Demichelis let in Watford and Deeney scored
There was a suspicion offside but that did not worry the Watford players or supporters. City two down in 30 minutes - unbelievable!
Manual Pellegrini was not a happy man and perhaps we should be calling for Franny Lee, Tony Book and Colin Bell
Sannino appeals for a free kick as a Watford player goes down
Pudil goes close just before half time with Watford two nil ahead
Bond is able to save from Dzeko whose shot was too weak
56 minutes and City make their third substitution - Jovetic on for Lopes. Zabaleta and Kompany had come on for Richards and Rodwell at half time
After 59 minutes City scored. A Dzeko effort was pushed out by Bond and Aguero had the easy task of scoring
No celebrations by City as they dashed back to the centre
The referee has to remind Bond about wasting time
Dzeko leaps over Bond as he saves
After good work by Navas Dzeko passes to Aguero.....
....who hits it past Bond....
..into the top corner and City are level two apiece - brilliant!
Now its the City supporters turn to celebrate
Looks like there is a problem in the Colin Bell Stand
The Watford goal was under a lot of pressure now but when Kolarov shot from well outside the box we did not expect the Watford keeper to let the ball go through his legs and it rolled over the line to give City the lead
City Celebrate while Bond has to retrieve the ball from the back of the net
It was a moment he will want to forget
Anya shoots well over the bar
AS the final whistle nears Bond is kept busy in the Watford goal
Then in the second minute of extra time Aguero completes his hat-trick with a header - his 25th goal of the season
Team
Pantilimon 6.5, Richards 5 (Zabaleta 7.5), Demichelis 5 , Lescott 5.5, Kolarov 5.5, Toure 6.5, Rodwell 5.5 (Kompany 7.5), Navas 8 Lopez 6 ( Jovetic 7), Aguero 8.5 , Dzeko 5