City 4 Cardiff City 2
January 18th 47,213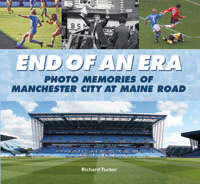 Now available from Amazon ( click on image for link)
WH Smith and the City shop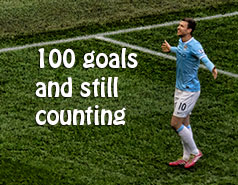 Yet another home win and City passed their 100th goal of the season and their 900th in Premier League history. Edin Dzeko was the man who notched goal number 100 and it was also the first time goal line technology had been brought into play when the ball was cleared from behind the line. Yaya Toure, Navas and Aguero scored the other goals but for once Negredo failed to score. Cardiff played quite well so when they equalized memories came back from the away game. However Navas soon put City in front again . Hart had to make some good saves in the second half but they did manage a consolation goal in additional time. City did miss some good chances and had most of the possession. There was a return for Craig Bellamy who got a warm reception from City fans when he came on as a sub. Another Craig - Noone looked very dangerous and looked their best player. Cardiff brought a lot of support but they let themselves down a bit when fighting broke out in their section and the Police had to go in to help stewards.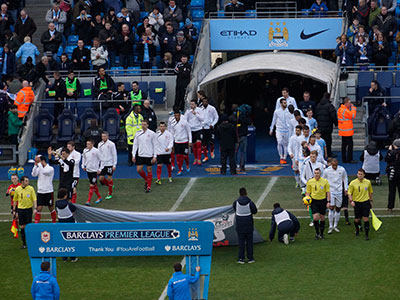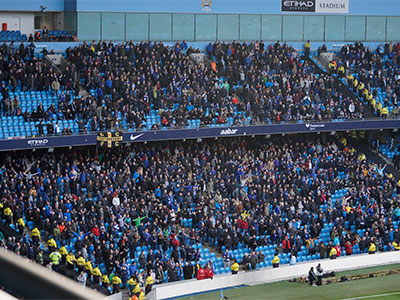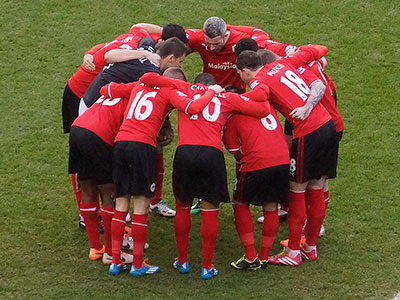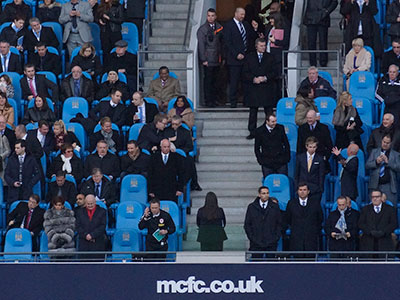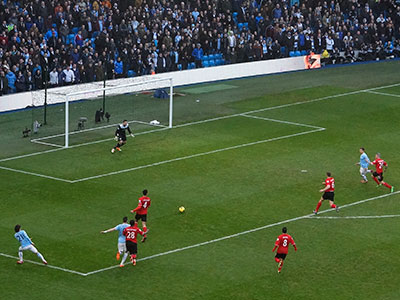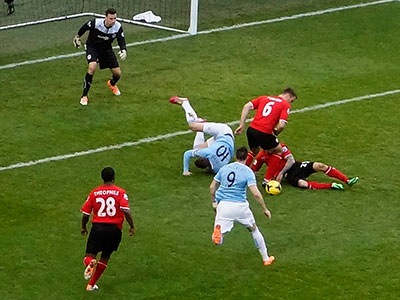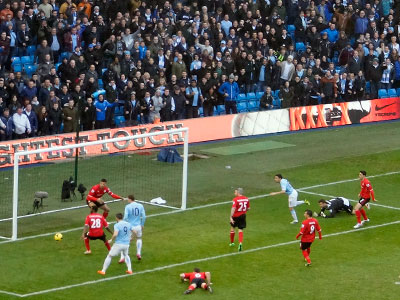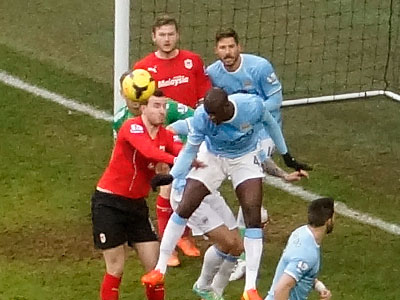 Marshall saves from Dzeko on 8 minutes
Toure has a disagreement with the referee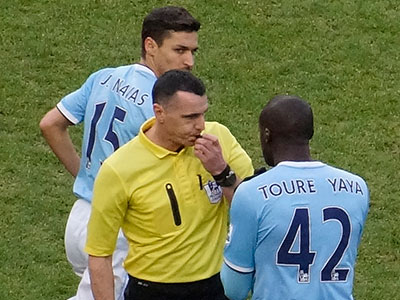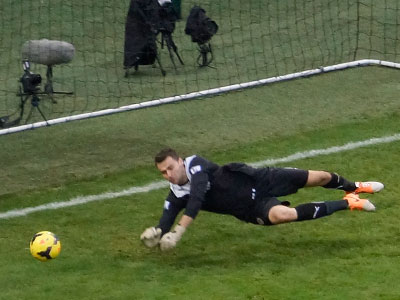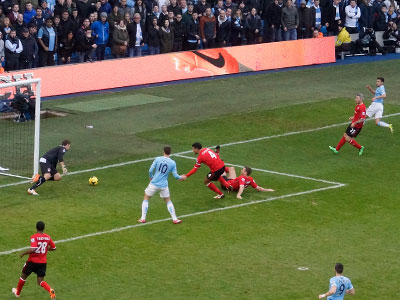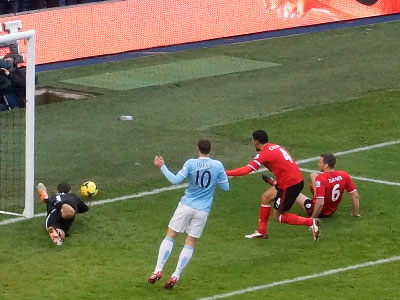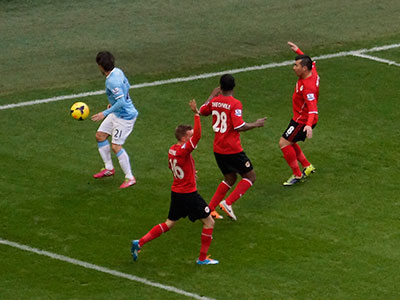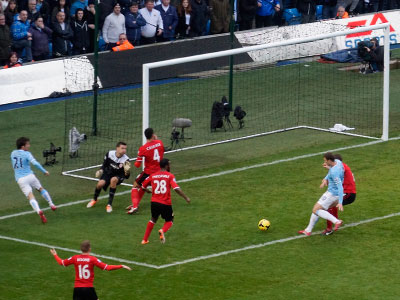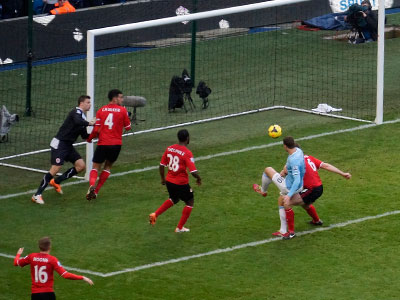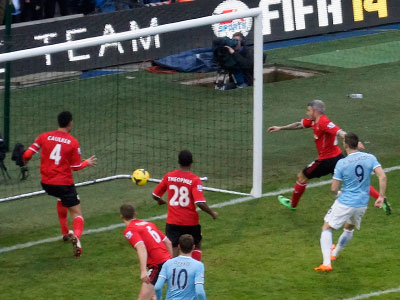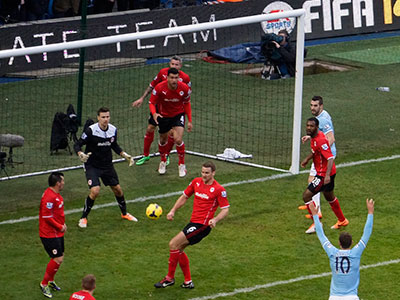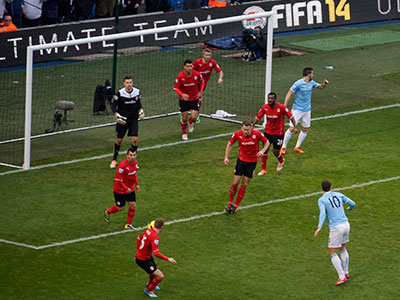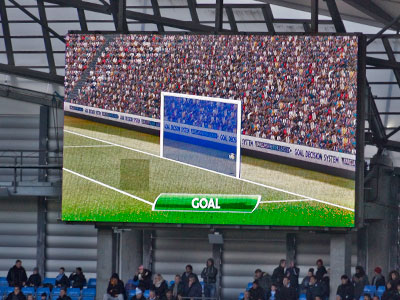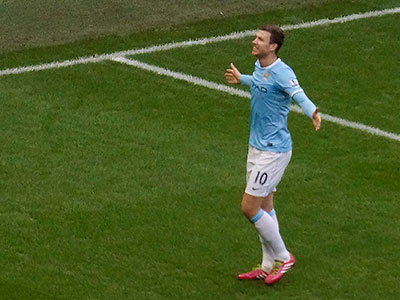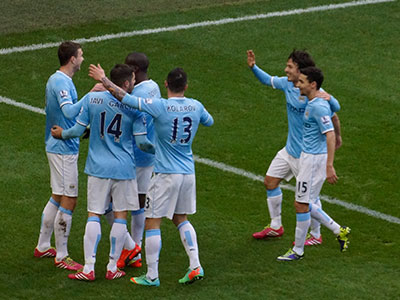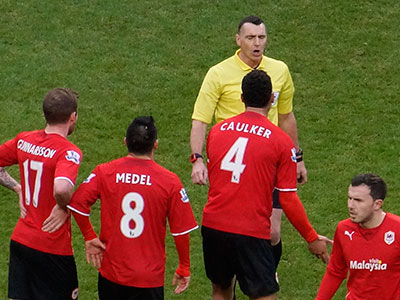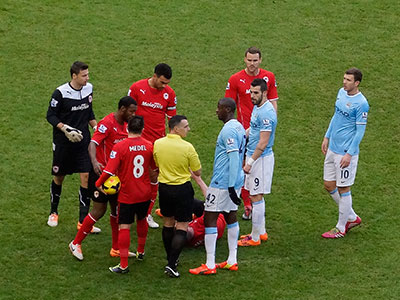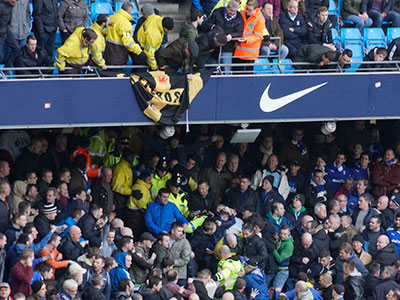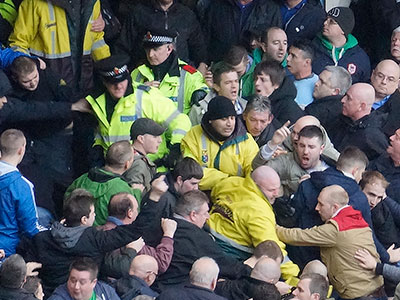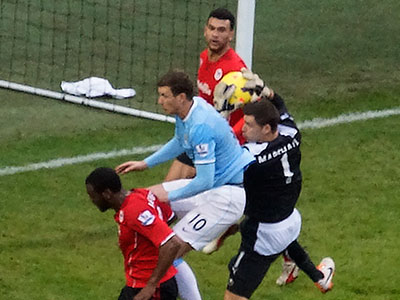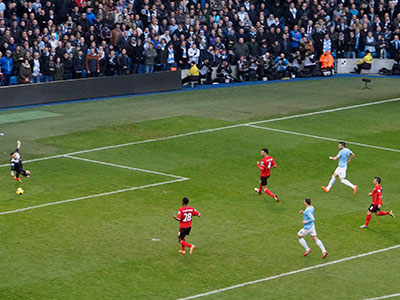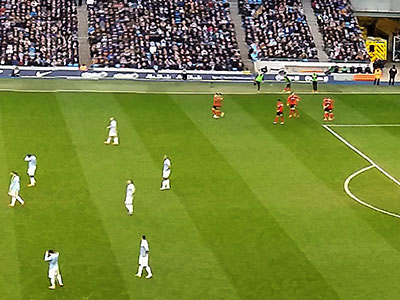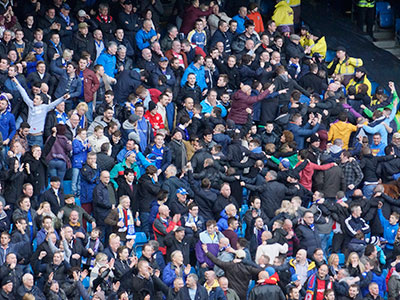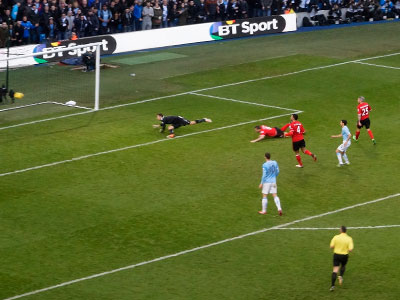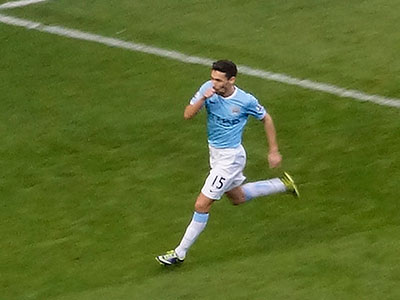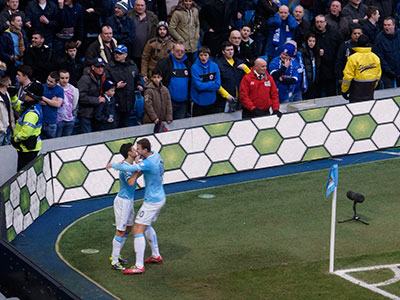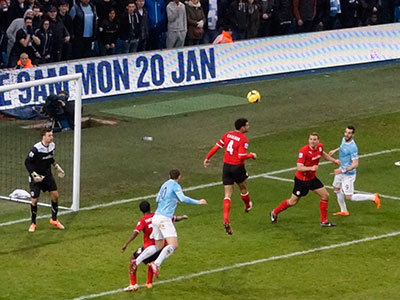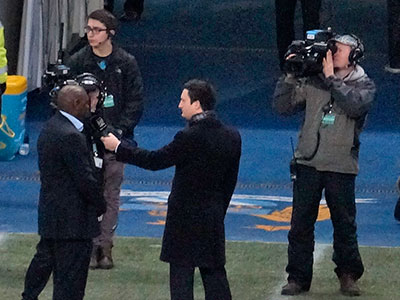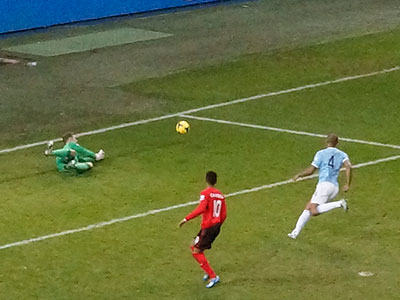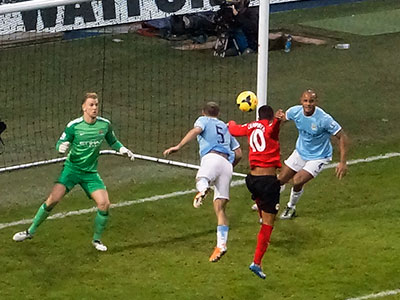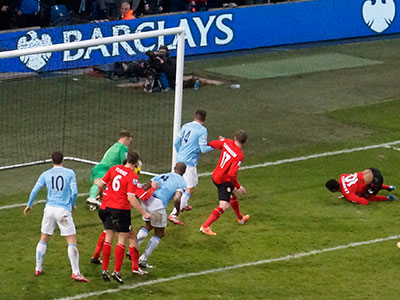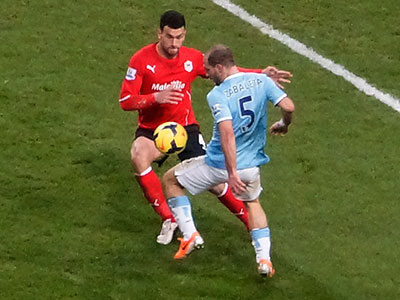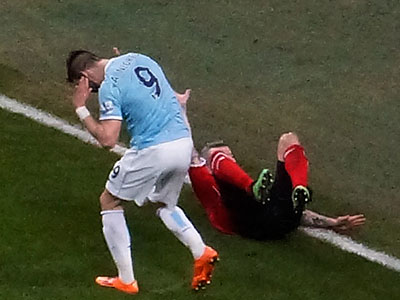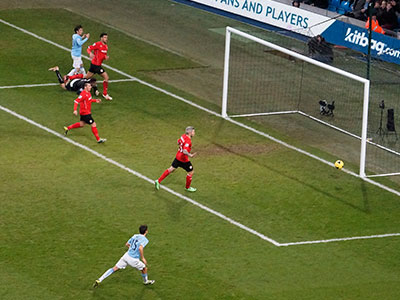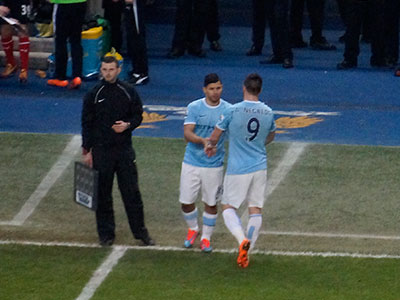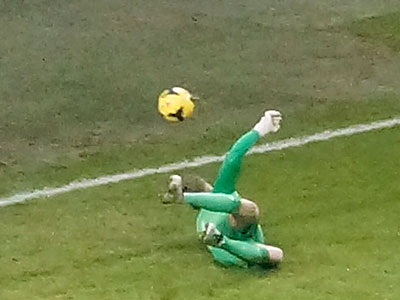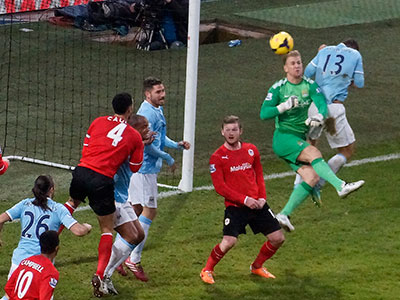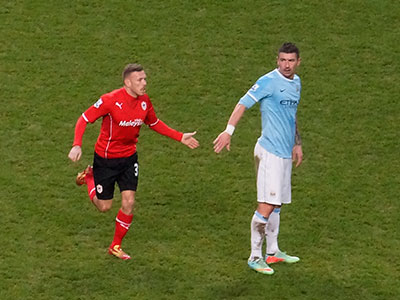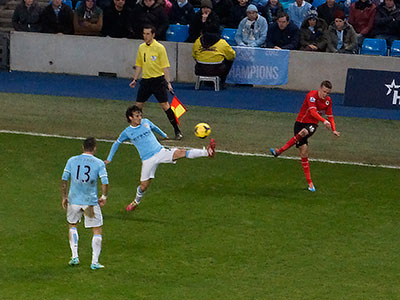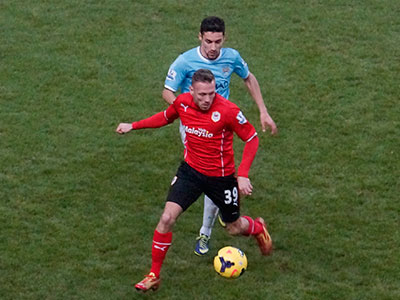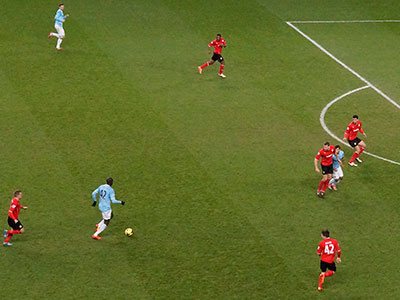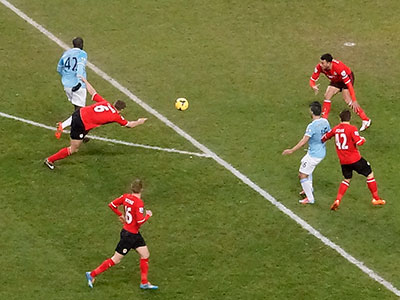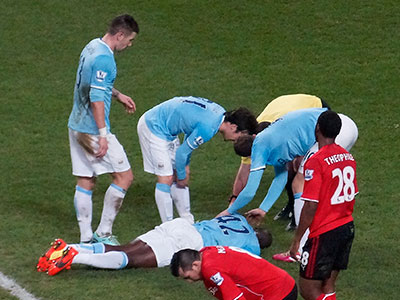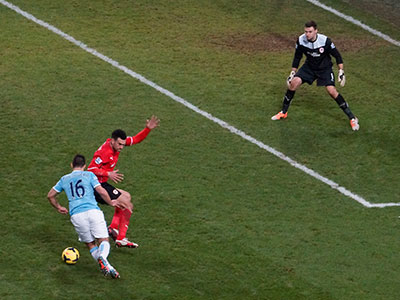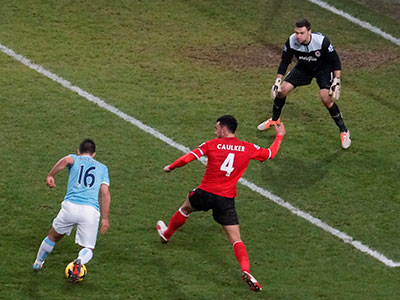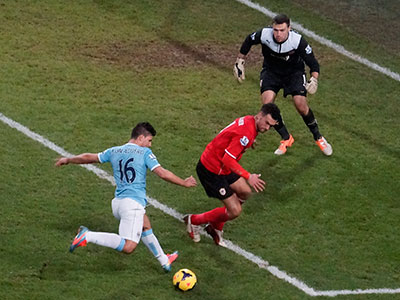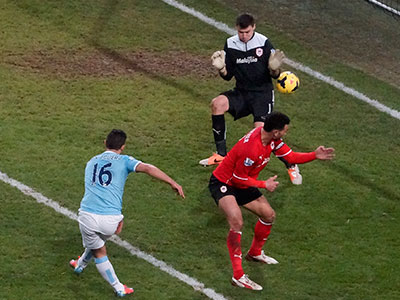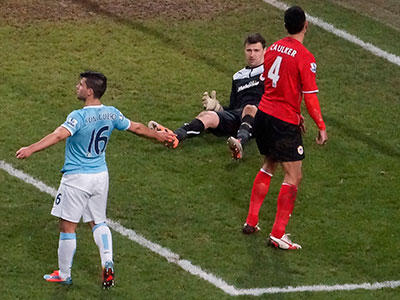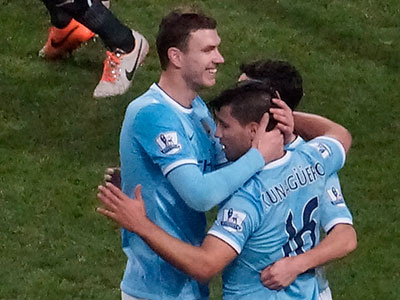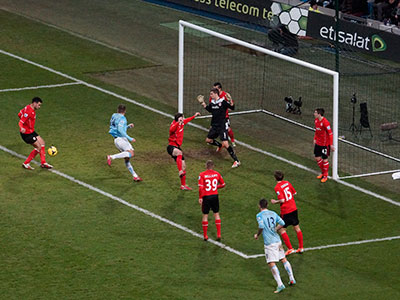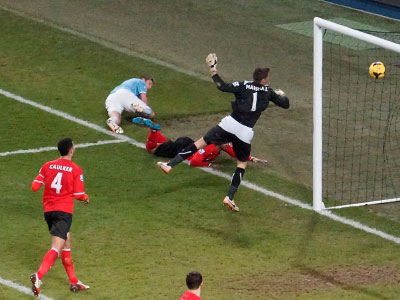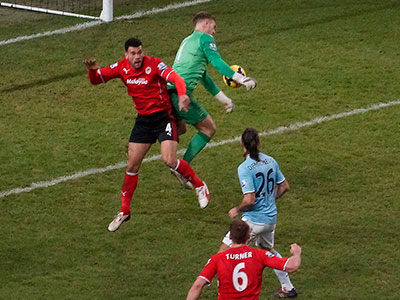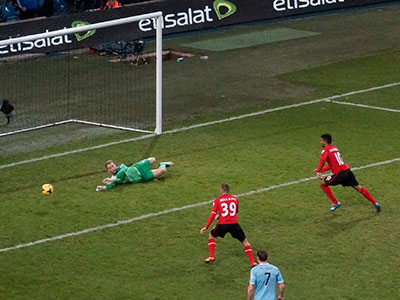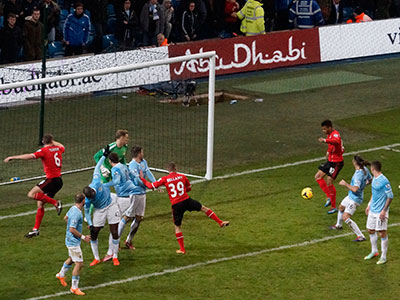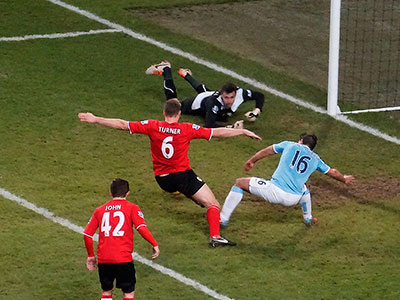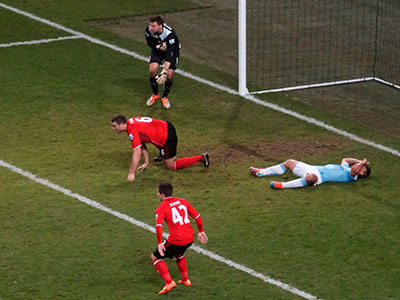 City made a number of changes from the Cup replay but Fernandinho remained on the bench Garcia taking his place
30 coaches brought quite a few Cardiff supporters who were mainly sporting their old blue colors
Perhaps the Cardiff players were checking whether there was any good luck rice on the pitch!
No sign of Mr Tan in the directors box
City should have had a penalty in the first minutes when Dzeko was brought down
Then Navas has a shot saved ... Cardiff escape
Toure clears a Cardiff corner
two minutes later and a cross is almost deflected in by a defender but Marshall saves
Goal number 100
On 13 minutes came the moment we had been waiting for. Silva passed to Dzeko who shot......
The ball seemed to take ages to go towards goal and in dashed a defender to clear
Dzeko appealed and Negredo looked anxiously towards the linesman...
..but the referee had received the signal that the ball had cross the line and Dzeko was able to celebrate
While the City players celebrated the Cardiff players protested that Silva had handled in the play prior to the goal
When play was interrupted by an injury to Gunnarsson fighting broke out in the visitors lower tier section
This continued for several minutes until order was restored
Marshall saves from Dzeko
On 23 minutes a shot from Negredo just goes wide
Then on 29 minutes just as I'm taking a panorama with my new smart phone Cardiff score !
As you can see from this crop from the pan the Cardiff players are celebrating
The Cardiff fans too have something to celebrate
Within a few minutes City are back in front when Dzeko passes to Navas and he makes no mistake to make it 2-1
Navas celebrates his 4th league goal of the season
City continue to press but the score remains at 2-1 at half time
City legend Goater is interviewed during the break
City have to defend again at the corner
Hart in action again at a Cardiff corner
Negredo gets a knock near the touchline
A shot by Siva on 60 minutes goes just wide
Aguero comes on for Negredo - will he score with his second touch again!
Hart fails to punch away the corner
Bellamy comes on a sub and says hi to Kolarov!
Silva tries to block a cross from Noone
On 75 minutes Yaya Toure goes on one of his runs....
...and ends up shooting past Marshall to give City a 3-1 lead
After all that effort he needs a bit of a rest and has to accept thanks lying down!
Two minutes later Aguero gets a pass from Toure and goes this way then that way and finally crashes the ball past Marshall to make it 4-1 - Magnificent!
Both young and old City fans enjoyed that one
City nearly score again as time approached
Hart has to push aside a shot by Noone
Cardiff score from a corner - Campbell having an easy task
Just before time Aguero just fails to score
Team
Hart 7., Zabaleta 7.5, Kompany 7, Demichelis 7, Kolarov 6.5: Garcia 7, Toure 8.5, Navas 7.5 ( Clichy), Silva 8 ( Milner ), Negredo7.5 (Aguero 7.5) Dzeko 8