City 3 Everton 1
December 15th 2018 att.54,173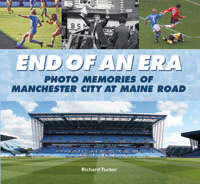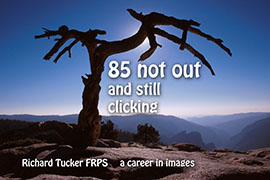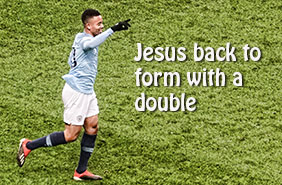 A good team performance gave City a comfortable win over Everton who have been difficult to beat at home in recent years. City go back on top and hope that United do well at Anfield - it's not often I want United to win!
With Aguero and De Bruyne on the bench after absence through injury there was plenty of hope today. Sane again had a good game assisting in the two goals by Jesus who had not scored in the Premier League since August. Jesus worked hard too and had his best game this season.
Sterling started on the bench but came on when Everton scored and with his first touch headed in a great cross from Fernandinho. It was City's tenth home league win on the run and once more it was vital to score first in the first half. We did suffer from some misplaced passes again and Everton missed some good chances so the third goal was really important and Sterling is now our leading league scorer with nine goals.
We also had almost 20 minutes of Kevin De Bruyne back on the pitch to enjoy.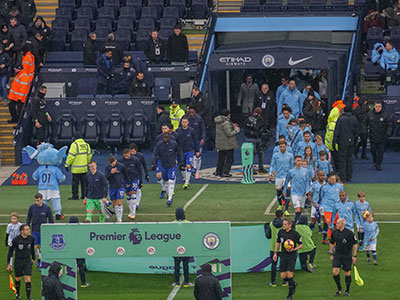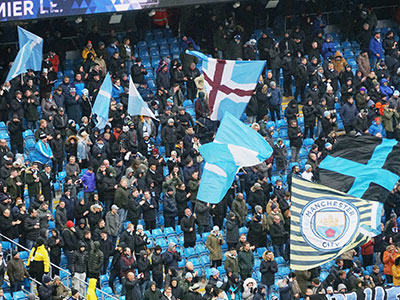 City made three changes from the Chelsea game - Sterling, Stones and David Silva (injured) being replaced by Otamendi Gundogan and Jesus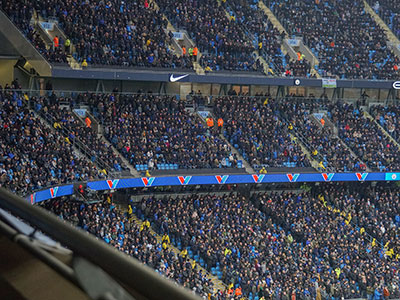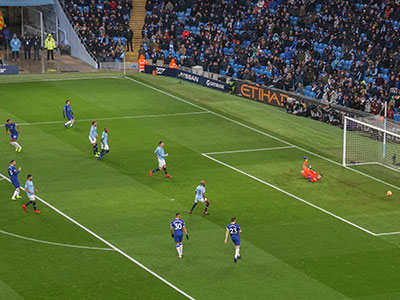 Everton had plenty of fans present
Everton had an early attack but the offside flag was up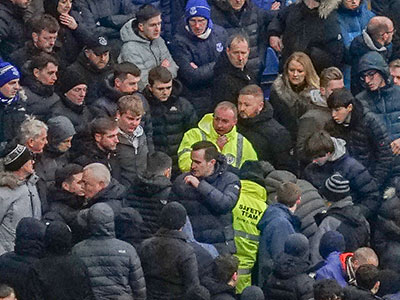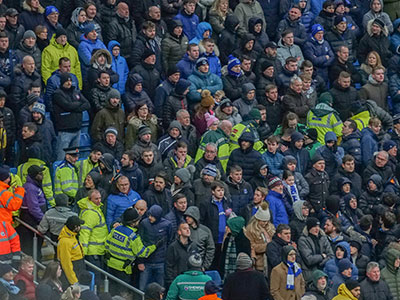 There looked to be a problem among the Everton fans early on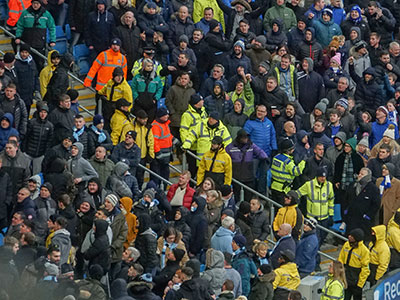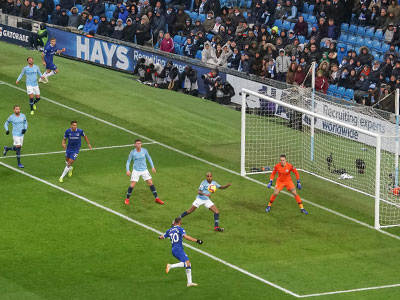 On 15 minutes Richarlison had a good chance...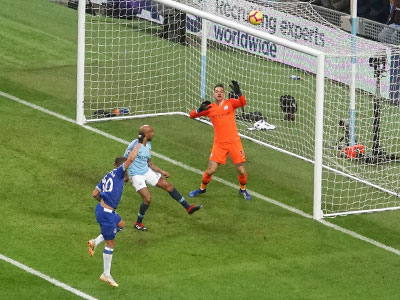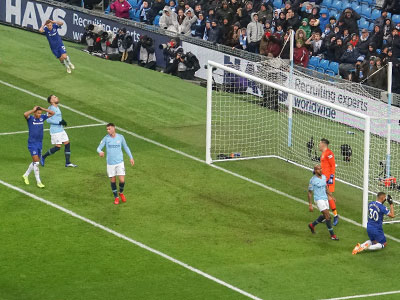 ..but his effort sailed well over the bar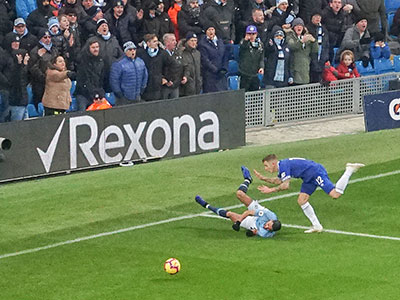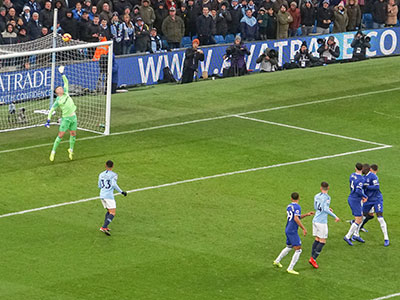 Mahrez is bought down by Digne who gets booked
A shot by Delph just goes over the bar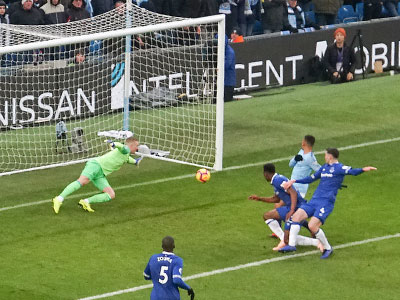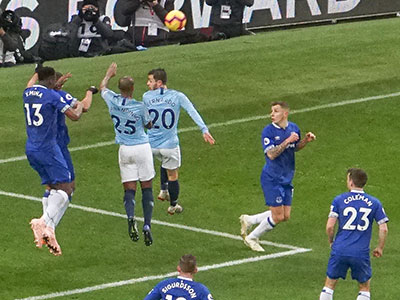 Pickford makes a great save to prevent an own goal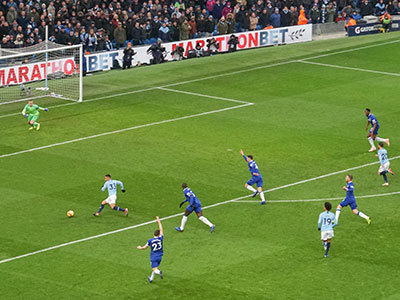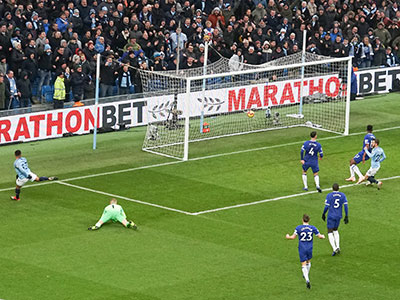 On 22 minutes Sane passes to Jesus who is just onside and he cracks the ball past Pickford to give City the lead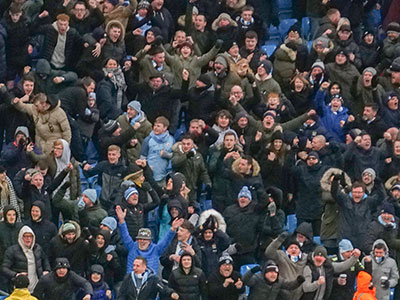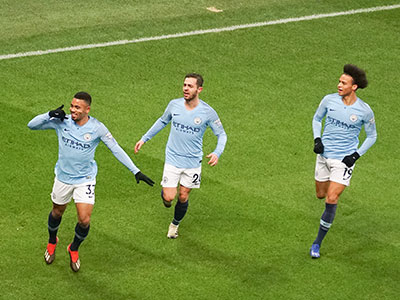 At last Jesus has scored and the celebrations begin!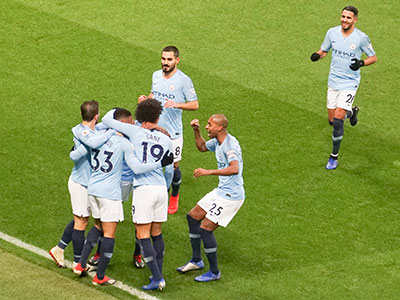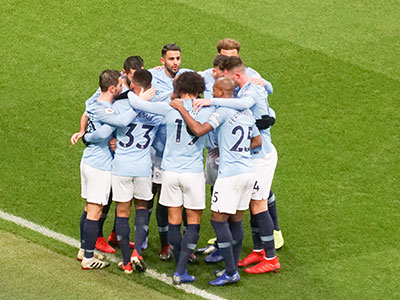 The players know how important that first goal is
a Laporte header is dangerous
Everton are under heavy pressure now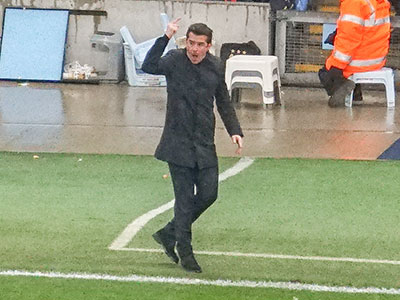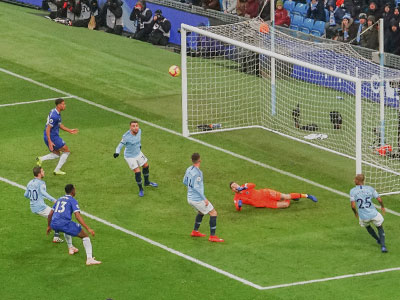 The Everton manager does not look pleased
City clear an Everton attack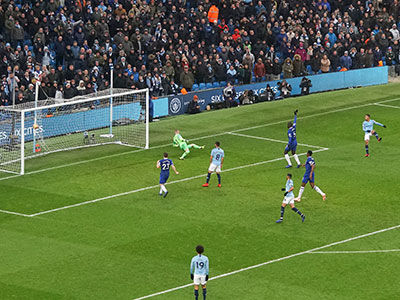 Pickford saves from Mahrez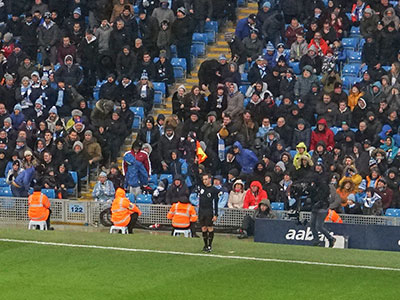 ..the flag is up for offside!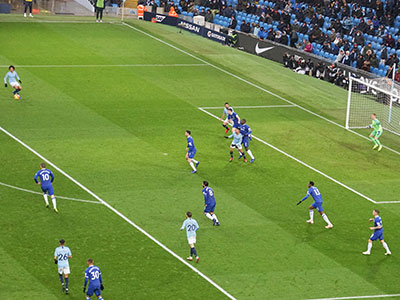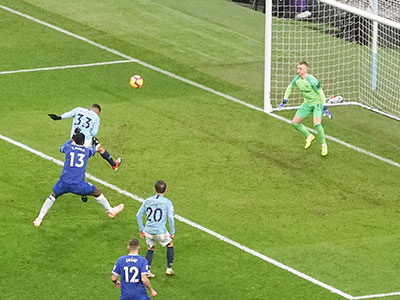 Five minutes into the second half and a Sane cross finds a well placed Jesus who scores with a rare header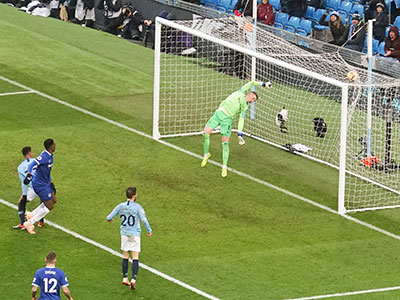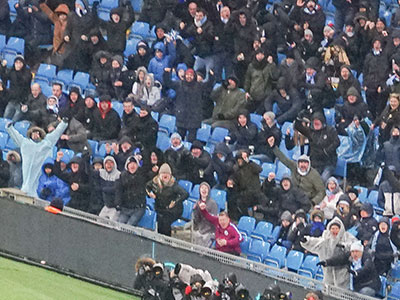 City are two up and many would have missed it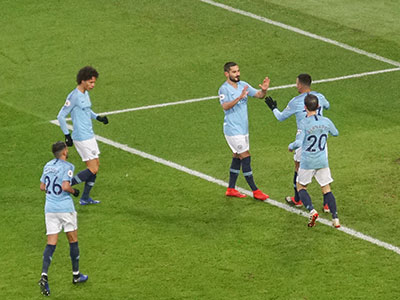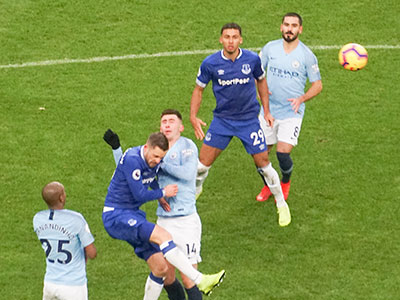 It was his 7th of the season and well deserved
Sigurdsson fouls Laporte....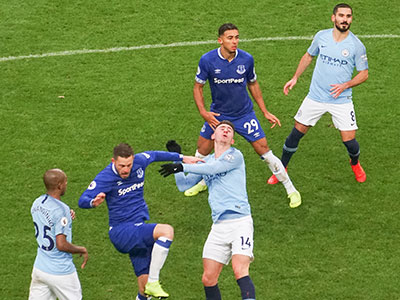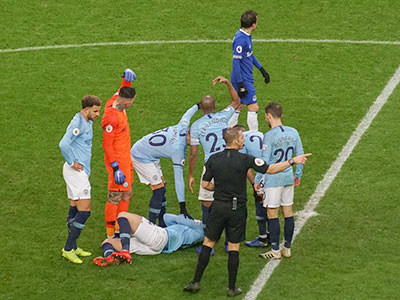 ..who goes down injured and the trainers are called on -but he recovers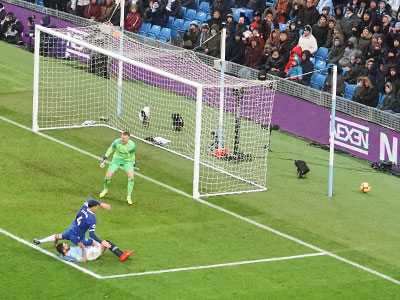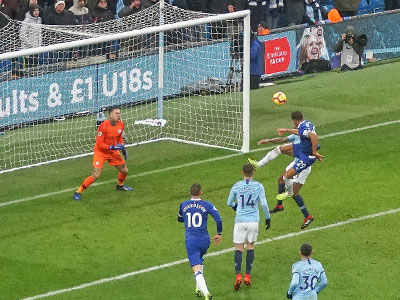 An effort by Gundogan goes wide
Disaster - Calvert-Lewin scores with a header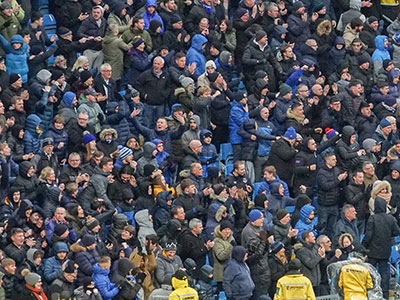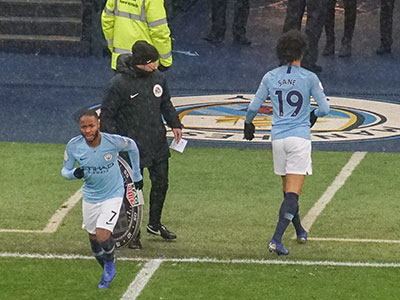 The Everton fans have something to smile about
Immediately on comes Sterling for Sane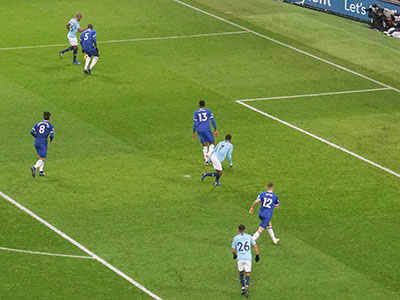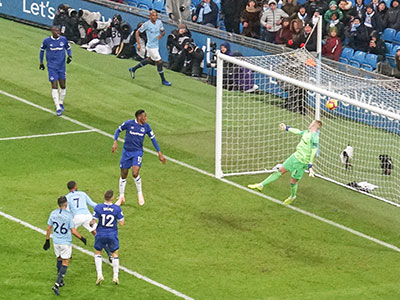 Fernandinho dashes down the left wing and crosses for Sterling with his first touch to head past Pickford! Brilliant!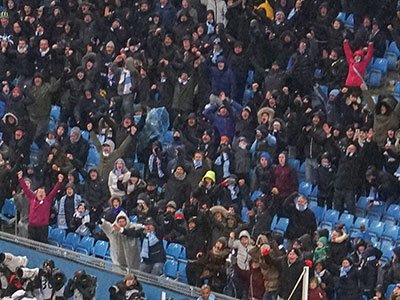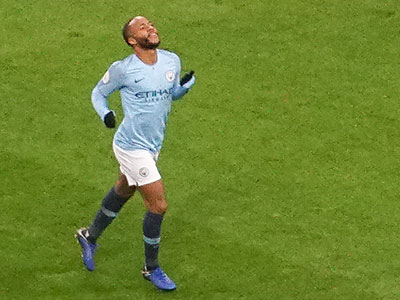 The North Stand enjoyed that and I am sure Sterling did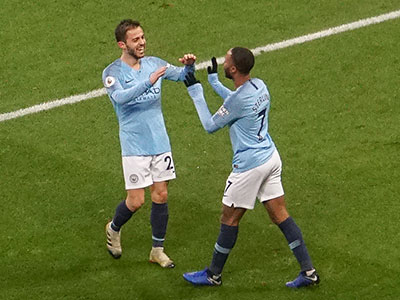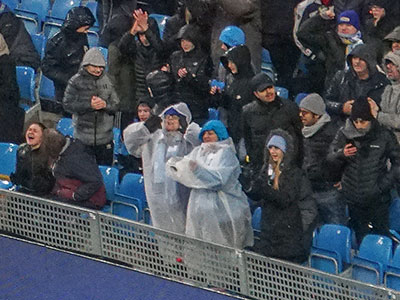 Benardo congratulates Sterling and these ladies enjoyed it too despite the cold rain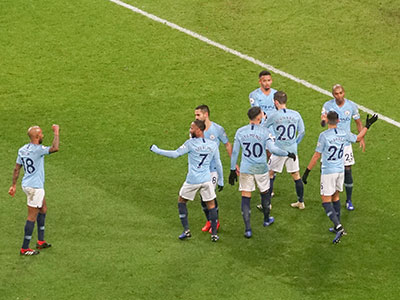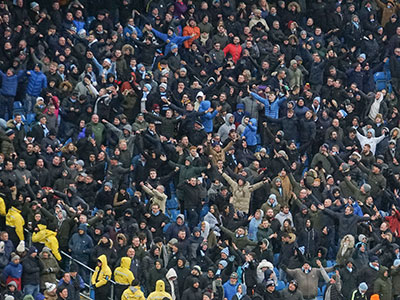 The team celebrate and the South Stand let the Everton fans know what the score is!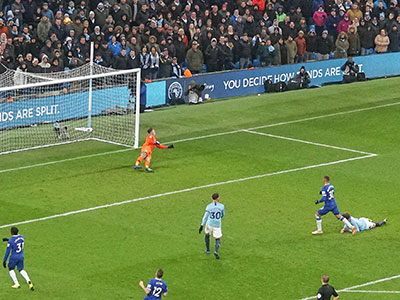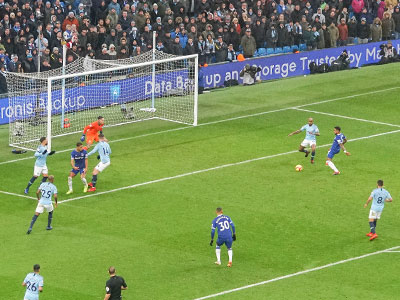 First Richarlison shoots too high then four minutes later Walcott misses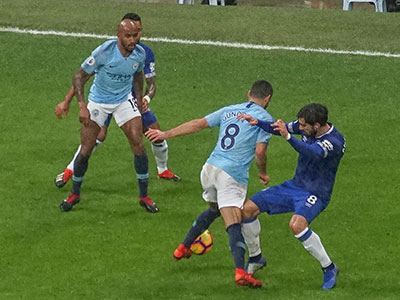 The moment we have been waiting for - Kevin is back!!
Gundogan is fouled by Gomes.....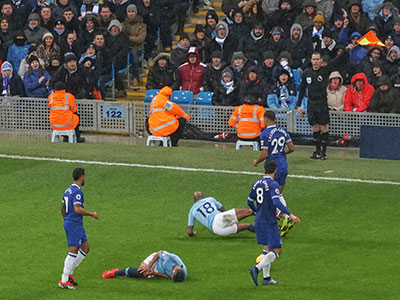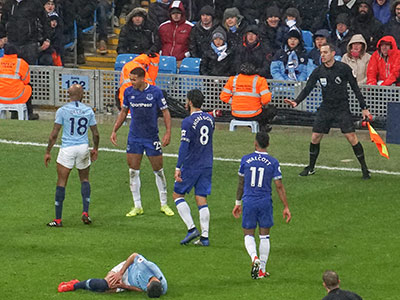 ...then Calvert-Lewin clashes with Delph...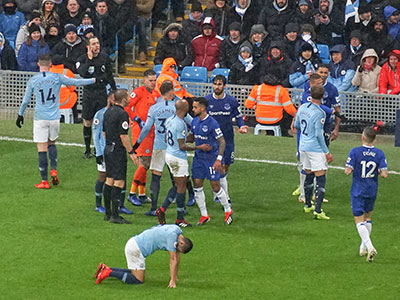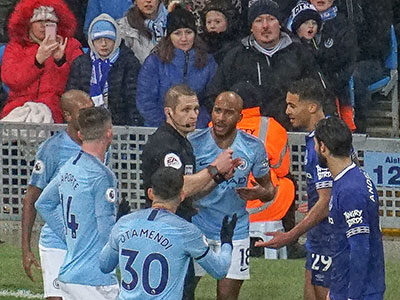 ...and there are heated exchanges despite the temperature!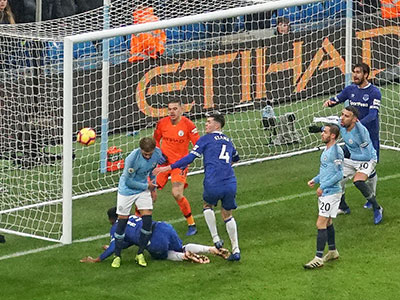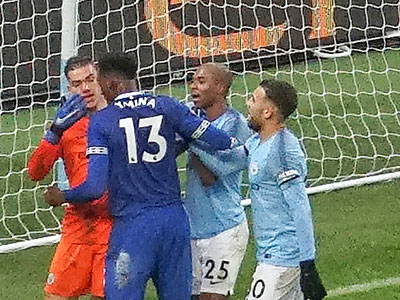 More problems with Mina and Ederson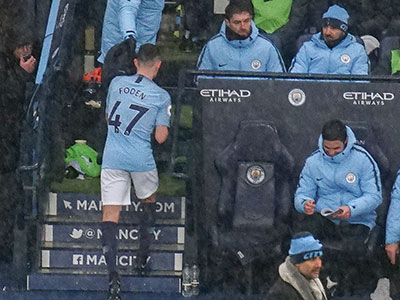 Foden gave up in the final seconds after waiting to come on for a few minutes - too cold!
There goes the final whistle and the two managers shake hands - City 3-1 !!
team
Ederson 7: Walker 6.5, Otamendi 6, Laporte 7, Delph 7: Fernandinho 7.5, Gundogan 7.5, Sane 8 (Sterling) Mahrez 7 (De Bruyne) Benardo 6.5, Jesus 8