City 1 Chelsea 3
December 3rd 2016 54,457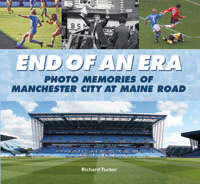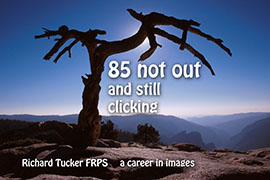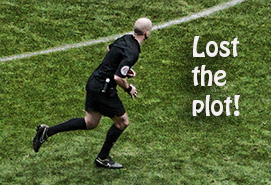 Whether it was poor refereeing - abject defending - or bad finishing that led to the defeat by Chelsea or a combination of all three is argumentative. However the bottom line is that City lost a vital game and following the explosive end to the game we will be without both Aguero and Fernandinho for several games in December as a result of their red cards.
In the first half Luiz was lucky not to get a red card for obstructing Aguero when a poor back pass gave him a golden opportunity. Referee Taylor ignored the appeals for that and also a good penalty shout when Gundogan was brought down. He was loudly booed when he went off at half time.
City took the lead just on half time when a cross from Navas was deflected past Courtois by Cahill.
The second half was a different story. City should have extended their lead with good chances going begging but counter attacks by Chelsea and poor defending lead to City conceding three goals and three points. I am sure Hart would have done better with two of the goals that Bravo let in and both Otamendi and Kolarov had poor games. I am sure the non actions of the referee and the attitude of some of the Chelsea players led to the frustration that caused the scenes at the end of the game.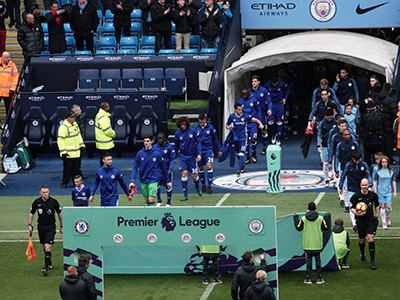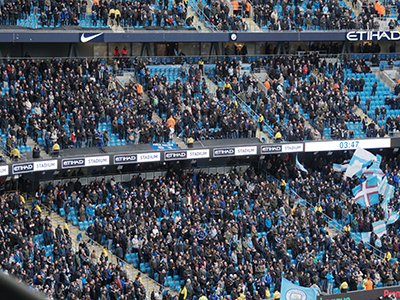 City made six changes from the team that won at Burnley and had three at the back to match the Chelsea set-up
Chelsea fans were there in force despite the early kick-off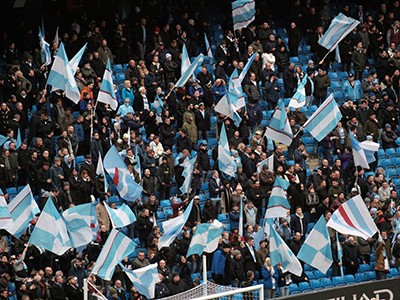 The City flags were out in force today
The secret sniper made an early start on Hazard but he soon made a wonder recovery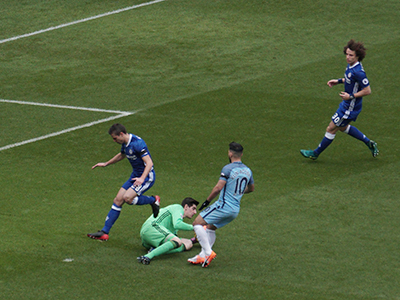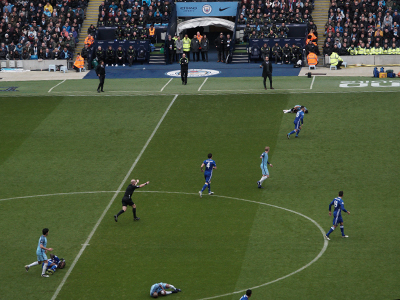 Three players down but the ref waved play on!
Courtois in action early on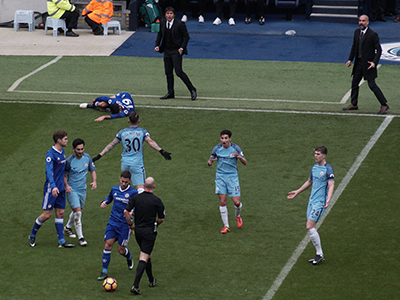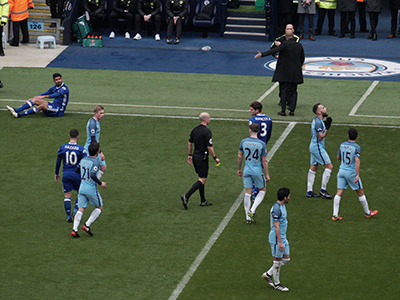 early yellow card for Otamendi when Costa goes down but he is quick to check the card is given!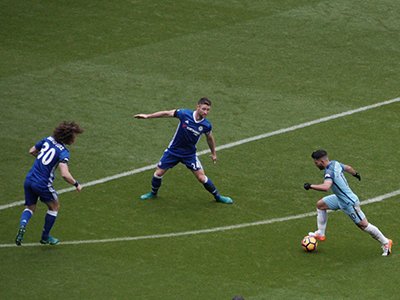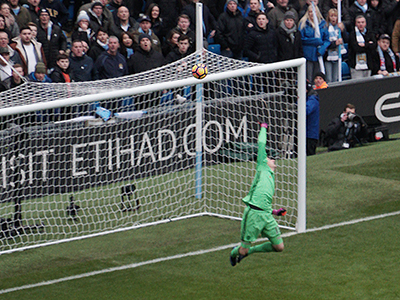 On 20 minutes Aguero has a shot but it is tipped over the bar for a corner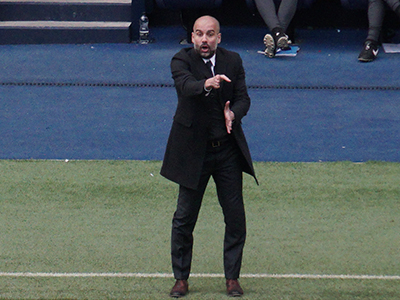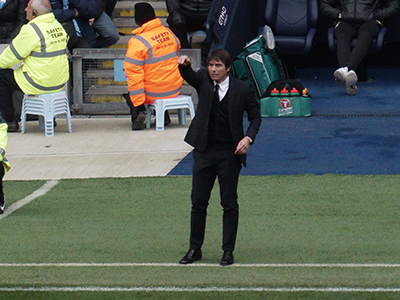 The two managers pass on instructions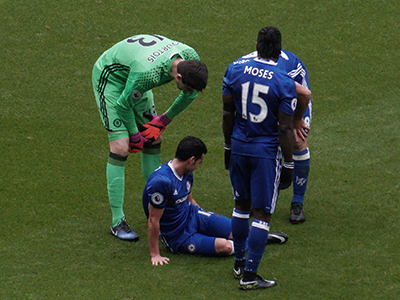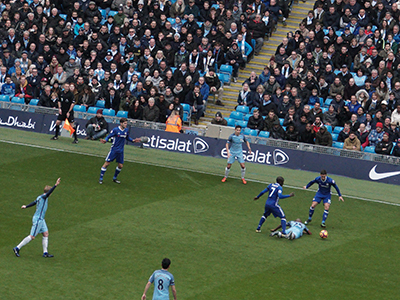 It's Pedro's turn to go down
Kante brings down Fernandinho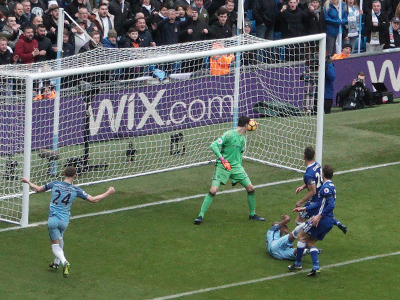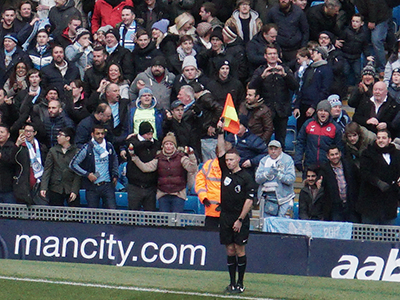 De Bruyne's free kick is headed home but alas no goal as the flag is up for offside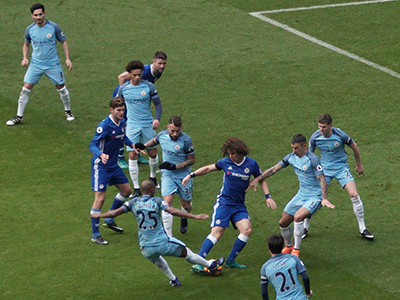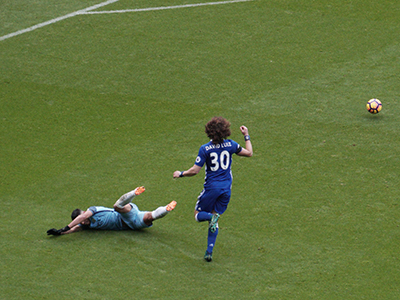 City manage to clear a Chelsea corner
The decisive moment when Luiz fouls Aguero but nothing given!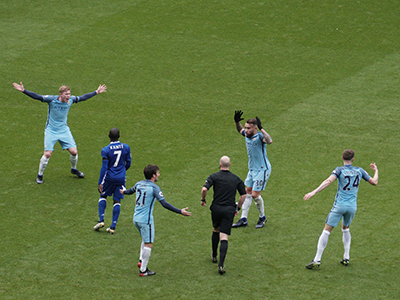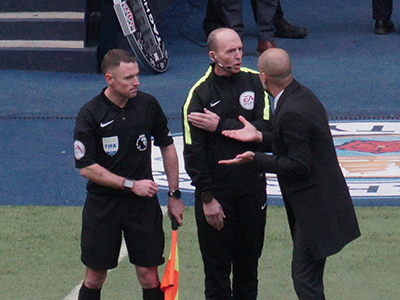 Both the City players and manager appeal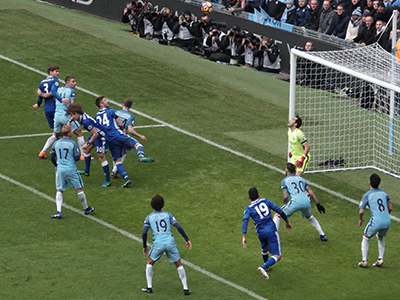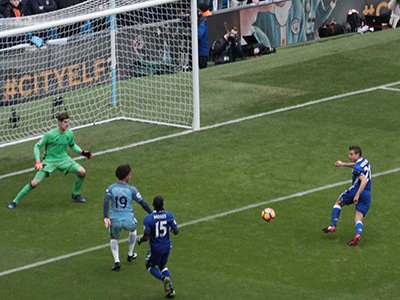 Sane breaks through and passes to Aguero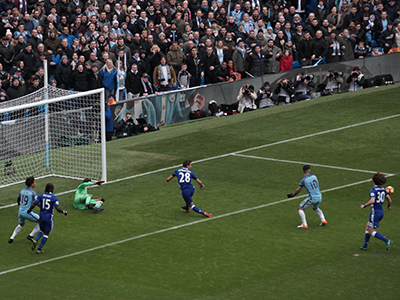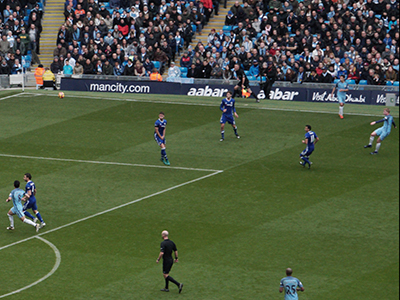 Azpilicueta blocks the shot from Aguero and the ball runs clear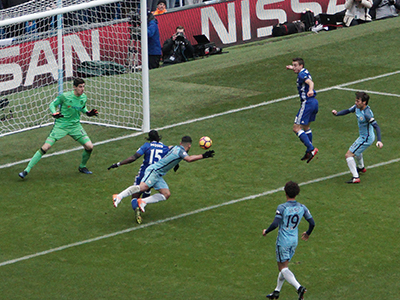 ...... but the header rom Aguero goes wide of the post - another miss!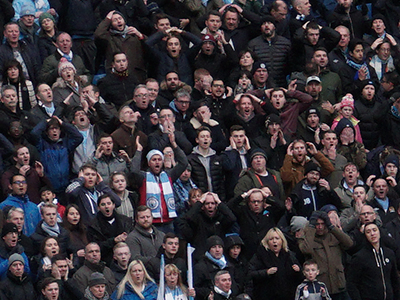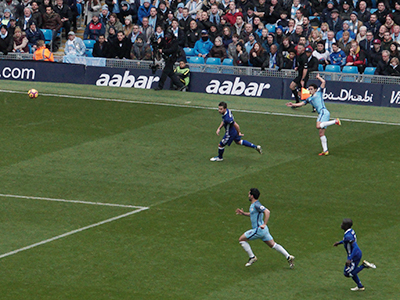 Frustration on the faces of the City fans
Another cross from Navas.....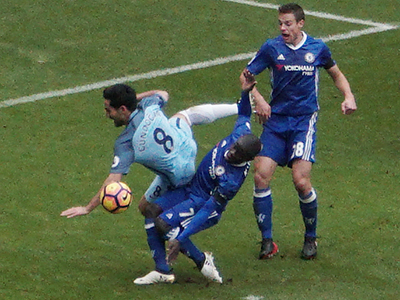 .....and Kante brings down Gundogan but no penalty - just look how far the ref was from the incident!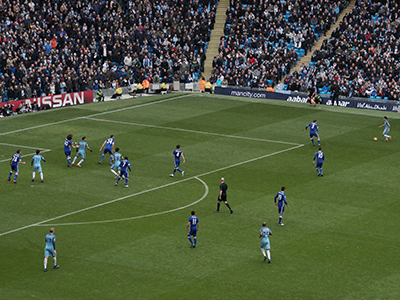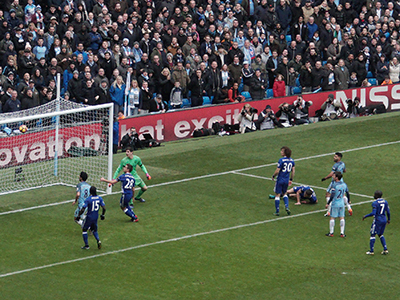 Another good cross by Navas and the ball is deflected past the keeper by Cahill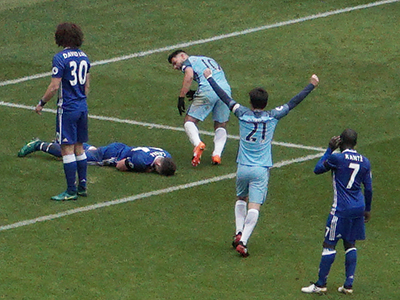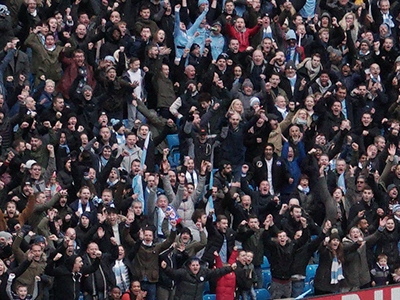 Aguero thanks Cahill and the City fans celebrate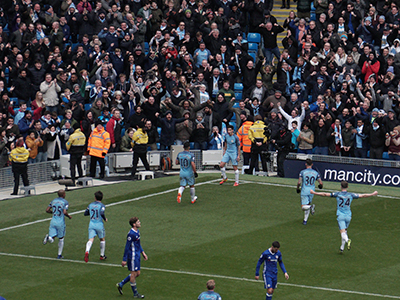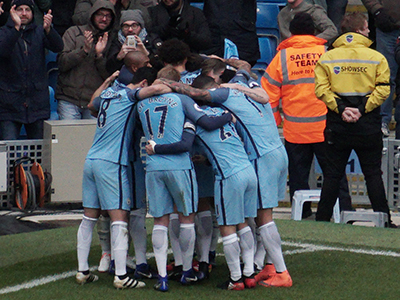 The players go to thank Navas and it's time for a team hug as City go into half time a goal ahead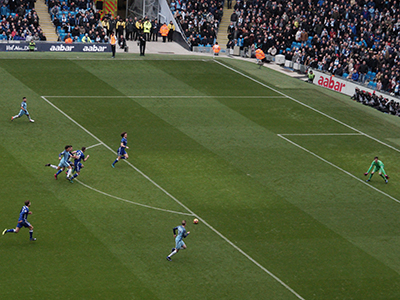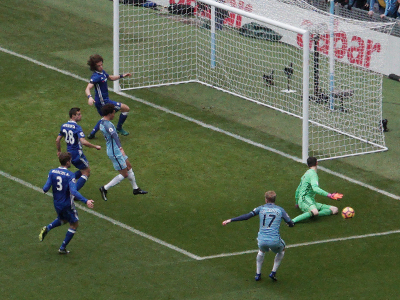 A few minutes into the second half De Bruyne had a chance from a narrow angle that was saved .
Perhaps he should have passed to Aguero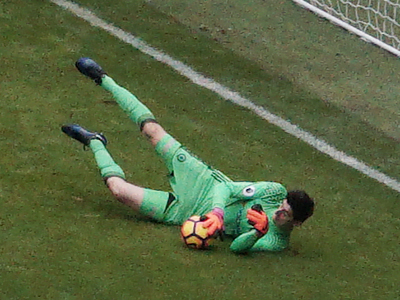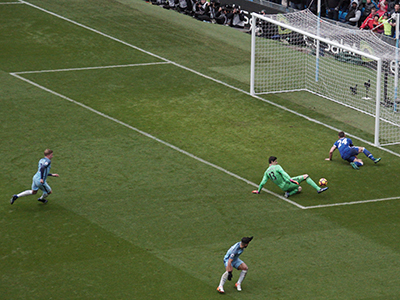 An easy save from Silva for Courtois
A defensive mix-up gives Aguero a chance but Chelsea manage to clear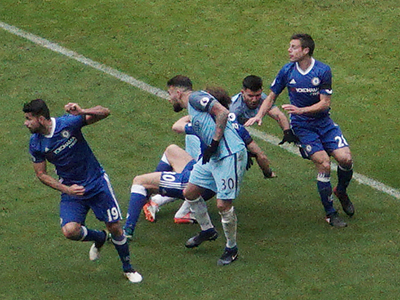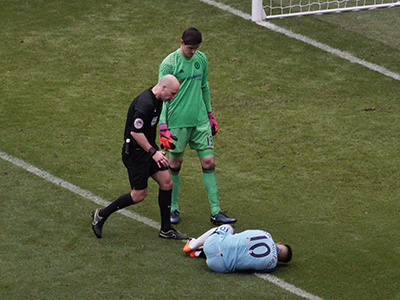 At a City corner Aguero clashes with Luiz and is injured
On 57 minutes a great cross from Navas gets to De Bruyne but his effort hits the bar from very close range -what a miss!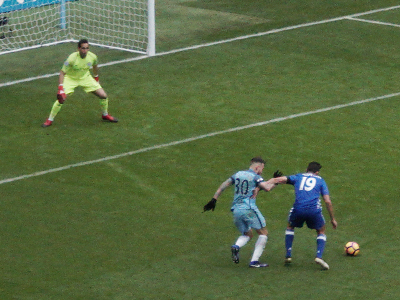 A few minutes later Costa takes a long ball from Fabregas beats Otamendi and shoots pst Bravo to score for Chelsea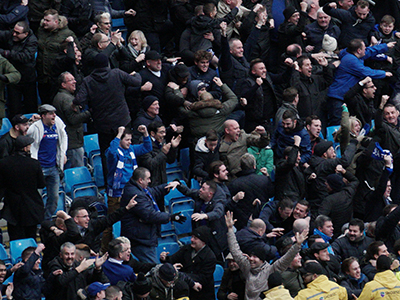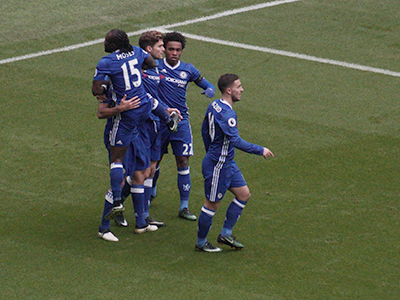 Unbelievable - after all the City misses they go and equalize so easily!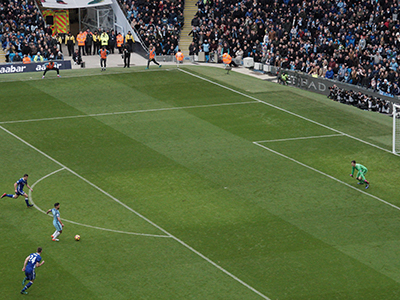 Two minutes later Aguero has a great chance but Courtois saves yet again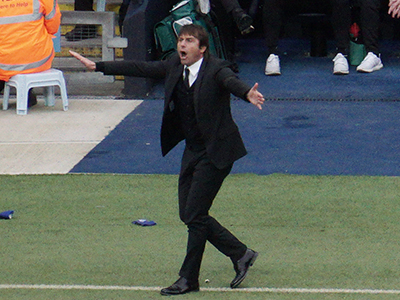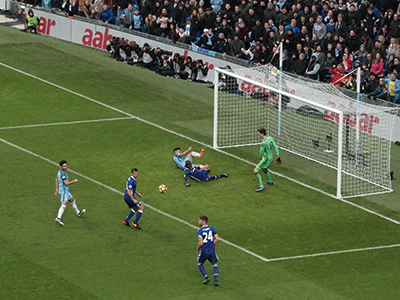 Chelsea manager Antonio Conte in action!
Chelsea manage to clear the danger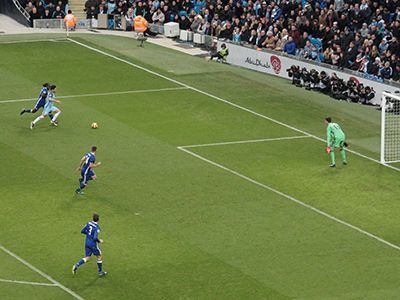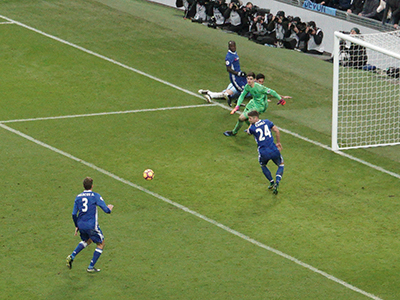 Gundogan dashes down the area but his cross is cleared and away go Chelsea..........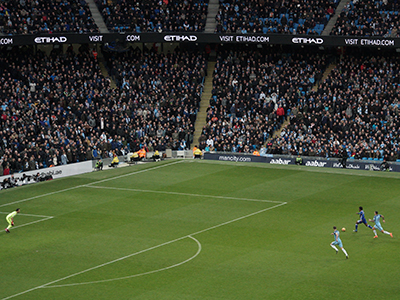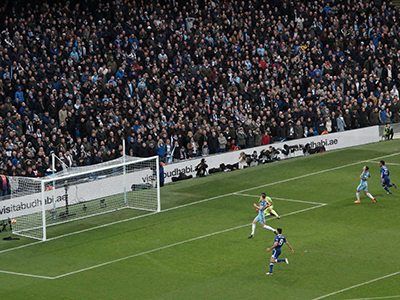 ...... and in the counter attack Willian outpaces the City defence and shoots past Bravo to put Chelsea ahead 2-1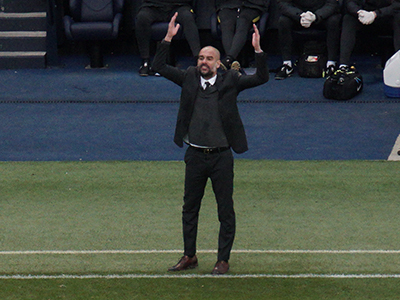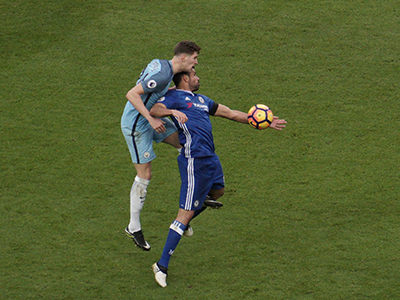 Is Pep signaling a six or giving up!
Stones and Costa battle it out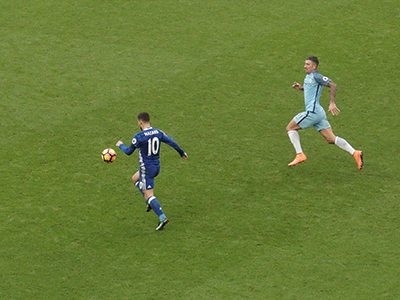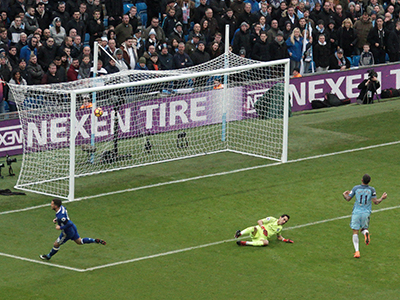 Hazard takes a pass from Alonso and outpaces Kolarov to score past Bravo and it's game over!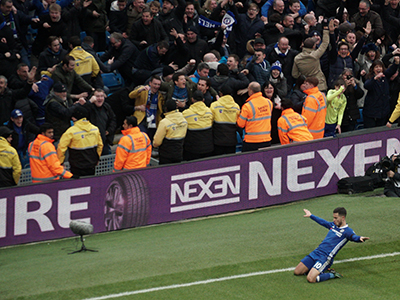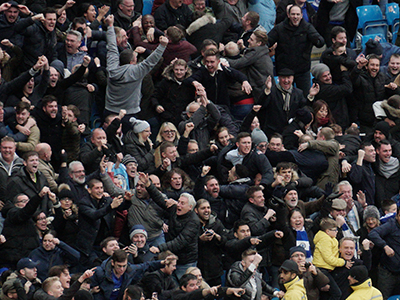 I'm sure Chelsea fans can't believe their luck today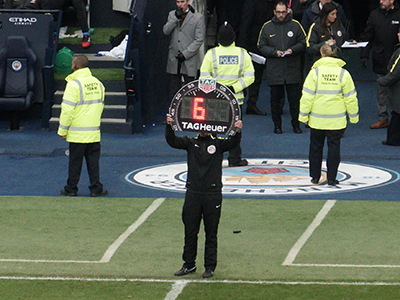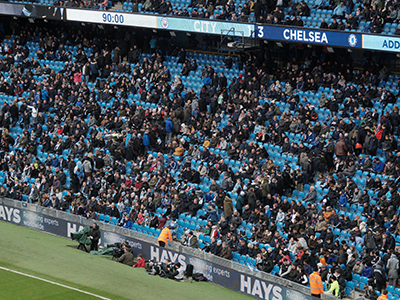 Six added minutes and City supporters were on their way out. I saw out five minutes before going and missed the hiatus at the end
Bravo 5: Otamendi 4, Stones 6 (Iheanacho), Kolarov 4: Fernandinho 5, Gundogan 6 (Toure) Navas 7, Silva 6, De Bruyne 6, Sane 6 (Clichy) Aguero 5