City 3 West Ham U 1
August 28th 2016 att. 54,008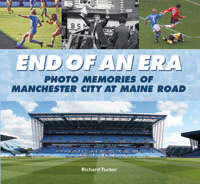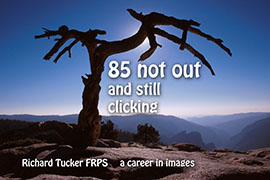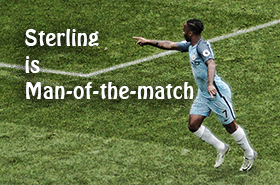 A wonderful first half display by City gave us a two goal lead at half time and it could and should have been four or five. It was a different story in the second half. City did not play at the same pace and West Ham changed their tactics. When Stones went off injured and the 'Hammers' got a goal back it was back to the City jitters for the final 20 minutes. Fortunately as soon as Sterling was announced as man of the match he went and scored a third goal for City from an impossible angle. He has come on leaps and bounds from last season. Caballero was in goal despite the signing of Bravo and Hart was on the bench despite being head and shoulders better than Caballero.
Silva and De Bruyne are getting back to their best form and with Sterling running his socks off and Nolito and Aguero dong well the City attack is going to need some stopping this season. Players often switch their positions and this applies to defenders as well.
Stones had to leave the field with an injury so I hope he will be fit enough to play against United. It was good to see iheanacho on the bench after he was carried off in the last game. He too maybe needed against United as there might be a problem with Aguero if the FA decide to look at an incident.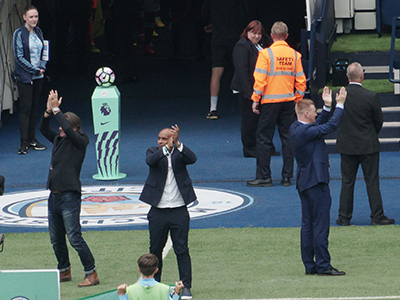 Three ex City players who played for West Ham say hi before the game - Sinclair, Lomas and Bishop
The flags are out in the South Stand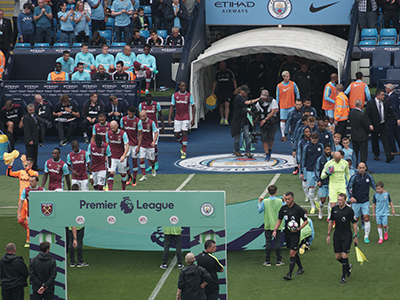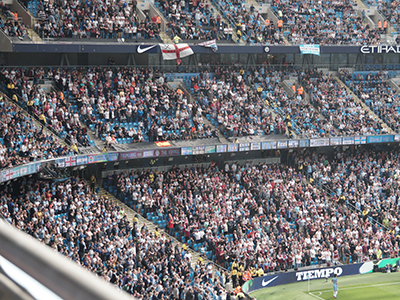 Following the Champions League game the usual suspects were back but no debut for Bravo
West Ham brought good support with them no doubt hoping for result like last season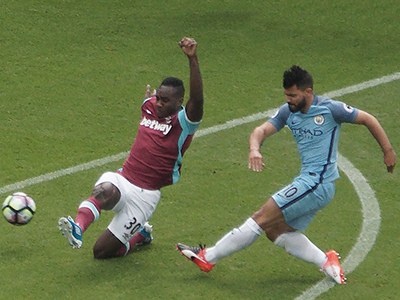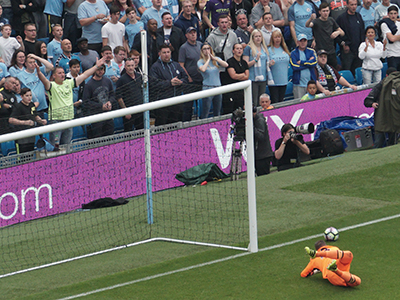 City attacked from the first minute and Aguero got in an early shot which went just wide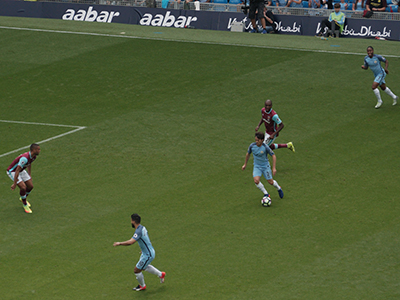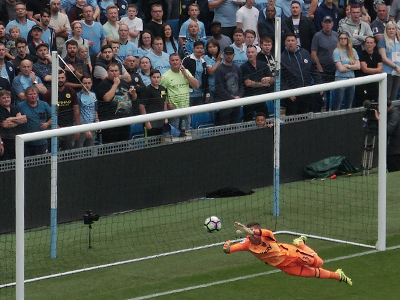 Then it was Silva's turn to have a go but his effort went just wide too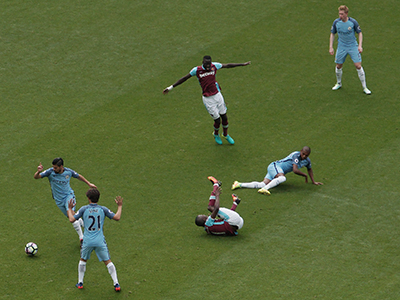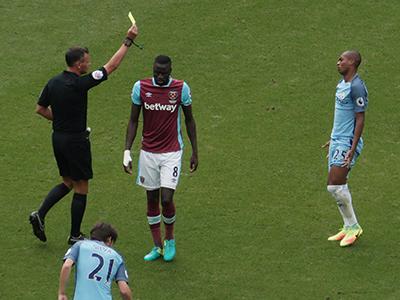 After just 6 minutes Fernandinho fouls Valencia and gets an early yellow card - not ideal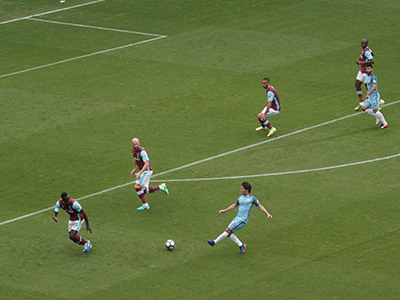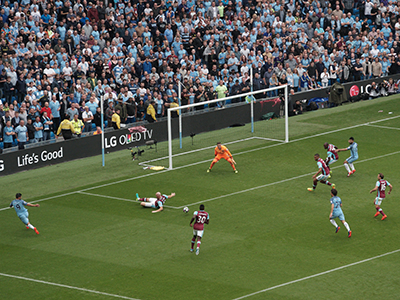 However a minute later Silva passes to Nolito who puts in a great cross.......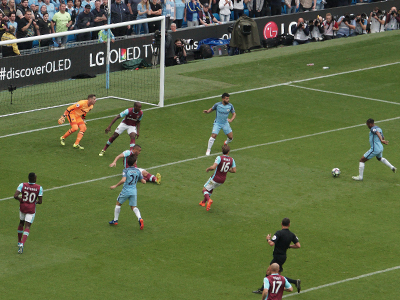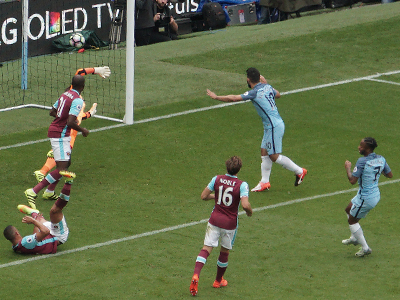 .....right to the feet of Sterling who shoots past the keeper to give City the lead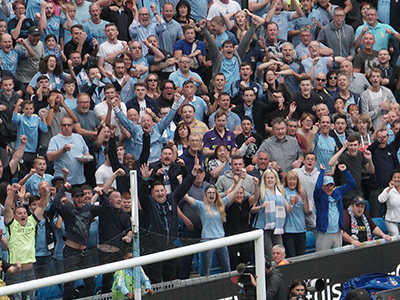 The South Stand erupts with joy
Sterling points to the architect of the goal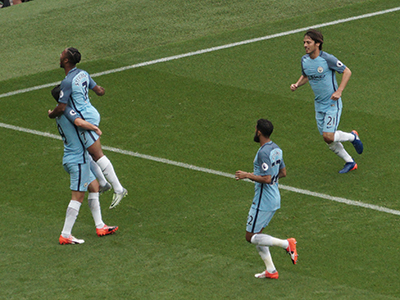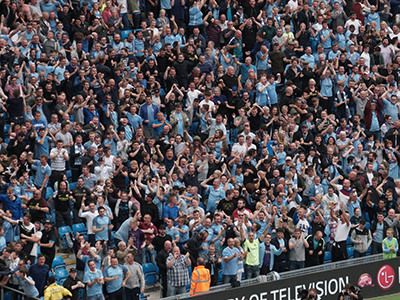 Players and City fans enjoy that early goal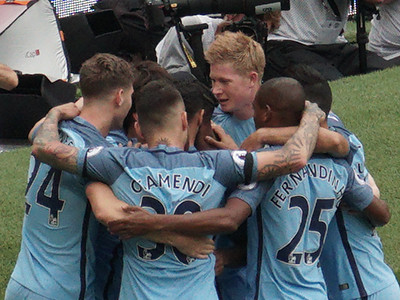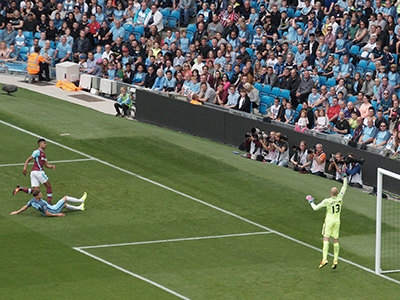 At the other end Fletcher shoots well over the bar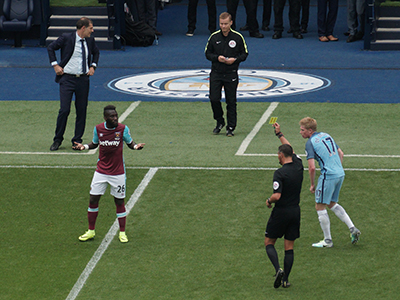 Adrian just beats Sterling to the ball
Masuaku gets booked for a foul on De Bruyne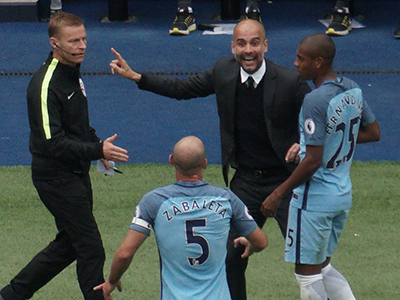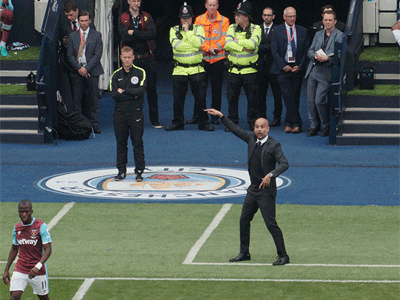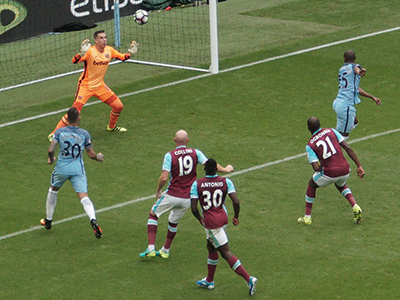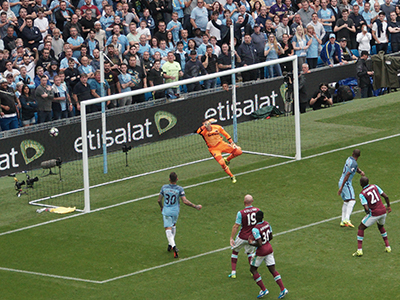 On 18 minutes De Bruyne takes a great free kick for a foul on Sterling and in rushes Fernandinho to head past Adrian and City are two up - brilliant stuff!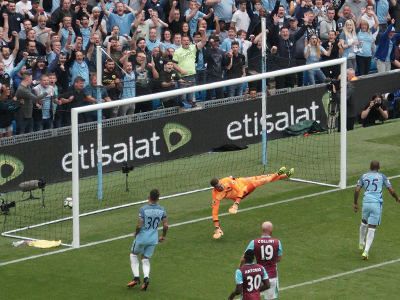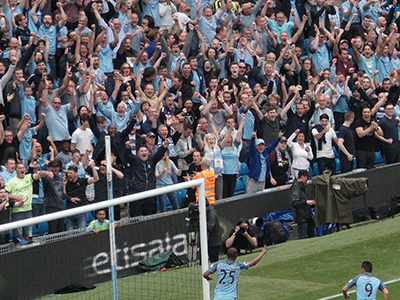 A terrific goal and the fans show their appreciation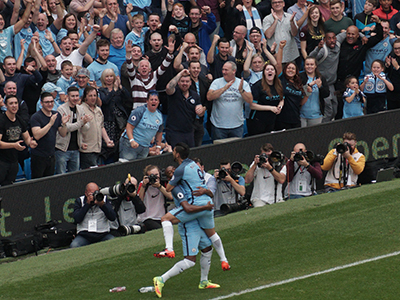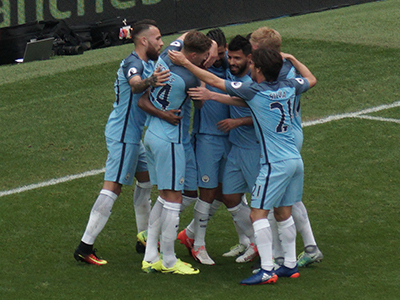 It was an excellent free kick and a deserved goal for the hard working Fernandinho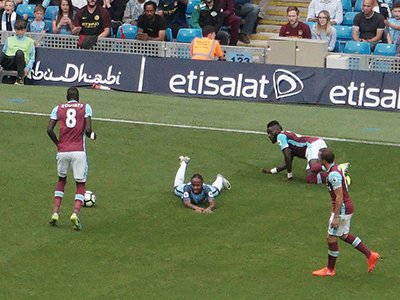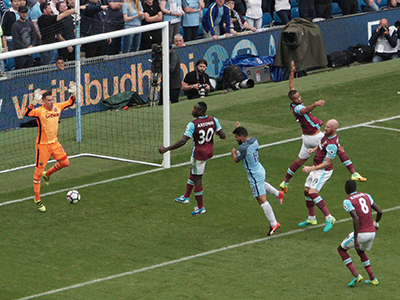 22 minutes and Aguero heads just wide
another foul by Masuaku on Sterling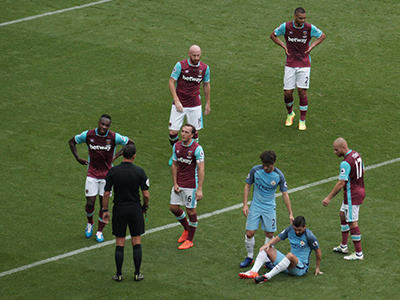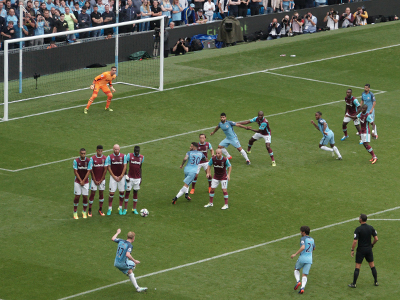 Nolito is fouled by Valencia and Kevin takes the free kick........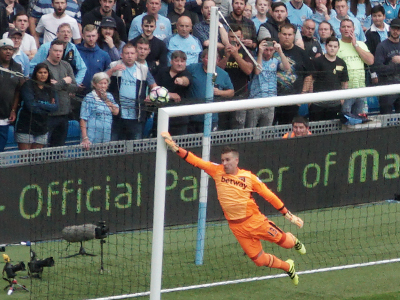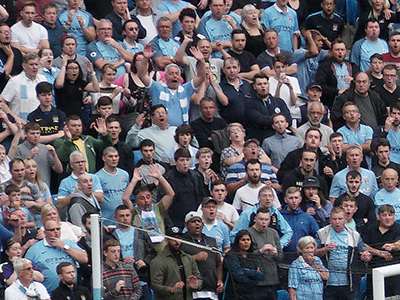 ......but the ball goes just wide much to the frustration of the City fans behind the goal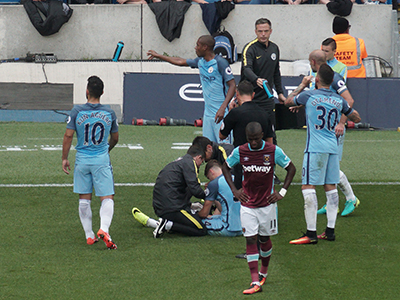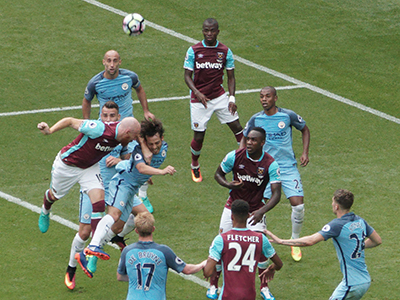 Stones is injured but comes back on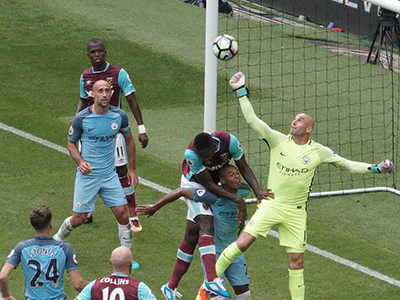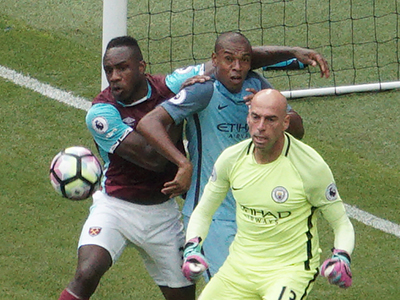 It's time for City to defend as West Ham get a corner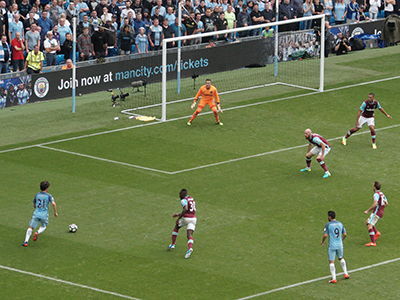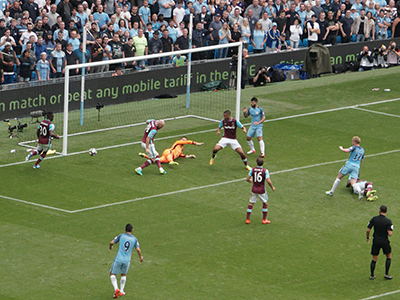 On 33 minutes a great City move ends with Silva crossing to De Bruyne who should score but the ball is deflected wide!

It's hands on heads time as the City fans show their frustration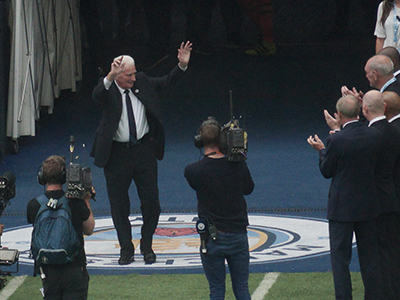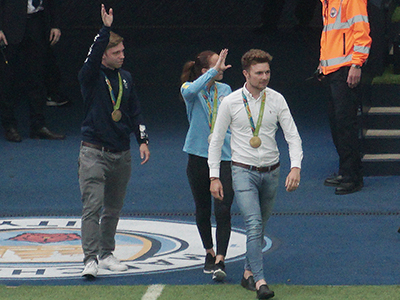 At half time Tony Book comes on to celebrate 50 years with City
Three medal winners from the Olympics come on to show their medals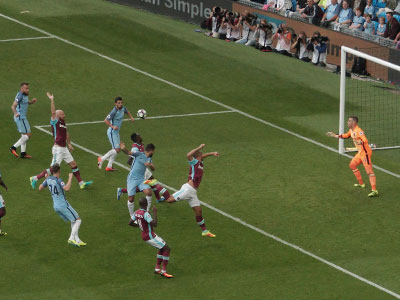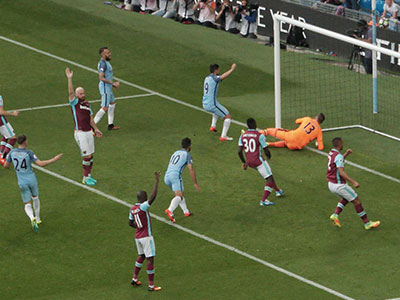 City did get the ball in the net early in the second half but the flag had gone up for offside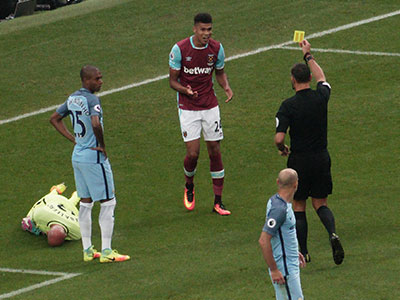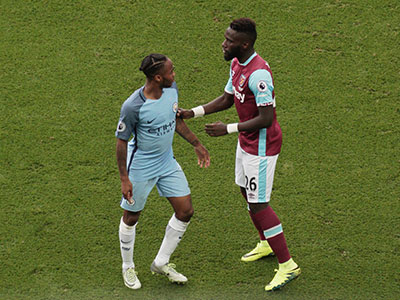 Fletcher gets a yellow card for a foul on Caballero
Sterling continues to have words with Masuaku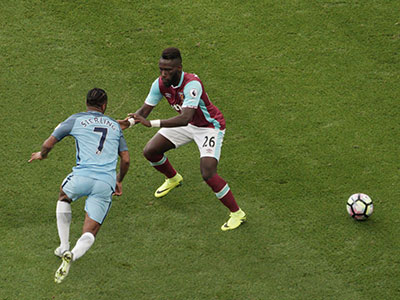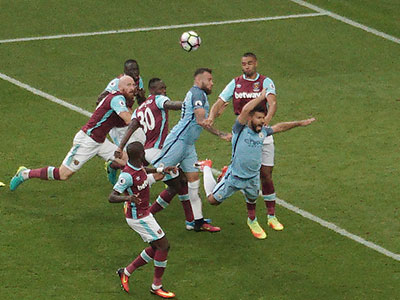 Masuaku blocks Sterling once more and from the free kick was Aguero fouled !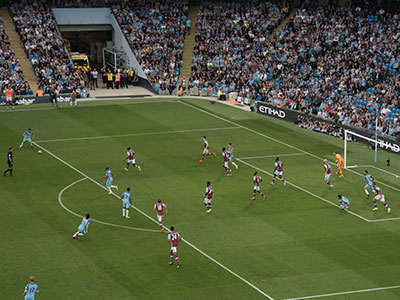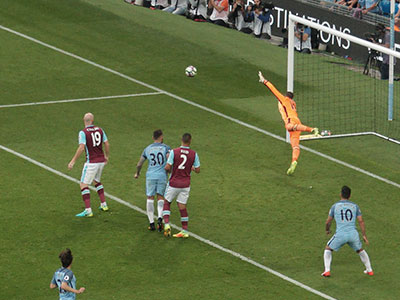 On 52 minutes Nolito hits the side netting with a shot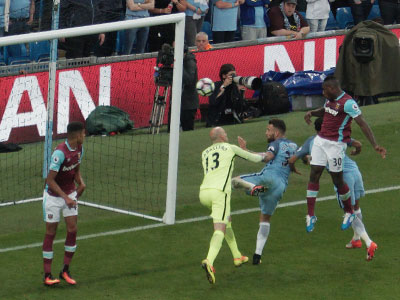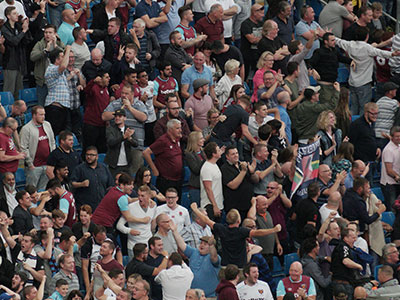 On 5 minutes disaster struck. From a cross from Masuaku - who should have been off -
Antonio out jumped Clichy and headed past Caballero to score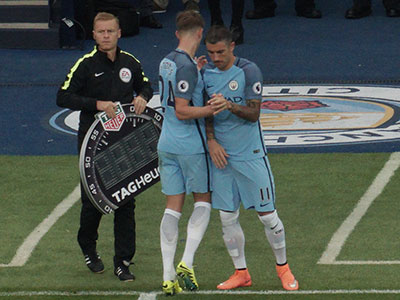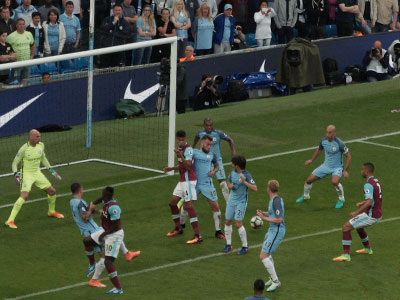 Kolarov came on for Stones a minute later
City now came under pressure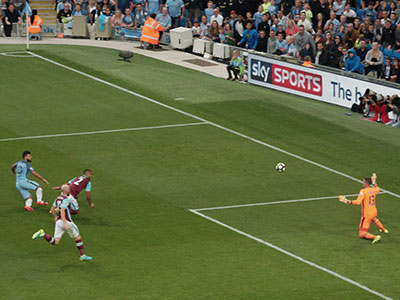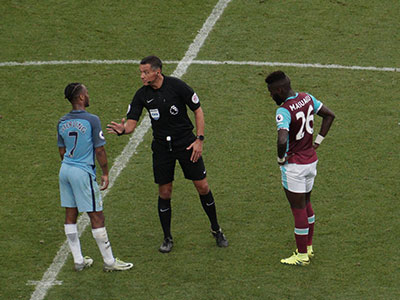 Aguero shoots wide on 68 minutes
Referee Marriner speaks to Sterling and Masuaku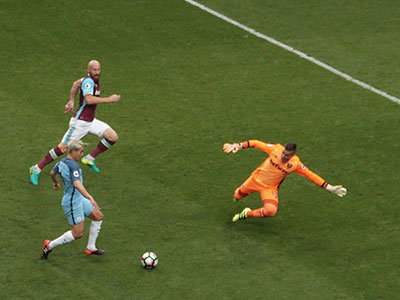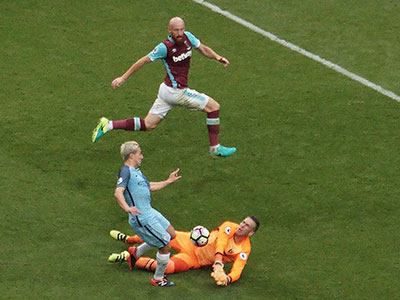 On 75 minutes Nasri comes on for Nolito and breaks through......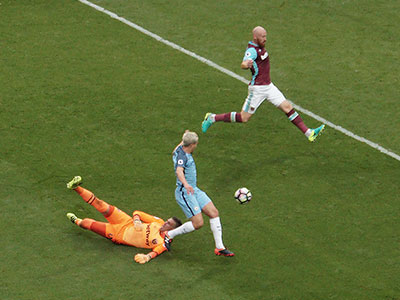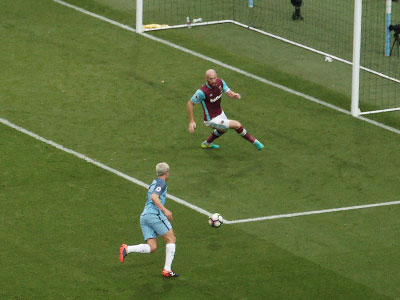 He gets past Adrian but still has a defender to beat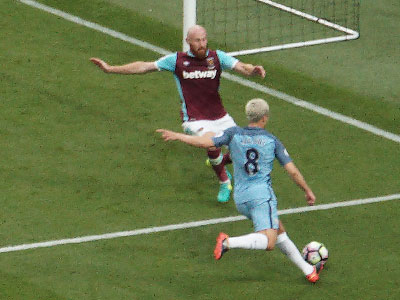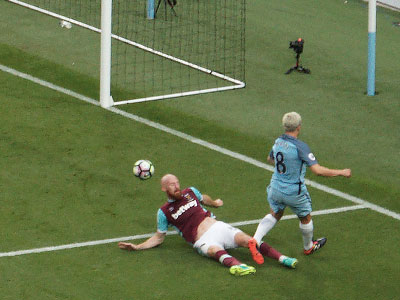 He manages to cross but West Ham manage to clear and the chance is gone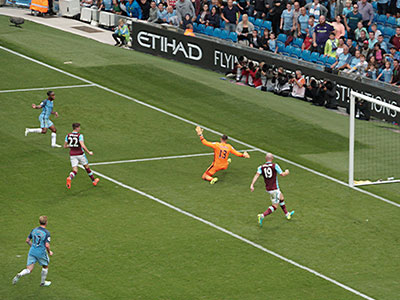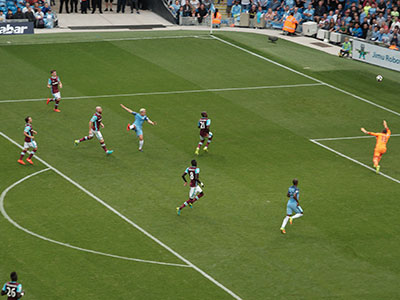 on 89 minutes Sterling shoots just wide
shortly after Nasri shoots over the bar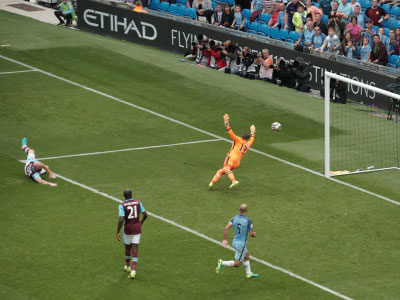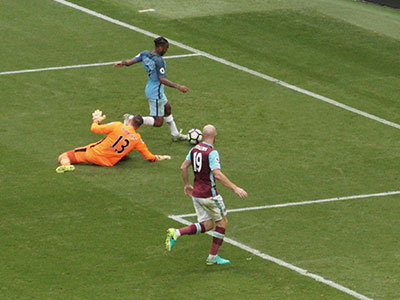 on 92 minutes Silva hits the post with a good effort
seconds later Sterling breaks down the left wing - beats the keeper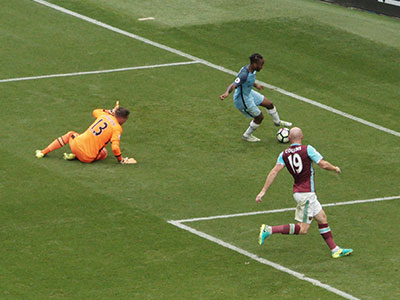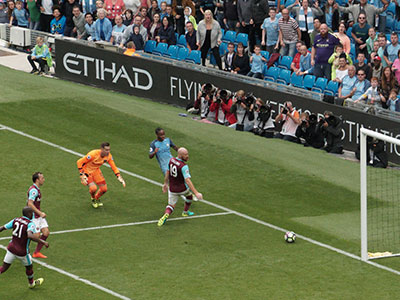 ...and he shoots from the narrowest of angles.....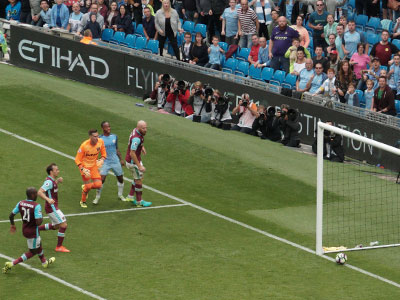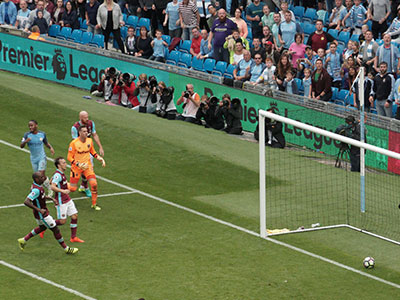 To the joy of the City fans and Sterling of course the ball goes over the line for number three for City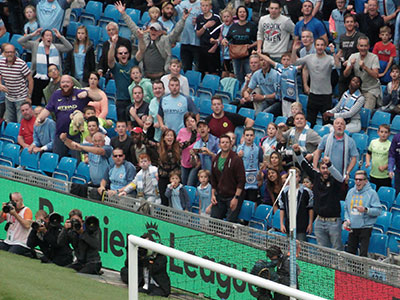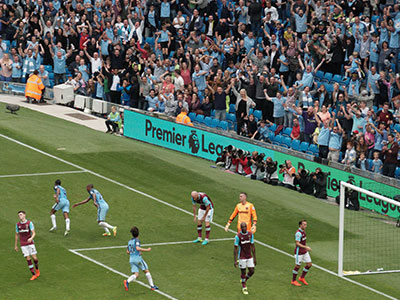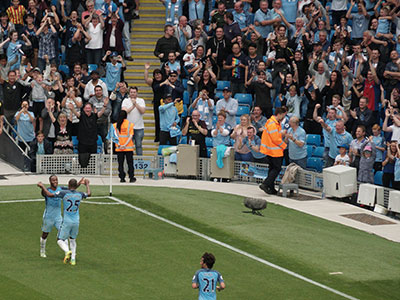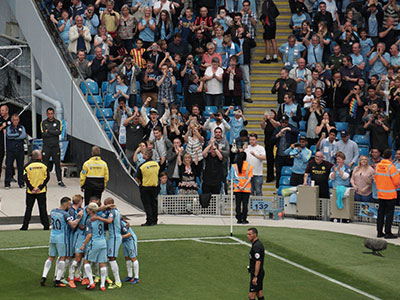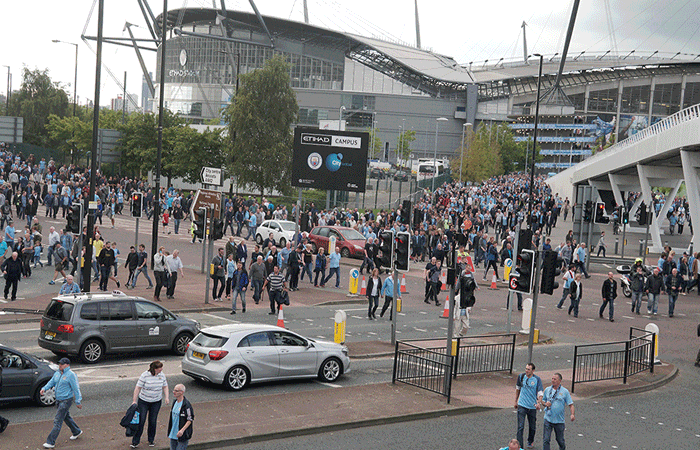 It's a fitting end to an excellent display by Sterling
His colleagues congratulate him on finishing the game on a high note
So City fans can leave the Stadium knowing we are back on top again and intend to stay there!
Team
Caballero 6.5, Zabeleta 7, Stones 7.5 (Kolarov 7) , Otamendi 7, Clichy 7, Fernandinho 7.5, Sterling 8.5, Nolito 7.5 ( Nasri ), De Bruyne 8, Silva 8, Aguero 7 (Fernando )