City 1 Steaua Bucharest 0
Champions League
August 24th 2015 att 40,064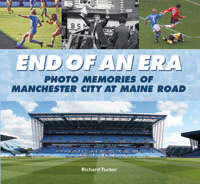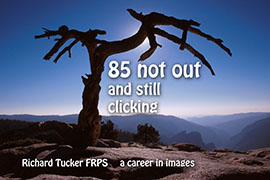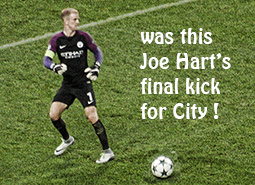 This will probably only be remembered as Joe Hart's final game as the match itself was pretty poor - one of the worst I can remember on this ground. With City leading five nil from the first leg there were 8 changes from the game in Rumania. There were starts for Toure and Hart and Maffeo played his first game at right back. No Aguero,Silva, Sterling or Kevin so there was a lack of creativity in the final third. Nolito had the odd moment but apart from his cross for Delph's goal Navas failed to beat his fullback on many occasions. Adarabioyo and Angelino came on as subs for their first game and certainly the former showed he has a lot of class in the defence.
We were worried when Iheanacho was carried off in the latter stages. I just hope he will be Ok as we must have a good back-up for Aguero. There was an excellent reception for Joe Hart and a big cheer every time he touched the ball. You could not fault his performance today with two saves and 100% distribution.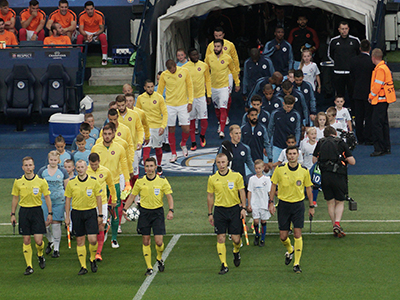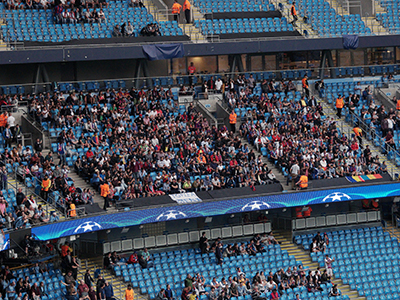 The
Steaua
support was small but very loud!
City made 8 changes from the Stoke game - only Stones, Kolarov and Navas keeping their places.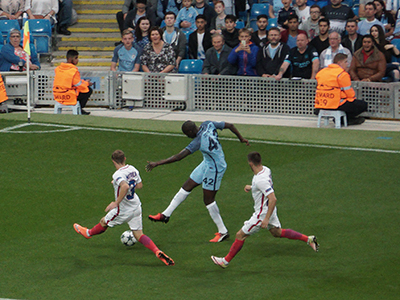 Joe gets a big welcome as he gets ready for the start
An early Yaya Tours cross is blocked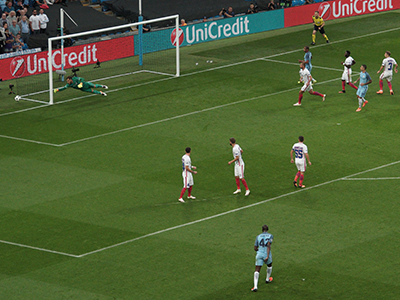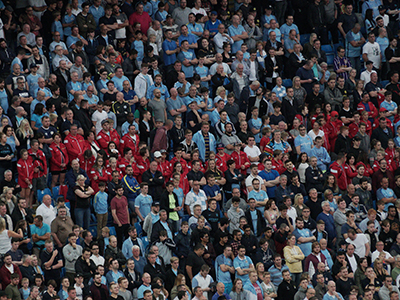 A Toure free kick just goes wide of the post
Who are these fans wearing red!!!!!!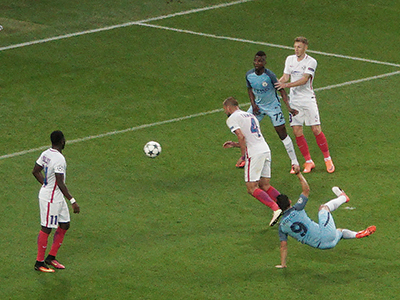 A cross from Navas reaches Nolito but his acrobatic shot fails to trouble the keeper.......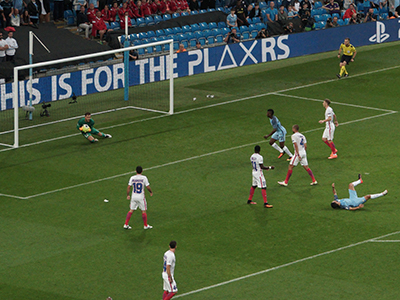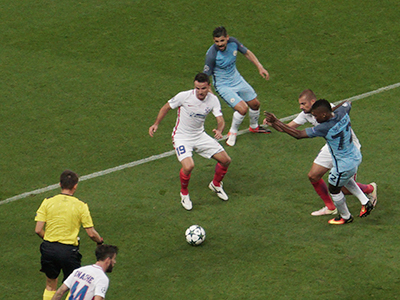 Iheanacho tries to break through but concedes a free kick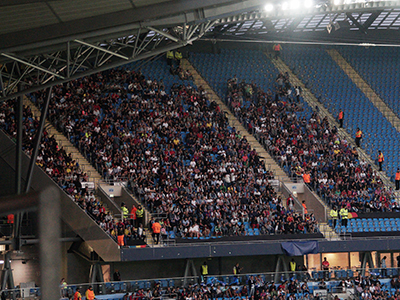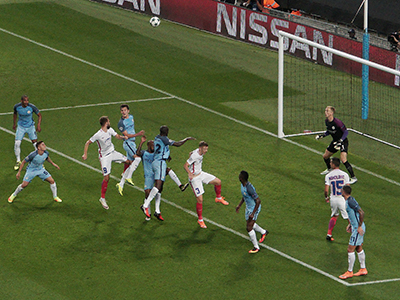 The South third tier which was almost empty at the start is now filling up!
Steaua get a corner which Stones heads over for another corner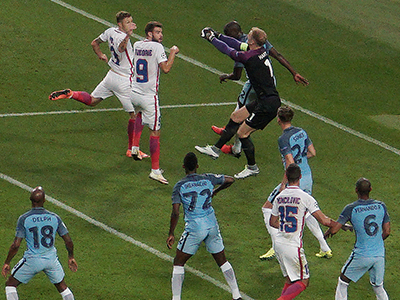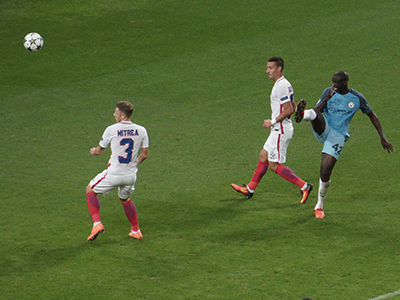 Toure and Hart manage to clear the ball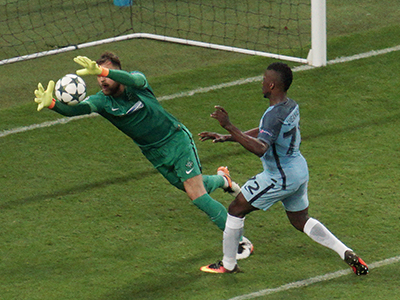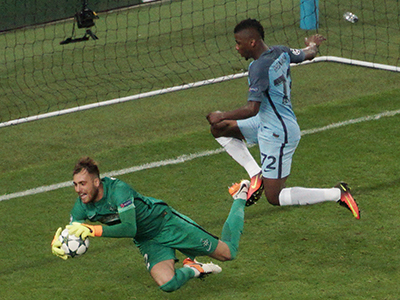 Toure passes to Iheanacho.....
..... but Cojocaru manages to save and a boring first half ends goalless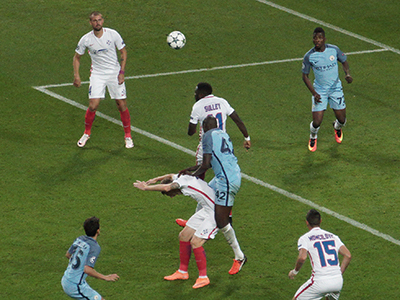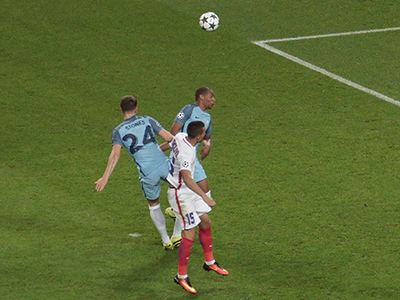 Stones heads over at a corner
Yaya Toure fouls a defender at a corner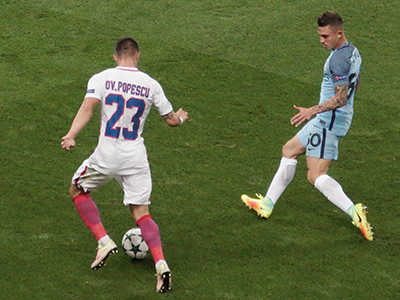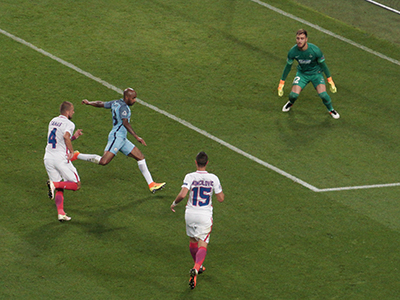 Maffeo keeps an eye on Popescu
Iheanacho passes to Delph who shoots.......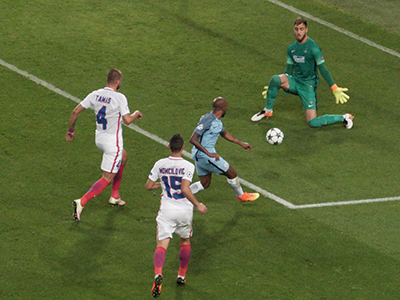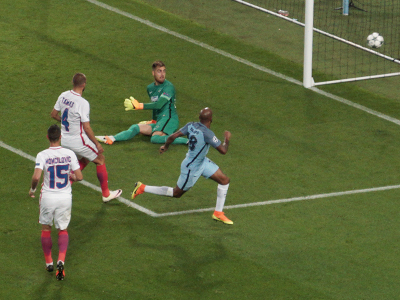 ....but the keeper manages to deflect the ball for a corner and City are defied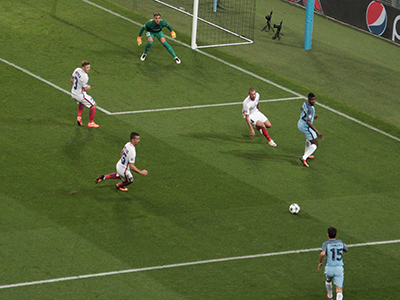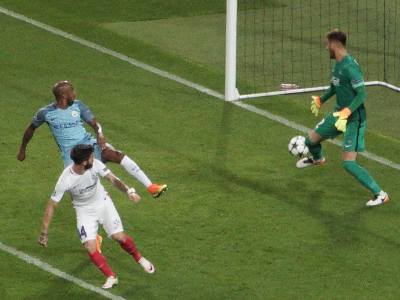 But following the corner Navas crosses and there is Delph heading down past the keeper to score on 56 minutes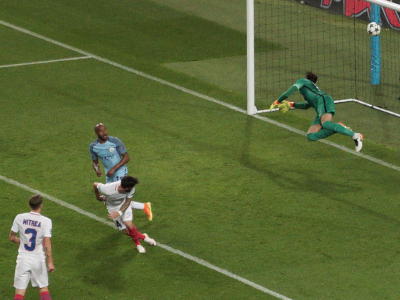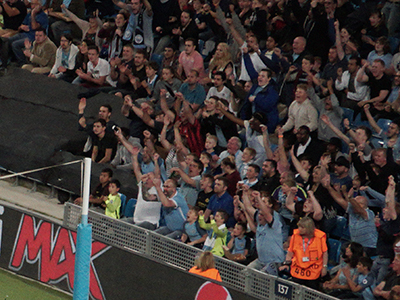 At last we have a goal and the lead is six nil - no extra time tonight!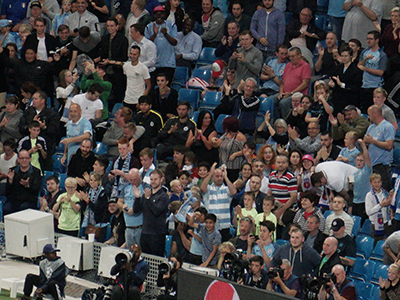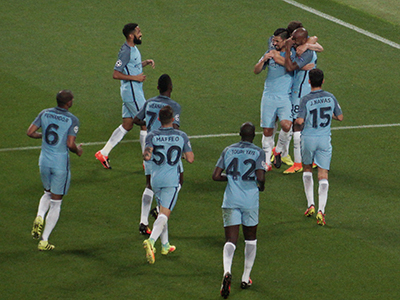 The City fans are jubilant and the players rush to congratulate the scorer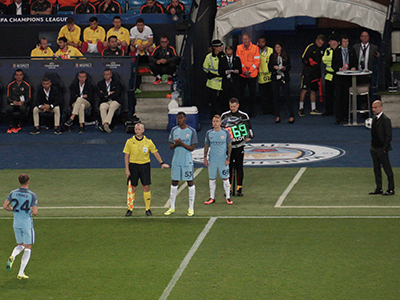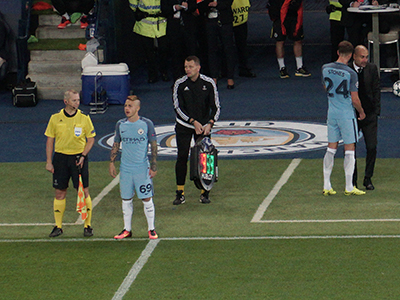 Almost straight away City bring on 19 year old Angelino for Nolito and Adarabioyo for Stones who gets a little chat from the manager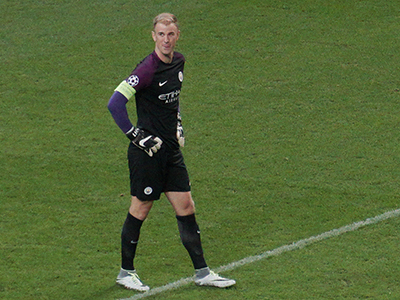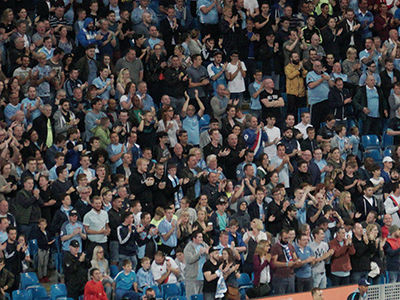 Joe Hart who was making his 348th game for City got constant standing applause in possibly his final game for City. He was captain for the game.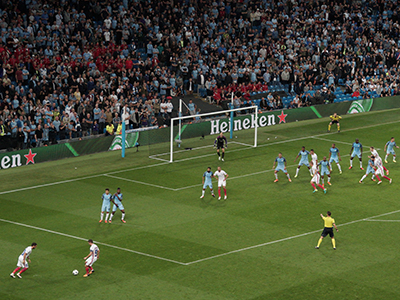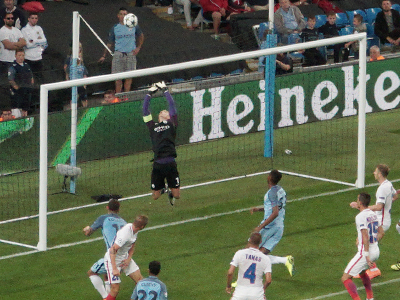 He had to make a save on 72 minutes following a free kick. Joe tipped the ball over the bar for a corner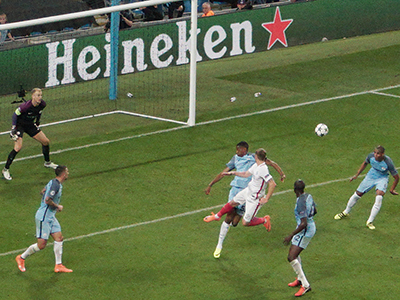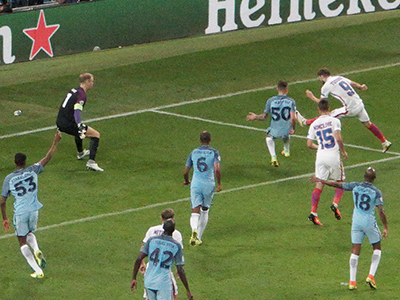 From the second corner the visitors got a chance and Tudorie managed to shoot......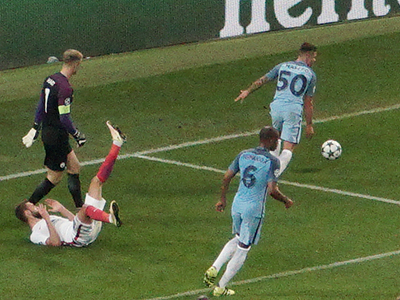 ...but Joe Hart saved and City cleared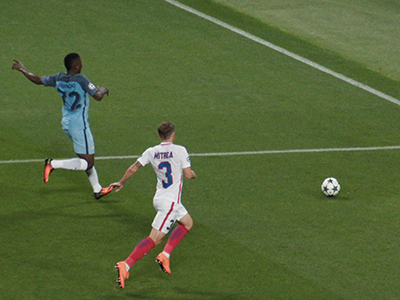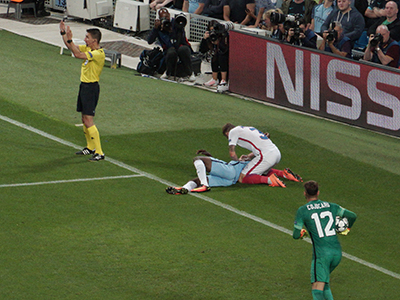 on 74 minutes Iheanacho dashed into the penalty area but suddenly collapsed near the touchline.
Full back Mitrea went to help straight away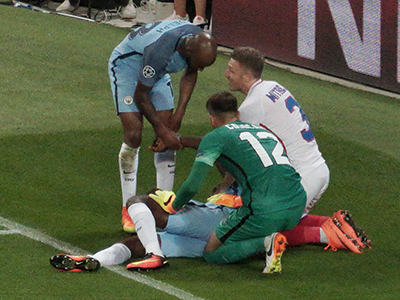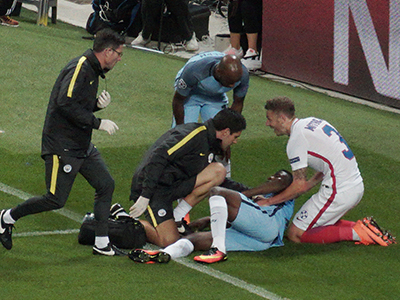 It looked really bad and on came the medical staff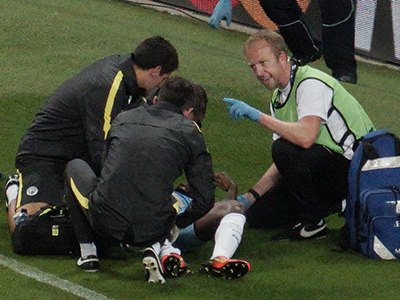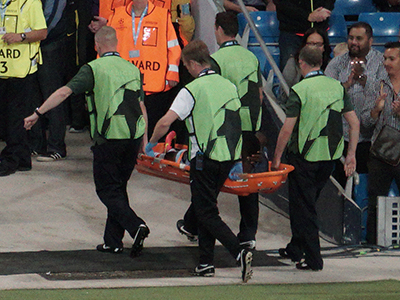 Eventually he was carried off on a stretcher and we hope he will be fit soon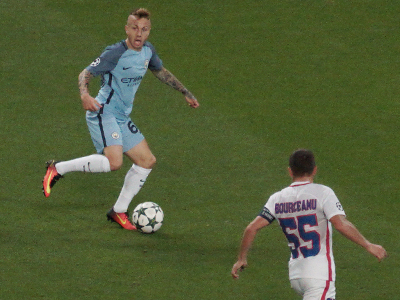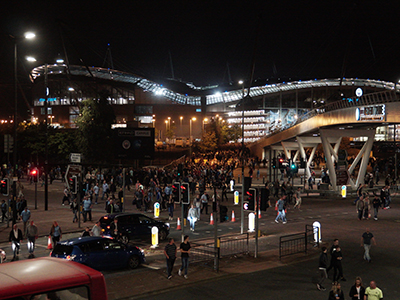 Angelino played 14 times for New York City on loan last season
Homeward bound and hopes for a good draw in the Champions League
Team
Hart 7.5: Maffeo 6.5, Stones 7 (Adarabioyo) , Kolarov 7, Clichy 6.5: Navas 6, Fernando 6 Toure 6, Delph 6.5, Nolito 6.5 (Angelino) Iheanacho 7 (Fernandinho)