City 2 Sunderland 1
August 13th 2016 att. 54,362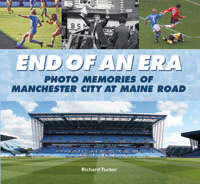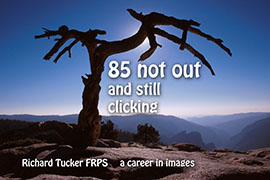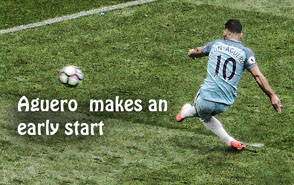 The first game of the new culture ended with City winning in the final moments and we can count ourselves a little fortunate. An own goal gave City the three points and though City had over 70 percent of the play we made few really good chances as Sunderland defended well and their large support must have gone home a little disappointed not to have got a point. The new look City with debuts for Stones and Nolito will have to improve a lot on this display. It was certainly different from last season with fullbacks Sagna and Clichy moving infield a great deal and Fernandinho had to get through a lot of work.
The early penalty won by Sterling gave City a great start but we failed to capitalize on our possession and when Defoe equalized in the second half I was more than a bit concerned. The inclusion of Caballero in goal and Kolarov in the centre of defence worried a lot of supporters but as things turned out neither let the team down.
There were a few anxious moments with a few passes going astray and it will take a while for players to get used to the new way of playing with our new manager Pep Guardiola's regime. There are some tough games coming up so there some interesting days ahead.

A full house for the first game of the season and a few changes to the team. In came Stones and Nolito for their debuts and there was no Joe Hart - his average distribution last season ( something I touched on several times) not to the liking of the manager so Caballero was in goal. It was also strange to see Kolarov in central defence. The usual suspects were up front with Fernandinho to look after the middle of the park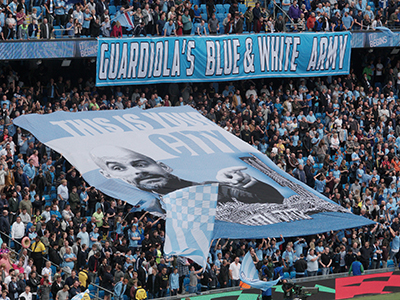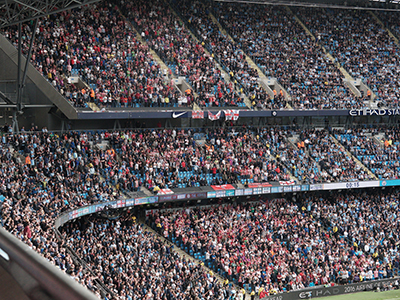 Pep had a welcome from the South Stand
Sunderland had excellent support as usual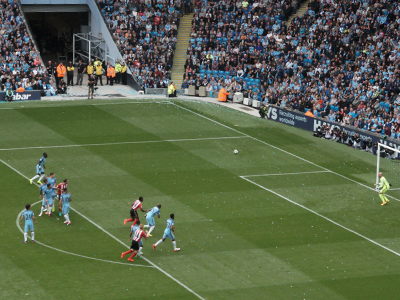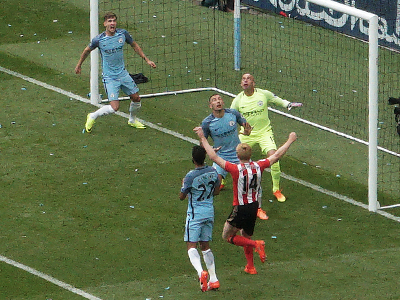 Defoe wins a free kick in the first minute or so but Caballero saves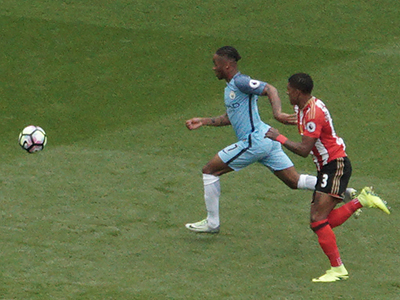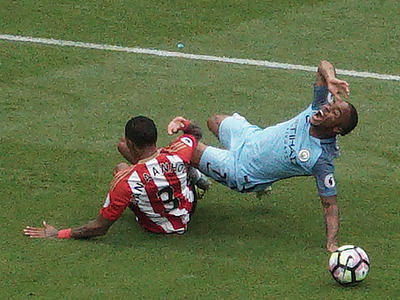 Sterling dashes down the right wing but is brought down by van Aanholt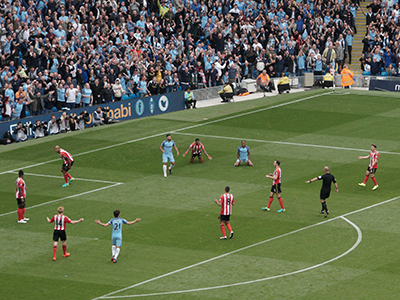 It's in the penalty area and the referee points to the spot and it's only the 4th minute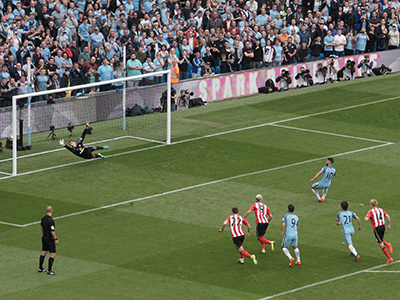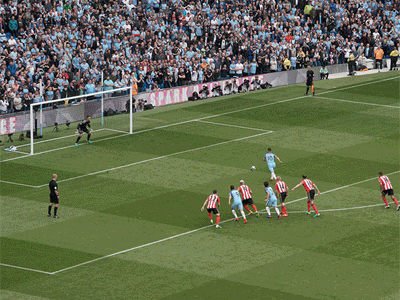 Aguero scores and City are one up
The penalty - see more animated Gifs
HERE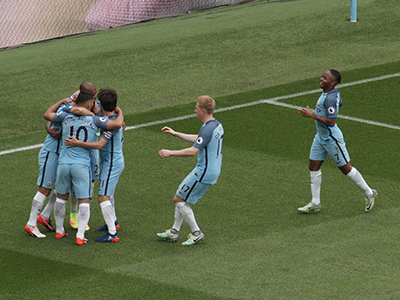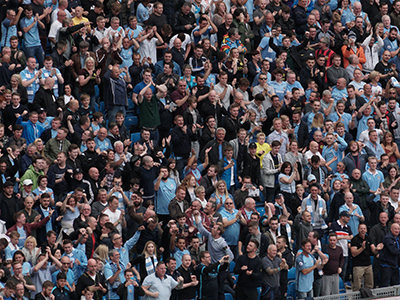 The players and fans celebrate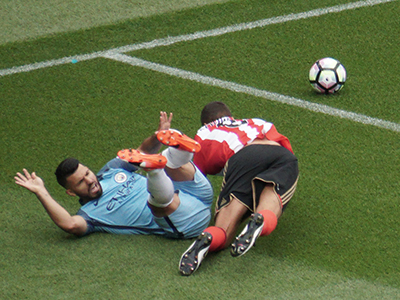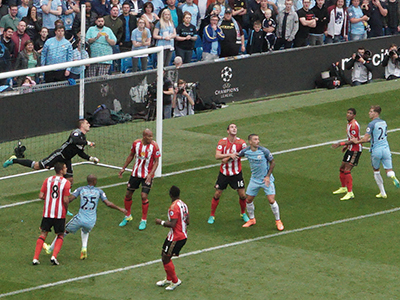 Aguero is brought down but Sunderland clear the free kick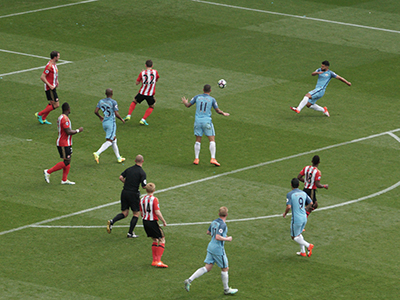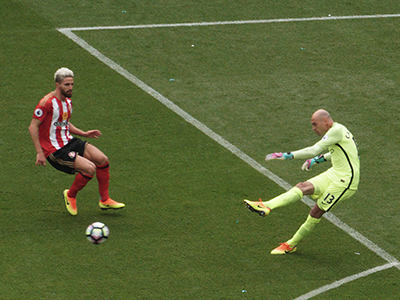 Aguero has a shot saved by the keeper
Caballero has to kick clear under pressure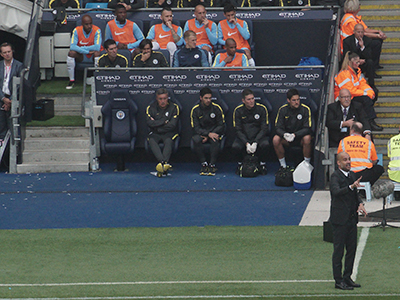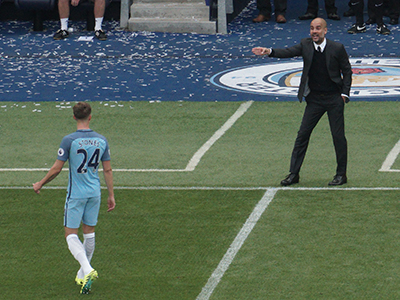 Stones gets instructions!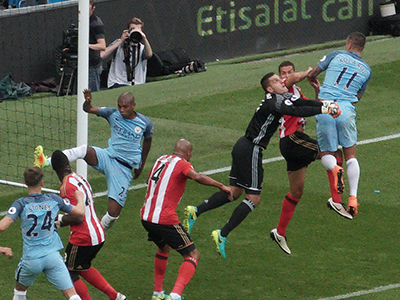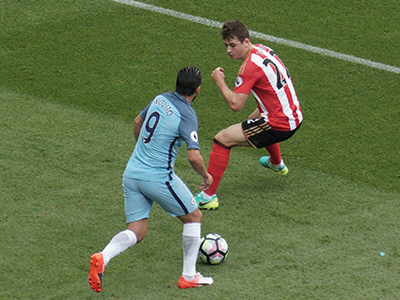 Nolito breaks down the left .......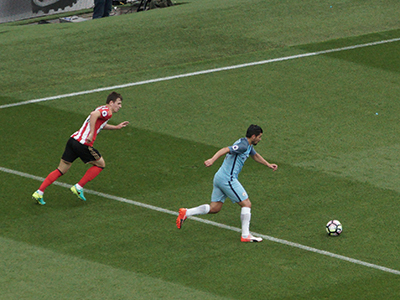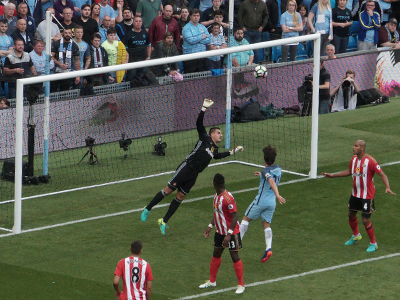 ......and he cuts back and gets in a shot......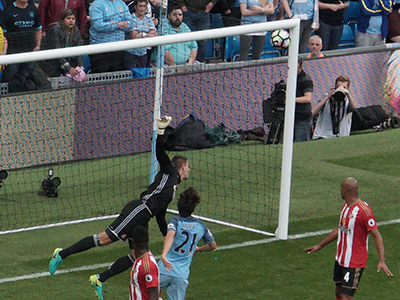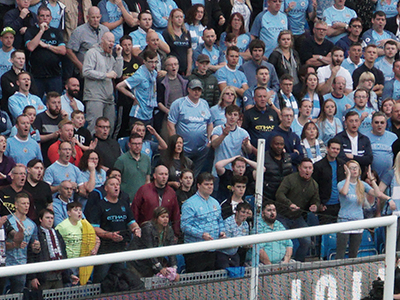 ...but the ball just misses the top corner much to the dismay of the City fans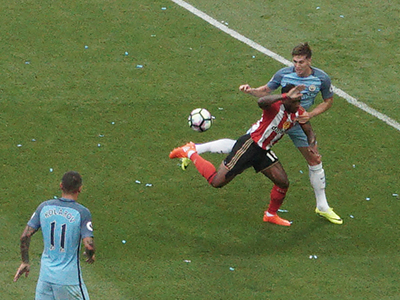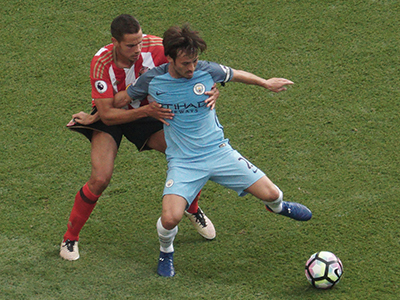 despite only having just arrived Stones was looking Ok
Silva - captain for the day - was being held here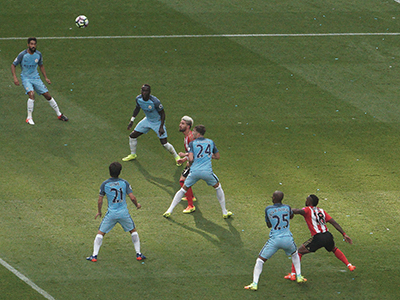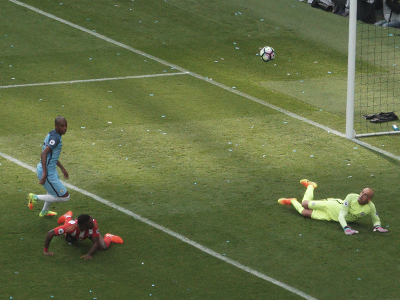 On 41 minutes a Sunderland attack ends with Caballero making a good close range save from Defoe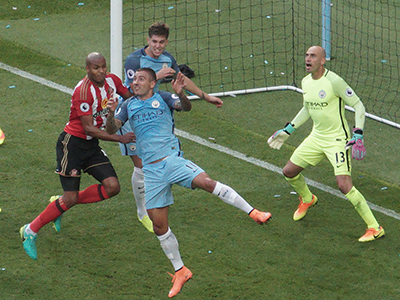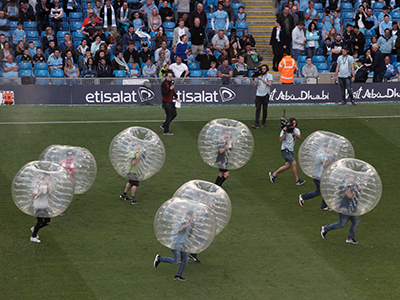 Strange goings on at half time!
City have to defend several corners just before half time
Right at the start of the 2nd half Aguero has a shot blocked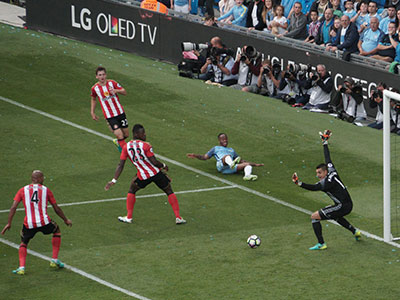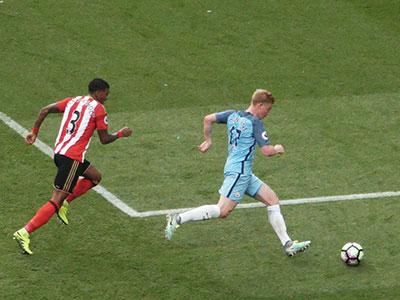 Sterling has a good run down the wing but Aguero shoots wide from his cross
On 61 minutes a cross by De Bruyne....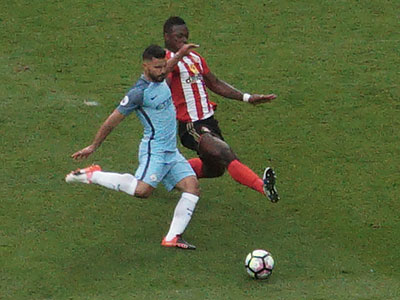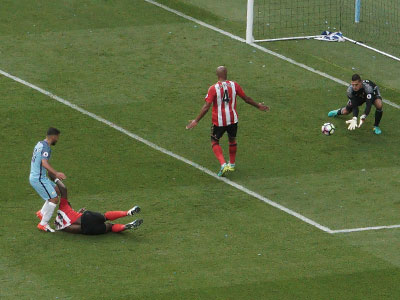 arrives at the feet of Aguero but again his effort is blocked and ends up in the hands of the keeper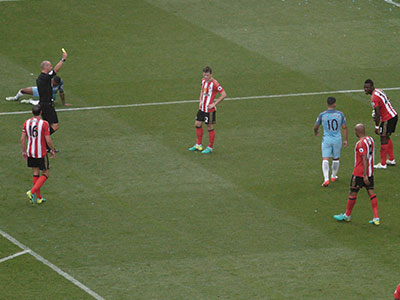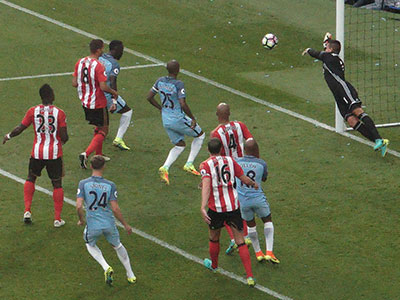 Love gets a yellow card for a foul on Sterling and Mannone has to make a good save from De Bruyne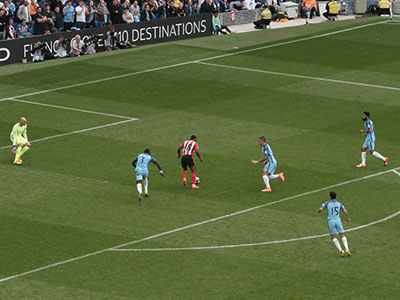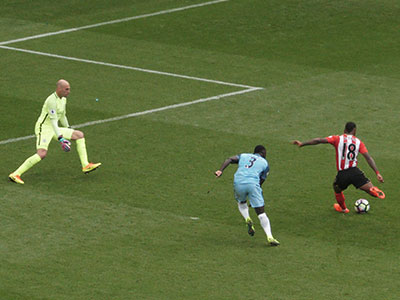 Then on 71 minutes disaster struck! Januzaj passed to Defoe who strolled past Sagna....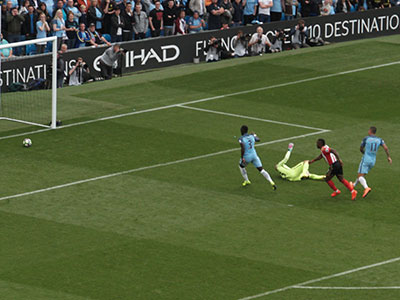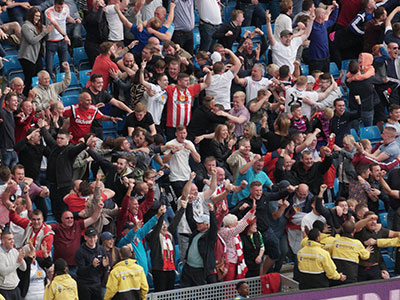 and shot past Caballero and the Sunderland fans went mad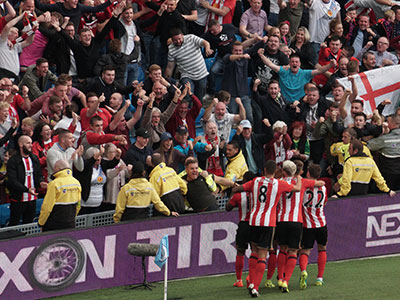 Oh dear the scores were level with only 20 minutes to go
Sunderland forced a couple of corners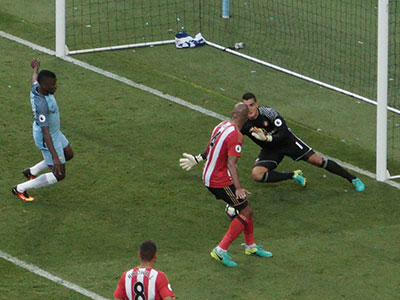 With three minutes to go Navas (on for Nolito) crossed and Iheanacho ( on for Clichy) tried to get to the ball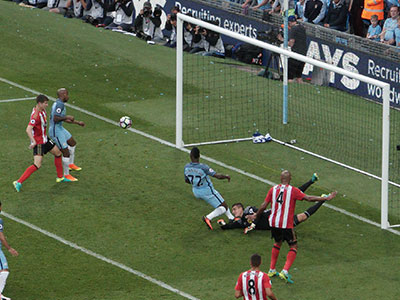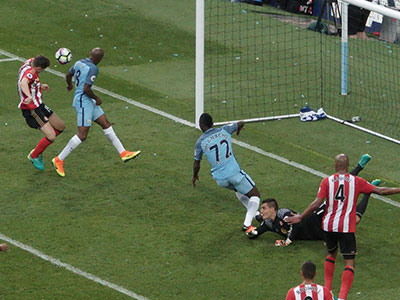 The ball seemed to rebound up the air off the keeper and McNair headed the ball into his own net!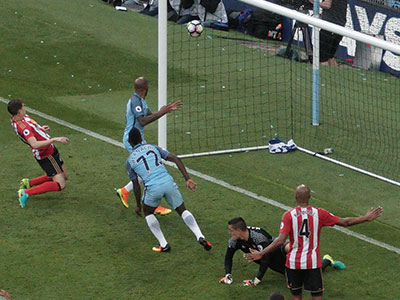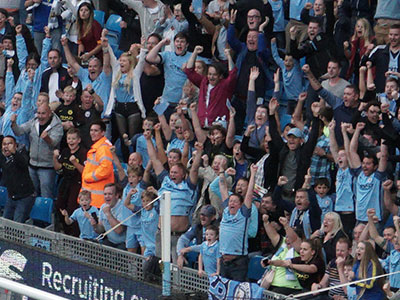 It looked like City had all three points!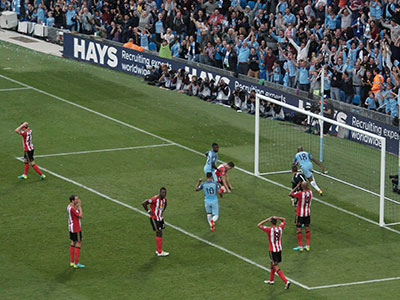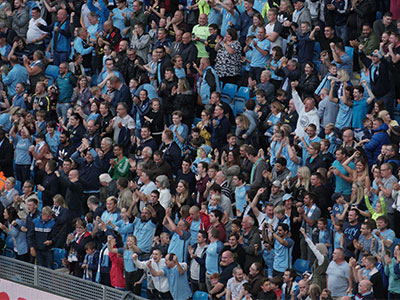 The Sunderland players looked dejected in contrast to an elated North Stand in blue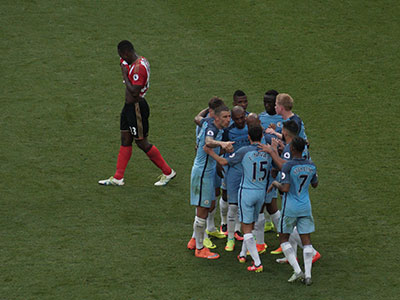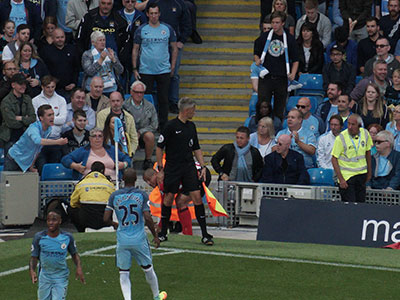 The City players have a team meeting on the way back to the centre
Oh dear that linesman is chatting to a fan!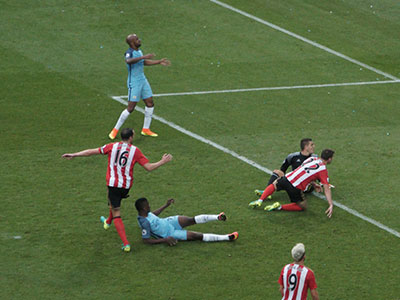 In a counter attack Aguero breaks away and passes to Iheanacho but his shot is deflected for a corner.
Should have been 3-1.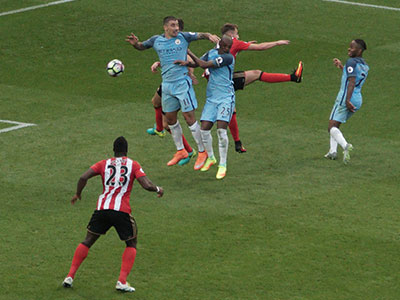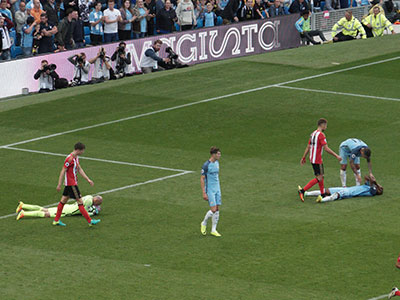 City manage to clear a corner with seconds to go of the added 4 minutes.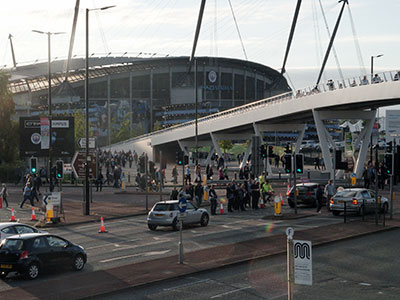 The City players wave farewell to the fans
The fans go home thinking about the new look to City
team
Caballero 6.5: Sagna 6.5, Stones 6.5, Kolarov 6.5, Clichy 7(Iheanacho): Fernandinho 7.5, Silva 7 (Delph 6.5)): Sterling 7.5, De Bruyne 6.5, Nolito 6 ( Navas 6.5) Aguero 6.5
No Brian Kidd on the front row and no Yaya Toure on the bench!