City 4 Tottenham 3
Champions League
April 17th 2019 att.53,348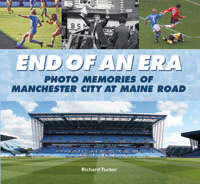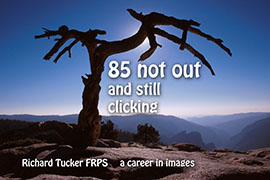 An incredible game with 4 goals in the first 11 minutes and then City apparently scoring a winning goal in added time only to be knocked out by VAR! With Spurs a goal ahead from the first leg it was terrific when Sterling gave the sky blues the lead after just.5 minutes. However errors by Laporte gave Spurs a couple of goals by Son and suddenly we were 2-1 down. Benardo Silva made it two all and it had been an incredible first quarter of an hour. On 20 minutes De Bruyne provided Sterling with his second goal and City were ahead.
The outlook looked good when Aguero made it 4-2 on 60 minutes but 12 minutes later Spurs scored at a corner with a controversial hand ball by Llorente - VAR again!
The worst was to come as in added time Sterling made it 5-3 and the Stadium went mad but then we had a moment of ecstasy and agony as the goal was ruled out by VAR because Aguero was just offside in the build -up to the goal.
Our world fell apart as despite City winning the game 4-3 the visitors go through to the semi finals on away goals!
De Bruyne and Sterling had great games but Laporte who normally is excellent made errors that cost us a lot. So now we can only win three trophies!.

Plenty of atmosphere in the ground tonight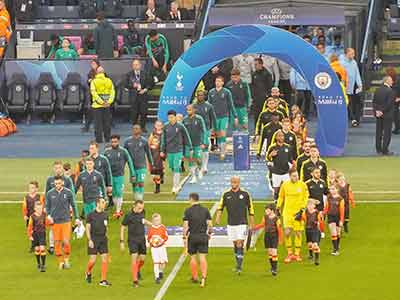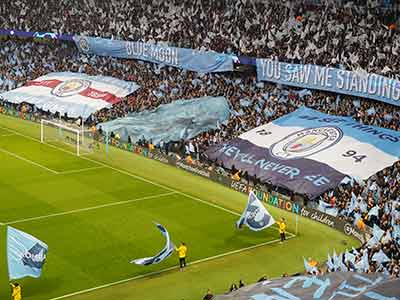 De Bruyne and Aguero started but Sane and Fernandinho were on the bench. Kompany was skipper today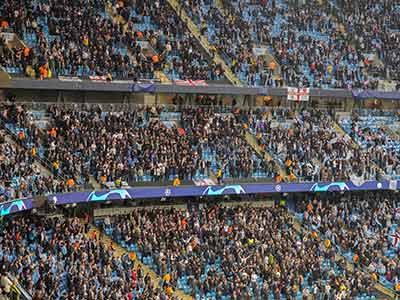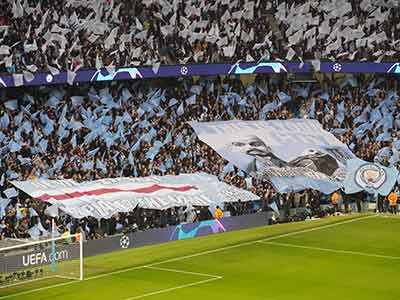 There were a lot of Spurs fans here
The South Stand was as noisy as ever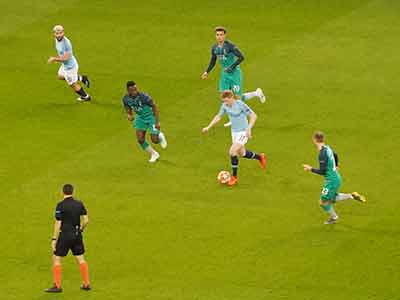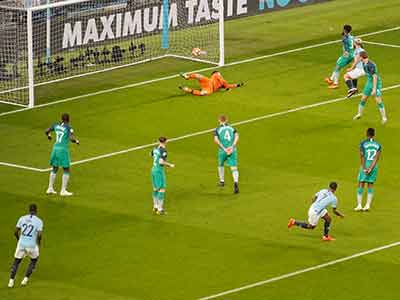 In the 4th minute De Bruyne crossed to Sterling who curled the ball past the keeper to put City ahead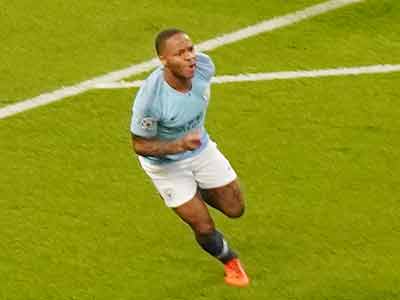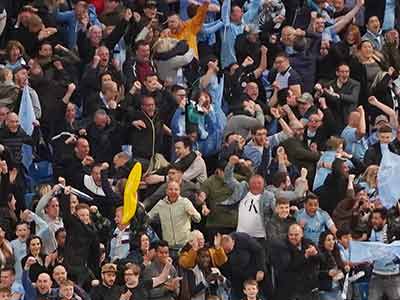 It was his 22nd goal this season and the South Stand erupted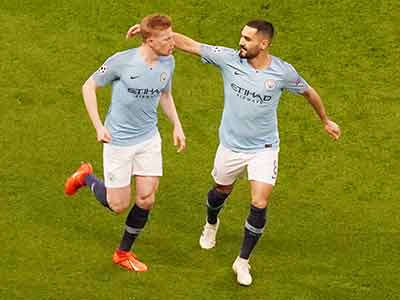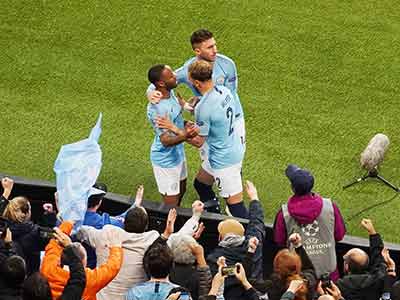 Gundogan thanks Kevin for the pass and it was an excellent goal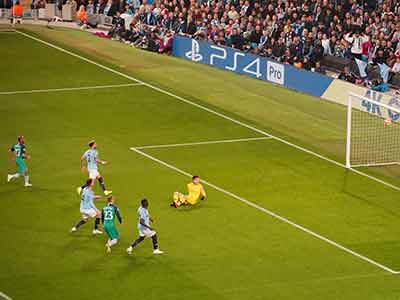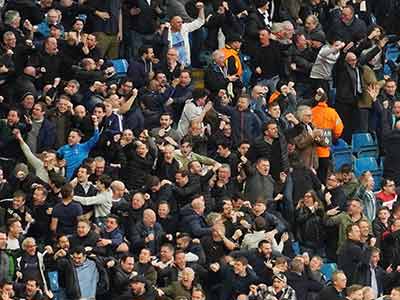 a minute or so later Laporte gave the ball away and Son beat Edison to make it one all.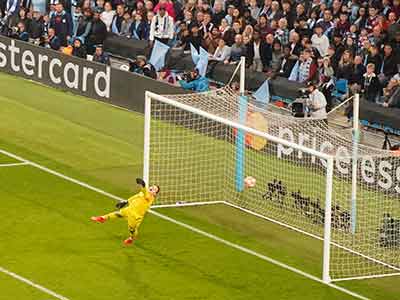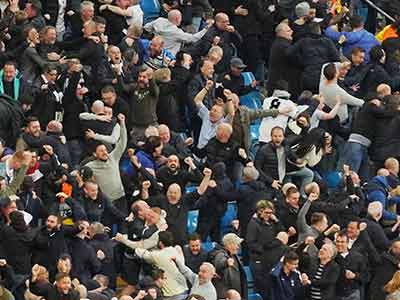 After Laporte had lost the ball up field a quick counter attack gave Son another chance and he curled the ball past Ederson and Spurs were ahead. Only ten minutes gone and its unbelievable!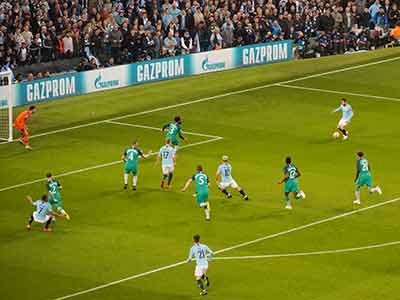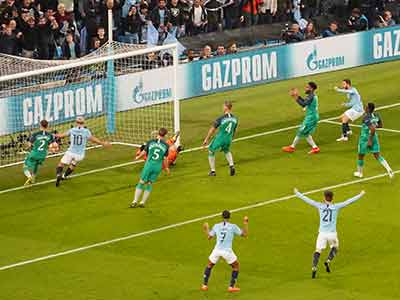 A minute later and Aguero passed to Benardo who scored to make it two all. An amazing game!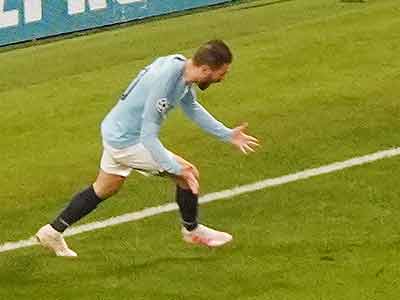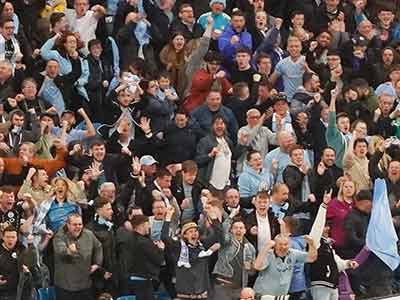 It was his 12th of the season and well deserved as he has been playing so well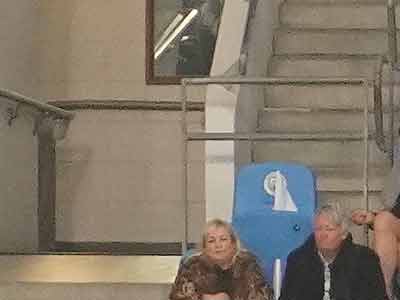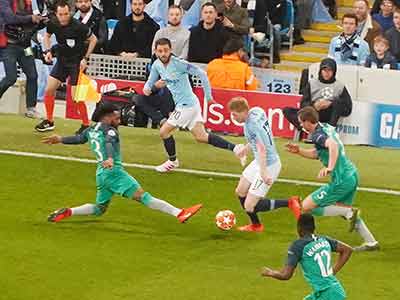 Alas no Bernard Halford today
Rose goes in hard on Kevin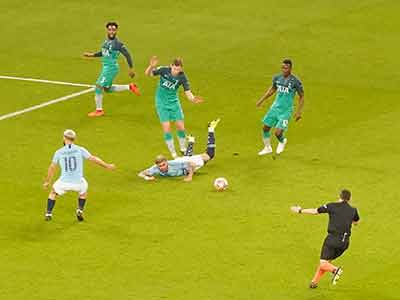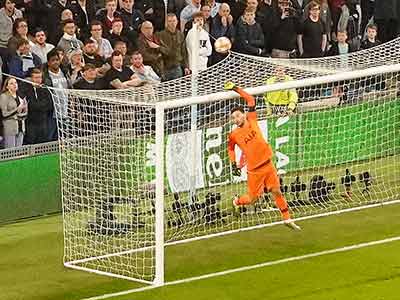 Walker is brought down but Silva's free kick is a little too high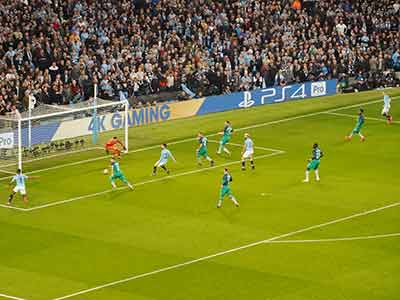 On 21 minutes De Bruyne crosses and in goes Sterling to put City ahead 3-2 - game on!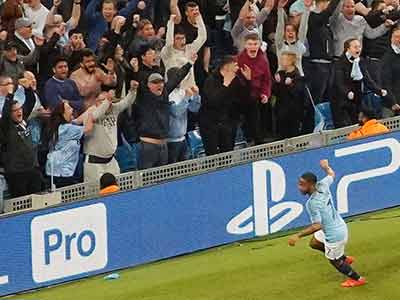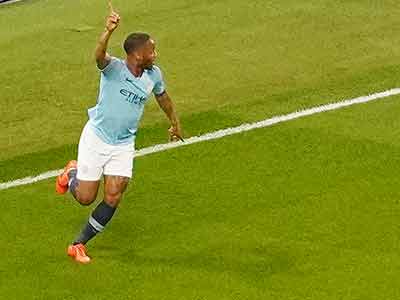 What a season he is having - cannot stop scoring!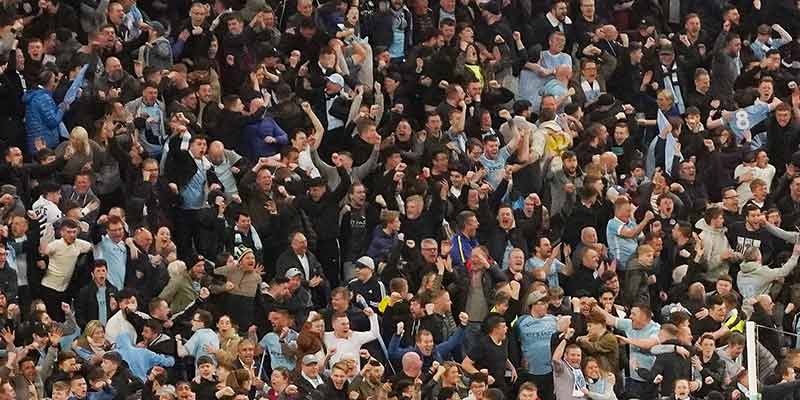 The South Stand has really come alive!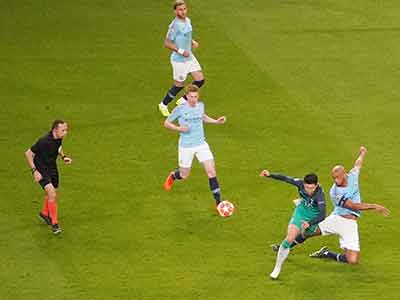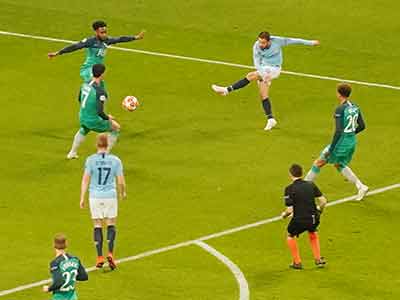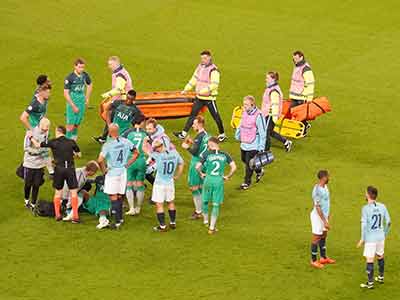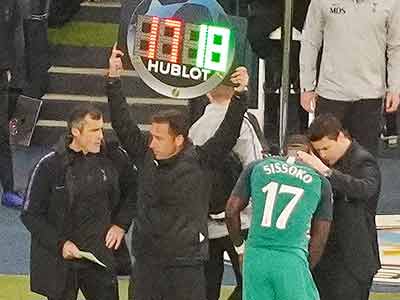 Sissoko who had been hit by the secret sniper twice before finally goes down and is subbed by Llorente.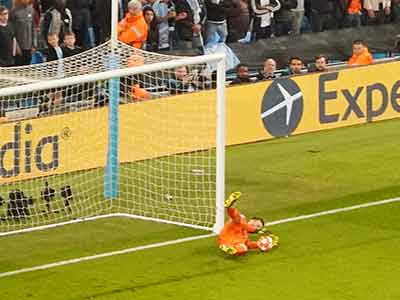 Just before half time De Bruyne has a shot saved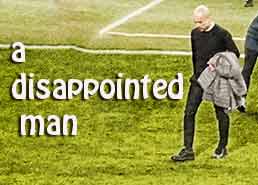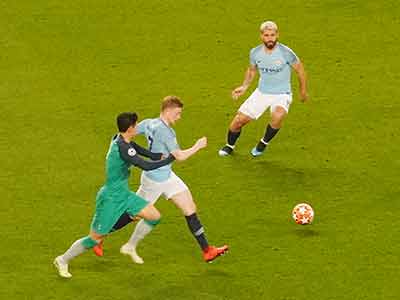 Son fouls De Buryne who is brought down again....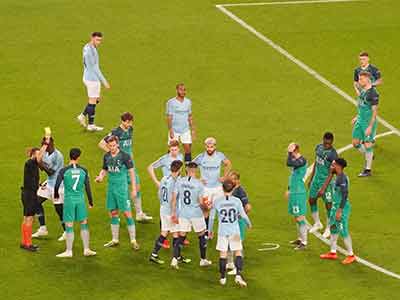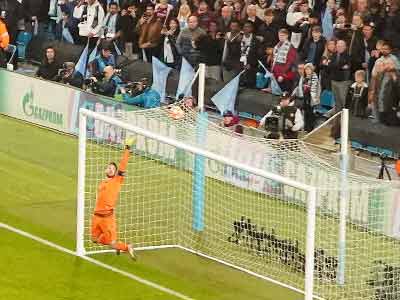 ...but the ball is brought back and Son gets a caution. The free kick just went over the bar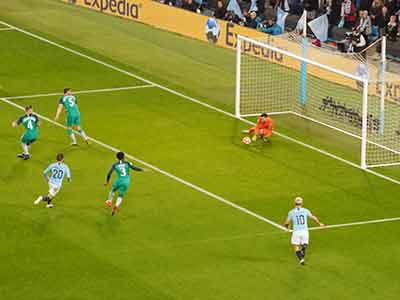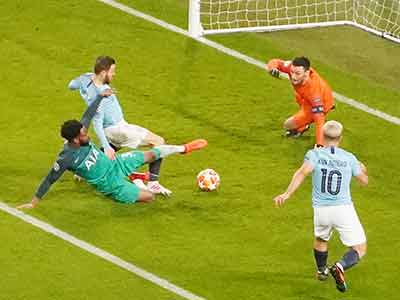 A shot from Sterling is saved but the ball comes out.....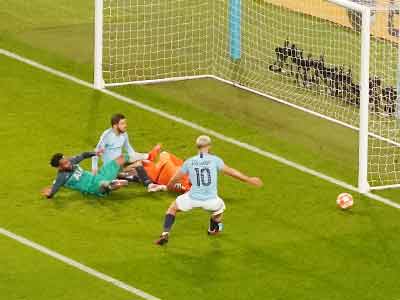 ...but alas City fail to make something of it
On 54 minutes Llois saves from De Bruyne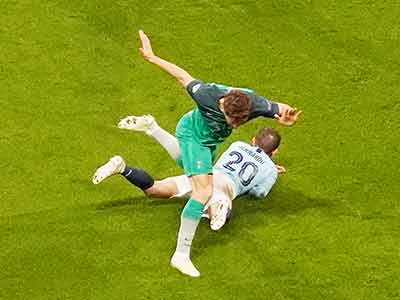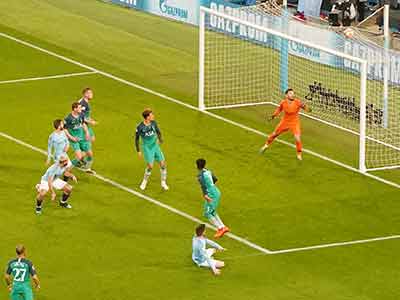 Benardo is brought down but the free kick is headed over the bar by Silva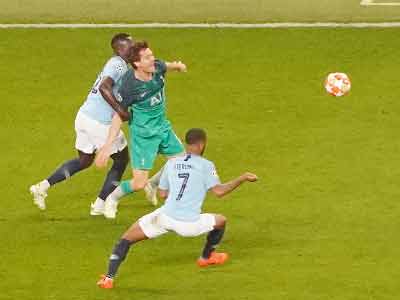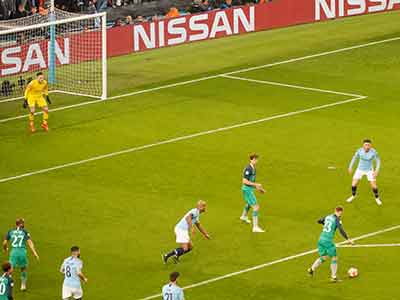 Eriksen tries a shot but it is easily saved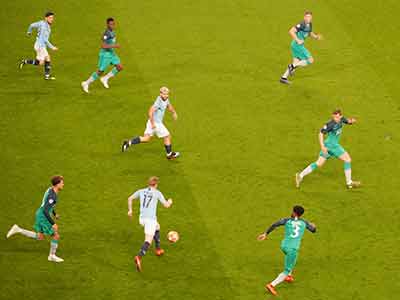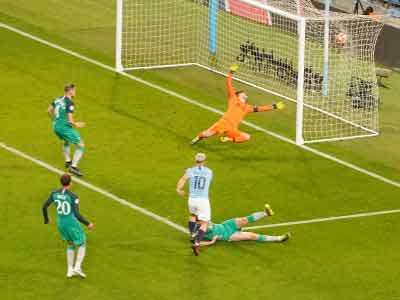 On 59 minutes De Bruyne passes to Aguero who thumps it past the keeper to make it 4-2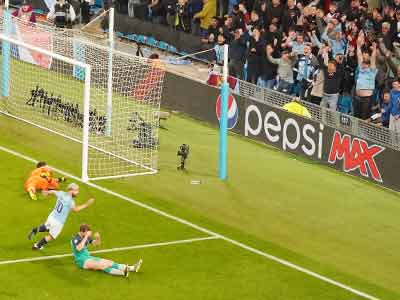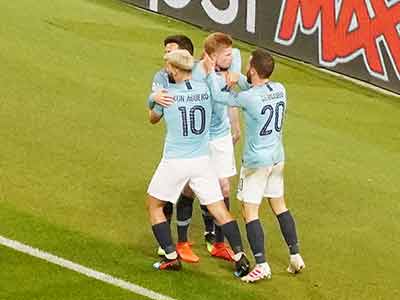 An excellent goal and his 30th this season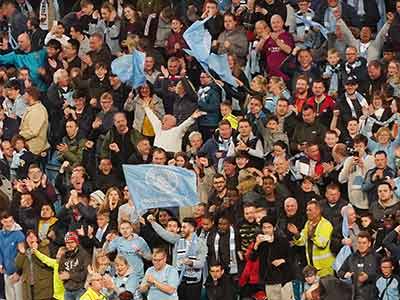 It is certainly celebration time!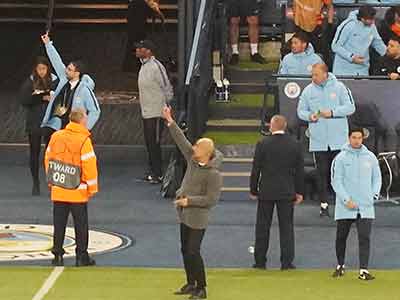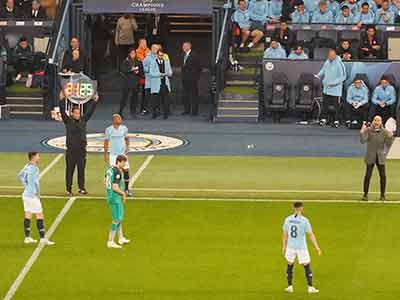 Pep waves to Fernandinho to get him on soon and he replaces Silva on 63 minutes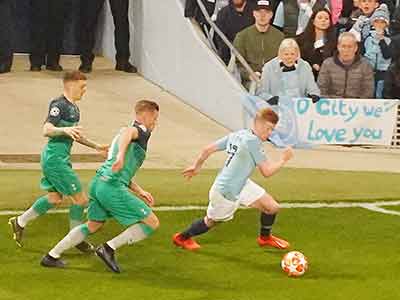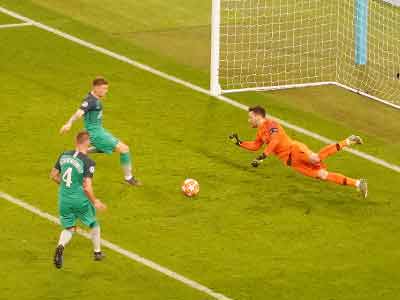 Kevin dashes down the left wing one moment and then whips in a cross from the right wing moments later. What a player!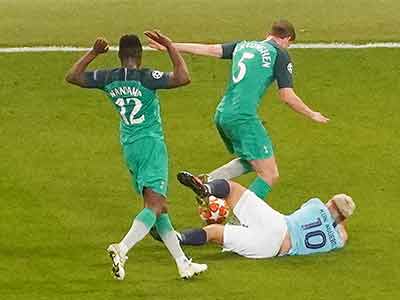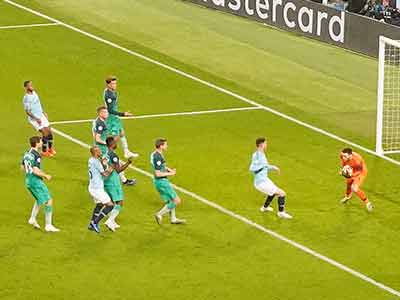 Aguero is brought down by Vertonghen but the free kick is easily saved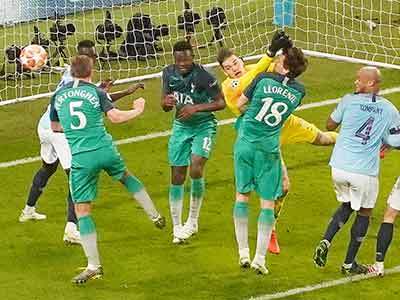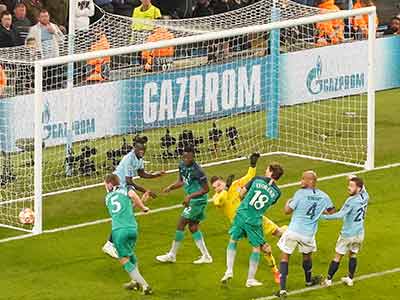 on 72 minutes Spurs get a corner which City manage to keep out of goal but it's another corner..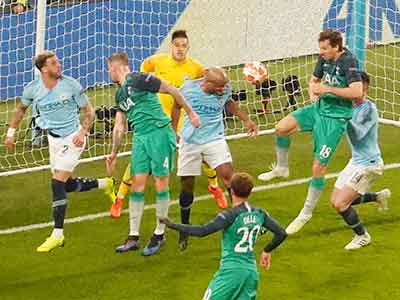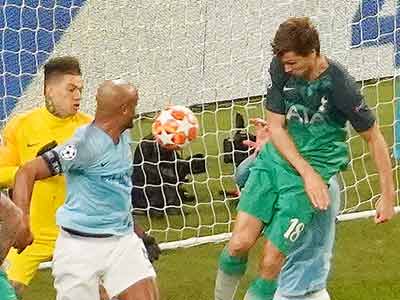 Alas this time the ball does got into the net via the arm of Llorente!!!!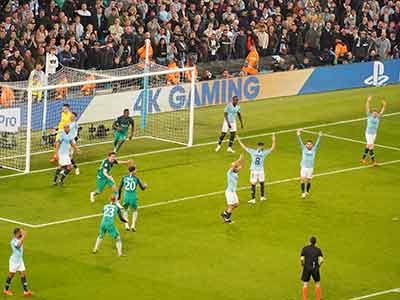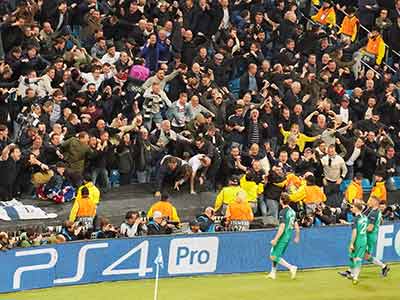 City appeal - the Spurs fans cheer......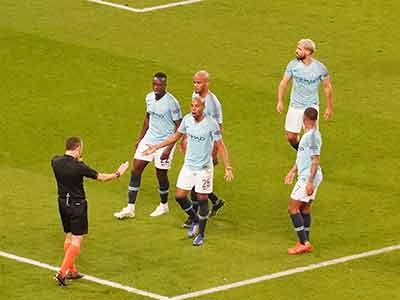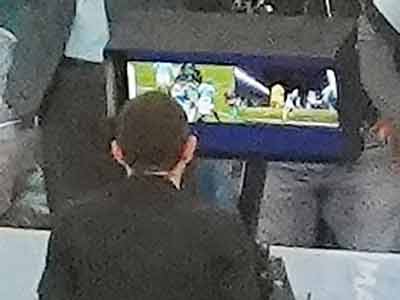 The ref tells City to calm down and he goes to check the VAR screen! We wait with baited breath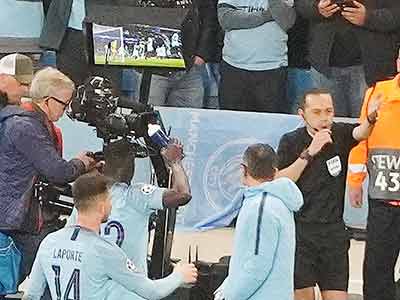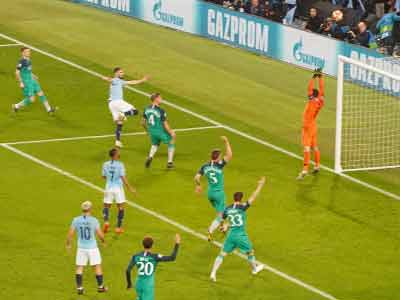 Alas he points to the center so its a goal and 4-3!
a shot by Gundogan is too high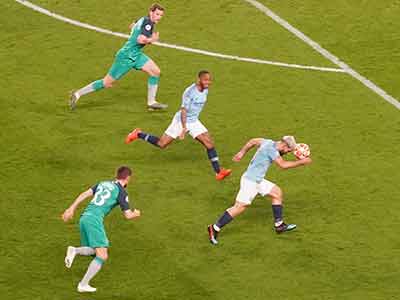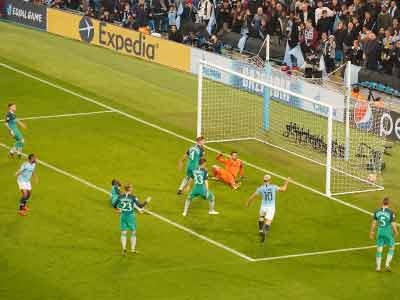 City break and Aguero passes to Sterling who scores!!!!!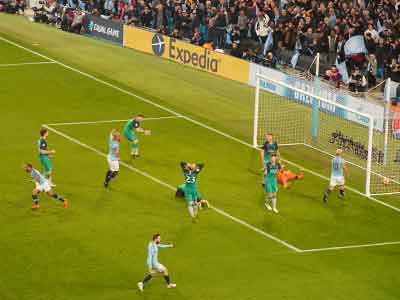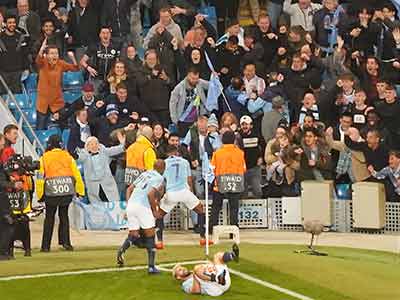 The celebrations begin!!!!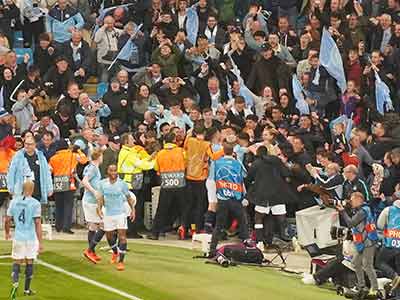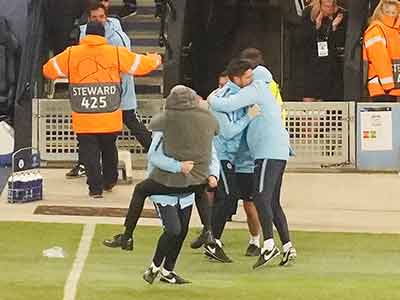 Surely that is it - Madrid here we come!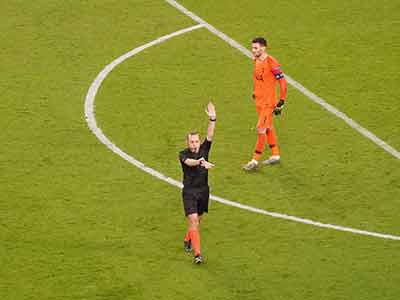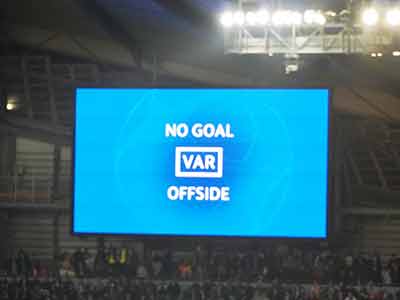 I don't believe it! VAR has given Aguero offside so no goal - what an end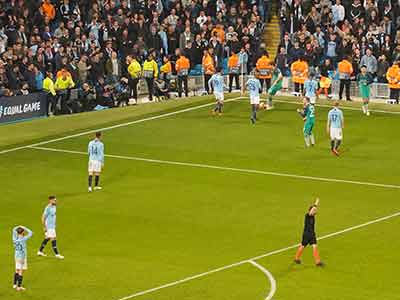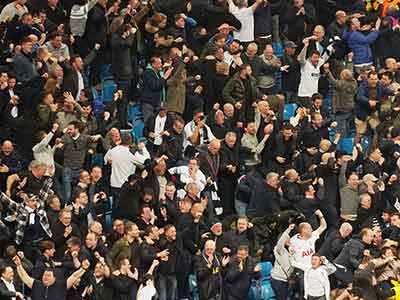 Spurs take the ball to the corner and soon the final whistle goes and the only cheers come from Spurs fans.
team
Ederson 6.5: Walker 7, Kompany 8, Laporte 5, Mendy 6.5 , Gundogan 7.5, Silva 6.5 (Fernandinho) De Bruyne 8.5, Sterling 8.5, Benardo 8, Aguero 8.5