City 3 Aston Villa 2
April 25th 45,036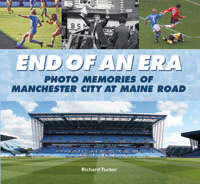 Now available from Amazon ( click on image for link)
WH Smith and the City shop
City just about got the three points that temporarily moved them up to second place behind Chelsea. Villa however played really well often outplaying the sky blues with their excellent football.
Once again there was a remarkable start to the game. You just cannot afford to be late to the Etihad these days. After just 3 minutes the Villa goalkeeper gifted us with the opening goal. A poor pass to one of his defenders was pounced on by Aguero who had the easy task of scoring. In the first 30 minutes or so City played some nice football but could not add to their score. Gradually Villa took control of the midfield and there was much relief when Kolarov took advantage of a poor wall to score from a great free kick after 66 minutes. The relief was short lived as Villa scored after a defensive error. With Villa now dominating the game it was no surprise that they drew level with only five minutes to go.
Then we had a miracle Just as the 4th official was about to put up the board showing added time we got a corner. Now as it was many many months since we last scored direct at a corner our hopes were not exactly high. However Fernandinho - on for Toure - did the impossible and scored much to the relief to his colleagues and home fans.
Again there were big gaps in the crowd and another talking point was the number of times the City players slipped on the surface compared with those of Villa.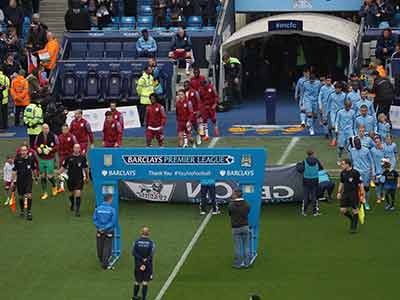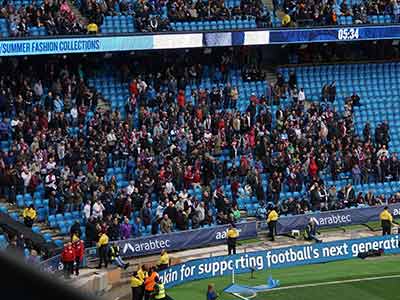 City were unchanged - the first time for a while and Bony and Milner were on the bench after injury
Not a great number of Villa fans but they were very noisy!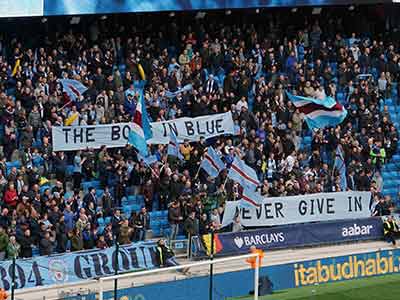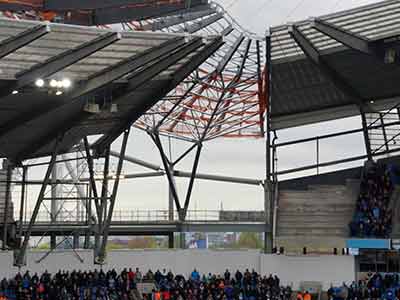 I spotted a few bananas in the crowd -ah those were the days
work still progressing on the new stand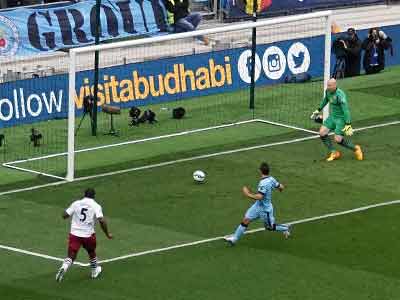 a perfect minutes silence remembering the Bradford fire disaster
Guzan's error gives Aguero his 21st league goal after just 3 minutes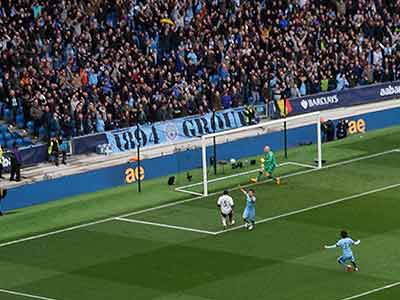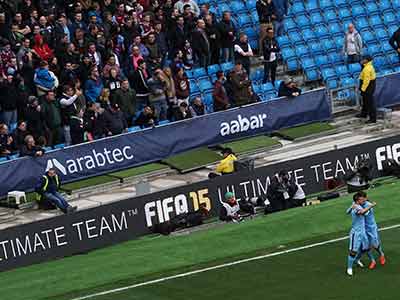 What a start to the game as Aguero celebrates his 27th goal of the season and the visiting supporters are stunned
Villa manager Tim Sherwood does not look happy
things might get worse for Villa as Toure sends Navas away down the right wing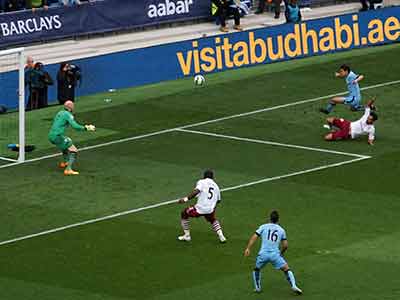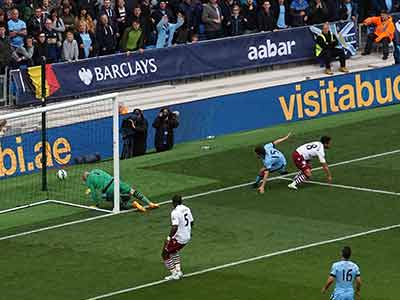 However should he have passed to Aguero rather than going through himself. In the end Richardson managed to block his effort for a corner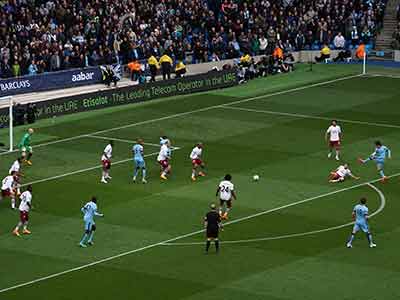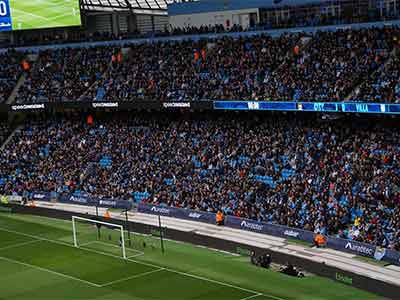 quite a few gaps in the North Stand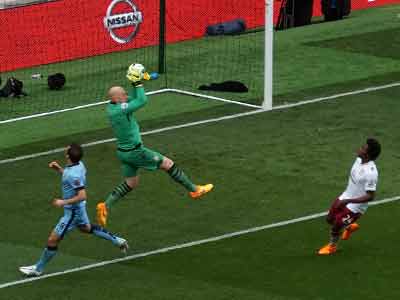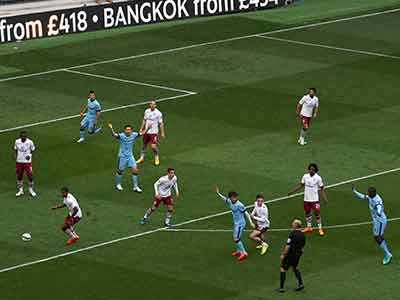 City appeal for a hand ball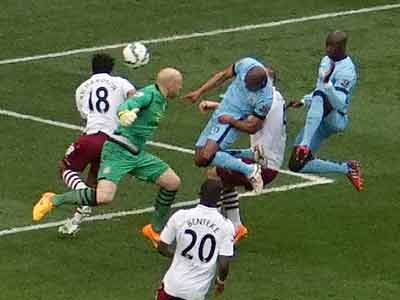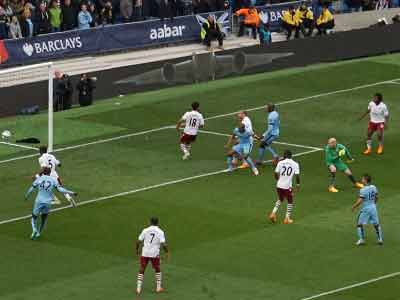 Guzan misses a free kick but Fernando's header goes wide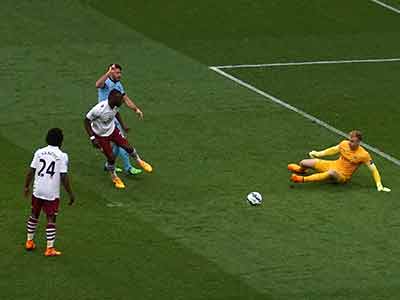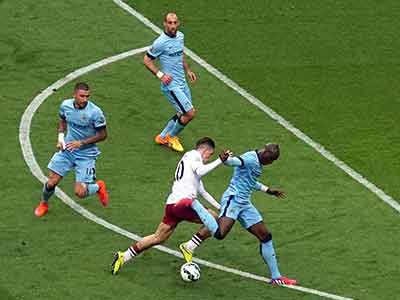 Hart makes a good save from Benteke
Jack Grealish who did well against Liverpool causes problems for City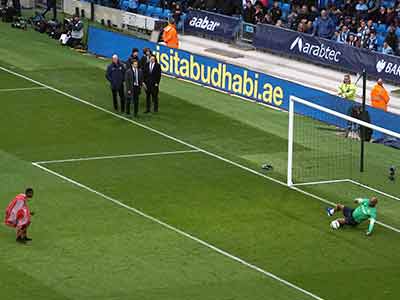 The City kids meet the crowd at half time
Alex Williams makes a save in the half time entertainment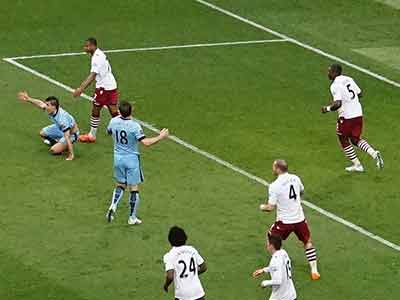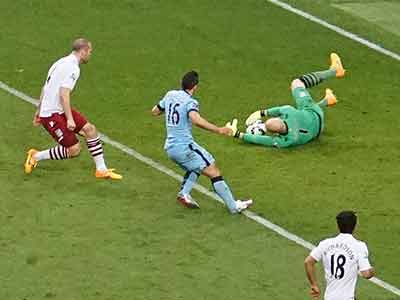 Aguero appeals for a penalty early in the second half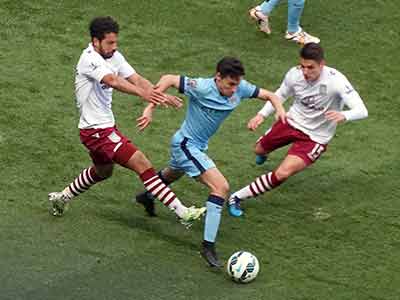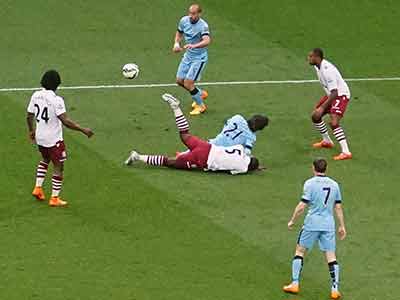 Navas tries to break through
Silva is brought down but no foul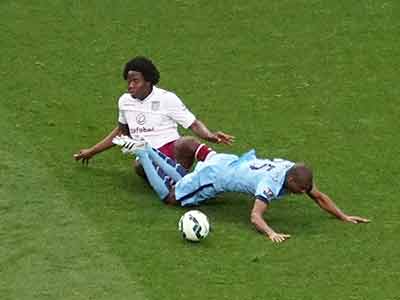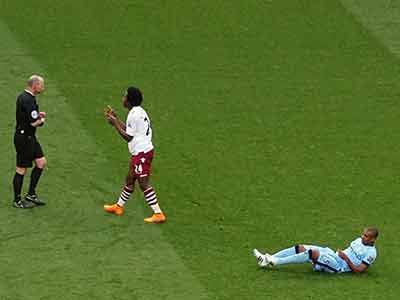 Fernandinho is brought down by Sanchez who is booked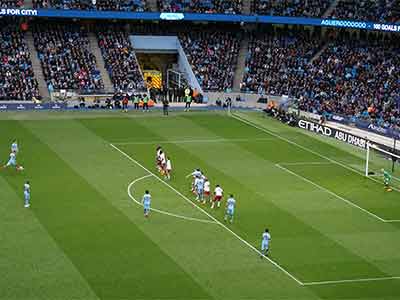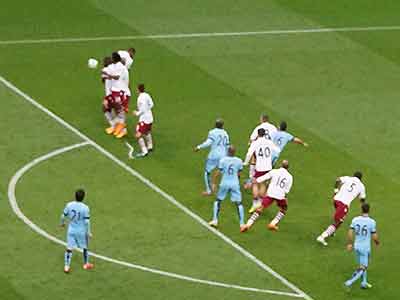 Kolarov takes the free kick from well outside the penalty area and it gets past the wall.....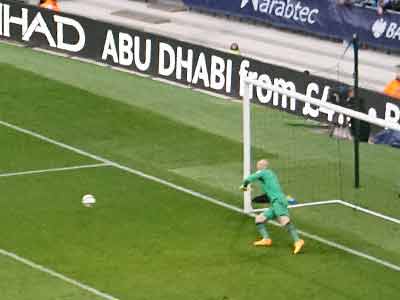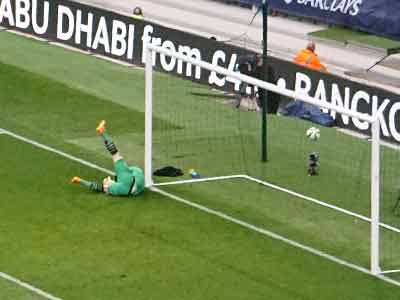 ....and past the diving keeper to make it two nil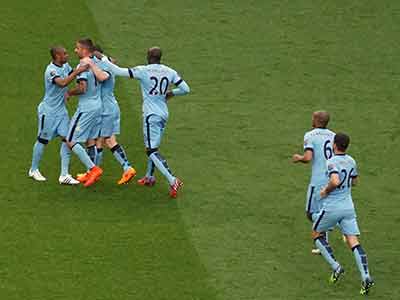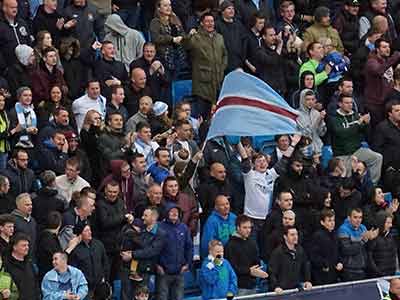 the players and fans celebrate so surely it was game over .....Oh no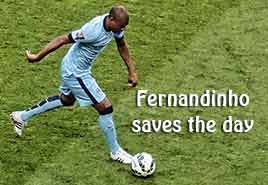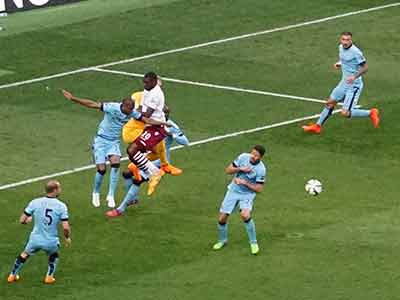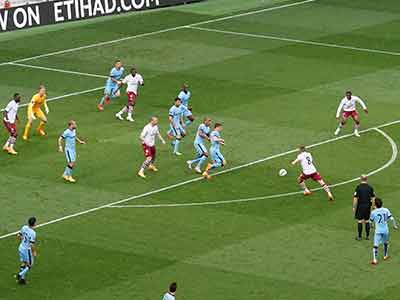 Following a set piece City only half clear and Cleverley has a shot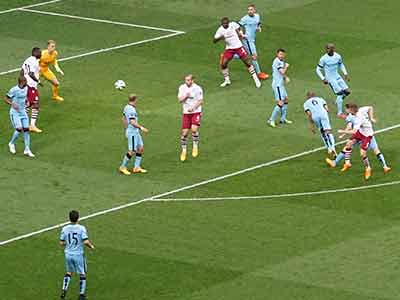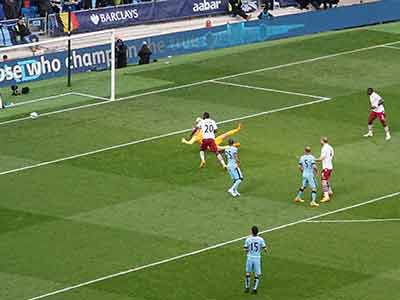 the ball flies past Hart and Villa have scored!!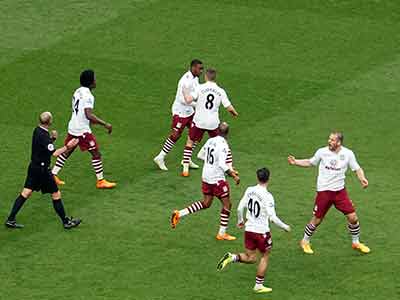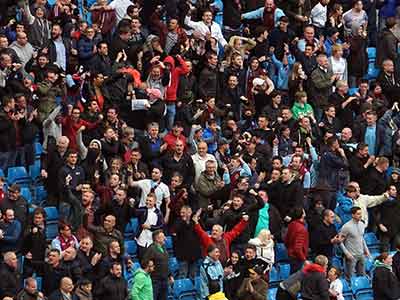 The Villa players and supporters let their feelings known to all!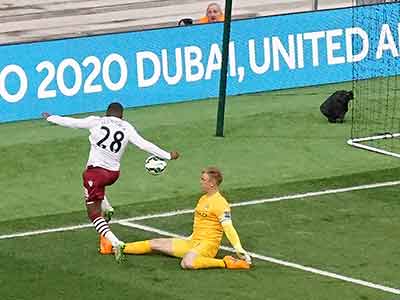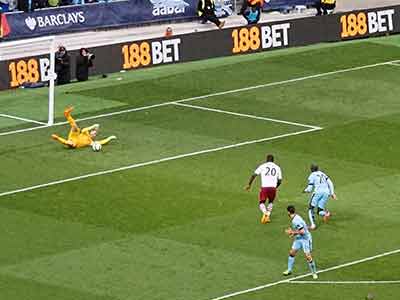 Hart is now much more busy saving from N'Zogbia and Richardson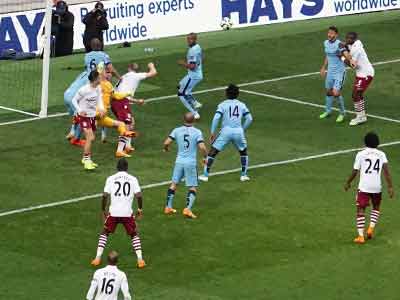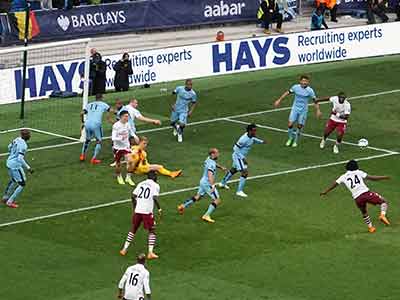 another corner to Villa and a partial clearance by Hart goes to Sanchez who shoots....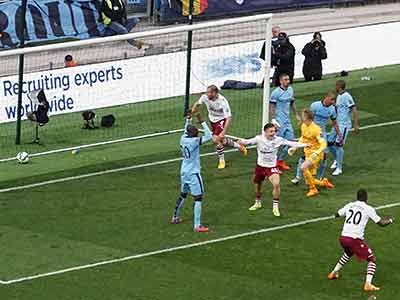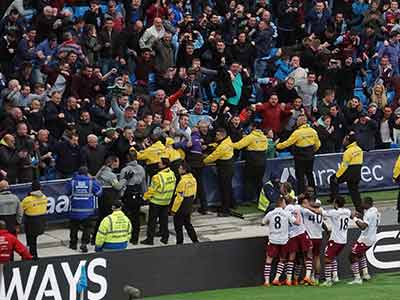 The ball flies over Hart and into the net to make it two all - Oh dear!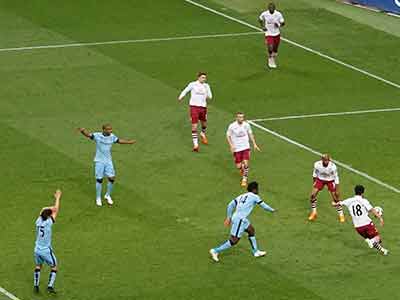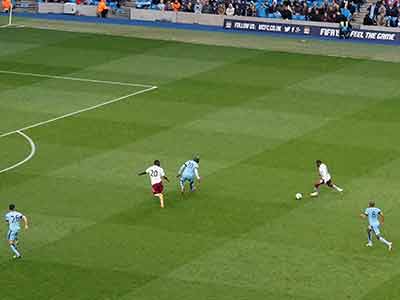 City appeal for a hand ball against Richardson
Then Villa break away with Benteke and N'Zogbia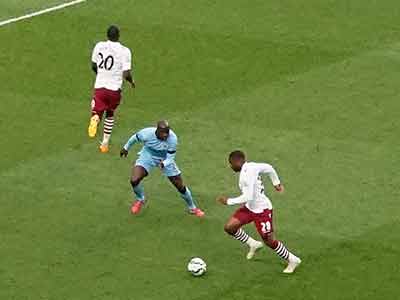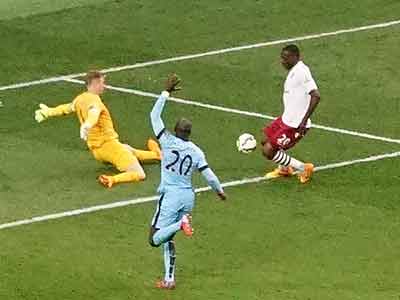 things look bad for City...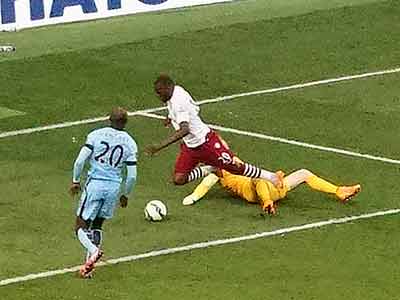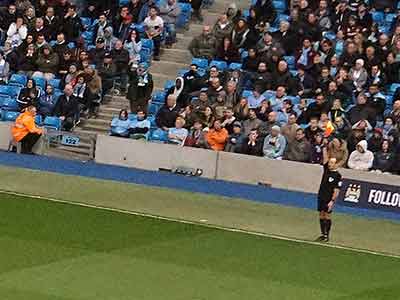 Hart brings down Benteke but fortunately for City the flag is up for offside - a lucky escape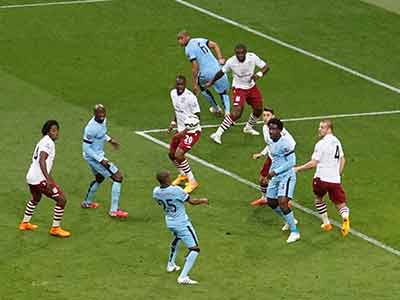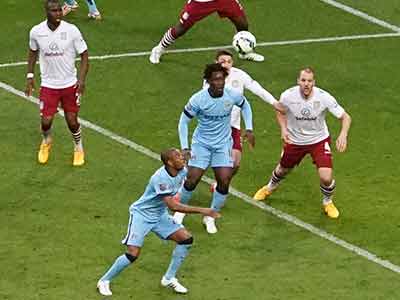 on 89 minutes City have a corner and there is Fernandinho watching the ball like a hawk...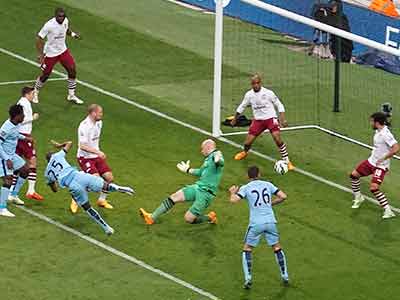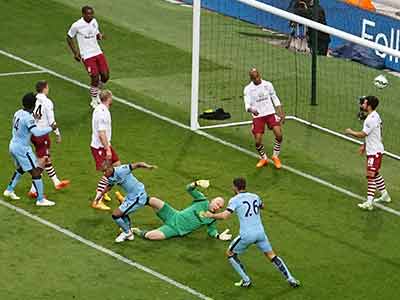 ..he thumps the ball into the net giving the keeper no chance and City were ahead!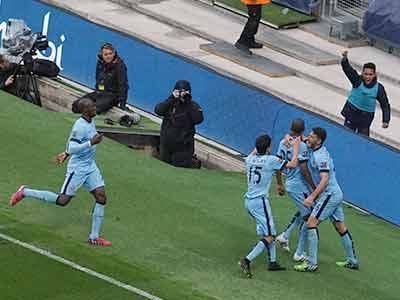 what an end to a tough game against a good Villa side.
The first City goal from a corner since Disraeli was PM - well it felt like it!!!
team
Hart 6.5: Zabaleta 7, Mangala 7, Demichelis 6, Kolarov 7: Toure 6 ( Fernandinho 7.5) Fernando 7, Lampard 6 ( Milner 6.5) Silva 7, Navas 7, Aguero 7 ( Bony)