City 2 Sunderland 2
April 16th 47,046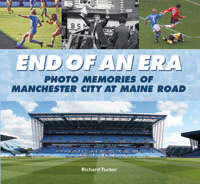 Now available from Amazon ( click on image for link)
WH Smith and the City shop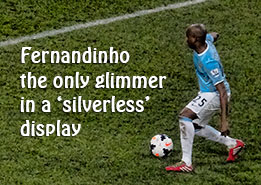 After the disastrous result against Liverpool I expected City would come out with all guns blazing so the early goal by Fernandinho gave us lots of confidence after the news that Silva was absent from the squad. Alas a poor first half ended with City lucky to be ahead after Sunderland had missed two good chances to score. They continued to give the City defence plenty to do so it was no surprise when they equalized but then when they went ahead all thoughts of winning the league went out of the window! Only a mistake by their keeper gave City a draw and it will be a miracle if City manage another trophy in May.
City's lack luster display was difficult to excuse and I must admit I cannot remember Milner having such a poor game. He changed the game at Anfield when he came on in the second half but today he was but a shadow of himself. The absence of Toure and Silva left City with little or no creativity and with Kompany Negredo and Aguero well below their best and not looking 100% after their injuries it was always going to be hard work.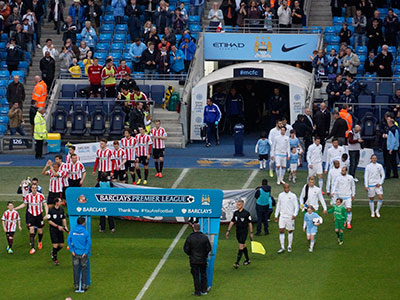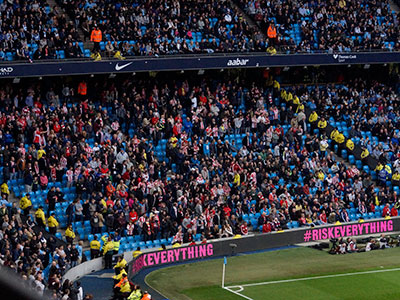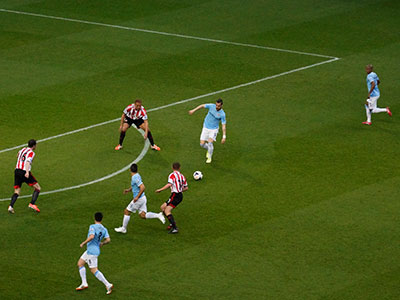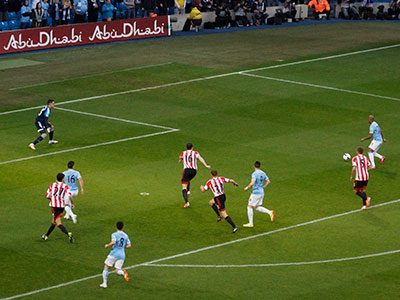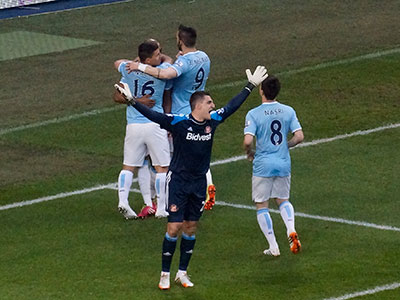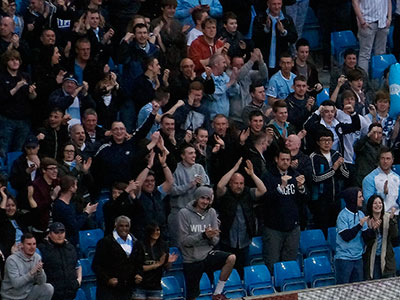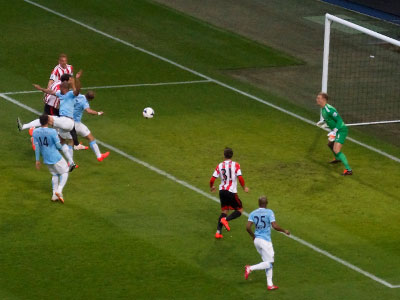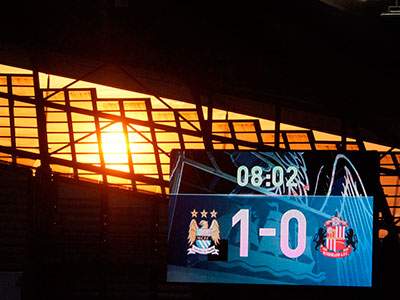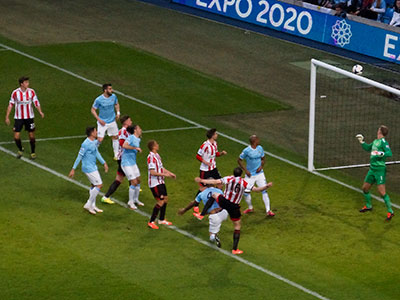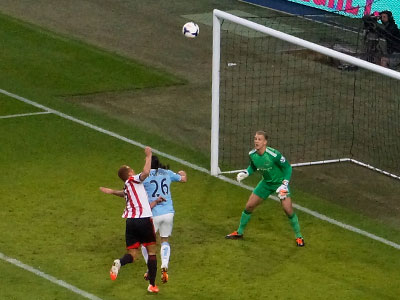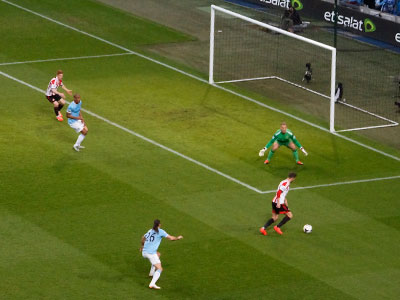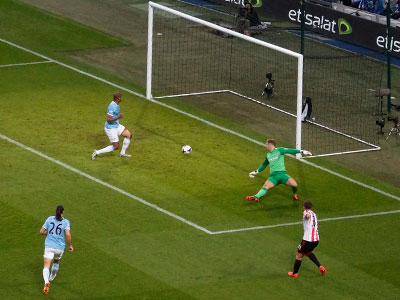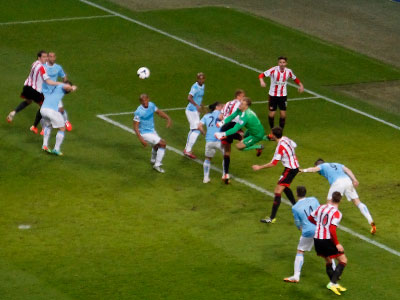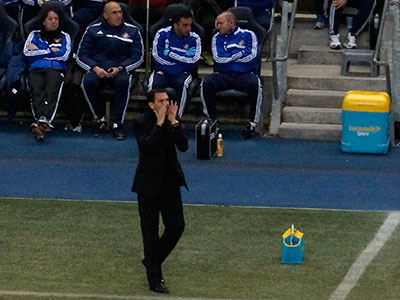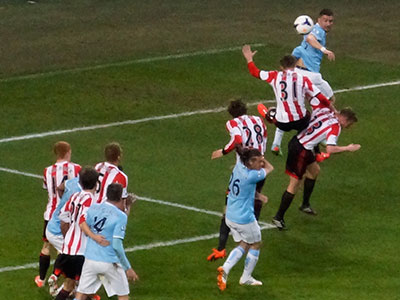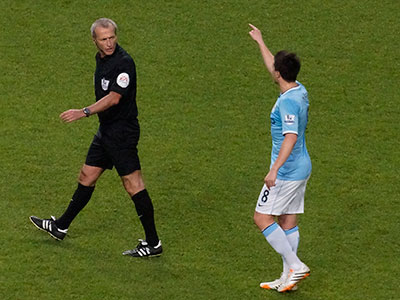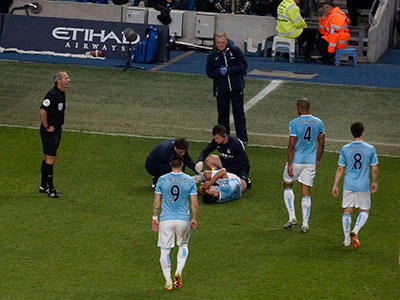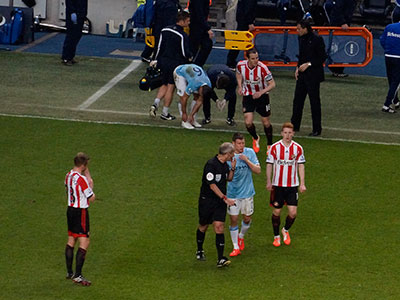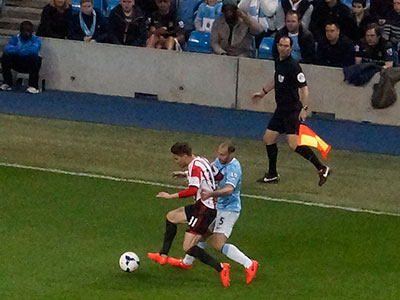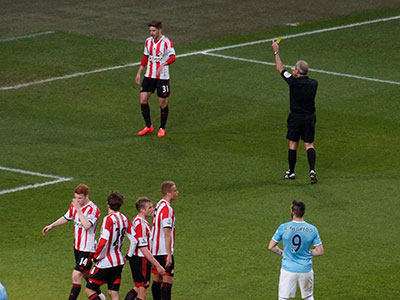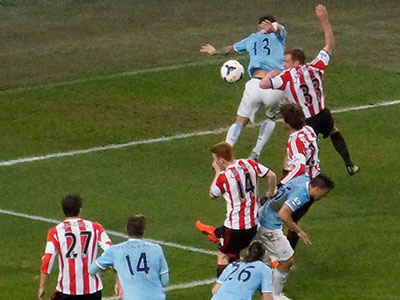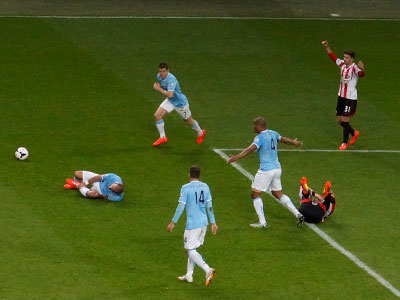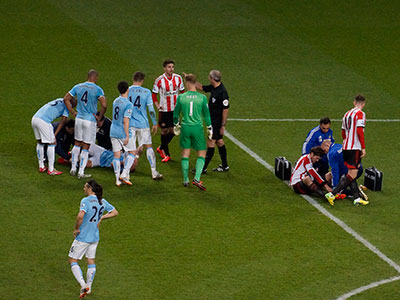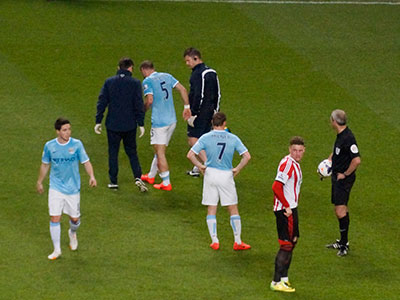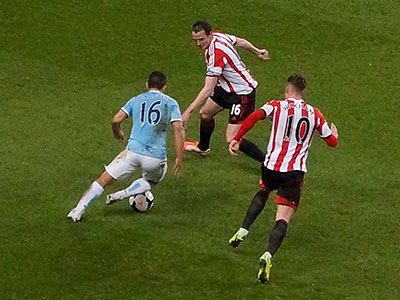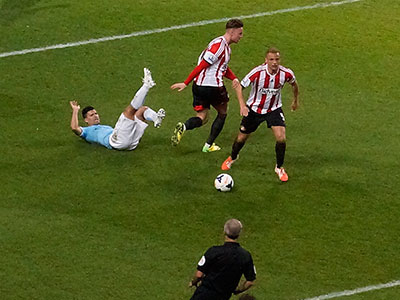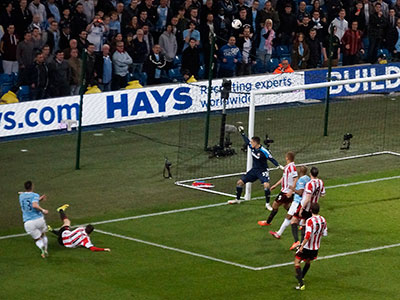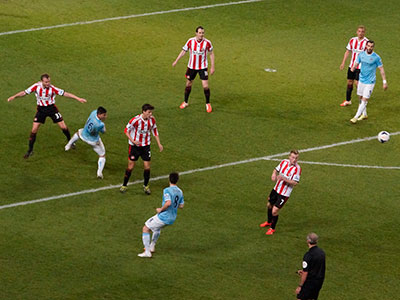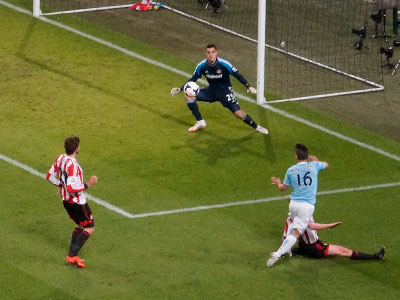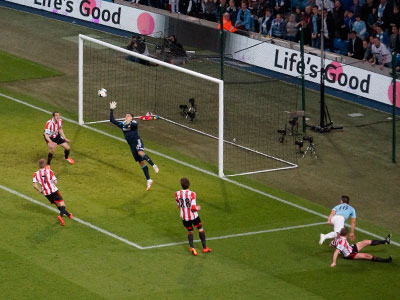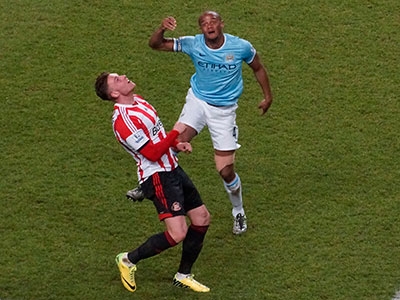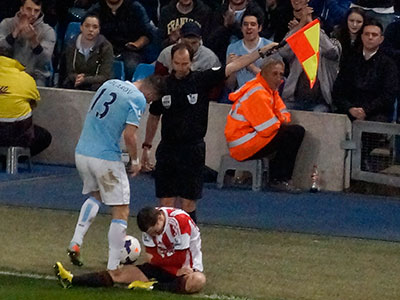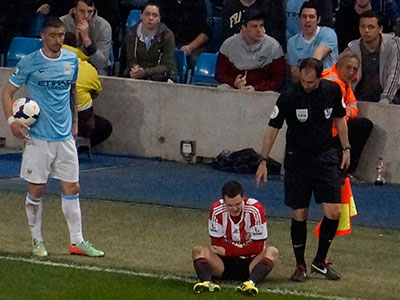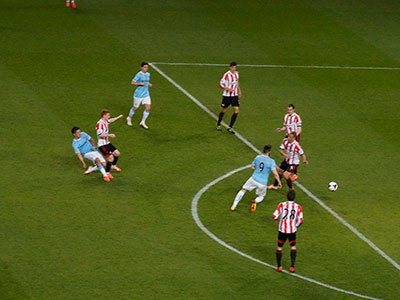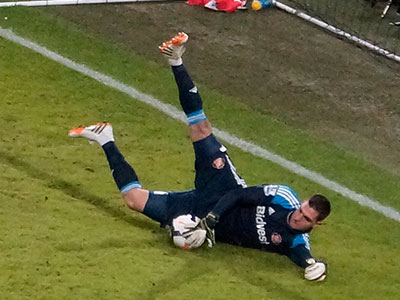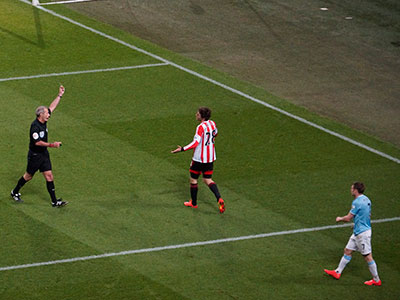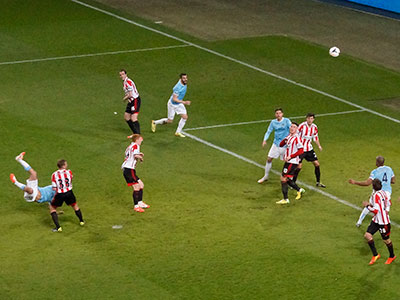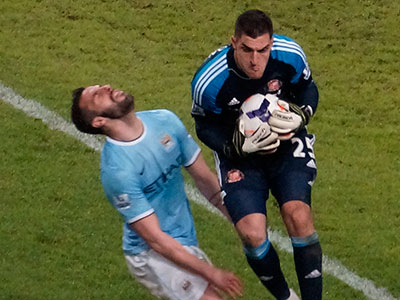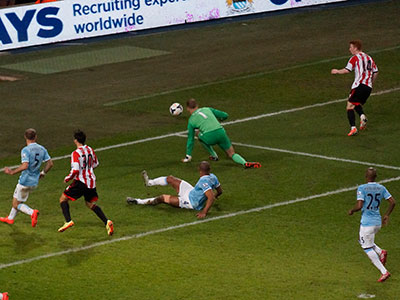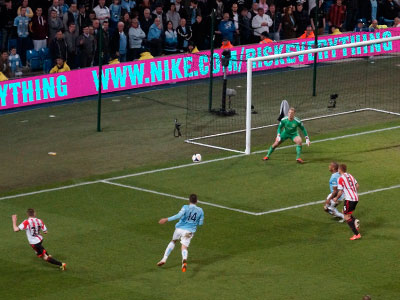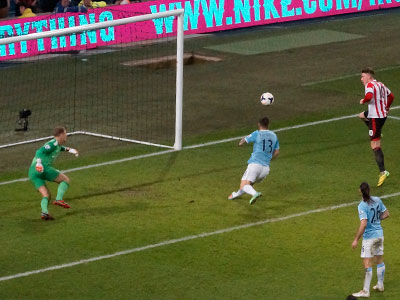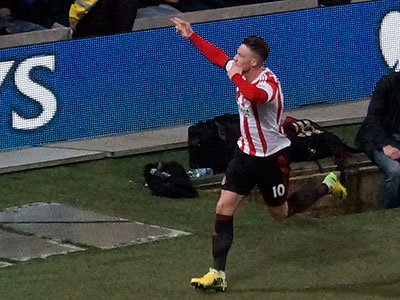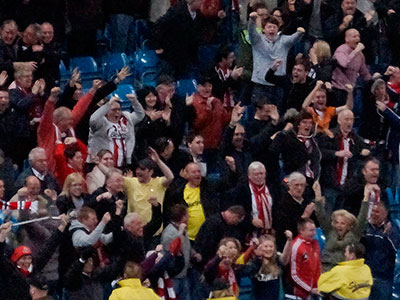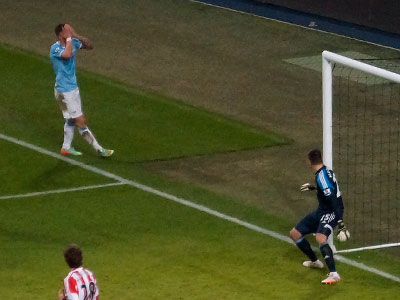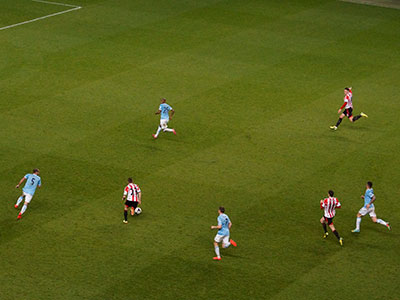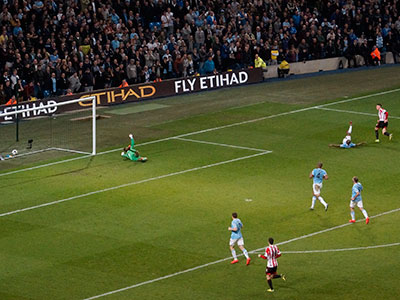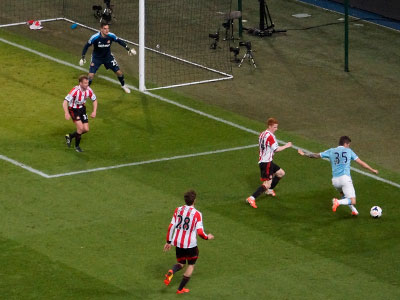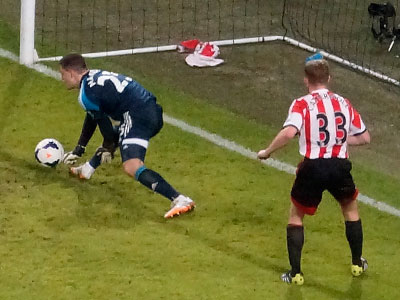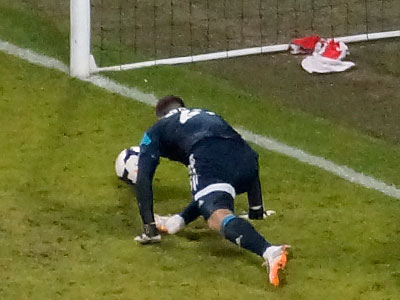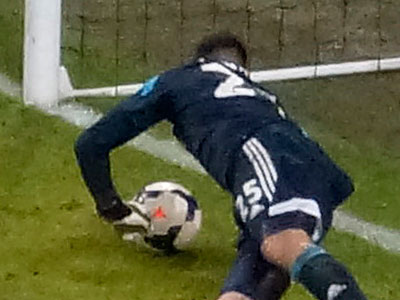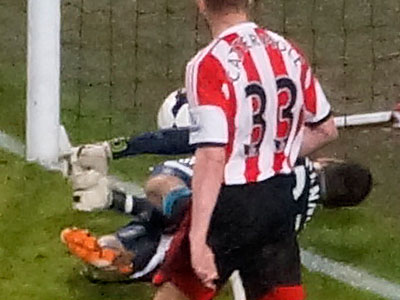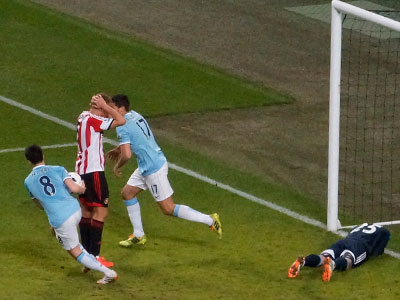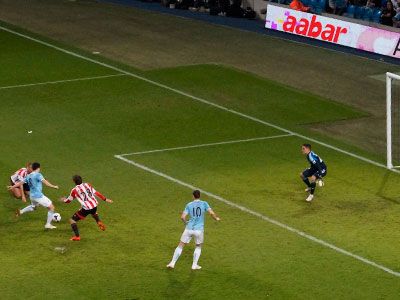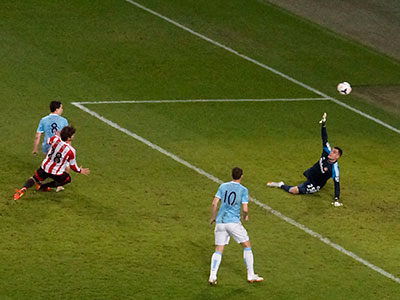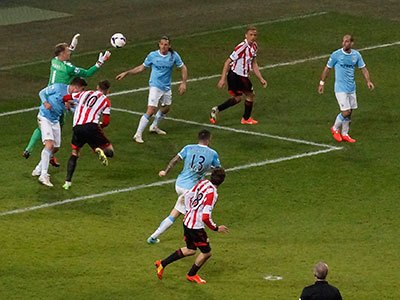 Kolarov replaced Clichy and Aguero started with Negredo up front . No Silva and Toure absent injured.
Sunderland had a noisy band of supporters
City got off to a good start and Negredo made the chance by fooling the Sunderland defence leaving the ball to the onrushing Fernandinho .....
....who beat the keeper to give City the lead after just 2 minutes
PLayers and supporters celebrated after yet another early goal -the 4th this season
on 5 minutes a header by O'Shea goes just wide - an early warning for City as the sun went down
Another header by O'Shea - just over the bar
Demichelis under pressure
After 17 minutes Borini had a good chance but fires just past the far post
Joe Hart punches clear a Sunderland corner
Sunderland manager Gus Poyet shouts instructions
Sunderland's turn to clear a corner
Nasri does not get a good response from referee Atkinson when he pointed out that Aguero was down injured
after treatment Aguero is able to continue
Borini clashes with Zabaleta and it ends up with a free kick for City and a yellow card for Borini
Sunderland manage to clear the free kick
Alonso and Zabaleta go down injured
After several minutes delay both players recover
on 43 minutes Aguero goes down in the box but no penalty
Cattermole clears for Sunderland and the first half ends with City a goal ahead
Aguero has a chance but fails to score early in the second half
ooops ! Zaba's in trouble
Adam Johnson is in the wars
On 62 minutes Jovetic - on for Aguero - has a shot saved by Mannone
Alonso gets a yellow card for a foul on Milner and from the free kick Jovetic tries an over head shot which goes over the bar
Negredo just fails to get the ball ahead of the keeper
72 minutes on the clock and its disaster for City- a cross by Giaccherini is met by Wickham who volleyed past Hart
The youngster and the visiting fans seemed quite pleased with the result -one each Oh dear!
a few minutes later and another effort by Jovetic goes just wide
On 82 minutes and a fast counter attack by Sunderland led to another great cross by Giaccherini which gave Wickham another chance which he took with glee and Sunderland were ahead - surely not!
as 90 minutes approached Jovetic crossed and Nasri shot and it looked like an easy save for the keeper but......
....the ball rolled over the line to give City an equalizer !!
City grabbed the ball and ran back quickly to the centre circle
In extra time Nasri had a great chance to win the game....
...but alas his shot went over the bar and after flurries at both ends the game ended in a draw and possibly an end to City's league winning hopes
Team
Hart 6.5, Zabaleta 6.5, Kompany 6'5, Demichelis 6.5, Kolarov 6, Milner 4, Garcia 5.5, Fernandinho 7 (Rodwell) , Nasri 6, Aguero 6.5 ( Jovetic 6.5) Negredo 6.5 (Dzeko)