As I move into the 90's I thought I would concentrate a bit on the umpteen special memories I have had over the past 90 years!
The list will not be in any special order
Incidentally the pic used for the above title was a picture I did aged 7 in May 1937 probably at Beaver Road School.
It was probably done to celebrate the coronation of George VI and Elizabeth on May 12th .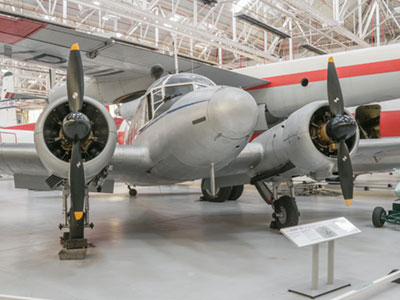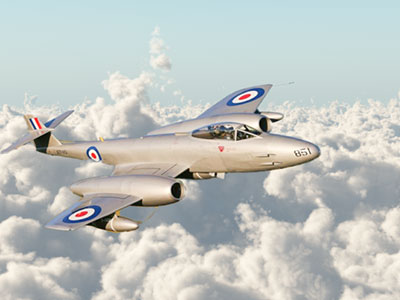 Having been called up for National Service in 1951 I was selected to go onto a Fighter Control course at RAF Middle Wallop.
As well as learning how to control aircraft by looking at moving dots on a monitor we also went airborne on Avro Anson aircraft to understand the other side of controlling.
On one occasion our Polish pilot gave me the chance of actually flying the aircraft for a short while - what a moment!
I was so excited that when we landed - before we actually came to a standstill I accidentally ejected the cabin door!
to quote Dads Army - you stupid boy!
After qualifying as a Fighter Controller my first posting was at RAF Seaton Snook in 1952 and I lived nearby at RAF Thornaby.
During this time I once went airborne in a Gloster Meteor two seater jet fighter. It was the first and only time I had to wear a parachute
Wow -the experience was amazing and in no time at all we were up near Edinburgh.
A never to forget day!
Little did I realize that many years later while working for the Army I would be flying in several different helicopters - more later.
Flying High in 1951 and 1956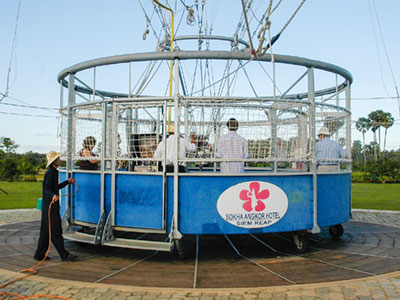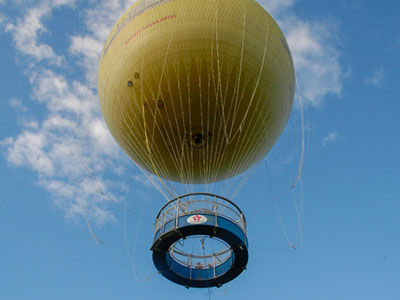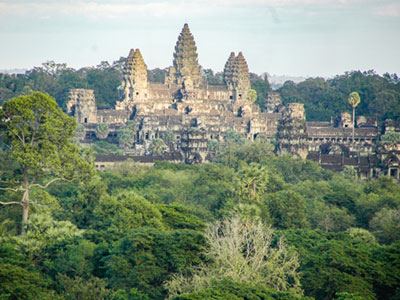 During a visit to Cambodia in 2005 I had my very first and only balloon flight - we did not have parachutes!
The main view was of the famous Angkor Wat - a World Heritage Site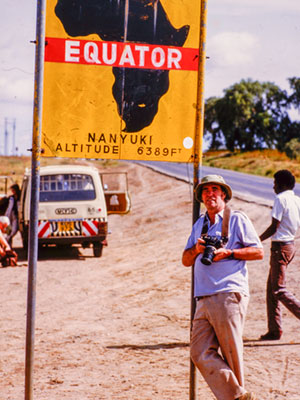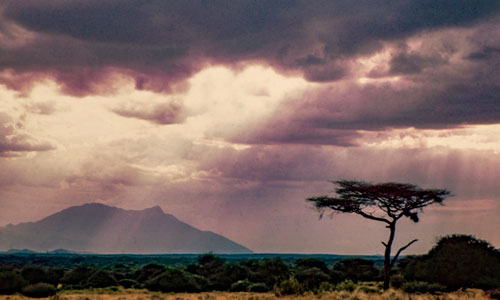 In 1985 I visited Kenya and one of the places visited was Nanyuki - near to Mount Kenya - and as it was near the equator I just had to stand on the equator itself.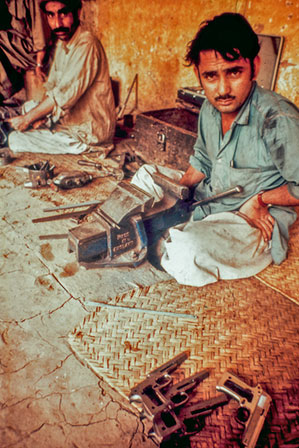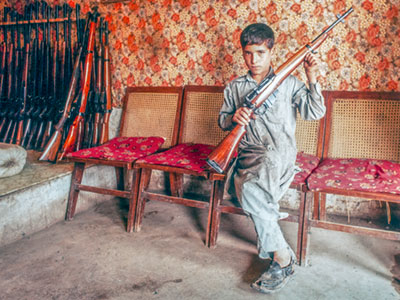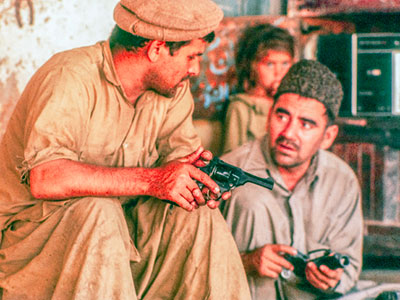 In 1976 I visited Pakistan to do a presentation to the Tourist Office.
During the visit I took the opportunity to visit the Khyber Pass and a small village - Darra Adamkhel about 25 miles from Peshawar.
This tribal village is home to many gunsmiths and you could see all kinds of weapons being made in the side streets. They are all hand made. I had to be very careful when taking pictures as at that time there were not many European visitors.
Another first on this trip was the loss of my suitcase ! Apparently the handle was broken in UK and only got it back in the final days in Karachi!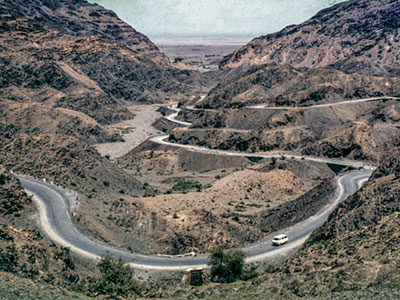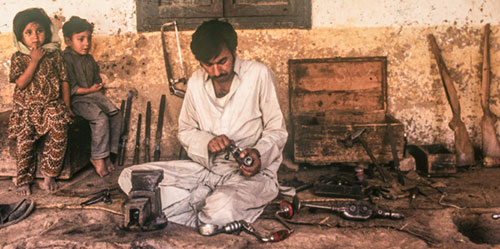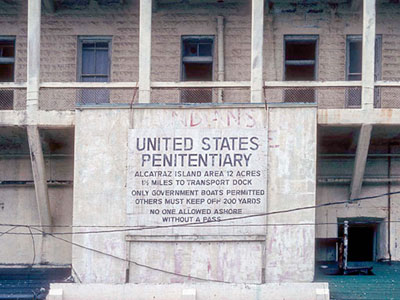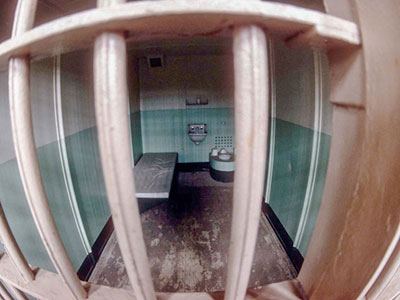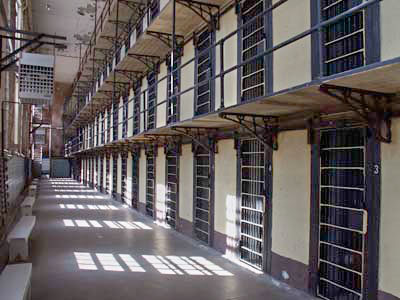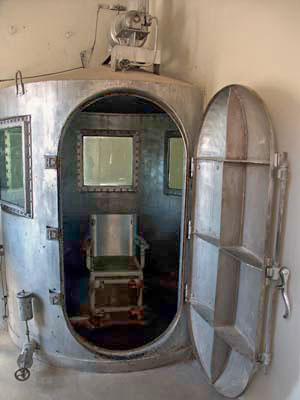 It was in 1983 that I was in a USA prison - as a visitor of course! Having arrived in San Francisco I could not resist going to Alcatraz and I did have the experience of being locked in a dark cell for a few minutes! It is a major tourist attraction.
In 2002 I visited another prison which was in Rawlings in Wyoming . It had only closed in 1981 and on the right you can see the gas chamber which replaced hanging in 1937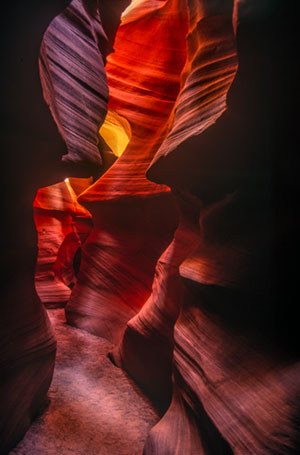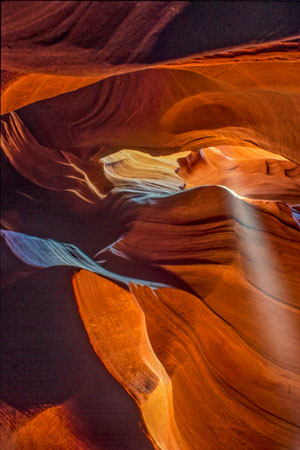 Antelope Canyon is an area in Arizona I have visited several times. It is just east of Page and is one of the few places that you can get the best pics at noon when the sun is overhead and you can capture the beams of light coming through the slots.. There are two areas both in Navaho territory .It can be dangerous too in Lower Antelope as people have been killed when there have been flash floods. The last in 1997. I have been there 3 times -1998, 2002 and 2008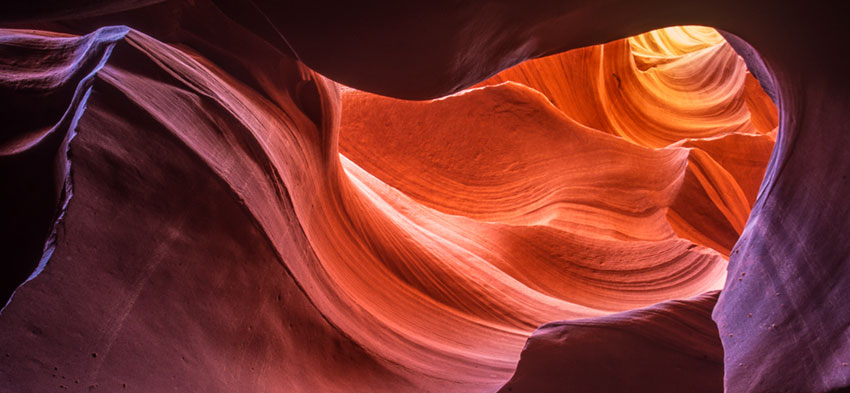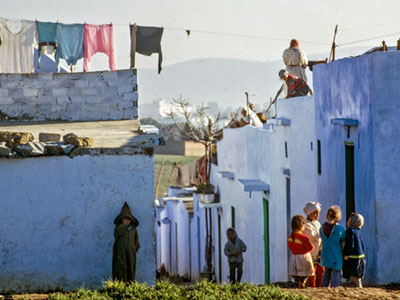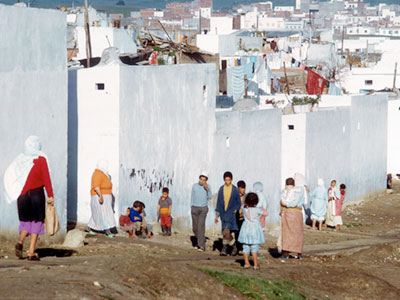 In the 70's I went to Gibraltar to take some images for the launch of the Nikon EL and decided after a day or so I would get more interesting images in Tangier so I took the ferry over to Morocco. I hired a driver on arrival in Tangier and on the second day he drove me to an area on the edge of the city. I had just started taking the odd image - a couple above - when suddenly the car was surrounded by a large hostile group who began to attack the car. The driver tried to argue with them but I managed to persuade the driver to go - quickly! I hate to think what might have happened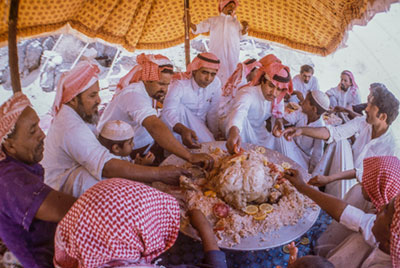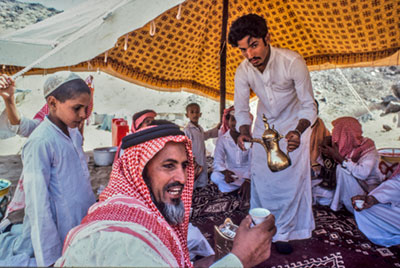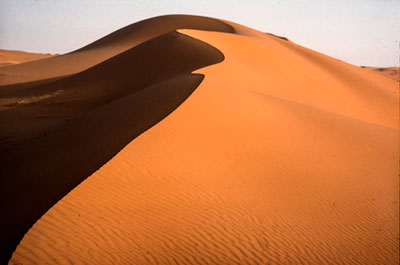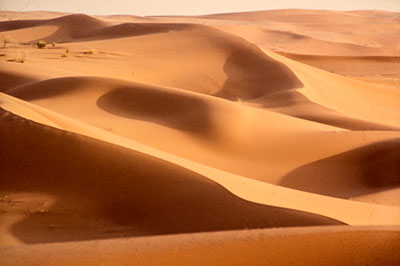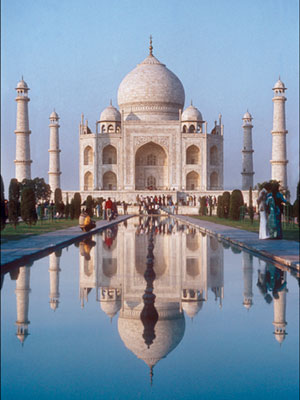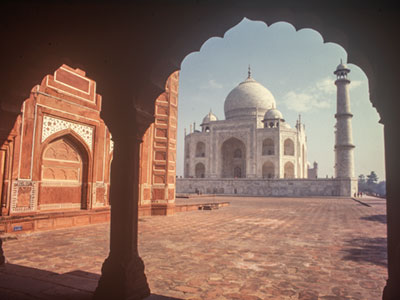 Working for Saudia Catering as a free lance for several years led to me being in Saudia Arabia many times in the 80's and I soon learnt that at weekends many locals went out into the desert for relaxation. I joined them on several occasions and it also gave me the chance to shoot some pics of the sand dunes in the early morning.
The first sight of the Taj Mahal is memorable and mine was in 1980. It is a World Heritage site now - designated in 1983.
Went on to Nepal for a glimpse of Everest
The image below was used as a poster in an early Kill Bill film I understand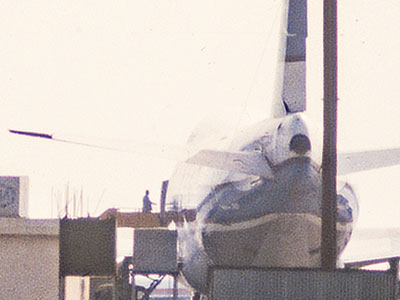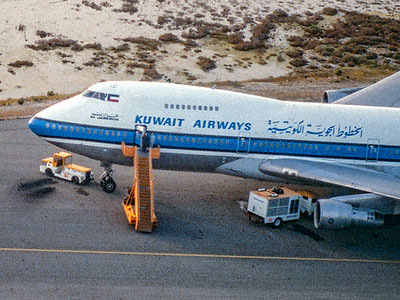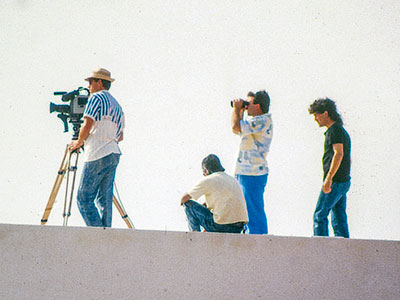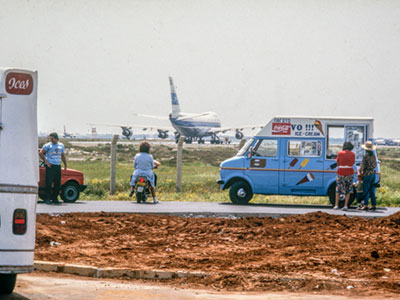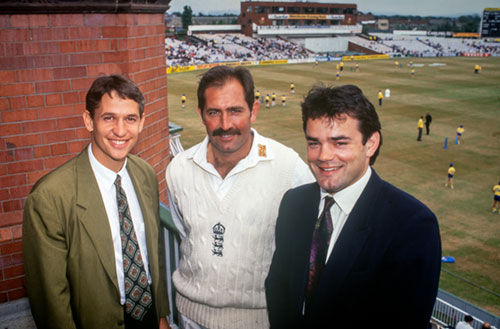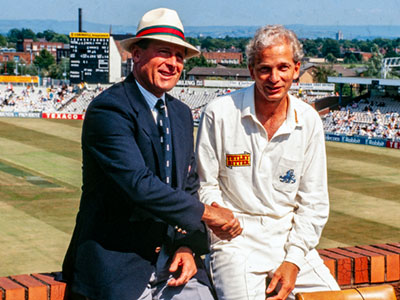 In early April 1988 I was in Cyprus for a script meeting for a video for a client. At breakfast at the hotel in Western Cyprus we heard that an aircraft had been hi-jacked and landed at Larnaca Airport. The three of us decided to leave straight away and we drove to a hotel near the airport. It's position allowed us to see the aircraft - a Kuwait Airways 747 Flight 422. The jumbo jet had been hijacked en route from Bangkok to Kuwait by several Lebanese guerillas and the hostage crisis lasted 16 days and covered three continents.
We were first to the hotel and beat BBC,Sky etc by several hours. The aircraft had landed at Larnaca to refuel at
9-10 pm after Damascus Airport in Syria refused to let it land.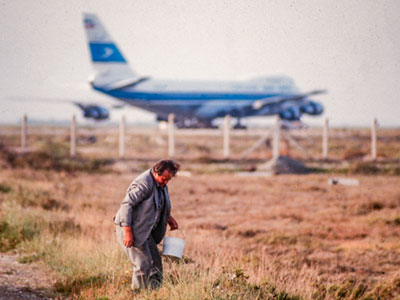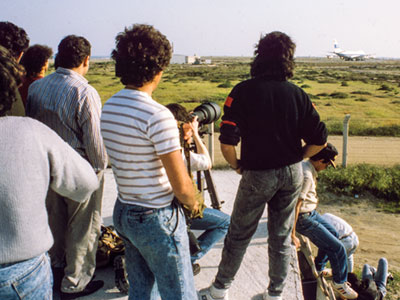 The hijackers were demanding the release of 17 pro-Iranian terrorists jailed in Kuwait
While many TV people and onlookers arrived to see the aircraft at least one person carried on with his work!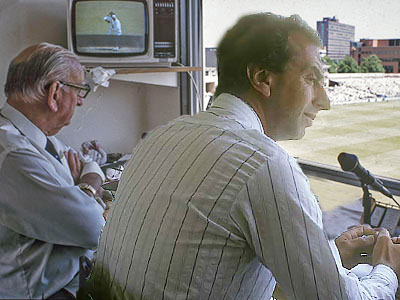 Geoff Boycott congratulates Gower on his Test run record
Test Match Special Box with David LLoyd and Brian Johnston
3 English Captains - Gary Lineker ,Graham Gooch and Will Carling
I had been taking some pics at the England v Pakistan test at Old Trafford in 1992 when I heard my name coming over the loudspeakers asking me to go to the secretary's office. I discovered that having lunch near the pavilion were Gary Lineker and Will Carling. I then took them to the England team dressing room balcony for the image on the right.
Later I was able to get some pics in the Test Match Special Box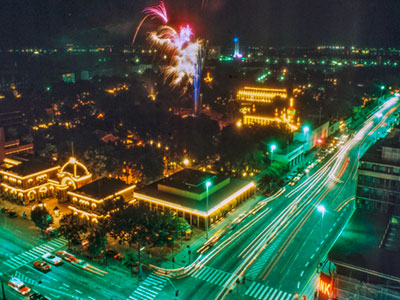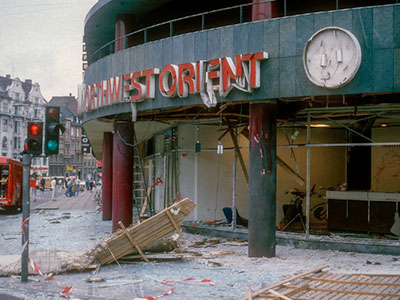 In July 1985 a bomb was thrown into the offices of Northwest Orient Airlines near the Vesterport station in Copenhagen injuring 27.
I had been staying at a hotel nearby. The shot of the Tivoli at night was taken from my hotel window the previous evening

.