England v West Indies day 2 Old Trafford Test
June 8th 2007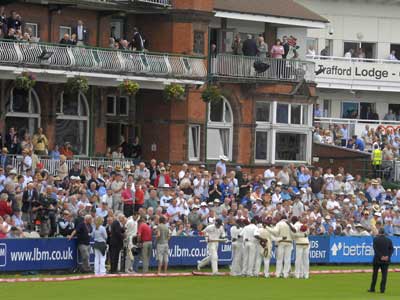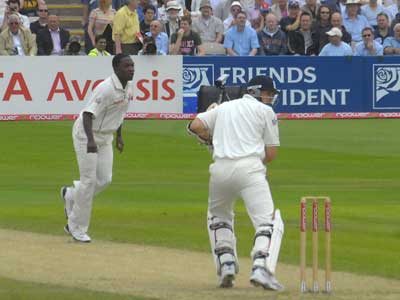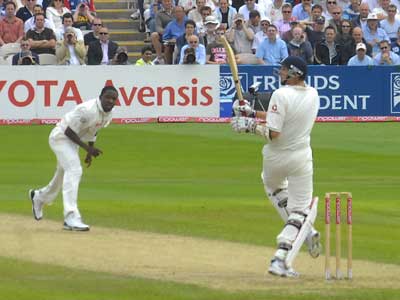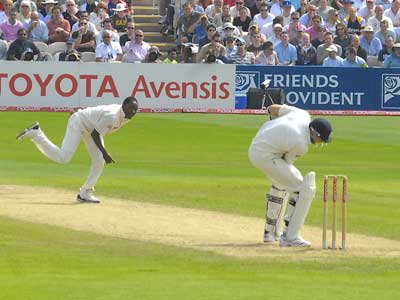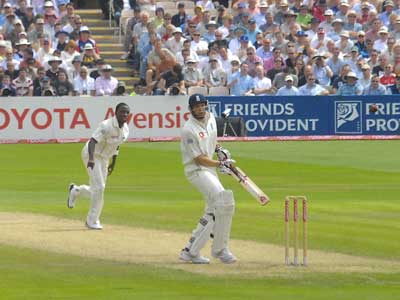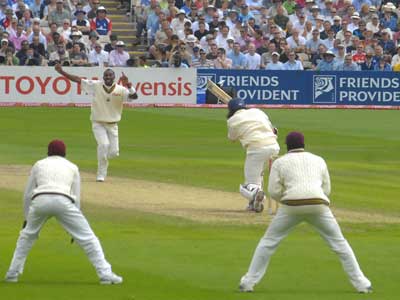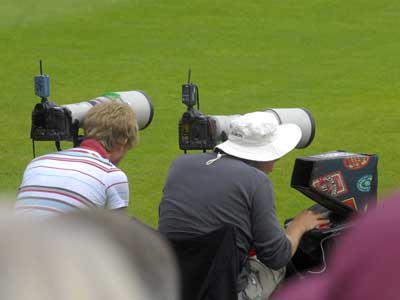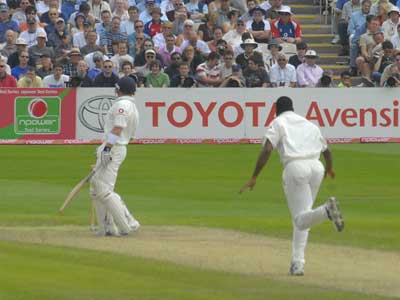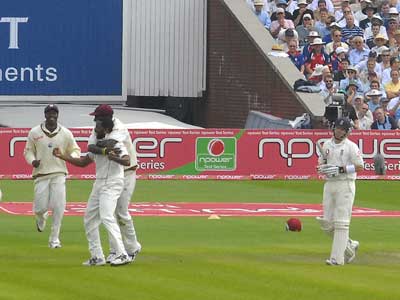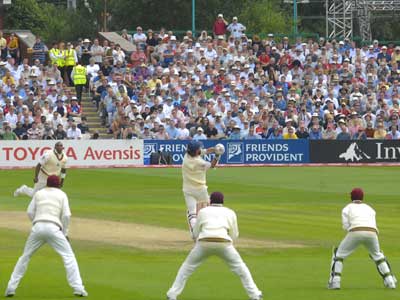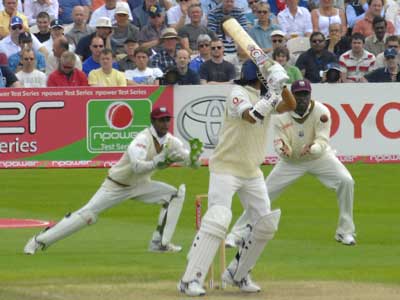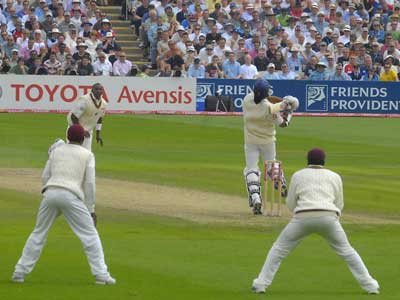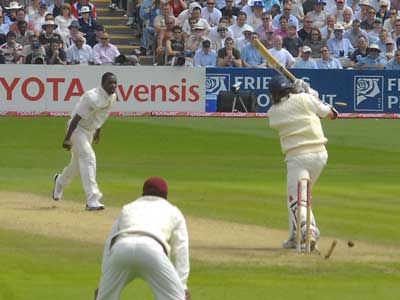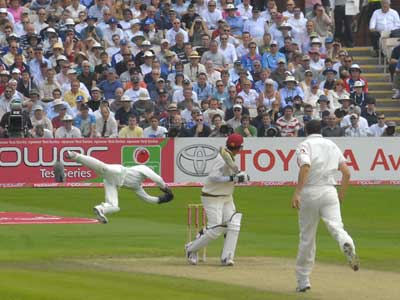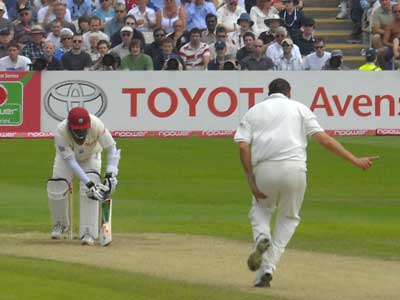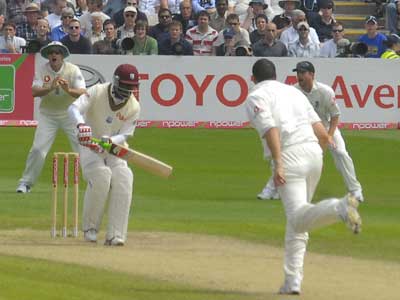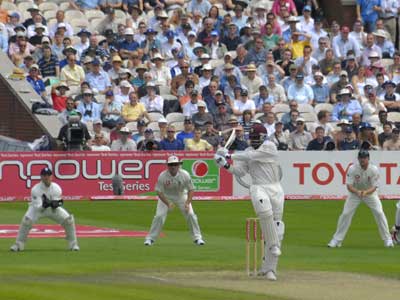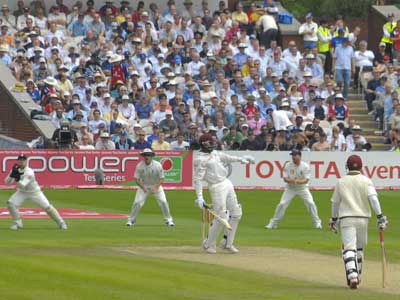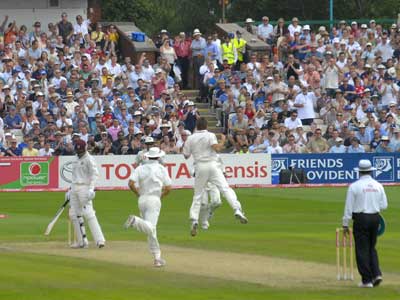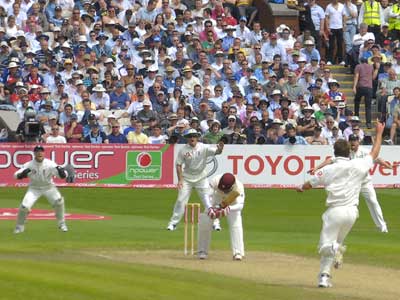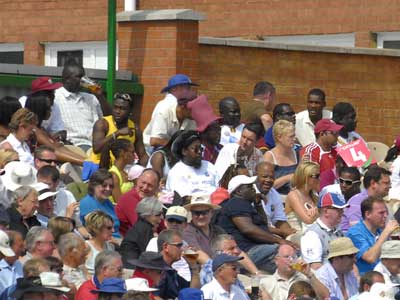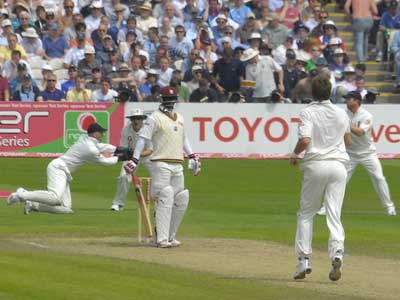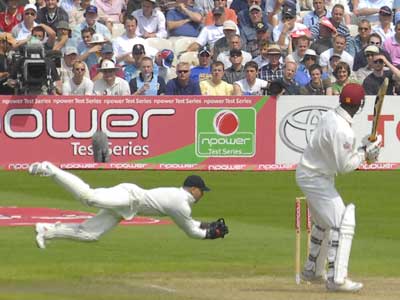 The second day of this 3rd Test at Old Trafford will be remembered for two things in particular. Some of the most wayward fast bowling ever seen by England and a batting collapse by a poor West Indies side. With extras totaling over 100 already we may have an unwanted world record of extras! At least it was not a boring day the weather at was very pleasant as well. Click on most of the images for a larger version. All images shot with Nikon D200 and Sigma 70-300 Zoom.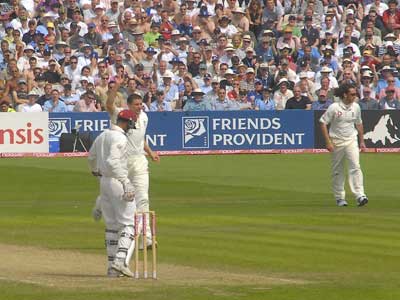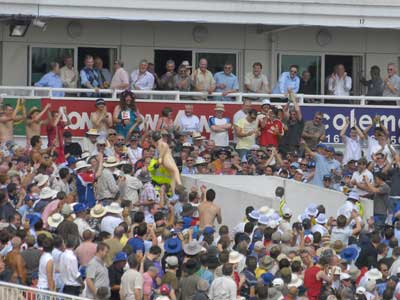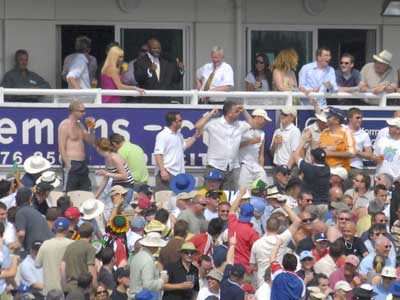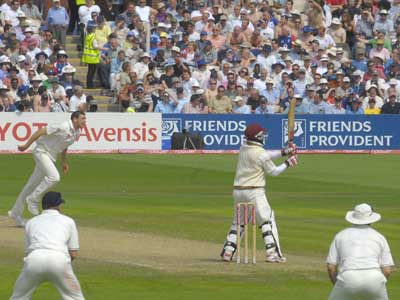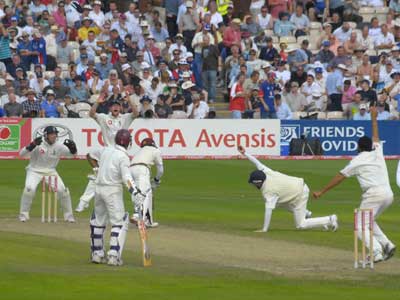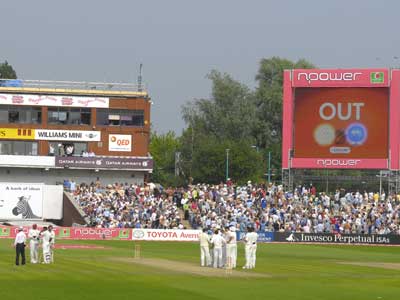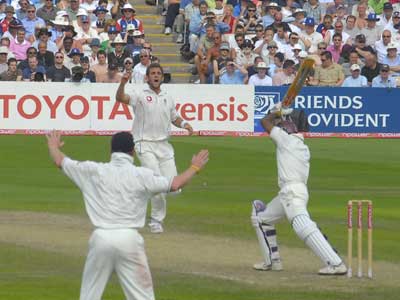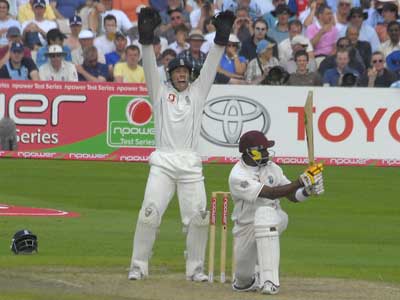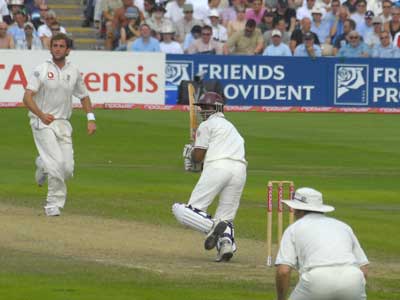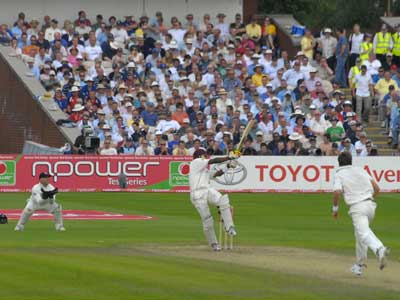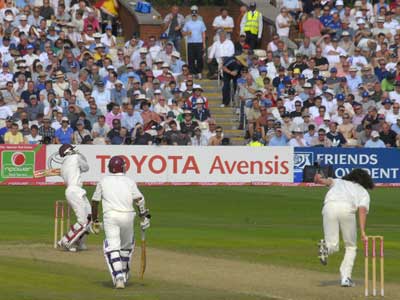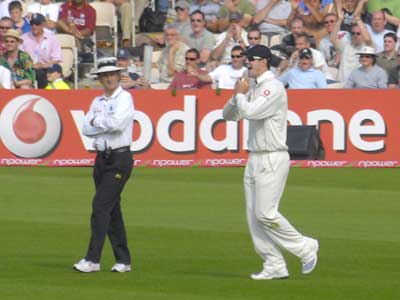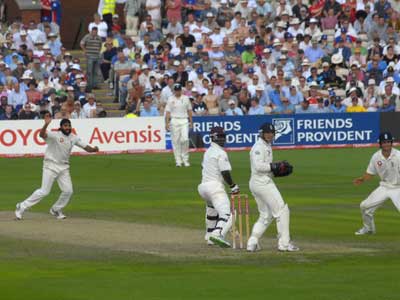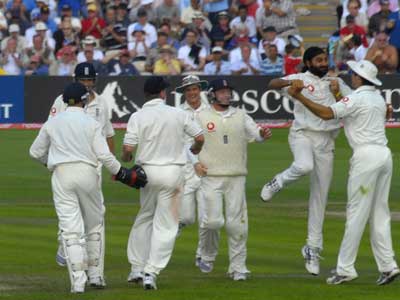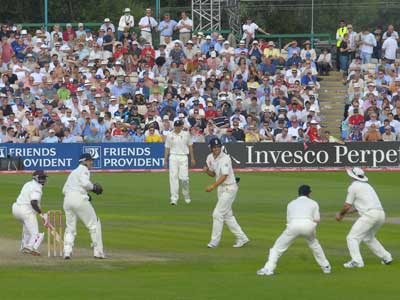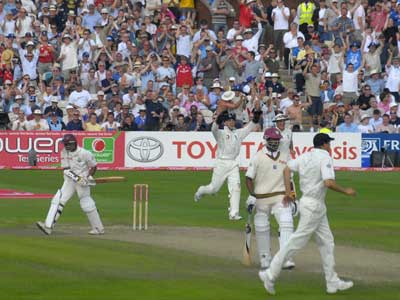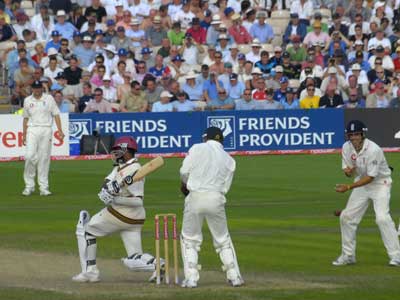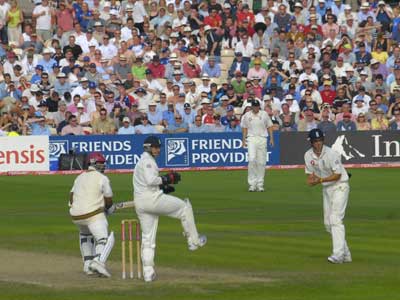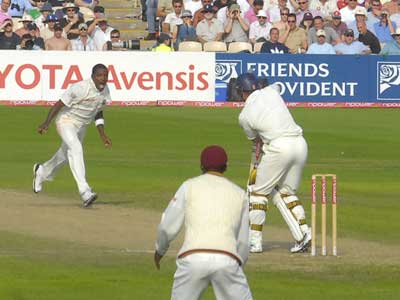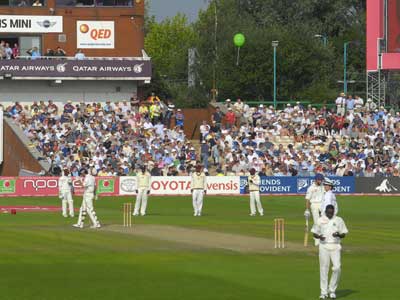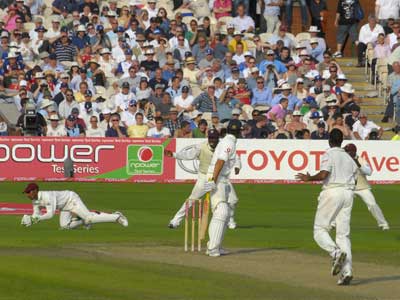 England were 296 for 7 overnight. Bell (77*) and Harmison emerge from the pavilion as the West Indians go into a huddle.
Botham and Gower were on duty for the Television coverage by Sky before the start of play
Harmison nicks a four off Edwards.
Harmison pulls Edwards for 2.
Harmison is head on the helmet by Edwards.
Eventually another short ball from Edwards has Harmison caught behind by Ramdin for an entertaining 18. England 324 for 8
New batsman Sidebottom survives an appeal by Bravo who had replaced Edwards at the Statham end
One of the photographers has a peep at the 'what the butler saw' .Note how wireless technology has taken over from pigeons!
At 338 Collymore had Bell caught behind for 97 and as the West Indies celebrate a disconsolate Bell leaves the wicket just three short of a deserved 100.
Sidebottom belts a four off Bravo
Monty Panesar almost edges
Monty hits a four off Bravo
Sidebottom is bowled for 15 by Edwards. England all out 370.
England's new bowling coach Alan Donald had obviously devised a fiendish plan for Harmison as the Durham bowlers' opening balls were sprayed so wide of the wicket that spectators either side of the sight screen were in danger of having to dodge the ball direct from the bowler. Then suddenly Harmison released a straight one and Ganga was so surprised he missed it and he was out leg before for 5. West Indies 1 for 17.
Harmison nearly has Smith out.
Gayle pulls Harmison for 4
Gayle has to avoid a short ball
West Indies lost their second wicket at 49 when Gayle is caught by Cook off Plunkett
Smith survives an appeal for leg before
Compared with previous years there were few West Indies supporters in the sell-out crowd.
Keeper Prior had plenty of practice diving to stop the wayward bowling this time from Plunkett. Extras was looking to be the top scorer!
Morton was next to go caught at slip by Strauss for 35 off Harmison who had switched ends. West Indies 3 for 116
The removal of this nude intruder by a steward caused great mirth from nearby fans.
Chris Eubank one of Britain's most eccentric boxers greets the crowd from the hotel balcony
Smith pulls Harmison for 4
At 157 Smith was caught low down by Bell off Monty Panesar and though the England fielders were pretty confident the umpire had to check with video replays to see if the ball had carried so we had to wait for the result on the electronic board.
Plunkett appeals against Chanderpaul
Bravo survives an appeal against Monty
Chanderpaul cuts Plunkett for 4
West Indies lost their 6th wicket at 224 when Ramdin mishit a pull and was caught easily by Pietersen for 5 off Sidebottom.
Sammy was next to go in the collapse. He was caught by Collingwood at slip for 1 off Monty Panesar. West Indies 7 for 225
Almost immediately Taylor was caught for a duck by Strauss off Monty and West Indies were 8 for 225
There was worse to follow when without a run being added , Chanderpaul was caught off Sidebottom for 50. Nine down for 225
Collymore and Edwards did not hold out for too long and the former was caught by Collingwood for 4 (above right) to end the West Indies innings at 229. At one time they were 216 for 4 so 6 wickets had gone for 13 runs and second highest scorer was Mr Extras with 42 !
England got a bad start when Strauss failed for the second time in the match. He was out for 0 leg before with only 1 on the board
We had an unusual sight when a green balloon stopped play as it hovered menacely over the wicket
Cook had a narrow escape off the bowling of Collymore but he managed to stay there with Vaughen to take the England score to 34 for the loss of Strauss.
I am afraid the chain of plastic glasses had a good way to go to beat last
Years test against Pakistan