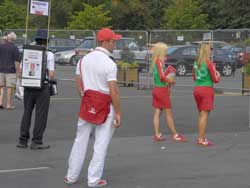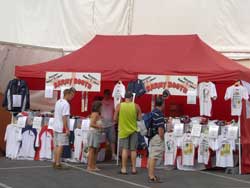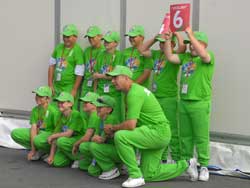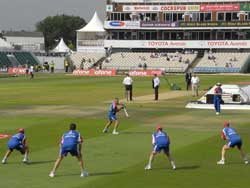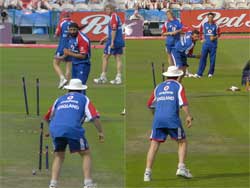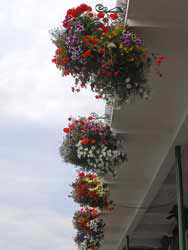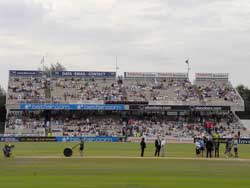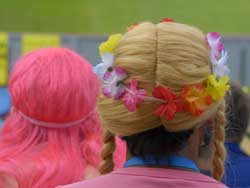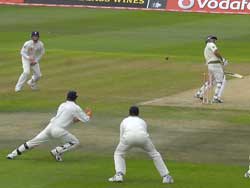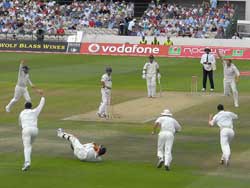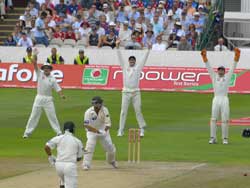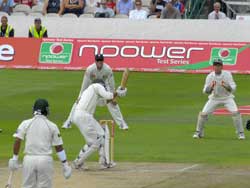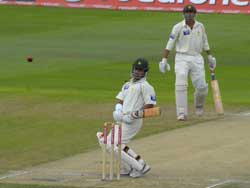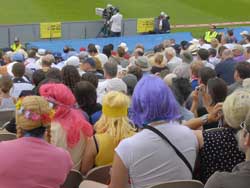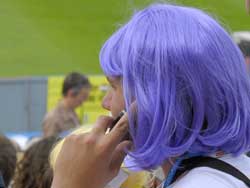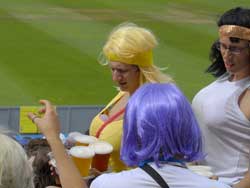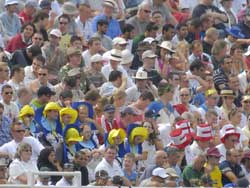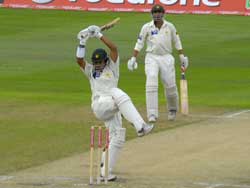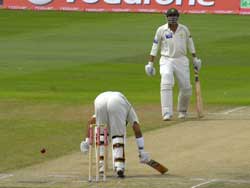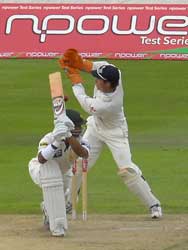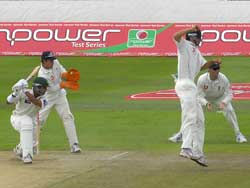 Imran Farhat battles away to keep Pakistan in the game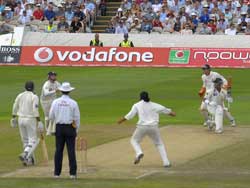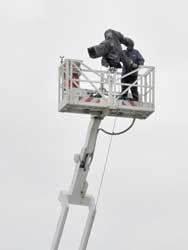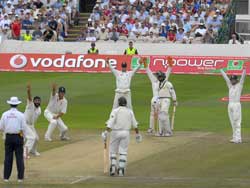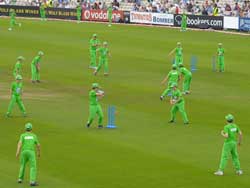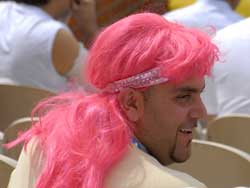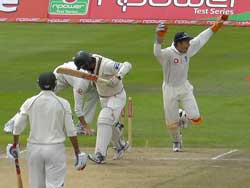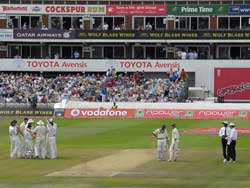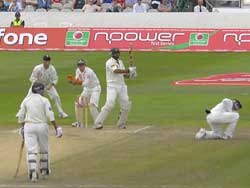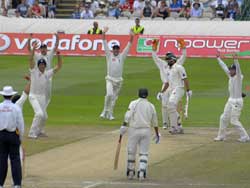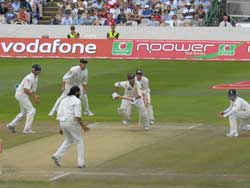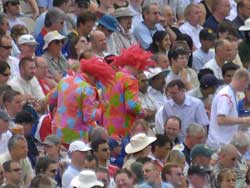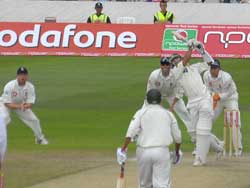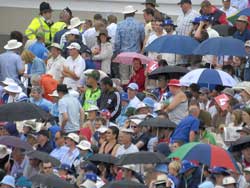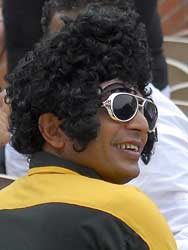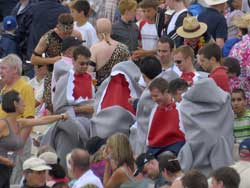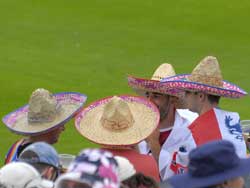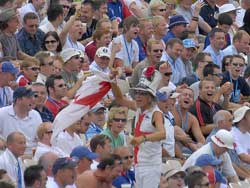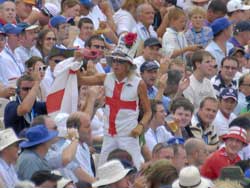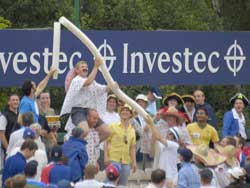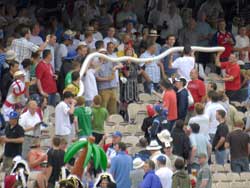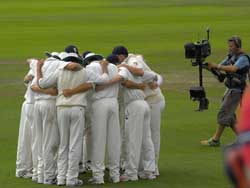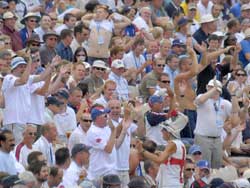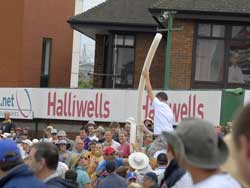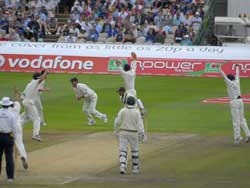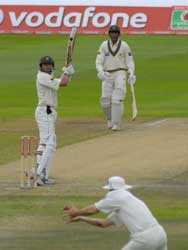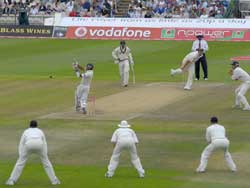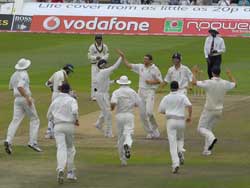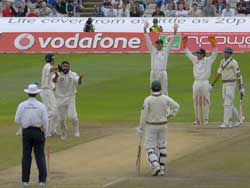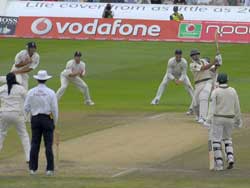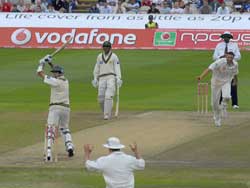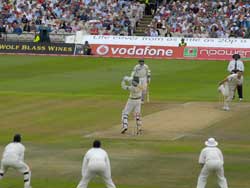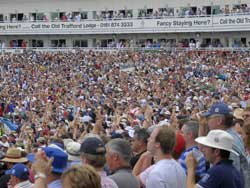 England v Pakistan 2nd Test at Old Trafford 3rd Day July 29th 2006
After the recent heat wave it was a more pleasant day at Old Trafford with Pakistan 12 for no wicket trying to save an innings defeat. Pakistan were all out for 119 on the 1st day and England replied with 461 so it was going to be tough going for the visitors. Click on an image for more details and a larger picture
Panoramic view from the pavilion
Both on and off the field preparations are made before start of play
The hanging baskets in the pavilion
Farhat and Khan struggle against Hoggard and Harmison
England made a quick breakthrough when Kamran Akmal edged Harmison to the keeper for 4 Pakistan 1 for 21
The light roller is applied
Strauss leads England out
Having taken the day off from their Finishing School these Ladies displayed all the delicacy and decorum necessary for attendance at a Test Match at Old Trafford
This Lady is using a modern method of communication to arrange a meeting with other Ladies for - a glass of sherry- perhaps!
Immediately after hitting Panesar for 4 Imran Farhat edged him to Bell at short leg to make Pakistan 2 for 60.
At lunch Pakistan were 101 for 2 with Younis Khan and Mohammad Yousuf at the wicket
After our Ladies enjoyed their luncheon it was back to action and an immediate wicket for England when Jones stumped Yousuf for 15 off Monty Panesar. It was a tight decision which went to the third umpire and TV replays
Inzaman cracked one four off Panesar before he was caught for 13 and shortly afterwards Younis Khan reached his 50
England's bid for victory was held up by the weather that was forecasted but just before they went off Pakistan lost their 5th wicket at 161
While they were off it gave the Sharks time to try out their West Side Story routine and Elvis enjoyed the attention while the four Amigos discussed the weather.
The Barmy Army always gave good support to the England team
During the rain break there was competition between different stands to see who could get the longest chain of plastic glasses
After the resumption of play with Pakistan 167 for 5 England were soon among the wickets with Harmison claiming quick three wickets as Pakistan collapsed to 194 for 8
England were on a roll and although crowd favorite Monty Panesar bowled well Umar Gul hit him for six
Harmison struck twice to dismiss Umar Gul and Abdul Razzaq - both caught behind by Jones - to finish off the innings and Pakistan were all out for 222 with the crowd enjoying the innings win for England. Harmison finished with 5 for 57 and Monty Panesar 5 for 72.