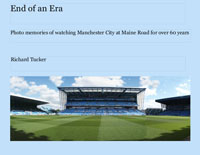 My book 'End of an Era' containing photo memories of days at Maine Road is now available from Blurb.com.
There are over 300 images on 200 pages.
Click on the image for details

At last - a bit of silverware to show - and I hope - the start of a new era in the life of Manchester City supporters. For too long we have been in the shadow of that other team based in Salford. This was a well deserved win over a below par Stoke City team. We passed them off the park and really the game should have been all over by half time. Good goal keeping by Sorensen saved Stoke on several occasions and Joe Hart only had one difficult save to make. Many Stoke shots were well wide. Their supporters would have been very disappointed in their efforts. Barry and De Jong ruled the midfield and Silva wove his magic across the Wembley turf to great effect. Tevez as usual worked his socks off up front and it was great to see him manage almost the full 90 minutes. Balotelli had one of his best games with many neat touches and one great shot which was well saved. He was once fouled by Huth who was lucky not to have been given a red card. Some of the stats show how much City dominated with 66% possession and 325 passes in opposing half compared to Stokes 107. Total passes was 417 against 218 and we won 93 % of the tackles compared to 55%. So a good day all round. With Arsenal slipping up against Villa we now have the chance to move into 3rd place if (sorry when) we beat Stoke again on Tuesday evening. There were 88,643 attending.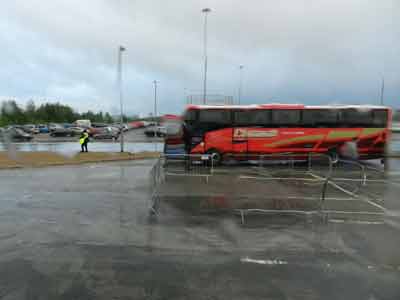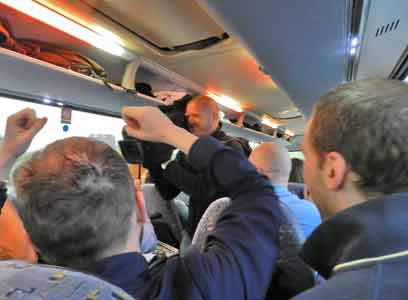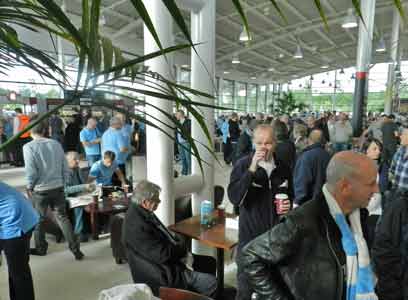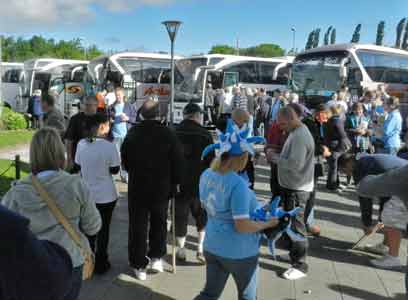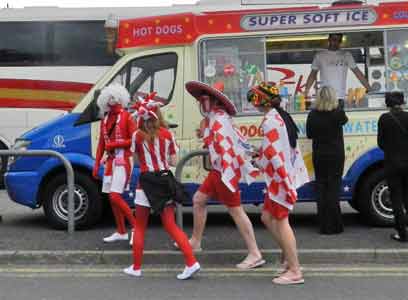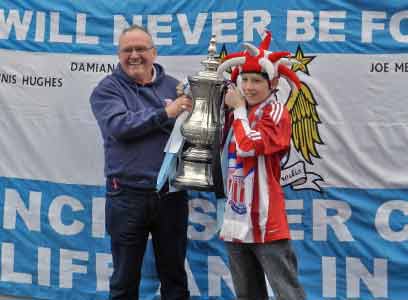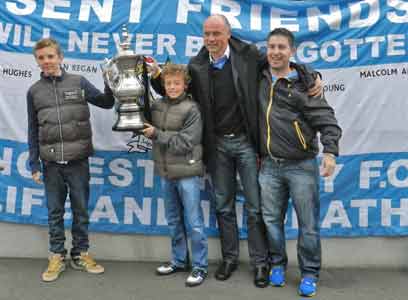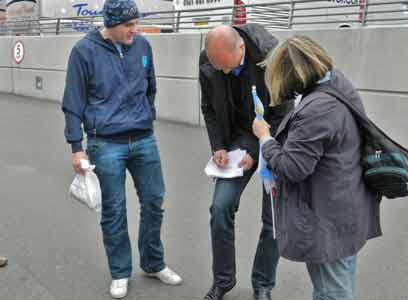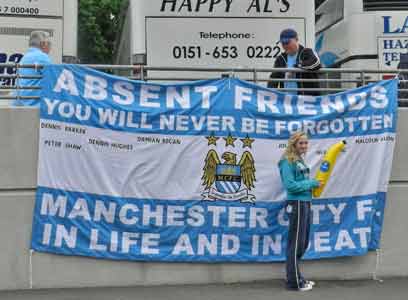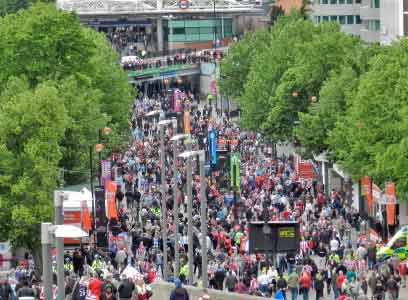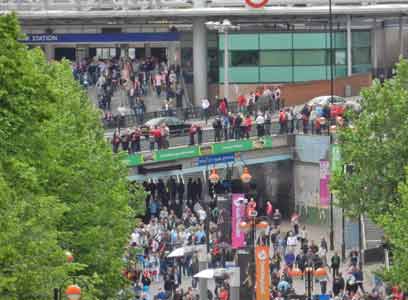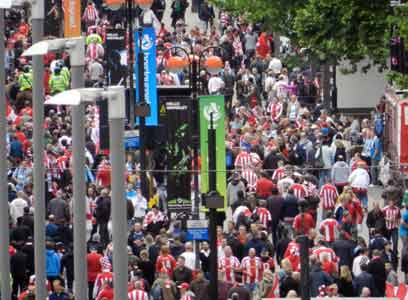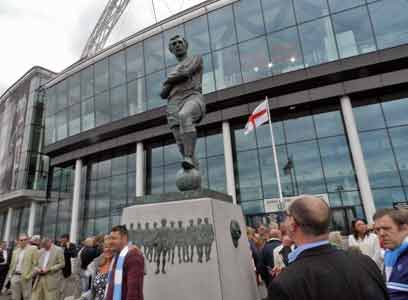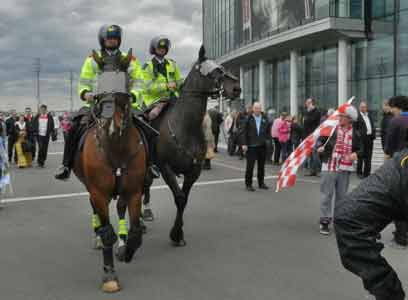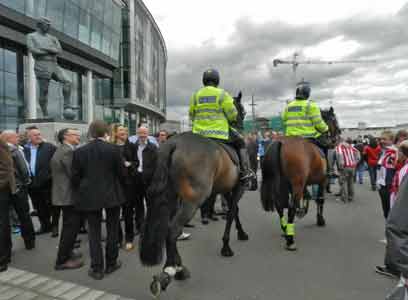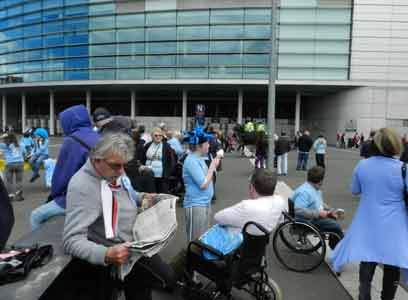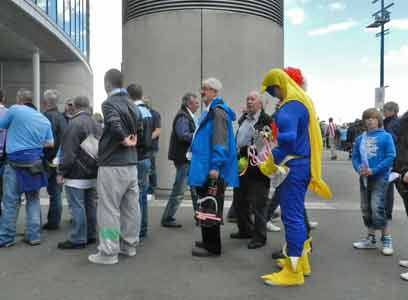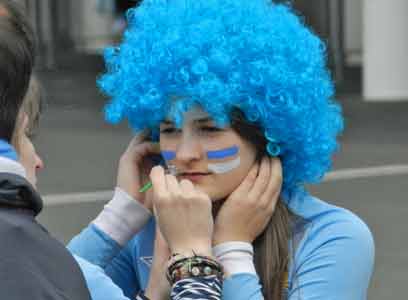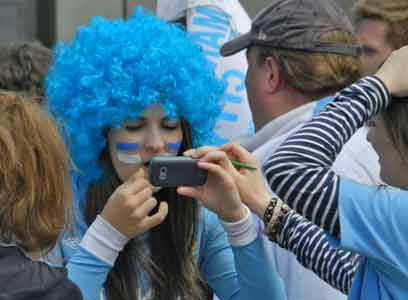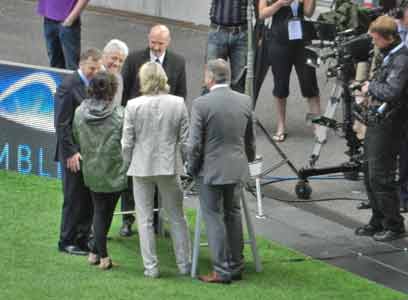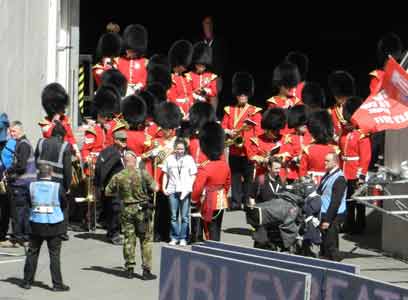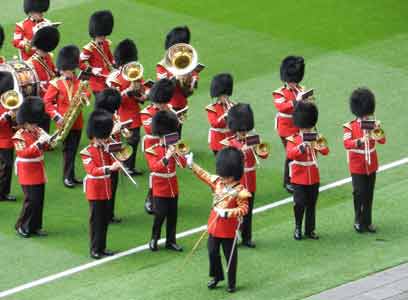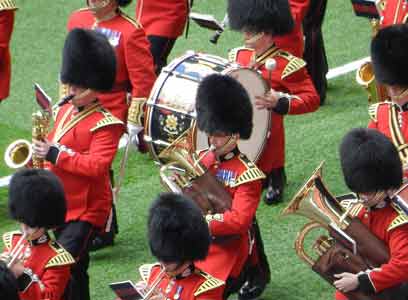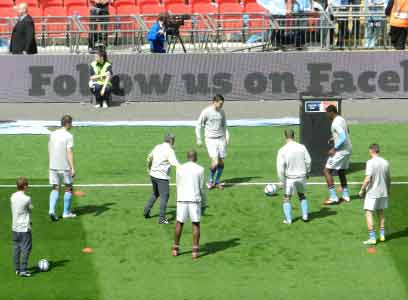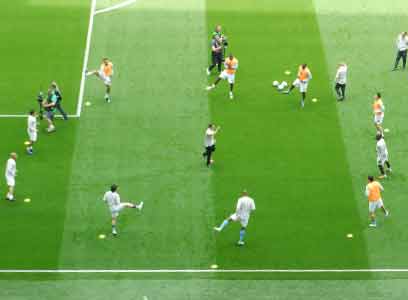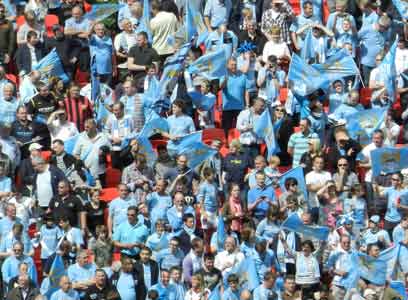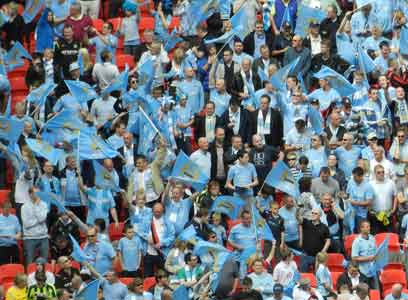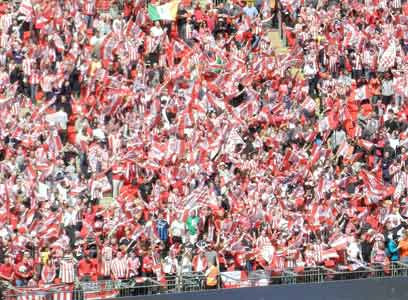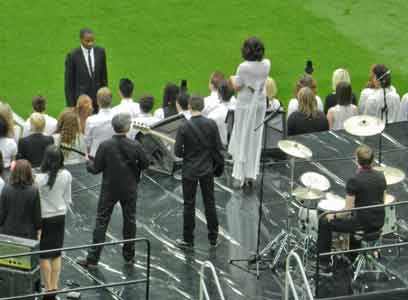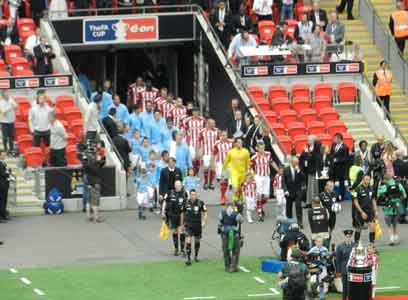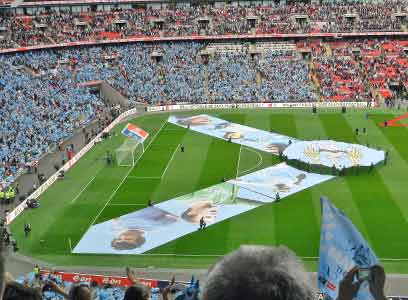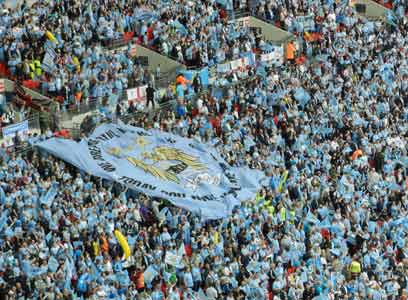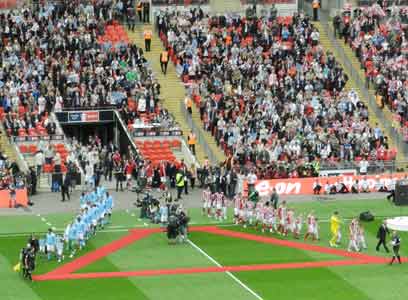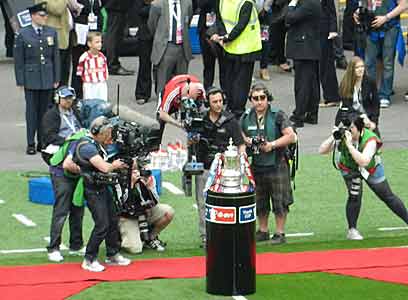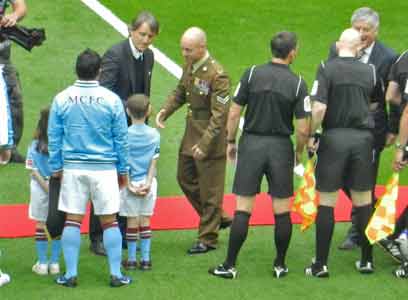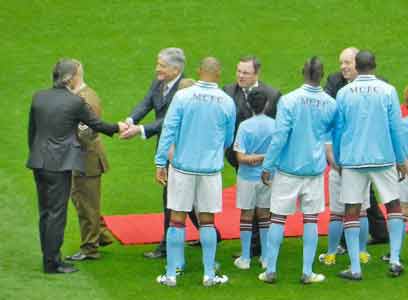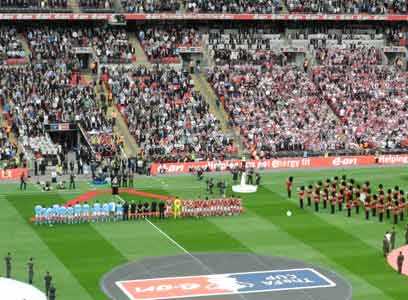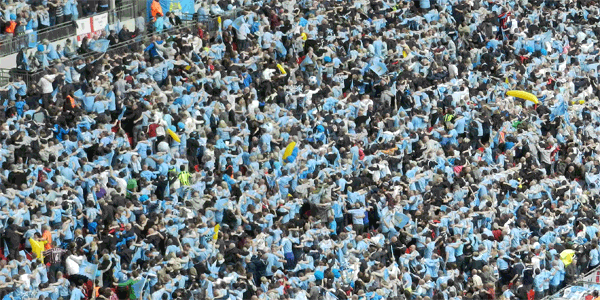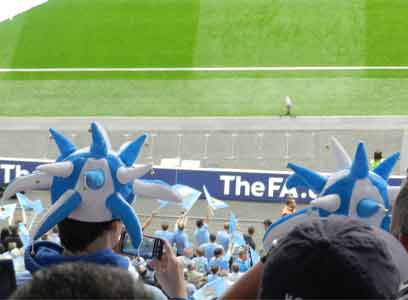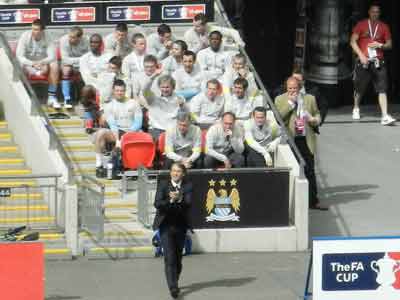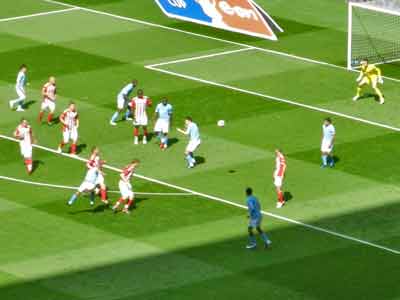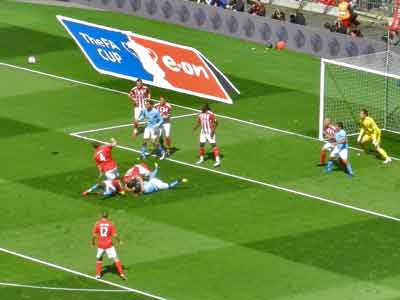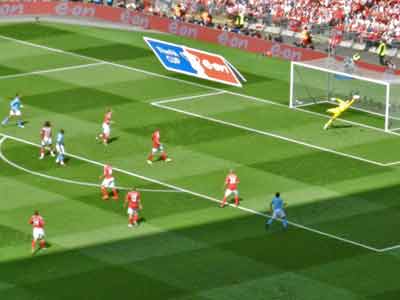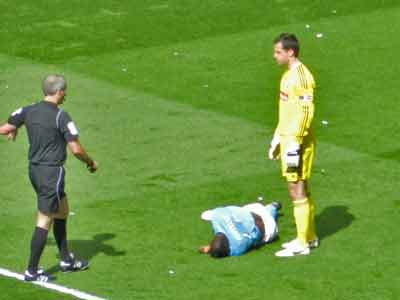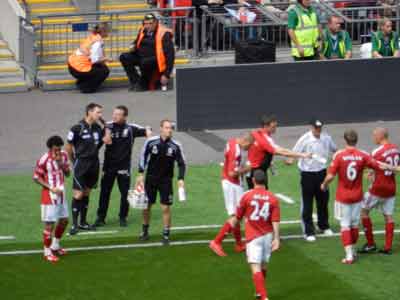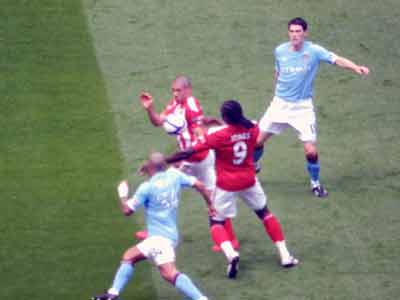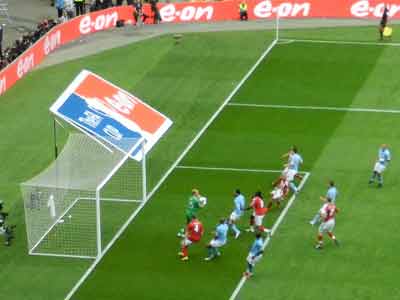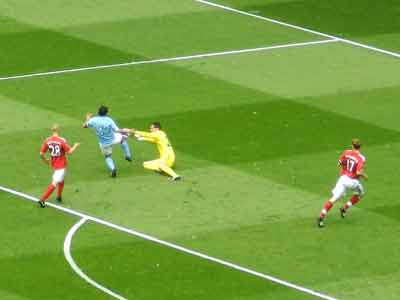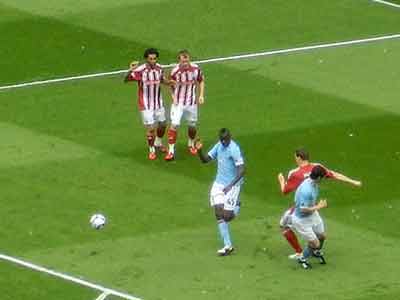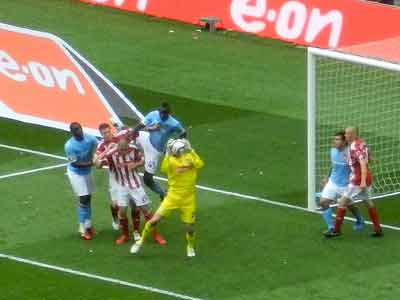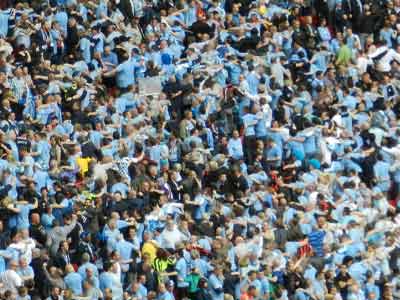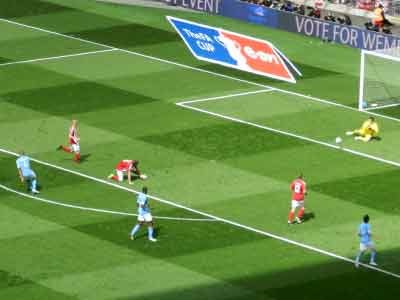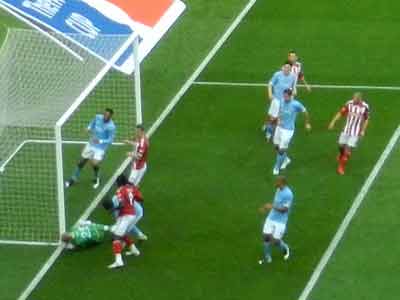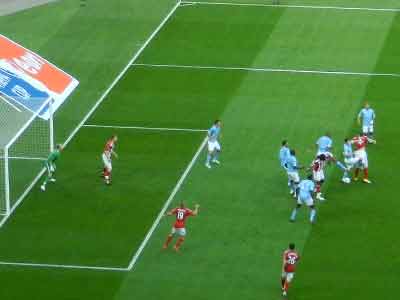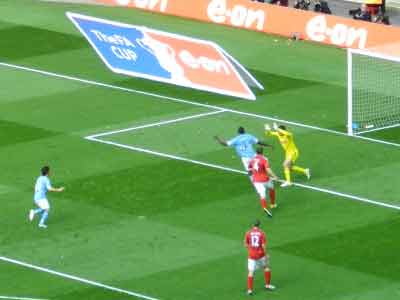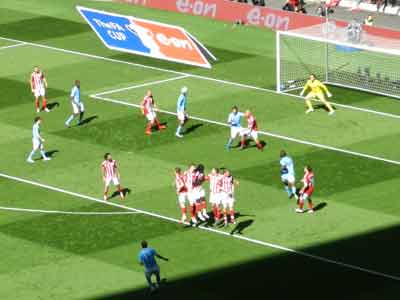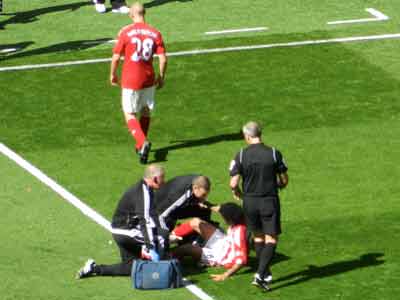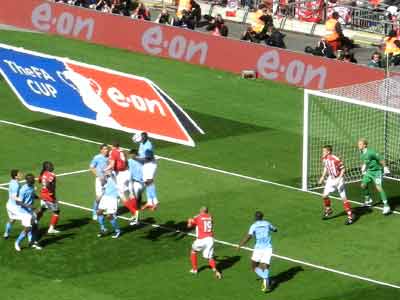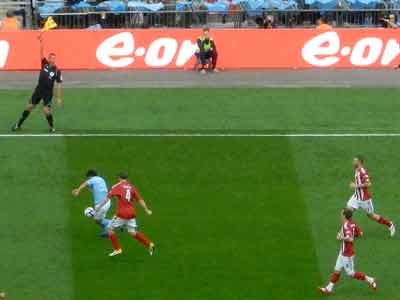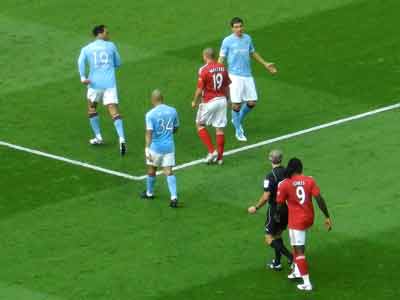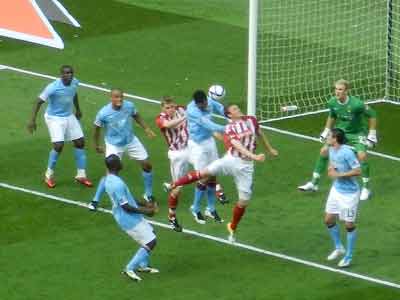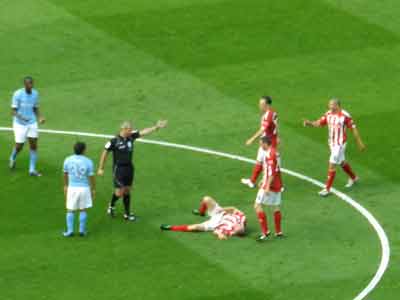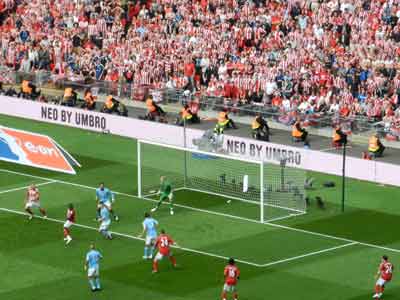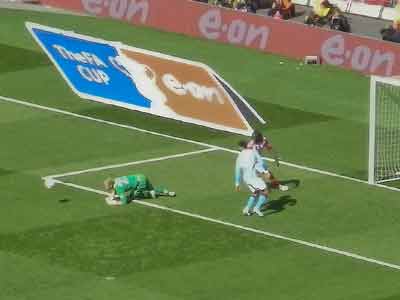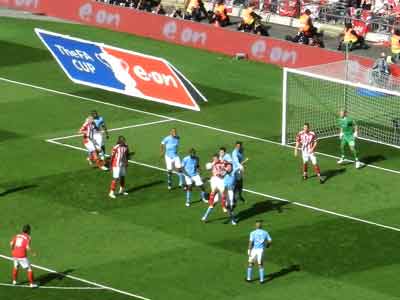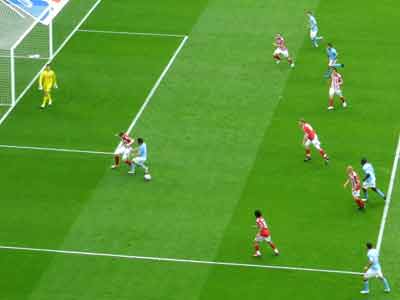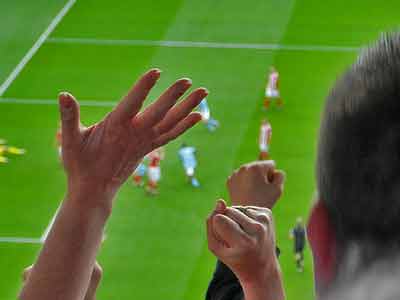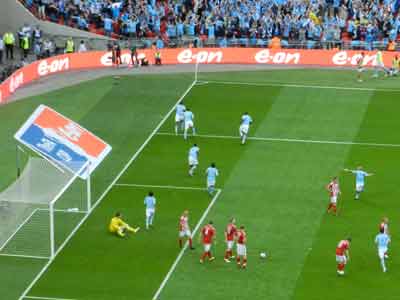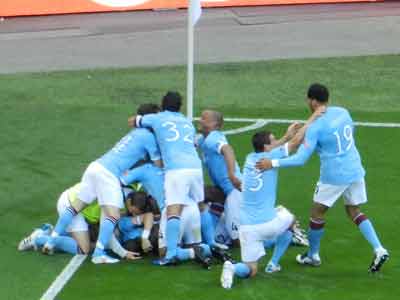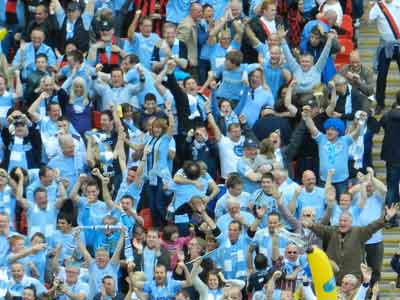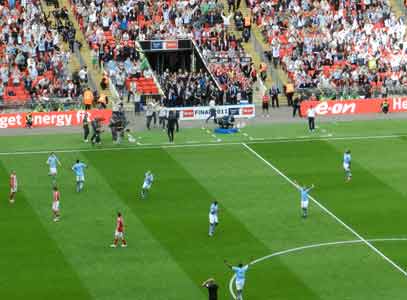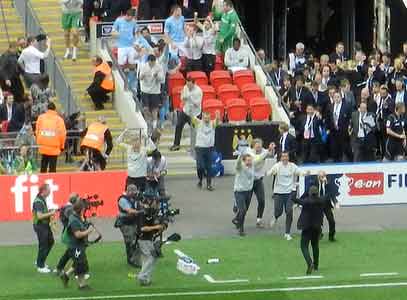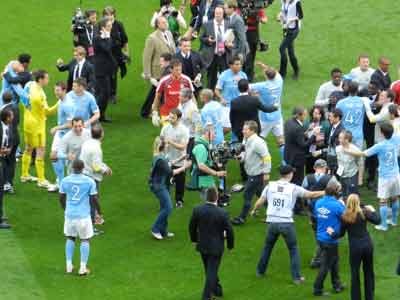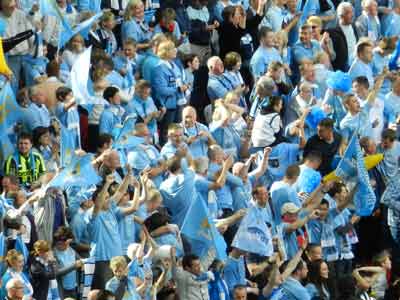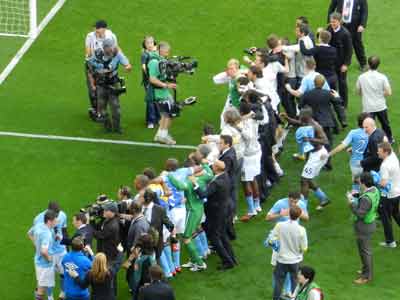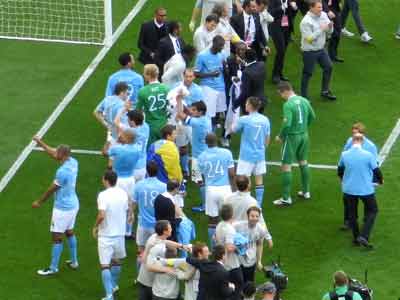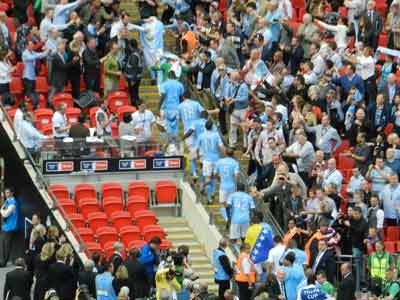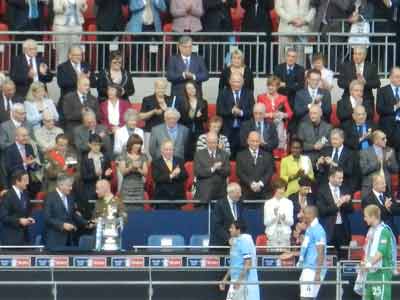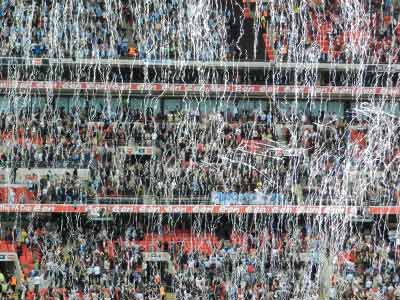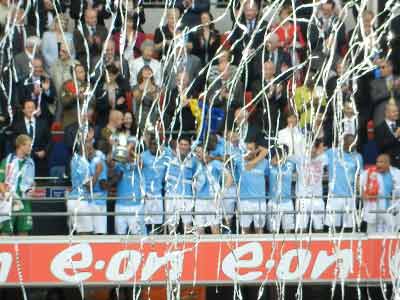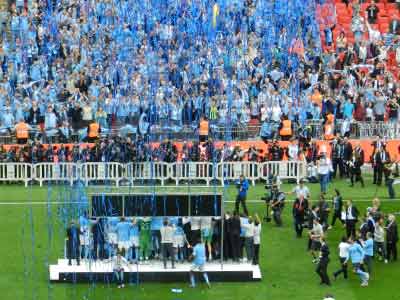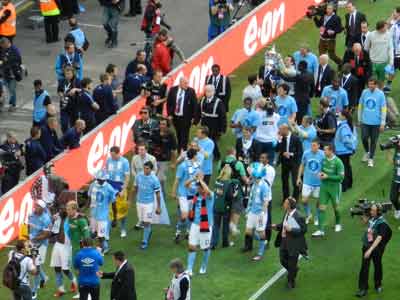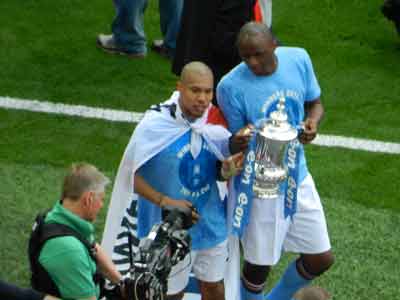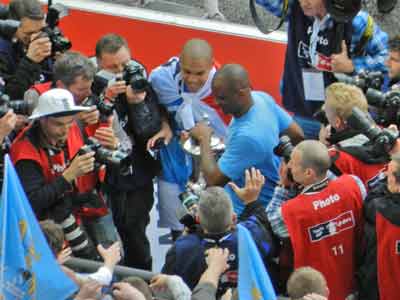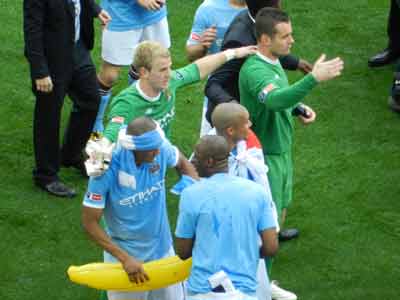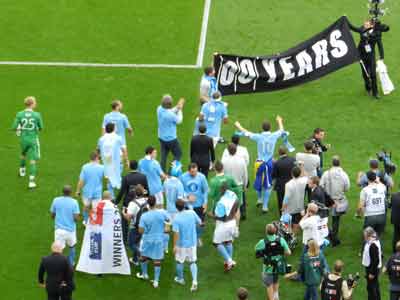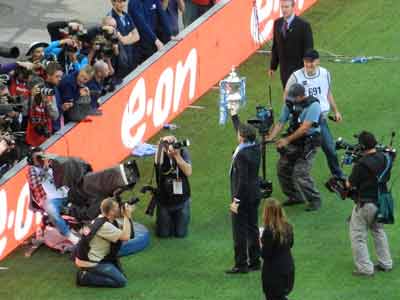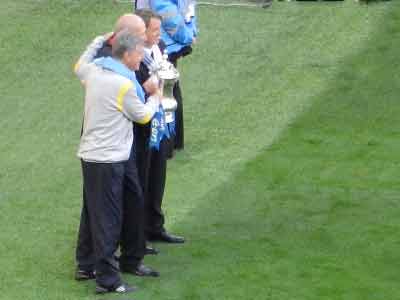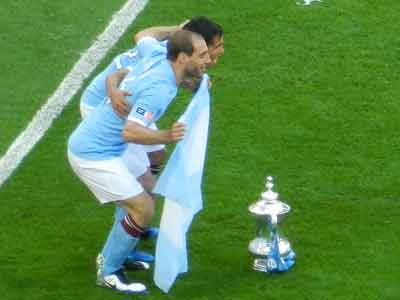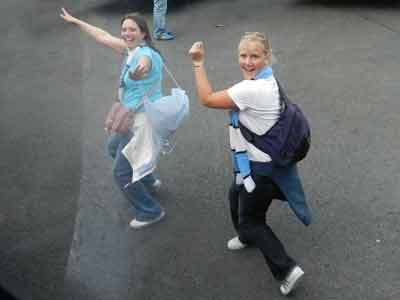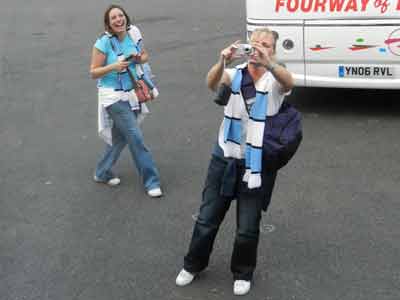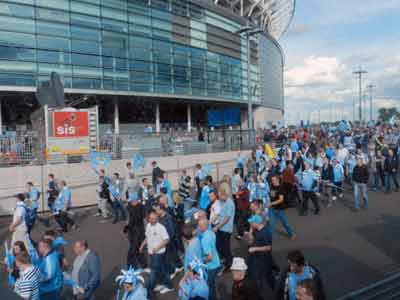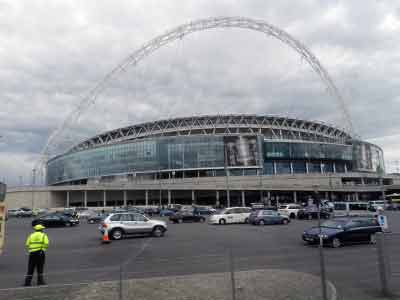 Having got up a 0430 hrs and driven to Eastlands I found the Thomas Cooks' Coaches better organized than the semi and we departed at 6-30am. It was a wet and windy start to the day and we had the ESPN camera man on our coach for a few shots before we set off
We had a 45 minute break on the motorway to stretch our legs before nipping down the M! and north circular to Wembley. The traffic was a lot better than the semi-final and we arrived at Wembley with plenty of time to spare. They had also improved the parking for coaches at Wembley separating us from the Stoke coaches. We were now near the multistory car park at the City end.
However the downside of arriving early is the lack of outside toilets at the Stadium. I found only one!

What was a great improvement on the semi-final was the pre match atmosphere and relations between the fans. I saw no incidents at all
What made my day ( besides the result!) was bumping into Uwe Rosler who played for City from 1993 -1997 scoring 64 goals for the club. He linked so well with Paul Walsh. We shook hands exchanged a few words but I didn't ask him which league club he will take over as manager!
Wembley Way has changed quite a bit since I last walked down there in 69. You can see some pics from the past
here
As the clock ticked towards kick-off and crowds grew and the atmosphere between supporters was excellent
Watch out the cavalry has arrived!
Now then just a bit more white there!
The pundits gather before the game. I can see Kevin Keegan and that looks like Robbie S and big Sam too
The Band get ready for their entrance
The Band of the Scots Guards entertained us for twenty minutes
The City squad spilt into the team and subs warm up before the game
The City fans were in good voice throughout the day
on pitch entertainment by Stacy Solomon and the ACM Gospel Choir
The Stoke City supporters were much better than our opponents' support in the semi!
The City flag moves slowly through the lower tier whilst on the pitch large pictures of City greats including Neil Young are revealed
It's match time and out come the teams. As expected Tevez started and lead the team out. Kolarov was preferred to Zabaleta ( who had a facial injury on Tuesday) at left back. Balotelli started in place of Johnson. Both Stoke doubtful's -Etherington and Huth started.
The teams line up to be introduced to the guest of honor Cpl Mark Ward MC from Stockport a City fan standing in for Prince William ( apparently he's away on honeymoon or something)
Well here's our first glimpse at what all the fuss is about. For many it will their first visit to a Wembley Cup Final .
I have been lucky and it will be my 6th FA Cup Final and my 21st visit to Wembley - most at the old Wembley of course.
Mancini introduces the City team to Cpl Ward MC
Ex City Chairman David Bernstein now FA Chairman wishes good luck to Roberto Mancini
The National Anthem is played
Mancini gives some encouragement
Nigel de Jong has a go but his shot goes wide after 8 minutes
Stoke defence under pressure manage to clear
A Yaya Toure shot goes just wide on ten minutes
It wasn't me ref says Sorenson as Balotelli lays on the ground
As Mario gets treatment Stoke get instructions as they are being outplayed
De Jong and Barry bossed the midfield
Joe Hart catches a free kick given away by Kolarov
Sorensen saves from Tevez
Stoke clear a City corner
Sorenson saves at a corner after he had saved well from Balotelli earlier
Sorenson saves from Kompany
31 minutes and Joe Hart has something to do saving following a free kick by Pennant
City eventually clear a Stoke attack
A shot from Silva hits the pitch and bounces over the bar. A good chance missed
On 39 minutes a Kolarov free kick goes over the bar
Just before half time Jones has to get some treatment
Richards heads clear a Stoke corner early in the second half
Oh dear there goes the flag for offside
Kolarov explains that it could not possibly be him at fault
another free kick to Stoke City
Joe Hart was now much busier and in the 61st minute he made a brilliant save from Kenwyne Jones
The City defence was holding firm but we badly needed that first goal
On 73 minutes we had it. Brilliant work by first Tevez then Silva and Balotelli lead to......
..... Yaya Toure firing home ( sorry about the celebrating hands!) and the deadlock was broken
Let the celebrations begin
Stoke gave us some anxious moments in the final minutes as they were desperate for an equalizer
but after three minutes additional time the final whistle went and City had won the cup. The City staff ran to Mancini and the crowd went bonkers!
The players were soon out at the City end and fun was had by all
The whole squad and staff gave their version of the Poznan
First the losers went up to get their medals and it was good to see the Stoke supporters staying on unlike the Unites lot at the semi
It seems a much longer walk up the steps to collect the cup at the new Wembley
The team line up to collect their medals
I think they are quite pleased!
Even David Cameron enjoyed himself!
After another team celebration for supporters the players took the cup round the City end
De Jong and Viera gave some supporters a closer view
It was good to see a new banner after the 35 year one!
big group shot of the whole gang!
Roberto lifts the cup to the City supporters
They all want their pictures taken with the cup
Back on the coach we were 'stalked' by these two young ladies who obviously had enjoyed the day!
The City supporters streamed from the ground and it was just time for a final view of Wembley before heading back home and bed by midnight! Phew! A great day and the first of many to come.
Roll on the Champions League

Team
Hart 7.5: Richards 7.5, Kompany 8, Lescott 7.5, Kolarov 7: de Jong 8, Barry 7.5 ( Johnson 7),
Yaya Toure 7.5, Balotelli 7.5, Silva 7.5 (Viera), Tevez 7.5 ( Zabaleta)