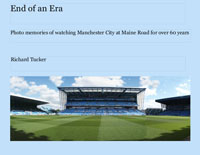 My book 'End of an Era' containing photo memories of days at Maine Road is now available from Blurb.com.
There are over 300 images on 200 pages.
Click on the image for details

It was an extremely long day for me - 21 hours on the go with just the compact camera but it was all worth while as City finally came out on top and now look forward to the final and a bit of silverware at last. After a fairly quiet first half with first United running the opening twenty minutes or so and then City being on top towards the end of the first half - the second session came to life when Yaya Toure scored the winner after an error by Carrick. City then started to play with some passion and were certainly pumped up while United fell away alarmingly. The sending off of Scholes for the really bad late high kick on Zabaleta was the icing on the cake and though the five minutes additional time seemed a little high we easily contained an unambitious United side to come out winners. Hart made two excellent saves -the first from Berbatov early on was outstanding. Kolarov had his best game for us and Zabaleta gave his typical 110%. Kompany and Lescott were excellent too. Silva played well and was unlucky with some of his passes. Even Balotelli had quite a good game linking well with other players and got in one tremendous shot which Van der sar did well to save. Star man was Yaya Toure who took his goal so coolly and was a real threat to united all game .A first rate team effort by City - once they realized they had the beating of United!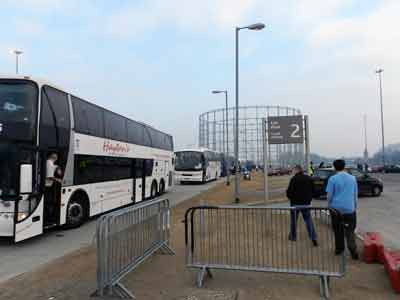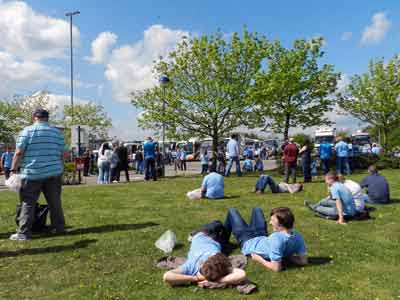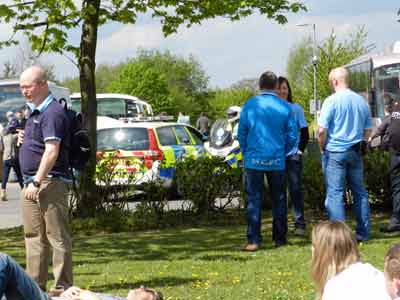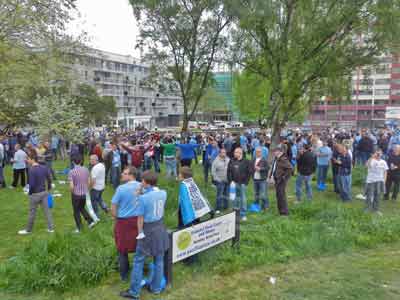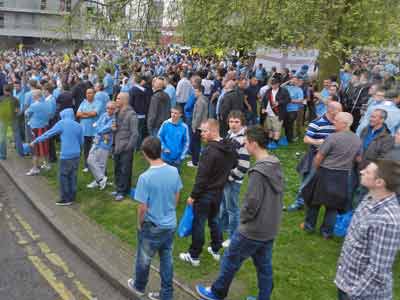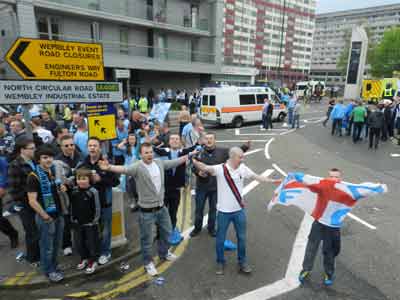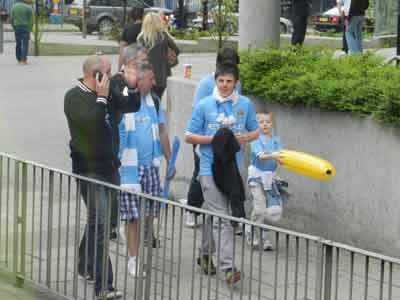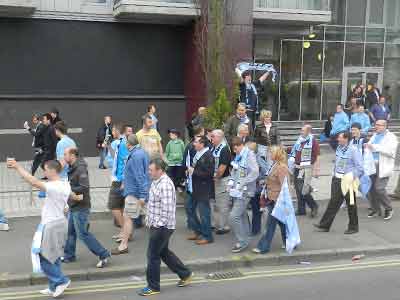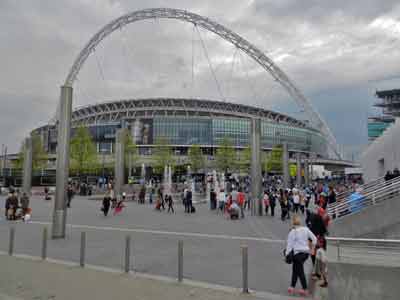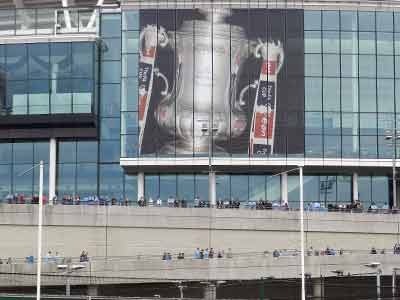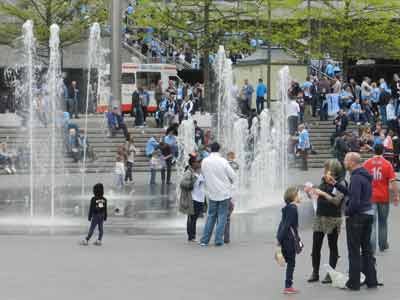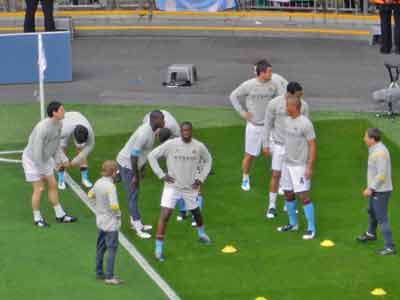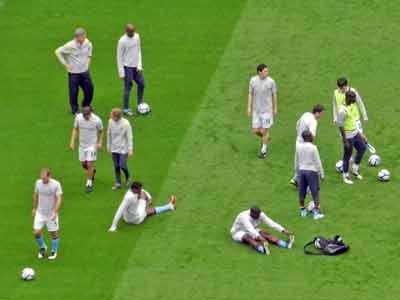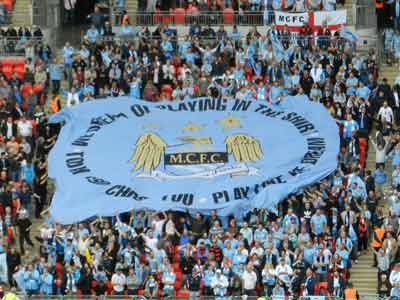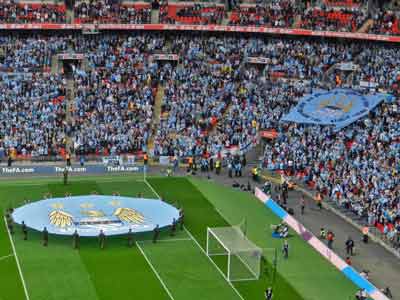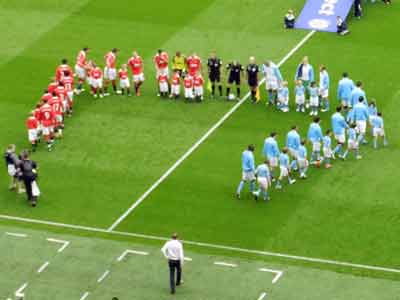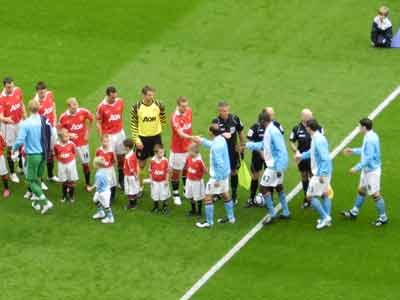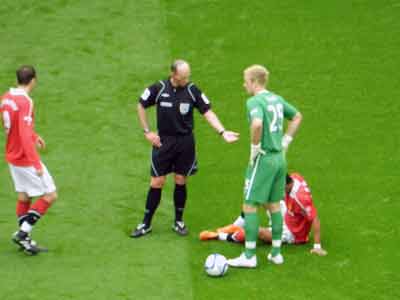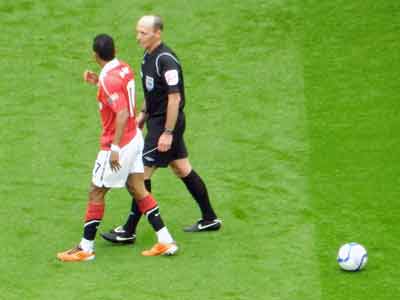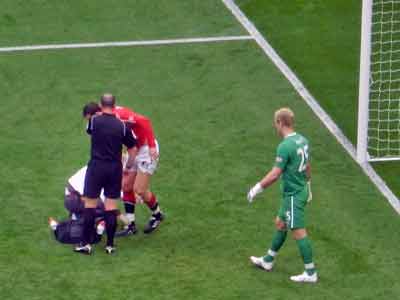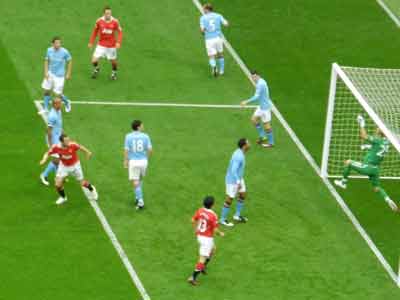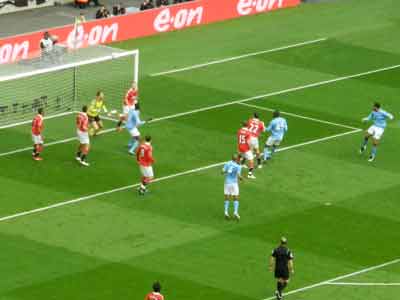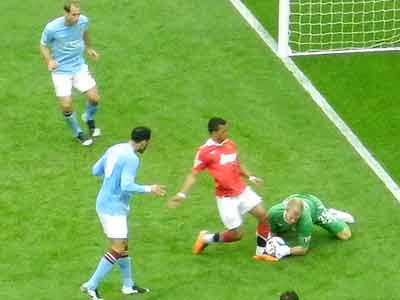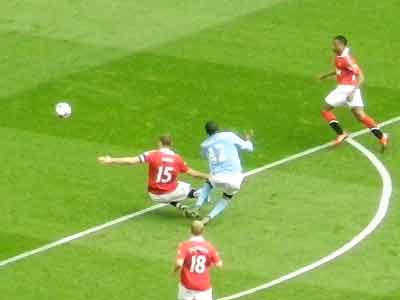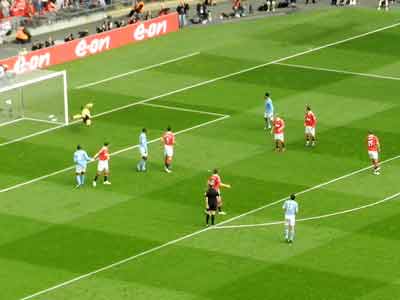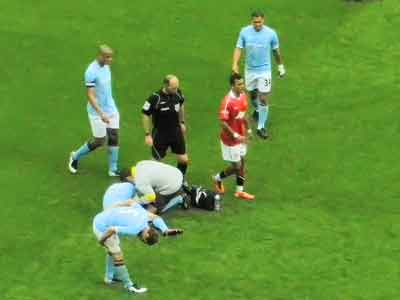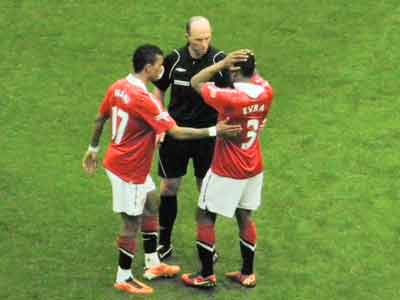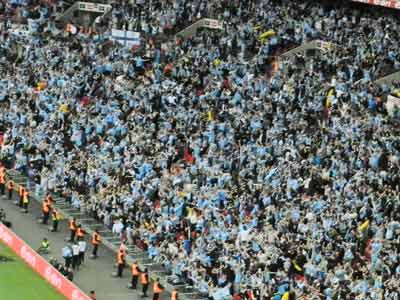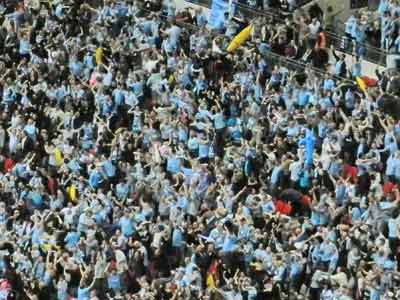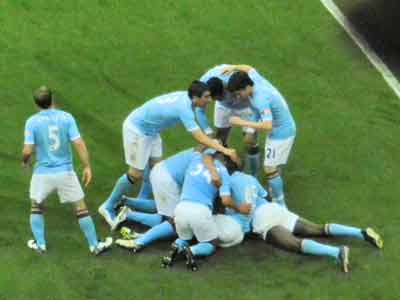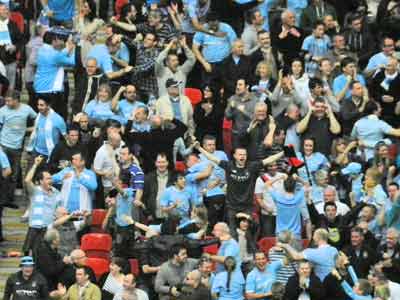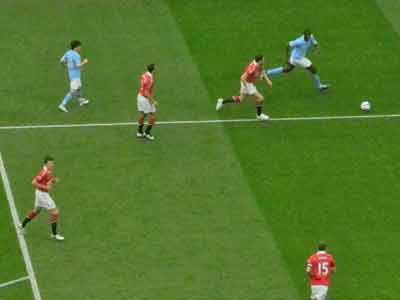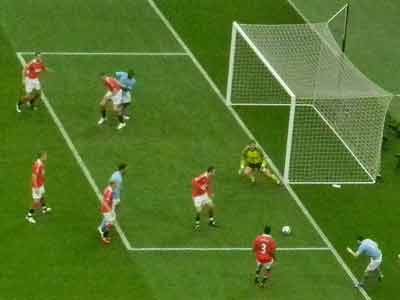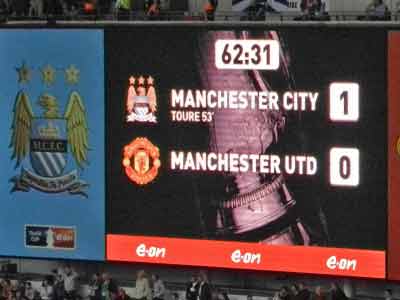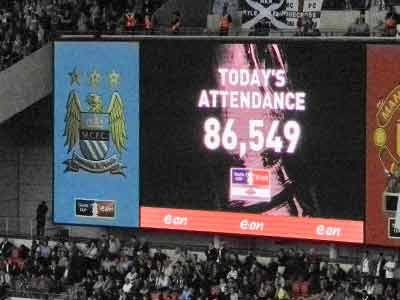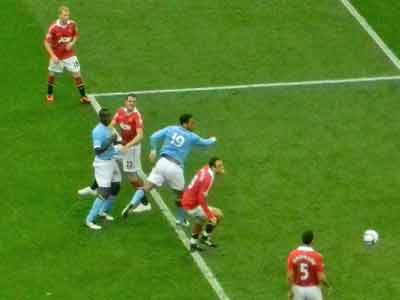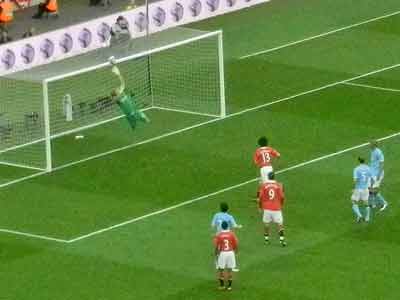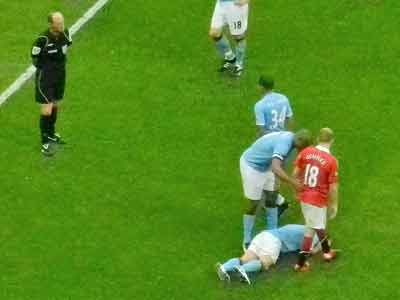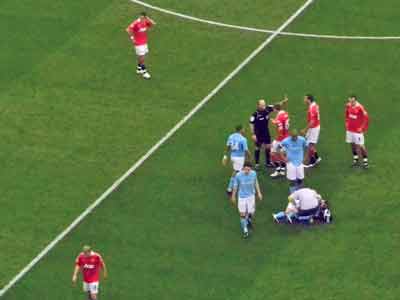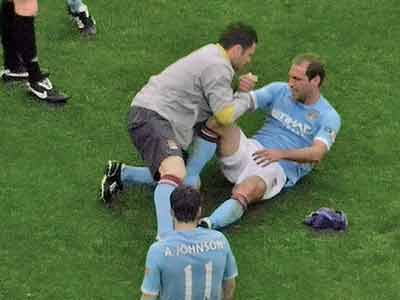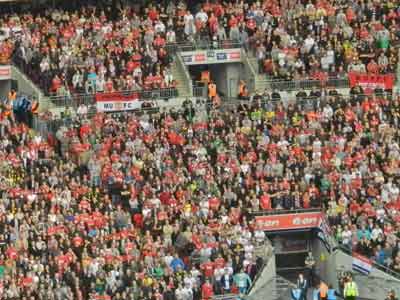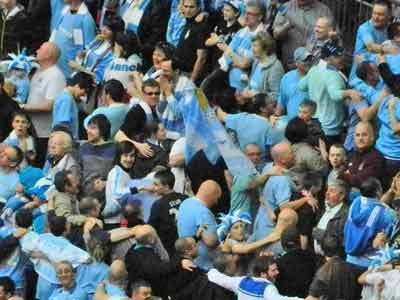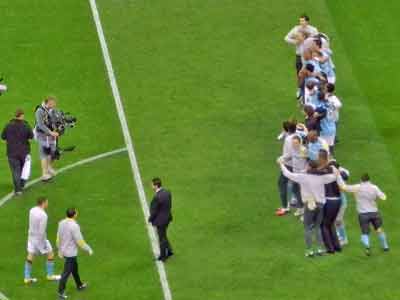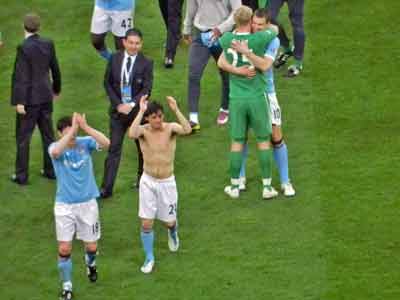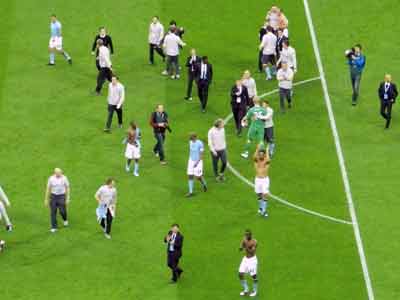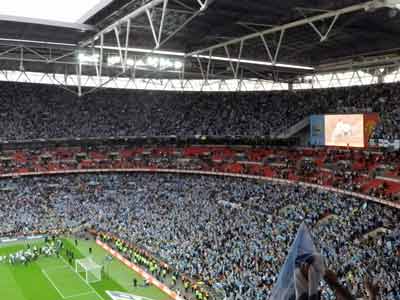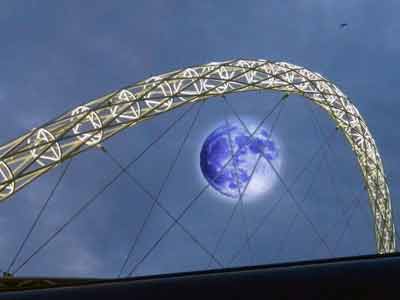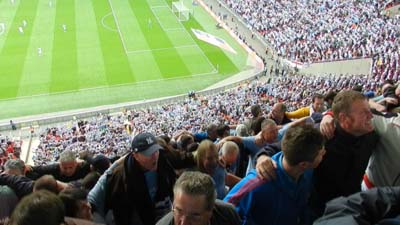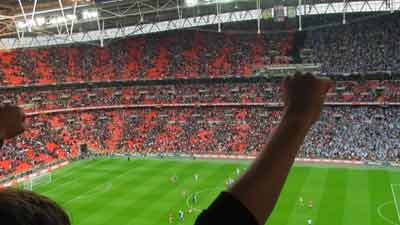 Team
Hart 8.5: Zabaleta 8, Kompany 9, Lescott 7.5, Kolarov 8: Yaya Toure 9.5, De Jong 7.5, Barry 7.5, Johnson 7 ( SWP), Silva 7.5 ( Viera ) Balotelli 7.5
The Thomas Cook coaches were supposed to leave at 9-15am but there was a delay before we were able to board and start our trip. City had food laid on and the store was open early.
The closure of the M1 at Staples Corner meant we had to travel down the M40 and the coaches stopped at Warwick Services about 1 pm. The services was packed with City supporters and was a mass of blue
There was a small police presence but I doubt they had any major problems to deal with
As we approached the Stadium the area appeared to have been taken over by the blues
The City players warming up on the new Wembley turf - hope it lasts the game!
The City flag makes its way round Wembley while an army unit hold a different version on the pitch
City started with Balotelli up front for the injured Tevez and Zabaleta returned at right back.
A City football family on their way to join the
big City family in the Stadium
Evra is injured after receiving an accidental knock from de Jong and then Referee Dean asks after the health of United's manager!
City fans go wild as a Carrick error lets in Yaya Toure who scores from close range.
Sorry no pic of the goal - a hand got in the way!
Video - The last few seconds of the game
While the United end was rapidly emptying the City fans stayed on to give their heroes a cheer
There was a blue moon over the lights of Wembley as we went home
The City players and staff do a Poznan for the cameras as the fans cheer them on
The red end of Wembley was very quiet compared to the blue end. Many United supporters stood or sat with arms folded
Zabaleta gets treatment for the injury inflicted by Scholes
Van der Sar saves at the feet of Yaya Toure
Scholes goes in high on Zabaleta and gets sent off. Hernandez scratches his head in disbelief
while Ferdinand and Vidic show respect to the referee as Scholes made his exit!
Lescott misses a great chance with a missed header at a corner
Hart makes a great save from a free kick that was deflected
Two souvenir pics of the game
This was my first visit to the new look Wembley and it didn't look too bad!
Supporters relax for a few minutes before the game
Lescott shoots wide at a corner
a Yaya Toure shot is deflected for a corner
Johnson and Evra bump heads. Both were OK after treatment
City pile on the pressure and Johnson almost scores Van der Sar just pushing the ball away for a corner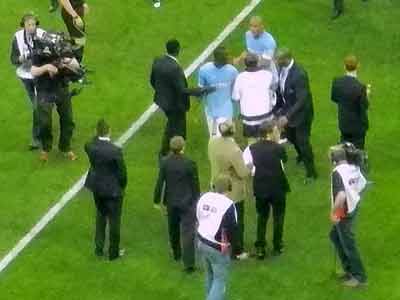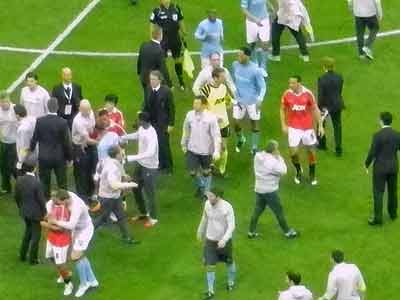 As the game ended there appeared to be some trouble between Balotelli and Ferdinand
Berbatov gets treatment after missing two chances
A header goes over the bar from a United corner
Dzeko gets a consolation hug from Joe Hart
A shirtless Balotelli acknowledges the City support