City 3 Fulham 0
September 12th 2018 att.53,307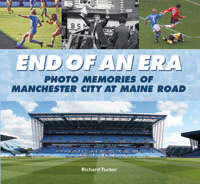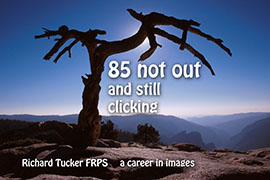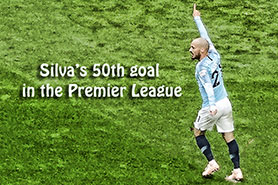 Another good performance by City against a Fulham side that did not block their goal and tried to play some football. It could have been four or five if the City finishing had been a bit better. However with an important game against Lyon coming up several players were rested but City were able to boss the game and play some excellent football. David Silva celebrated his two hundred and fifty second league appearance for City with his 50th Premier League goal. Sane made his first league start of the season and scored as well as causing problems for the visitors. Fernandinho was brilliant as usual and made the first goal after just 1 minute 36 seconds - the quickest yet in the Premier League. The defence without Stones and Kompany kept a clean sheet but Edison actually had to make a few saves! Benardo Silva had a good game and Aguero set up Sterling for the third goal.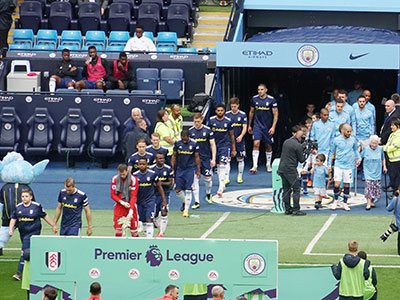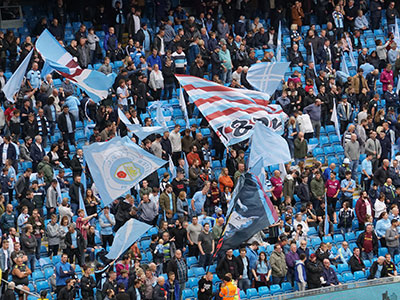 With a Champions League game coming up on Wednesday City rested several players. Both Sterling and Sane started with just Aguero up front. Otamendi had his first start and Delph played at left back.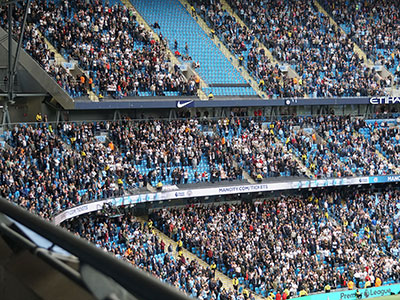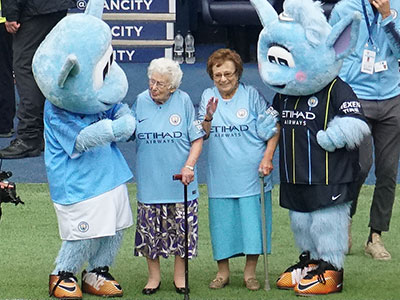 Fulham brought a good number of fans with them
Moonchester and Moonbeam had a couple of special mascots to chat to - youngsters Vera and Olga
102 and 98 years old !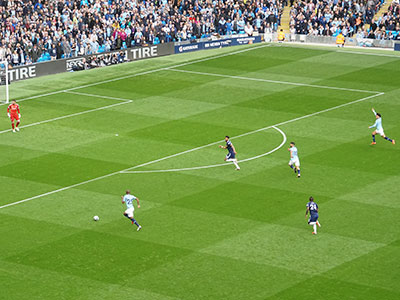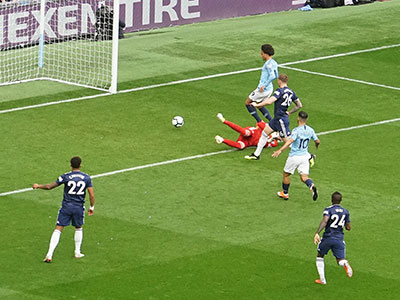 After an early Fulham attack broke down Fernandinho anticipated and intercepted a pass to Odoi and crossed to a waving Sane who beat keeper Bettinelli to give City a terrific early lead in less than two minutes.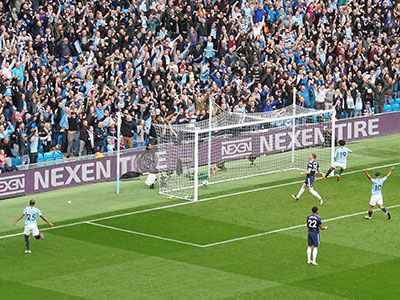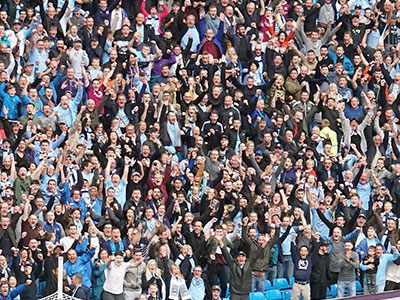 It was just the start we wanted and a brilliant piece of work by Fernandinho appreciated by the South Stand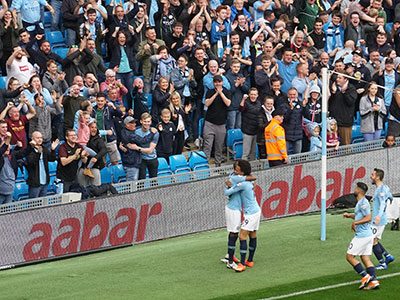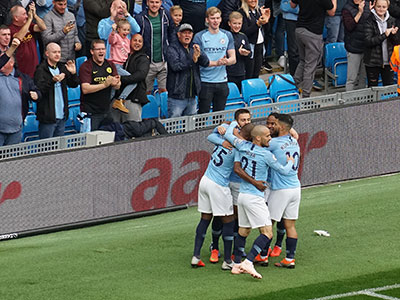 Sane gives Fernandinho a special hug and a lift to Leroy's confidence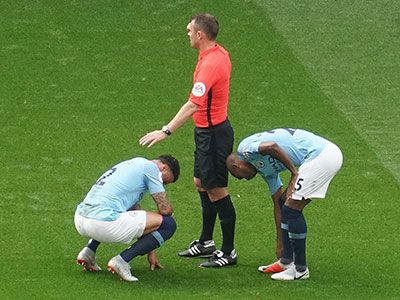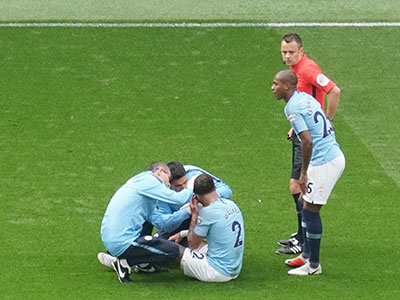 There was a short delay when Walker was injured. perhaps he needed another hole in his socks!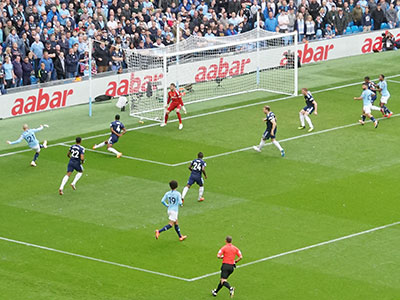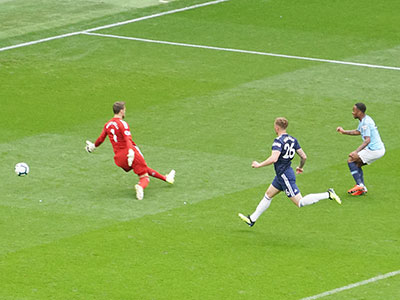 Silva has a cross blocked
a few minutes later Sterling breaks and shoots......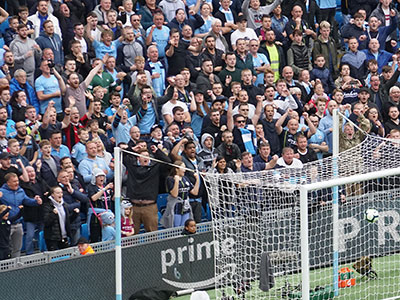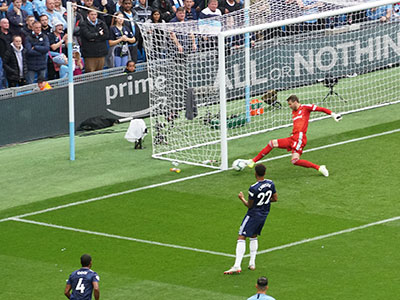 ..but the ball is deflected onto the bar and away much to the frustration of the City fans
The ball goes to Benardo Silva and his effort is saved by the keeper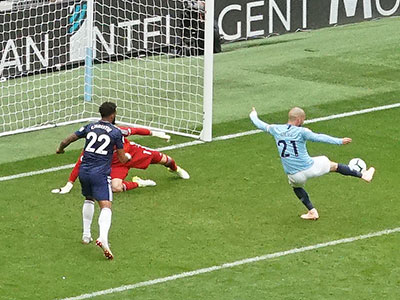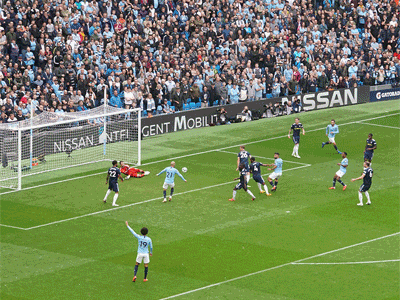 But City were not to be denied and on 21 minutes good work by Benardo Silva ended with David Silva scoring from close range

The South Stand quite liked that!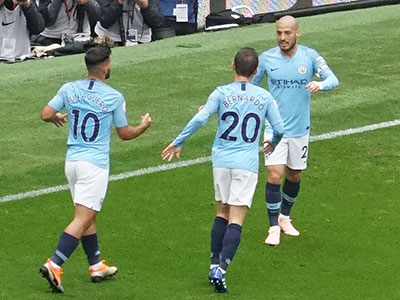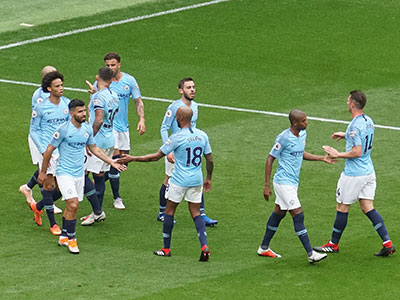 The City players celebrate and City are two up after just twenty minutes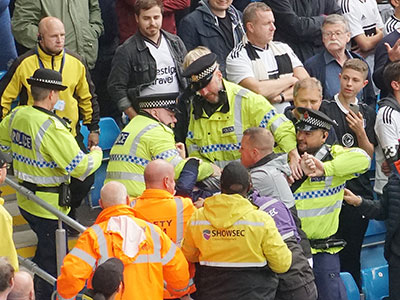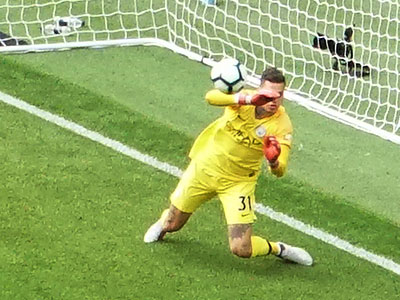 Ah a problem with one of the Fulham fans!
Edison saves from Schurrie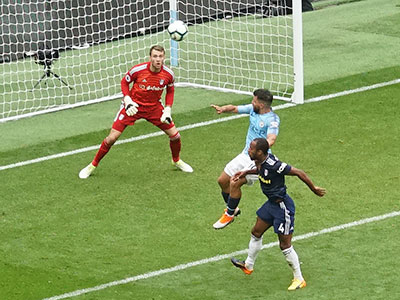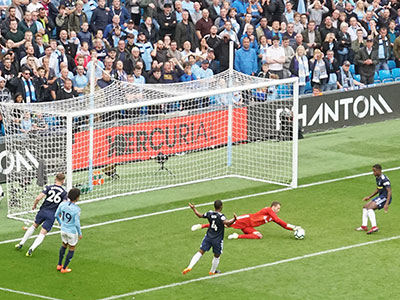 An Aguero header goes wide
The Fulham keeper in action yet again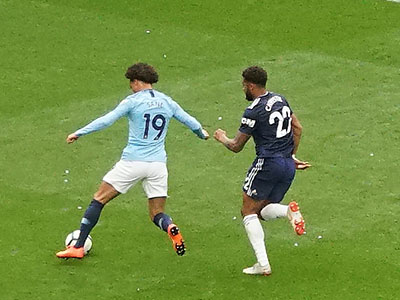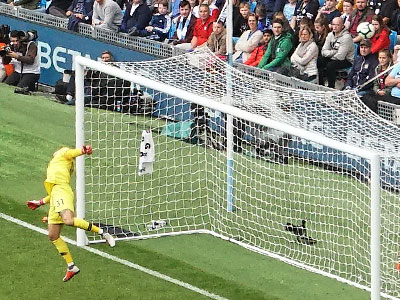 Sane was proving a problem for the Fulham defence
Edison has to tip over a shot from Schurrie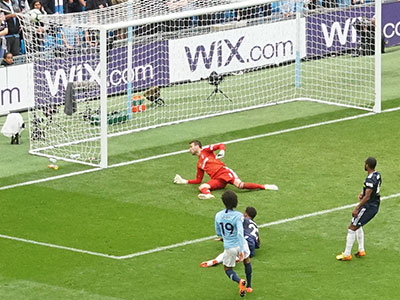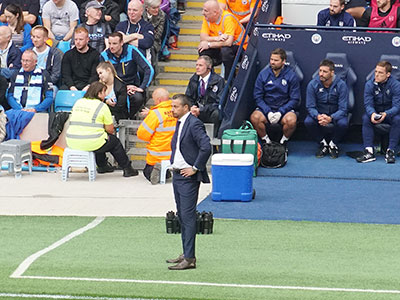 An effort by Sane is saved
Fulham boss Jokanovic has much to ponder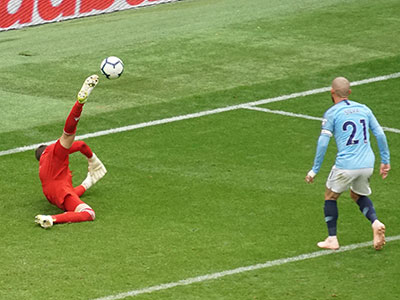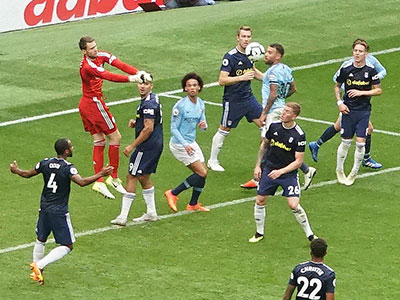 Bettinelli has another save to make
Then has to punch away the corner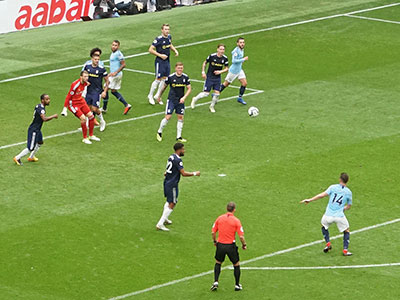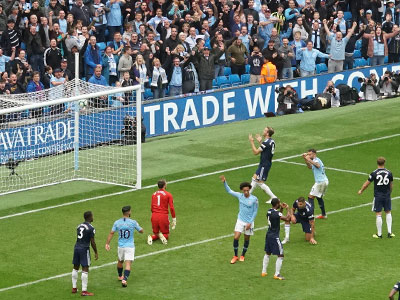 Just before half time Laporte has a shot blocked and when City score the flag is up for offside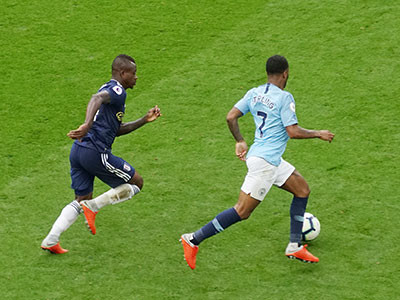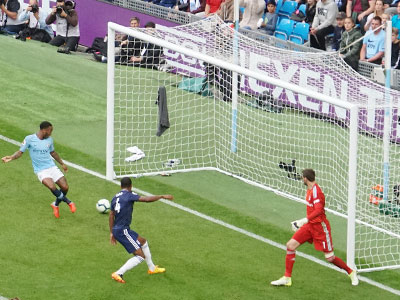 After just two minutes in the second half Sterling attacks -gives the ball to Aguero who goes down the right wing and crosses to a waiting Sterling to make it three nil to City - game over!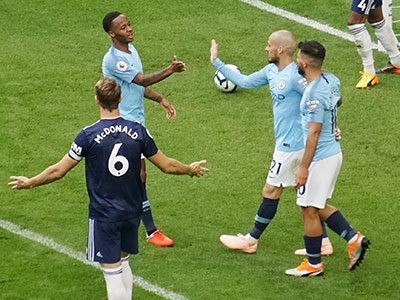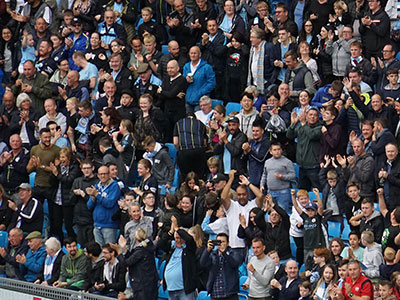 Time for the City players and fans to enjoy the moment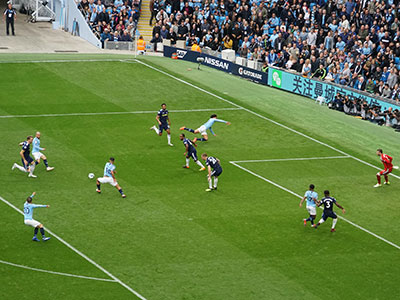 City continue to attack and Fernandinho is brought down just outside the penalty area.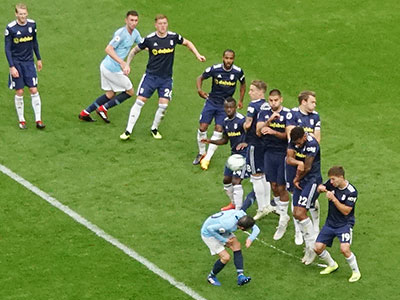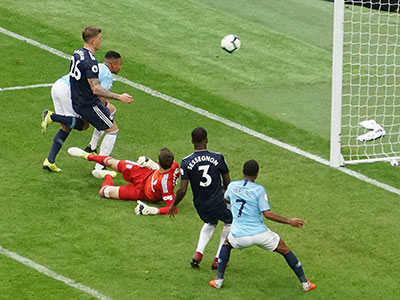 The free kick taken by Aguero is blocked
The keeper saves from Jesus - on for Aguero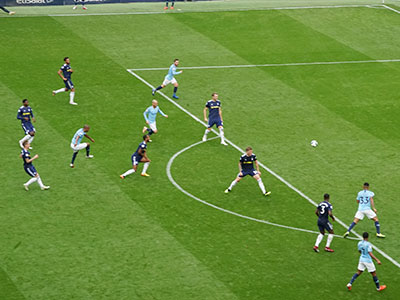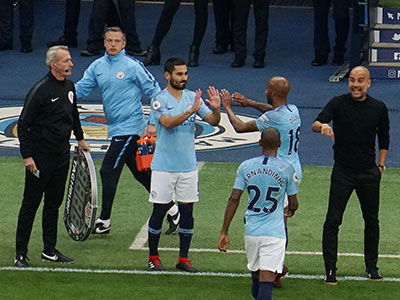 A shot from Fernandinho just goes wide
As Gundogan replaces Delph - Pep has a word with Fernandinho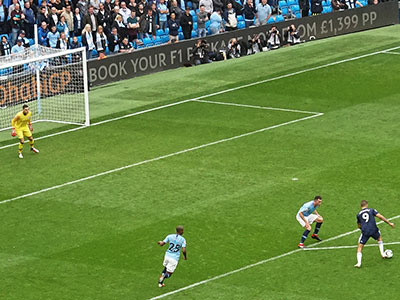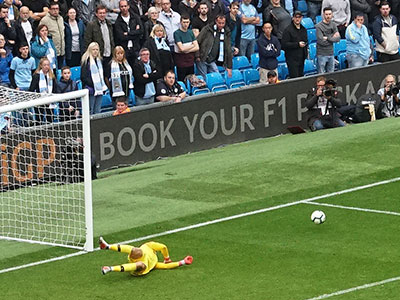 In added time Ederson had to save from Mitrovic to keep a clean sheet and we went home quite happy
Team
Ederson 7.5: Walker 7, Laporte 7, Otamendi 7.5, Delph 7.5 (Gundogan) : Fernandinho 8.
Benardo Silva 7.5, David Silva 8, Sterling 7 ( Mahrez) Sane 7.5, Aguero 7 (Jesus 6)