City 6 Huddesfield 1
August 19th 2018 att.54,021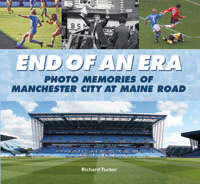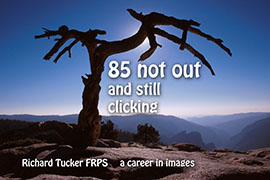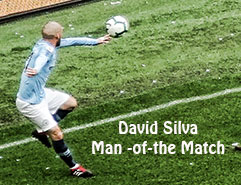 What a wonderful performance by City. The score of 6-1 let the visitors off lightly. With a bit more luck it could easily have been eight or nine today .I must admit many people would have been surprised when they saw the starting eleven. It looked as though Pep had set-up a plan B with several of the faster players being on the bench replacing them with more skilful ones. A tactic to beat the Huddesfield defence that had thwarted us on several occasions recently. We also played with three at the back.
As it turned out we did not miss Kevin as the return of David Silva complete with son Mateo was crucial to the excellent football that City played until the final minute. He scored a terrific free-kick and it was his first goal from a direct free kick in the Premier League. Aguero was on top form too scoring his 9th Premier League hat-trick and his first goal was as a result of a long goal-kick by Ederson - I am sure this was the first assist by a City keeper in the Premier League. Down the left flank Mendy made run after run and made cross after cross to be a big danger to the Huddesfield defence. Everybody played an important part and the visitors rarely managed to get into the City half with the sky blues having almost 80% possession.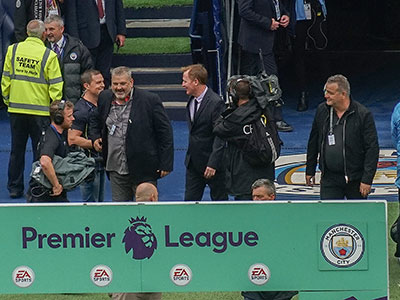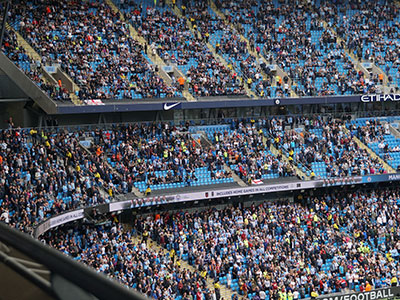 Before the game several stars from the famous 10-1 win over Huddesfield in November 1987 were introduced to the crowd
The visitors from Yorkshire brought a good number of fans with them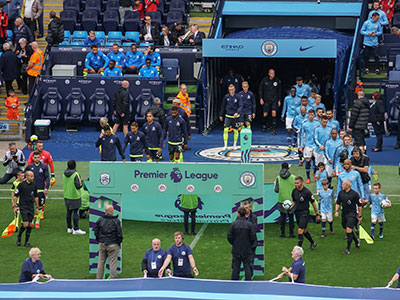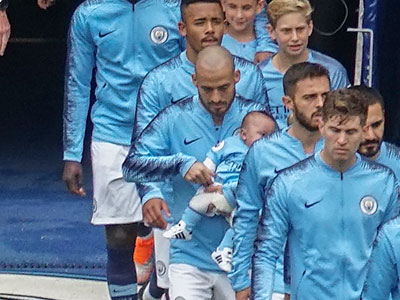 City made several changes with Walker, Sterling, Sane and Mahrez being on the bench. City switched to a back three of Stones, Kompany and Laporte and had both Aguero and Jesus up front - interesting!
David Silva brought on a future City star - his son Mateo !!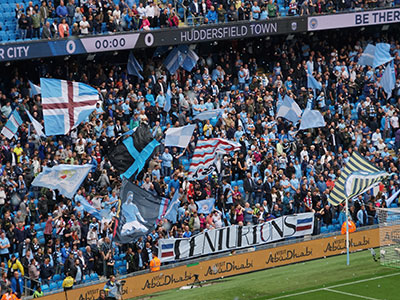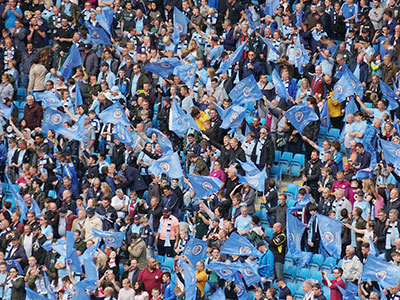 There was a good atmosphere in the ground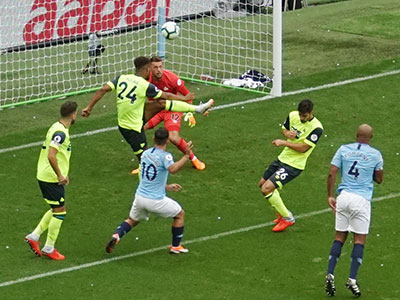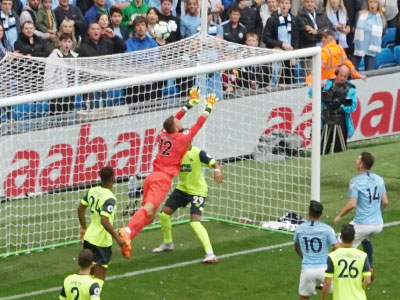 An early City corner almost ended with an own goal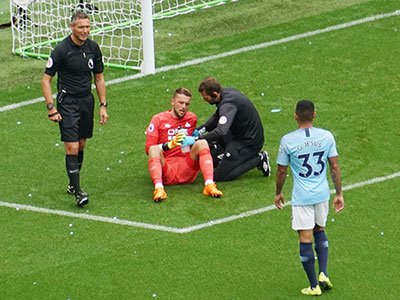 After just 3 minutes a shot from Jesus was blocked by the keeper who had to get treatment for his effort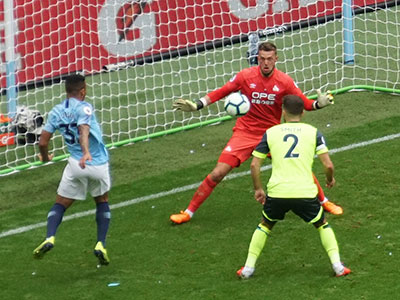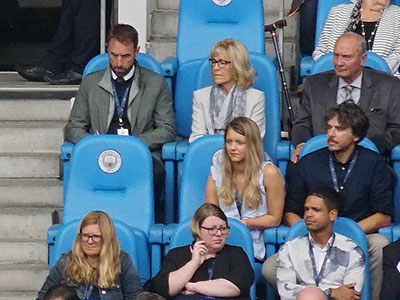 two minutes later and Jesus has another effort saved
The England Manager is busy checking his phone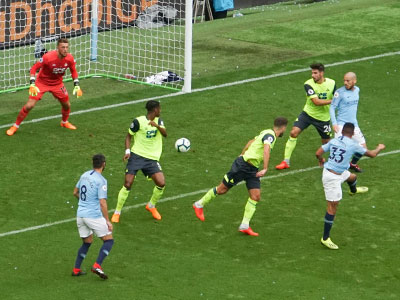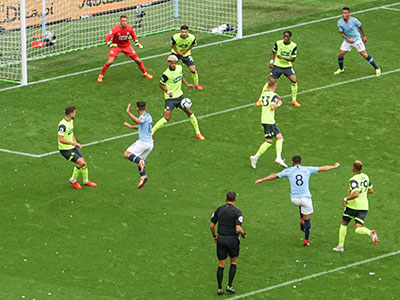 A header from Jesus is saved by Hamer
A shot from Gundogan is blocked as City pile on the pressure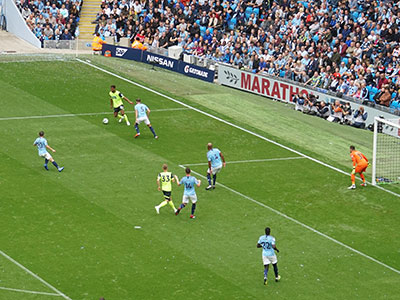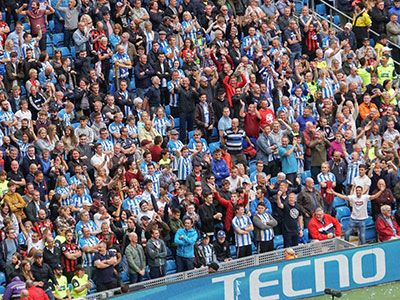 Good heavens Huddesfield get into our half! They do get a chance which goes over the bar but their fans have something to shout about!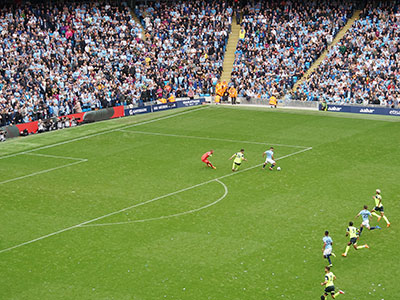 From a very long goal kick - Ederson seeing Aguero in a good position - the City striker chips the keeper......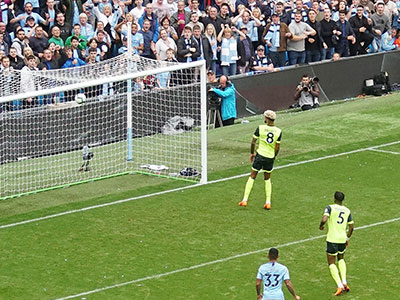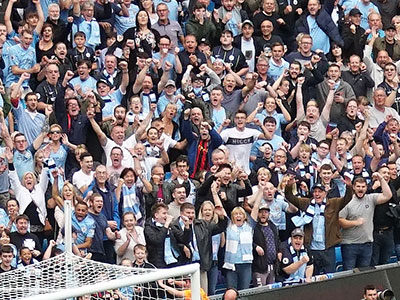 ......and the ball hits the back of the net much to the delight of the City fans in the South Stand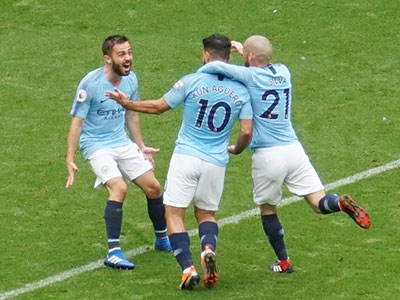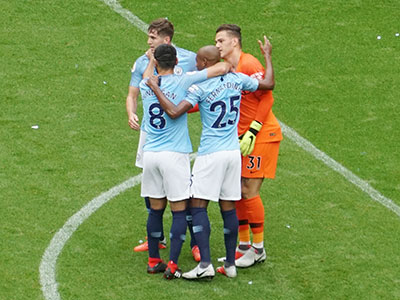 At one end Aguero gets a thank you while at the other Ederson gets a pat on the back!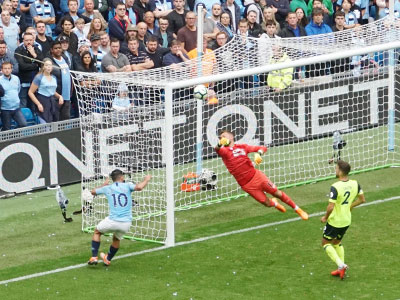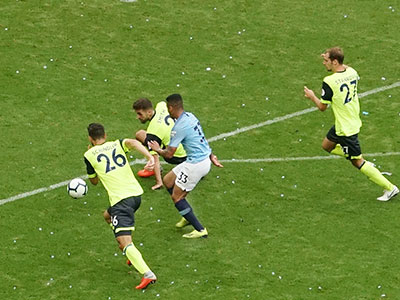 On the half hour Aguero just misses a good chance
A few minutes later Jesus breaks through and shoots...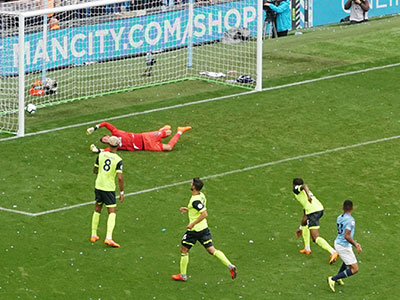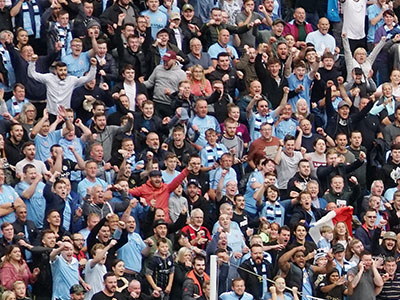 .....and beats the keeper to give City a two goal lead much to the delight of the City fans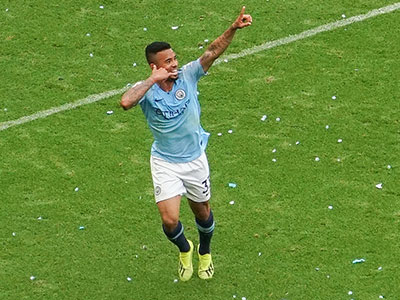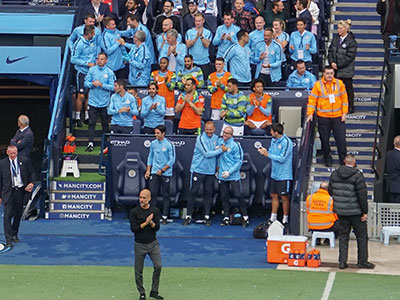 Jesus rings all his friends as the City bench applaud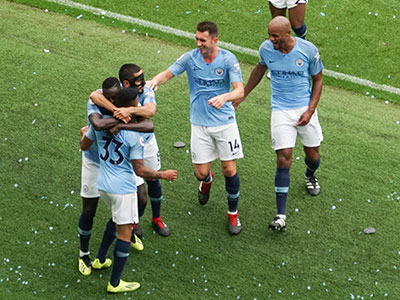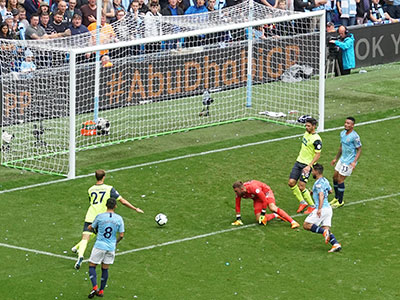 We had hardly finished celebrating that second goal when City had another chance when Hamer lost the ball.....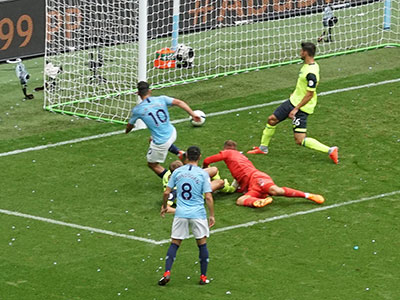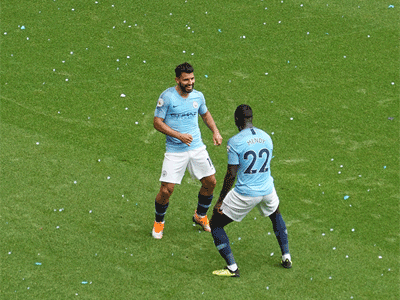 .....and Aguero tucked the ball home and it was three nil and time for Aguero and Mendy to do their dance!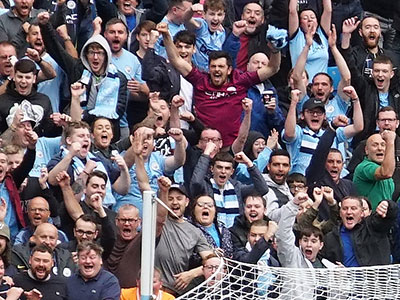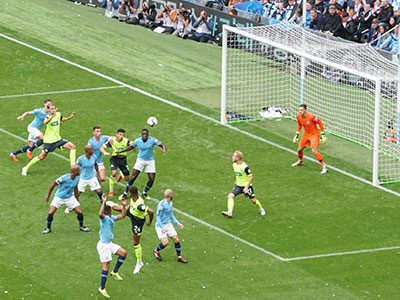 City fans enjoy the moment
Just before half time a long throw is headed on by Mounie..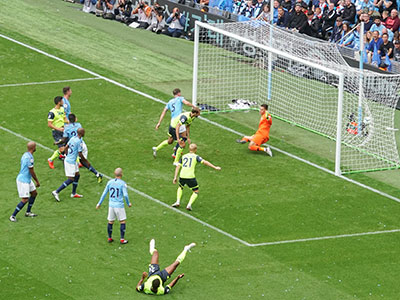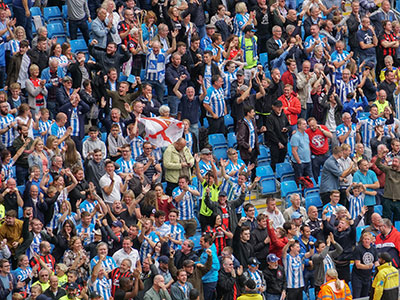 ...and the pass is poked home by Stankovic from close range and their fans have something to shout about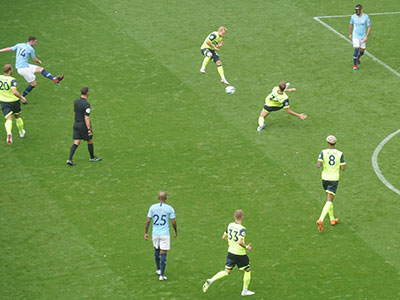 Laporte has an early second half effort blocked
on 47 minutes Aguero is brought down by Mounie....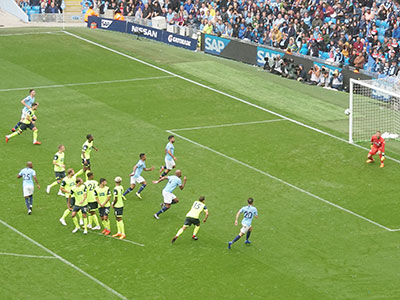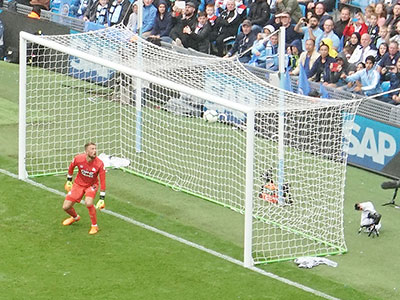 ..and Silva takes the free kick which flies into the top corner.....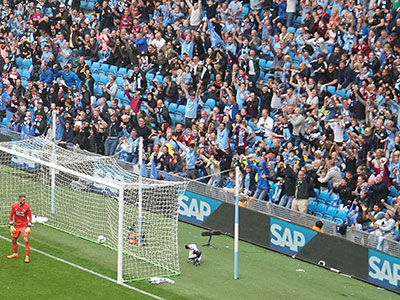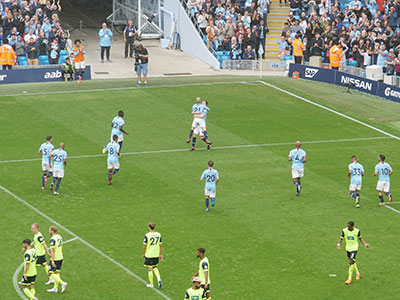 ...to give City a three goal lead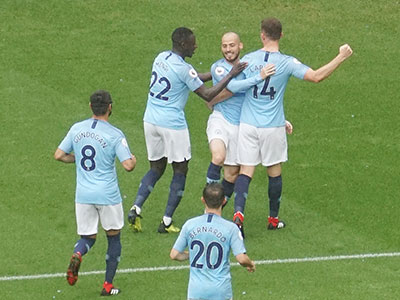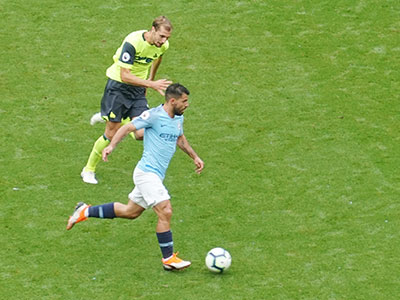 Silva gets the well deserved thanks from colleagues
On 57 minutes Aguero breaks through and shoots....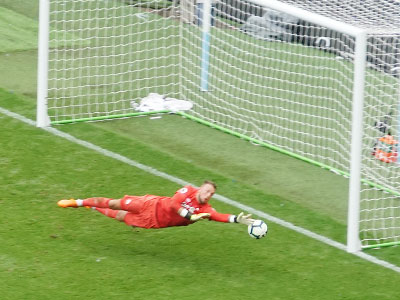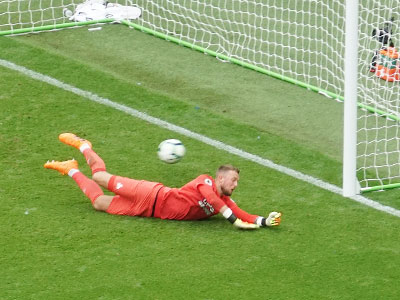 ...but the shot beats the keeper but hits the post and rebounds to safety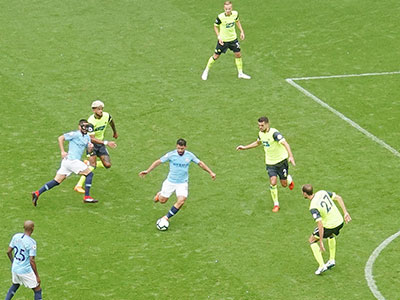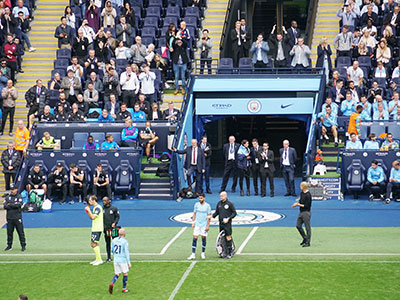 2 minutes later Sergio has another go but it goes just wide
David Silva has a standing ovation when he is replaced by Mahrez on 64 minutes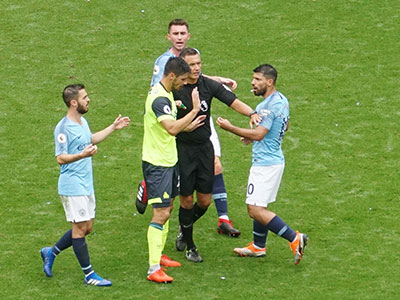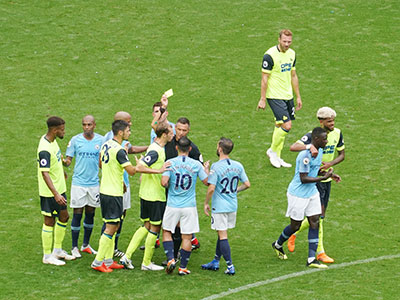 There is a small discussion group when Jesus is fouled and Schindler gets a yellow card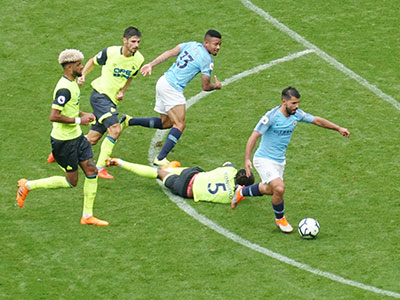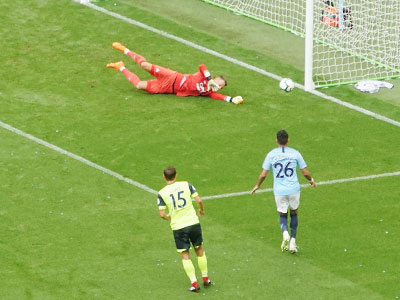 71 minutes and Aguero in action again Hamer having to make a good save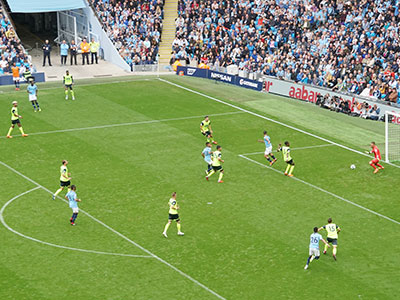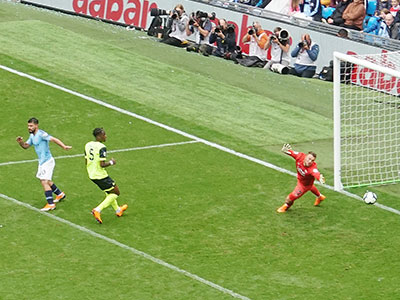 On 75 minutes a great cross from Mendy is deflected in by Aguero for his hat-trick - 5-1 for City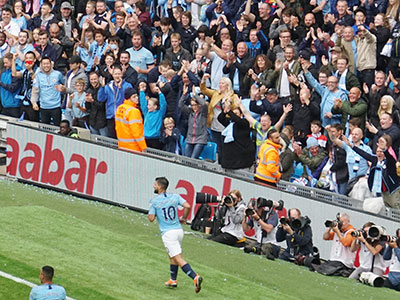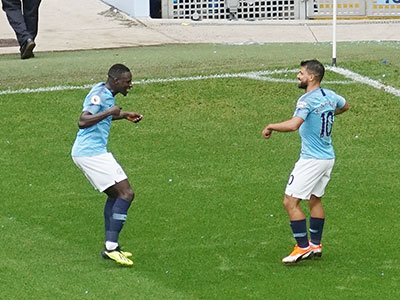 a good goal and time for the Aguero Mendy dance performance!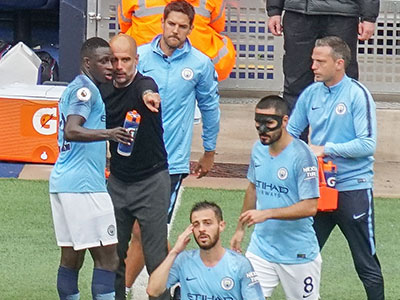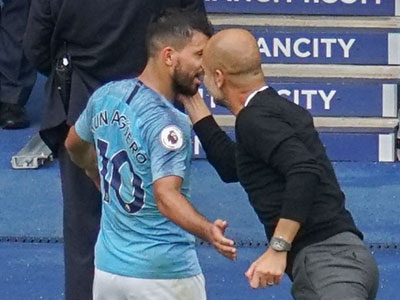 Mendy gets some advice on his dance skills from Pep
Pep gives Aguero a quick kiss as he is replaced by Sane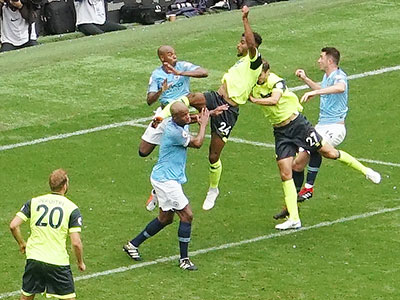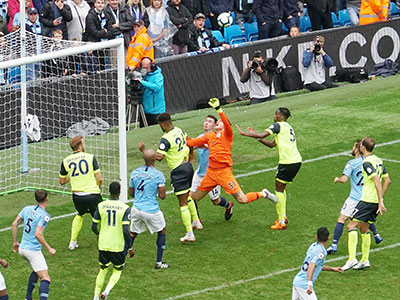 City have to defend a corner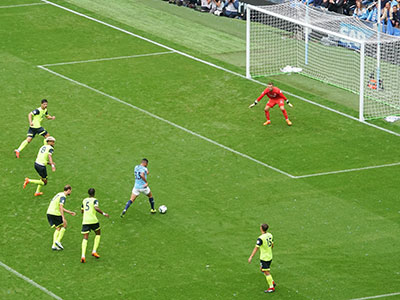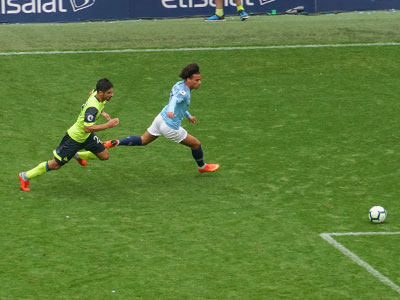 Jesus has a good chance but shoots wide
Then Sane charges down the wing - cuts in.....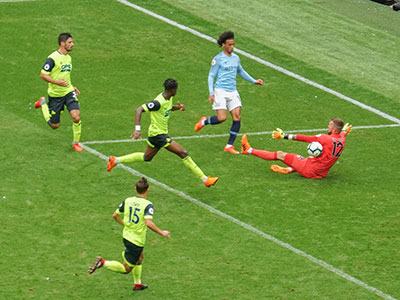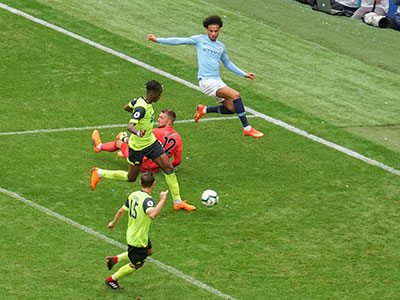 ...and shoots but Hamer saves and the ball goes to Kongolo.....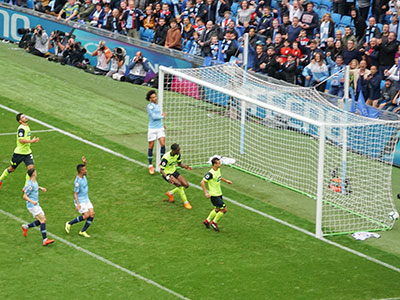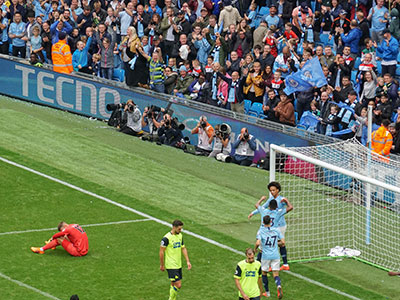 ..who deflects it into his own goal and it is 6-1 for City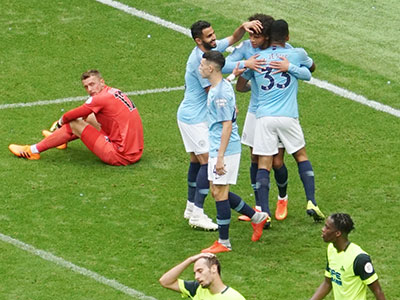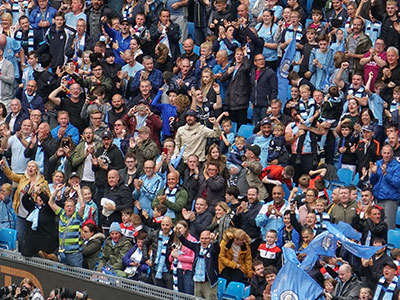 Hamer does not look at all pleased as the City fans and players celebrate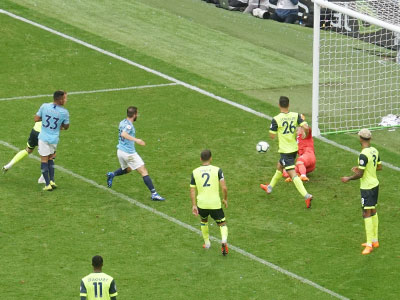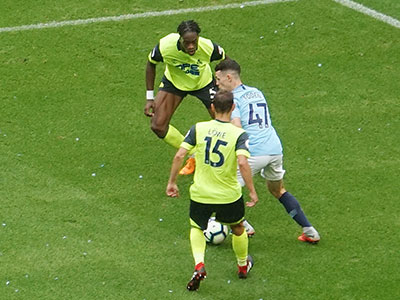 City continue to attack and Hamer has to save once more
Foden on for Gundogan looks the part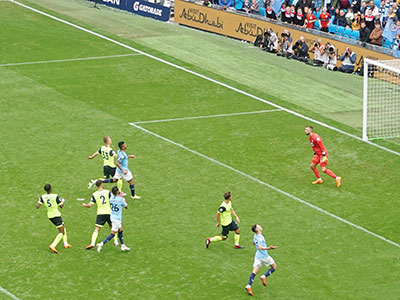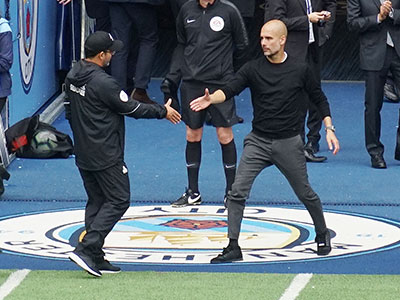 Mahrez has a last minutes chance but shoots over the bar
The two manager shake hands after the game
An excellent show by City and the drive home enjoyed even more by listening to United being beaten by Brighton!!!
team
Ederson 8: Stone 8, Kompany 7.5, Laporte 7.5: Fernandinho 7.5, Gundagon 7.5 (Foden): Mendy 8.5, David Silva 9.5 (Mahrez 7.5 ) , Benardo Silva 7.5, Jesus 8, Aguero 9 ( Sane)