City 1 Roma 1
Sept 30th 2014 37,509
Champions League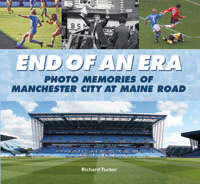 Now available from Amazon ( click on image for link)
WH Smith and the City shop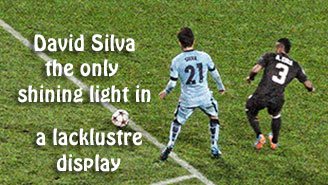 Not quite the performance or result we were expecting. A draw was just not good enough and there were portions of the game when Roma gave us the runaround! Especially in the first half we were outplayed by a faster and better passing team and one could see why they were doing well in the Italian league and had beaten Moscow so convincingly in their first match. If we do not win in Moscow in our next match you can say farewell to the Champions league this season.
This evening our passing was not of the highest standard - many going astray. Roma were quicker to the ball while often our players just stood still. Mid-field was not helped by another poor effort by Yaya Toure and our defence did not have one of their best games. Even Kompany was not at his best and to let 38 year old Totti score and become the oldest player to score in European soccer was not ideal. They hit the bar and had another good chance saved by Hart before half time. The introduction of Milner and later Lampard showed an improvement and we had a better second half but could not score. The general atmosphere was poor with lots of empty seats.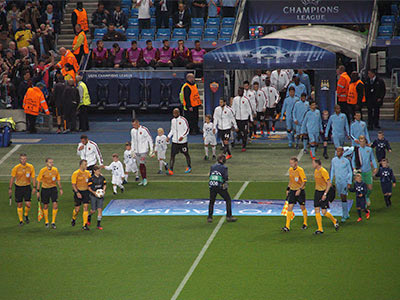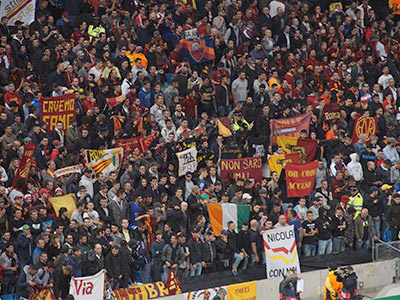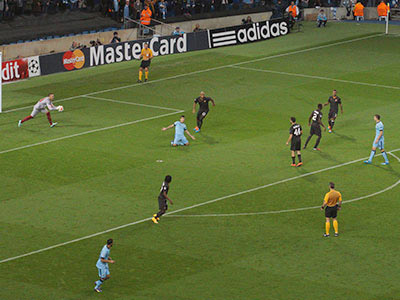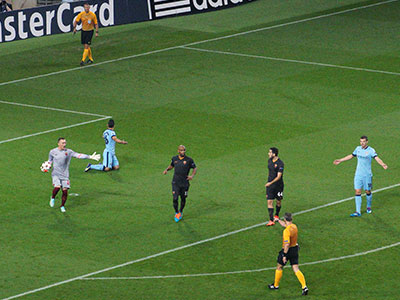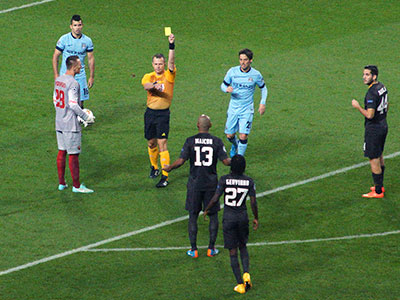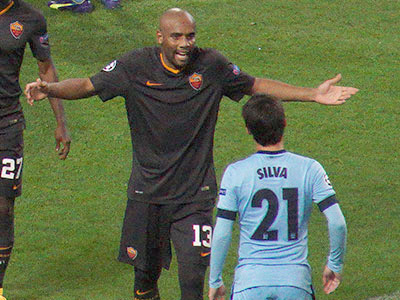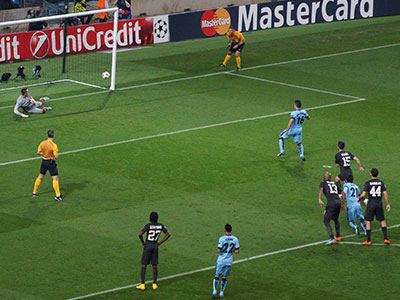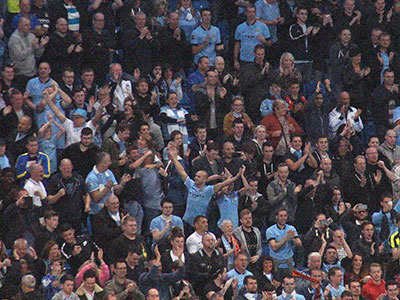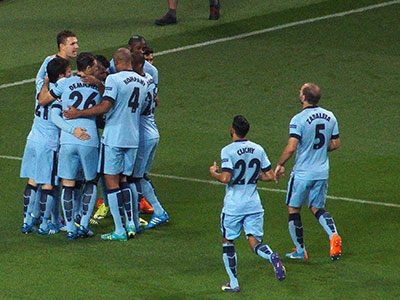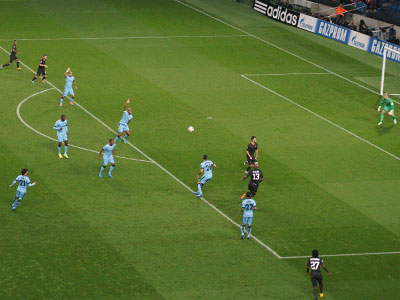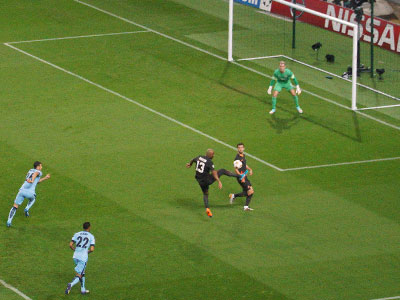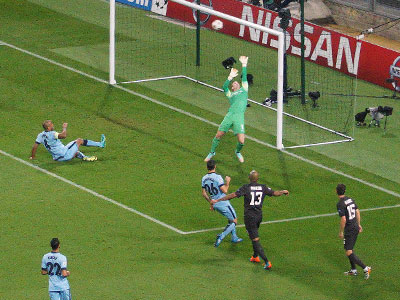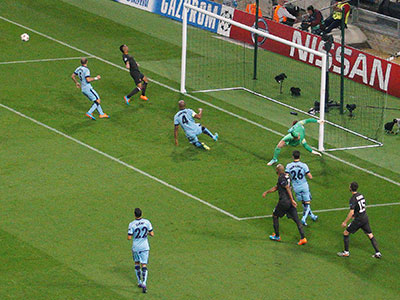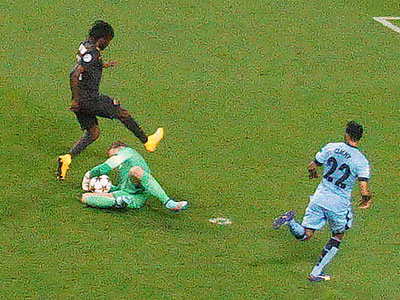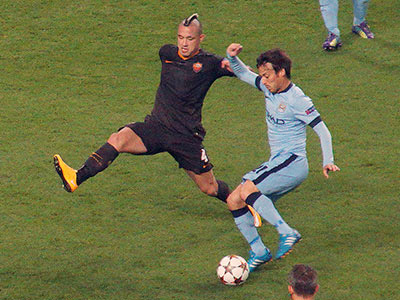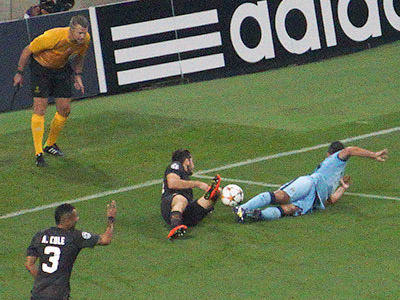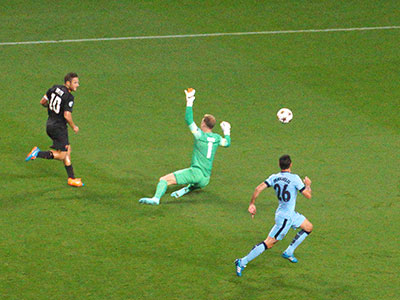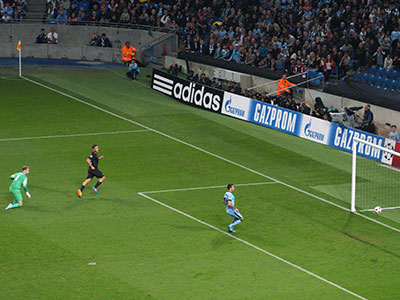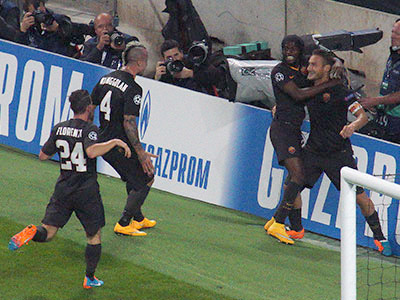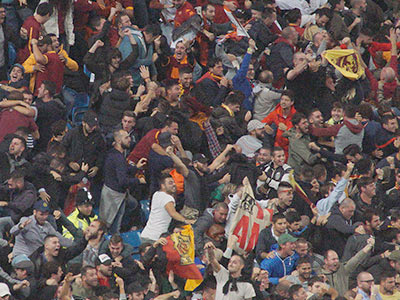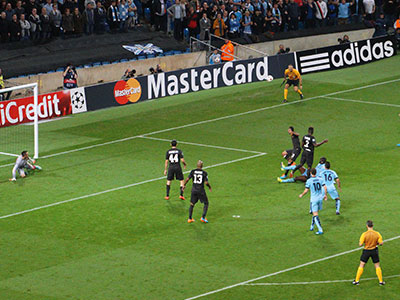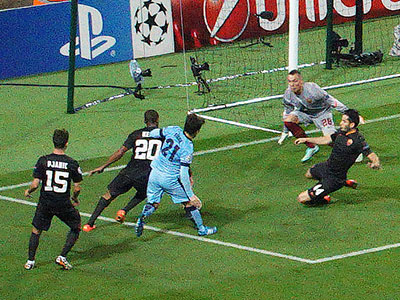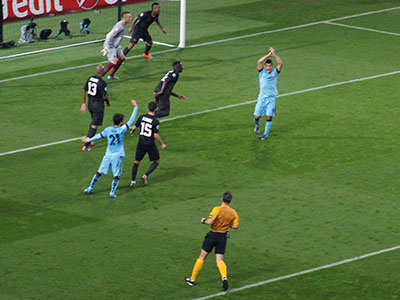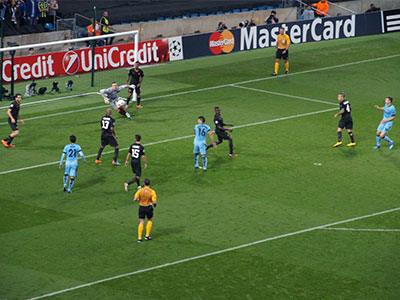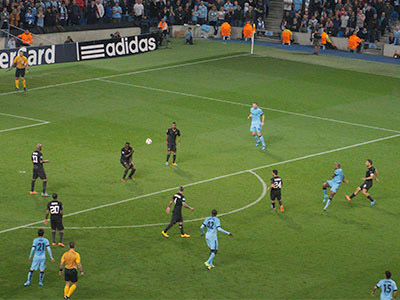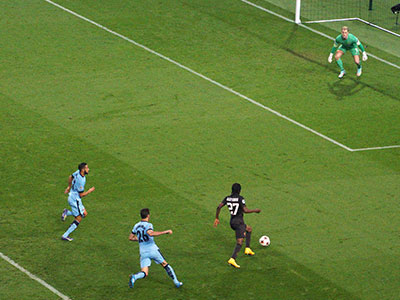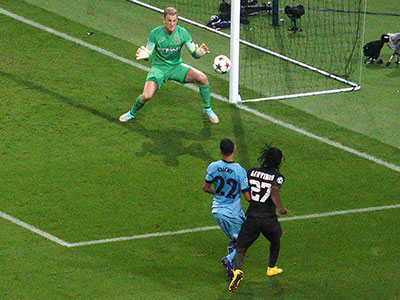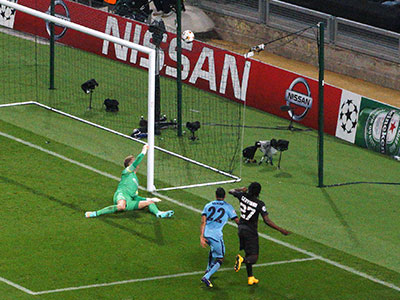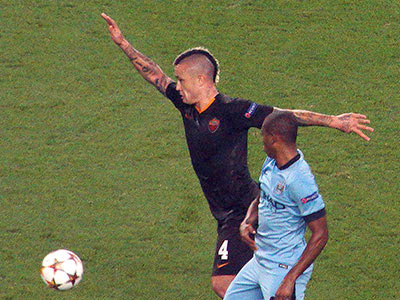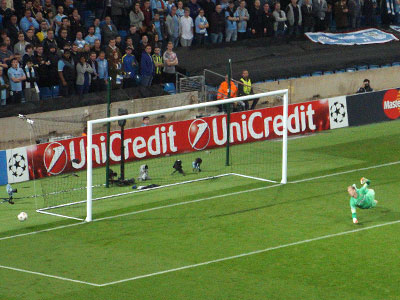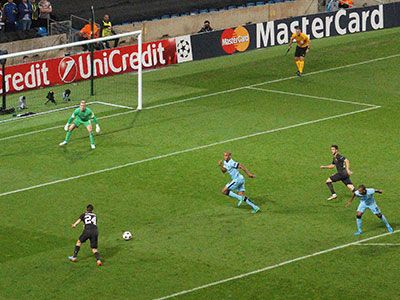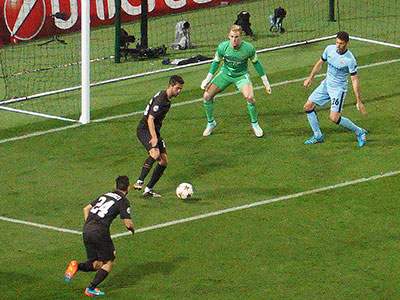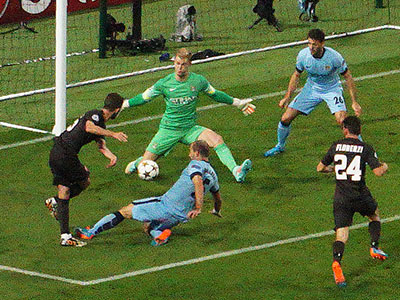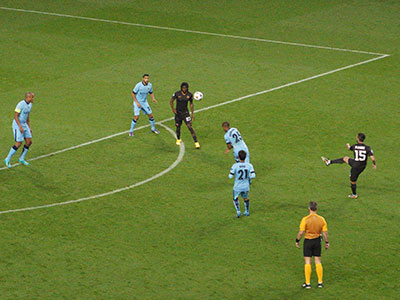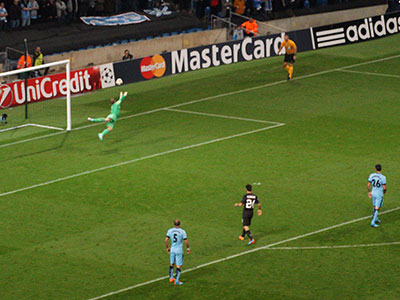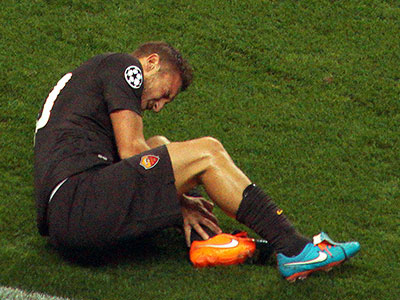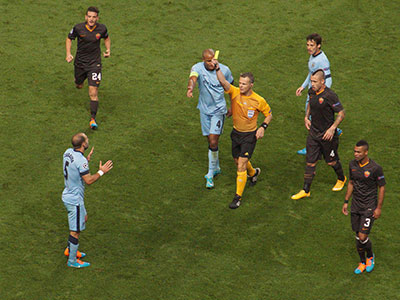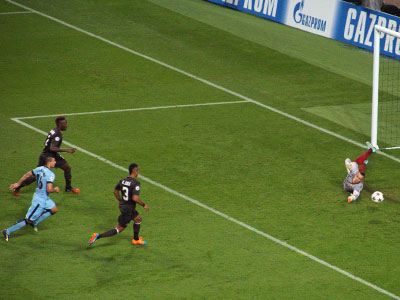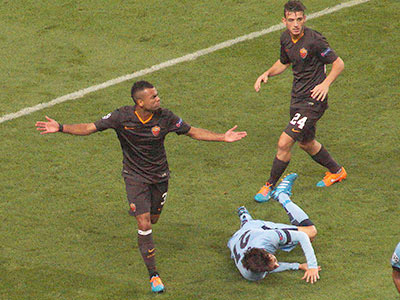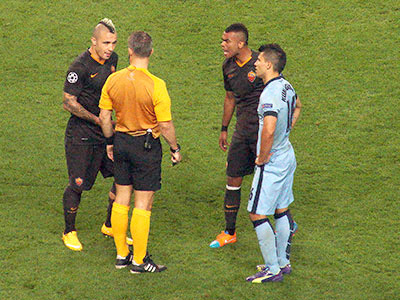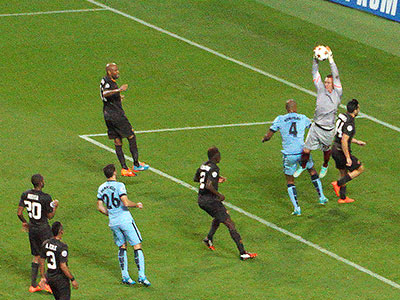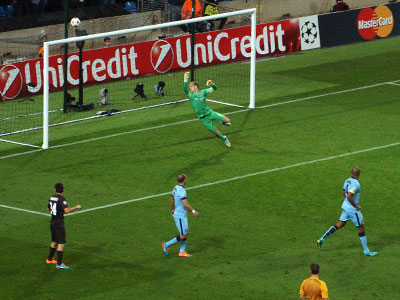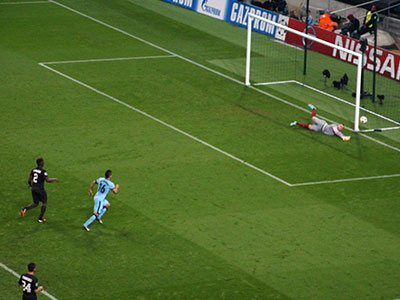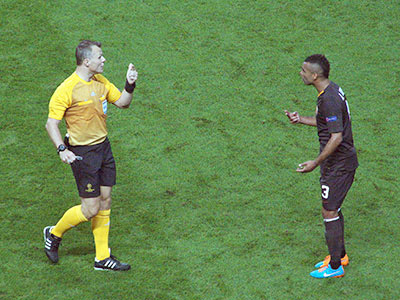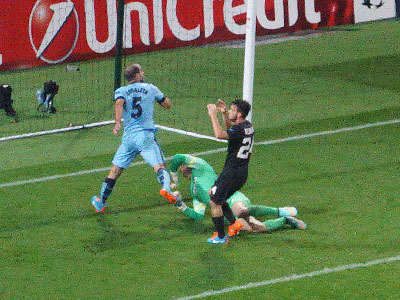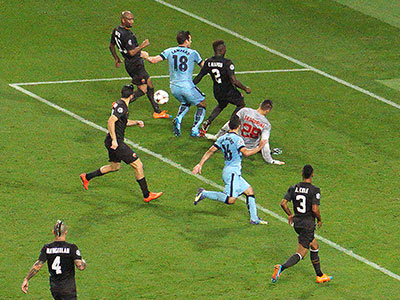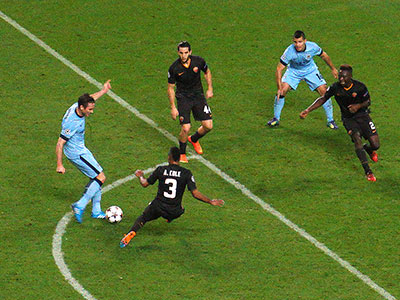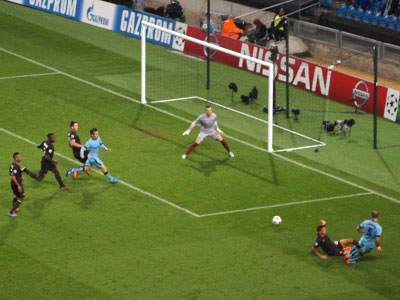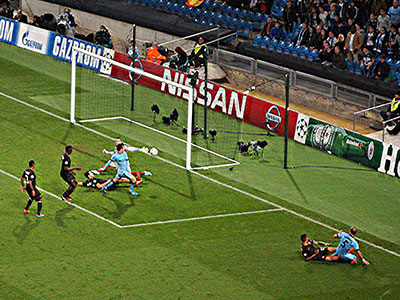 Hart returned to goal and Mangala was rested
There was a small but very noisy group of Roma fans
In the 3rd minute Aguero was pulled back by Maicon but it was several seconds before the referee gave a penalty
Maicon gets a yellow card - it might have been red
Maicon pleads his case with Silva
Aguero and not Toure takes the penalty and scores easily to give City an early lead
The City fans and players celebrate
A minute or so later Roma have a break which looks offside but no flag
Maicon hits the bar with his effort and the ball is cleared - too close for comfort!
Aguero goes down but no foul
22 minutes on the clock and disaster as a through ball finds Totti who clips the ball over Hart .......
.... and into the goal to make it one all!
Totti is quite pleased and the Roma fans go mad!
a shot from Toure is blocked
Silva tries to break through
City appeal for a hand ball - not given
Another city effort is blocked
a shot from Kompany goes well over the bar
42 minutes and Gervinho gets through...
...but his final shot is well saved by Joe Hart
looks like Nainggolan is about to dive!
Dzeko wins a free kick just on half time
Hart dives but the shot goes just wide
Florenzi breaks through...
......and Hart has to save from Pjanic
a minutes later and another shot from Pjanic goes just wide
Oh dear Totti is down injured and Zabaleta gets a card for attacking the elderly!
a Milner shot goes just wide
a Roma player is injured in this City attack
The player gets treatment
Skorupski catches the ball at a corner
Cole is getting a bit heated
The keeper saves a shot from Lampard
The ref tells Cole off for committing his 433rd foul!
Zabaleta makes an important clearance
City continue to attack but fail to break through
City have a last ditch attack but alas no goal results
team
Hart 7, Zabaleta 6.5, Kompany 6.5, Demichelis 6.5, Clichy 5.5: Toure 5.5 , Fernandinho 6.5, Navas 6.5 ( Milner 7) Silva 7.5, Aguero 6.5 (Jovetic) Dzeko 6.5 ( Lampard 7)