City 2 Everton 0
Sept 24th 2011 47,293
A tough win for City against an Everton side that came to defend and they managed to hold City at bay for almost too long. Everton however came out of the blocks first and early on it looked like Everton were going to continue their run of wins against City. After about 10 minutes or so City started to take control and it was rare that Joe Hart was troubled from then on. We had to wait until well into the second half before the goals came and both came from substitutes. Balotelli and Milner doing the business. Dzeko for once failed to click and only lasted 60 minutes being replaced by Balotelli. Aguero failed to keep up his scoring spree and he too left to be replaced late on by Milner. Both full backs had good games but i still feel we miss De Jong in front of the back four. Yaya Toure was off his normal game and looked tired. Silva had to take a lot of close marking by the Everton defence but continued to give them problems to the very end.
There was a full house for this game - twice the number that turned up for the Carling Cup game. It was helped by strong away support. This was not the best of games to watch and City were not quite at their best but you cannot win all games in style. Sometimes you have to do it the hard way.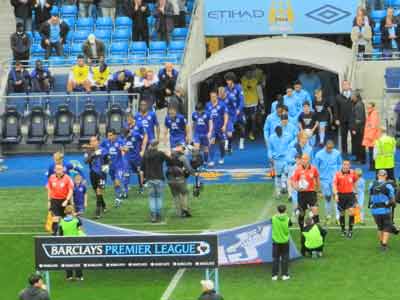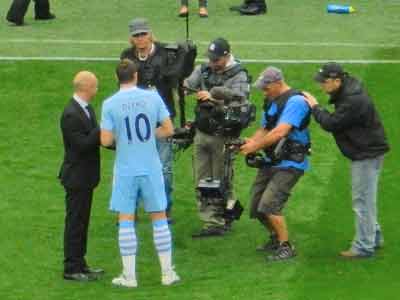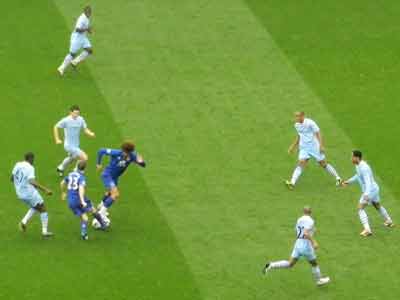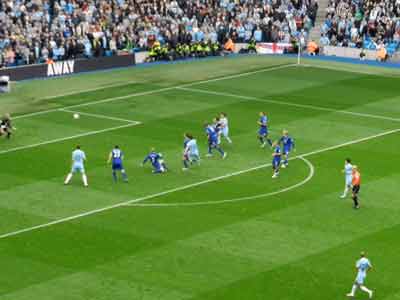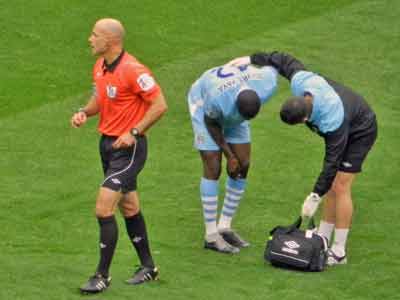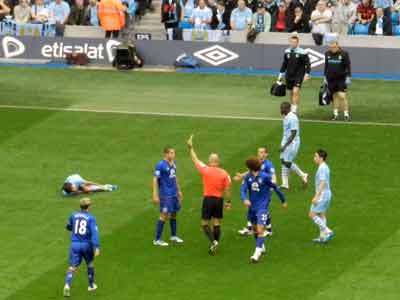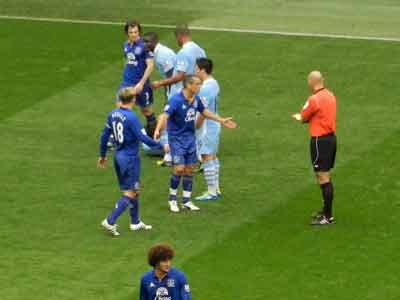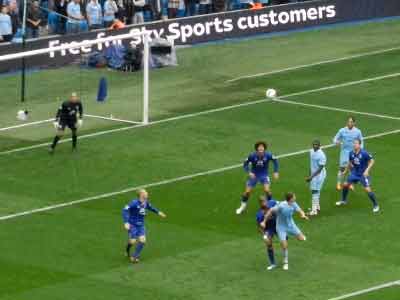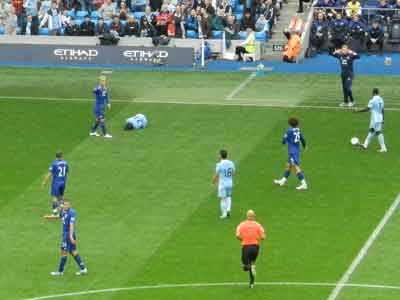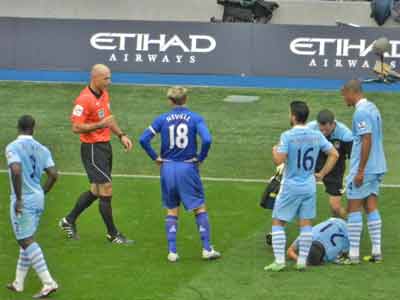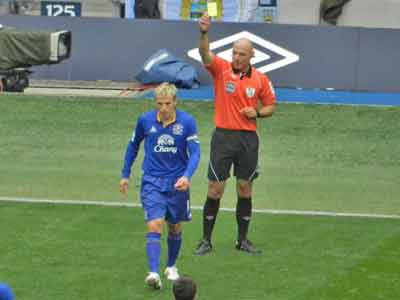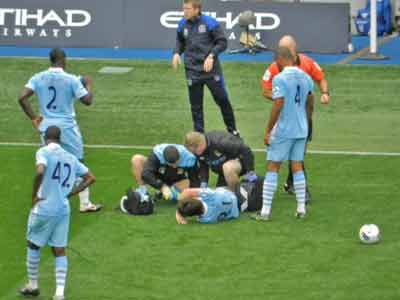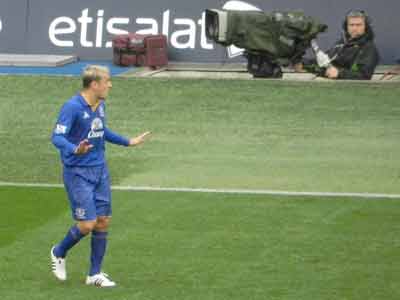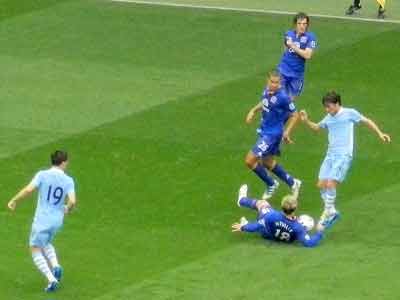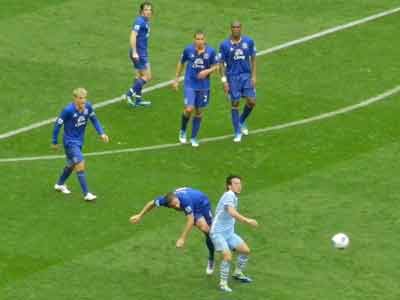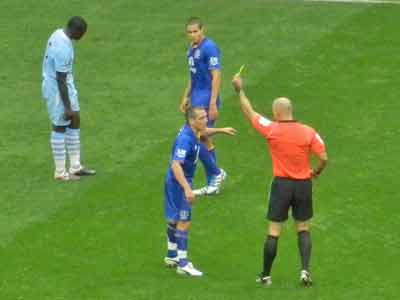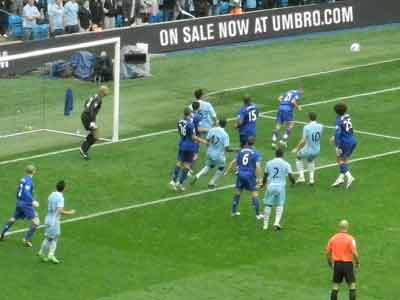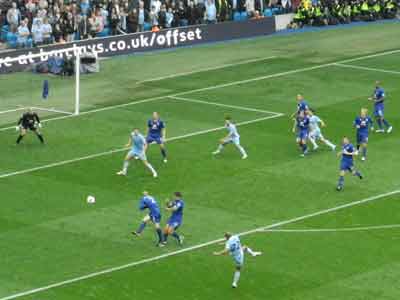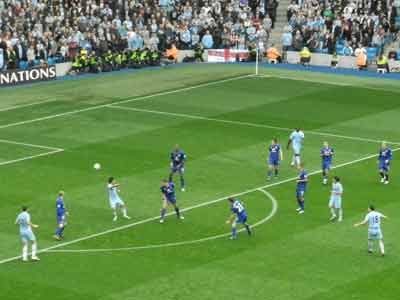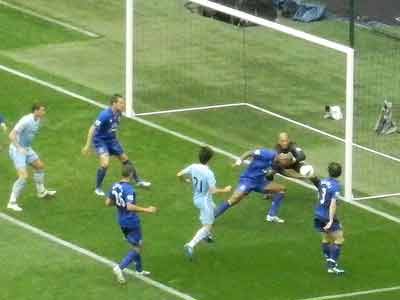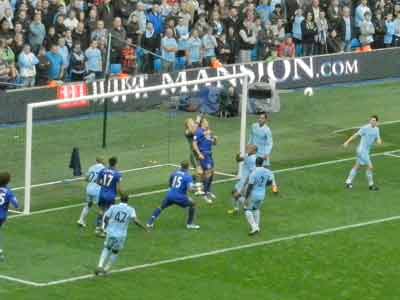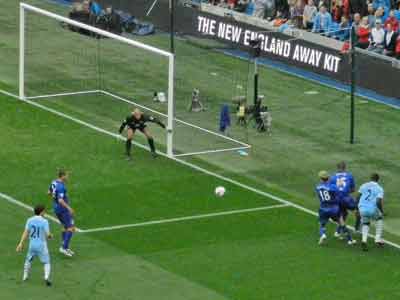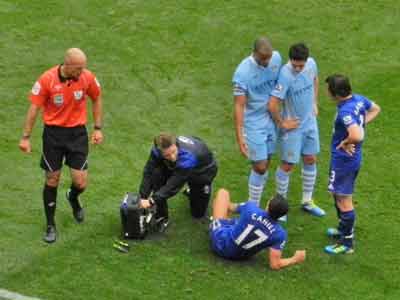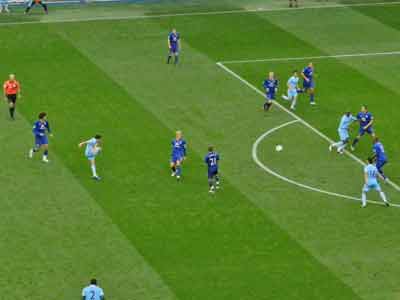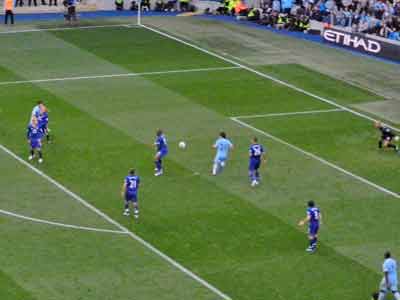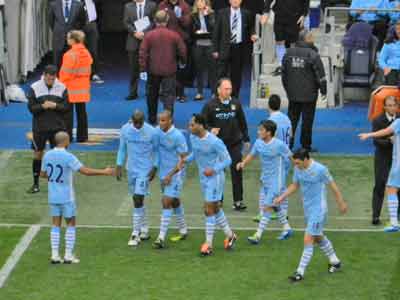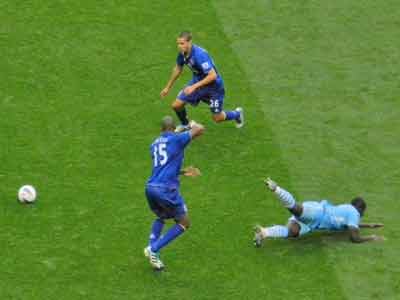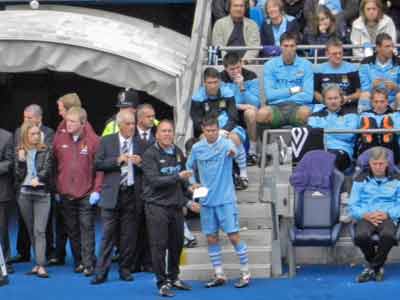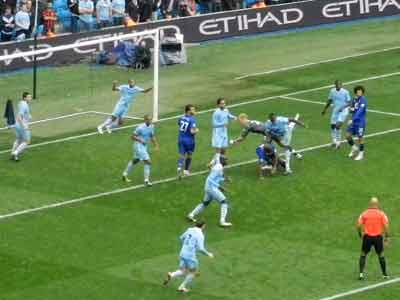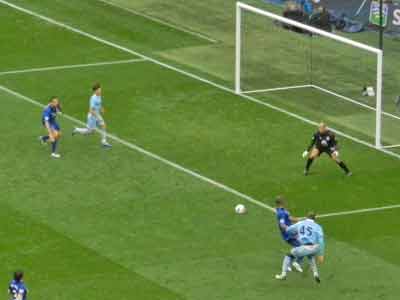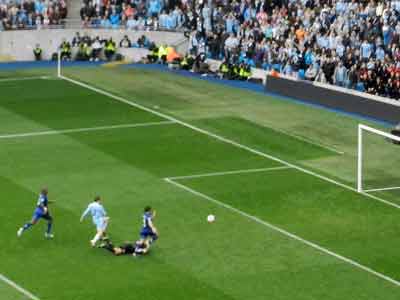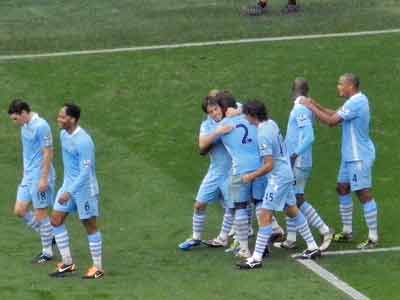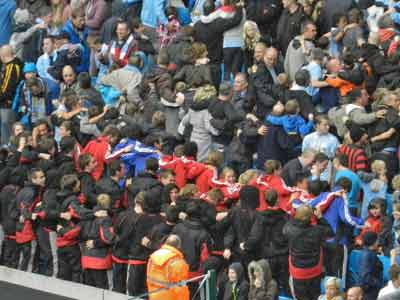 City were unchanged from the Fulham game but there were eleven changes from the Birmingham Carling Cup game
Dzeko receives his Player -of-the-Month award
Early Everton pressure failed to produce a good chance
A defensive heading error gave Dzeko had an early chance but Everton managed to clear
A shot from Aguero after 17 minutes goes over the bar from just inside the area
Yaya Toure had to receive treatment after a foul
Rodwell gets a yellow card after bringing down Silva. It was the first of some harsh treatment delivered by Everton defenders. He had been targeted!
Everton manage to clear a City attack
Down goes Silva again and this time........
...... it was Neville's turn to get a yellow card.
It looked like Everton players were going to take it in turns to bring down Silva
Despite the close marking and harsh treatment Silva continued to give Everton problems
This time it's Richards that gets fouled and Osman goes into the referees book
Osman heads clear a corner
A shot by Barry is saved by Howard
Five minutes before the interval a Clichy shot goes just wide
At half time the players of Lancashire County Cricket Club were introduced to the fans following their winning of the County Championship for the first time since 1934.
My coverage of Lancashire cricket can be seen
HERE
Distin manages to clear for Everton just after the break
Cahill gets treatment after a clash
A run down the right by Richards failed to bring a goal
A good shot by Nasri is well saved by Howard
After 67 minutes the deadlock was broken. Good work by Aguero gave Balotelli a chance and his well placed shot beat Tim Howard and City at last were one up.
Milner is about to come on for Aguero with 77 minutes gone
A goal down Everton had to come forward and Joe Hart had to earn his keep
Having hit the post earlier David Silva scored after good work by Balotelli but he was ruled offside
Silva continued his good work by putting through a great pass for Milner who scored City's second goal on 89 minutes
City and the supporters celebrate and we went to the top of the league - for a few hours at least!
Hart 6.5: Richards 7, Kompany 6.5, Lescott 6.5, Clichy 7: Yaya Toure 5.5, Barry 6.5: Nasri 7 (Savic) Silva 8, Aguero 7 ( Milner ) Dzeko 6 ( Balotelli 7.5)