City 1 Man United 0
Nov 2nd 2014 45,358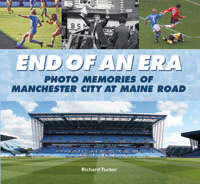 Now available from Amazon ( click on image for link)
WH Smith and the City shop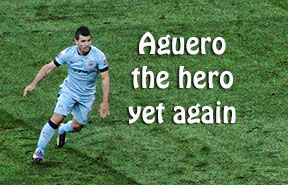 Not since the days of Bell, Lee and Summerbee in 1960/70 have City won four derby's on the trot so this was a special occasion. However it was often tough going for City even when United had a defender sent off in the first half. It should have been easier but referee Oliver failed to award City two penalties before half time and possibly another later. Then it would have been game over!
At least City played better than in their last few games but as it was a derby game we were expecting an improvement in performance despite the absence of Silva. The packed crowd produced plenty of atmosphere and there were plenty of incidents.
Aguero notched his 10th league goal of the season - a real cracker- to give City the vital three points to keep them in touch with Chelsea. Chris Smalling made life a bit easier for City by getting himself sent off late in the first half following two yellow cards in 8 minutes. Both were stupid errors of judgment and no doubt he will get a telling off by his manager.
Kompany and Demichelis gave Joe Hart plenty of cover and Hart had little to so but he did make a good save from Di Maria late in the game. Di Gea was the busier of the two keepers and he had to make some good saves from Navas and Aguero. Yaya Toure showed some better form and it was his vital pass to Clichy who then crossed for Aguero to hit it first time past the United keeper.
Milner put in his usual 110% effort so it was surprising to see him subbed after 70 minutes. Fernando had a better game in an improved mid-field performance. Zabaleta was an expected improvement on Sagna down the right flank but I think we did miss the creativity of Silva.
I also wish we would leave Aguero up field when the opposition have a corner. It's a much more positive attitude and means the opposition have to leave at least two defenders back.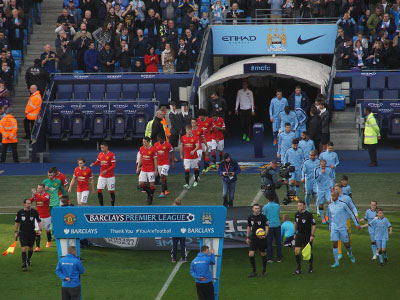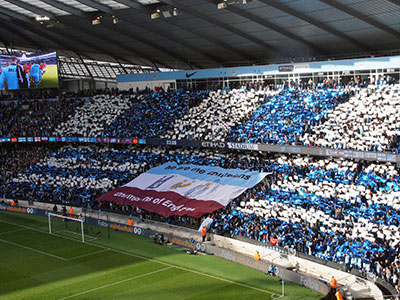 As the teams came out we had a nice display from the North Stand
No Silva alas but Jovetic started and back came Kompany and Zabaleta.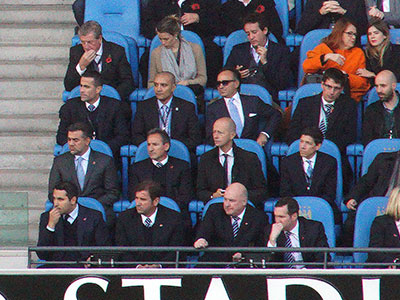 Sir Alec Ferguson and Bobby Charlton were in the United front row
England Manager Roy Hodgson was in the 4th row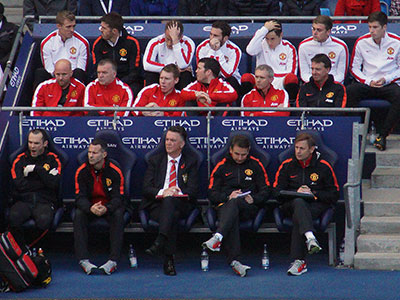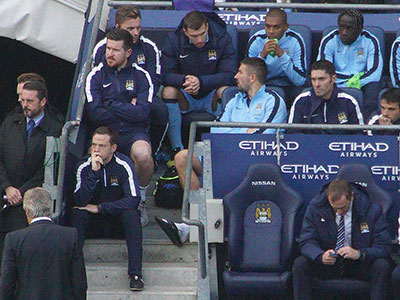 Kolarov was injured in the warm-up but joined his colleagues on the bench with leg outstretched
Interesting to see the United manager who rarely came to the touchline in the centre of his bench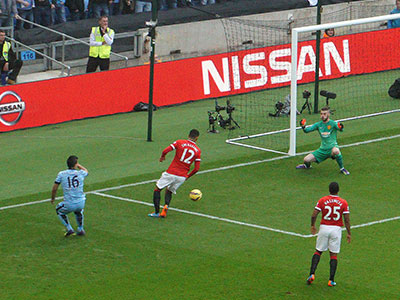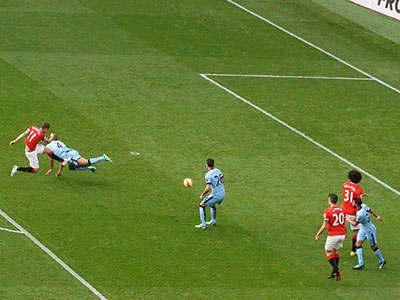 Di Gea has to save from Aguero early on
Januzaj shoots wide after 9 minutes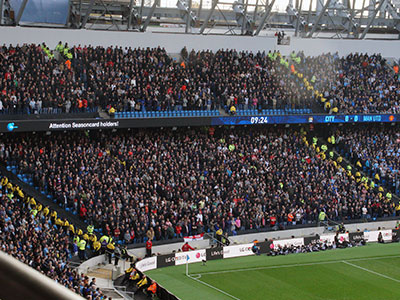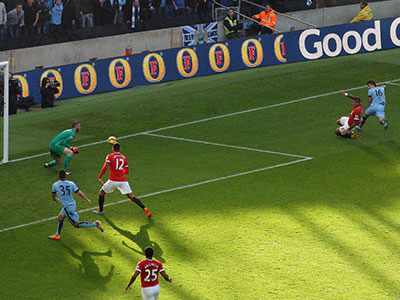 The United fans were well watched by the stewards!
On 19 minutes Aguero has a shot saved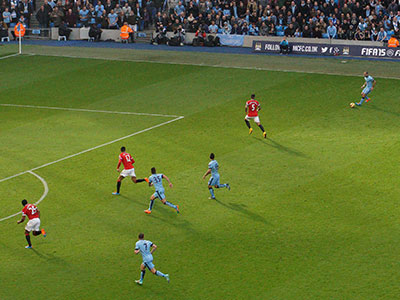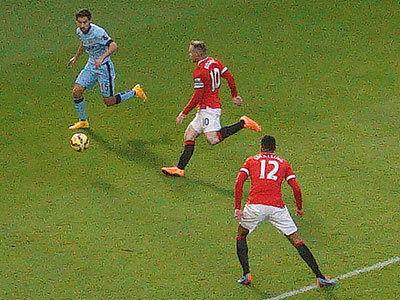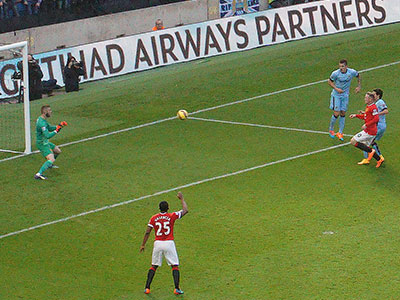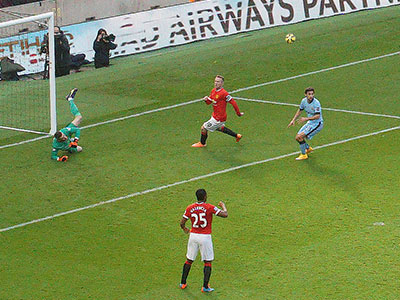 a minutes later and Zabaleta finds Aguero who puts it through to Navas
Navas shoots and Di Gea manages to push it away to safety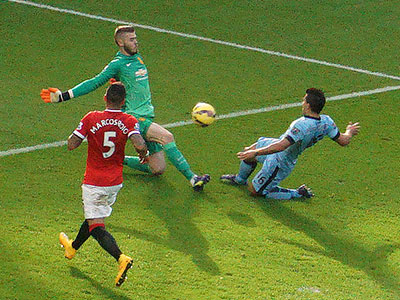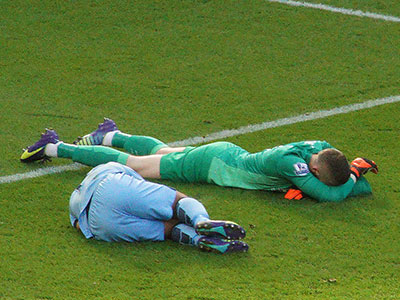 a minute later Aguero goes for a through ball and collides with Di Gea as the keeper saves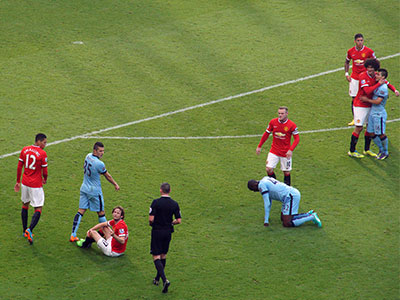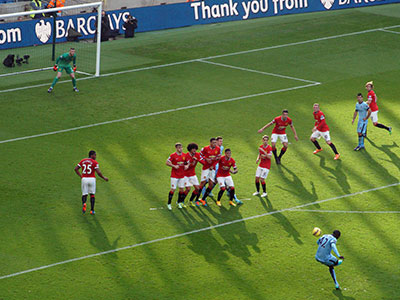 On 27 minutes Toure is brought down by Blind who gets a yellow card but Toure's free kick goes over the bar - note Aguero and Fellaini having a close encounter!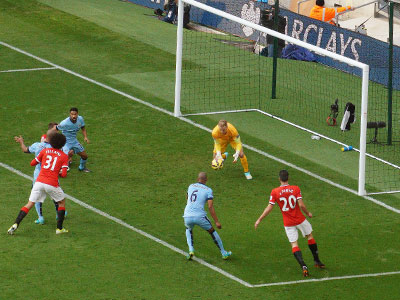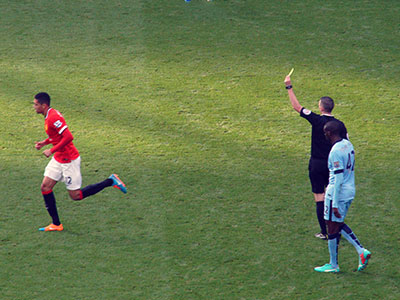 on 29 minutes a free kick to United ends up with Hart taking an easy catch but as he went to clear it Smalling tried to block his kick and got booked - its years since I saw any player do that!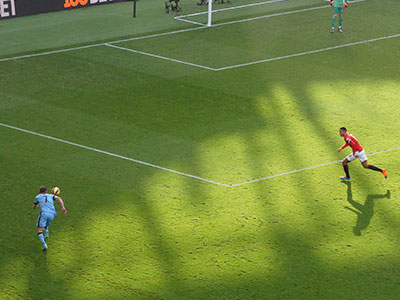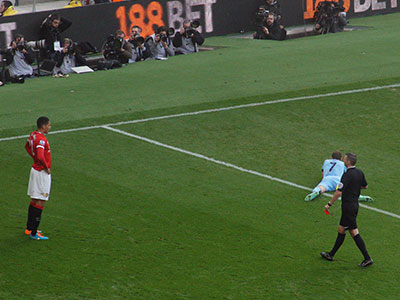 on 38 minutes Milner dashed down the left wing and across came Smalling and crashed him to the ground - second yellow!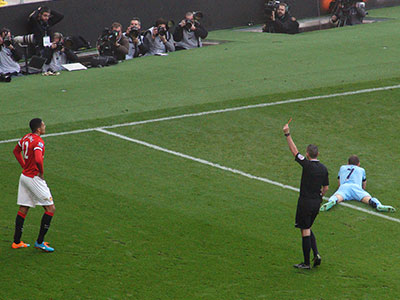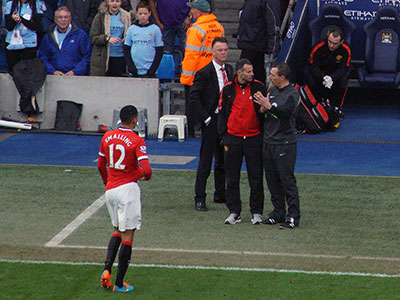 Off he had to go and there was little recognition from his manager and Giggs as he trudged to the dressing room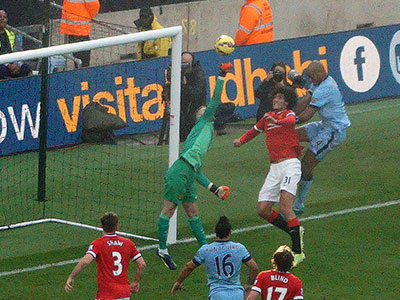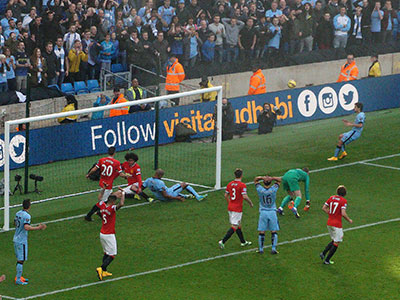 The free kick was missed by everybody as it went for a goal kick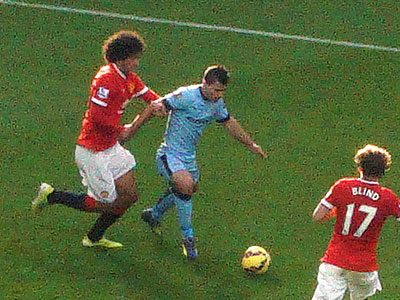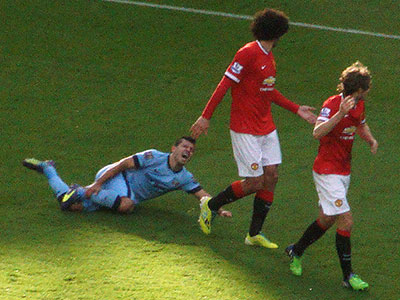 On 41 minutes City should have had a penalty when Aguero was first held by Fellaini then clipped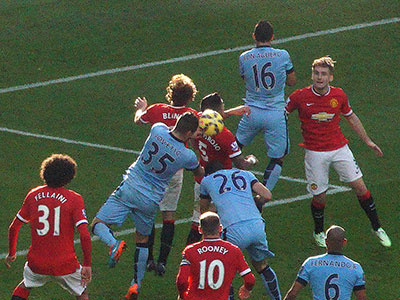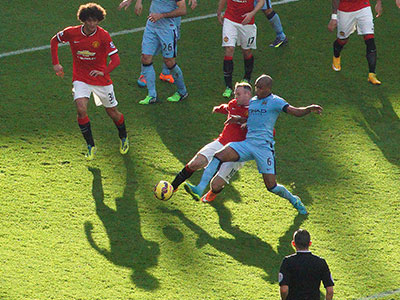 City continue to attack as half time approaches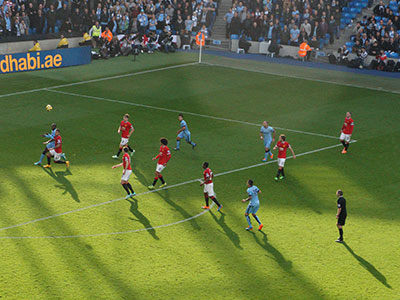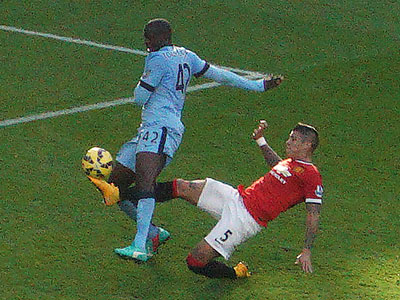 In added time a lob finds Toure who is fouled by Royo in the area. Note the static referee badly positioned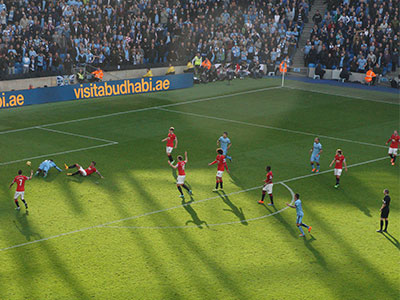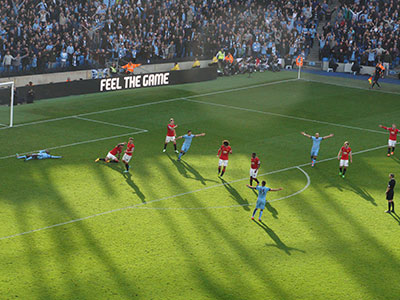 The still static referee fails to give a penalty or send off Rojo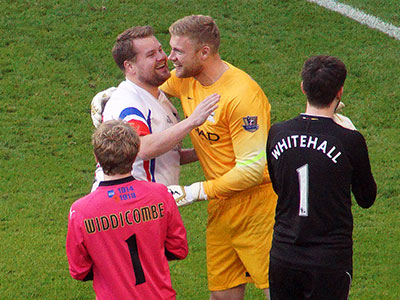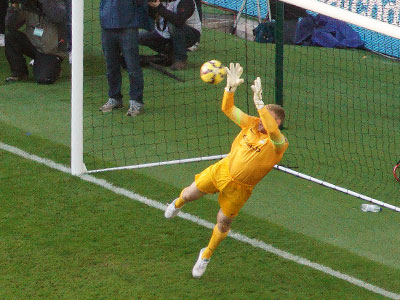 During half time as part of a challenge for 'A league of Their Own' James Corden took penalties against some celebrities - here Freddy Flintoff is saving one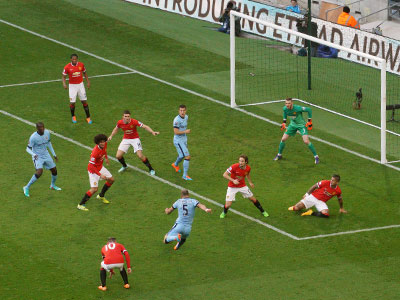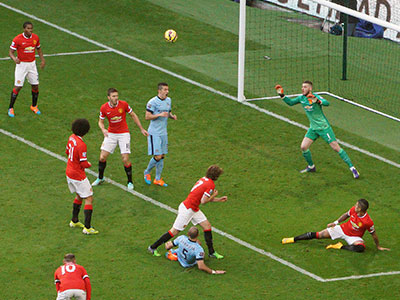 On 49 minutes Zabaleta shoots over the bar from a good position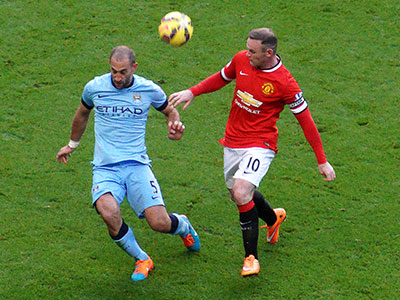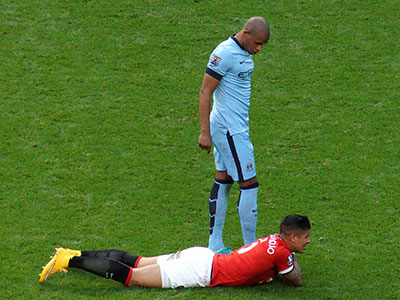 Zabaleta and Rooney battle for the ball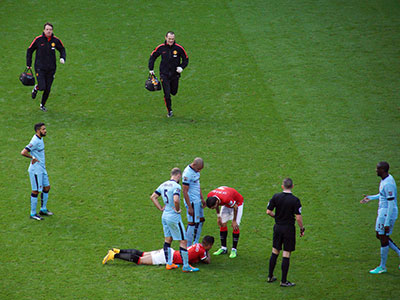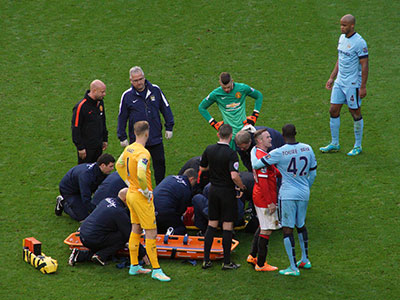 it didn't seem serious but eventually he is taken off the field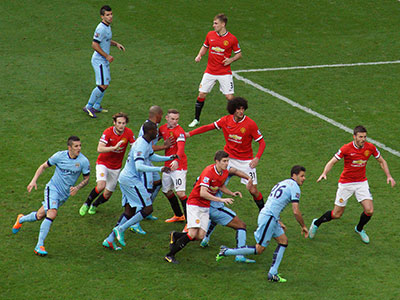 City continue to pressure the United defence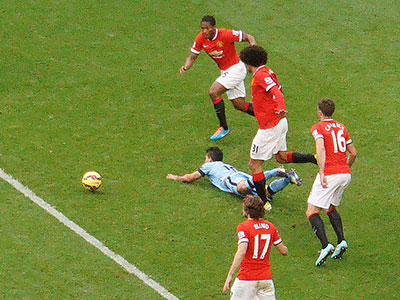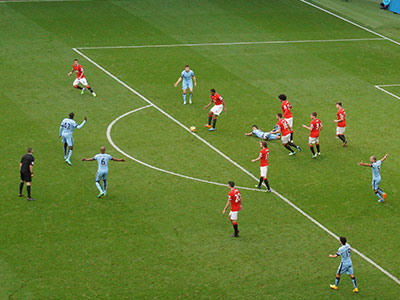 Fellaini brings down Aguero but no penalty !! yet again!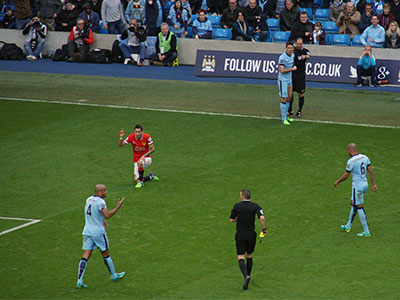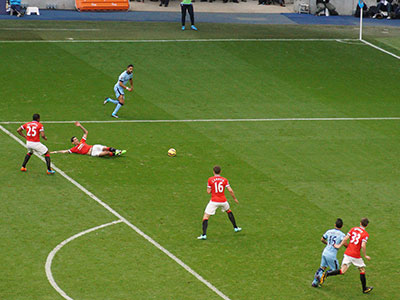 59 minutes on the clock and Demichelis gets booked for a foul on Di Maria
Then on 62 minutes Toure passes to Clichy on the left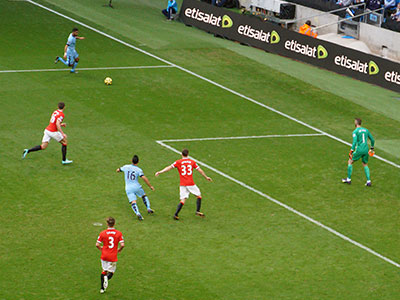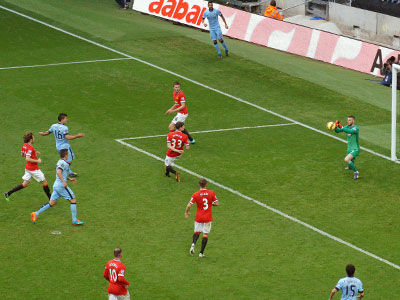 Clichy centers the ball to Aguero who hits it first time past Di Gea.......

... and into the back of the net to give City the lead !!! Vunderbar!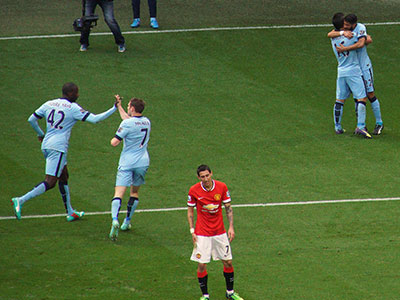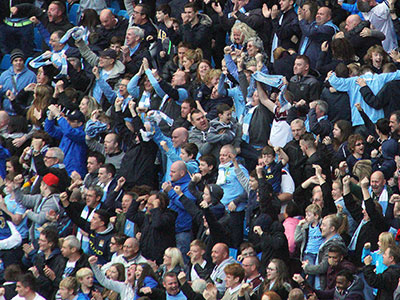 Clichy and Aguero embrace while Milner congratulations Toure on his pass
the North Stand are delighted!
The South Stand too celebrate and let the United fans know their feelings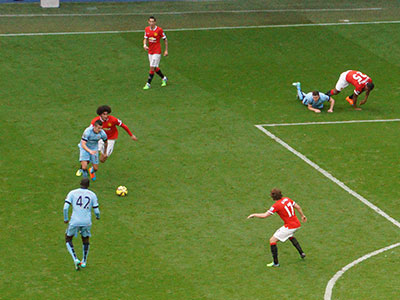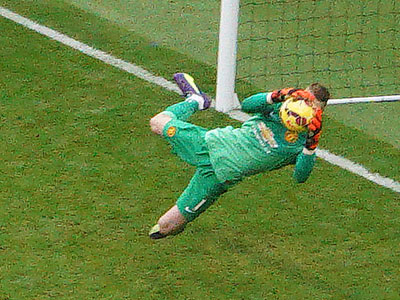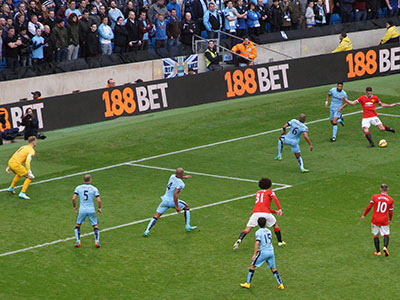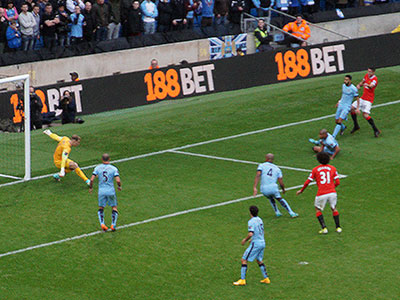 Joe Hart blocks a shot from Van Persie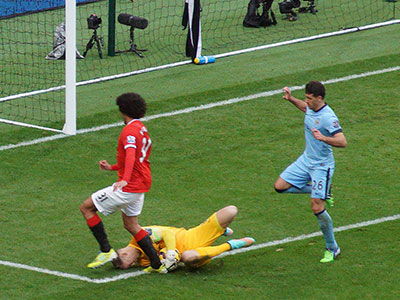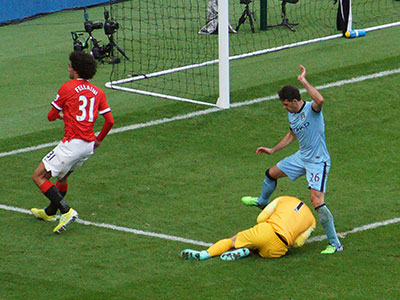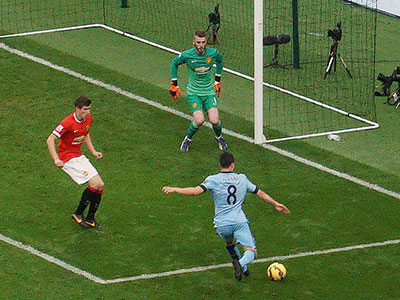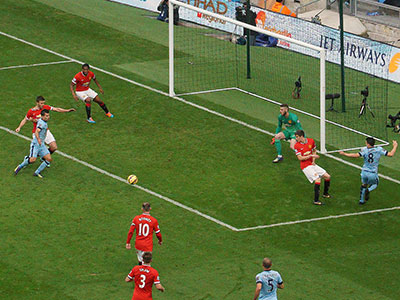 Nasri has an effort blocked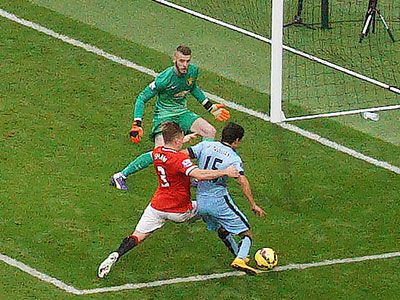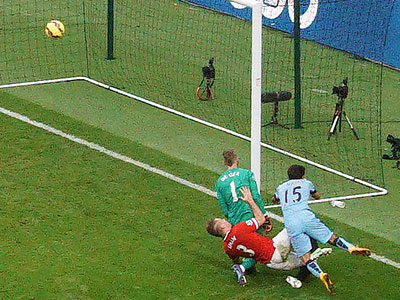 Navas eludes Shaw and hits the bar with his shot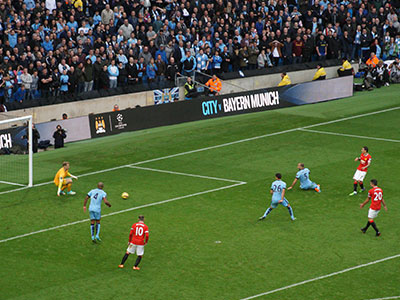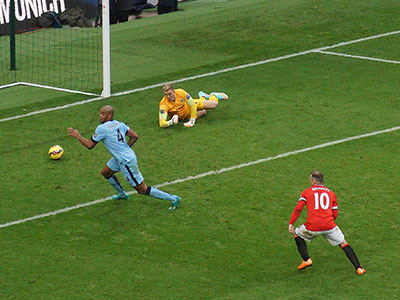 Joe Hart has to make a good save from Di Maria with ten minutes to go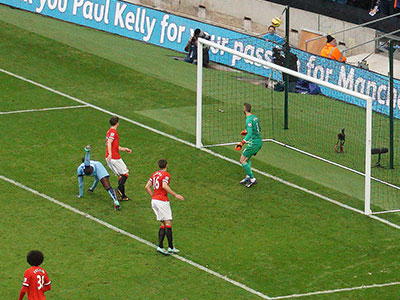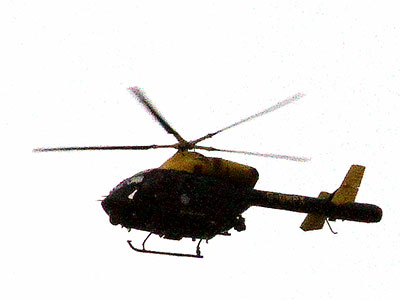 Yaya Toure misses a good chance with a header which goes over the bar
A helicopter patrols the skies looking for drones!
team
Hart 7: Zabaleta 7, Kompany 7.5, Demichelis 7, Clichy 7.5: Yaya Toure 8, Fernando 6.5, Milner 8 ( Nasri) Navas 7, Jovetic 6 (Dzeko ) Aguero 8.5 (Fernandinho)