City 1 CSKA Moscow 2
Nov 5th 2014 45,143
Champions League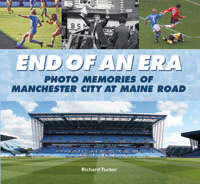 Now available from Amazon ( click on image for link)
WH Smith and the City shop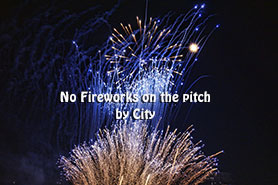 Unless a miracle occurs I think we can say farewell to the Champions League after a spineless performance against a Moscow side that we beat easily on their last visit. I know Christmas is coming but the gifts the City defence were offering the visitors don't bear thinking about. Moscow went ahead within a minute or so. Clichy gave away a cheap free kick on the right and the free kick was headed home by a completely unmarked Doumbia. Shortly after a great free kick by Yaya Toure found the top corner but then Clichy gave the ball away with a poor clarence and Doumbia once again scored. Clichy had played so well against United too. What a shame. To finish with nine men did not help either! Fernandinho on for Jovetic at half time got two yellow cards in 8 minutes and late in the game Toure got a straight red for pushing a player - idiotic - he will miss the remainder of our Championship games!
However the Greek referee was pretty poor refusing two good shouts for penalties and then making a grave mistake when he gave a yellow to Ignashevitch instead of a second yellow to Wembloom who clearly made the foul and had been booked earlier.
At least the fireworks display went with a bang but the players deserve a few rockets!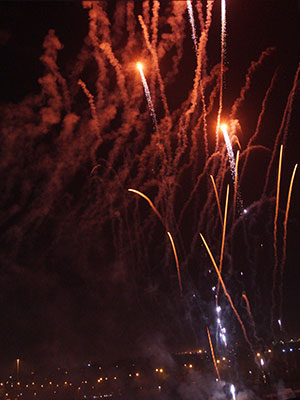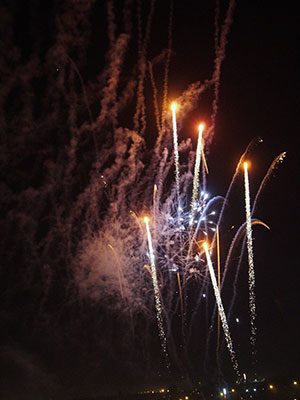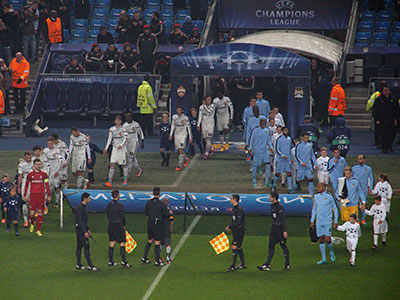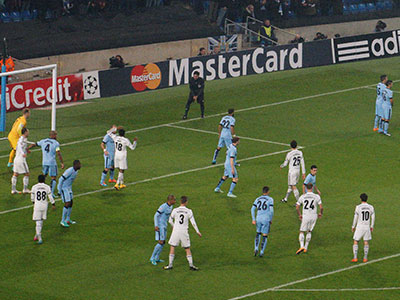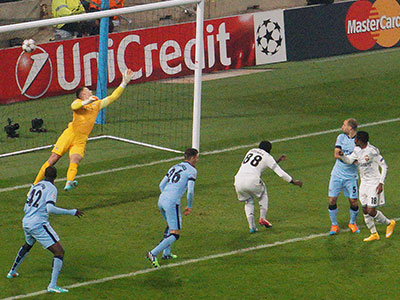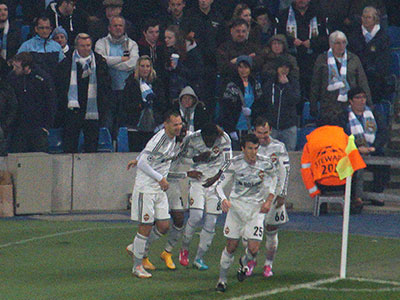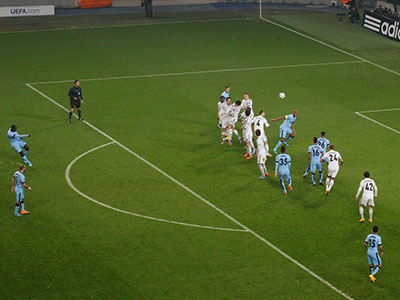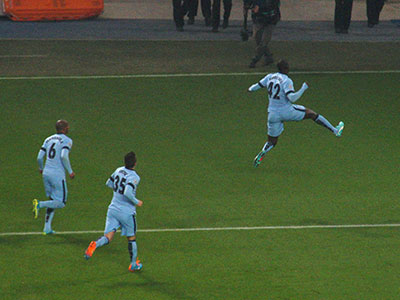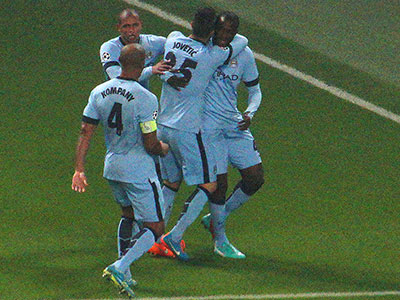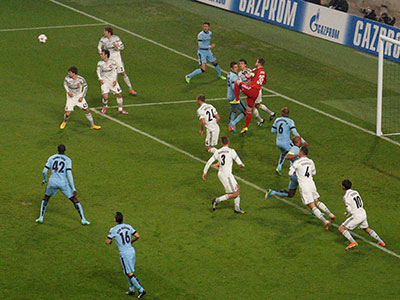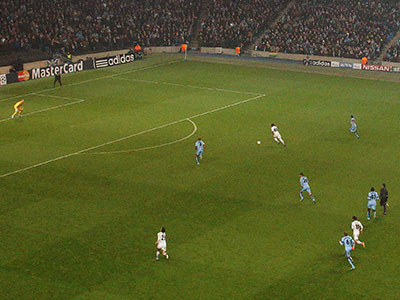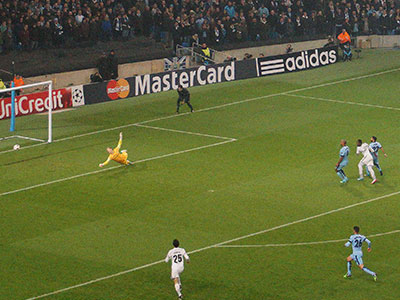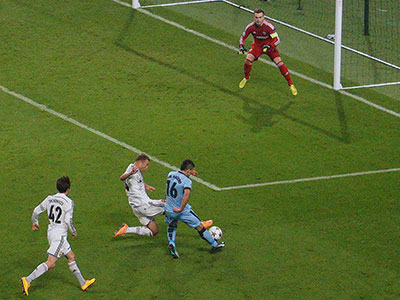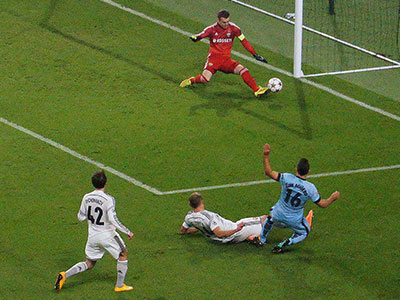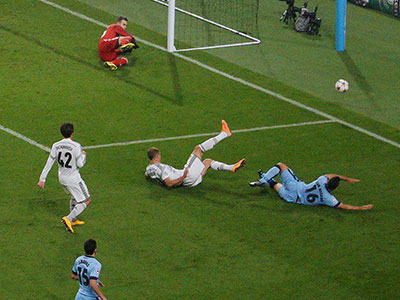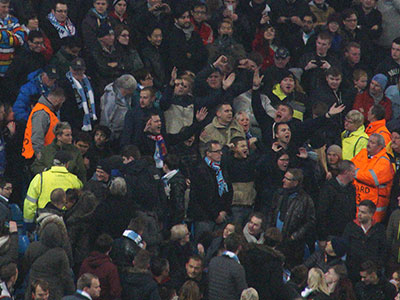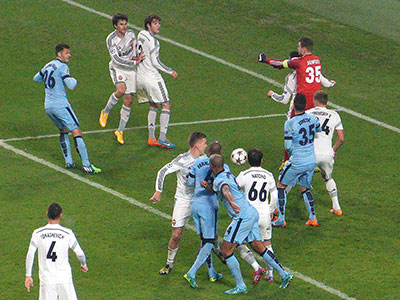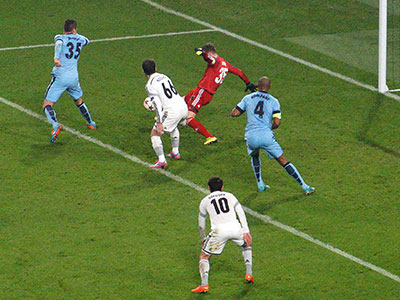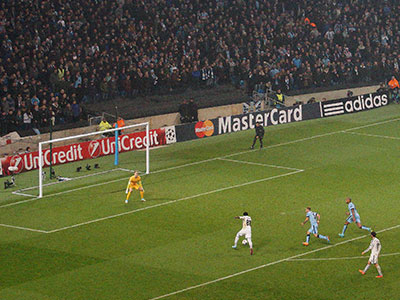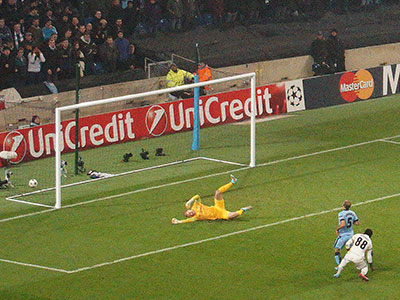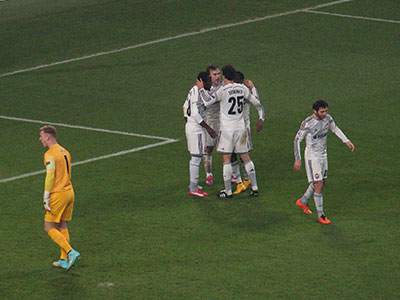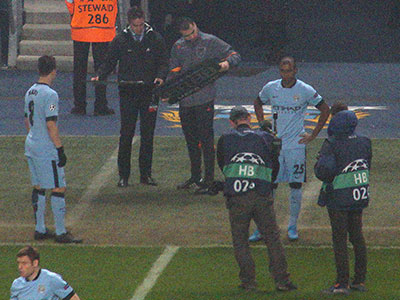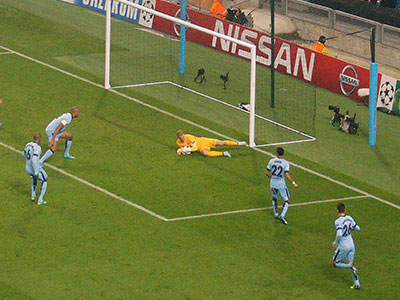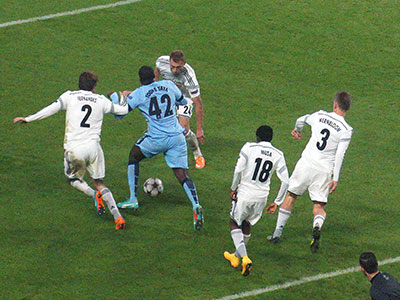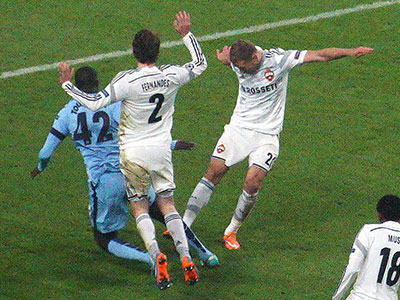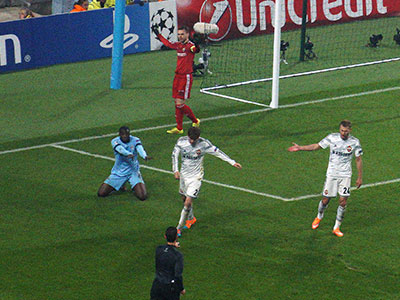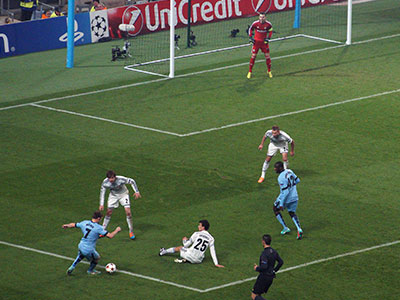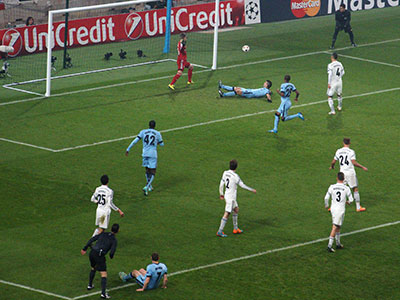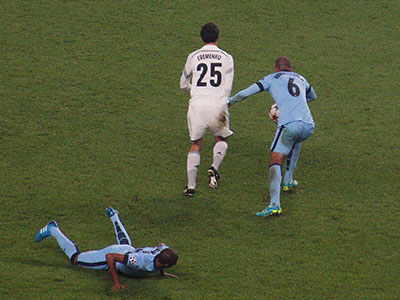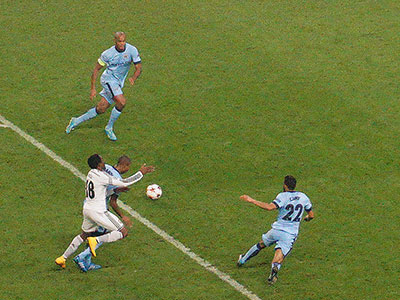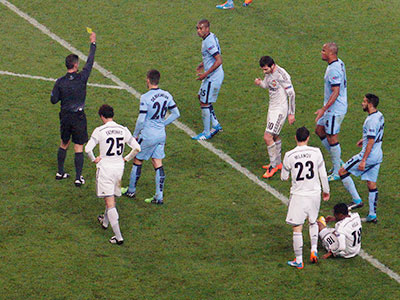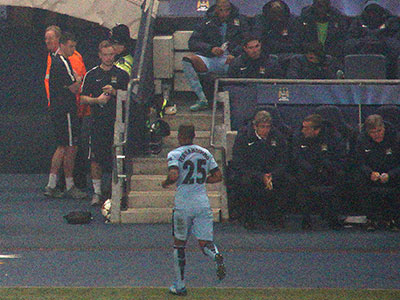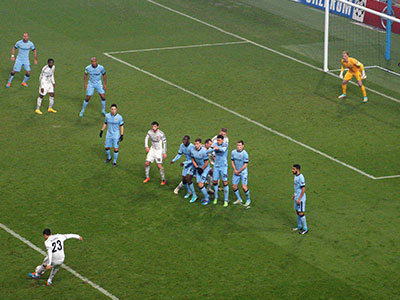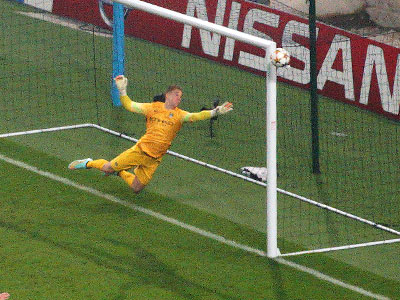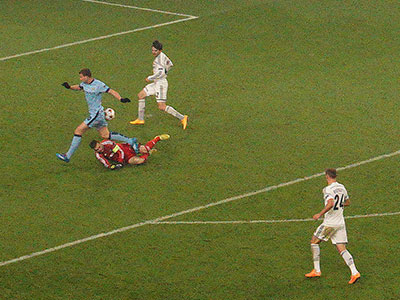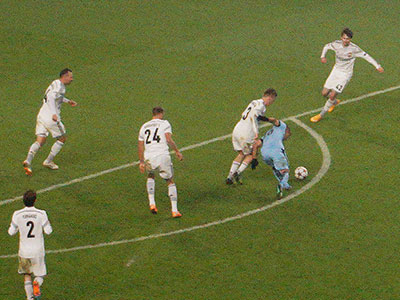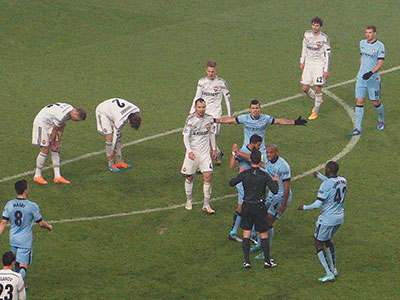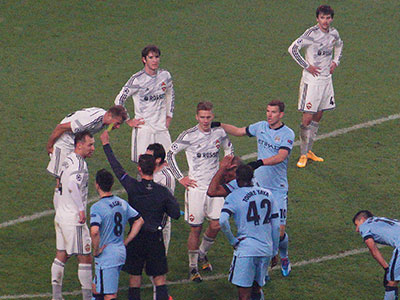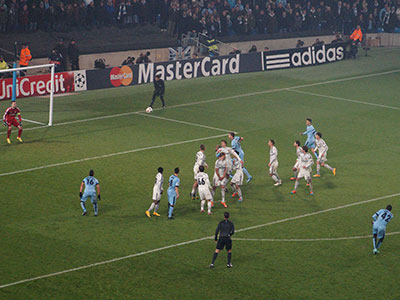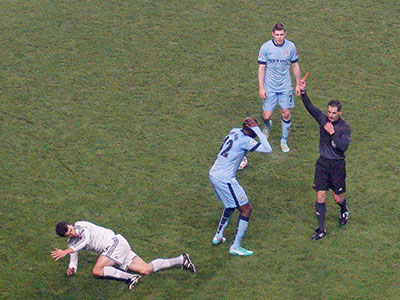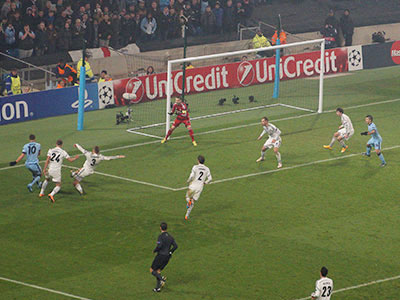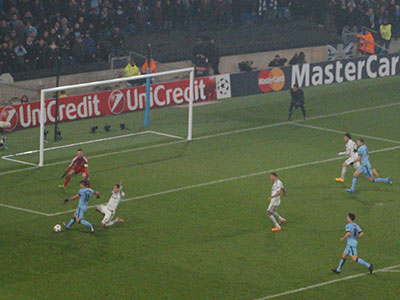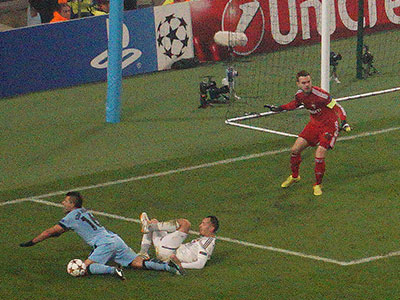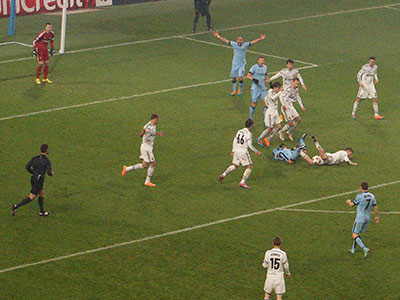 The fireworks display was pretty good -- a low res AVI of a segment of the display can be seen
HERE
City were unchanged from the United game
Toure is marking number 88 as the free kick comes in
Doumbia loses his marker and heads past Hart to give Moscow the lead after just one minute forty seconds - disaster!!!!
The visitors celebrate in a silent stadium
On 6 minutes Jovetic breaks through but is fouled
Yaya Toure takes the kick and it flies over the wall into the top corner to equalize for City.
Toure jumps for joy as he is a bit short on goals this season!
Kompany battles for the ball
another error lets in Moscow and Doumbia has a good chance but shoots wide
a minutes later and Aguero has a good chance.......
but his effort is saved by the keeper
Some Moscow fans are discovered!
The CSKA defence manage to clear City attacks
a misplaced Clichy pass went straight to a Moscow player who passed to Doumbia and this time he beats Hart to give the visitors the lead on 33 minutes
There was a deathly hush in the ground as further progress in the competition appeared to be fading away
At half time City made two changes - Fernandinho was on for Jovetic and Nasri came on for Navas
After 55 minutes Toure broke through and it looked like he was brought down in the area but....
Hart has to make a save early in the second half
Then Milner has a shot come cross.........
...but he ball goes just wide Aguero just failing to reach it
On 61 minutes Fernando ( on the ground) is given a yellow card for a foul
and a few minutes later he gets a second yellow for a foul and he is sent off!
He goes to the dressing room without a glance from the bench
Milanov takes the free kick.....
...and Joe Hart is glad to see the ball go just wide
The keeper saves from Dzeko - on for Fernando
On 77 minutes Aguero is fouled by Wembloon who had been booked earlier.....
but for reasons unknown to him and the Kremlin the referee booked Ignashevich and the keeper easily saved Toure's free kick
to make matters worse Toure got a red card for pushing Eremenko
A Dzeko effort is blocked
in the final moments Aguero is brought down in the area.....
....but no penalty is given and he is booked for diving!
again Aguero is fouled but nothing given!
Team
Hart 6.5: Zabaleta 6 , Kompany 6.5, Demichelis 6, Clichy 5: Navas 6 (Nasri 6), Fernando 6 (Dzeko6), Toure 6, Milner 7, Jovetic 5 (Fernandinho 6) Aguero 7