City 3 Brighton 1
May 9th 2018 att.54,013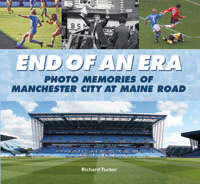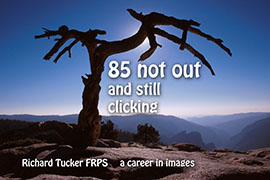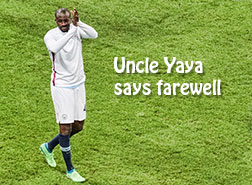 This was Yaya Toure's farewell night at the Etihad and it was a shame he didn't score!.As it was he played really well on his final appearance and he deserved all the praise that came his way after the game.
For the record City with umpteen changes beat Brighton easily and have now broken 3 more league records - Most goals -105 - most wins - 31 and most points - 97. It would be great if we reach 100 points with a win at Southampton in the final fixture.
Even without Aguero, De Bruyne, David Silva and Sterling City dominated the game with over 70% possession. An early goal by Danilo set the ball rolling but an error by Bravo gave Brighton the equalizer.
Fortunately a cross from Sane found Benardo Silva in scoring mood and City went ahead before half time.
Fernandinho clinched the result with twenty minutes to go and Danilo hit the bar with a free kick that Yaya would have taken if he had been on but shortly before he was substituted and he left the field to thunderous cheers and singing.
Yes this was Yaya's night . No doubt there will be several clubs wanting to sign him in the summer so I just hope he does not score against us next season!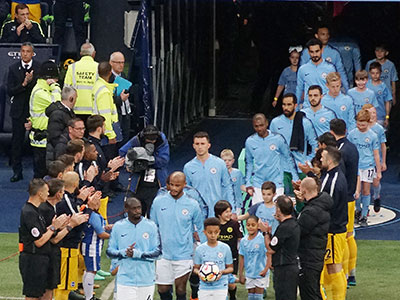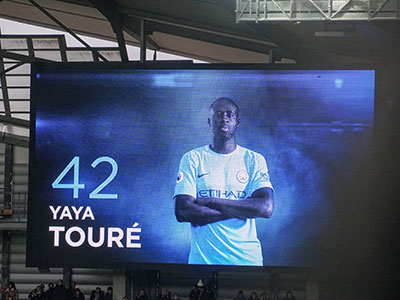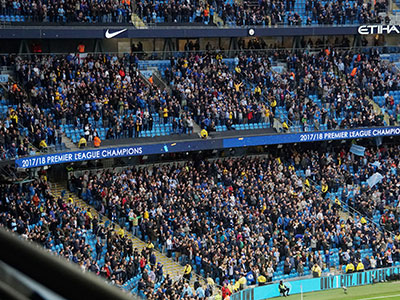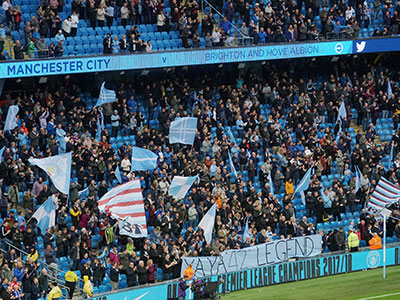 City made 7 changes from the Huddesfield game and skipper for the day was Yaya Toure on his final 316th appearance for the club
Considering it was midweek and a late kick-off there were a fair number of Brighton fans present
There were a few gaps in the rest of the Stadium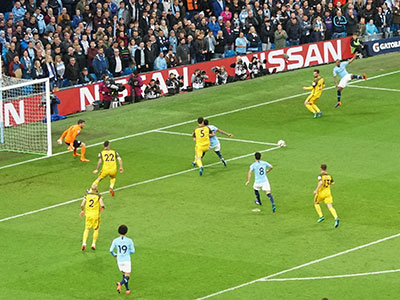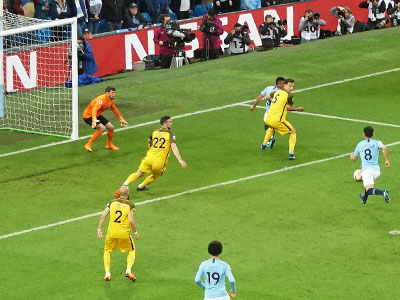 A cross from Fernandinho was met by Gundogan who shot.....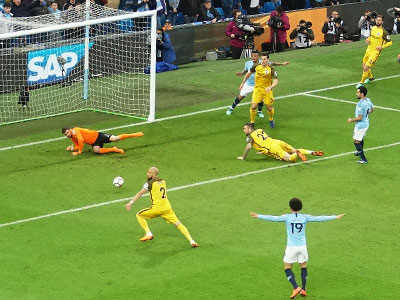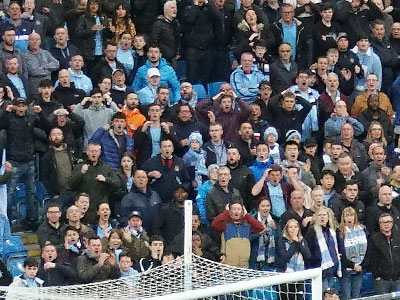 ...but his effort was blocked and the ball was cleared much to the dismay of the South Stand City fans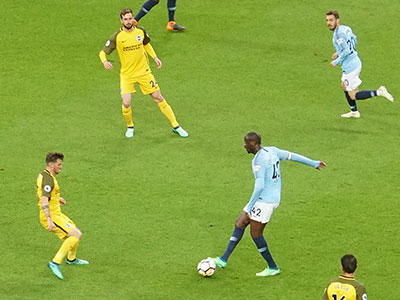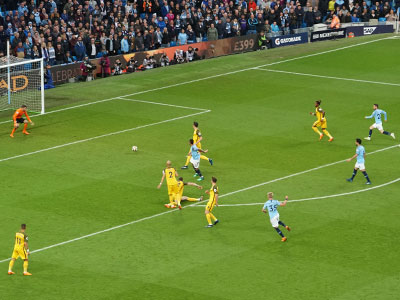 A minute later Yaya Toure passed to Zinchenko who shot wide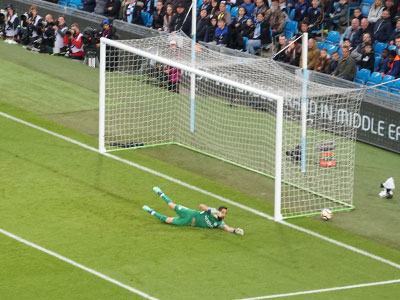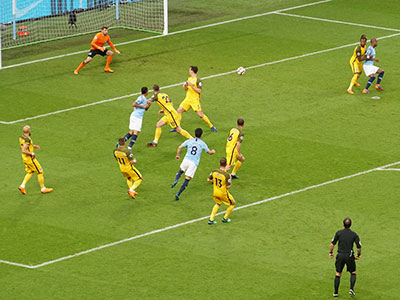 Then at the other end Bravo had to leap across when Knockaert shot from outside the area but it went wide
Another attempt by Gundogan goes wide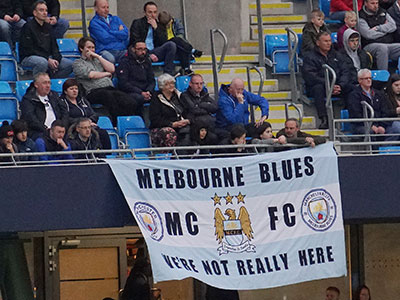 That's a long way to come!
Then on 16 minutes Sane put Danilo through.....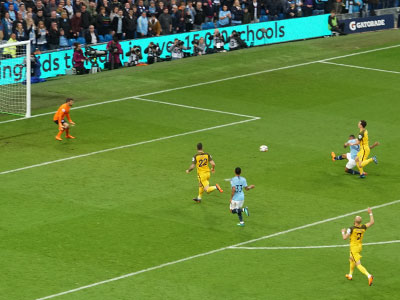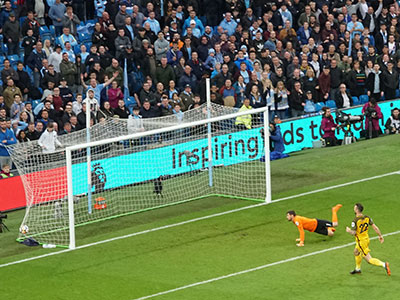 .....and he belted it with his right foot into the back of the net - Great stuff - one nil to City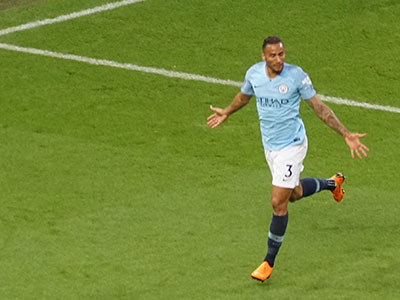 It was his third goal for City this season and no doubt he enjoyed it like the South Stand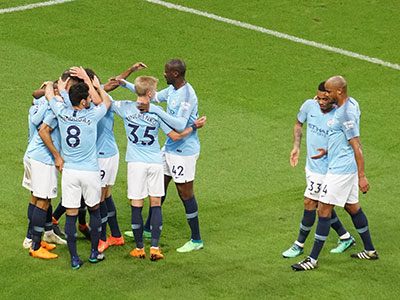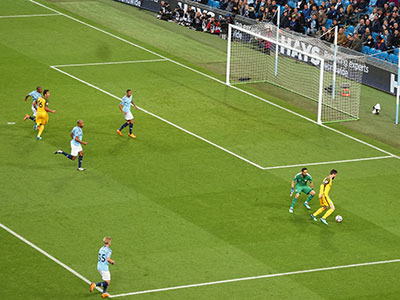 The City players celebrate the opening goal
a few minutes later Bravo came dashing out of goal get the ball off Propper......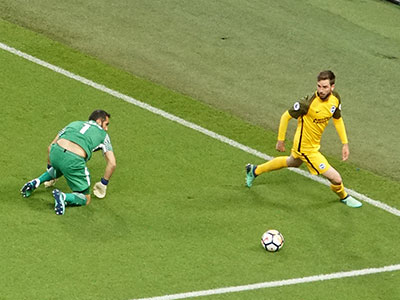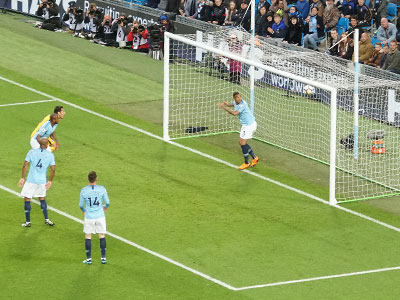 ....but he lost the ball and Propper was able to cross and there was Ulloa to head into a keeper less net -
one all.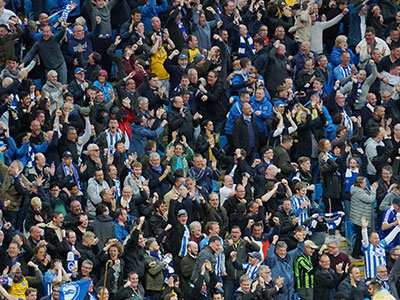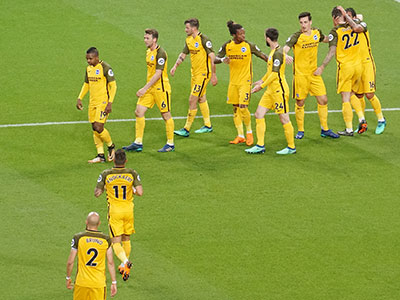 The Brighton fans and players have something to shout about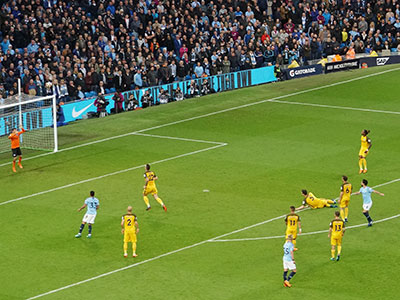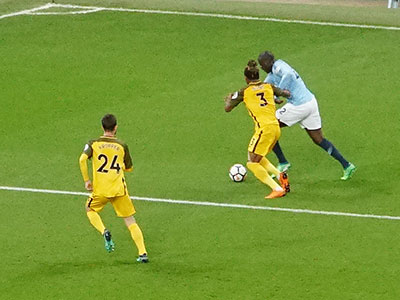 A shot from Gundogan goes too high
Yaya 'dashes' down the right......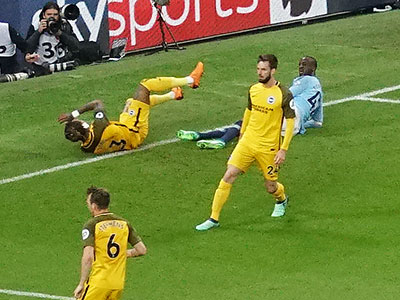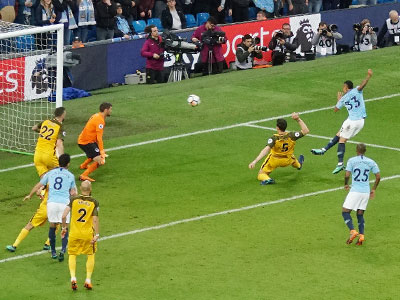 ...he crosses to Jesus who shoots just wide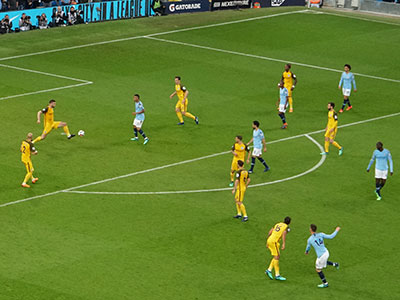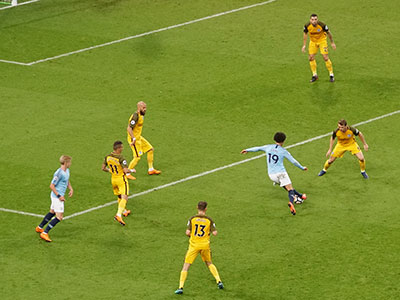 On 30 minutes Laporte has a shot blocked
Sane tries to dribble through....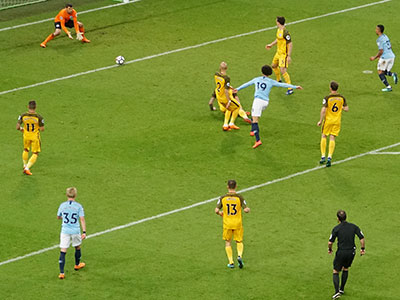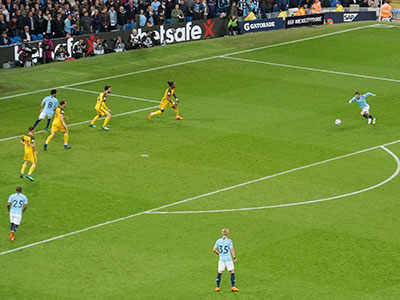 ....he gets in a shot but it is straight at the keeper
a minute later Sane passes to Benardo Silva.....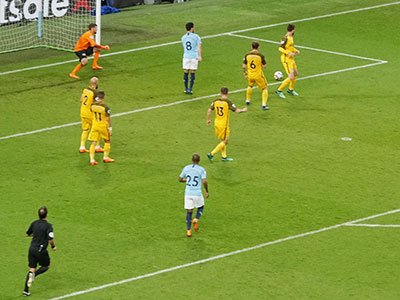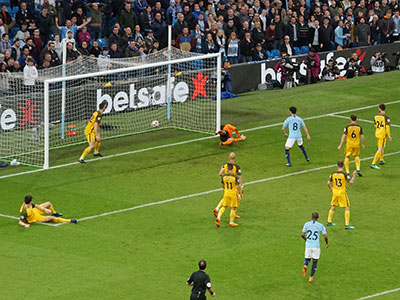 .....who takes a shot that beats the keeper at the near post and City are ahead !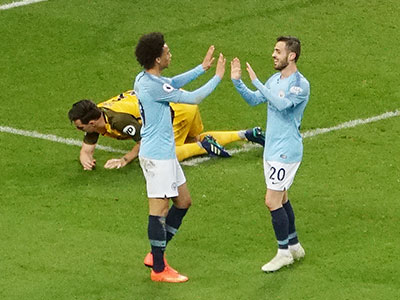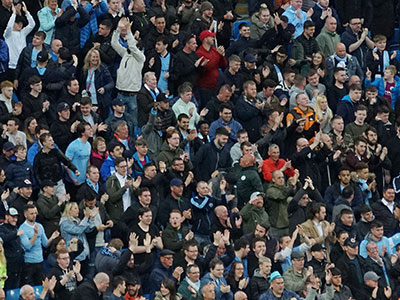 Benardo Silva thanks Sane and we're all happy again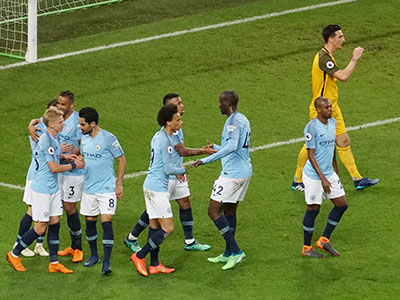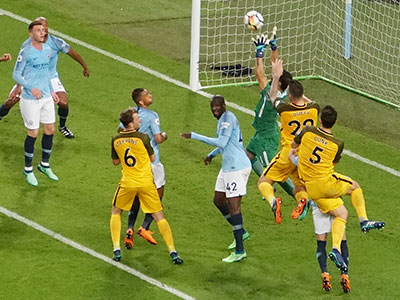 The City players are happy again
Bravo has to make a catch at a corner just before half time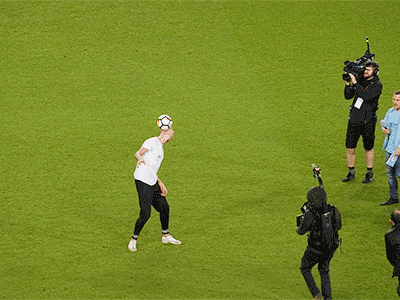 At half time we had some action from Tobias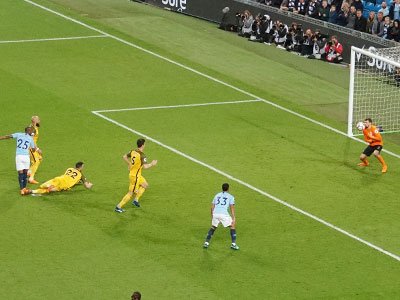 City on the attack early in the second half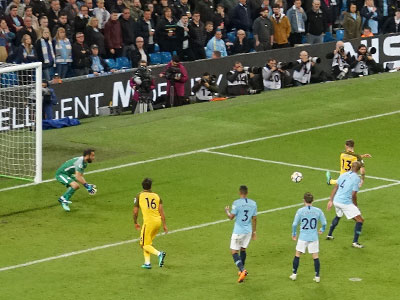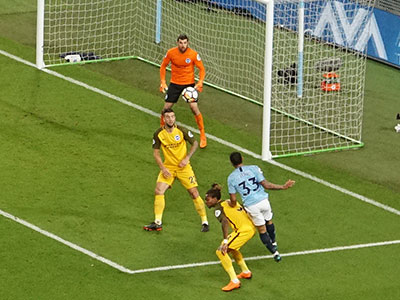 A Fernandinho shot is straight at the keeper
A shot from Izquierdo is fired in at Bravo.......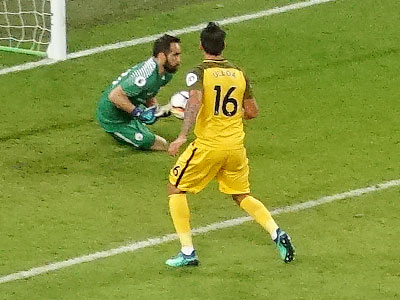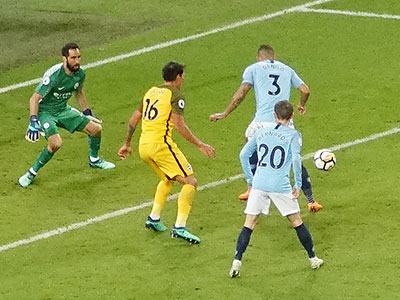 ....who fails to hold it and the ball runs loose....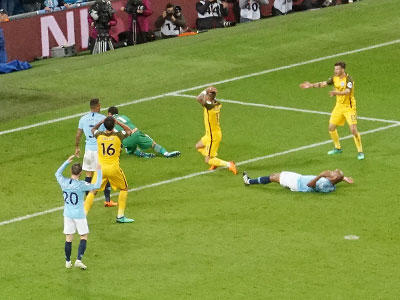 ....but luckily for City Knockaert shoots over the bar!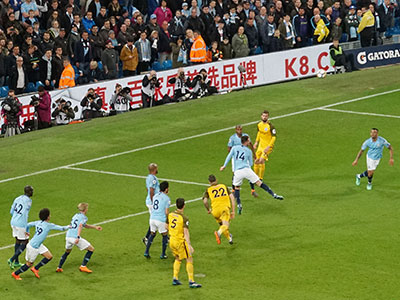 Danilo shoots high and wide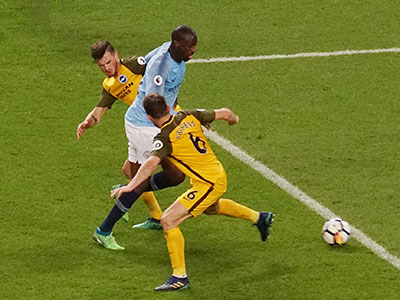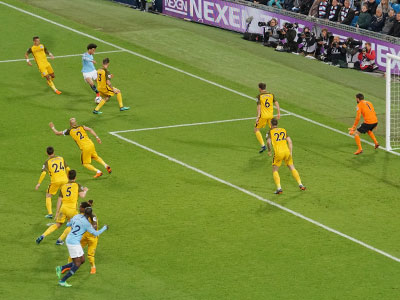 Yaya Toure tries to break through
Following a corner Sane crosses........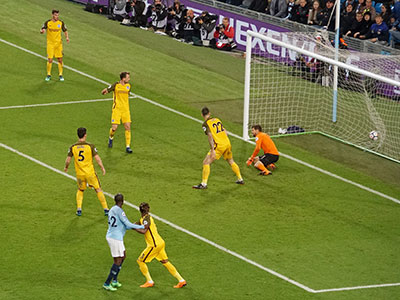 .....to Fernandinho who shoots past the keeper and it's 3-1 - game over!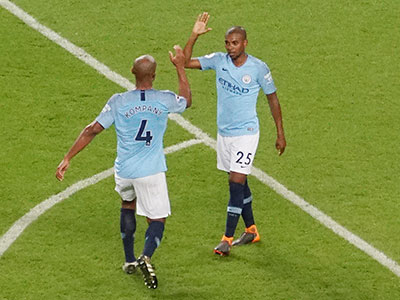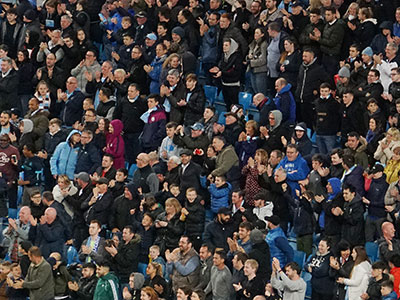 Kompany thanks Fernandinho and the North Stand can celebrate the moment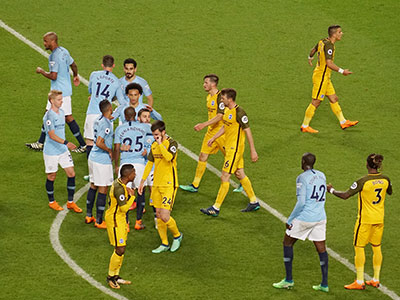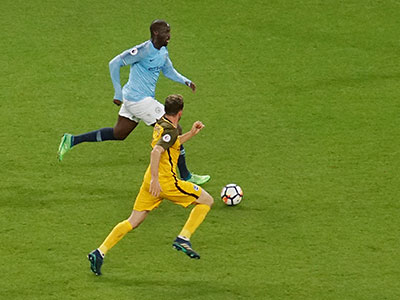 YaYa is on the attack once more - can he score?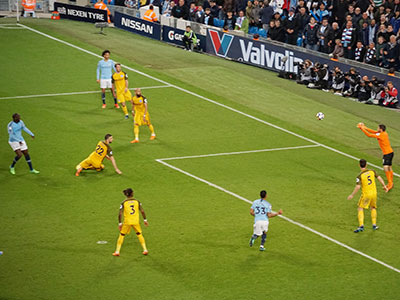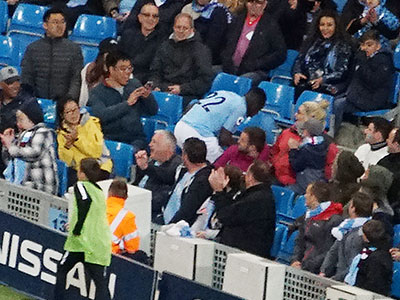 Alas the ball went straight at the keeper who saves -was that his final shot I wonder!
Following through Mendy ends up in row B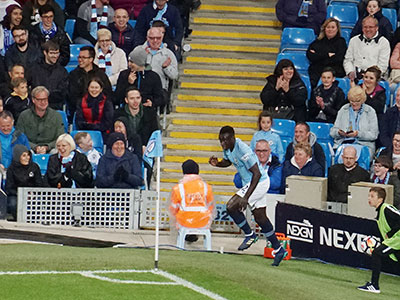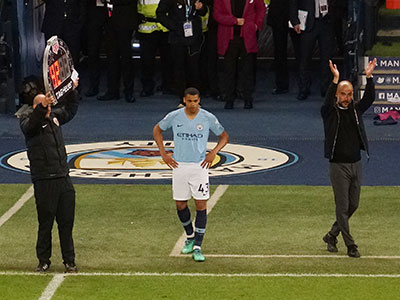 Looks as though Mendy ( on for Zinchenko) is OK
86 minutes and Nmecha is on for Yaya Toure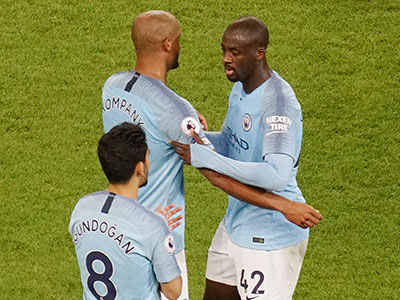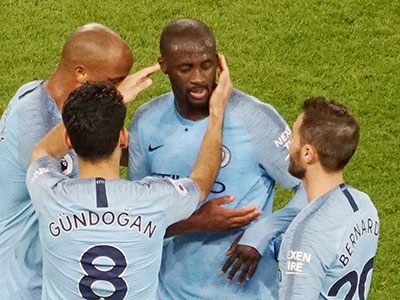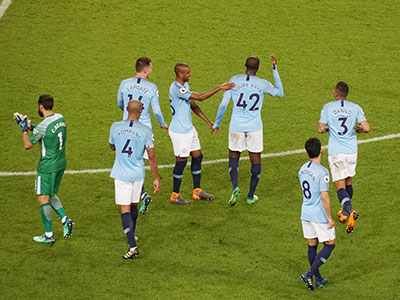 The City players give their thanks as he leaves the field to get a big hug from Pep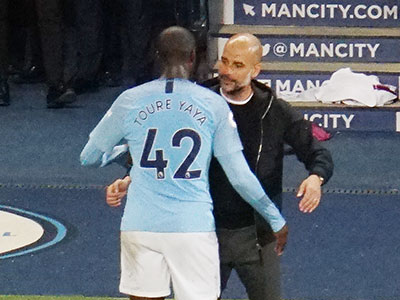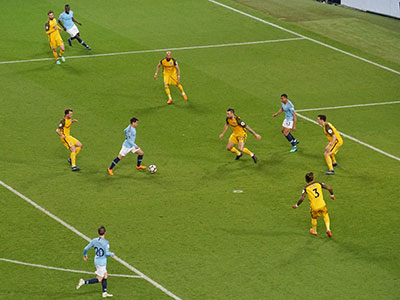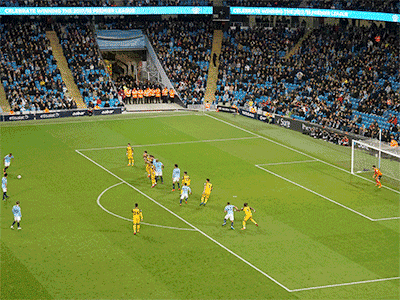 Brahim Diaz - on for Jesus - has an effort blocked
Danilo hits the bar with a terrific free kick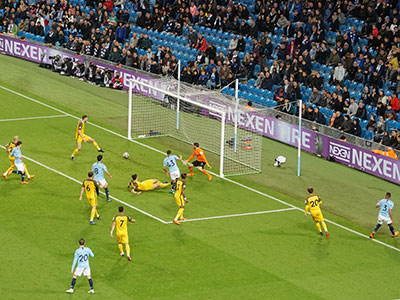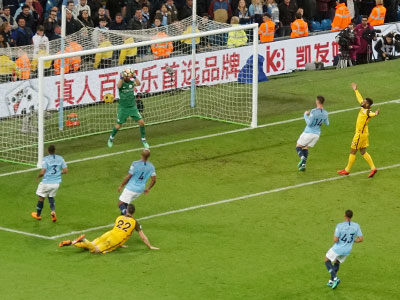 A good cross from Danilo goes a begging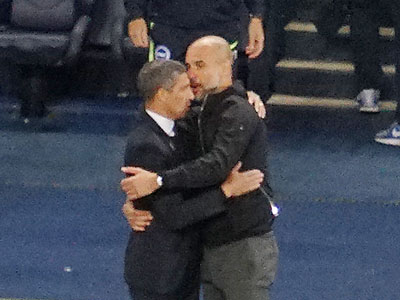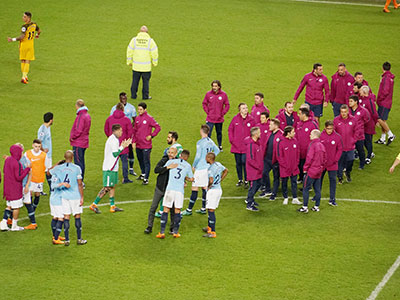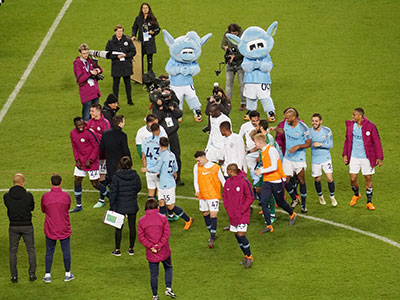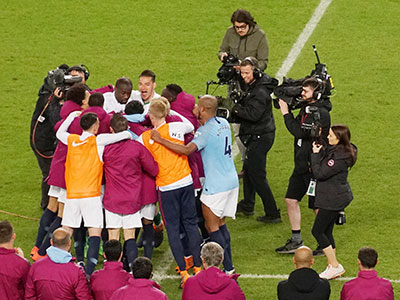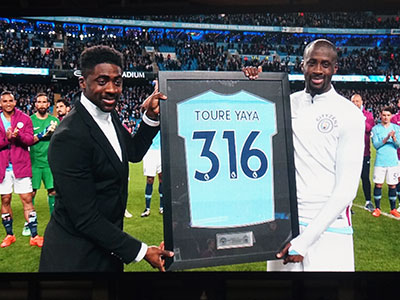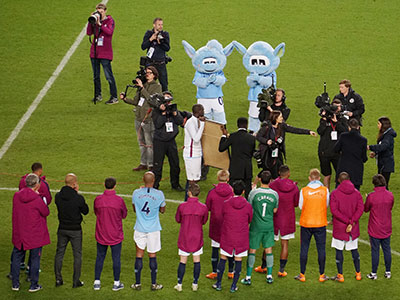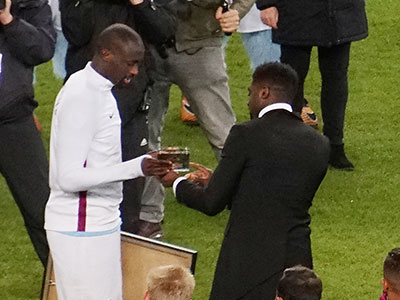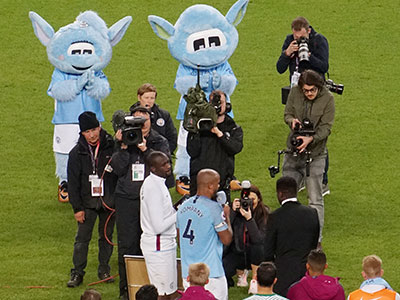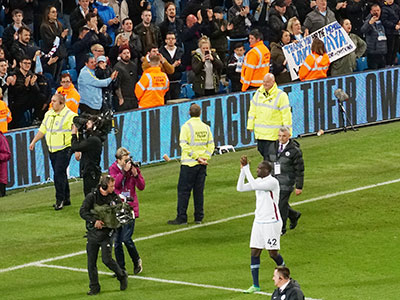 At the final whistle the 2 managers embrace
The players gather to wait for Yaya
He is greeted by the staff and players
He gets a special shirt from his brother
More gifts and a last word from skipper Vincent Kompany
Our final moments with dear Uncle Yaya who has entertained us with some great football for many years
He deserved this special send-off
team
Bravo 5: Danilo 7.5, Kompany 7, Laporte 7, Zinchenko 6.5 ( Mendy) Fernandinho 7.5, Yaya Toure 8.5 ( Nmecha) , Gundogan 7, Sane 7.5, Benardo 7.5, Jesus 6.5 (Diaz)