City 3 Stoke City 0
May 17th 2011 45,103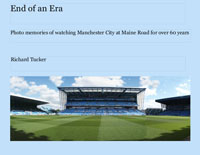 My book 'End of an Era' containing photo memories of days at Maine Road is now available from Blurb.com.
There are over 300 images on 200 pages.
Click on the image for details

Well it's now up to us. A win at Bolton next Sunday will keep City in third place and avoid the qualifying round of the Champions League.Our last home game of the season was an easy victory over a Stoke side that rarely troubled Hart who once again kept a clean sheet. Star of the game was undoubtedly Carlos Tevez who scored two great goals to reach 21 and put him level with Berbatov at the top of the Premiership scorers. The question all City supporters will be asking is 'will he stay or move on'? We will wait with baited breath but on the way home in a queue on the M6 I heard on the radio that Mancini had said he was staying. I do hope so. He has become quite a talisman for City supporters and will be sorely missed.
All the team played well today. Kompany and Lescott must be one of the best central defender partnerships in the Premiership while Richards has improved tremendously recently. Zabaleta continues to give 110% where ever he plays and if Joe Hart improves his distribution the defence will be pretty hard to beat. Nigel de Jong has been magnificent all season and Milner had a good game today appearing all over the field. Silva has been one of our very best signings and I am sure he will get even better next season now he has settled down. Johnson is always dangerous and he will improve too. Yaya Toure as we saw in the Cup games can surprise the opposition and become a match winner. Dzeko I hope will improve next season and Balotelli will become a better team player. SWP has given City a lot of service over the years so it was nice to see him play a part. So the future looks good for City. Long may it continue!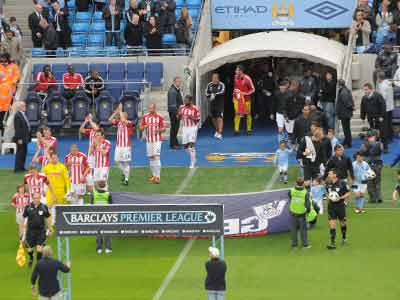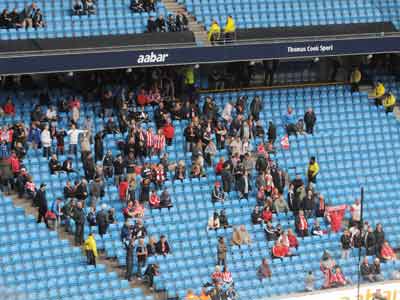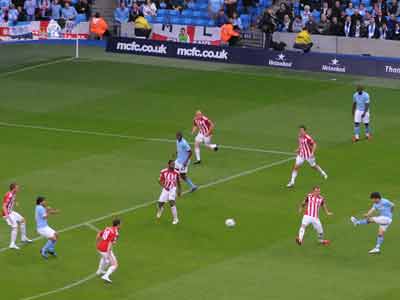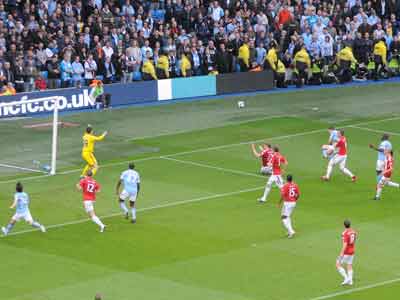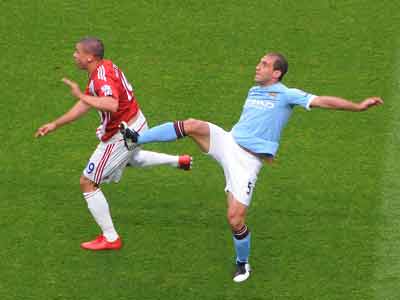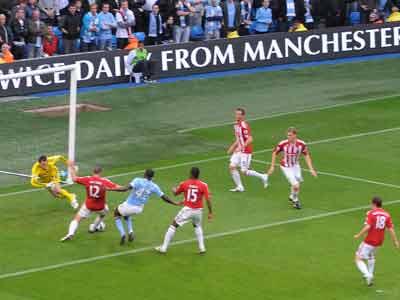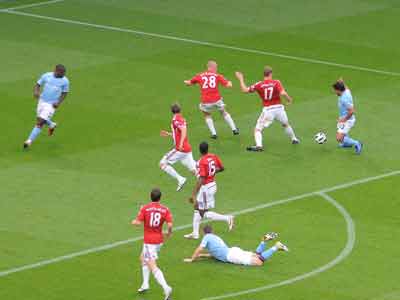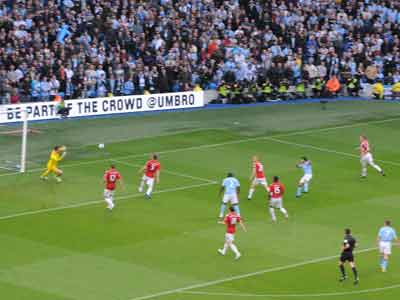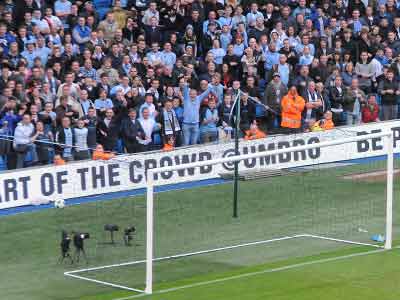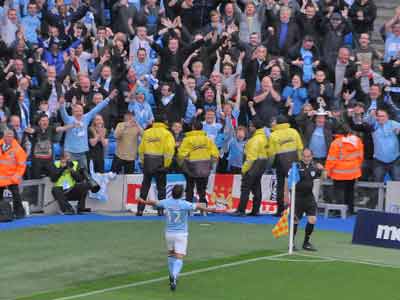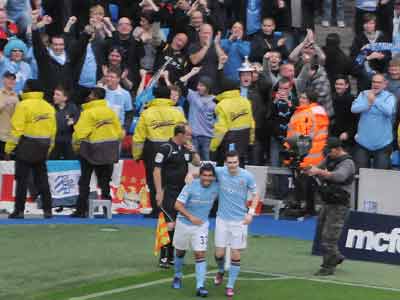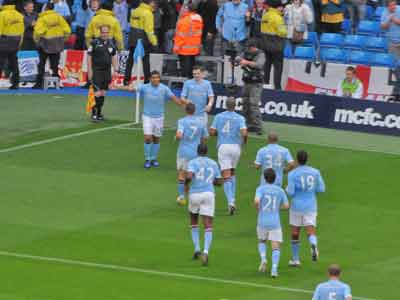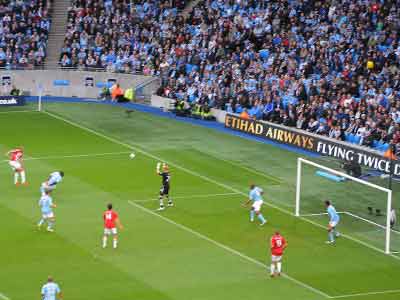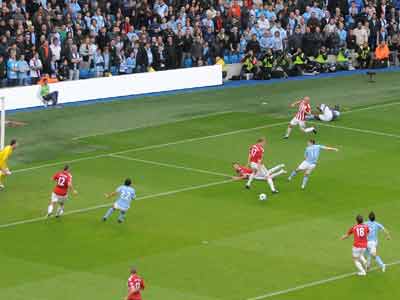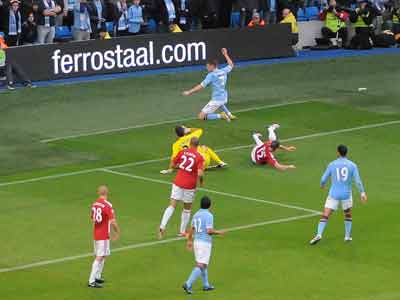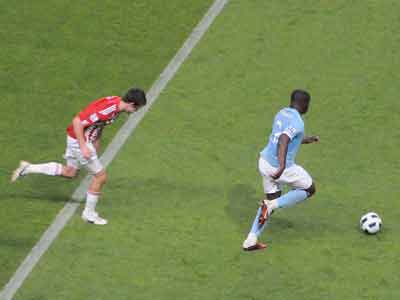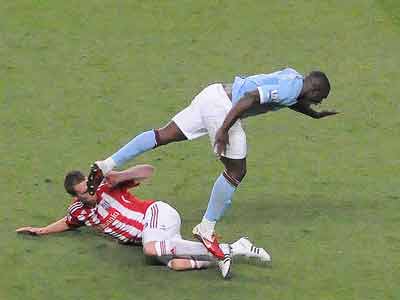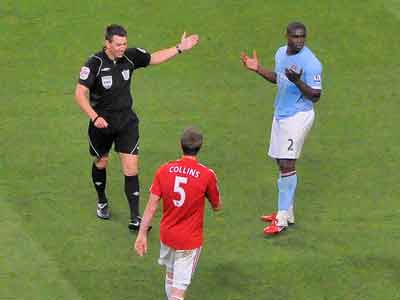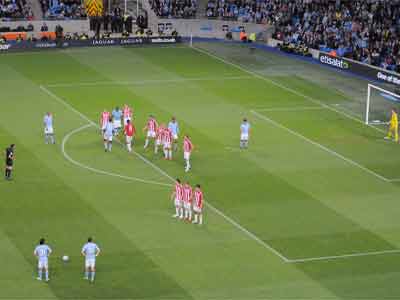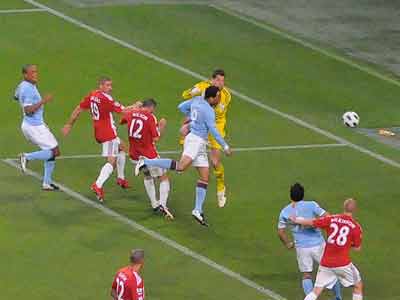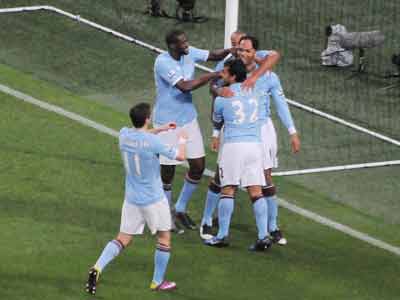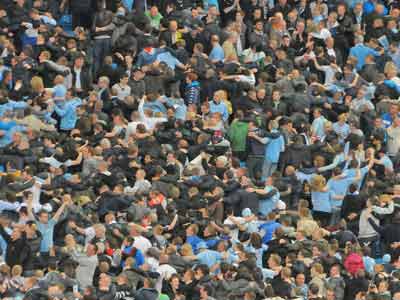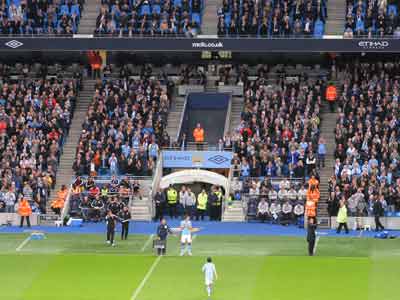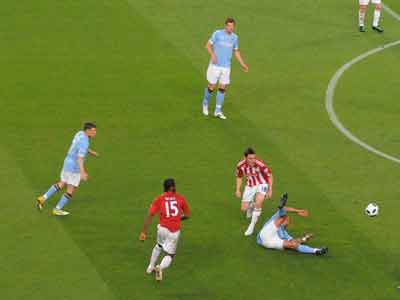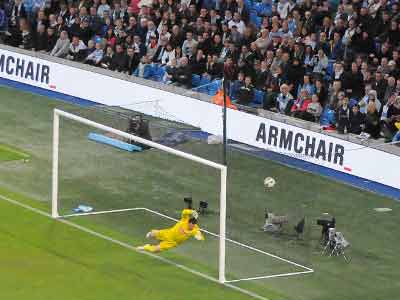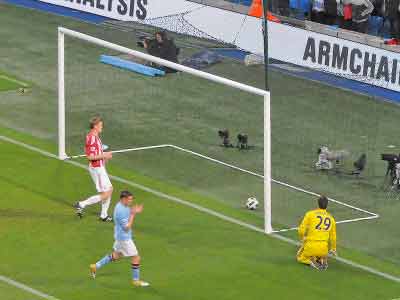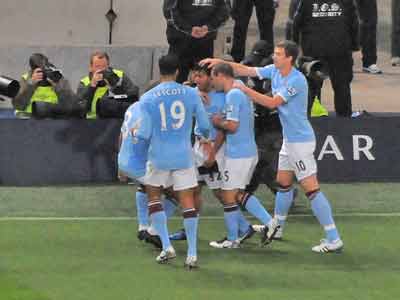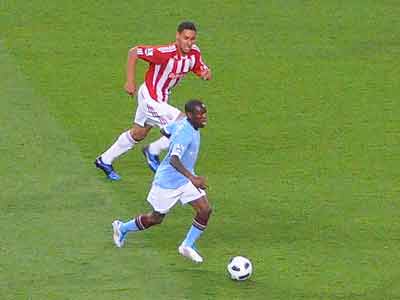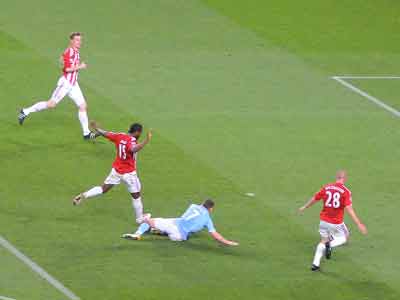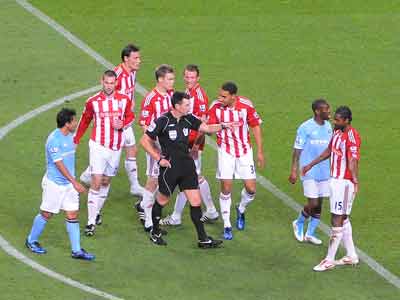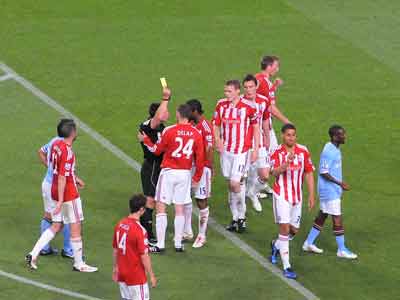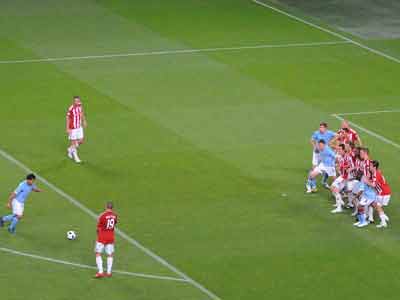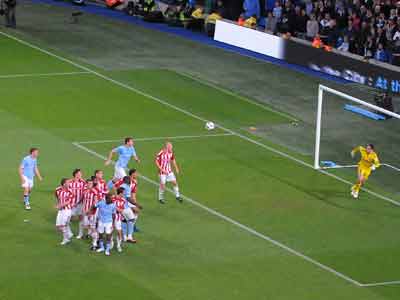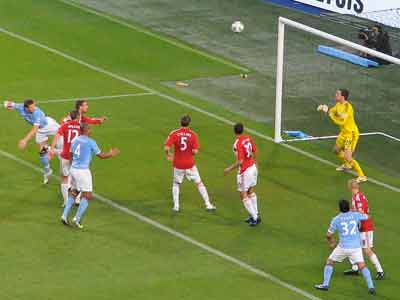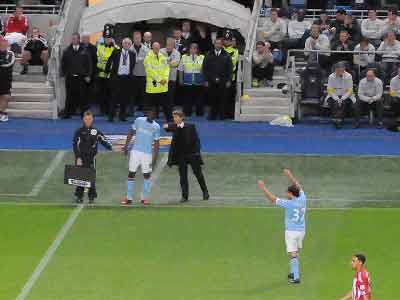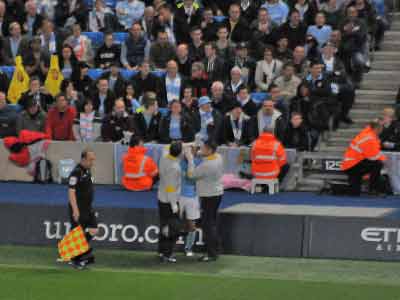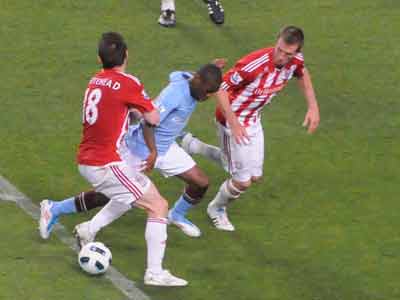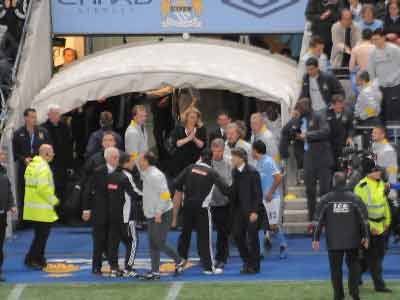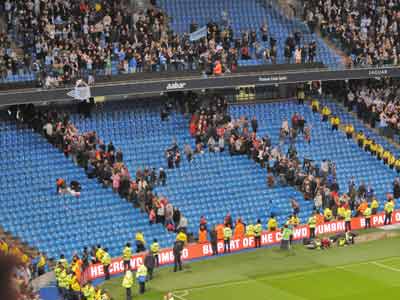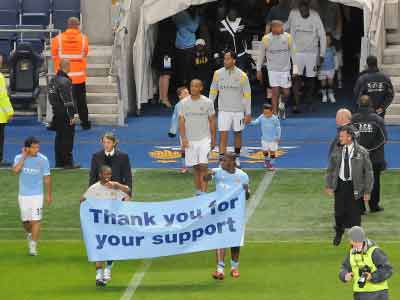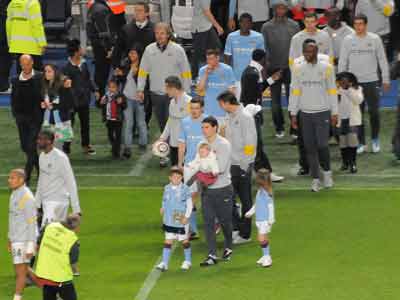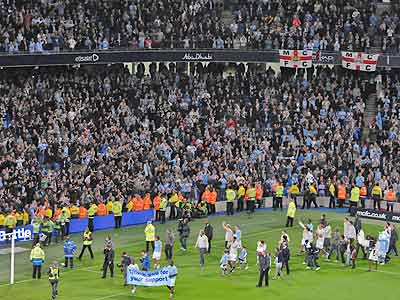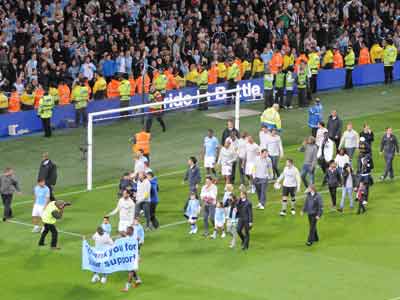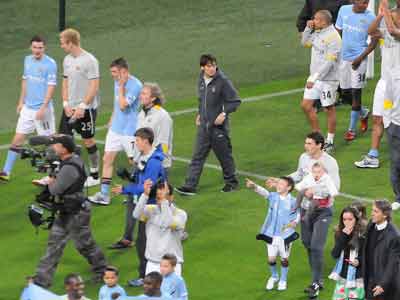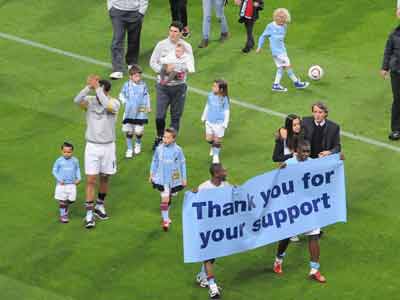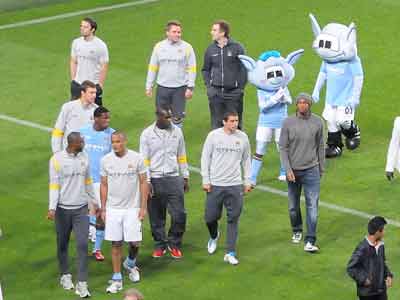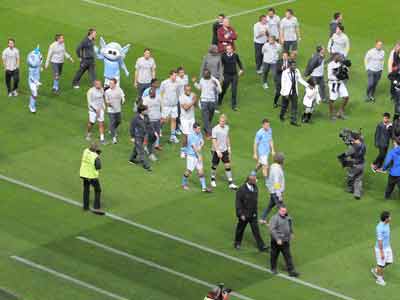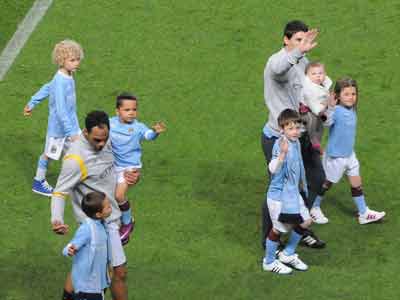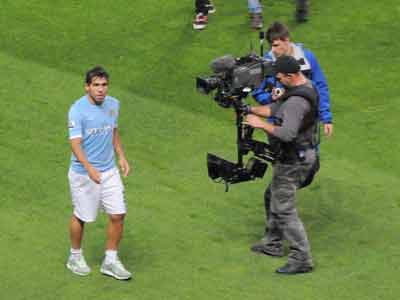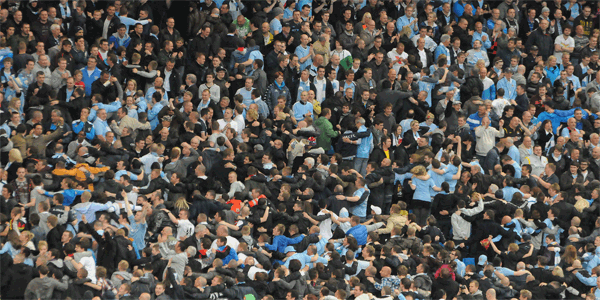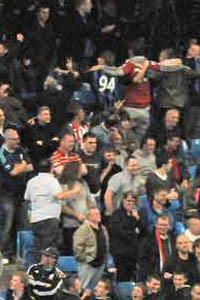 City made few changes from the Cup Final side. Barry, Balotelli and Kolarov being rested, Milner, Johnson and Zabaleta starting.
There was a disappointing number of visiting supporters .Only a few hundred turning up to support their side
Silva was the first player to have a shot -his effort going wide
Milner too had an effort but he completely mish it the shot
Good to see Zabaleta in good form
Stoke manage to clear a good cross from the right wing
On 13 minutes Milner fed Tevez who dinked his way past Wilkinson and Shawcross and finished with a snorter that flew past Sorensen...........
.......into the net and City had struck the first blow
It was a masterpiece of a goal and deserved the celebration that followed
That was his 20th league goal of the season in 29 games. A pretty good record
On 21 minutes Carew had a good effort for Stoke but almost from point blank range he hit Richards who went down as if poleaxed and he got a friendly pat on the head by Carew for his trouble
I noticed that Mike Summerbee was in the number one chair in the box for this game
City continued to play some good football but the odd cross just went astray
Lescott was getting in plenty of the action and in the opponents penalty area too!
Richards too was in top form and was brought down by Collins
Richards has to explain to the defenders that he did not dive and now we await the free kick
Lescott beats Sorensen to the ball and heads home for only his second goal for City this season. He was a regular scorer with Everton at set pieces so I hope he will continue with this success. City two up after 52 minutes
Its time for a Poznan celebration
Good time to rest Silva for the Bolton game and he got a huge reception when he was subbed by Dzeko
we had hardly time to stop cheering the second goal when Nigel Jong made a dash through but got brought down. It was miles outside the penalty area and my lens would not cover the kicker and the goal so I focused on the goal ( just a hunch!) and wow what an amazing shot by Carlos Tevez and beat Sorensen all ends up. City three up and game over
What a cracker it was and now he has equaled Berbatov's total.
Then we had a bit of sentiment from Mancini when he sent on SWP for Johnson after 66 minutes.
Another good Milner run ended with a free kick and I thought at first the ref was going to give a penalty......
..... but in the end it wa a free kick outside the area and a yellow card for Salif Diao
Up came Tevez to try and score but it was too near for an up and under and it was easily dealt with
Dzeko got in a powerful header at a corner but it went just wide
With only a minute or so to go Tevez went off to huge acclaim and was that wave to the crowd a final wave I wonder!
Stoke had the odd attack but the City defence stood firm
Zabaleta once again got into the wars and had to leave the field so City had to play with ten men for the final minutes
Perhaps the last shot of SWP in action in City shirt?
Game over and City move to third in the Premiership
Even some of the Stoke City supporters tried out the Poznan!
At the end of the game one of the Stoke players went to their supporters to give his shirt and then we had something I can never remember seeing at a City home game before.As the visiting supporters made their way out of the ground the rest of the crowd gave them generous applause. A genuine gesture of goodwill following the terrific way both sets of supporters had acted in the Cup Final a few days earlier.
After the game the team came out to say thanks to the supporters and it was a fine gesture not to show off the Silverware to the Stoke supporters. It was great to see the players and all their kids and I noticed obe little fair haired kid showing off his skills - quick sign him up!
Team
Hart 7: Richards 8, Kompany 7.5, Lescott 7.5, Zabaleta 7: Milner 8, Johnson 7 ( Wright-Phillips 7) Silva 7.5 ( Dzeko 6.5), De Jong 7.5, Yaya Toure 7.5, Tevez 9 (Boyata)
So the home season comes to an end and next season we look forward to another challenging series of games in league and cup. If the team is reinforced in some areas I think we have a great chance of more honors coming our way. Shortly I will have to go through all the games I have watched to work out my player of the season. I think it will be a close call. The results will be on my
2010-11 page
which will be updated in the next week or so when I have recovered from this damn cold that is plaguing me at the moment.