City 1 Spurs 0
May 10th 2011 47,027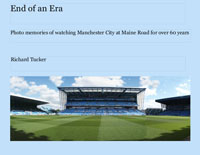 My book 'End of an Era' containing photo memories of days at Maine Road is now available from Blurb.com.
There are over 300 images on 200 pages.
Click on the image for details


At last the target of entry into the Champions League has been achieved at the expense of the club that cost them that possibility last season and to cap it all it was an own goal by the player who scored against us 12 months ago - Peter Crouch that was the difference between the sides. After the pathetic second half display against Everton last week we hoped for better form today and certainly the defence were a lot better. The return of Richards from injury helped but we had really good displays by Kompany and Lescott while Zabaleta until his enforced retirement through injury tried hard against a dangerous Lennon. Spurs enjoyed quite a lot of possession but their finishing was abysmal and Joe Hart had only one difficult save to make all game. Silva ran the midfield once more and made several chances for players. Dzeko was disappointing and too often his first touch was poor and he should have scored in the opening minutes. Now we have to try and finish in third position to avoid some possible difficult qualifying Championship ties. It was a tough game and there is going to be another one on Saturday against Stoke in the Cup. So the aerial threat of Crouch was good practice for the defence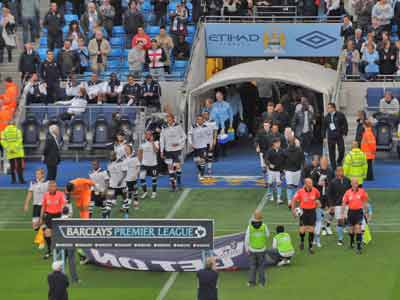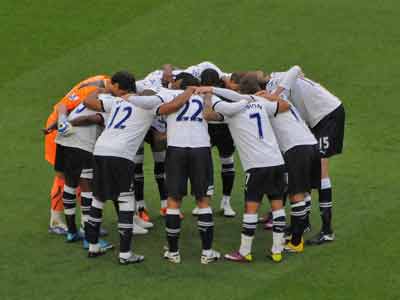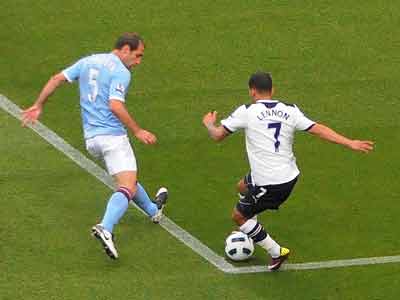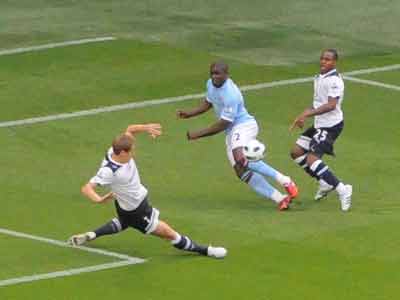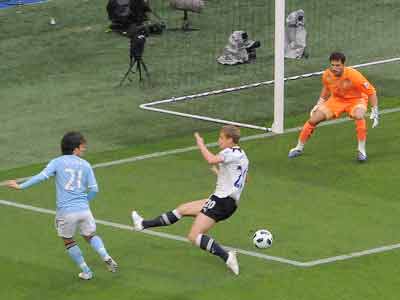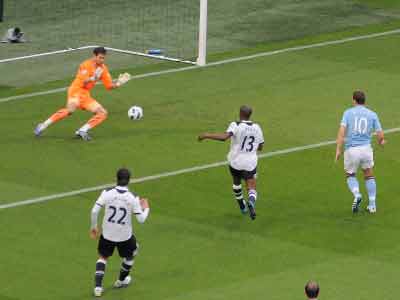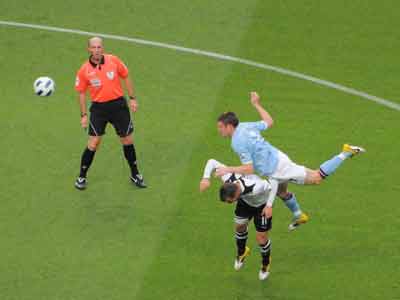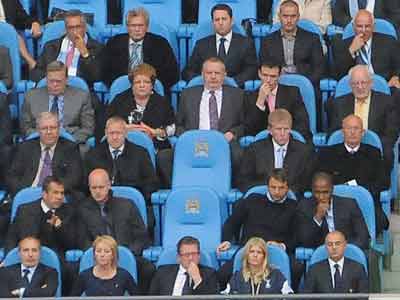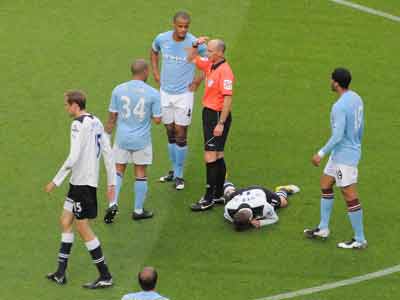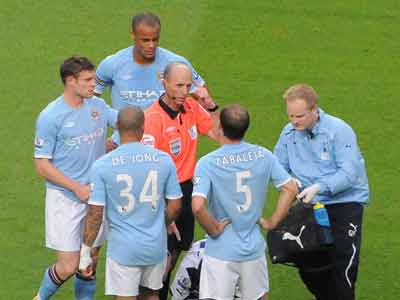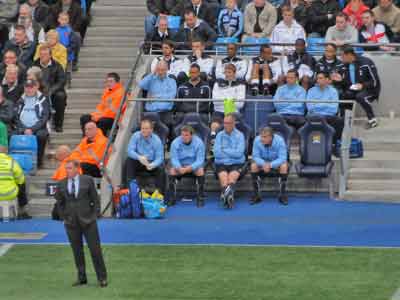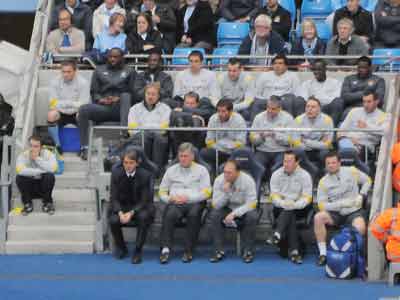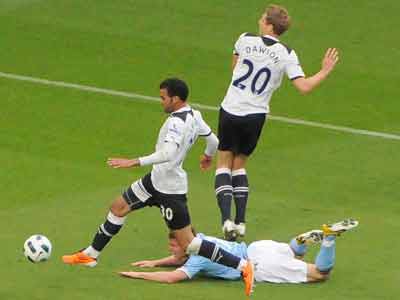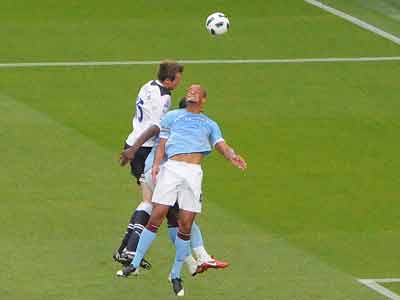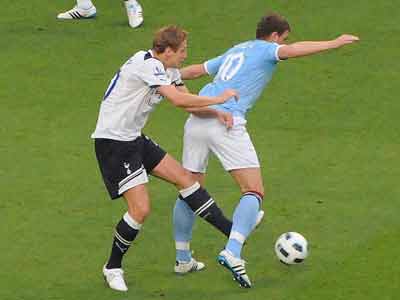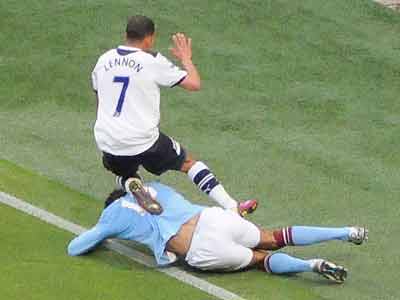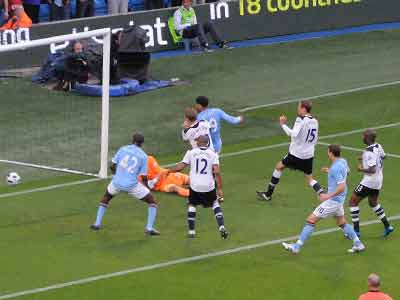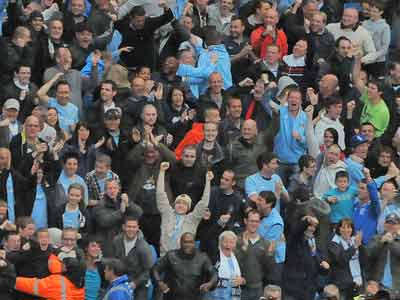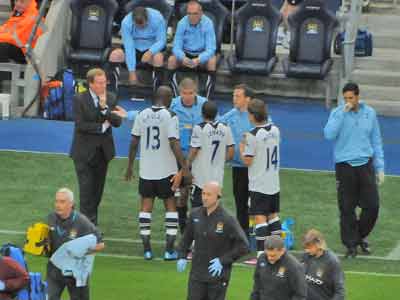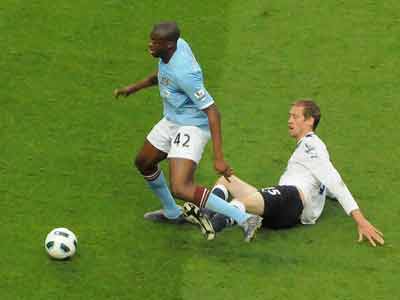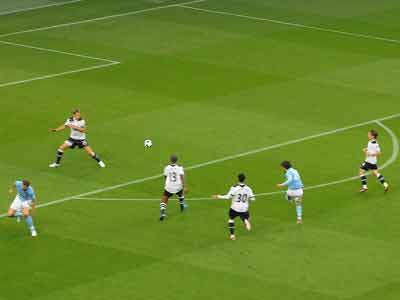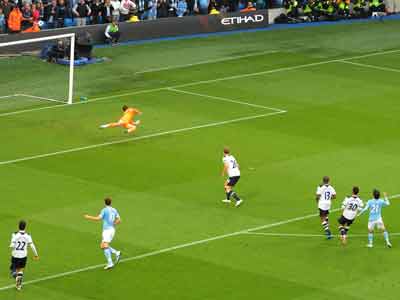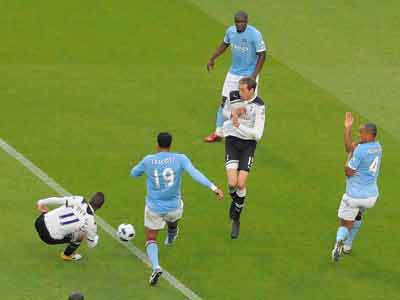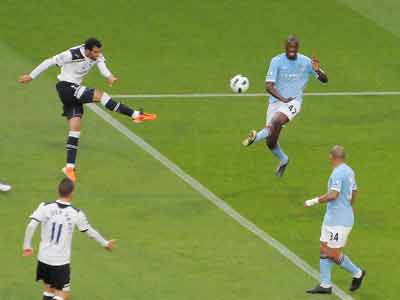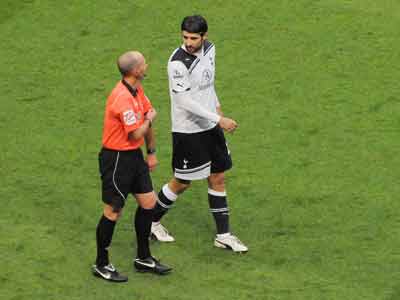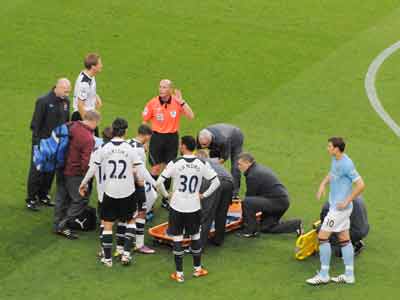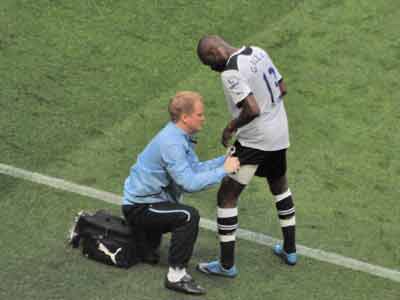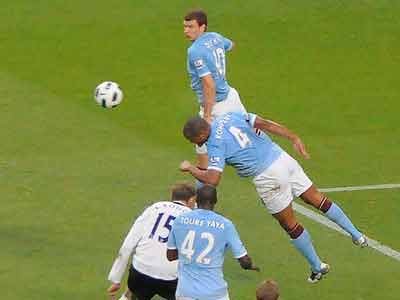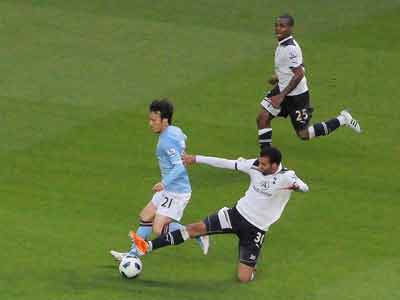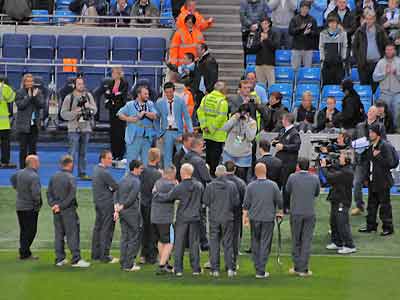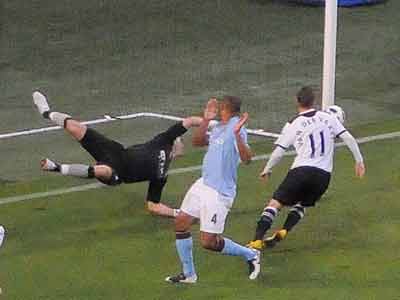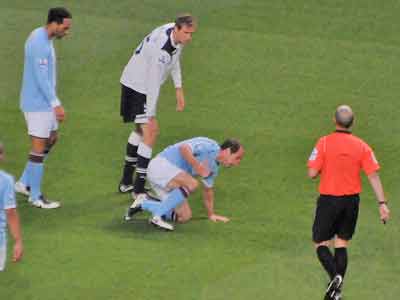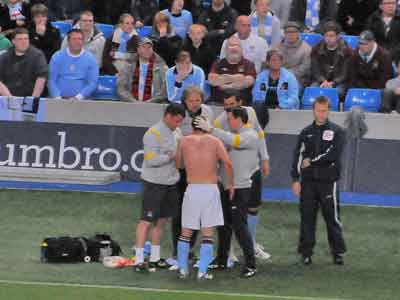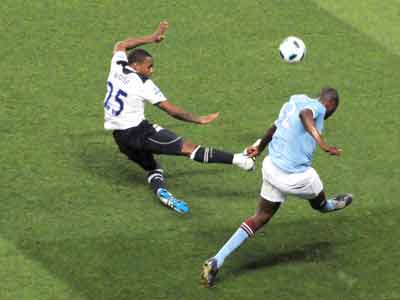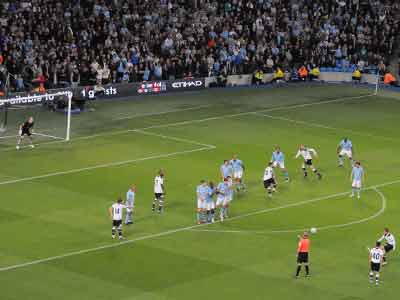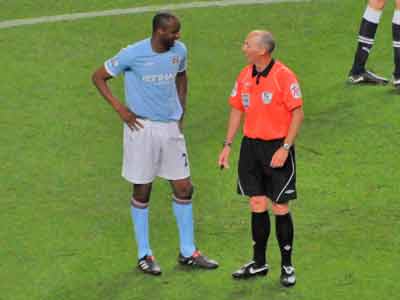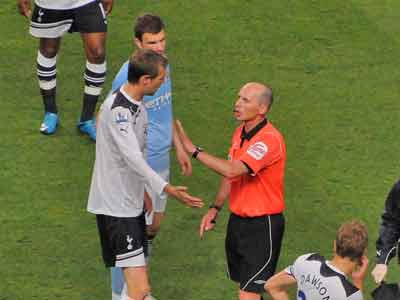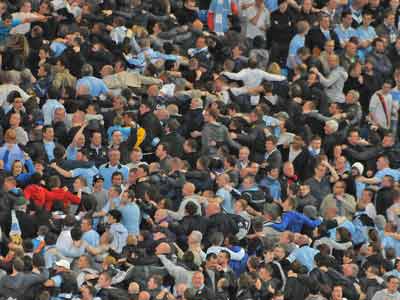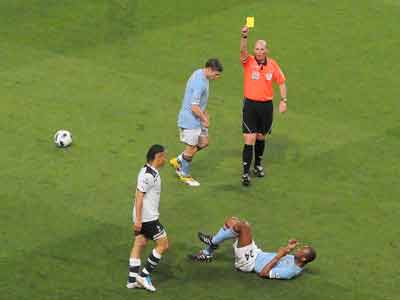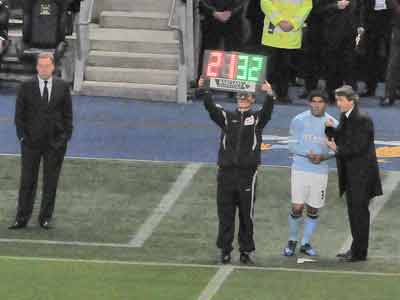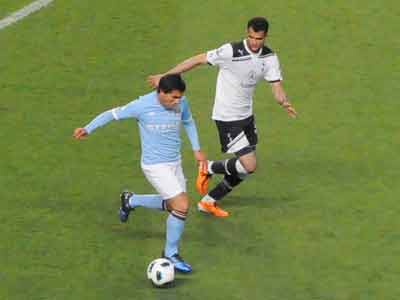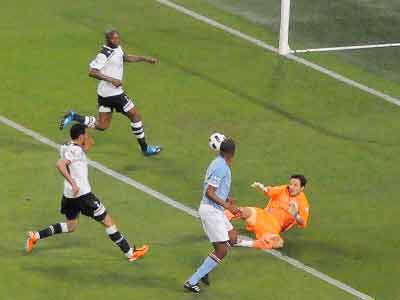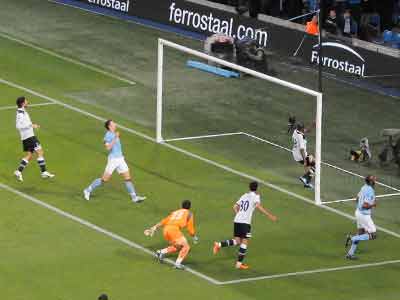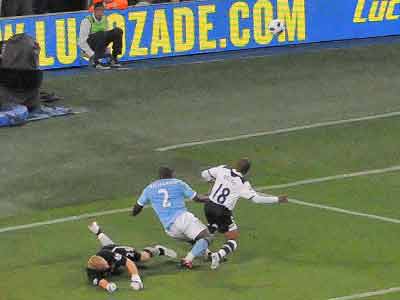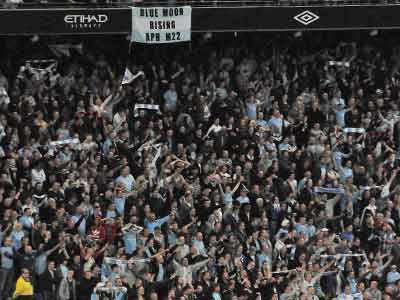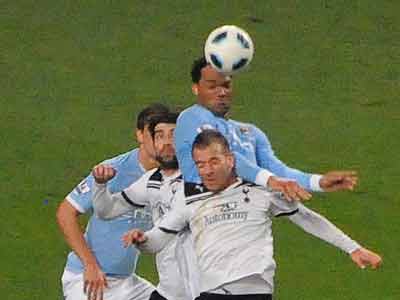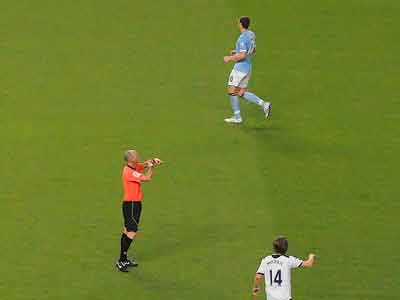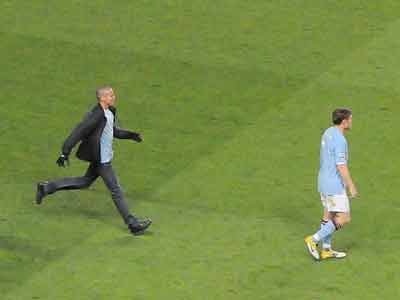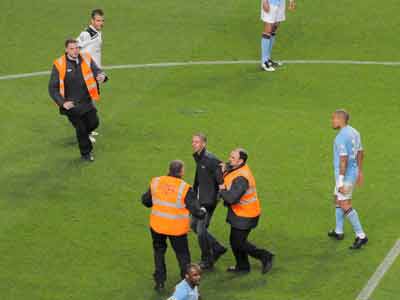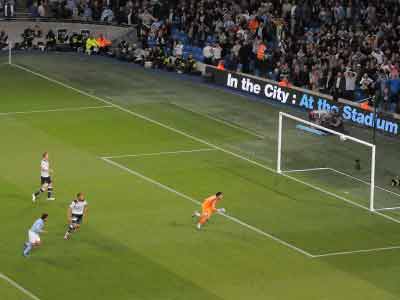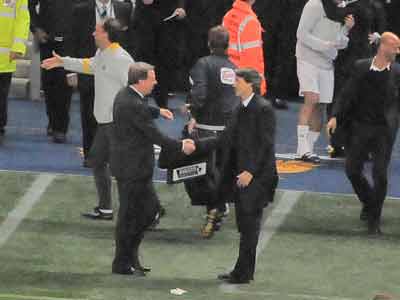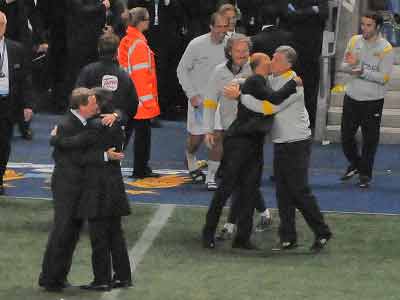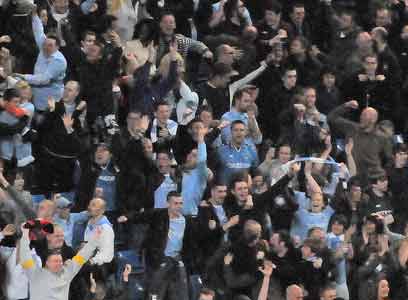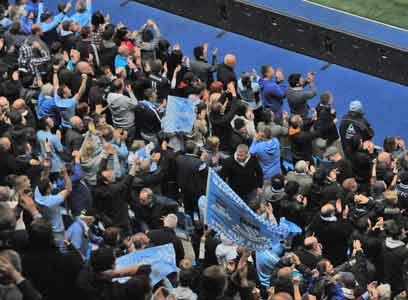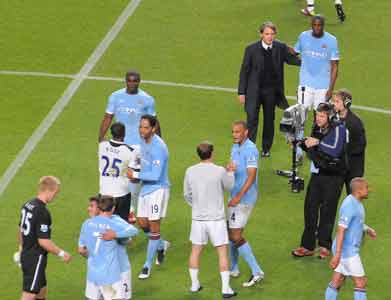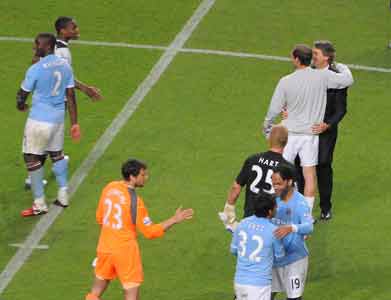 Richards returned from injury,Zabaleta switching to left back. Tevez was on the bench as was Balotelli. Barry was being saved for Wembley did not feature.
Zabaleta was soon to be kept busy by Lennon
Dawson has to clear from Richards
In the 10th minute City should have taken the lead. A great cross from Silva found Dzeko whose shot was saved by Cudicini.
Stoke manager Tony Pullis (row3-right) was watching as was actor Warren Clarke (row4-left)
I am not quite sure whether referee Dean is pointing to his own brain or the injury to the Spurs player!
The two benches- with Harry out early to sort his team out. While Roberto relaxes
Kompany gets the better of Crouch in a heading duel
Milner goes down but no foul given
Lennon is frustrated again by the City defence
After 29 minutes City took a short corner and Milner put in a fast dangerous cross ......
......which was diverted over the line by Peter Crouch - he obviously thought he was at the other end!
Kompany points at a joyous Milner and City supporters enjoy the moment
While a thoughtful Harry listens his number 2 gives three of their players an earful
Crouch tries to tackle Toure
Six minutes later Silva had a powerful shot but it goes over the bar
Though Spurs had a lot of possession they failed to give Joe Hart much to do and many efforts sailed well over the bar or were blocked
'Didn't you used to play for this lot 'asks referee Dean !
Dean tries to hear a congratulatory shout from the crowd
Gallas gets some treatment
Kompany heads clear yet again
During half time the groundsman and staff get congratulations for their work on the pitch
Sandro tries to get the ball off David Silva
Just after the start of the second half Joe Hart made an outstanding diving save from a header from Pienaar following a cross from the right
A head injury to Zabaleta after 52 minutes was a worry and City played with ten men while his injury was assessed. He was subbed after 57 minutes by Kolarov
Team
Hart 8: Richards 8, Kompany 8, Lescott 7.5, Zabaleta 7 ( Kolarov) Yaya Toure 7, de Jong 7.5, Milner 7.5, Silva 8 ( Tevez) Johnson 6.5 ( Viera 6) Dzeko 5
A Spurs free kick is blocked by the wall
Rose tries to block a cross by Toure
Viera and referee Dean enjoy a joke
The referee puts an end to Crouch's moans
There were less Poznan celebrations today. No doubt saving them for Wembley on Saturday
A yellow card for Pienaar for a foul on Viera
Tevez eventually got a few minutes on the field to prove his fitness for the Final
City almost scored a second late on when Spurs were saved by Gallas heading off the line with Cudicini beaten by Viera
Richards saves the day with a late clearance
City supporters begin to sense the end is in sight
Lescott heads clear a last Spurs attack
Referee Dean blows up for an offence ........
..... but some idiot runs on the field thinking it was the final whistle! He is soon carted off.
There is still time for Tevez to have an effort saved by Cudicini before the final whistle goes and City supporters give a sigh of relief
The two managers shake hands- hug - and promise to exchange Xmas cards!
Let the celebrations begin!
The City players and officials celebrate the win and all is well at Eastlands. Now attention turns to Saturday and a matter of a match against Stoke City for a bit of silverware