City 2 West Ham United 1
May 1st 2011 44,511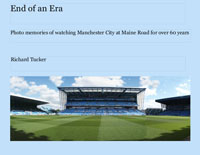 My book 'End of an Era' containing photo memories of days at Maine Road is now available from Blurb.com.
There are over 300 images on 200 pages.
Click on the image for details

After taking an early two goal lead against relegation favorites West Ham United this should have been easy for the blues but they took their foot off the accelerator and made hard work of the win. With 4 games to go City should now finish in 4th spot but their habit of 'resting' after taking an early lead must stop. 7 points ahead of both Liverpool and Spurs might give the impression that the job is done. It is not going to be easy at Everton and then it's Spurs at home just before a little matter of a Wembley Final!
So there is still plenty to do. Today's game against West Ham was not one for the memory book except perhaps for one player in particular - Nigel de Jong who scored his first goal for City - and what a cracker it was. Apart from a stupid 'lost the ball reaction tackle' which earned him a yellow card Balotelli showed lots of skill . His finishing could have been better however. Silva was our diamond in midfield doing lots of work and he nearly scored. Yaya Toure had a mixed game - some good moments some bad.
Overall - nothing to write home about - but three vital points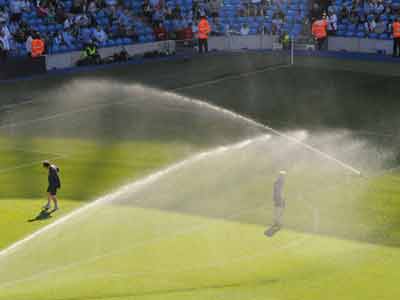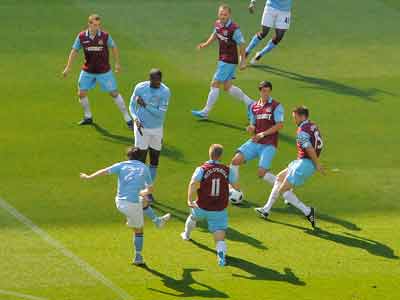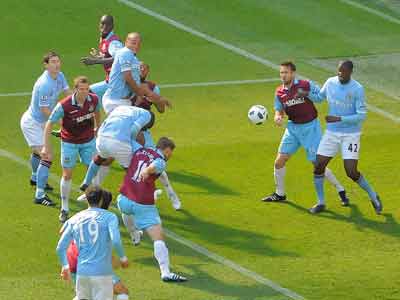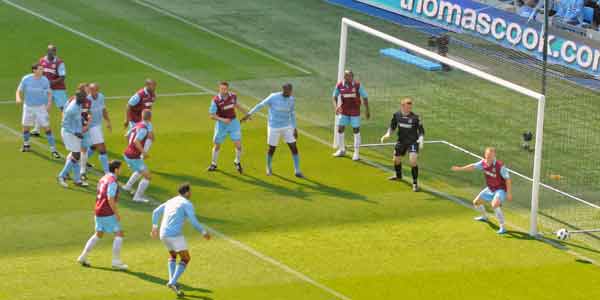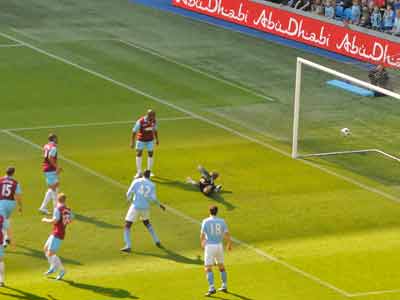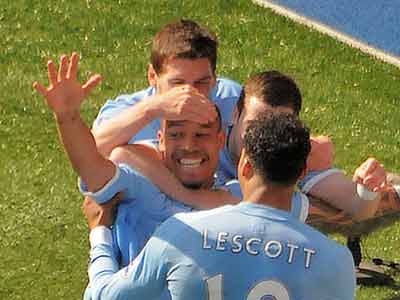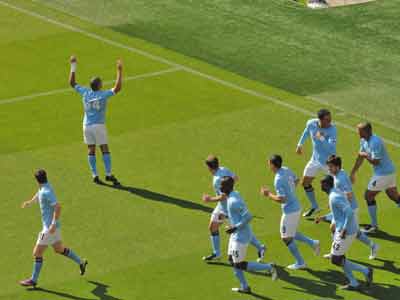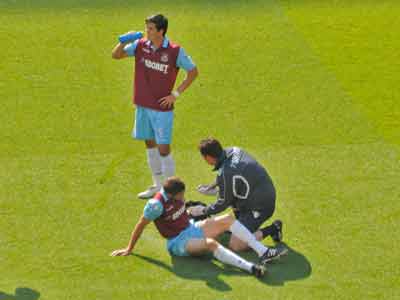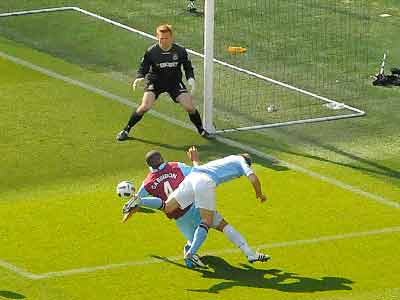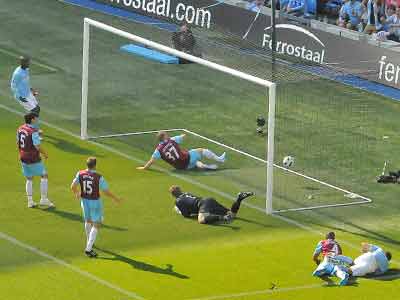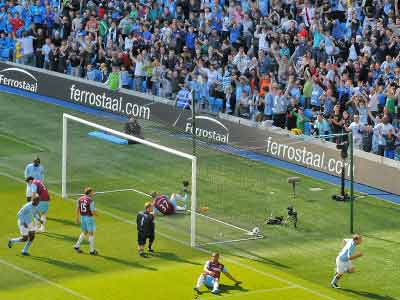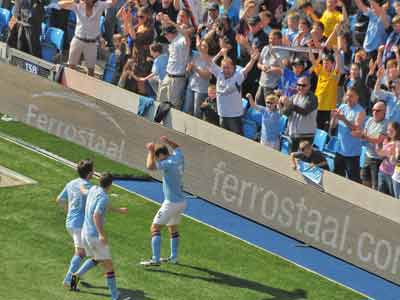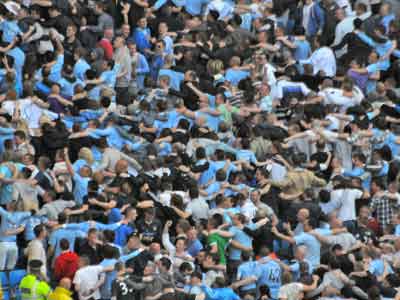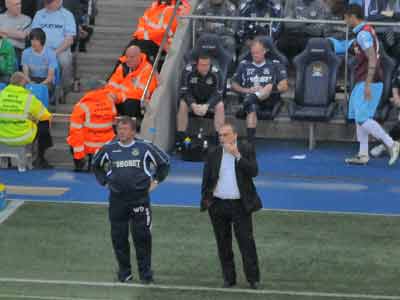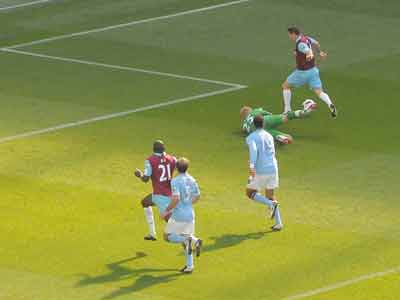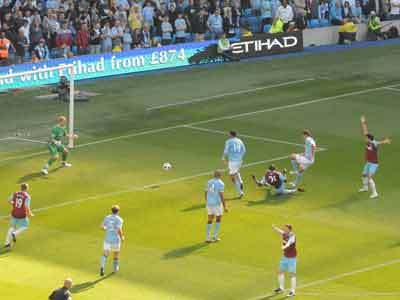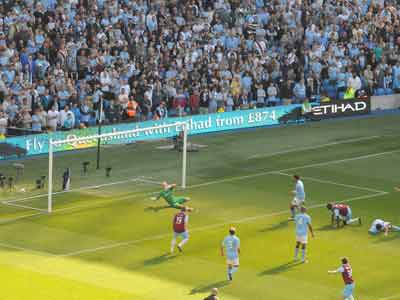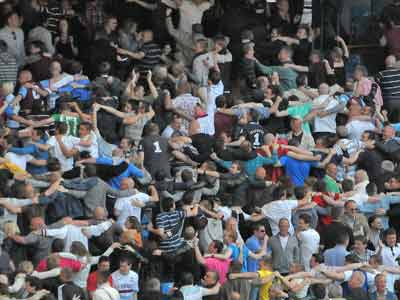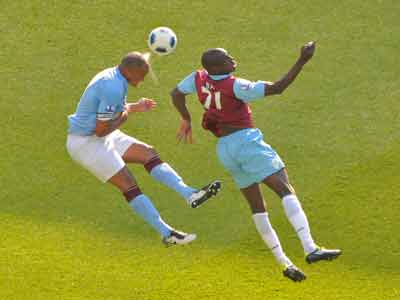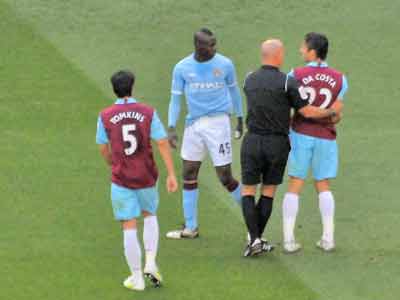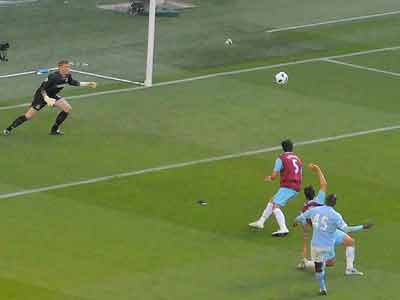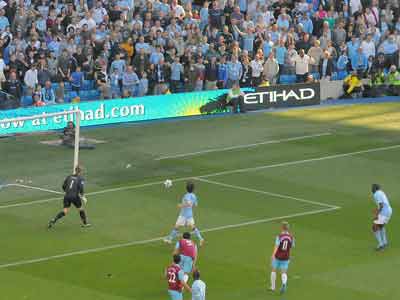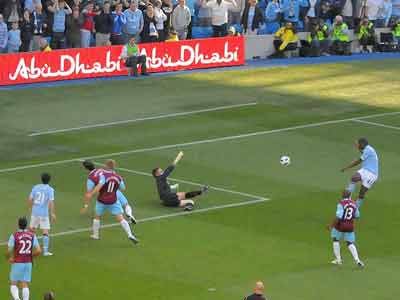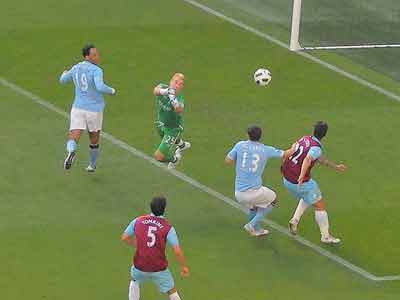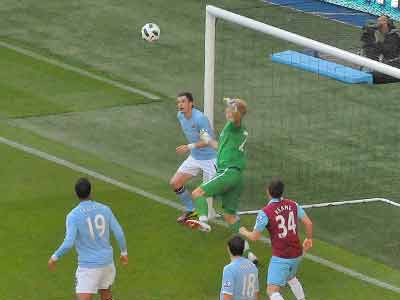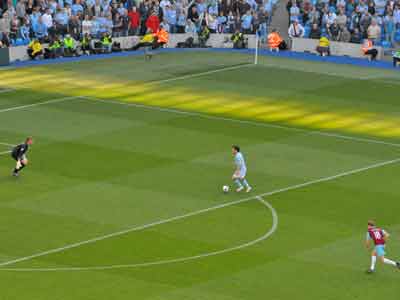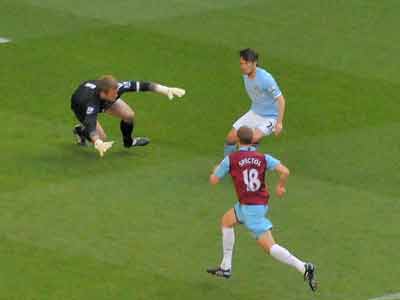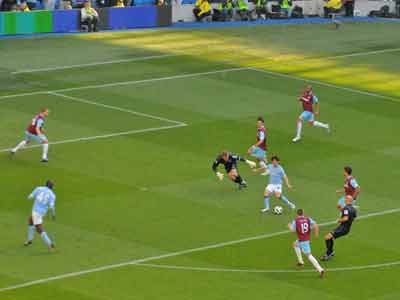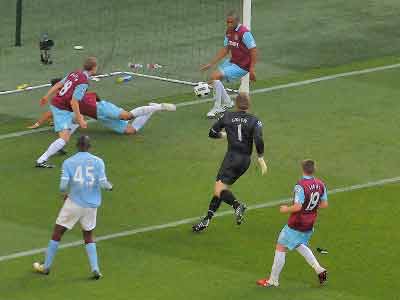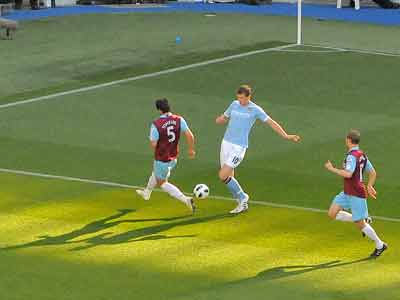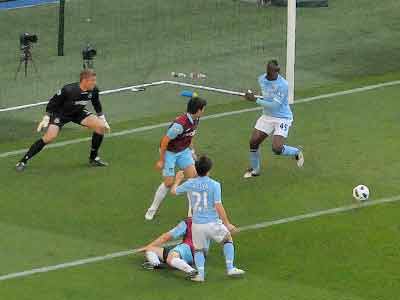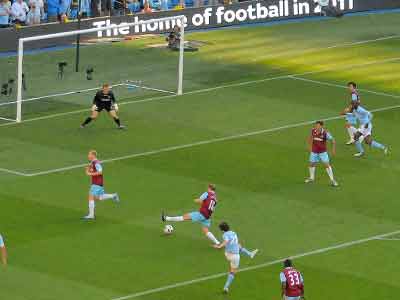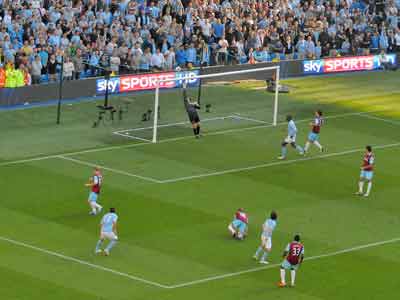 With the sun blazing down the pitch sprayers were in action today
City were unchanged, Dzeko and Milner remaining on the bench. Tevez was still injured
There was an early effort by Silva that was deflected for a corner and from the corner Balotelli headed down....
..... but wide of the post
Shortly after another City corner was only half cleared and the ball ran clear of the penalty area only for a City player to crash it back at goal.......
....where it flew past a helpless Green to give City an early lead in the 10th minute. The City player was surrounded by his team mates.So who could it be? No surely not!.....
.....Yes it was a grinning Nigel da Jong - his very first City goal - in his 86th game. The crowd gave him a special cheer. It was some shot..he had obviously been watching some of the amazing pots by the incredible Judd Trump in the world snooker championships!
Even the City elite had to applaud that ...but there was no sign of anybody from West Ham -whose seats remained empty!
We did have the usual Poznan celebration around the ground
Matthew Upson got a knock after 12 minutes and was later substituted.
three minutes later Zabaleta broke down the right and got in a shot which beat Green .......
.....and was helped into the net by Jacobsen as Balotelli was waiting at the far post. Two nil to City and it looked like being a big win at this stage
I don't know whether it will go down as an own goal but Zabaleta through ally deserved for all his fine effort this season His third for the club
another shot by Zabaleta - goes wide this time
West Ham Manager Avram Grant looked very concerned.
After the City switch off back came West Ham and Hart was forced to make a good save from Robbie Keane
The strong West Ham pressure got its reward when Lescott handled in the area but the ball ran to Ba.......
...who shot past Hart from close range and the visiting fans started their own Poznan celebration
Referee Howard Webb has to console Da Costa confronted by Mario Balotelli
In the second half Balotelli had a good effort that hit the bar and bounced down ......
...for Yaya Toure to have a go but Green saved. It would not have counted as Toure had been offside when Mario shot
Joe Hart punches clear a cross which he might have caught perhaps
Then he had to save a header from Costa
Then Silva had a great chance when put through .....
He took the ball right through to the keeper and then passed to Balotelli.....
...who tried to pass it into the goal instead of hitting it hard and the effort was blocked by the West Ham defenders who had come back in numbers.
Dzeko came on for Barry after 73 minutes and he caused a few problems for the visiting defence.with a dangerous cross and a shot which Green saved.
The ever dangerous Silva had a good effort well saved by Green and City managed to keep their lead and gain the important three points
team
Hart 7.5: Zabaleta 7.5, Kompany 7., Lescott 6, Kolarov 6.5: Yaya Toure 7, Johnson 6.5, de Jong 7.5
( Milner 7.5) Barry 7.5 ( Dzeko 7) Silva 8, Balotelli 7 ( Viera)