City 0 Everton 0
January 13th 2016 53,796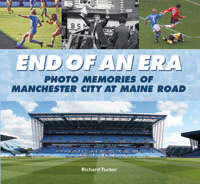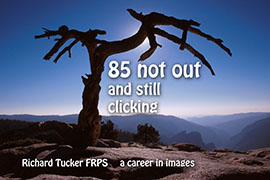 A poor decision by referee Roger East in the final moments cost City the three points. When Sterling was brought down by Stones near the touchline it looked like a stonewall penalty but alas a goal kick was given. Later replays showed that City should have had the chance to take the three points.
Though City had more attempts on goal than the visitors we just could not get the ball past Howard.
The evening did not start well with horrendous traffic problems throughout the area. It took me over two and a half hours to get to the game and I missed the first 5 minutes of the match. The missing bit was kept up by the City players who failed to find the net. I think it was November 2010 when I last saw a goalless draw at the Etihad.
Otamendi was the pick of the defence and he had to help out Demichelis on several occasions. De Bruyne had an off day and I am a bit baffled at the way he takes free kicks. Sterling worked very hard but some of his decision making in the final third needs looking at. Aguero had a bit of bad luck but the Everton defence was well organized with Stones,Jagielka and Barry outstanding. I am sure Stones would be a useful signing!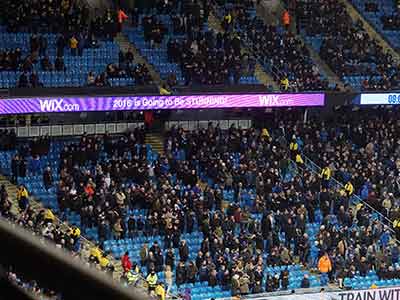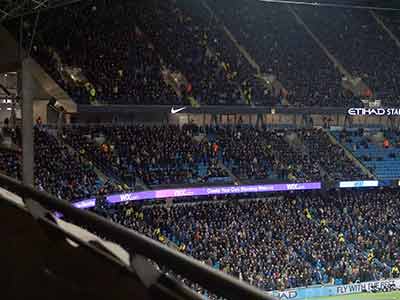 There was a very strong support for Everton and the gaps at the start were soon filled up.
No pic of the players coming out as I was late too!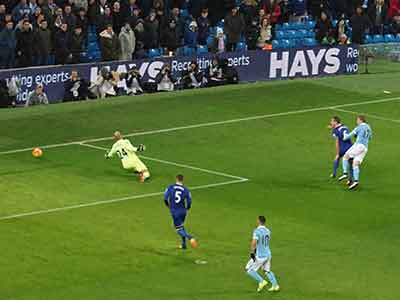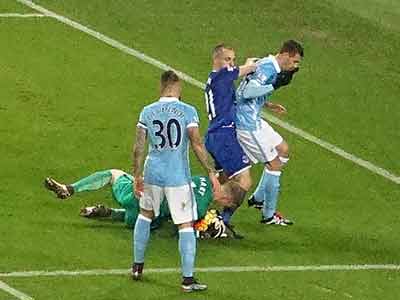 An early effort by De Bruyne goes wide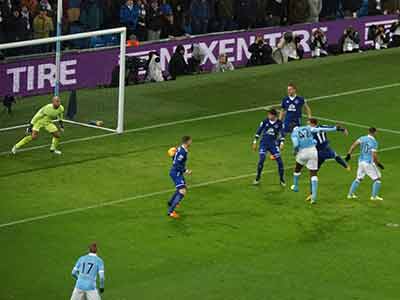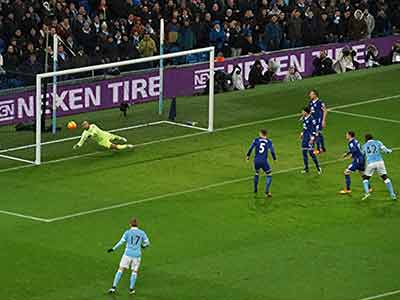 A header by Yaya Toure is saved by Howard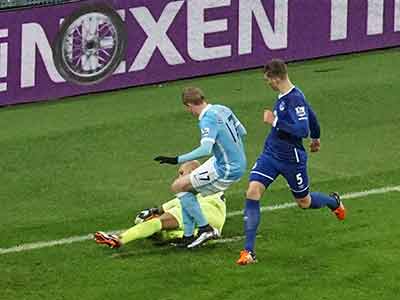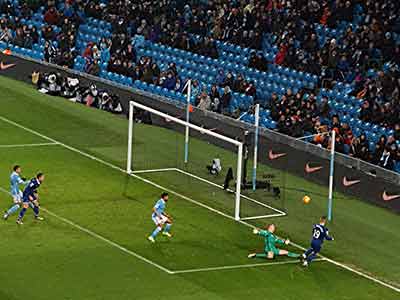 Howard saves from De Bruyne
on 17 minutes Hart saves from Deulofeu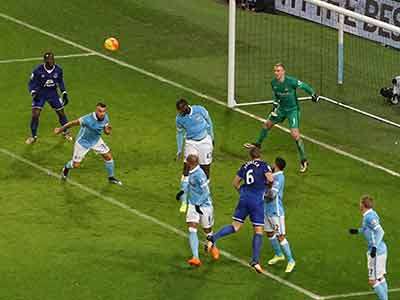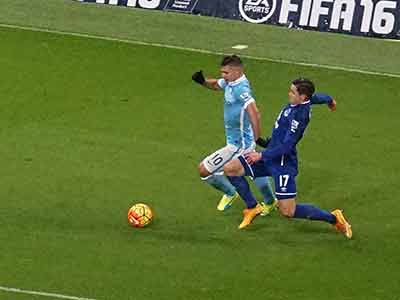 Toure heads away the corner
Away goes Aguero chased by Besic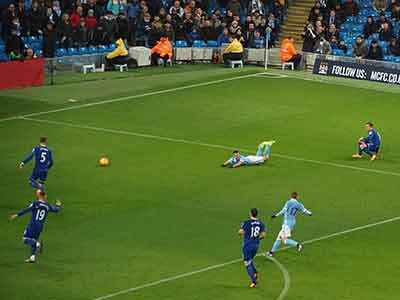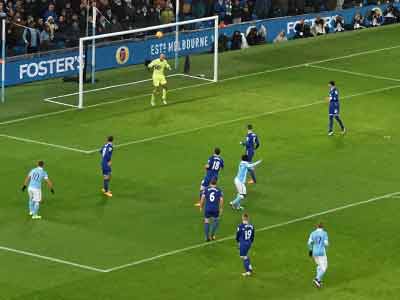 Sterling shoots over the bar on 19 minutes
Down he goes but was it a dive!?!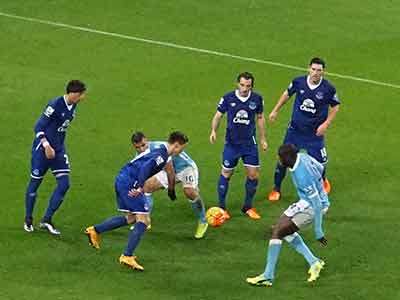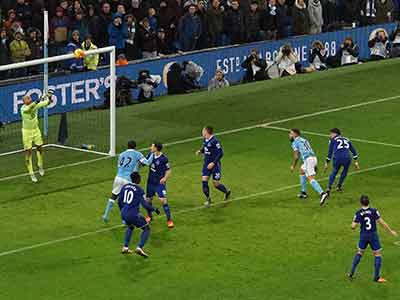 Everton defenders outnumber Aguero and Toure
an effort by Otamendi goes over the bar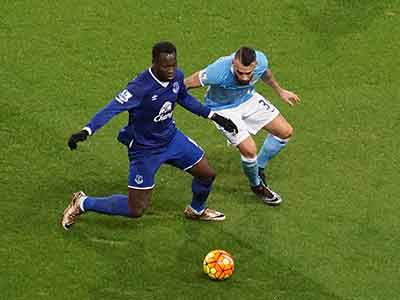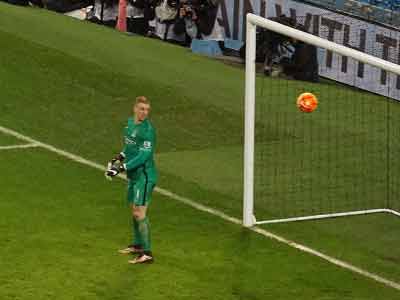 At the other end Otamendi has to watch Lukaku
Hart watches an effort by Osman go just wide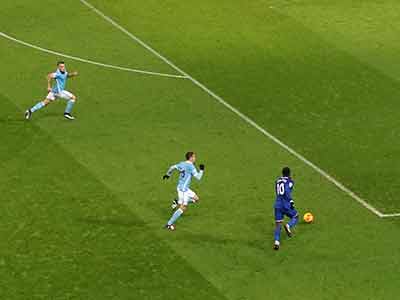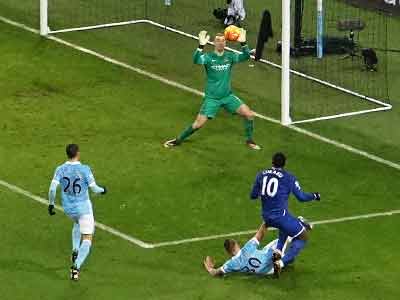 On 33 minutes Lukaku breaks through but shoots over the bar when challenged by Otamendi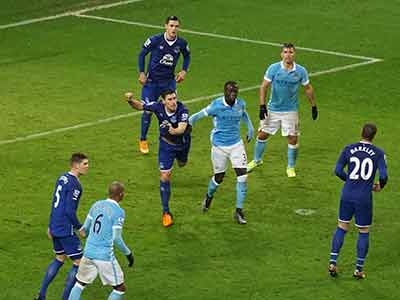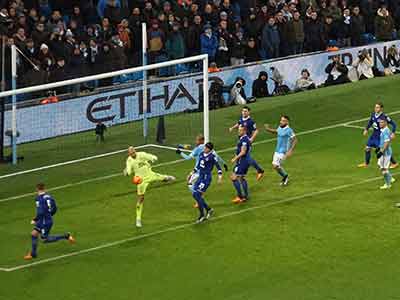 Gareth Barry heads clear - now where have I heard that name before!
Everton manage to clear a City attack just before half time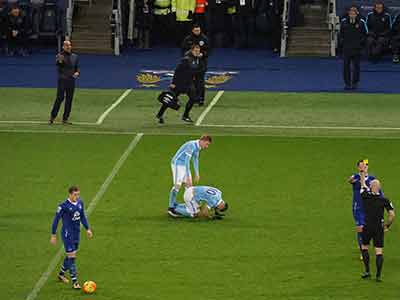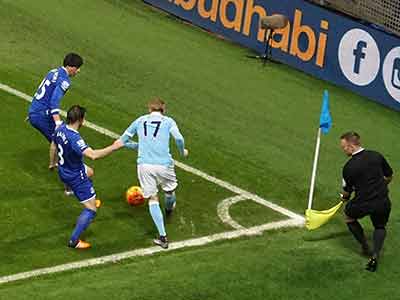 Besic is booked for a foul on Aguero
De Bruyne tries to beat Baines and Mori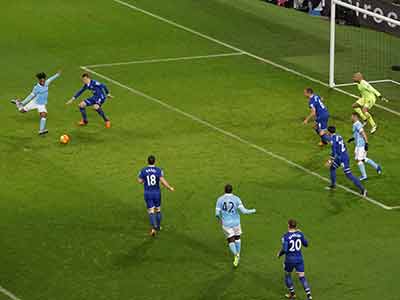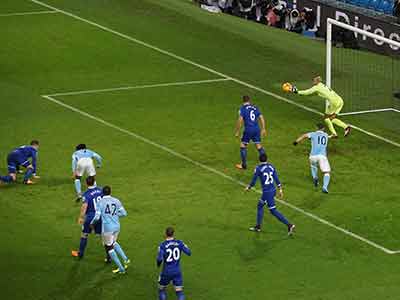 Sterling has an effort partially blocked by Stones and it's an easy save for Howard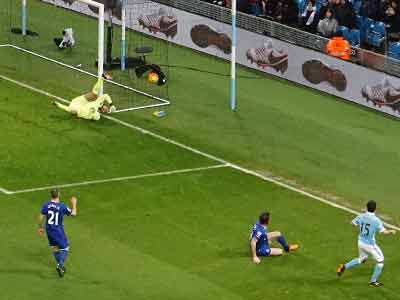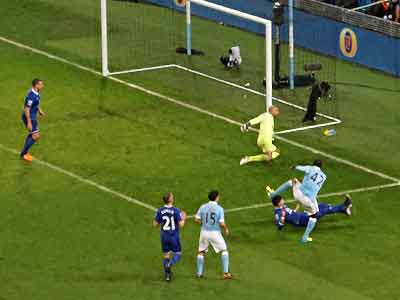 Navas hits the side netting with a shot
Then Toure has a shot blocked from a similar angle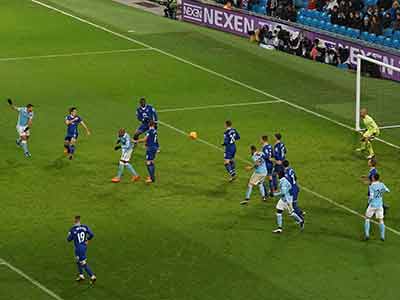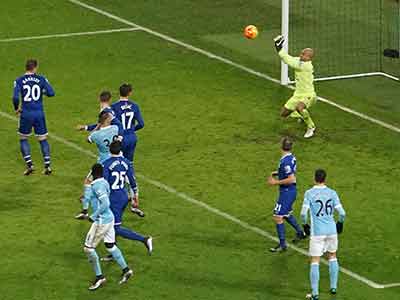 From the corner Aguero takes a shot which Howard manages to save. A foot or so either side and it would have been a goal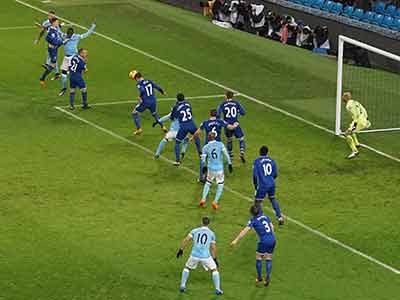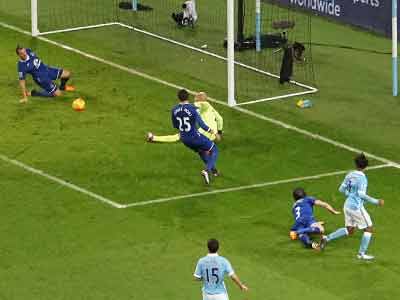 Besic heads a corner clear for Everton
Howard sticks out a leg and manages to save from a cross from Sterling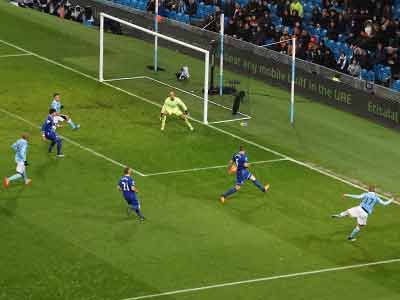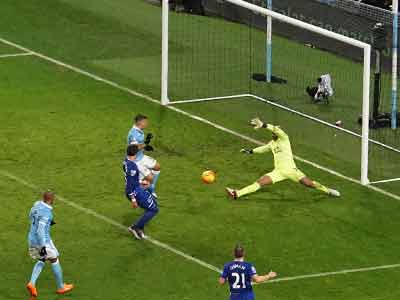 De Bruyne puts in a good cross but somehow Howard manages to deflect it away from Aguero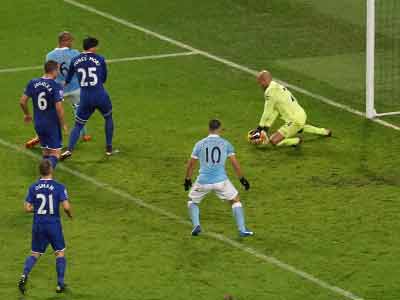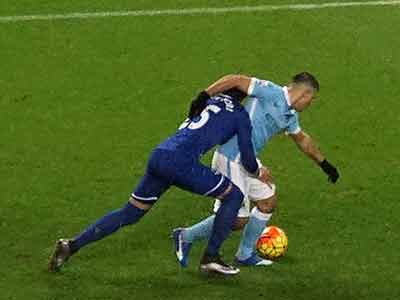 Howard saves from Sterling
On 68 minutes Aguero breaks through.....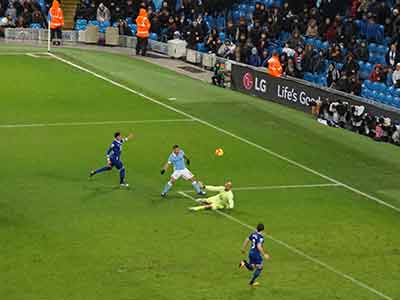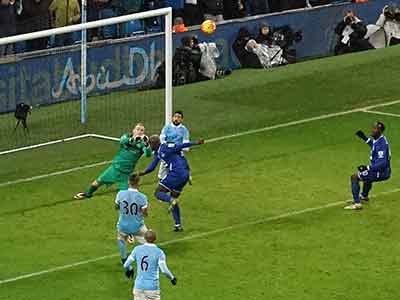 ....but Howard once again saves the day for Everton
At the other end Hart has to punch clear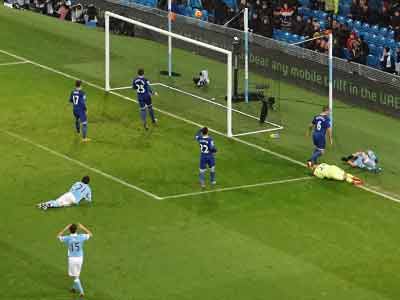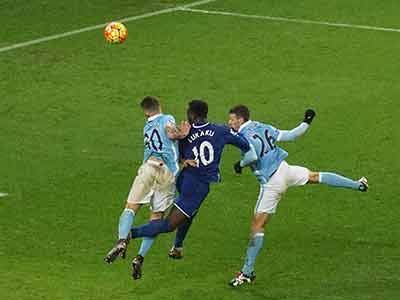 Silva is now on for De Bruyne as City continue their siege of the Everton goal
With a minutes to go a Lukaku header goes wide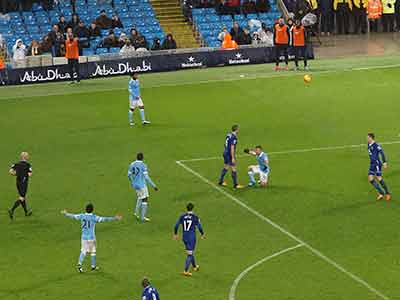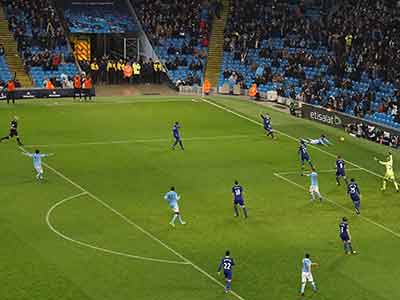 As we enter added time It looked like Aguero was fouled but nothing given
Then in the final moments Stones brings down Sterling.....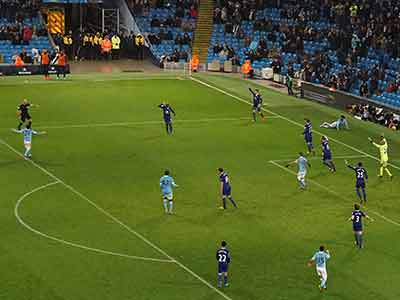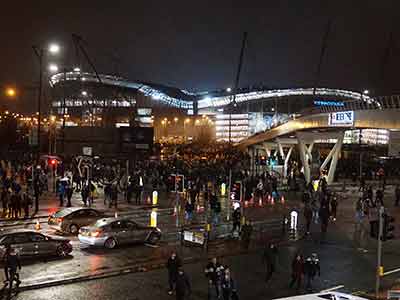 but alas. well behind play the ref points to a goal kick and not a penalty!
So we go home goalless for once
Team
Hart 6.5: Sagna 7, Otamendi 7.5, Demichelis 6.5, Clichy 6.5: Navas 6.5, Toure 6.5, Fernando 6.5, De Bruyne 6 ( Silva) Sterling 7, Aguero 7