City 4 Sunderland 1
December 26th 2015 54,523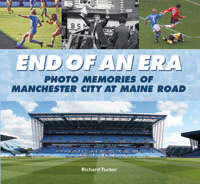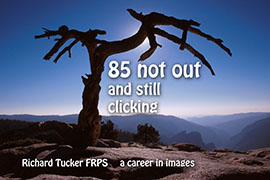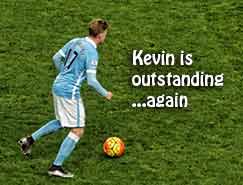 At long last City played some brilliant football and had the game won in the first 20 odd minutes. Star of the show was Kevin De Bruyne. He started his performance with a great cross which was headed home by Sterling after just 12 minutes. Five minutes later Yaya Toure doubled the score with a low shot into the corner from outside the penalty area. Bony made it three nil with a header from a free kick taken by De Bruyne. City could well have added more in the first half but Sterling was given offside when he netted and Silva missed a good chance.
The second half began in similar style and Silva had a good shot well saved before De Bruyne took advantage of a lucky deflection to make it four. After Sunderland managed to beat Hart to get a consolation goal Bony missed a penalty after Silva was brought down.
There was a big cheer when Kompany came on for Otamendi but alas he was only on for 9 minutes before he too was subbed by Demichelis. I just hope it was not a repeat of the injury that has kept him out of the side for so long.
At least with other results going City's way a win at Leicester next Tuesday will put City back on track for the title.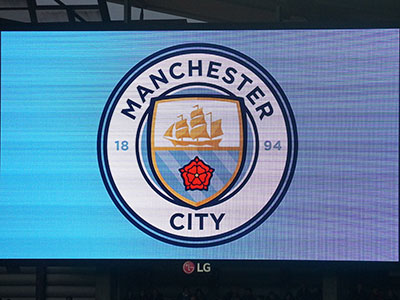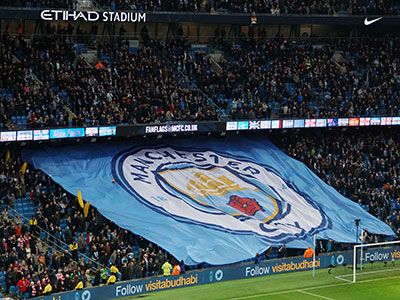 The new design of the City crest was announced today. Shame we have to have any red on it!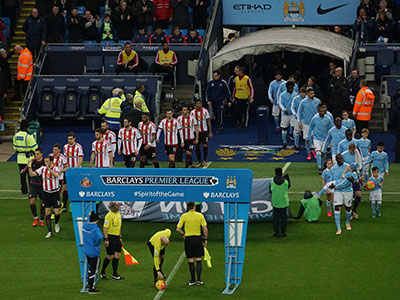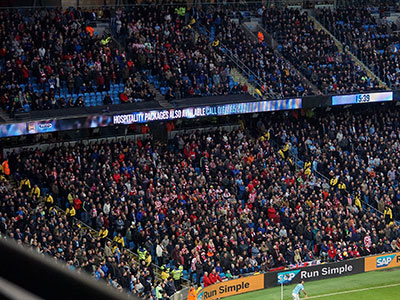 No Kompany or Aguero in the side. Sterling was in for Delph and Bony led the line
Sunderland had a good number of fans present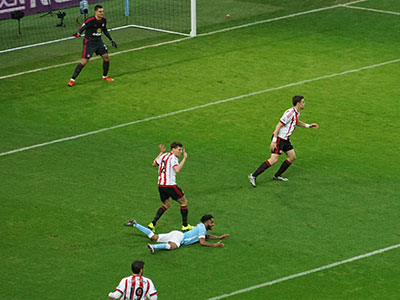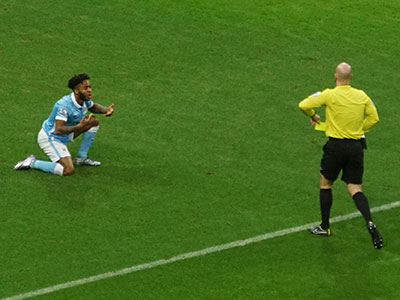 After just 3 minutes Sterling was fouled by Jones in the area and even got booked for 'diving' .
When players put their hands up like that it's a sign of guilt!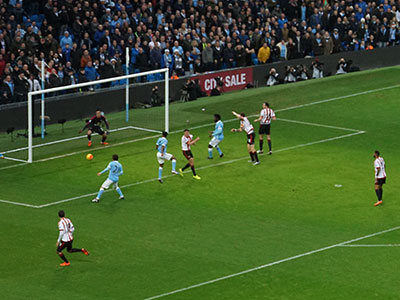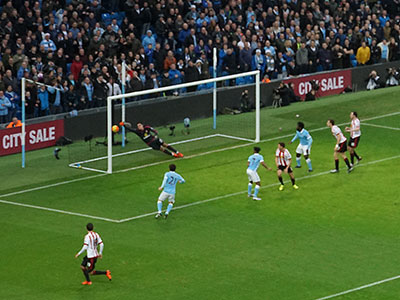 However we did not have to wait too long for a goal. A great cross by De Bruyne found the head of Sterling who headed past the keeper to give City the lead after only 12 minutes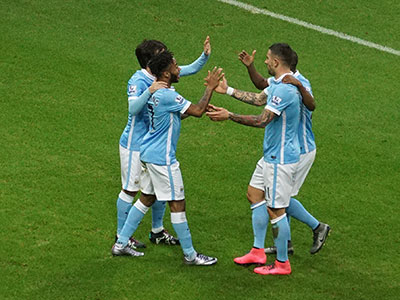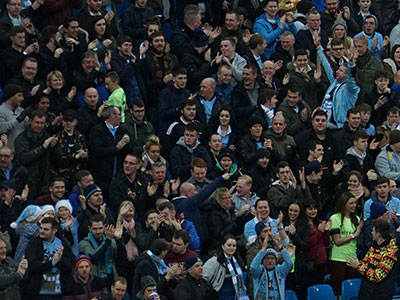 An early goal is so important for City and the players and fans enjoyed the moment.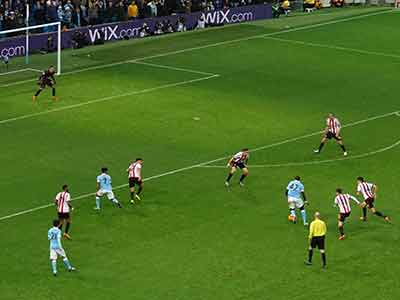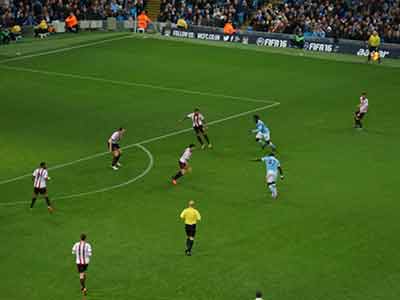 4 minutes later and Yaya Toure took a pass from Silva feinted to go right......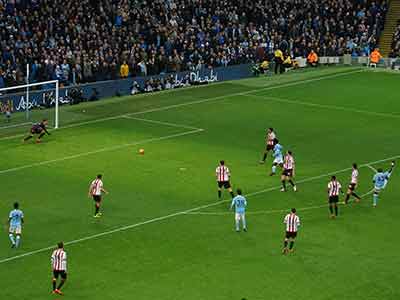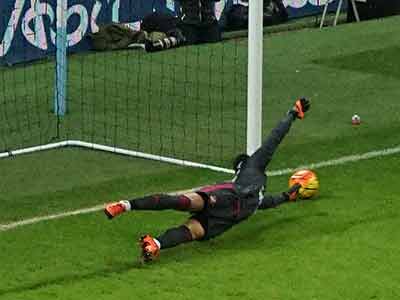 ... switched to his left foot and hit a low shot past the diving Mannone for his 4th league goal of the season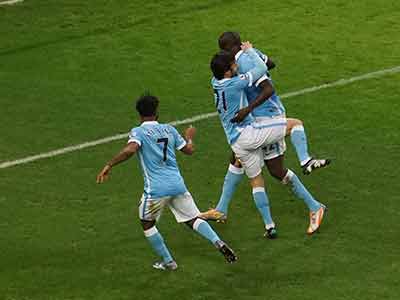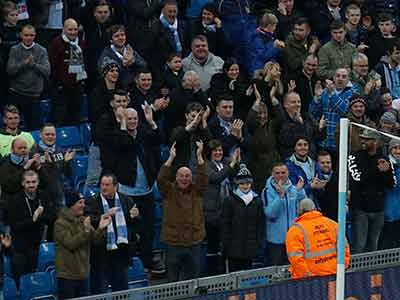 Another goal for City and plenty of celebrations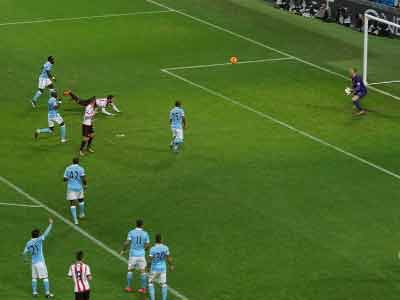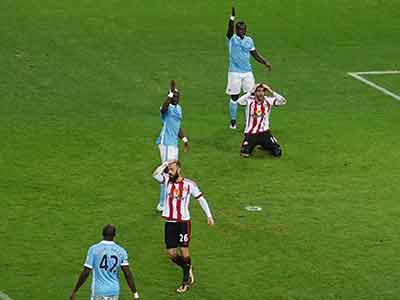 On 20 minutes Sunderland had a good chance but Danny Graham's header went wide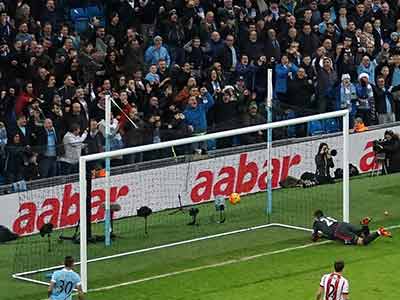 Almost immediately City got a free kick for a foul on Bony and De Bruyne's free kick was headed home by Bony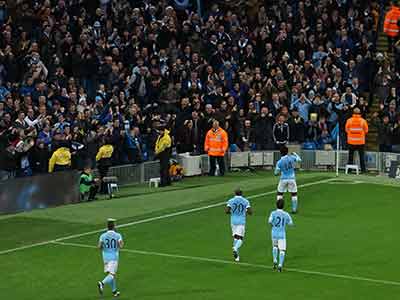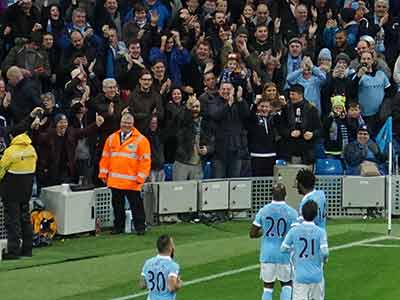 Bony goes to the corner to celebrate his 4th league goal of the season and City are three up - game over!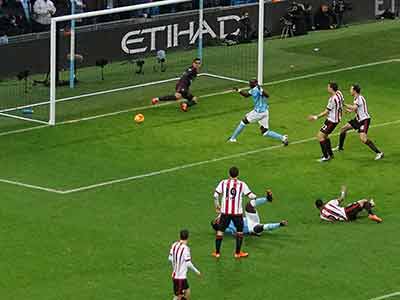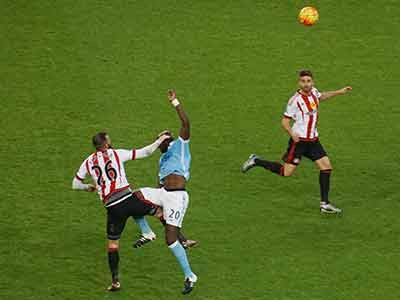 Mangala has a chance saved at one end and then has to deal with Fletcher at the other end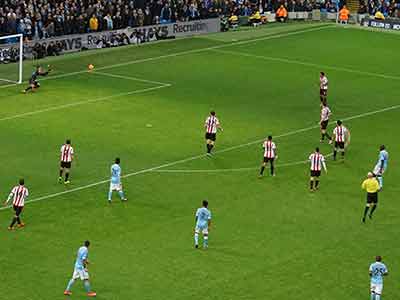 Toure has a shot saved by the keeper on the half hour
Silva's shot goes just wide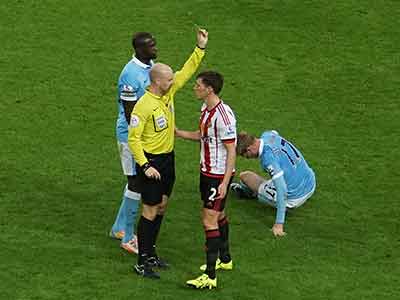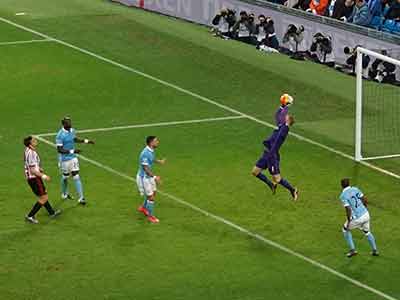 Hart actually has to make a catch - a rare event!
Jones gets a yellow card for a foul on De Bruyne
Sterling takes a good pass from Kevin and scores but alas the flag is up for offside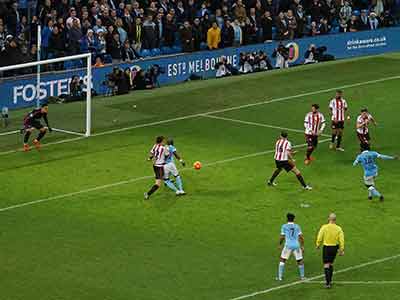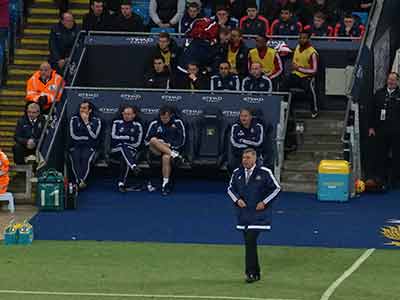 Just before half time Mangala has an effort saved and no doubt Sunderland manager Sam Allardyce has a lot to say during the break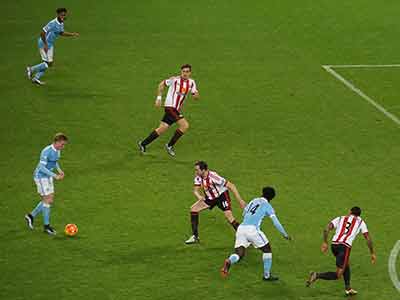 8 minutes into the second half great City interplay ended with De Bruyne accepting a misplaced pass from ones and planting the ball past the keeper to get a well deserved goal himself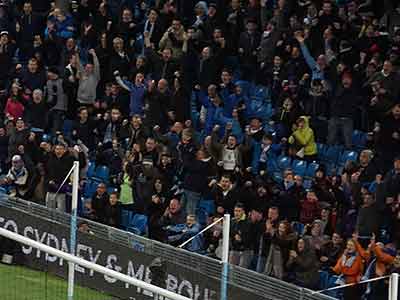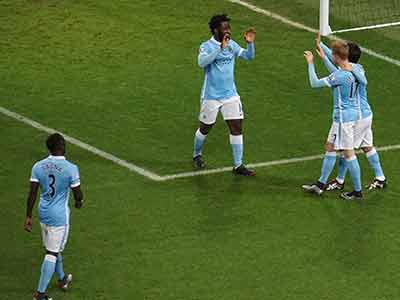 He thoroughly deserved all the plaudits coming his way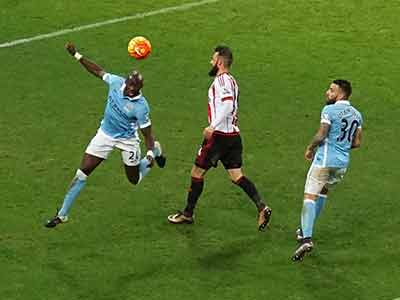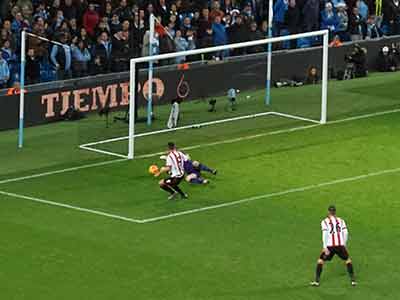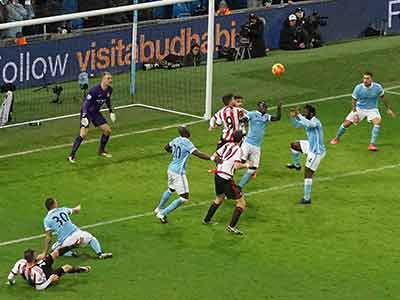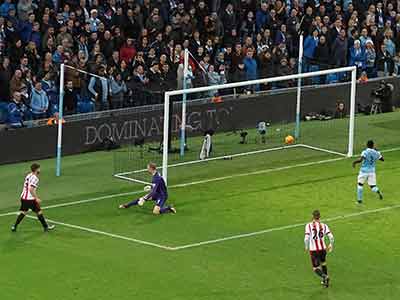 On 58 minutes Hart saves from Borini but the Sunderland player manages to net his second attempt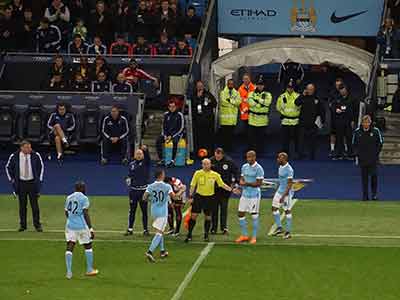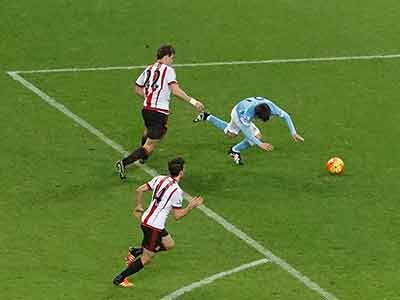 On 61 minutes and on comes Vincent Kompany - at last
A few minutes later and Silva is brought down near the edge of the penalty area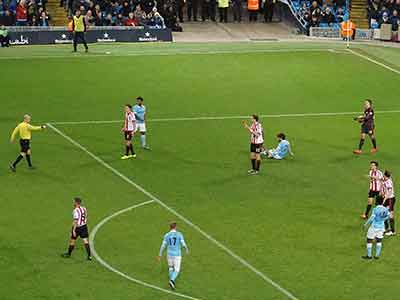 The referee gives a penalty and as Toure is off up comes Bony to take it and thump it over the bar
- a bad miss! Why didn't De Bruyne take it?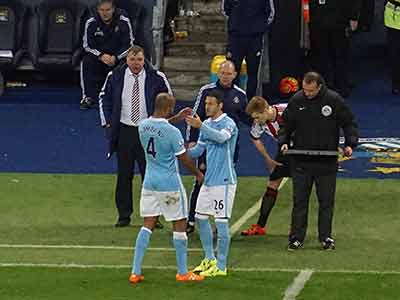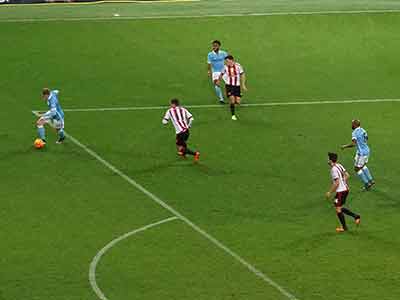 On 70 minutes off goes Kompany - that means there is no chance to give Aguero a few minutes!
With ten minutes to go Kevin cuts in and has a go at goal....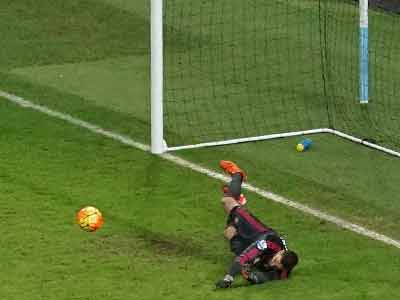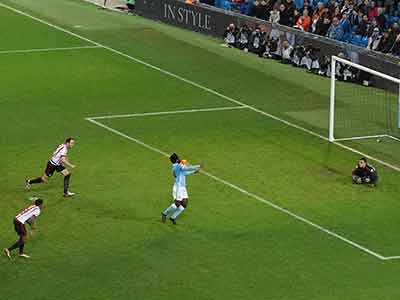 The keeper saves and pushes out the ball and in rushes Bony ....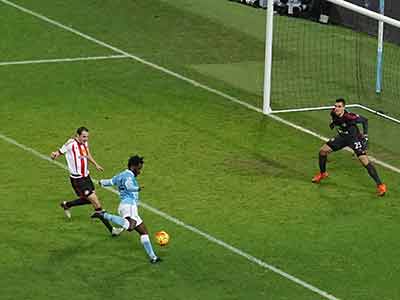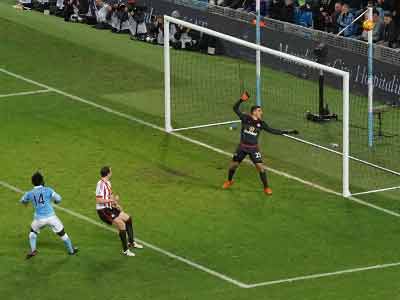 Surely he must score ...Oh no he blasts it over the bar - just not good enough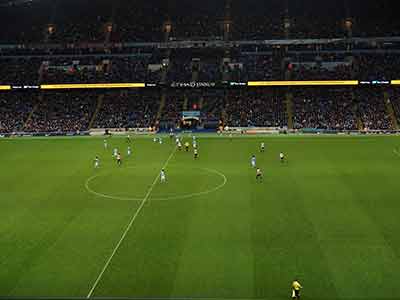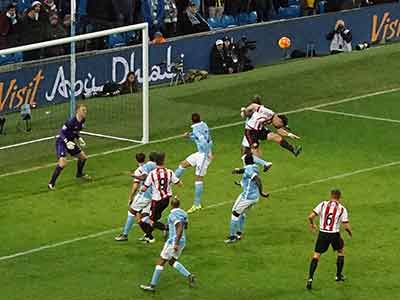 At times all the players seem to be in one small area of the pitch
Sunderland try one final fling but it looks like relegation will be hard to avoid for them this season

but for City supporters it was a pleasant trip home for some more Christmas cake!
team
Hart 6.5: Sagna7, Otamendi 6.5 ( Kompany( Demichelis)) Mangala 7, Kolarov 7: Toure 7.5 (Delph) Fernandinho 7.5, Silva 8, De Bruyne 9, Sterling 7.5, Bony 7
Now available from Amazon ( click on image for link)
WH Smith and the City shop