City 6 Chelsea 0
February 10th 2019 att.54,452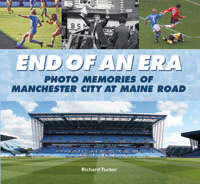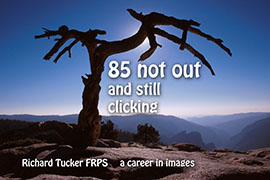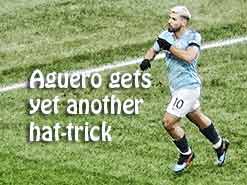 A totally amazing performance by the City team especially in the first twenty odd minutes when they wiped the floor with Chelsea scoring four without reply. A quick free kick taken by De Bruyne led to Sterling's first goal after just 4 minutes. Sergio made it two nil with a magnificent curled effort from outside the penalty area that ended up in the top corner. A late xmas gift from Barkley enabled Aguero to score an easy second and City's third. Gundogan made it four nil and Chelsea were helpless against some great football. They did fight back a bit and Ederson had to make two good saves to keep a clean sheet. In the second half Sterling who had been a real difficult player for Chelsea to hold was brought down on one of his runs giving Sergio the chance to score from the penalty spot. He did of course and equaled Shearer's record of 11 Premier League hat-tricks. It was his 17th league goal of the season.
Fernandinho was at his best in mid-field and Benardo ran his socks off as usual. De Bruyne is now getting back to his best after his injury but really it was a top notch team display and with a bit more luck the score might have been higher! Zinchenko who was a surprise choice at left back had a good game.
City go back on top with a superior goal difference but Liverpool have a game in hand so it looks like being a good battle for the Championship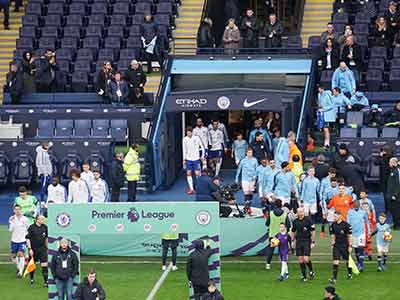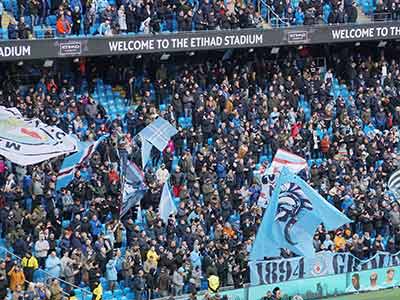 City made three changes from the Everton game De Bruyne, Sterling and Zinchenko coming in for Silva, Sane and Otamendi who were all on the bench.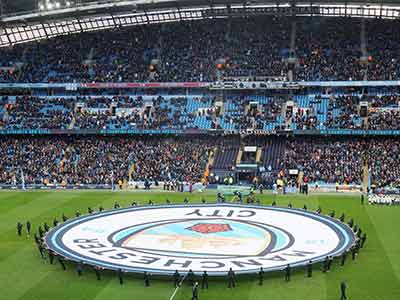 Chelsea had plenty of fans present
That's bigger than usual - maybe getting ready for Wembley!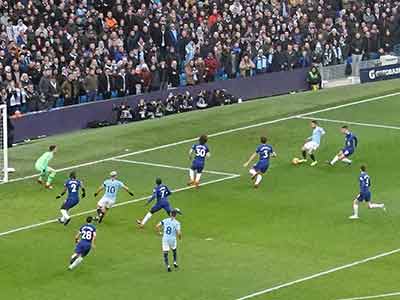 Jorginho fouls De Bruyne and from the quick free kick Benardo dashes down the right wing and crosses ......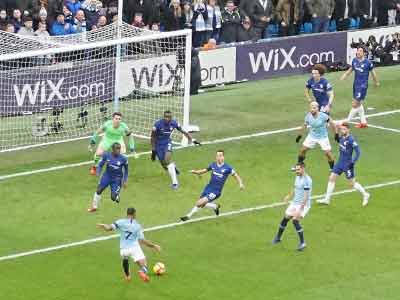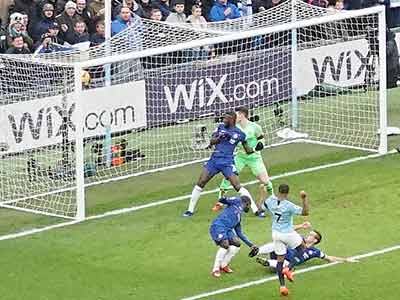 ....the ball eventually coming to Sterling who hammers it past the keeper and City are one up in 4 minutes.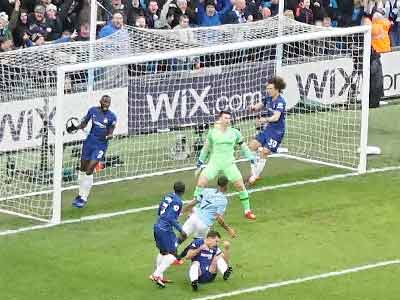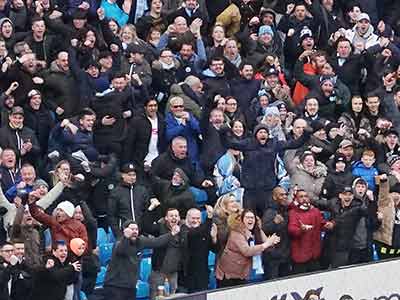 What a great start for the sky blues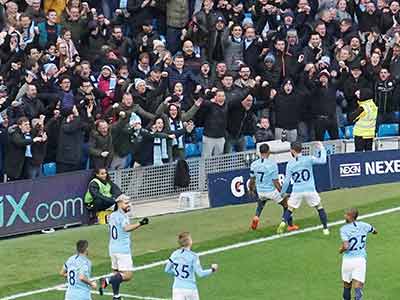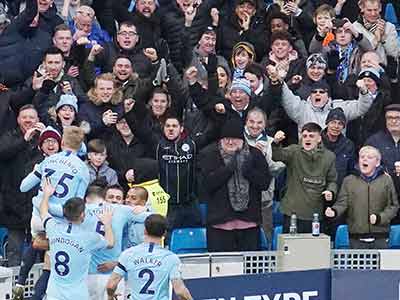 celebration time has once again arrived early!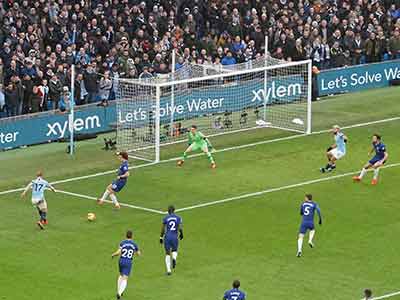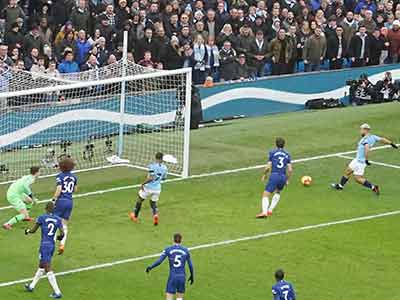 4 minutes later and Aguero misses a great chance started by De Bruyne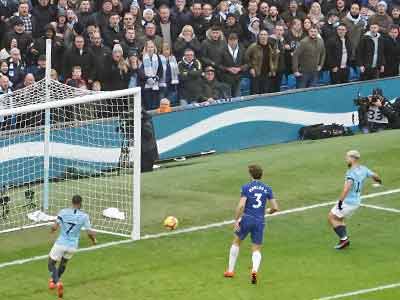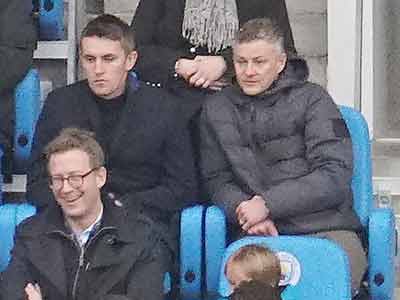 Oh we have that chap from Norway here again!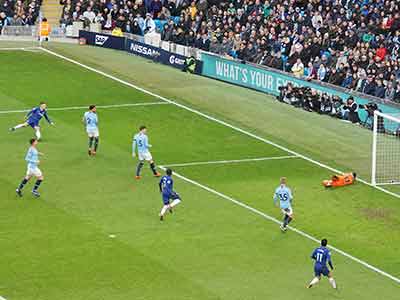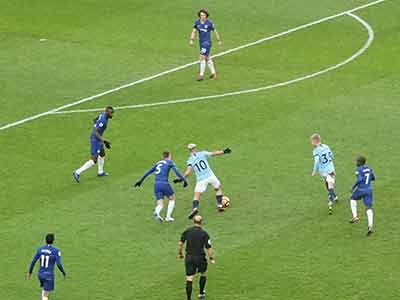 Ederson saves from Hazard
On 13 minutes Aguero and Zinchenko exchange passes.....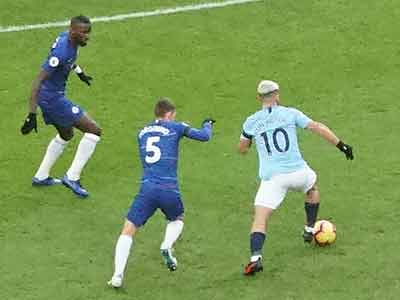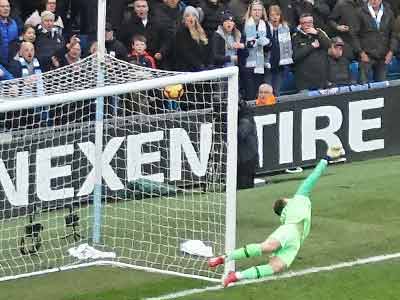 before Sergio shoots and ....
.
..the ball flies into the top corner to make it two nil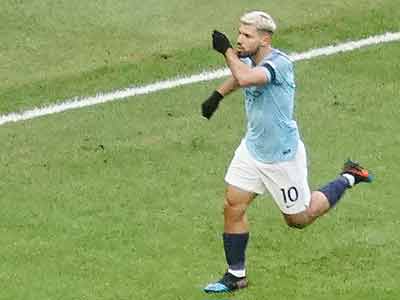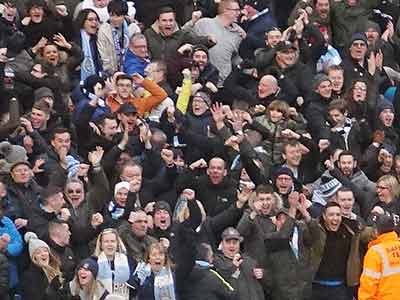 Well that made up for his earlier miss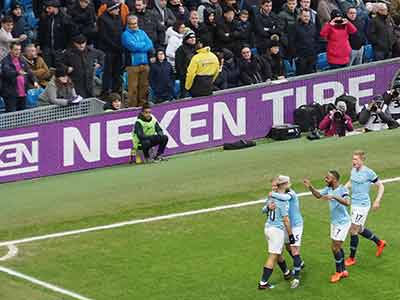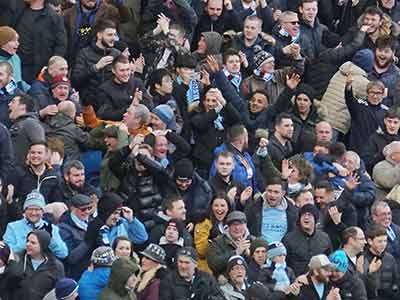 Chelsea faces are glum as City celebrate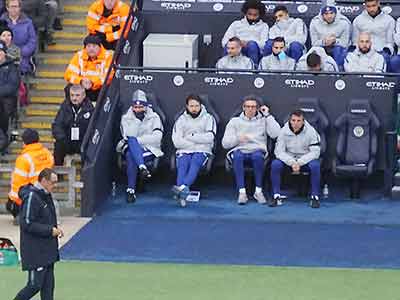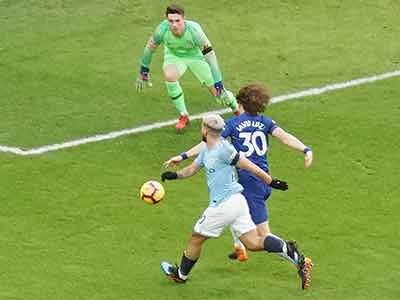 Oh dear - not a happy bunch!
Aguero continues to worry the Chelsea defence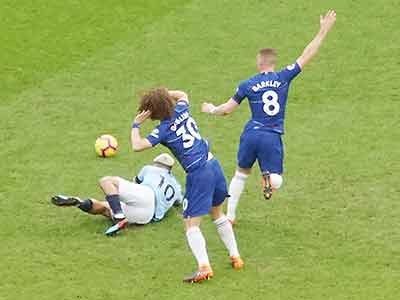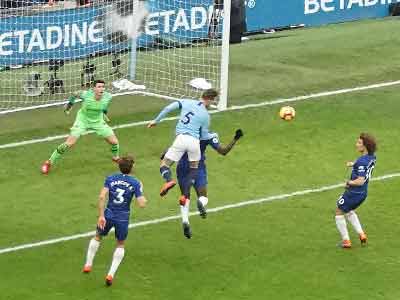 Oh it wasn't me says Luiz
As City get another corner......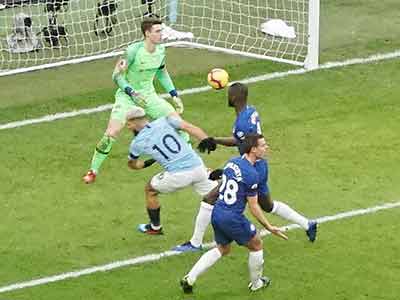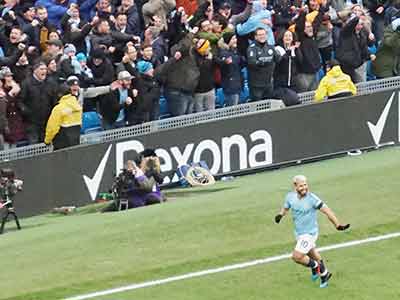 ..the ball is only half cleared by Chelsea and for some reason Barkley heads towards his own goal and Aguero says thanks very much and scores from close range - three nil - amazing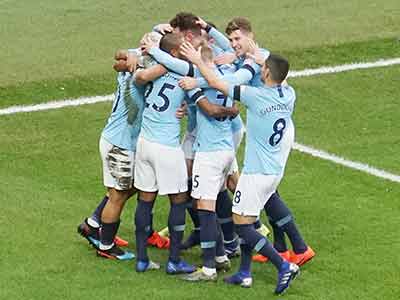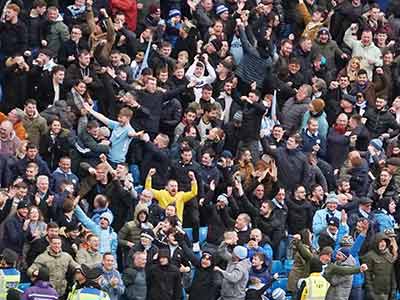 We have only been playing for 20 minutes and are three up - can this be real!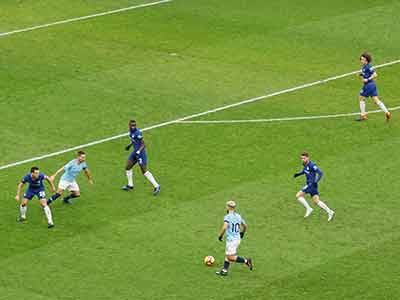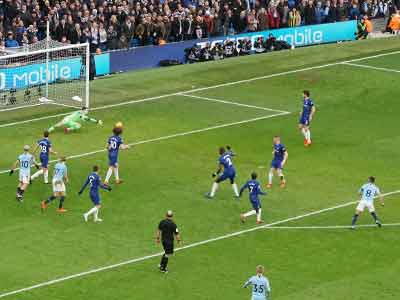 The cheers had hardly died when Chelsea failed to clear a City attack and Gundogan shot from just outside the area and beat the keeper to make it 4 -0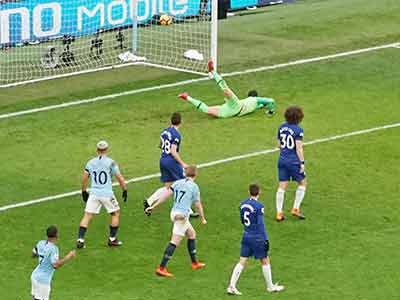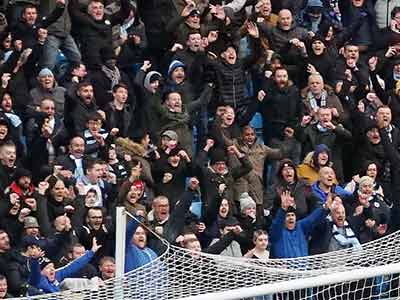 It was his 5th goal this season and well earned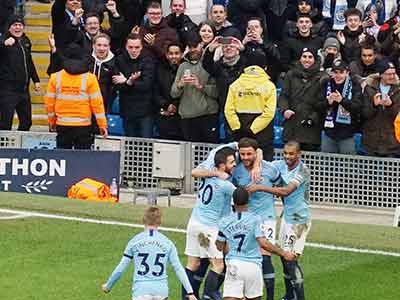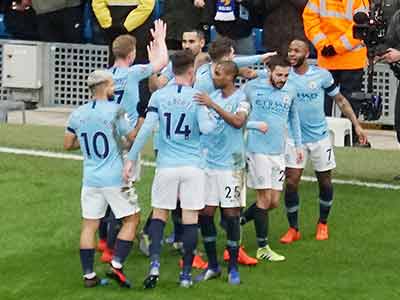 The team can really celebrate now - four up before the half hour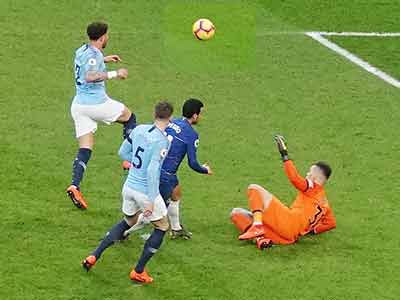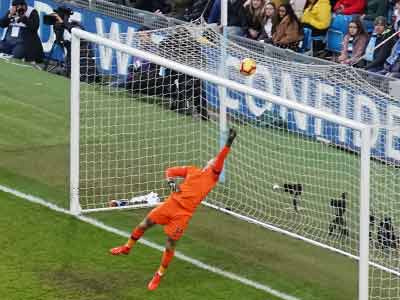 Chelsea decided to attack and Ederson had to earn his keep by saving from Pedro and Higuain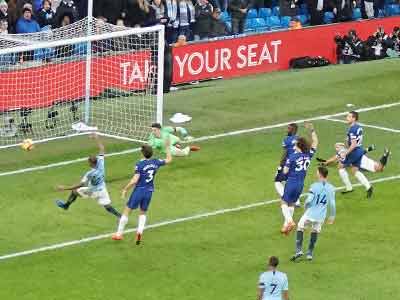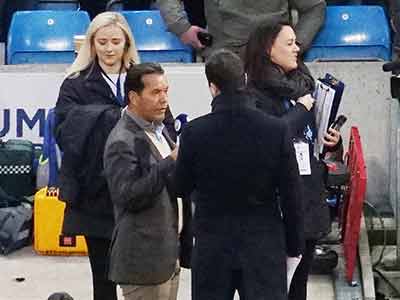 City continued to attack but no more goals before half time when we saw an interview with Ali Benarbia - a great City player from the past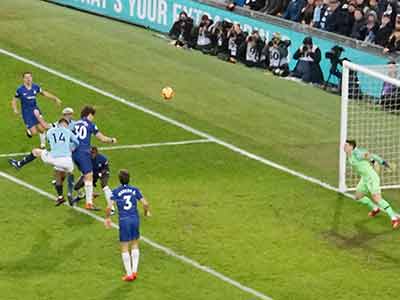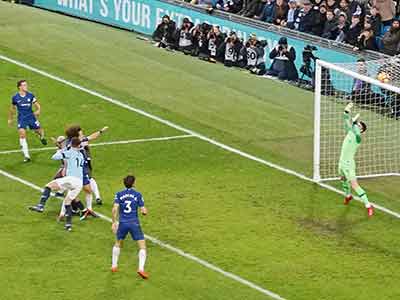 On 51 minutes Aguero hit the bar with a header at a corner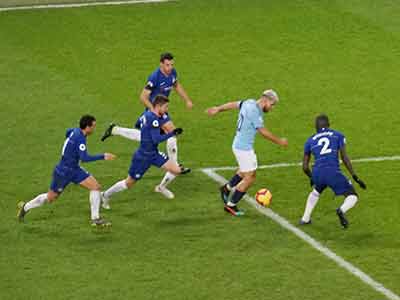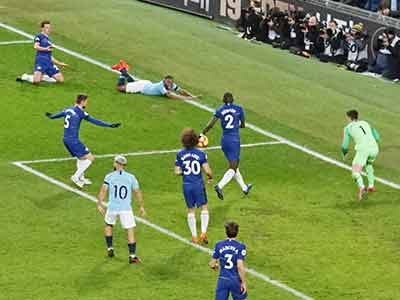 Sergio was often closely marked!!
On 55 minutes Azpilicueta who was having a bad time with Sterling brings him down in the area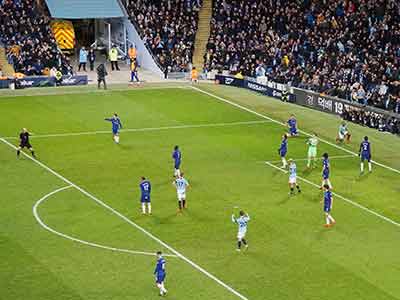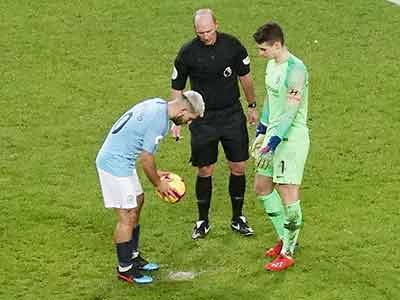 Referee Dean points dramatically to the spot - will it also be his 100th red card too - no
The keeper tries to put off Aguero - no chance....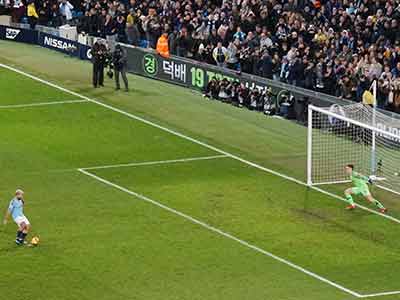 ..as Sergio sends him the wrong way and that's his hat-trick and City are five up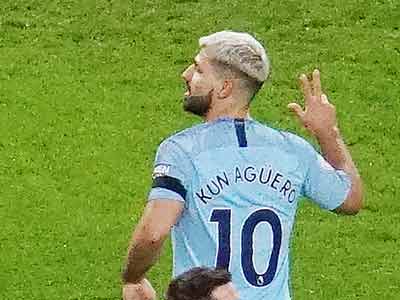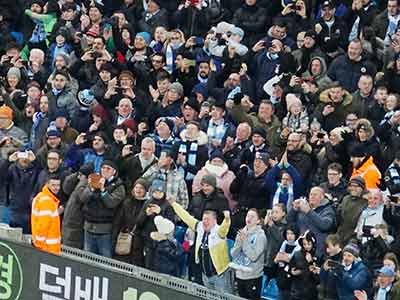 Aguero lets all who can't count know it's three for him as the North Stand have a chance to cheer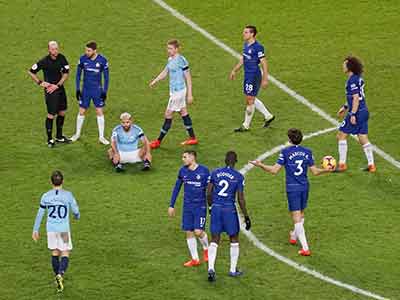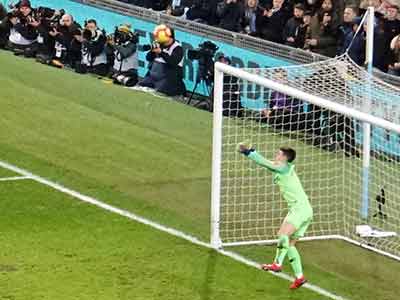 Aguero's down - is Dean reaching in his pocket for a red card - no
The free kick taken by De Bruyne is saved by the keeper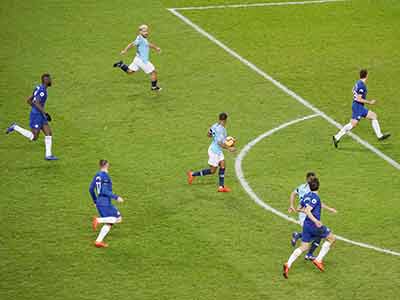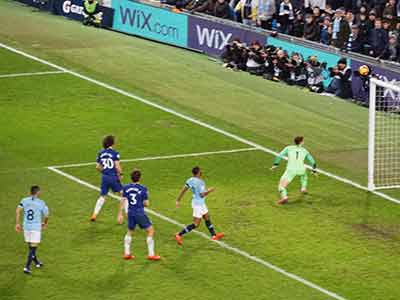 60 minutes and a shot from Aguero goes just wide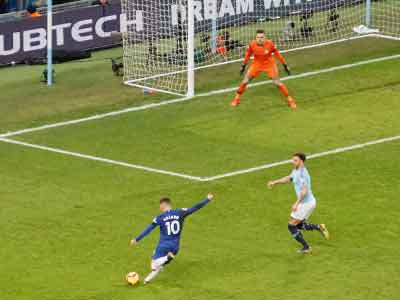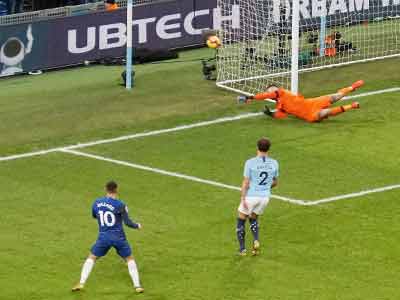 A shot from Hazard goes into the side netting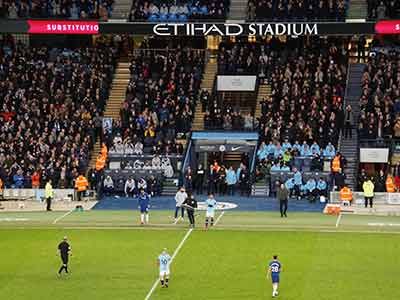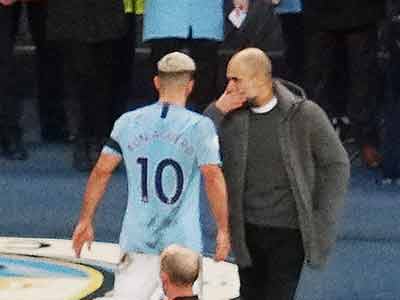 City fans stand and applauded Aguero when he goes off and Pep has a quiet word in his ear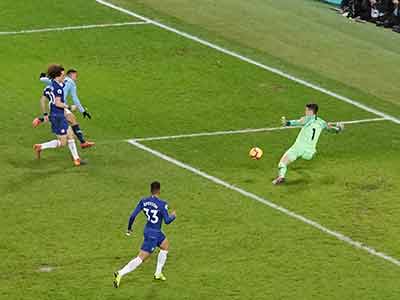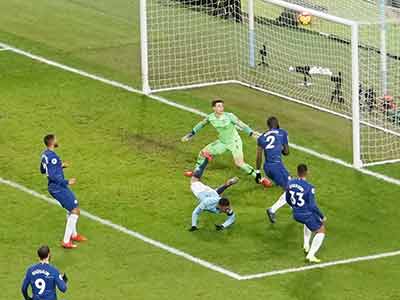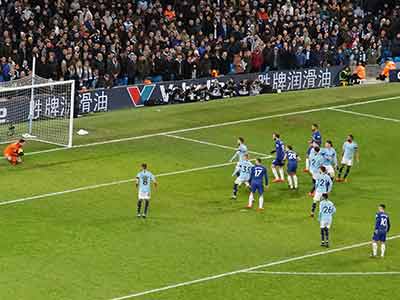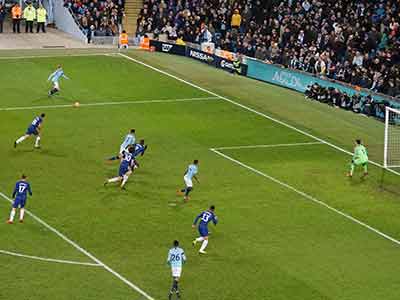 Ederson saves a free kick given for a foul by Gundogan
On 80 minutes Zinchenko breaks down the left wing and crosses....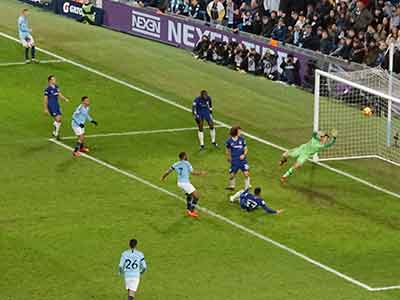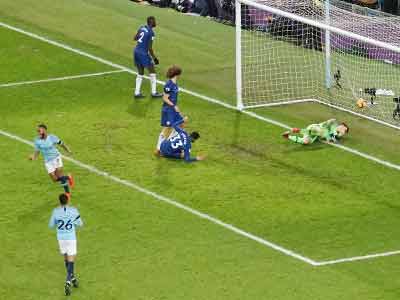 ...for Sterling to score number six for City.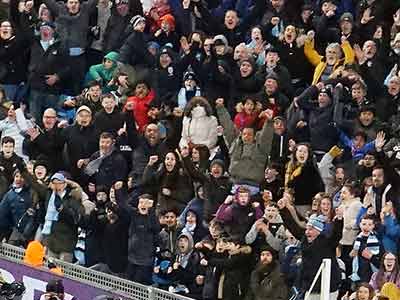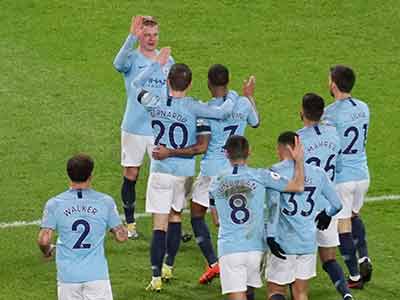 It was his 12th league goal this season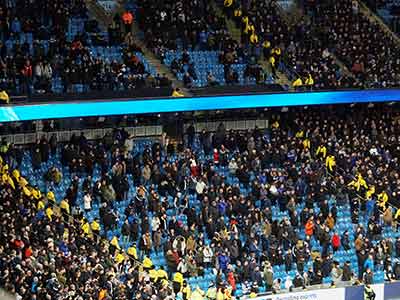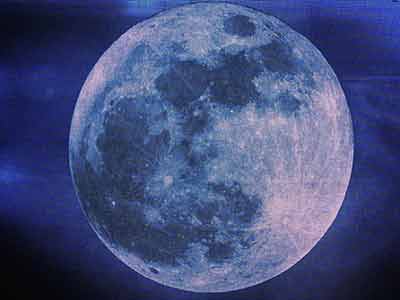 Already many Chelsea fans had left after the 'blue moon' had struck again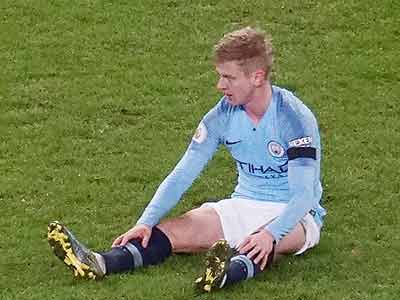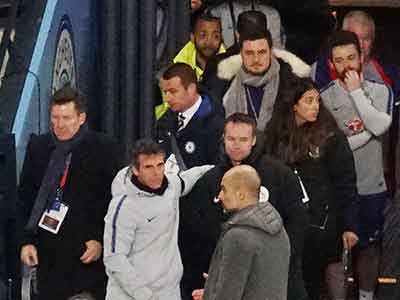 Just before the final whistle Zinchenko had a slight knock but at the end of the game when Pep went to shake the Chelsea managers hand Sarri had already dashed down the tunnel!
Team
Ederson 8, Walker 8, Stones 8, Laporte 8, Zinchenko 8: Fernandinho 9 ( Silva) Gundogan 8 De Bruyne 8.5, Benardo 8.5, Sterling 8.5, Aguero 9.5 ( Jesus)