City 1 Leicester City 3
February 6th 2016 54,693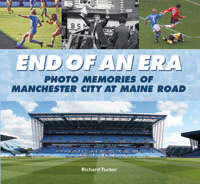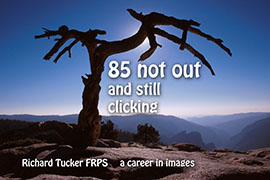 City were completely out-foxed in this vital game. From the first moment the visitors outclassed and out fought the sky blues and now they have become favorites to win the Premiership. Leicester have been fortunate in being able to have almost an unchanged side with hardly any injuries whereas City as we know despite having a big squad are suffering in this area.
Did the news of the new manager next season have anything to do with this inept display?
It could have been worse still but for some good saves by Joe Hart. The City defence was often outpaced at counter attacks and the City forwards were rarely able to give Kasper Schmeichel a save to make. The organization of the Leicester defence was very good and difficult to break down and they defended in numbers but they were still able to spell danger when they counter attacked. Although the home side had most of the possession it means nothing if you don't create good chances in front of goal. For once the crosses and shots by Kolarov were poor and with the centre of the box filled with defenders Aguero Siva and Sterling rarely created a chance.
Late in the game a good cross by debutante 19 year old Celina found the head of Aguero who notched his 14th league goal but alas it was but a consolation effort as the damage had already been done.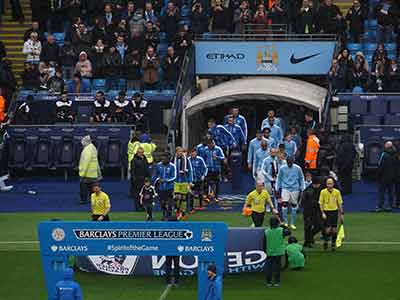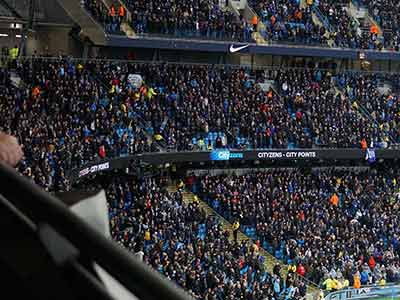 Despite the M6 being blocked there was a very good turnout by Leicester fans.
Zabaleta and Kolarov were in for Sagna and Clichy and Sterling in for Navas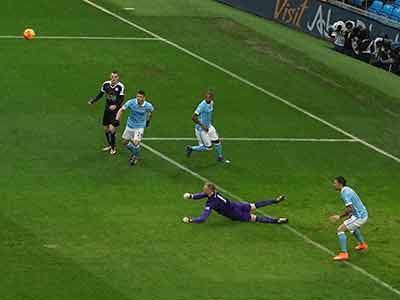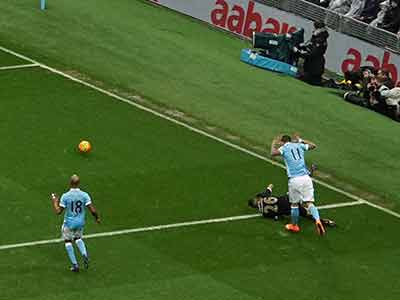 The visitors were on the attack from the first minute and after Hart had punched clear Kolarov blocked Mahrez on the edge of the penalty area to give away a free kick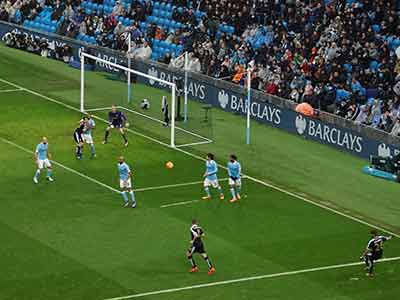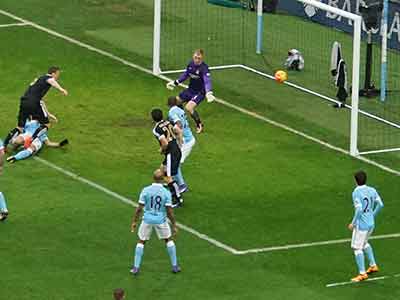 City failed to block the well taken free kick and Huth beat Demichelis to score past Hart to put Leicester into the lead after just three minutes - total disaster!!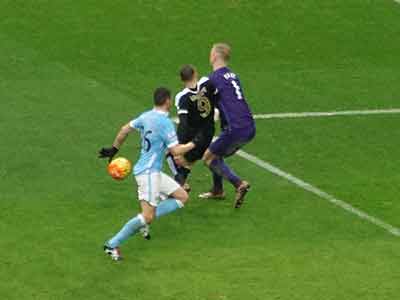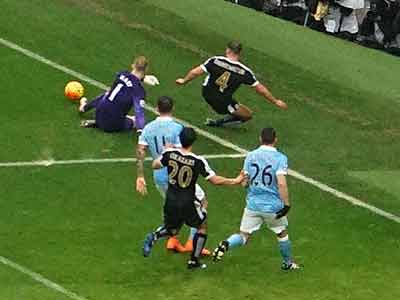 Leicester continued to attack and Hart had to make good saves from Vardy and Drinkwater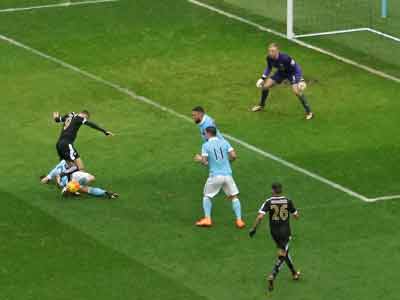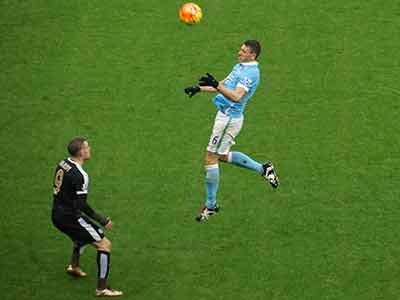 Demichelis manages to stop Vardy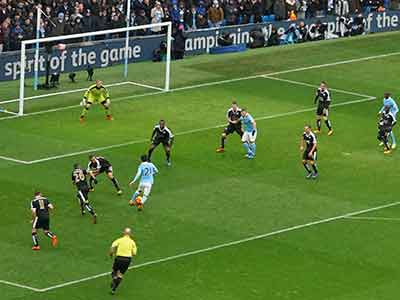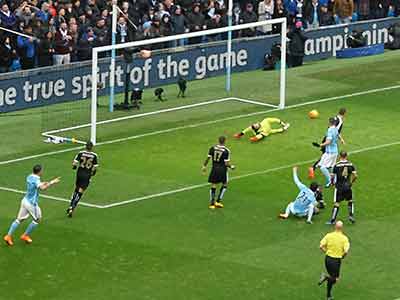 Silva manages to get in a shot despite the number of defenders but alas it goes wide of the keeper and the goal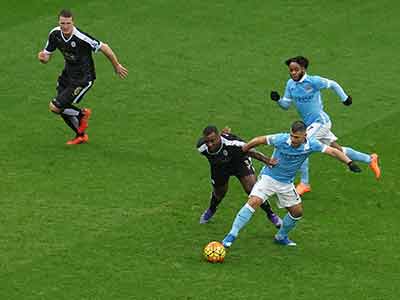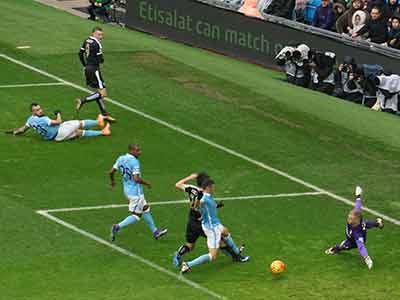 A dangerous cross by Vardy fails to find the feet of Okazaki
Aguero was not finding it easy to break through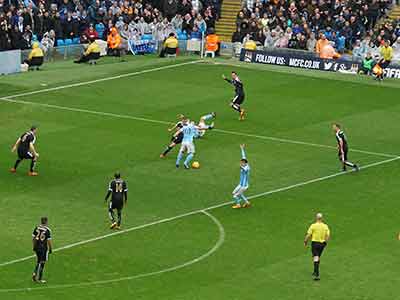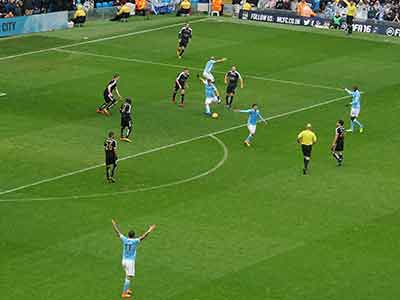 Zabaleta is brought down at the edge of the box and City appeal for a penalty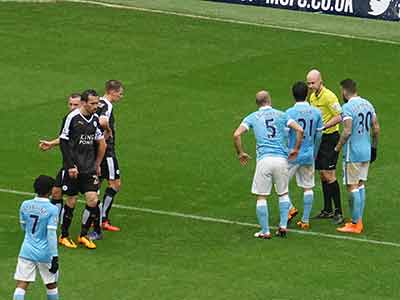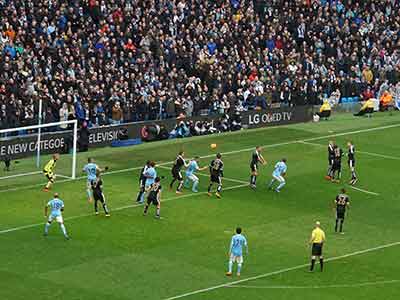 The eventual free kick is headed away for a corner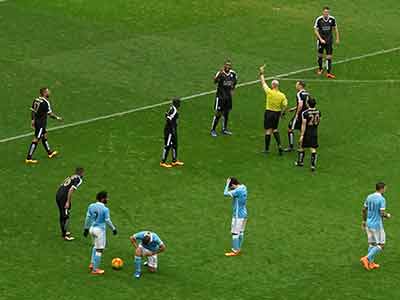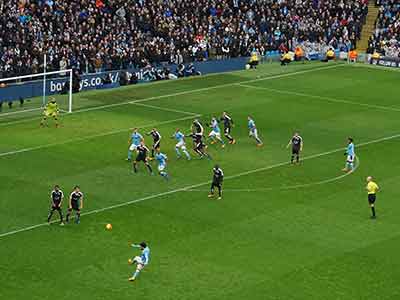 Morgan is booked for a foul on Aguero but Silva's free kick is blocked and cleared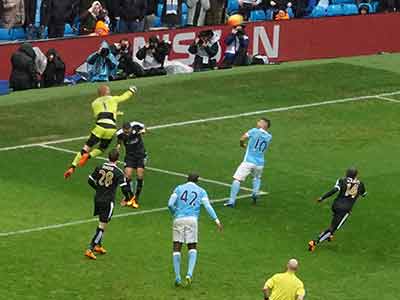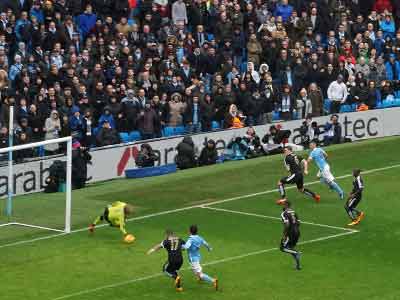 a cross by Aguero fails to find a City player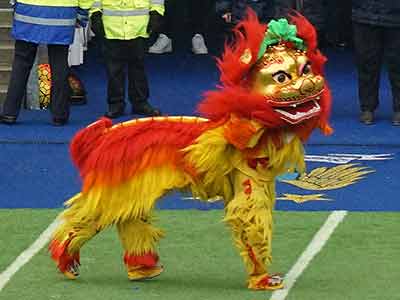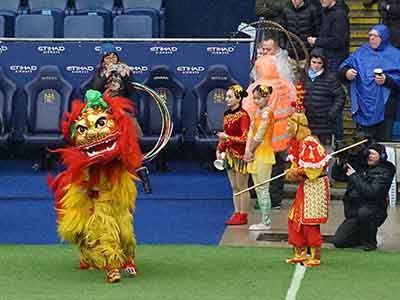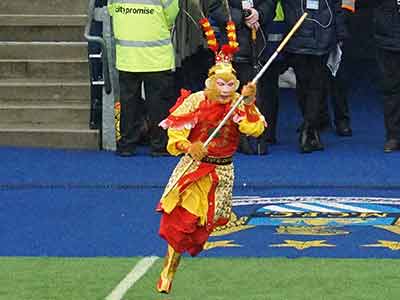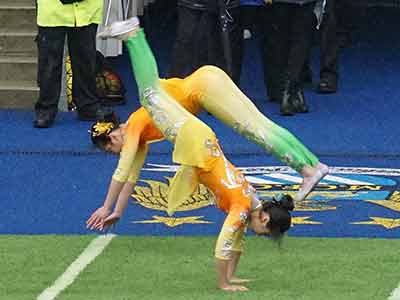 At half time we had some Chinese New Year entertainment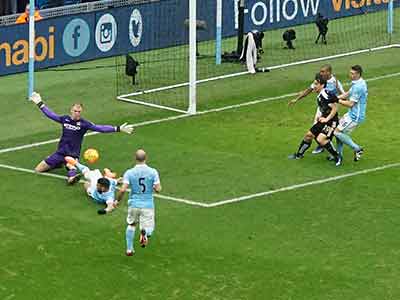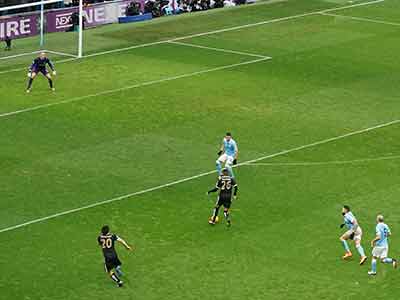 Joe Hart was back in action right after the break saving a cross
on 48 minutes Mahrez broke away nipped past Otamendi and ......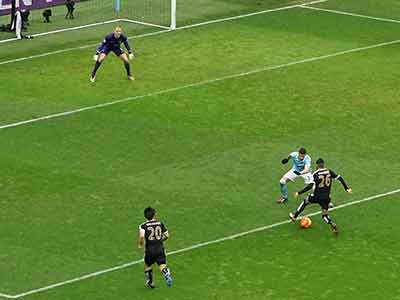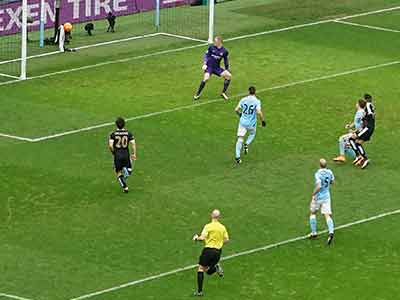 ...then beat Demichelis....... before cracking the ball past Hart to make it 2 nil .Disaster squared!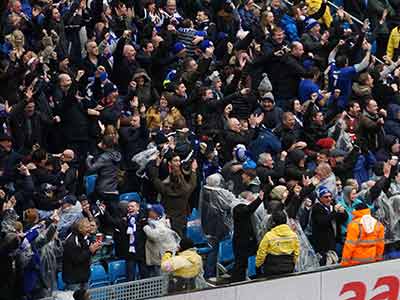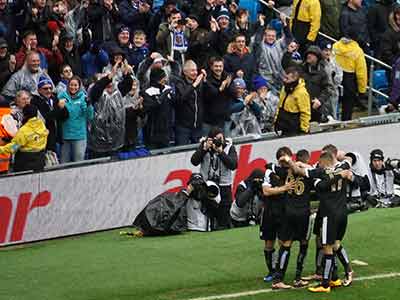 The Leicester players and fans could not quite believe it - they were ahead two nil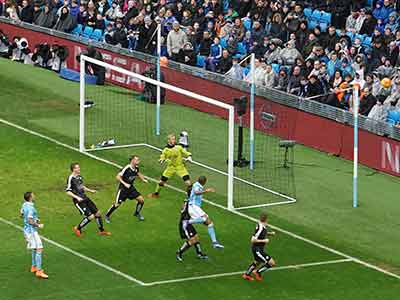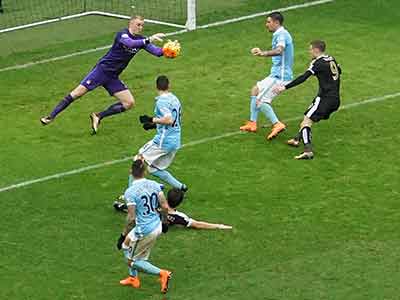 a Fernandinho header goes wide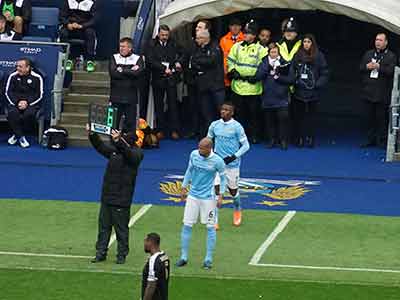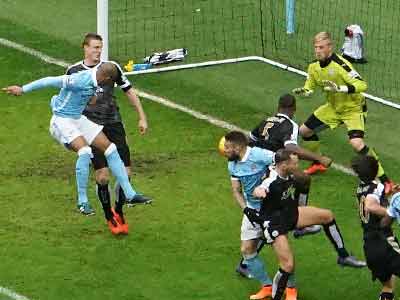 On come the City subs Fernando for Toure and Iheanacho for Delph
Almost immediately a Silva cross is headed by Fernando....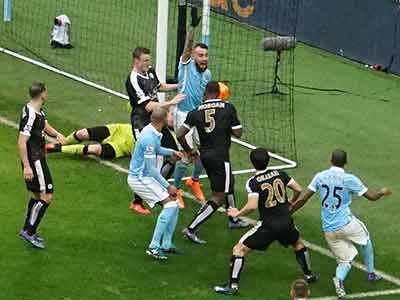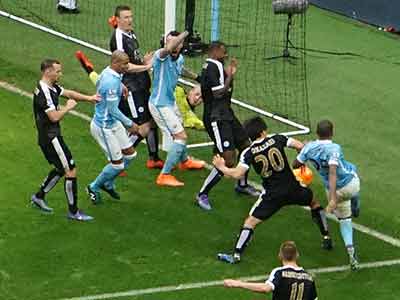 but Schmeichel makes a brilliant save
and alas no goal is forthcoming and the wet City fans have nothing to cheer about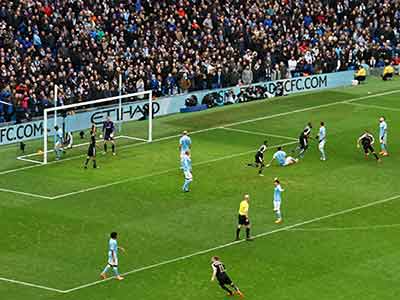 Then on 60 minutes we had disaster cubed when Huth scored with a header to make it three nil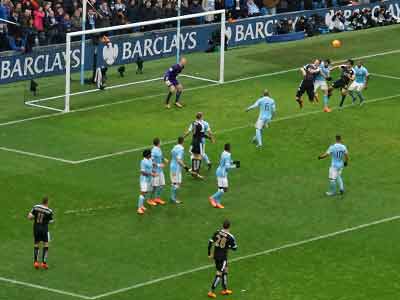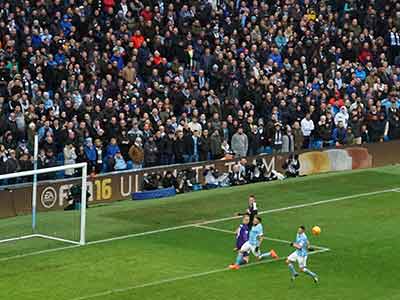 Otamendi manages to head clear a free kick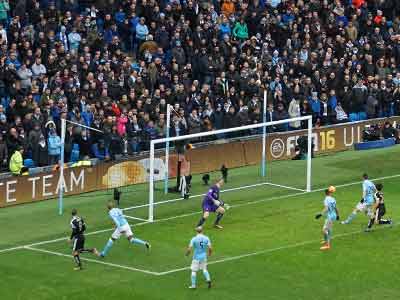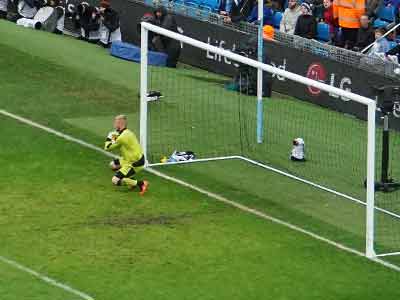 Schmeichel saves from Aguero
a shot by Vardy goes past the post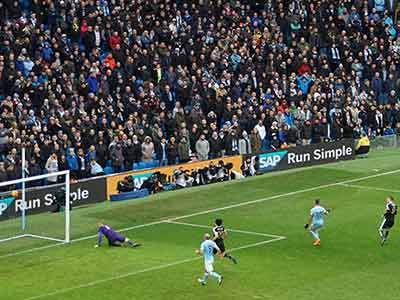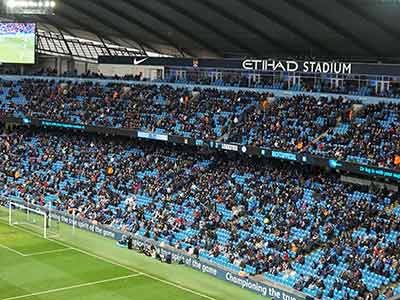 Another Vardy effort goes just wide
As the 80th minutes is reached more and more City fans depart. It was the highest attendance so far this season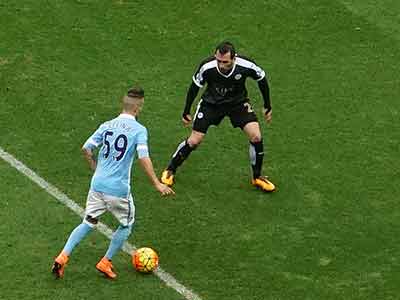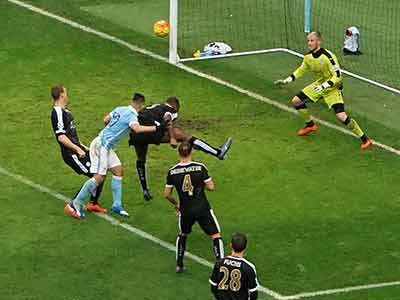 Celina on for injured Silva crosses following a corner and Aguero heads down past Schmeichel...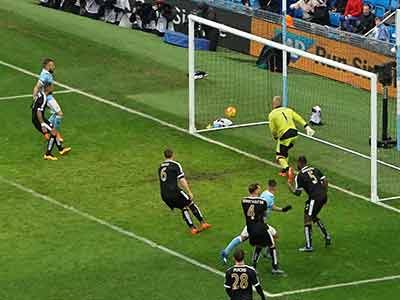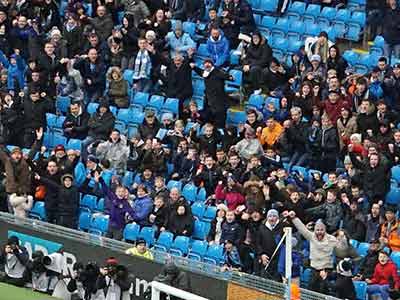 The keeper is beaten and it's a consolation goal for City and their fans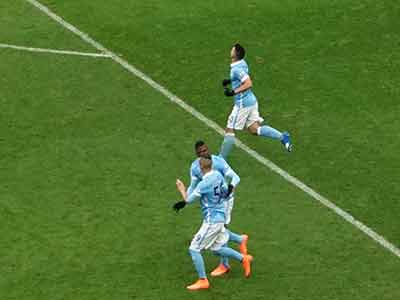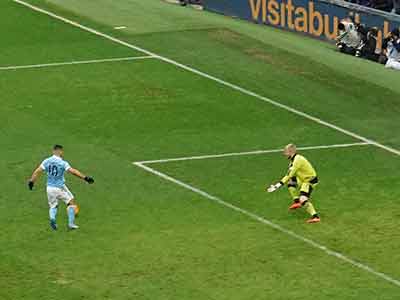 Iheancho says well done to Celina as the players rush back to the centre
Then a rare defensive error gives Aguero a golden chance...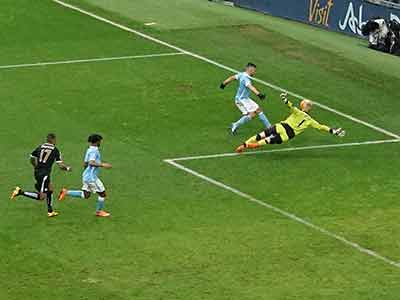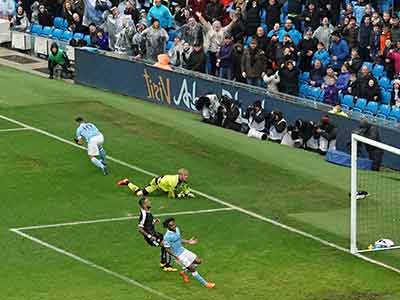 ....but he goes too wide failing to see the onrushing Sterling and the chance is lost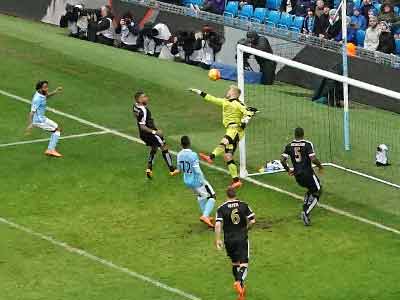 Schmeichel saves again as City press
At a corner Huth gets a grip on Fernando - surely a pen!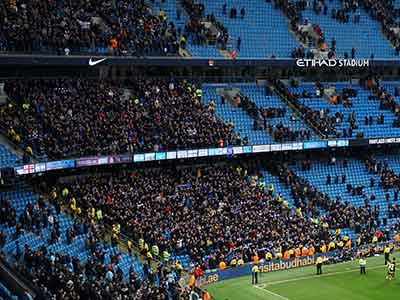 While the Leicester fans stay to celebrate an important win City fans make their way home on a damp afternoon
Now available from Amazon ( click on image for link)
WH Smith and the City shop
Team
Hart 6.5: Zabaleta 6, Otamendi 5, Demichelis 4, Kolarov 5: Toure 5 (Fernando 6.5) Delph 5 ( Iheanacho 6) Fernandinho 6.5, Silva 6 ( Celina) Sterling 6.5, Aguero 6.5