City 3 Everton 1
January 27th 2016 50,048
Capital One Cup Semi-Final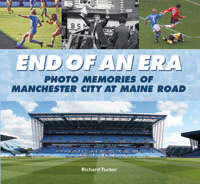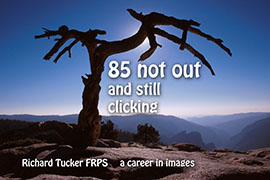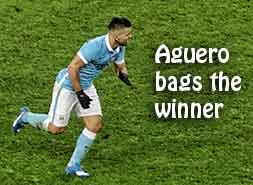 Well it's Wembley time again after a pulsating win against Everton aided by a bit of luck. When Everton went ahead in the first half it looked like it was going to be an all liverpool final. However a lucky deflection helped a good effort by Fernandinho to even the scores but City were still slow in their approach.
When Navas came on at half time City livened up and things got better when De Bruyne came on for Toure. A sprint by Sterling to the line and cross to De Bruyne gave City the lead. Replays later showed that the ball had crossed the line before the cross and that the linesman had failed to keep up with Sterling! Well neither had Stones! Six minutes later a great cross by De Bruyne found Aguero who headed home the winner and we were spared extra time and penalties. The bad news for City was the injury to Kevin just before the end. He had to be stretchered off so we wait for news with baited breathe. He certainly made a difference when he came on. He will be missed.
The City defence had the odd moment of madness but Caballero was rarely troubled and no doubt he will continue in goal in the cup game at Villa.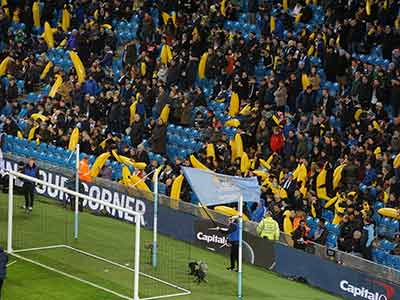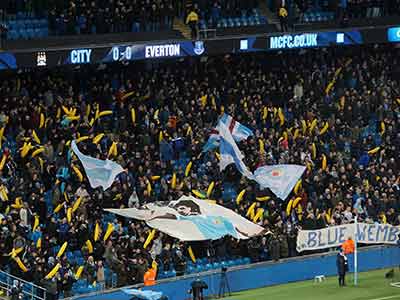 It was banana time at the Etihad to add to the atmosphere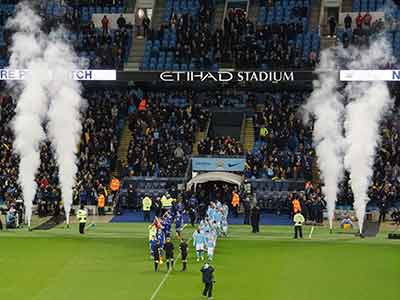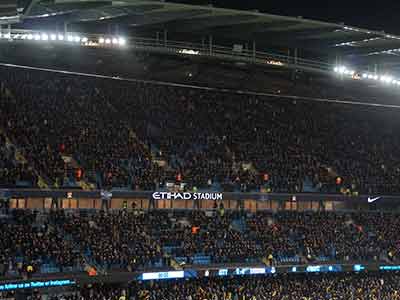 City made several changes from the first leg Fernandinho returned from injury and Zabaleta and Clichy were the fullbacks
Everton had very strong support taking over the top two tiers of the South Stand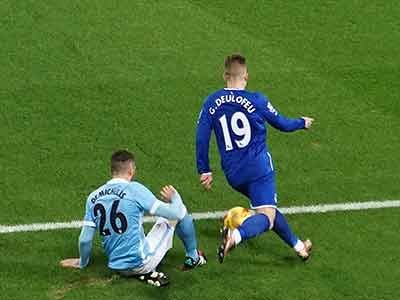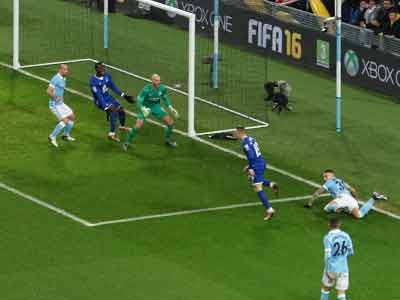 Demichelis' lack of speed was shown up early as Deulofeu swept past him down the right wing and only a desperate tackle by Otamendi saved the day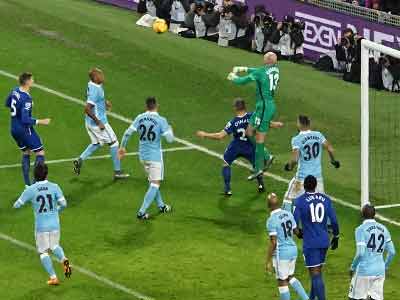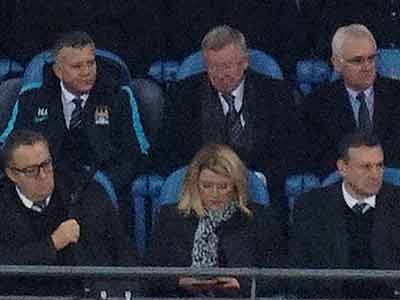 Caballero had to punch the corner away
Watching in the stand was someone from Salford who was desperate to see a goal being scored!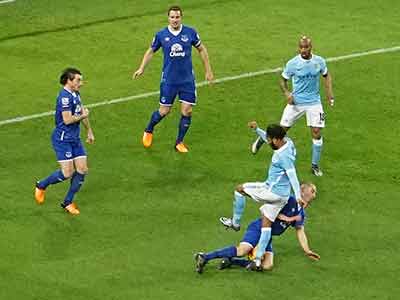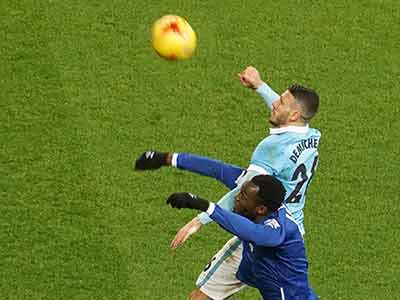 Demichelis heads clear from Lukaku
Sterling fails to break through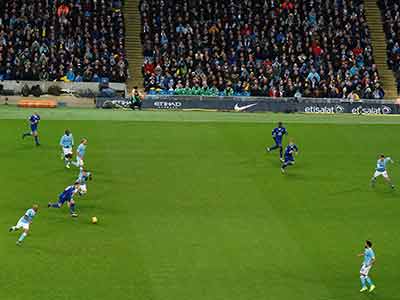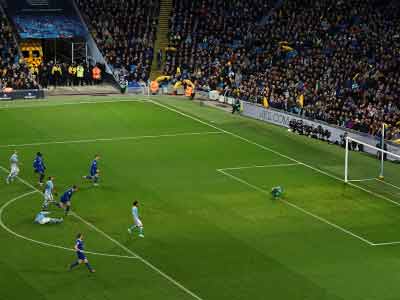 On 17 minutes Ross Barkley breaks through on a counter attack with the City defence disorganized and shoots past Caballero to give Everton the lead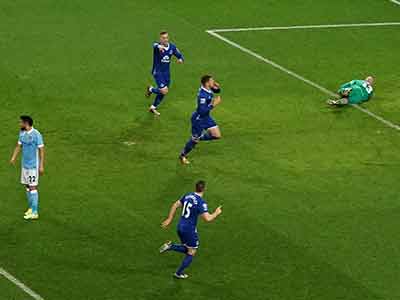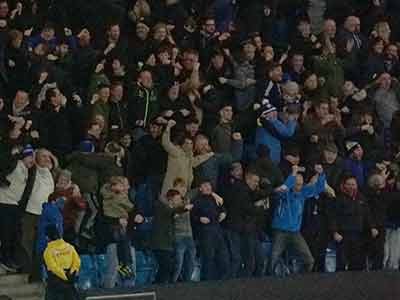 Oh dear it's time for celebration by the Everton players and fans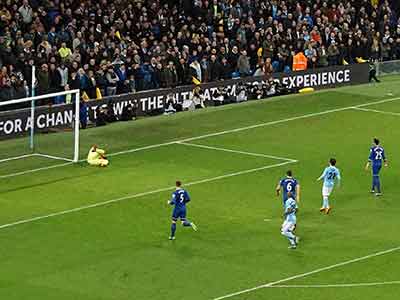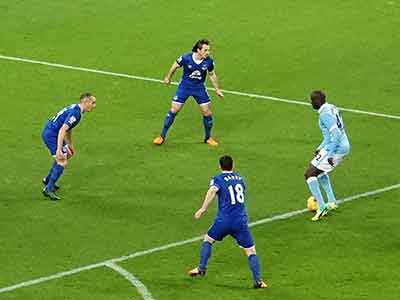 City came back with a bit more urgency and first Sterling had a shot saved and then Toure shot well over the bar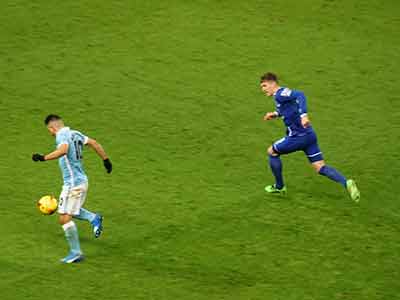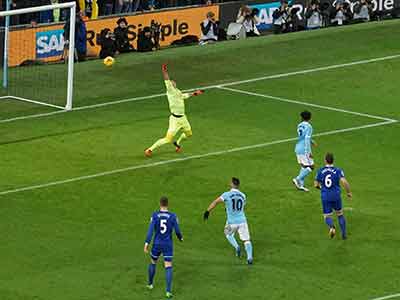 Six minutes later Aguero had a shot blocked and the ball ran to Fernandinho who shot and the ball hit a defender and looped over the keeper into the goal.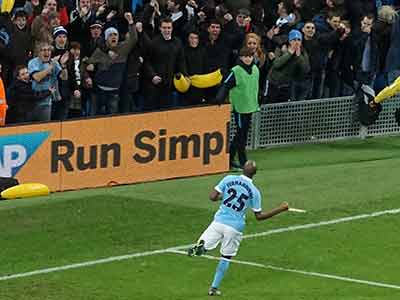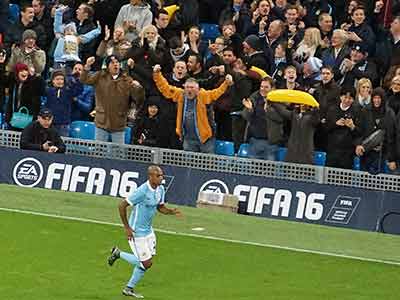 It was his first goal since the win in Spain in November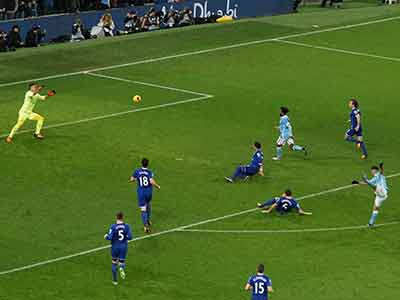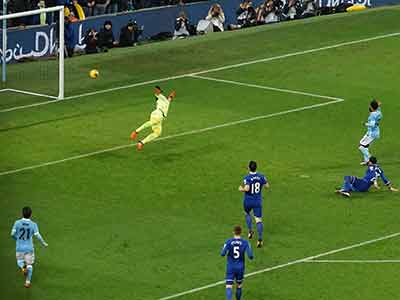 On 35 minutes a good effort by Aguero beats the keeper....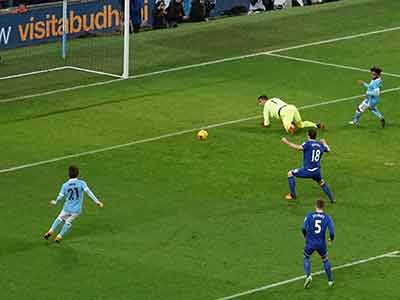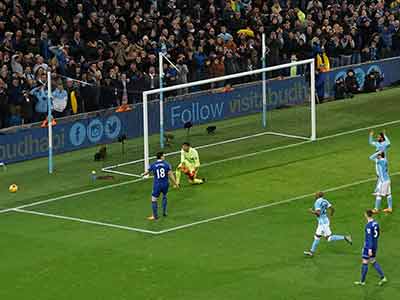 .....but the ball hits the post and Robles has to save from Silva who had a chance from the rebound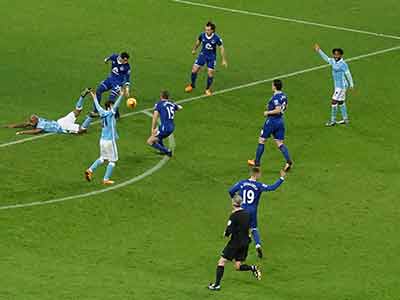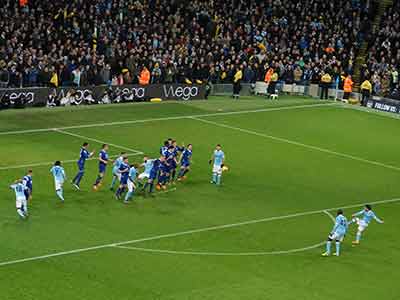 Delph wins a free kick just outside the box but the free kick taken by Silva hits the wall and is cleared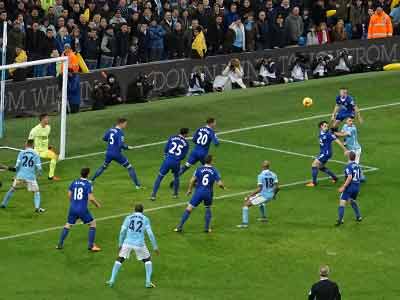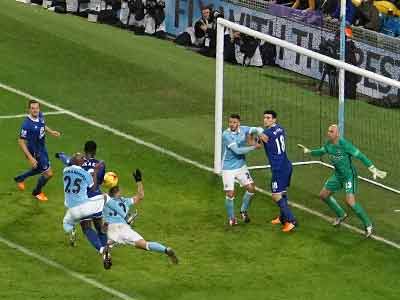 Corners at both ends are cleared and it's one all at half time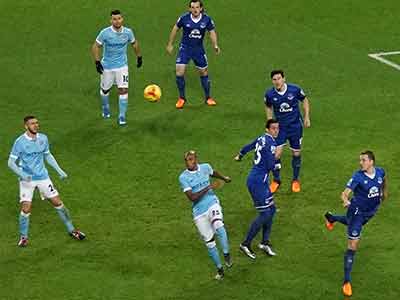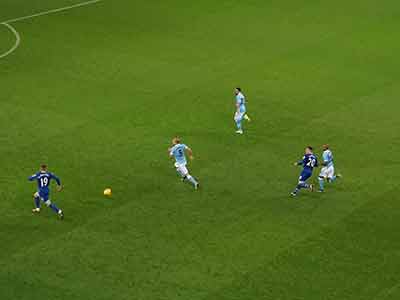 Everton clear a City corner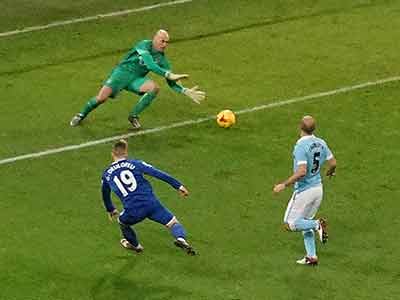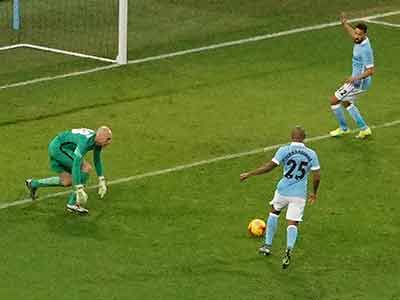 Callable saves his shot and Fernandinho hacks the ball away for a corner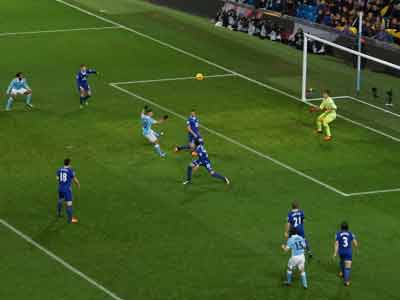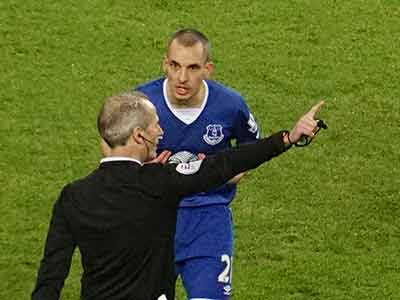 Aguero miss-hits a great chance provided by Navas
Osman does not like the decision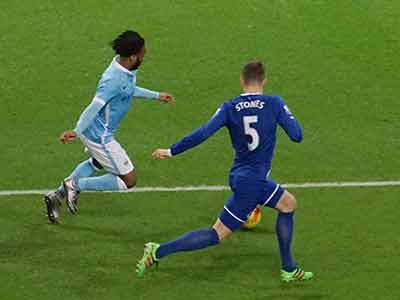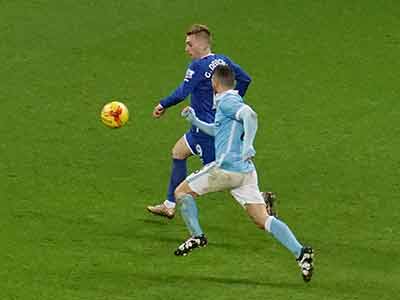 Sterling can speed past Stones and Deulofeu can beat Demichelis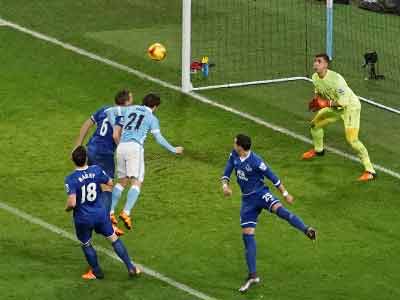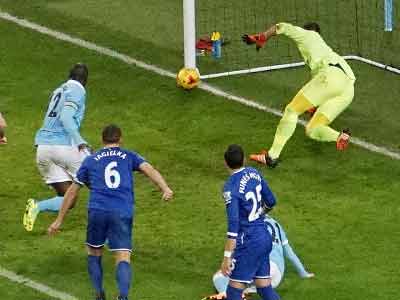 On 53 minutes Silva hits the post with a header from a cross by Zabaleta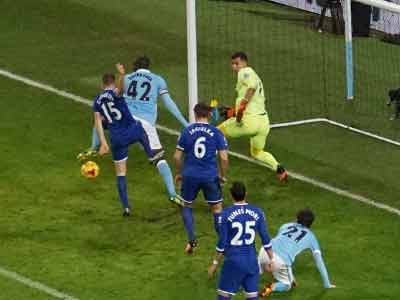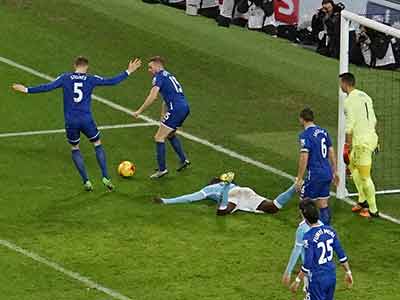 ..and the rebound evades Toure and Everton manage to clear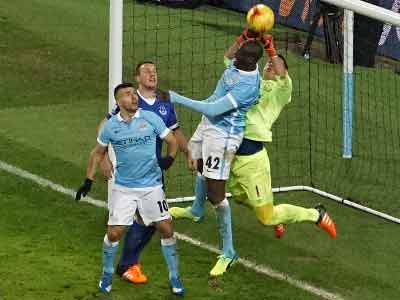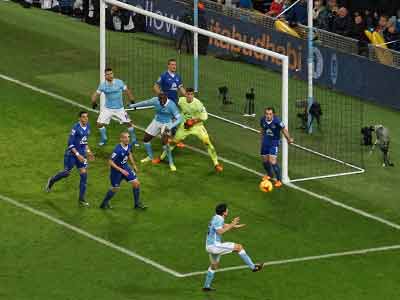 The Everton goal is now under constant pressure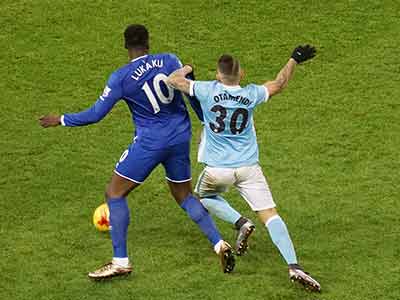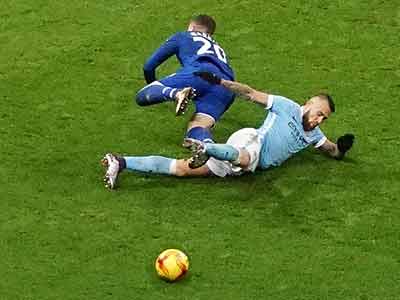 Otamendi first has to deal with Lukaku and then Barkley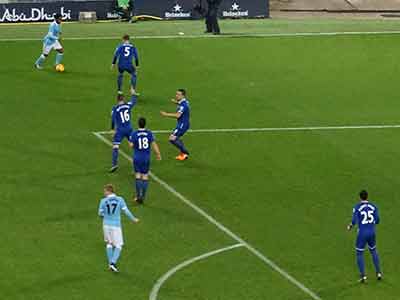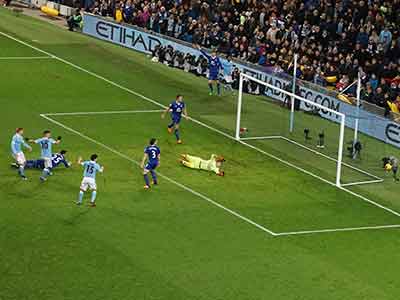 On 69 minutes Sterling takes on Stones and beats him to the touchline and crosses for De Bruyne to score. City are ahead - magic!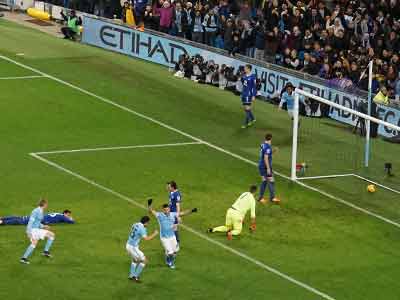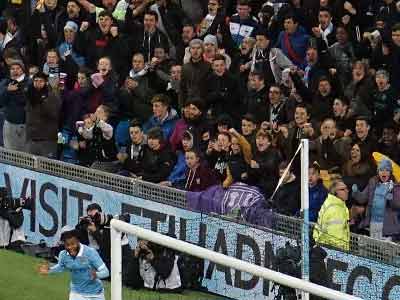 De Bruyne on for Yaya Toure after 65 minutes has done the trick after just four minutes on the pitch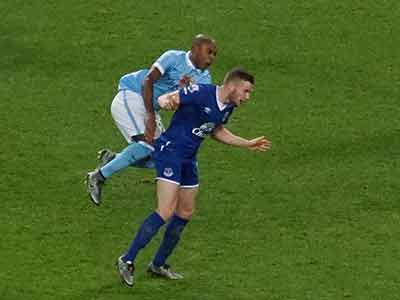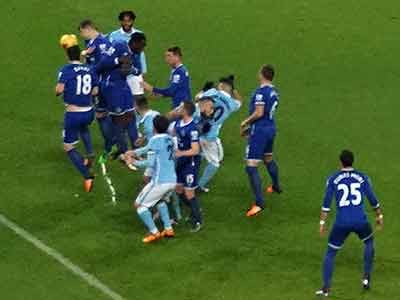 Fernandinho is fouled but the free kick is blocked by the wall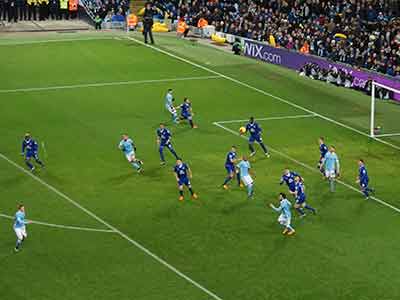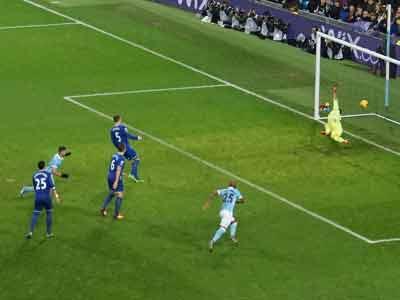 Following a City corner De Bruyne puts in a great cross and Aguero scores with a tremendous header to make it 3-1

The North Stand liked that one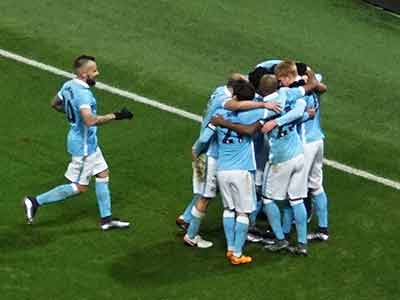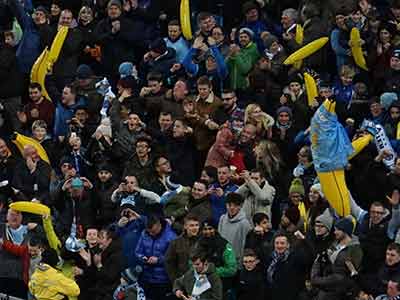 It was Wembley here we come - despite there being 15 minutes to go!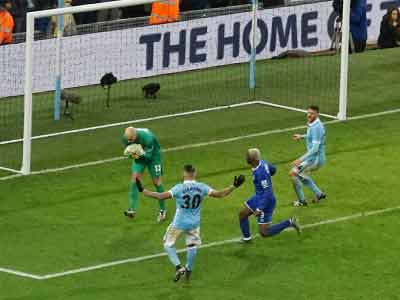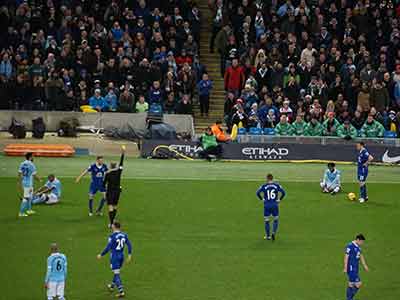 The City defence must hold firm now
Cleverley gets a yellow card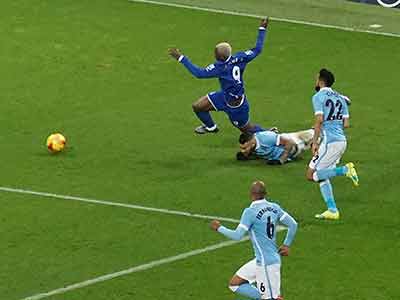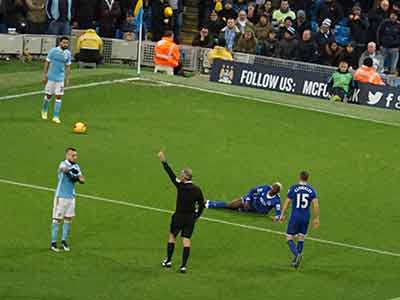 Down goes Kone and Otamendi gets the yellow card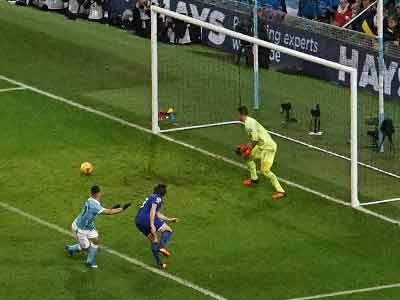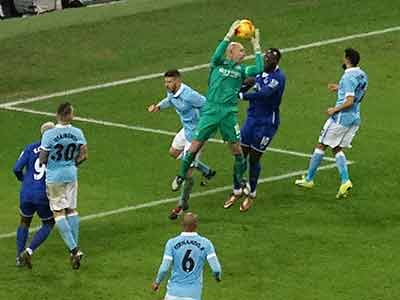 Aguero heads wide from a cross by De Bruyne
Caballero takes catch at a corner with ease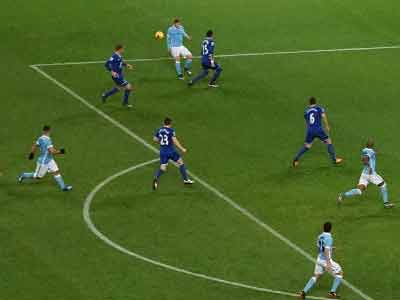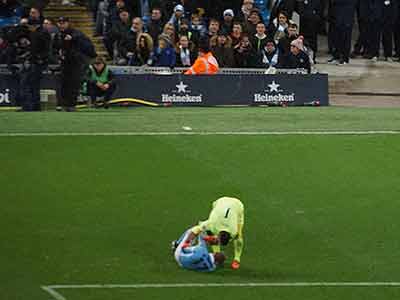 In the final minute De Bruyne goes down after a clash with Mori and with play down the other end Robles tries to pick him up thinking he is wasting time - very bad!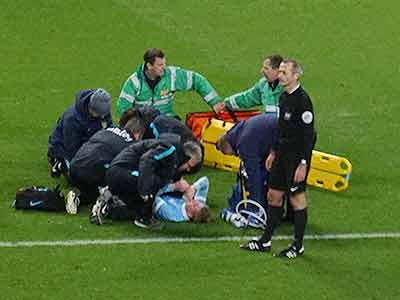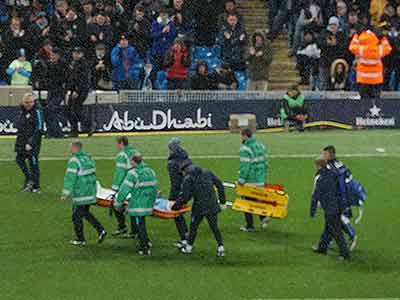 Bad news for City as Kevin is taken off on a stretcher - off for weeks probably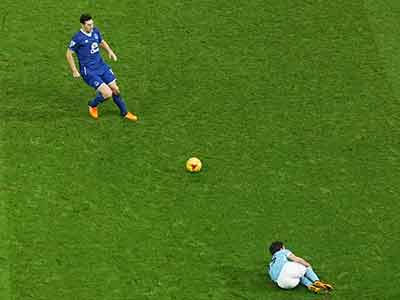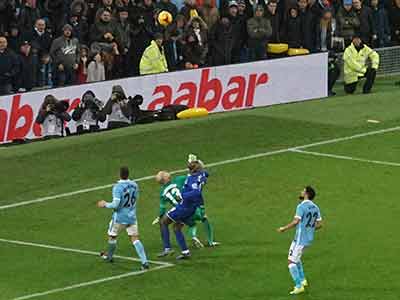 Navas goes down -was he fouled ? no free kick!
City have to do some defending in the extra 8 minutes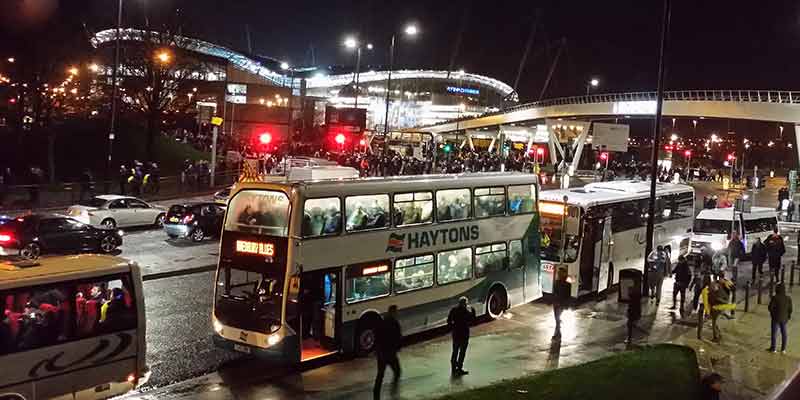 So it's a happy set of City fans going home and waiting for details of Wembley tickets yet again!!
team
Caballero 6.5: Zabaleta 7, Otamendi 7, Demichelis 6, Clichy 6.5: Toure 6 ( De Bruyne 8), Delph 7 ( Navas 7.5) Fernandinho 7.5, Silva 7.5 (Fernando) Sterling 7.5, Aguero 9