City 4 Borussia M 2
Champions League
December 8th 2015 41,829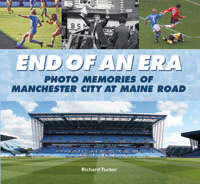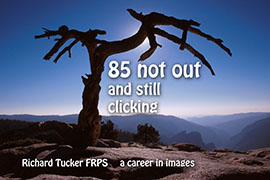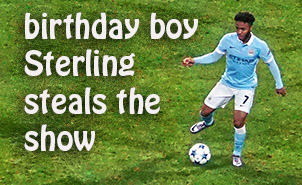 Now available from Amazon ( click on image for link)
WH Smith and the City shop
What a transformation after an average first half effort by City. Following the terrible display at Stoke we were not expecting miracles but after being 2-1 down at half time and ending winning 4-2 and on top of the group with Juventus losing, surely this was an early xmas present for City fans. Two goals by birthday boy Sterling put City ahead before we had a Bony bonus late on.
After Silva had put City ahead early on with a terrific goal from a narrow angle following good work by Sterling we had an immediate setback when poor marking gave the visitors a chance to equalize. Then just before half time they went ahead and it looked like we were going to finish second in the group. Then in the second half City started to play much better and dominated play. However we had to wait until the 78th minute for the vital equalizer by Sterling who put City ahead a minute later. Four minutes later and substitute Bony added a fourth.
Silva had one of his best games and Yaya Toure too was back to form. Can't say the same about the defence though and the sooner Kompany returns the better.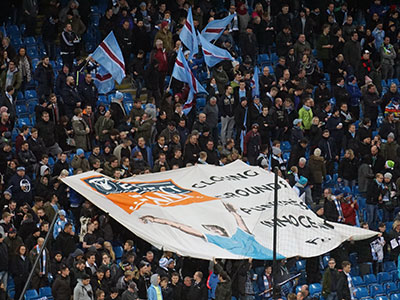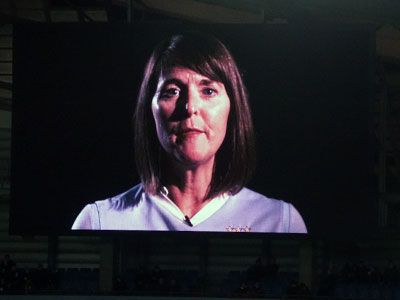 Not a full house for this vital game - shame!
Managed to catch on the big screen one of my near seat friends - Lynne - taking part in the City pre-game presentation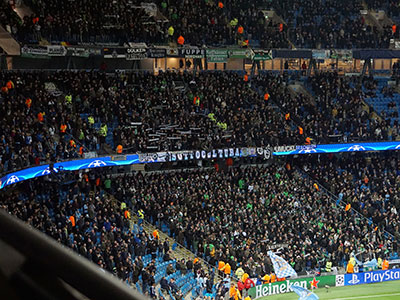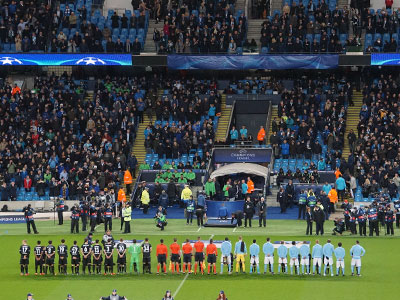 The visitors had a lot of support and they were very noisy!
City had made several surprise selections - Clichy at right back and no Bony up front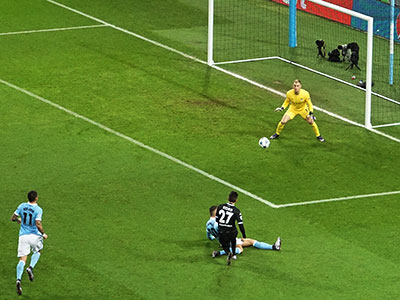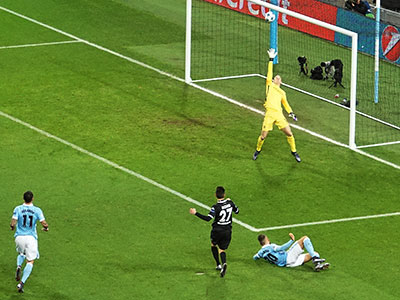 After just 4 minutes Korb had a good chance for the visitors but shot over the bar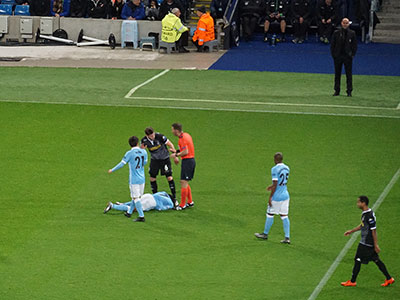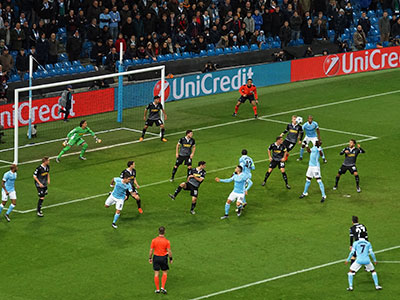 Sterling is down inured fouled by Nordtveit
City got a few early corners which were cleared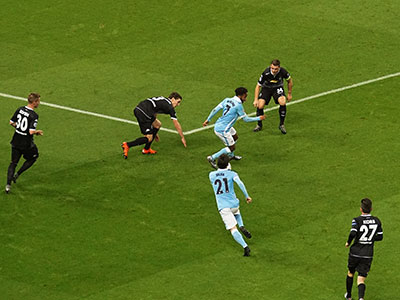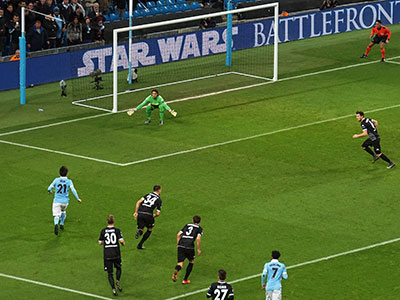 On 15 minutes good interplay between Silva and Sterling gave Silva a chance......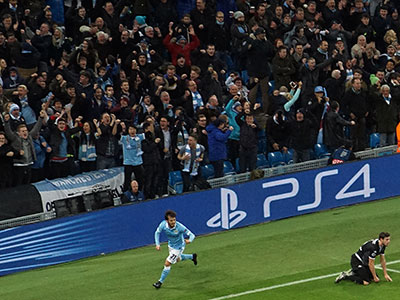 .... and he cracked a superb effort past Sommer into the roof of the net to give City the lead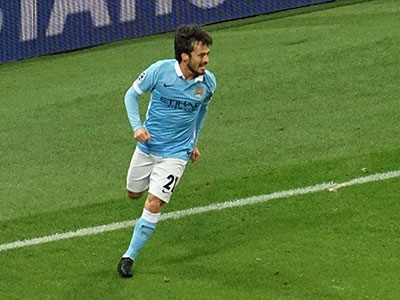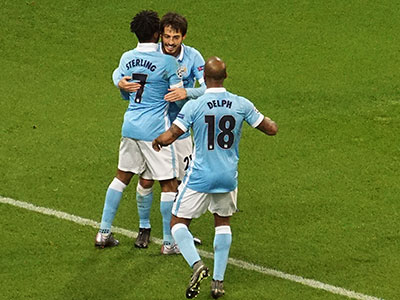 It was only his second of the season but what a cracking goal - more please!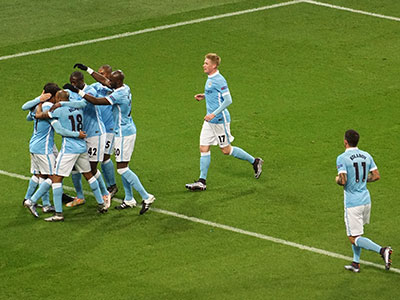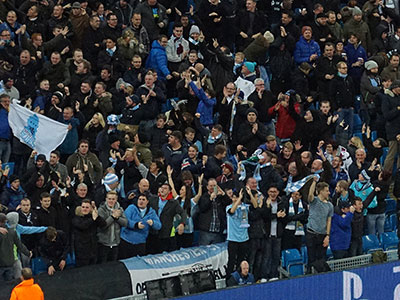 The City players and supporters celebrate the good start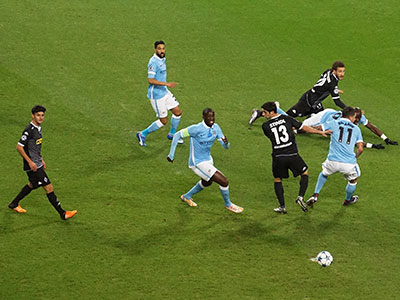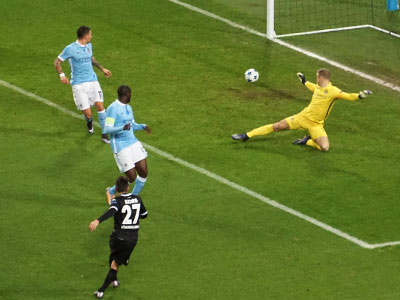 The celebrations were short lived however as a minute later Korb scored for Borussia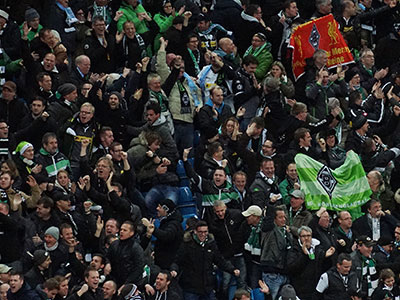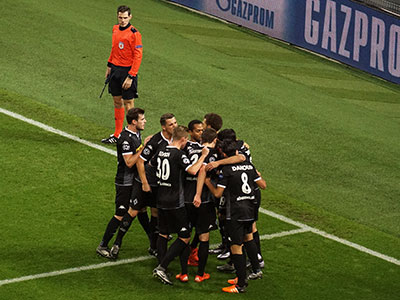 Our noisy visitors were even noisier as they celebrated the goal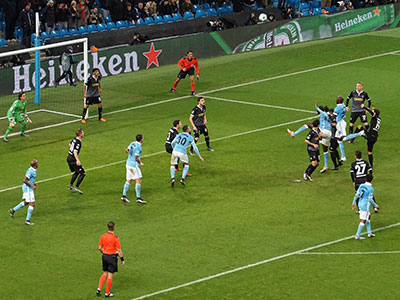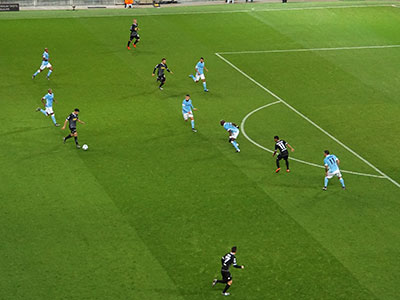 Mangala heads over the bar at a City corner
Jut before half time Borussia broke through yet again .....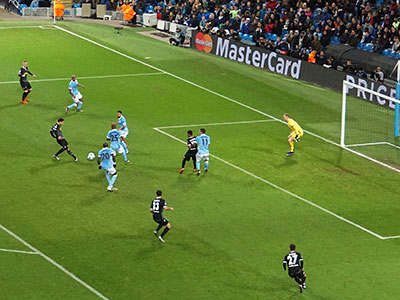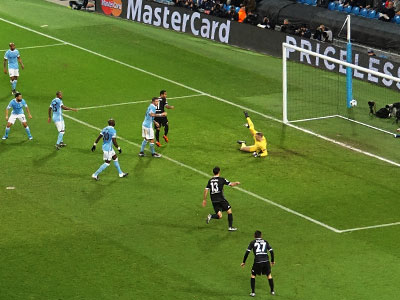 ...and Raffael shot past Joe Hart to give the visitors a half time lead - Oh dear!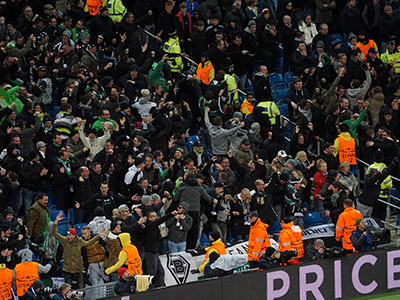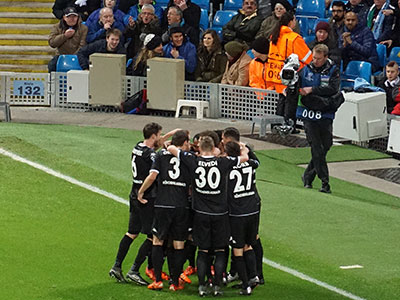 The German team and fans celebrate the goal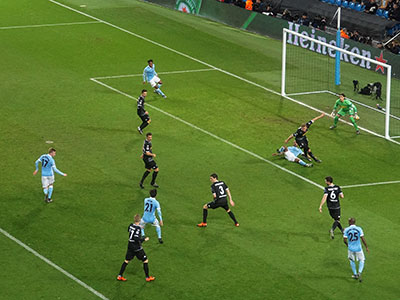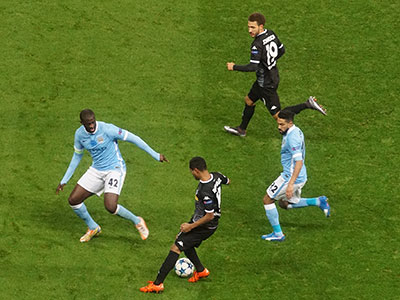 City start the second half a bit more positively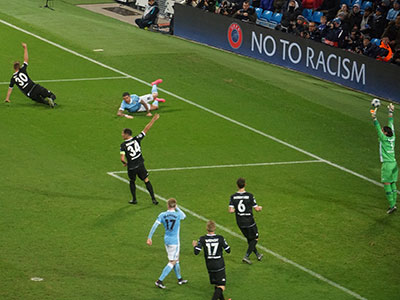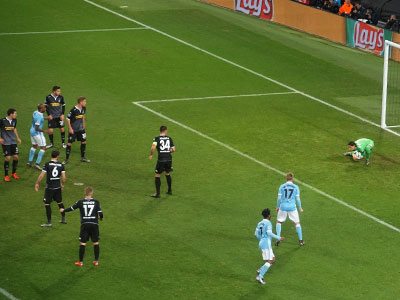 Kolarov tries to get a penalty
Sommer is given plenty to do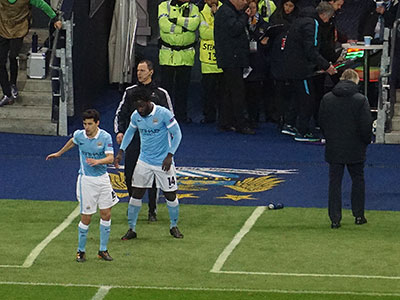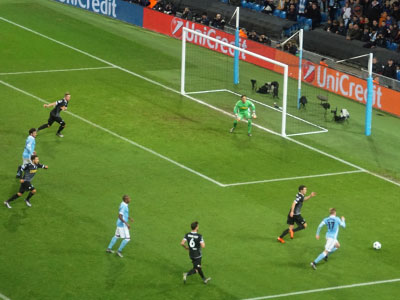 It looks like plan D is going to take place as Navas and Bony warm up
Kevin De Bruyne dashes down the line.....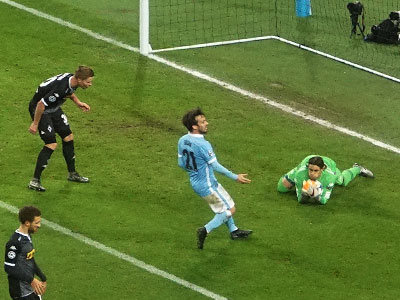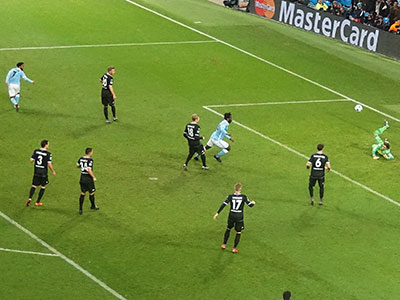 .... but his cross is saved by Sommer
Sommer saves from Sterling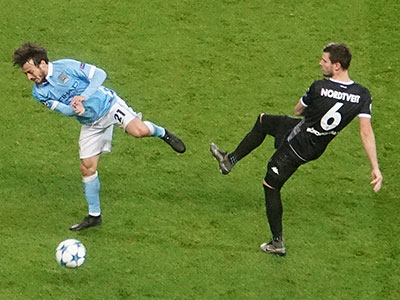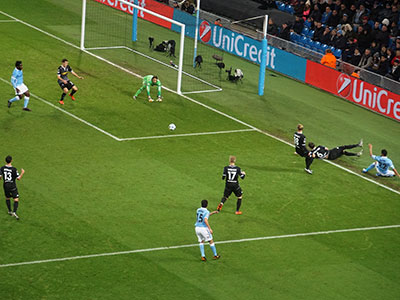 Silva takes evasive action
On 78 minutes Clichy crosses .......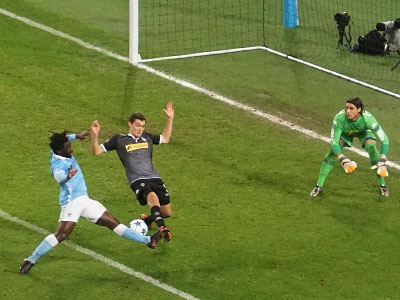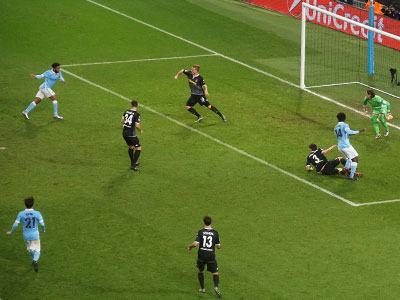 Bony goes for the ball but it runs on for Sterling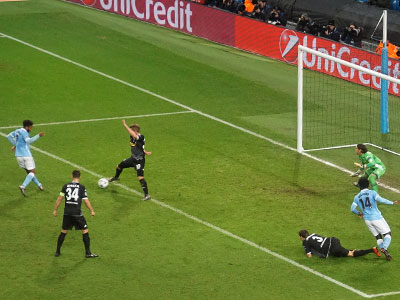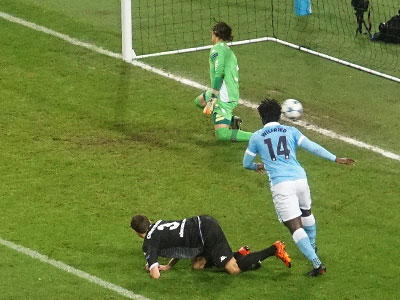 ...who shoots past the keeper to equalize for City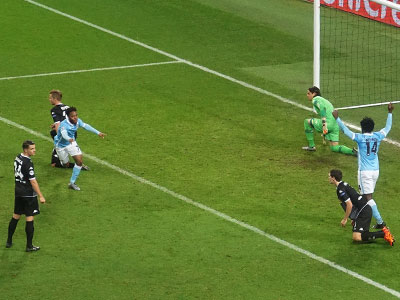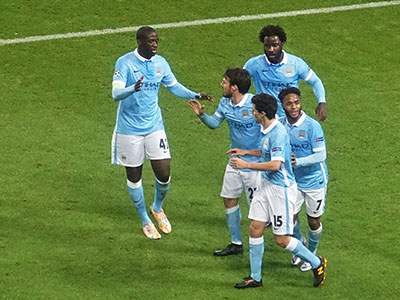 The goal had been coming for a while and was well deserved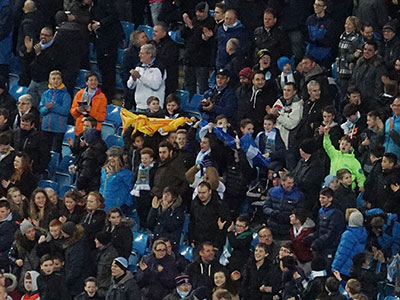 The North stand celebrates and a minute later Bony gets the ball on the edge of the area and passes to Sterling. .......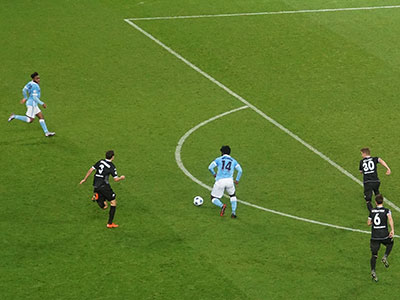 .....who bangs it past Sommer to give City the lead - great stuff from the 21 year old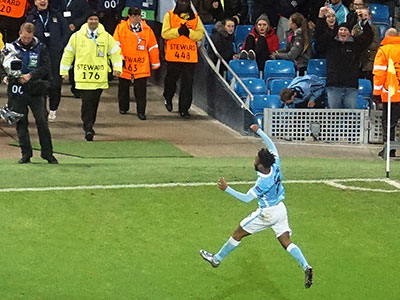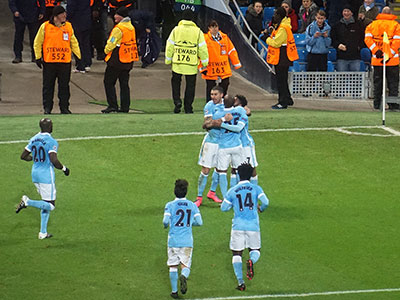 He leaps in the air before his teammates come to congratulate him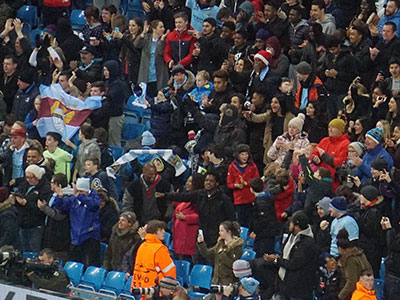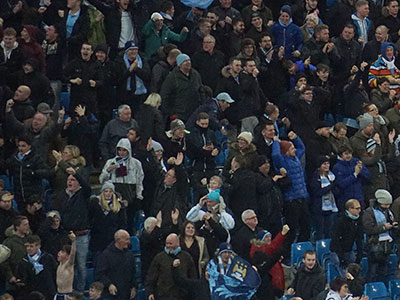 The City fans are overjoyed and ask the visiting fans why they are not singing any more!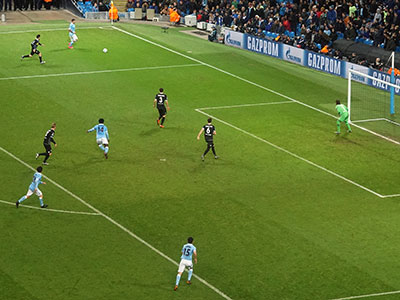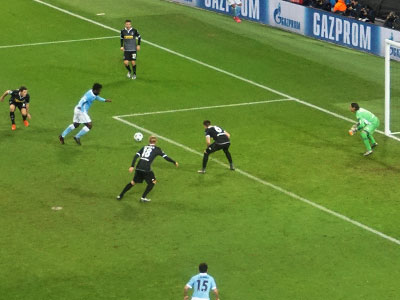 on 4 minutes Kolarov crossed from the left wing and there was Bony.....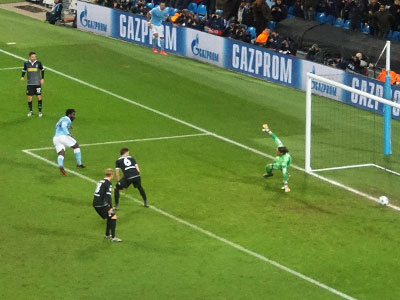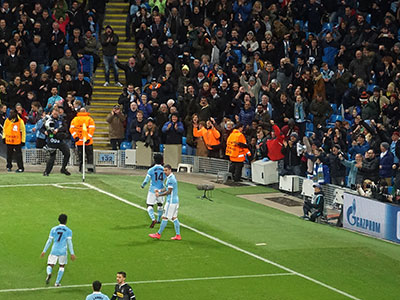 ......to shoot past the keeper to secure the game at 4-2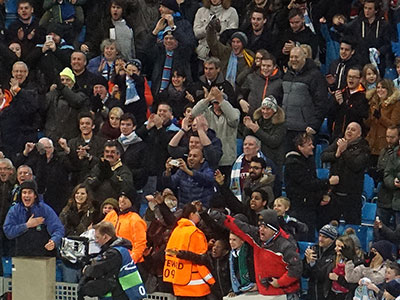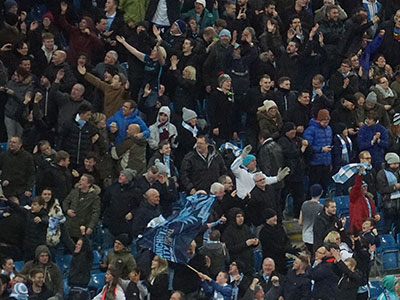 So there was even more for City fans to celebrate and if Sevilla could hold onto their lead against Juventus we would head the group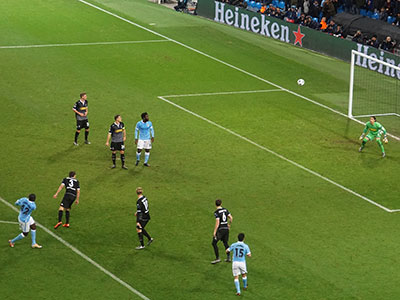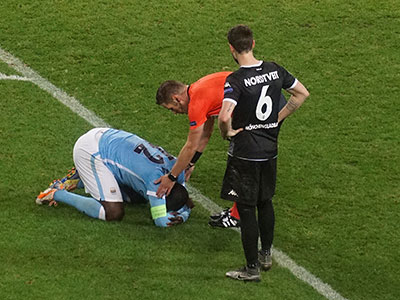 Toure shoots over and then the referee has to promise him a Christmas card if he gets up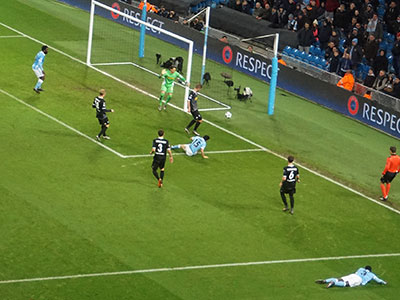 Hart did have to make a save late on from Hazard but City finished well with further chances
team
Hart 6.5: Clichy 6 ( Sagna), Otamendi 6, Mangala 6.5, Kolarov 7, Toure 7.5, Delph 6.5 (Bony), Fernandinho 7, Silva 8 , De Bruyne 6.5 ( Navas) Sterling 8.5