City 1 Crystal Palace 0
December 28th 2013 47,107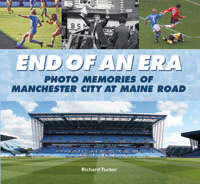 Now available from Amazon ( click on image for link)
WH Smith and the City shop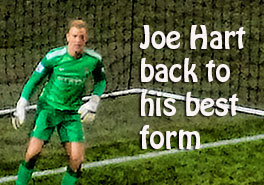 A tough game against Crystal Palace ended with City taking top spot in the Premiership after Dzeko managed to score his 50th goal for City giving three points to the much changed home side. Palace defended in numbers and with City failing to net an early goal their occasional attack and shot almost caused an upset. Fortunately for City Joe Hart who was injured early on in the game made some brilliant saves and enabled City to retain their ten out of ten home wins. City have now broken their own Premier League record by scoring 54 goals in 19 games and it was the 60th consecutive time they had scored in home league matches.
It was
March 2002
when City last played Palace at home and then it was a close 1-0 win - the goal coming from Kevin Horlock following a Benarbia corner ( he visited the Etihad recently).
Boyata made his first start since May 2011 and Dzeko came in for Negredo. Nastasic returned and looked in good form as was Kompany. Garcia mainly defended and we missed the attacking ability of Yaya Toure. Silva had to work really hard to try and create chances but the visitors packed the midfield and it was difficult to break through. Things got better when Negredo and Nasri came on and Yaya Toure almost did but then we scored so Kolarov was the third sub. Not the best game to watch but three vital points.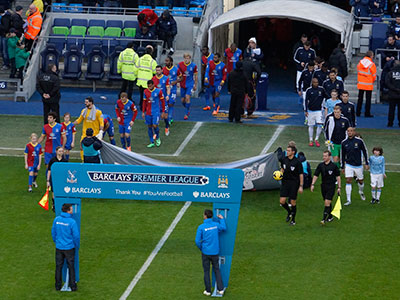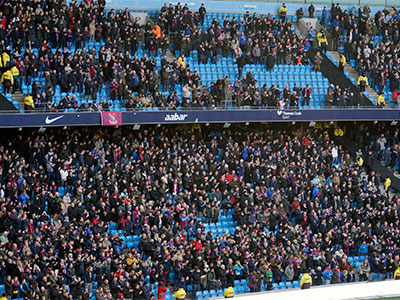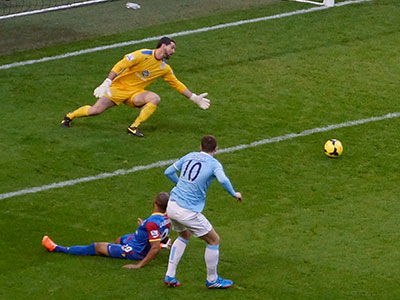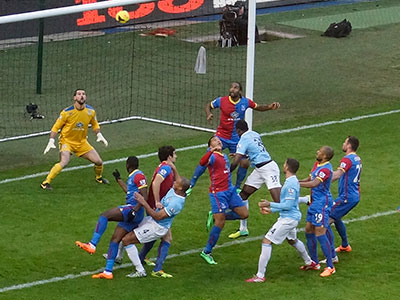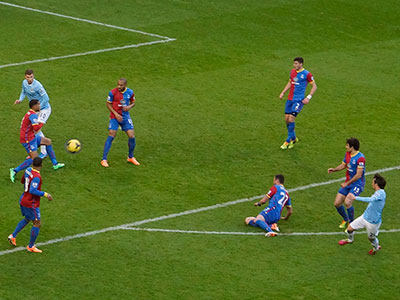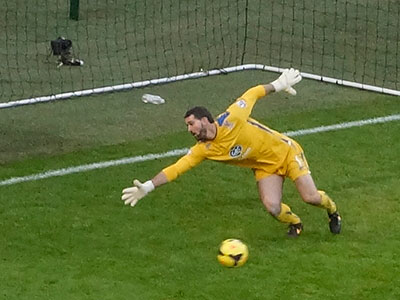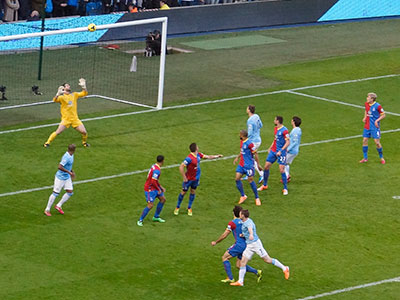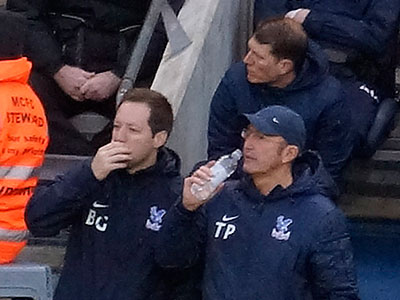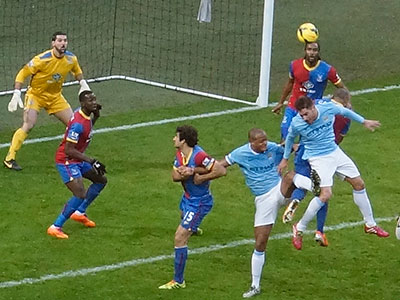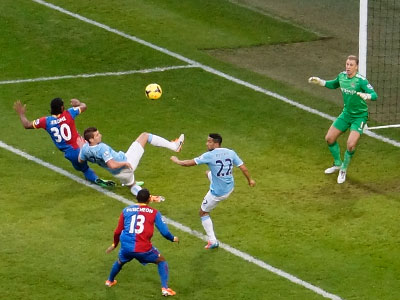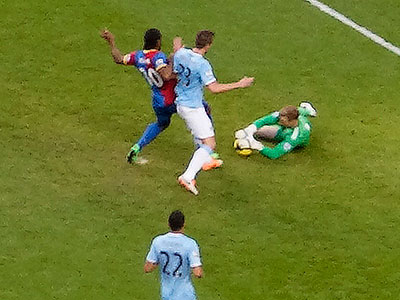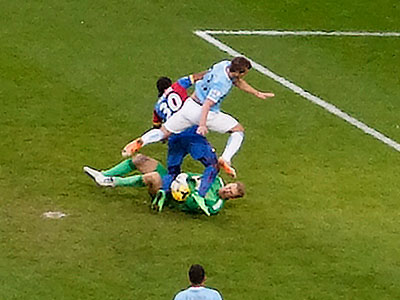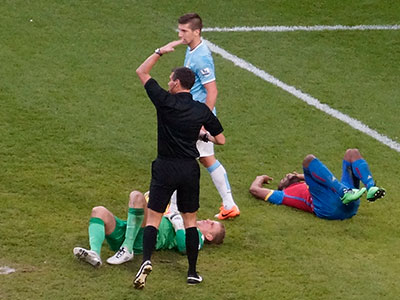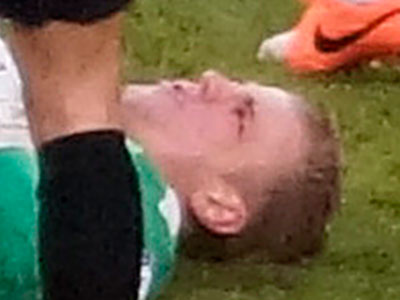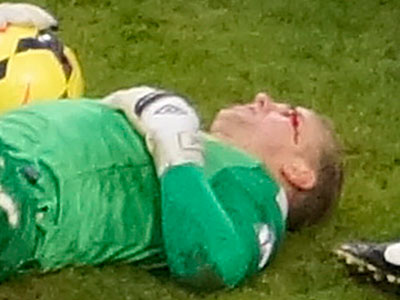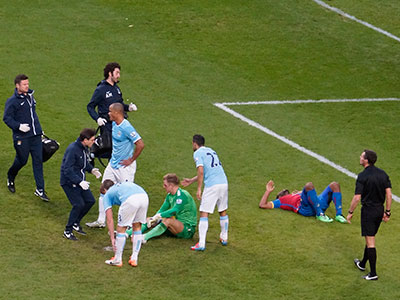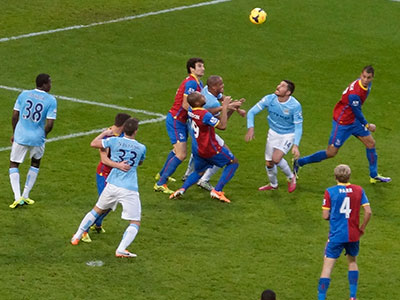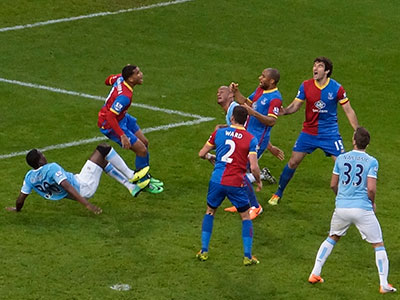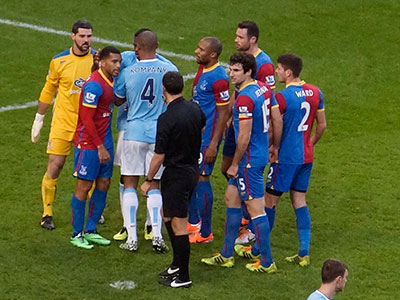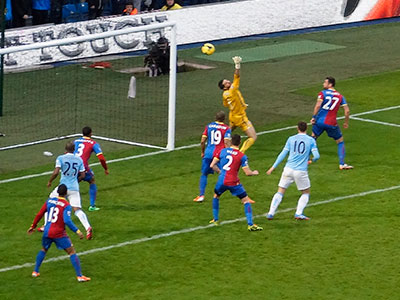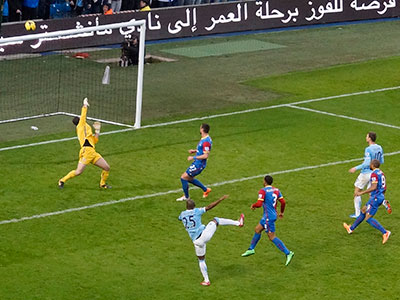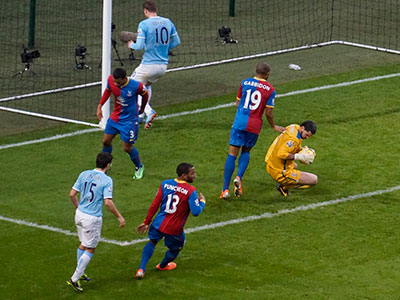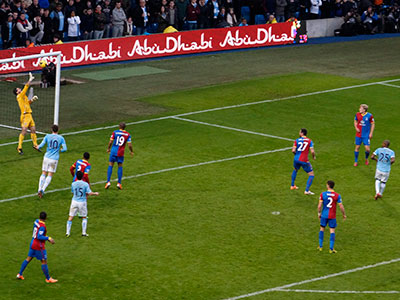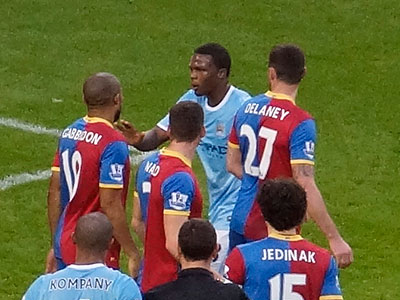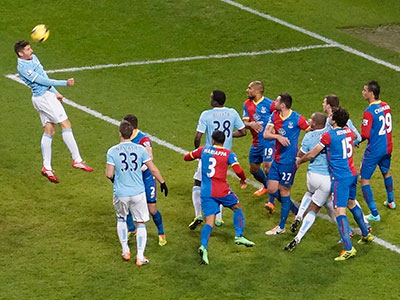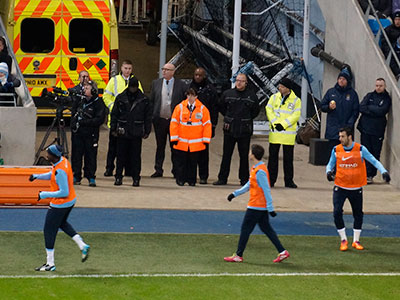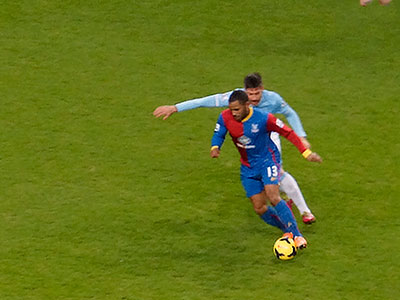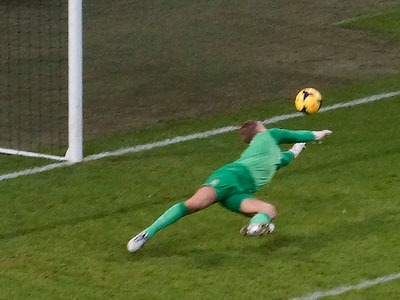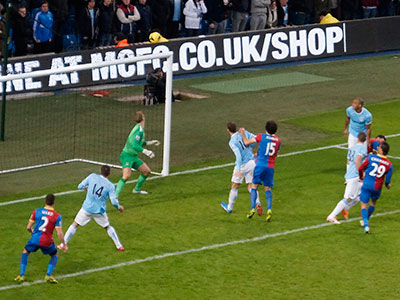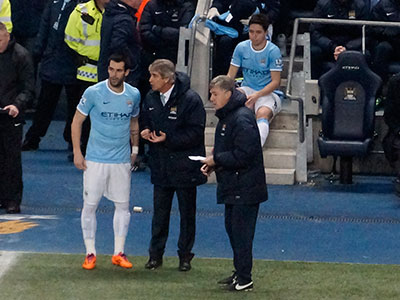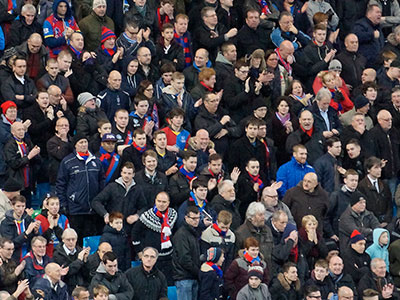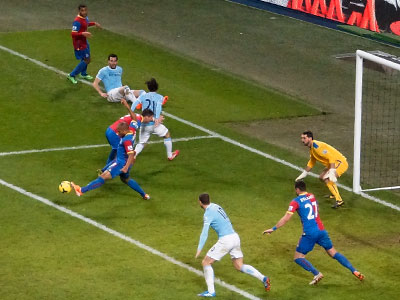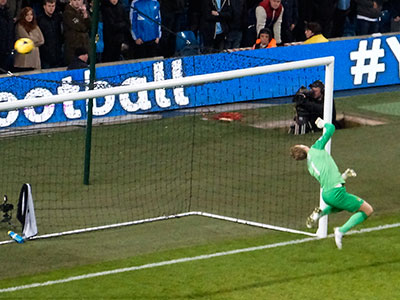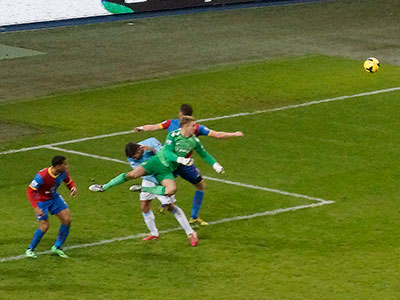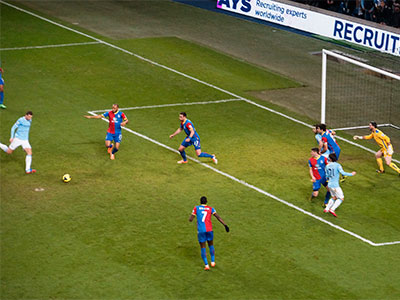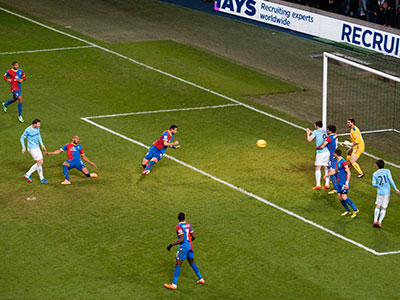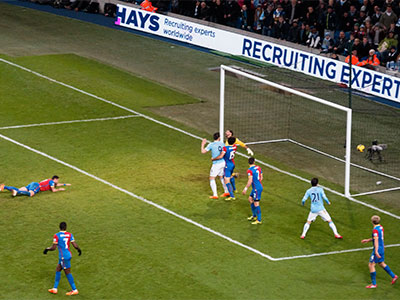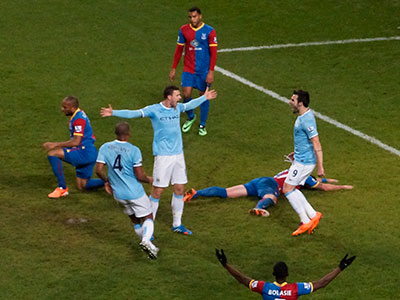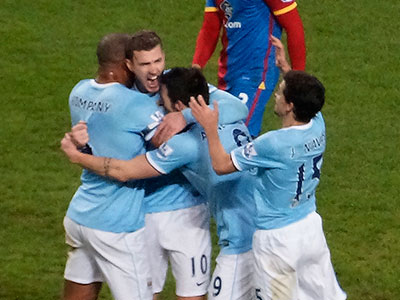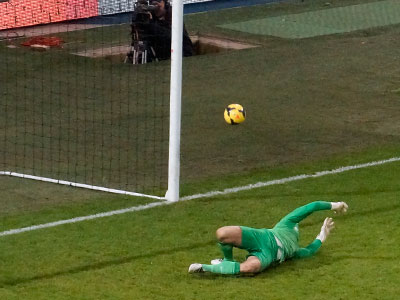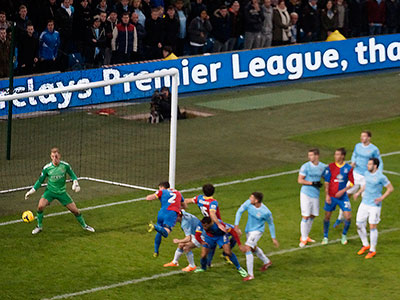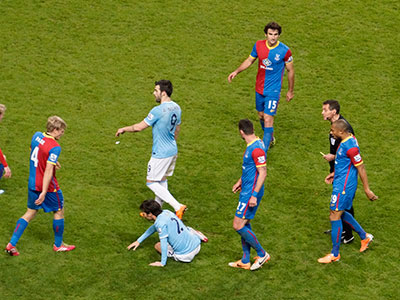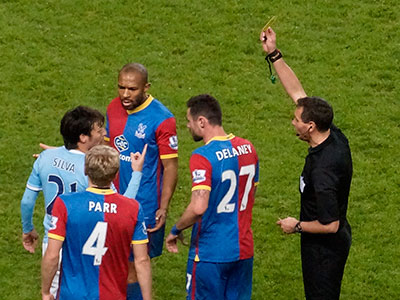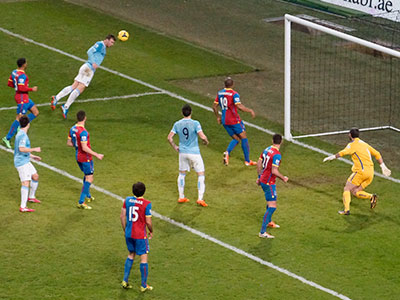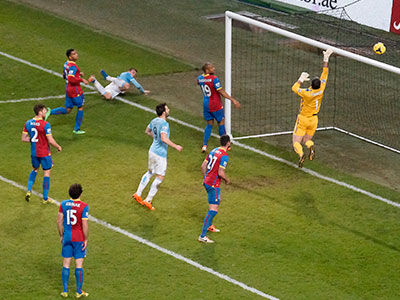 City made six changes from the Liverpool game but there was a strong bench!
To their credit Crystal Palace brought about 2000 supporters
An effort by Dzeko goes just wide of the post in the 4th minutes
a Boyata header is blocked at a corner
A shot by Silva just goes wide of the post
A Milner effort goes just over the bar
Speroni saves from Kompany
Palace manager Pullis needs a drink to calm him down!
Palace clear a City corner
City clear a Palace attack
Hart saves at the feet of Jerome......
....... but is kicked on the follow through and both players are injured
as you can see from this blow-up Hart has a cut near the eye
The trainers are soon on and fortunately for City Hart is able to carry on but Jerome had to be subbed
At this City corner Boyata tried an overhead kick but collided with a defender.......
....and referee Mariner had to sort matters out.
on 43 minutes a cracking shot by Fernandinho just goes over the bar
Speroni manages to catch the ball
Speroni saves a header from Fernandinho just before half time
Garcia heads well over at a corner
Nasri,Yaya and the 'beast' warm up
Five minutes after the restart Puncheon makes a run and puts in a good shot but Hart is equal to the task and saves for a corner
A header by Chamakh just goes over the bar
With City failing to score Negredo and Nasri are about to come on
The noisy Palace fans give good support to their team
Gabbidon manages to clear a City attack
Clichy makes a good last ditch clearance
Hart saves a long range effort by Jedinak
After 65 minutes the dead is broken! A fine pass from Navas finds the unmarked Dzeko......
...... and he zaps the ball past the keeper to give City the lead
It was his 50th goal for City but what an important one!
a minute later and Hart has to make a great save from a shot from Ward
from the corner Ward has a good chance but he heads wide
Silva is booked for a stupid unnecessary foul and he will now miss the Swansea game.
As the game comes to a close Dzeko tries a header from a narrow angle to no avail and City take the three points.
Team
Hart 9: Boyata 7 ( Negredo 7) Kompany 7.5, Nastasic 7.5, Clichy 7: Fernandinho 8 ( Nasri 7.5 ) , Navas 7.5, Garcia 6, Silva 7, Milner 7.5,( Kolarov)