City 2 Liverpool 1
December 26th 2013 47,351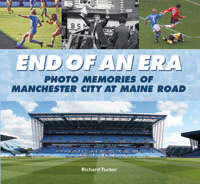 Now available from Amazon ( click on image for link)
WH Smith and the City shop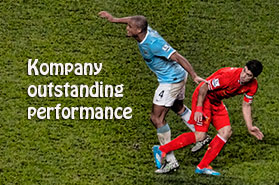 A really tough game against a strong Liverpool side ended with a 2-1 win which lifted City into second position in the league. We had a bit of luck which helped and some stalward defending in which Kompany and Lescott thwarted the dangerous Suarez and some excellent saves by Joe Hart enabled us to take three points. The home record of City is outstanding but Liverpool came close to taking point.
The return of Zabaleta from Iinjury was very important as Clichy had looked well out of place in the away win at Fulham. Kolarov made some good tackles but a failure to clear quickly nearly cost us a goal once. Ferdandinho was once again great in midfield and Yaya Toure was kept too busy to spend much time attacking.
With Aguero still injured it was left to Navas, Nasri, Silva and Negredo to keep the Liverpool defence busy and they all performed well. Silva continues to amaze with his passing and coverage of the pitch while some of the quick one two interpassing between the forwards deserved better luck. Kompany scored the eualizer after Liverpool had taken the lead and just before the interval Mignolet made a bit of a mess of negredo shot to give City the winning lead.
Second half was a bit of a battle with Sterling missing a great chance for Liverpool to level the scores but it was not to be and hopefully in a couple of days time we could be topping the league following the Palace game.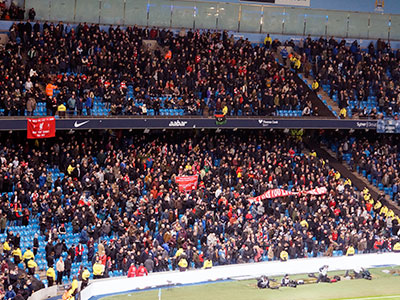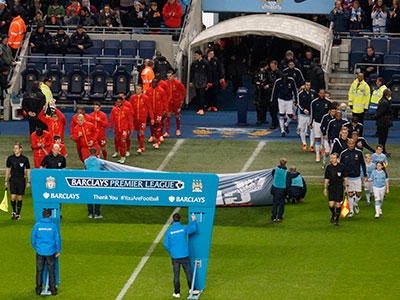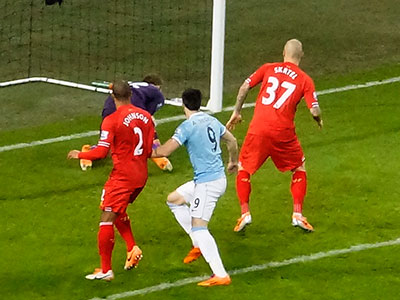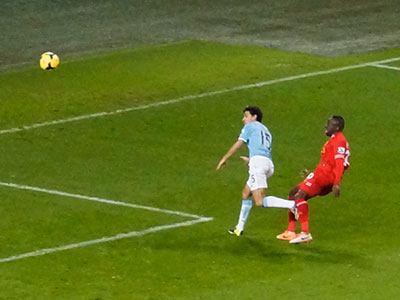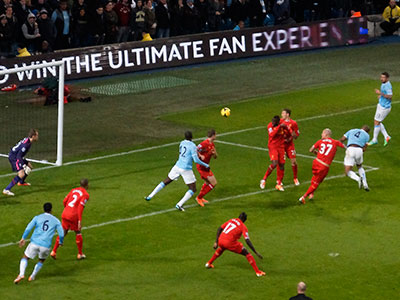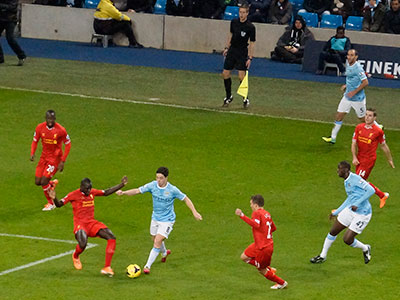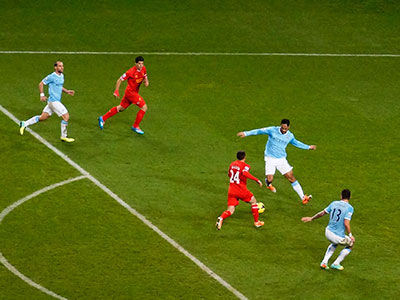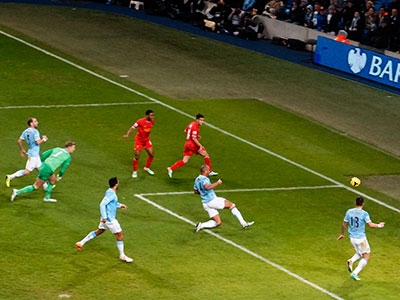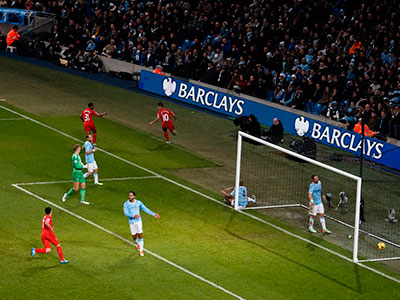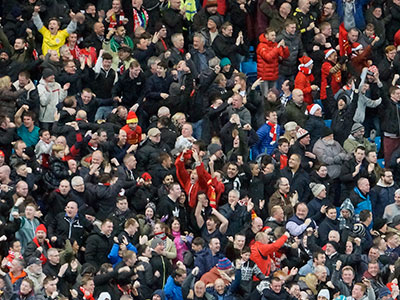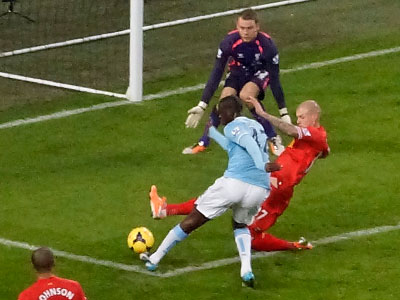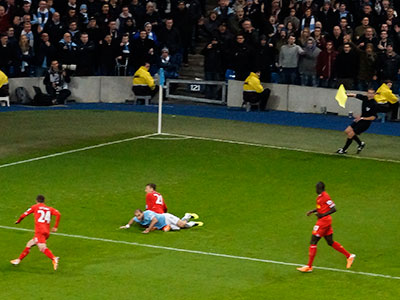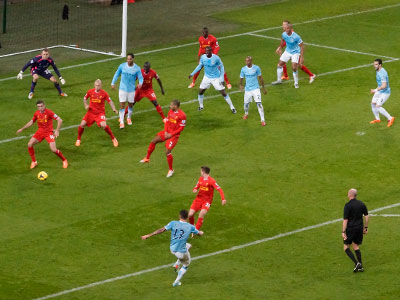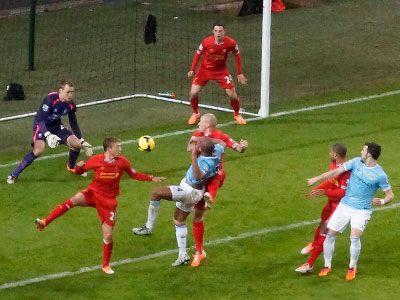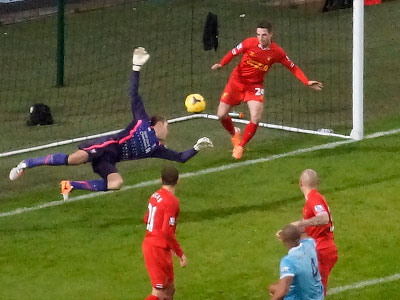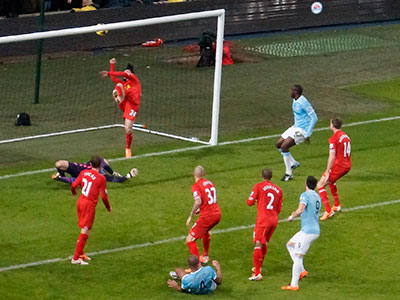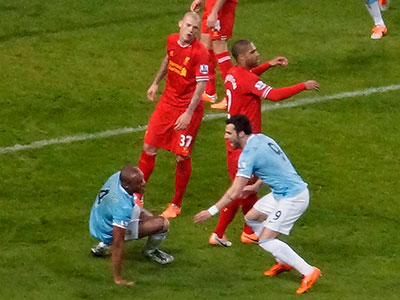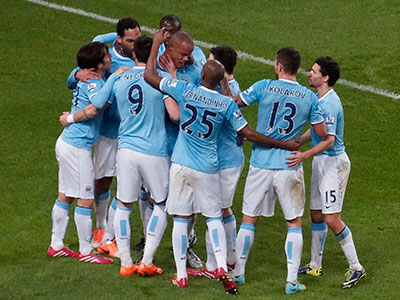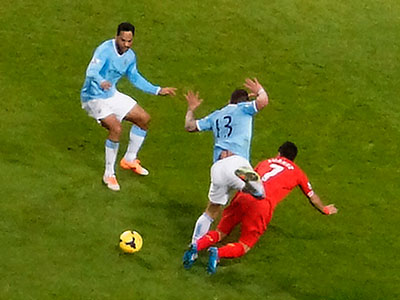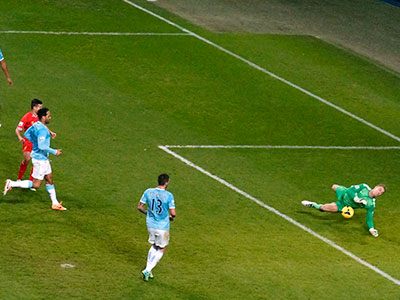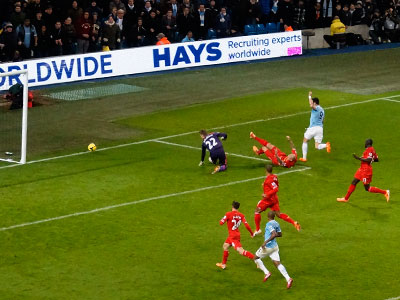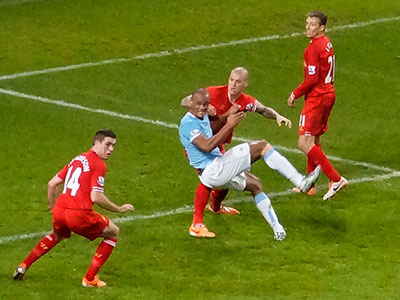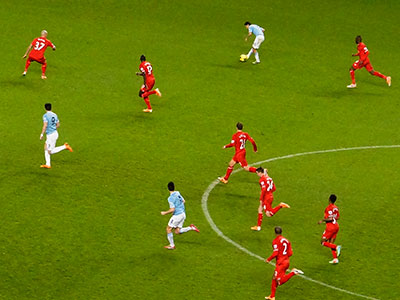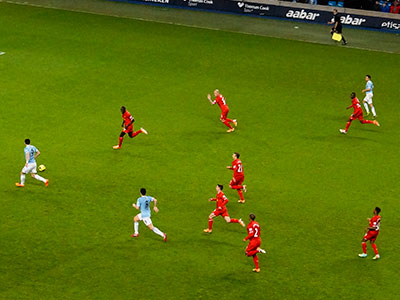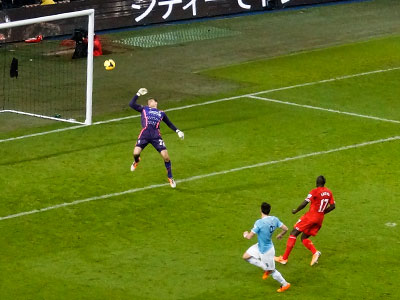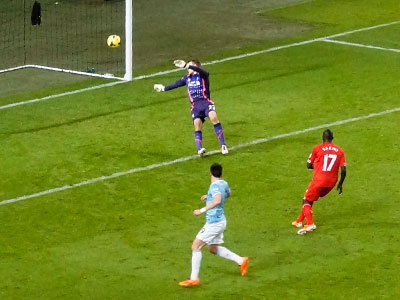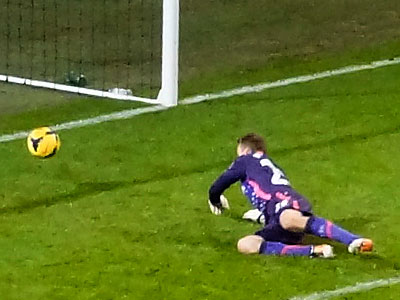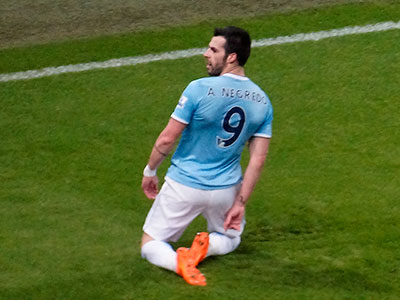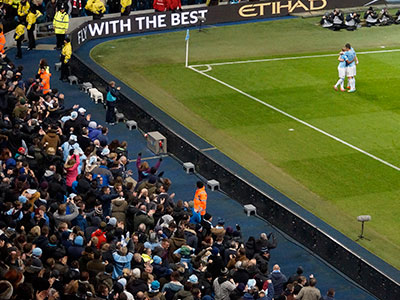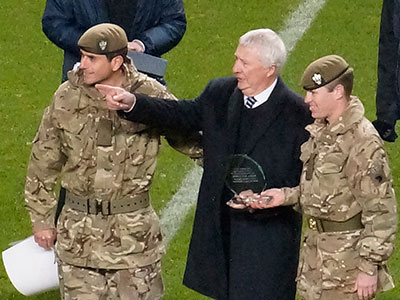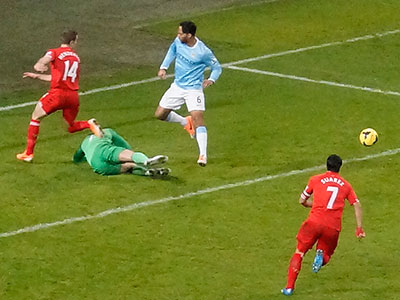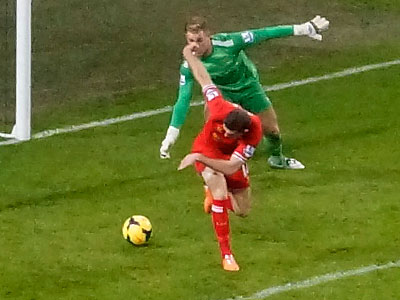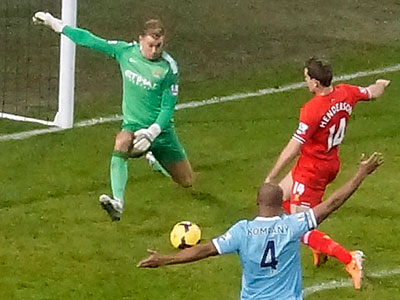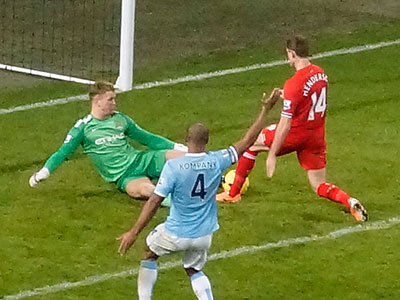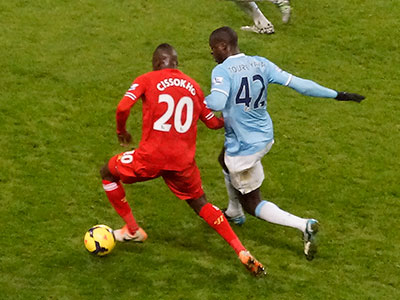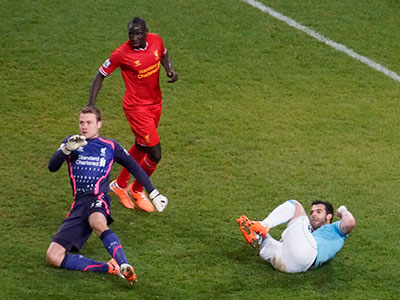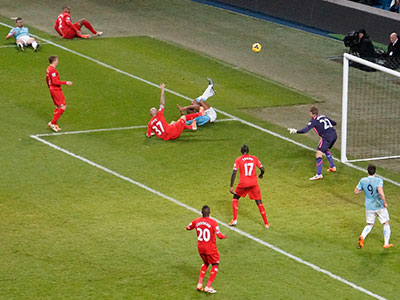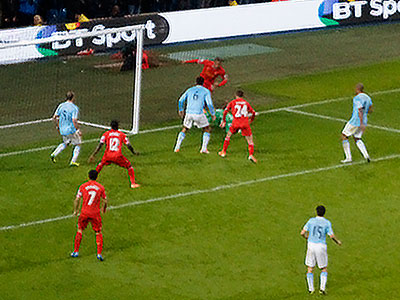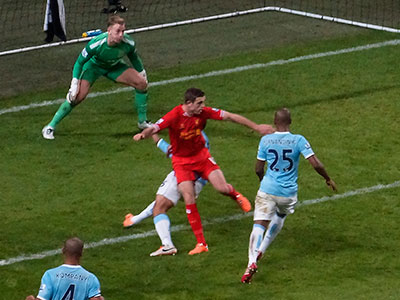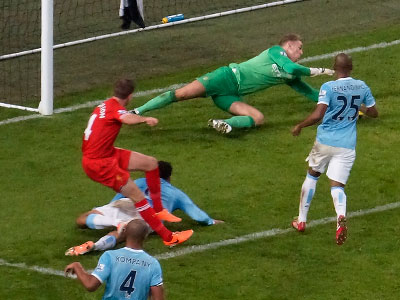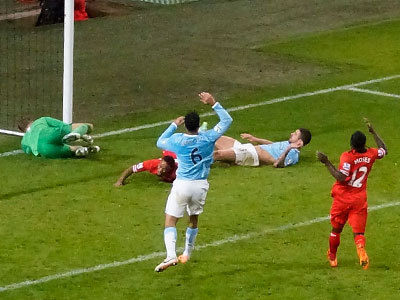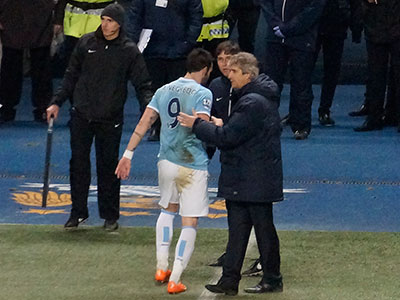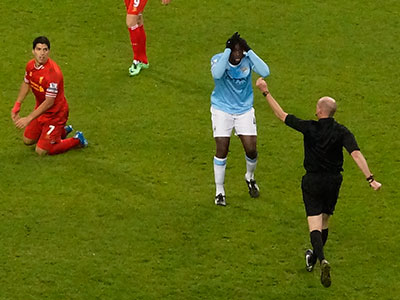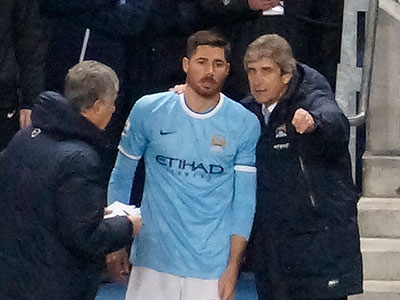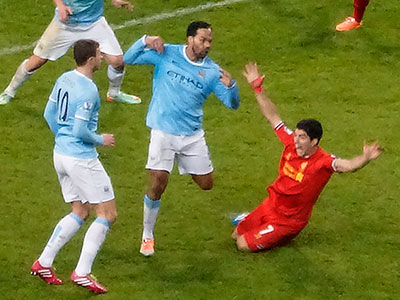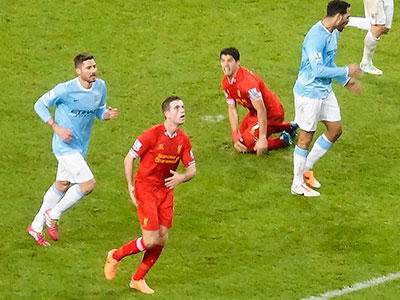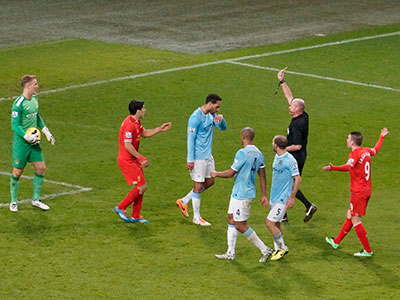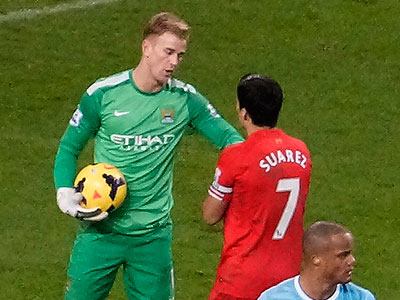 Liverpool as expected brought strong support
Zabaleta was back and Lescott too. Kolarove was preferred to Clichy at left back.
City were first on the attack- Mignolet having to save a cross
on 4 minutes a cross by Kolarov was headed by Navas......
.... against the crossbar and out for a goal kick. Lucky Liverpool!
A City corner and a header from Kompany goes wide
A great late tackle by Kolarov on Sterling
Nasri at his best once again
On 23 minutes Allen broke through.....
..and the combination od Sterling and Coutinho enabled the latter to shoot into the empty net
Oh my word - we had gone behind! Surely this was not allowed at the Etihad! The Liverpool fans made the most of it!
City came back them and Toure had an effort blocked
Zabaleta won a free kick at the edge of the area.....
..and the free kick came to Kolarov but his shot was blocked but almost straight away a cross from Silva was met by Kompany..
..... and the City captain's downward powerful header beat the keeper and Allen on the line to level the score
It was a well taken goal and his second of the season
Suarez practices his diving skills
On 39 minutes Hart saved well from Coutinho
shortly after Negredo had a good effort blocked for a corner
from the corner Kompany failed to connect
Just before half time a great pass from Navas split the Liverpool defence leaving Negredo with a run at goal
Mignolet managed to get a hand to his slightly spinning shot but it was not enough.....
...and it rolled over the line to give Negredo his 8th league goal of the season and City the lead
The players and fans celebrated
Mike Summerbee presented awards to Corporal Josh Griffiths and the Mercian Regiment at half time
After 50 minutes Joe Hart is called into action again...
..but in the end the offside flag was raised and Liverpool were foiled
Negredo is just beaten by the keeper
Toure and Cissokho battle for the ball
City force another corner
Joe Hart makes a good save from Henderson on 70 minutes
City have an excape when Sterling shoots over from close range
Negredo gets a pat on the back for his good work from the manger as he is subbed late on
Yaya Toure cannot believe a free kick has been given against him!
Garcia is instucted to score a few more goals!
Oh Dear the hidden sniper has struck again with Suarez in agony! As play goes on he cannot believe he hasn't won a penalty!
Late in the game he gets a yellow card for fouling Hart but later promises to send him a Christmas card every year!
tTeam
Hart 8.5, Zabaleta 7.5, Kompany 9, Lescott 7.5, Kolarov 7, Yaya Toure 7.5, Fernandinho 8, Navas 7.5, Nasri 7.5 (Milner) , Silva 8 (Garcia), Negredo 7.5 ( Dzeko)