City 6 Arsenal 3
December 14th 2013 47,229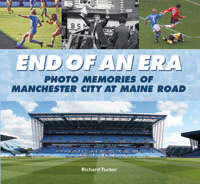 Now available from Amazon ( click on image for link)
WH Smith and the City shop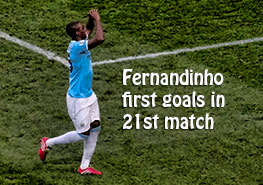 What an incredible game and a wonderful win over top-of-the-table Arsenal. Who would have thought nine goals would have been scored and Fernandinho would have had two of them!
His very first goals for City and how welcome they were. There were defensive mistakes by both teams and City might have scored even more in this very open game. A header by Demichelis at a corner gave Aguero the first goal but a poor defensive lapse by Yaya Toure let in Arsenal who equalized through Walcott. Negredo then did well to put City ahead after a cross from Zabaleta but City suffered a blow when Aguero had to go off injured just after half time. Arsenal had already had to substitute Koscielny who was injured when Negredo scored.
Five minutes after the break Fernandinho scored his very first goal for City beating Szczesny from outside the area. Walcott reduced the arrears for Arsenal but Silva in 'Messi mood' netted from close range from a Navas cross and then to add to Arsenal's woes Fernandinho took advantage of a defensive error to notch his second. Just as supporters were about to leave Arsenal scored a third and then just on time Yaya Toure made it six from the penalty spot after Milner had been brought down by the keeper. Following the great win in Munich City had once again risen to the occasion blowing away Arsenal. There were few failures in the team performance but I am sure the manager will want to deal with Pantilimon's habit of miss-punching corners and defenders trying too many tricks in their own final third. Nasri, Silva Aguero and Negredo were in fine form and Navas caused problems for the Arsenal defence. Finally full marks to silent assassin Fernandinho who broke his duck with two splendid efforts. Yes - City have the skill and power to win the league this season - let's do it!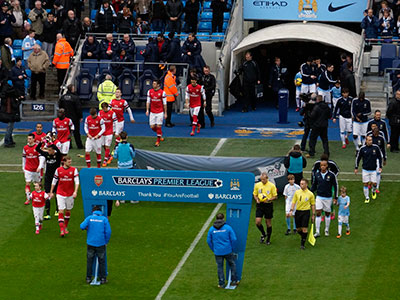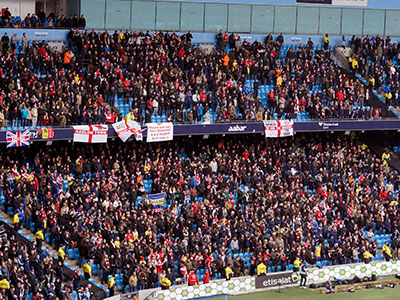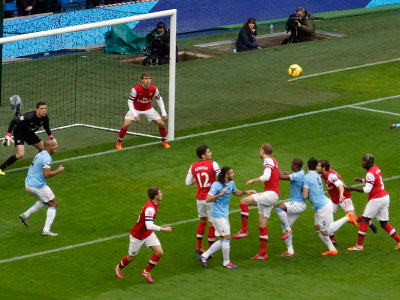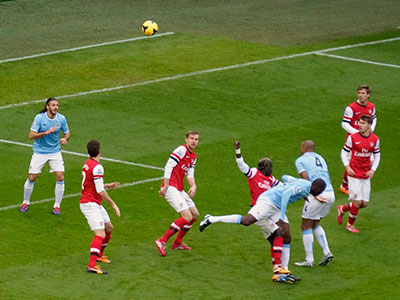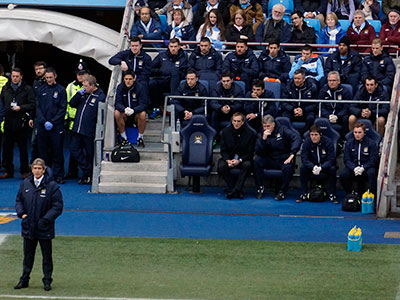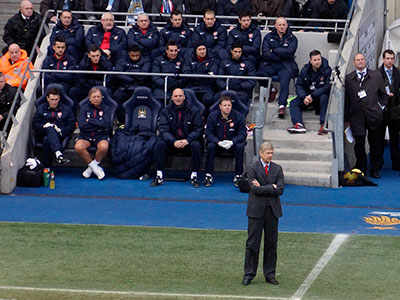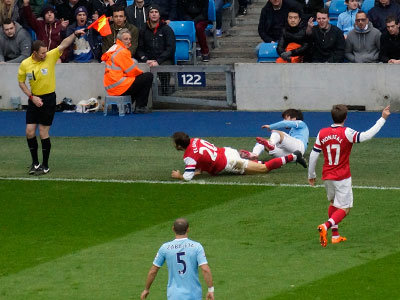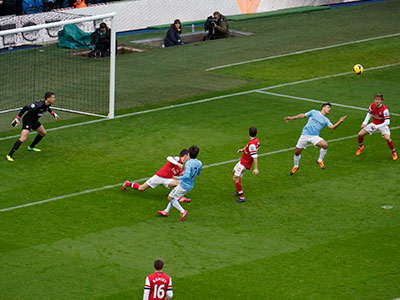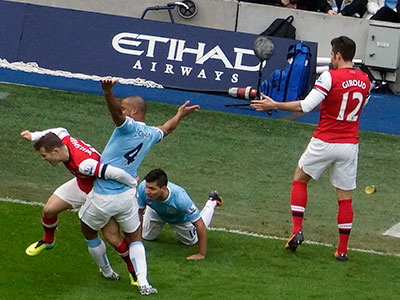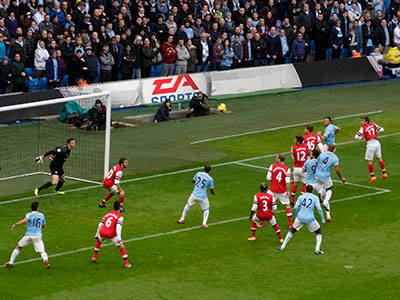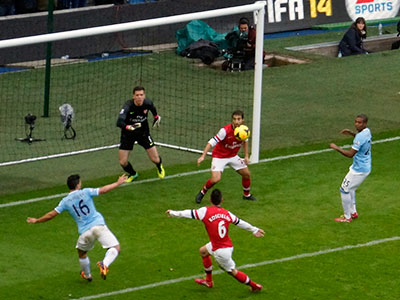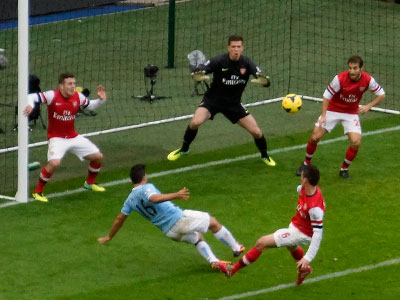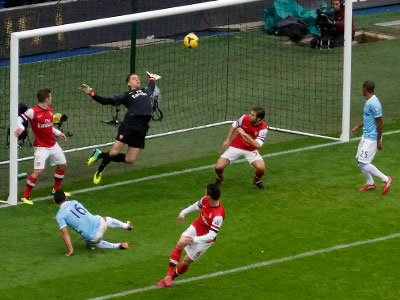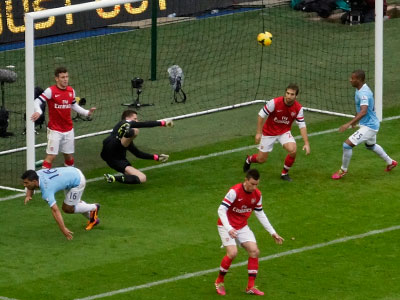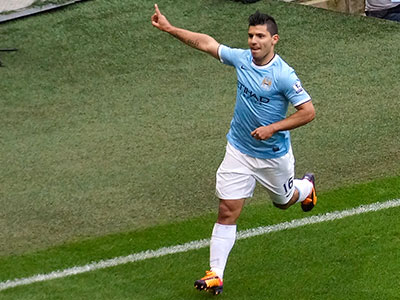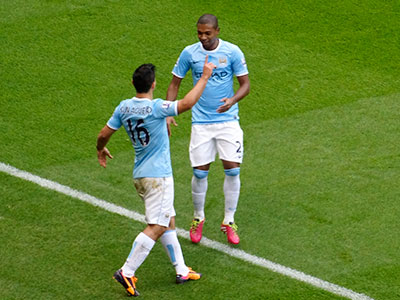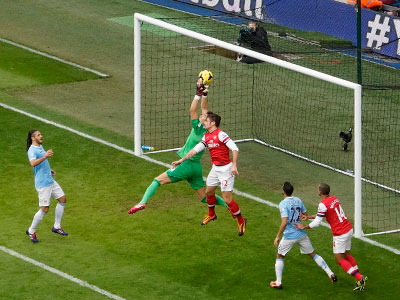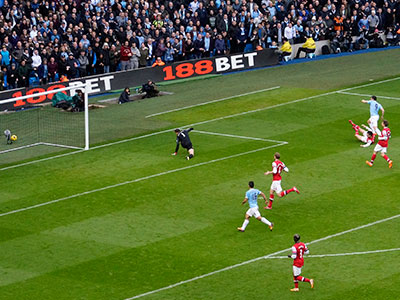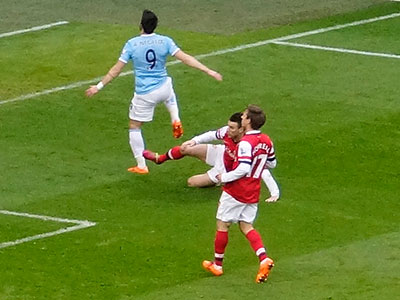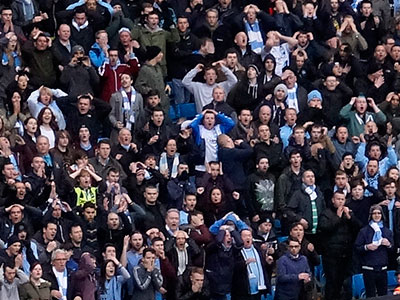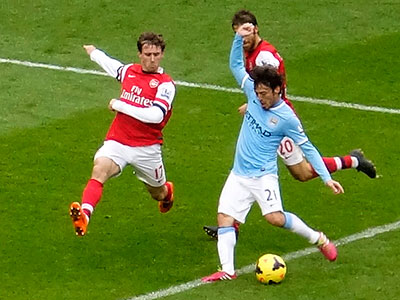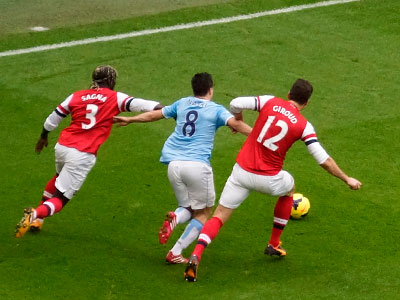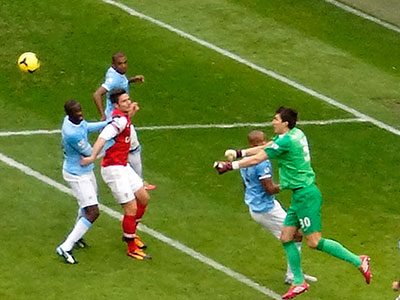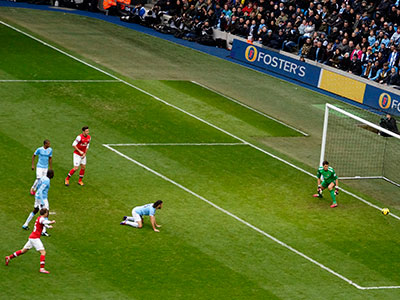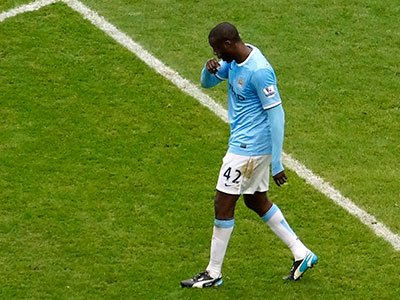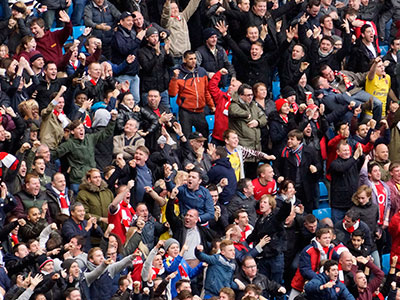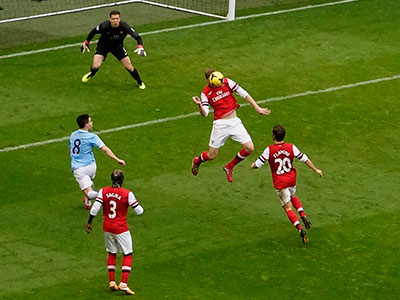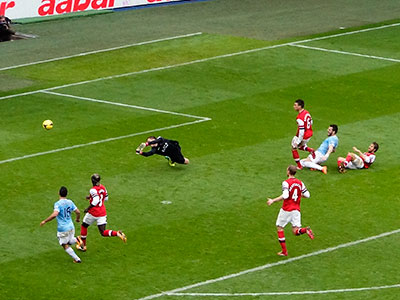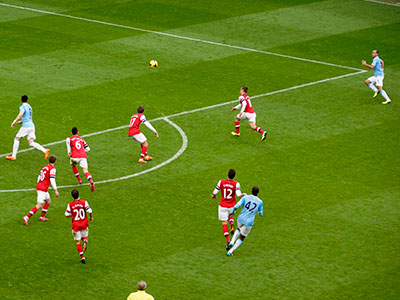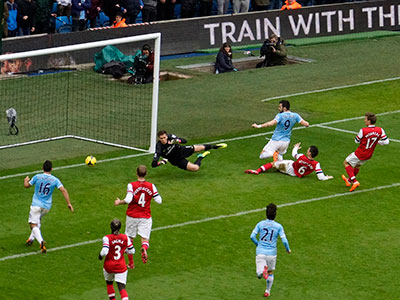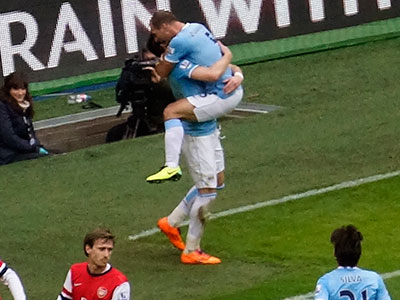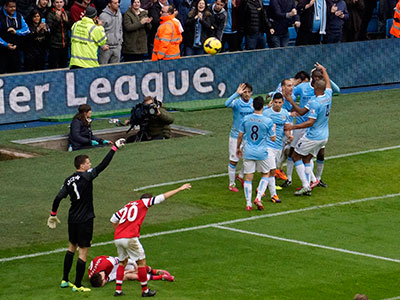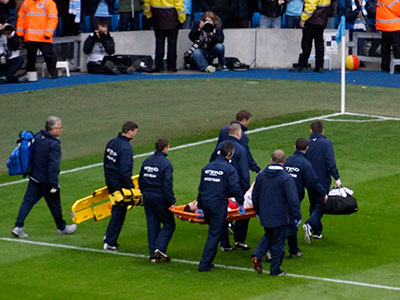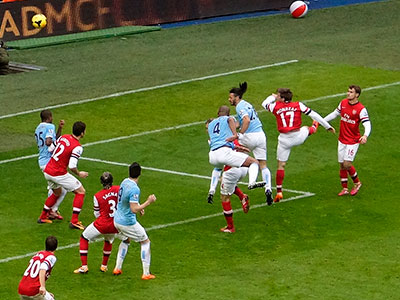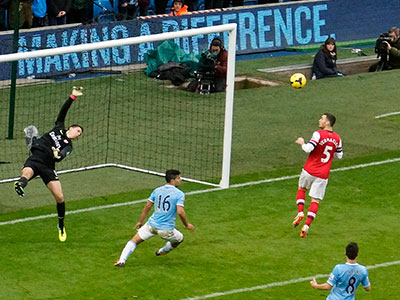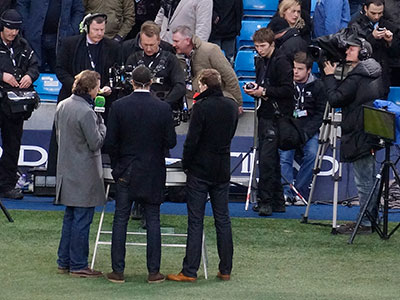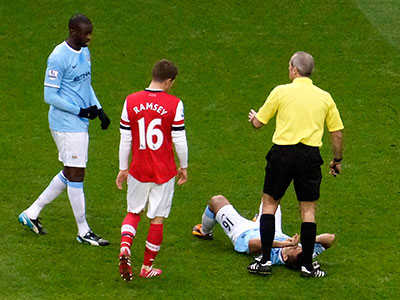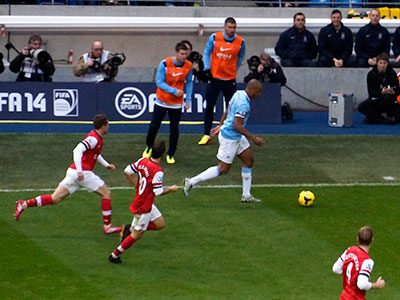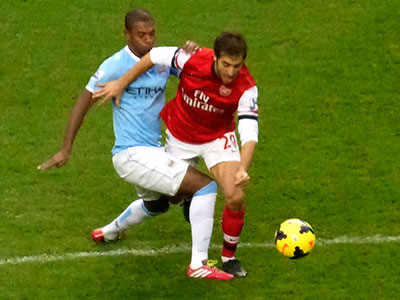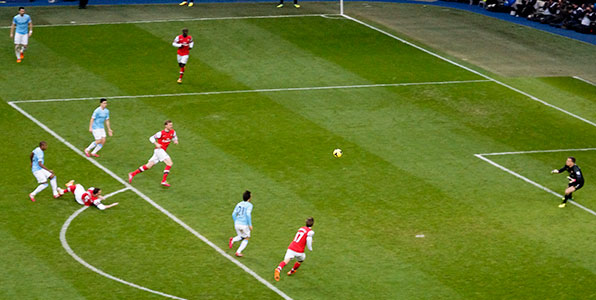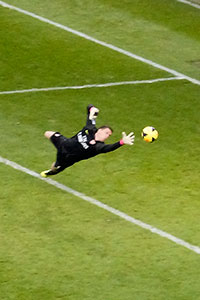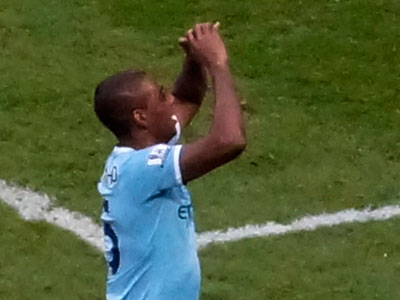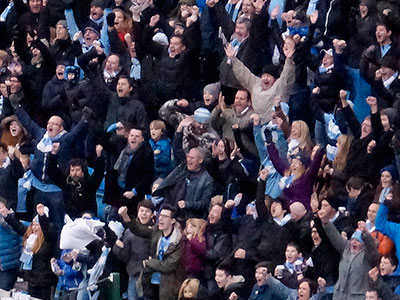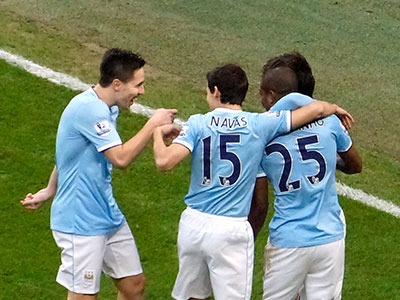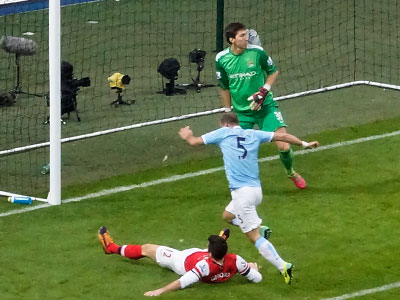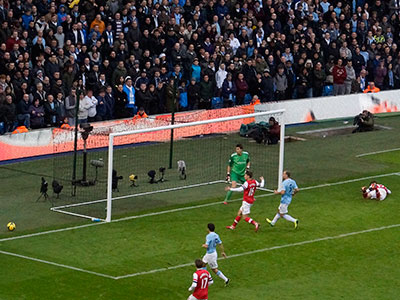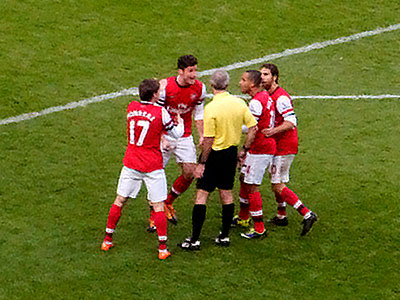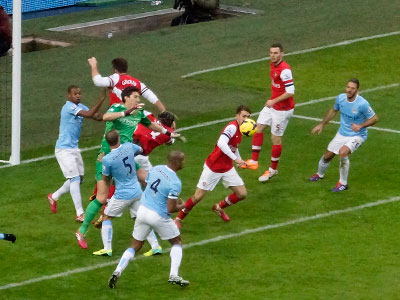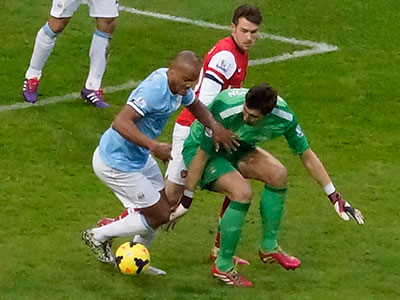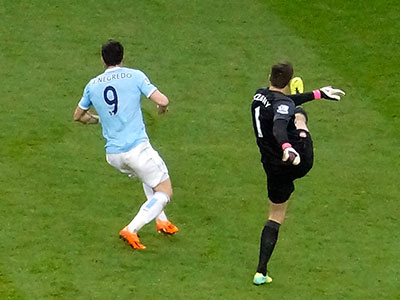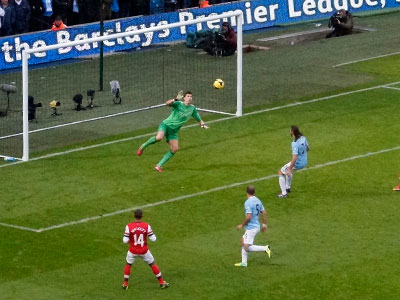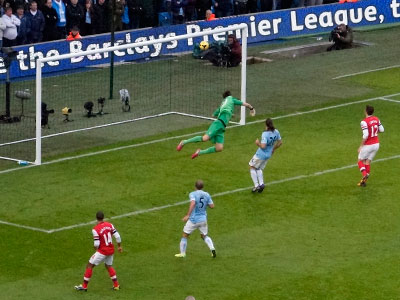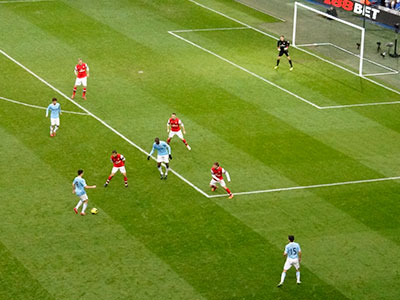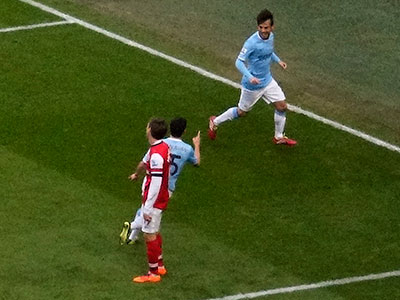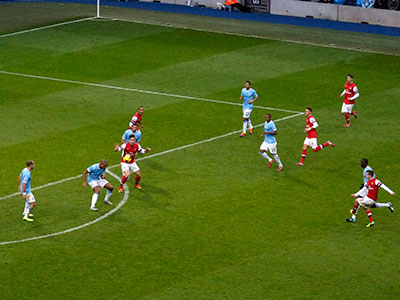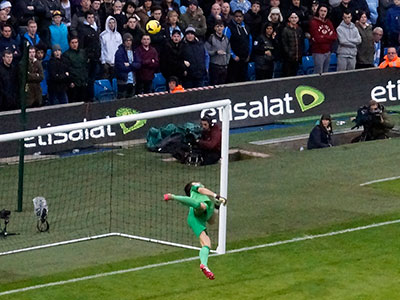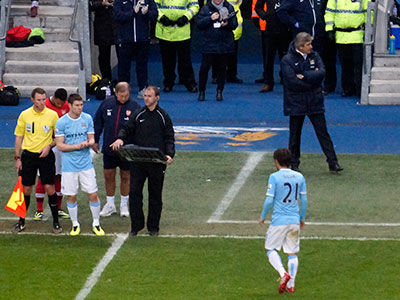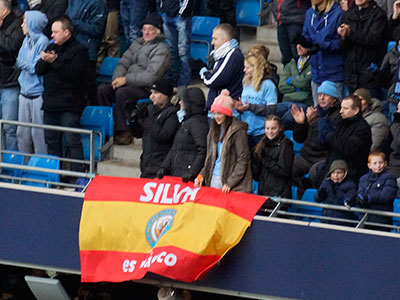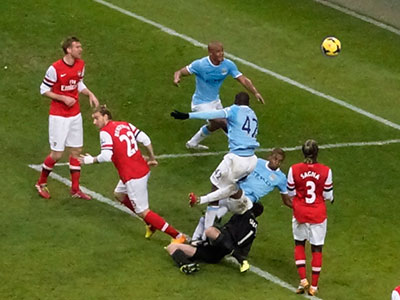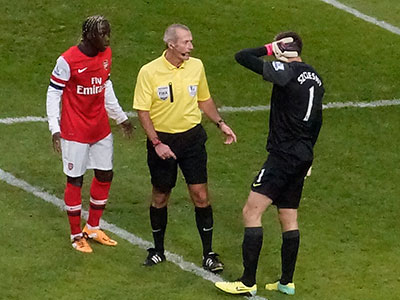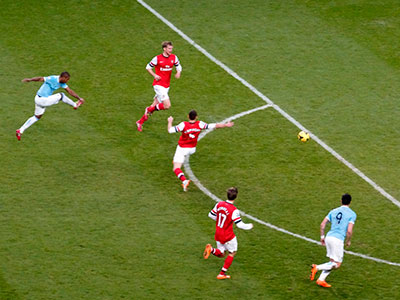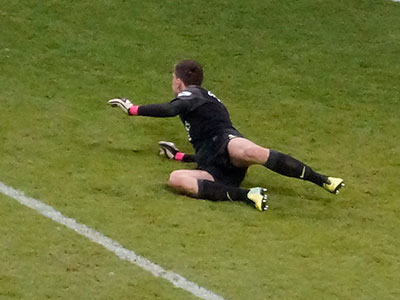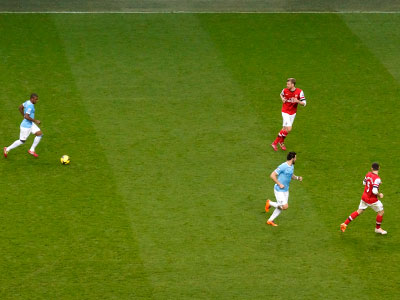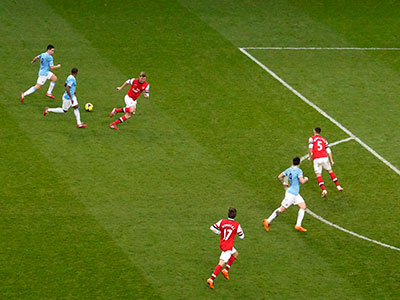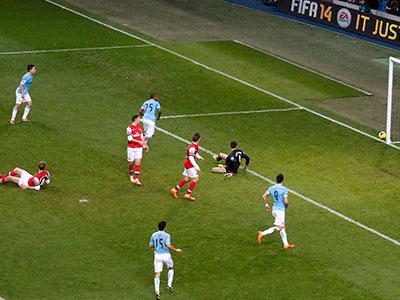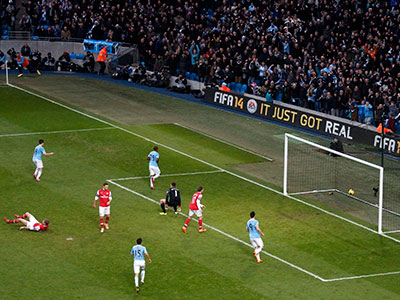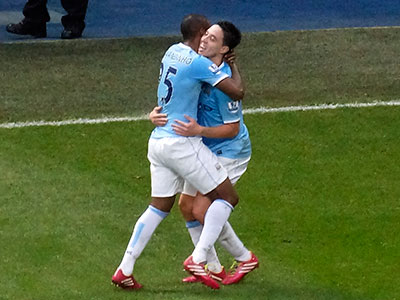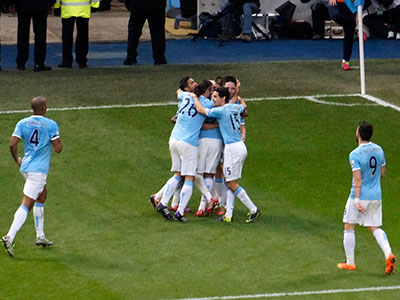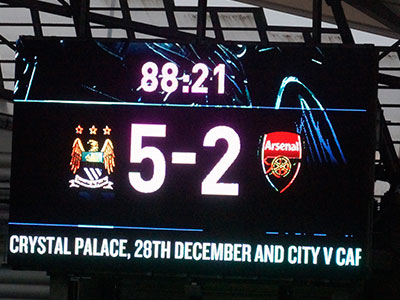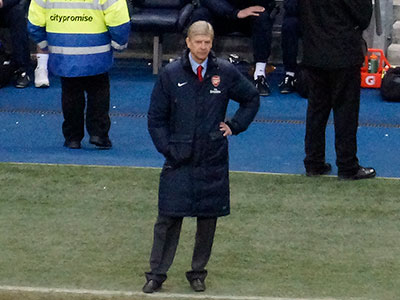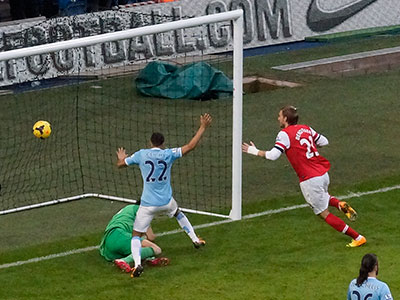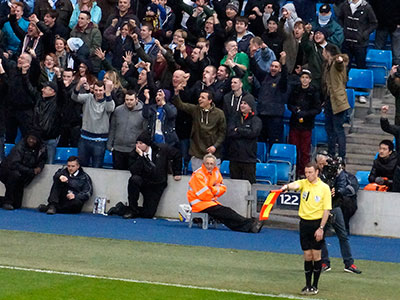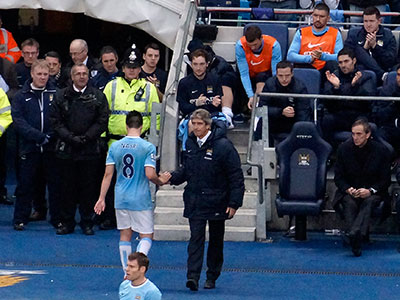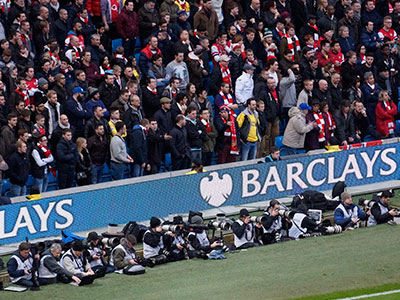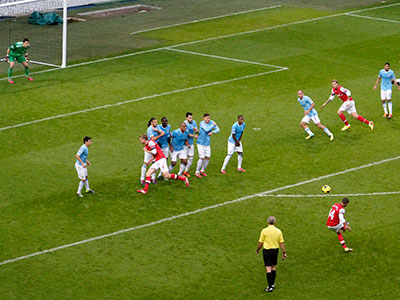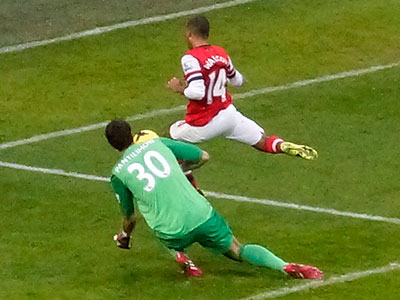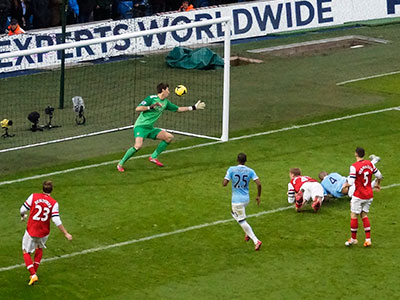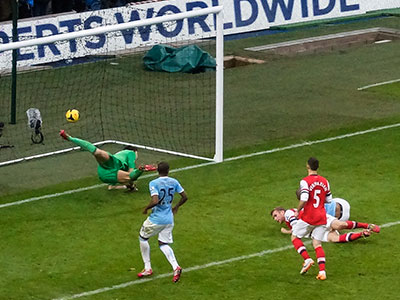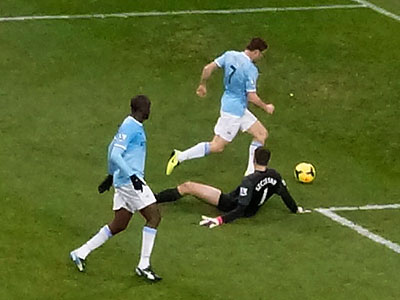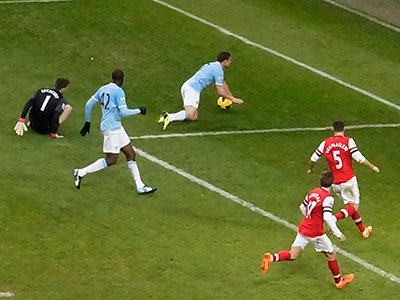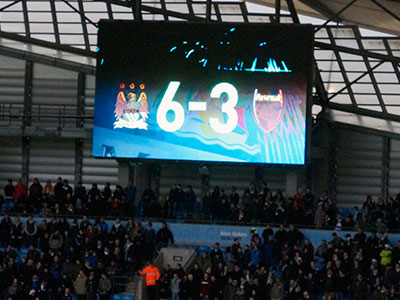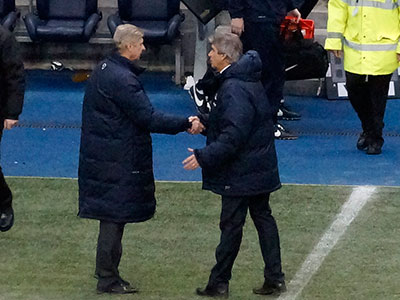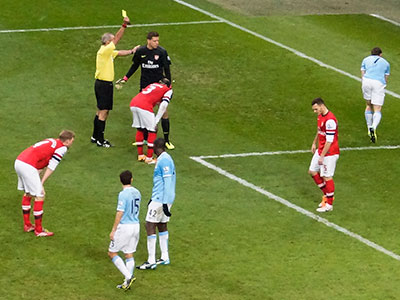 City were almost back to full strength only Nastasic being injured.
Arsenal had a lot of support as usual
City were first on the attack and forced several corners
Both teams had strong benches for this vital game
Silva was soon causing trouble for Arsenal
Wilshaw and Kompany battle for the ball
On 13 minutes a Nasri corner is headed on by Demichelis.....
....to a waiting Aguero who acrobatically thumps the ball into the net to give City the lead
It was a deserved lead after all the opening pressure
Arsenal were stung into action and Pantilimon had to earn his keep before Negredo missed a good chance at the other end shooting into the side netting
He had been put through by Kompany and there was anguish from the City supporters - would that miss be important!
Both Silva and Nasri were working hard and keeping the Arsenal defence on their toes
Not the best of punches by Pantilimon
On the half hour Arsenal drew level though Walcott
It was an error by Yaya Toure who tried to be too clever too near his own goal and lost the ball and the Arsenal fans were able to rejoice
38 minutes gone and the ball goes out to Zabaleta and he presto Negredo is on the ball......
... and City are back in front
The 'beast' gives the brilliant Zabaleta a hug
As the City players celebrate Koscielny is down injured
The Arsenal player was taken off on a stretcher
Demichelis heads over at a corner
Szczesny kept busy just before half time
ex City and Liverpool player McManaman talks on BT sport TV during half time
Shortly after the re-start Aguero pulled up and had to go off - he was subbed by Navas
Even Kompany went on the odd raid
Fernandinho was difficult to beat in midfield
On 50 minutes Fernandinho pounced on a poor Ozil pass and curled the ball past the Arsenal keeper to make 3-1
It was his first goal for City and well deserved
The North Stand showed their appreciation
Arsenal came back but Giroud missed a couple of chances
After 58 minutes Arsenal had a shout for a penalty when Zabaleta accidentally handled the ball
a mini-panic in the City goalmouth as Pantilimon tries to get the lost ball
Szczesny
has to rush out of goal to clear from Negredo
On 62 minutes Ramsey found Walcott unmarked....
......and he lifted the ball over Pantilimon into the top corner to make it 3-2
A few minutes later and City were back in business- a pass from Nasri to Navas and down the wing he dashed and his cross...
...was hit past the keeper first time by David Silva
Pantilimon made a good save from Wilshere on 68 minutes
Silva got a great reception when he was subbed by Milner
Szczesny takes a knock on the head saving at a corner
on 83 minutes Fernandinho has a shot well saved by Szczesny
..but Fernandinho was not going to be foiled. A few minutes later he tool the ball into the Arsenal half passed to Nasri......
...took a return pass and shot into the Arsenal goal via the post to make it 5-2
It was celebration time - again
Yes Mr Wenger its 5-2 ! He does not look a happy man
Bendtner did get the ball in the net but was ruled offside
Nasri gets a thanks from the manager s he is subbed
Most of the cameramen were at the South end
we're into 5 minutes extra time and Pantilimon has to save from Walcott
Pantilimon saves from Walcott again but after 93 minutes a header.....
..by Mertesacker beats the keeper and its 5-3 but almost immediately Milner makes a break and is brought down by Szczesny
It's a penalty and Szczesny gets a yellow card
Yaya Toure makes no mistake from the spot and City are home and dry
a hand shake between the two managers
team
Pantilimon 7.5, Zabaleta 9, Kompany 8, Demichelis 7.5, Clichy 7.5, Yaya Toure 8, Fernandinho 9.5, Silva 9 (Milner), Nasri 9 (Garcia) , Aguero 8 ( Navas 8) Negredo 8