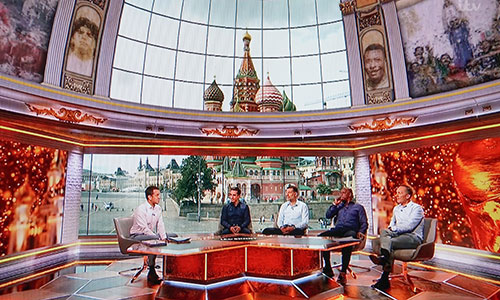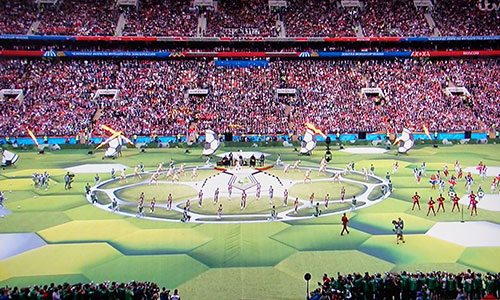 The World Cup in 2018 takes place in Russia and the opening and first game was covered by ITV . Thank goodness the opening ceremony only lasted a short time.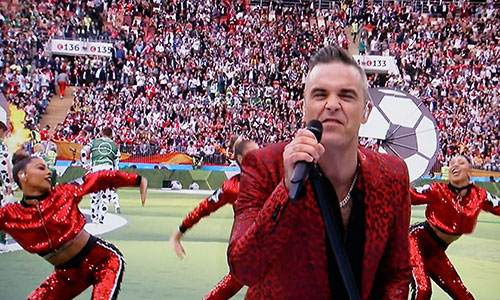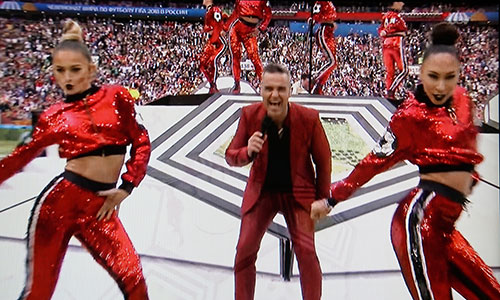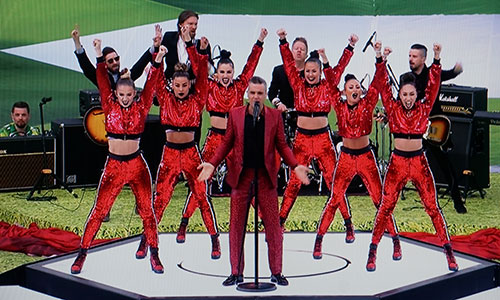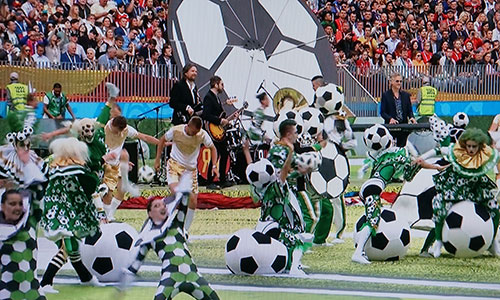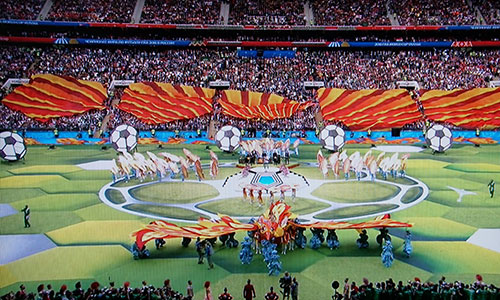 Robbie Williams was the .'star' of the opening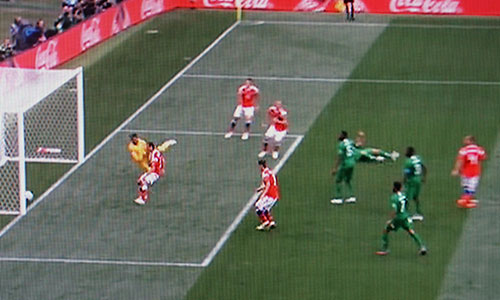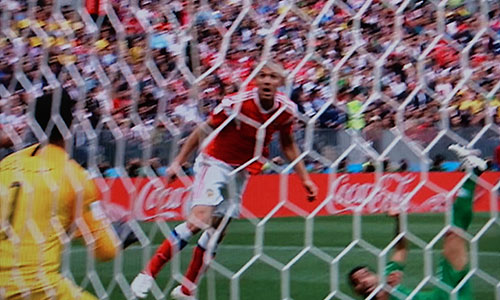 Russia v Saudi Arabia 5-0 - June 14th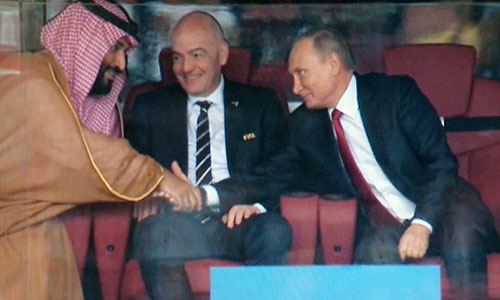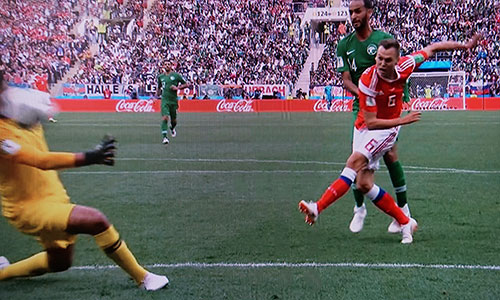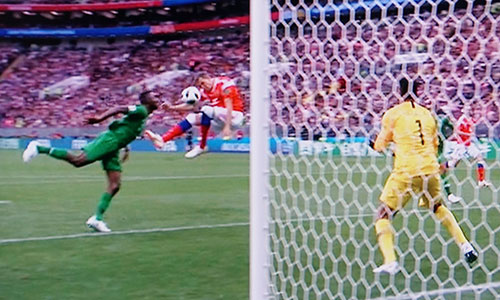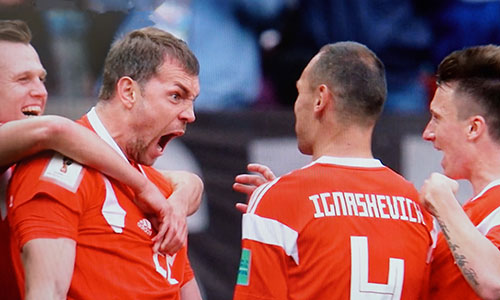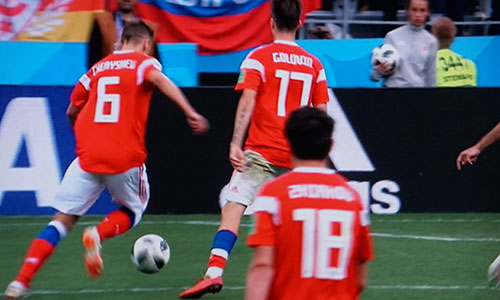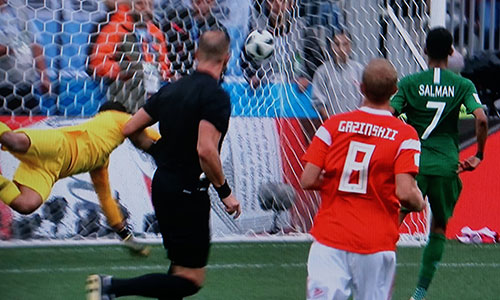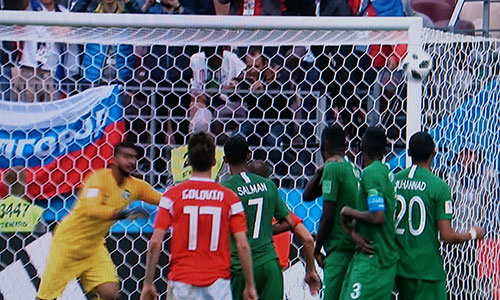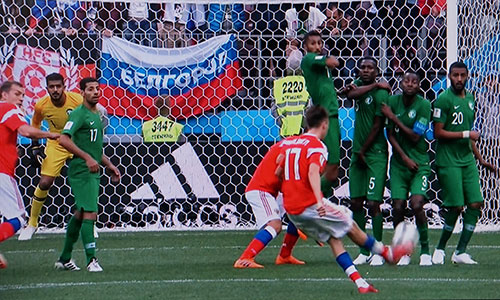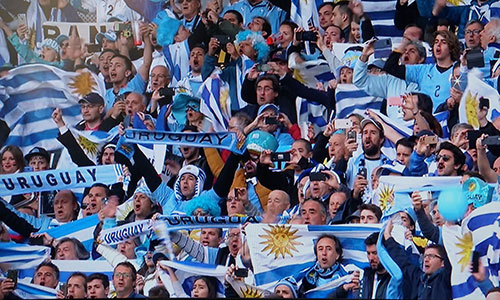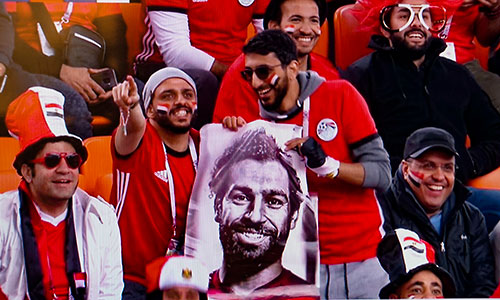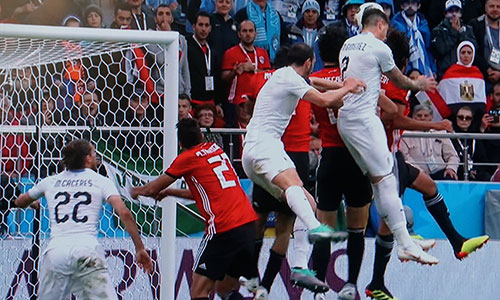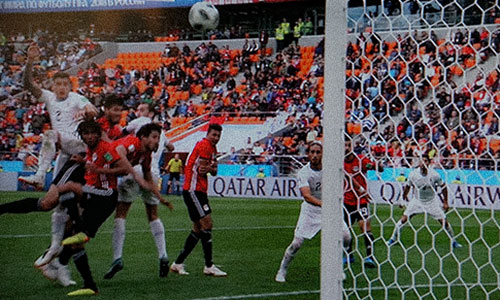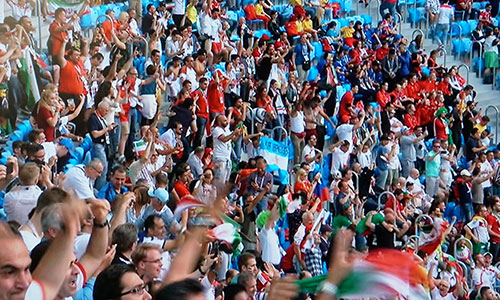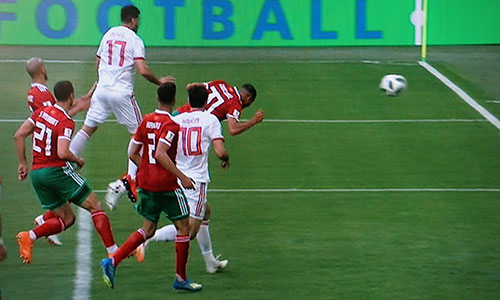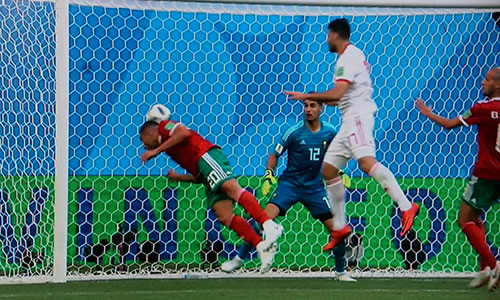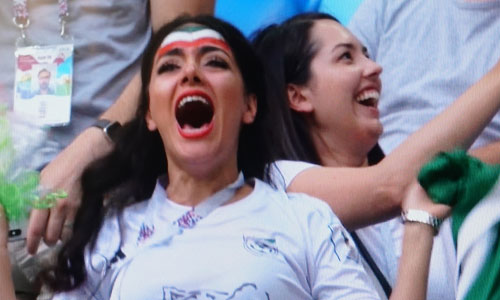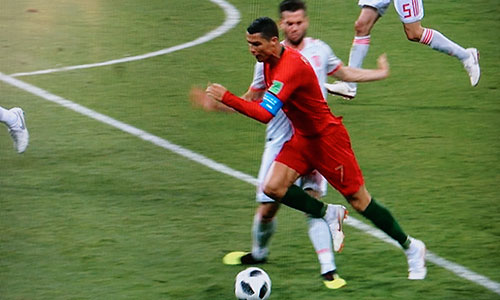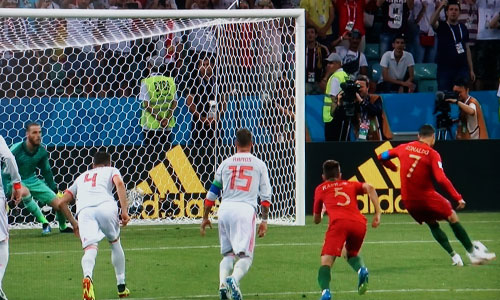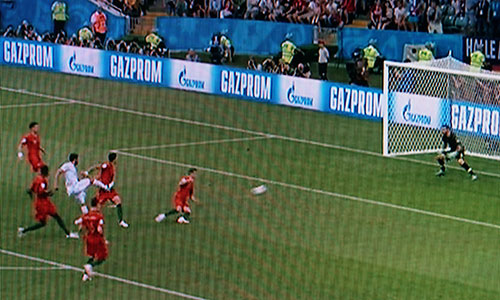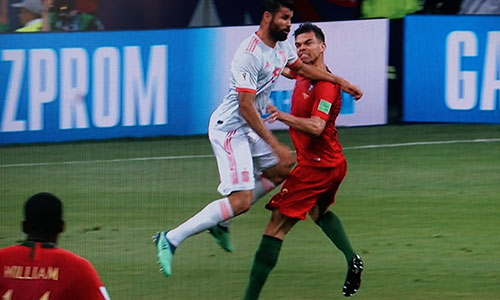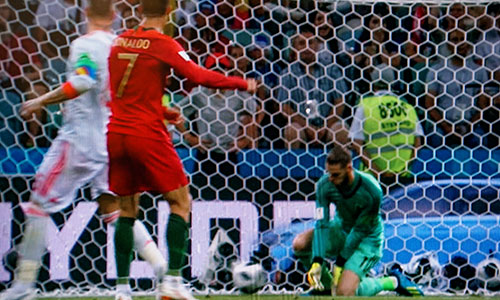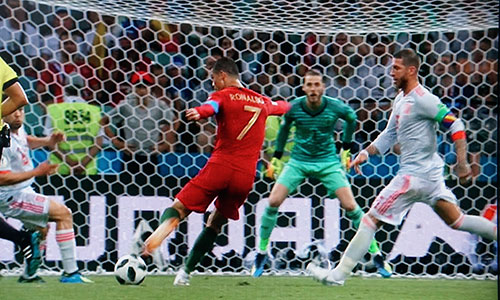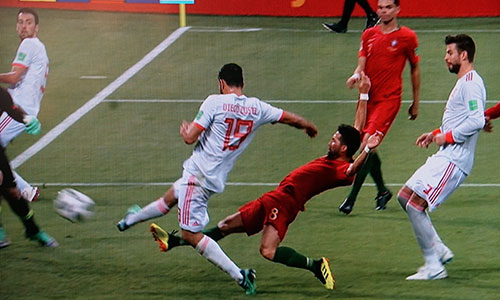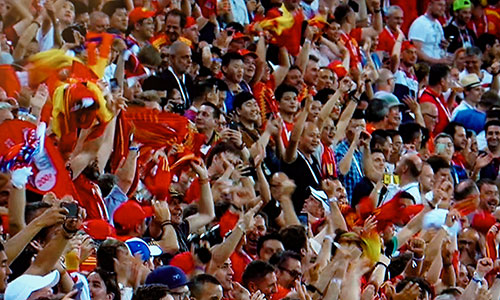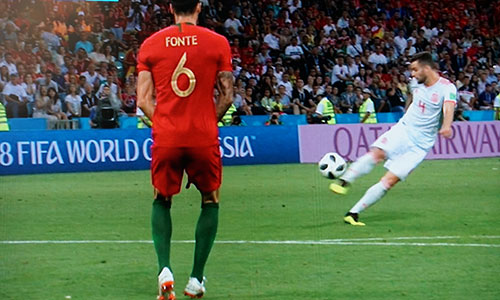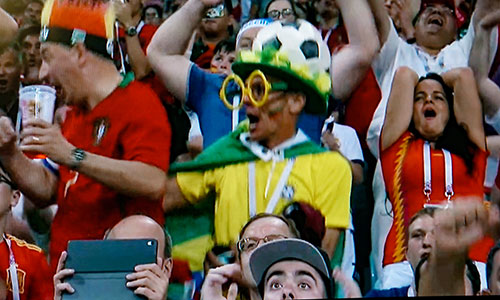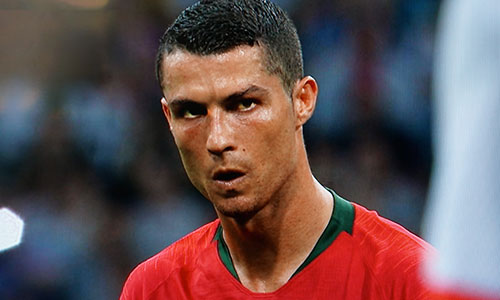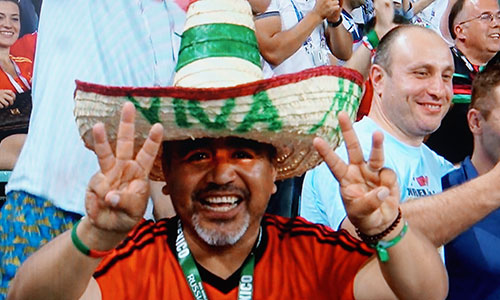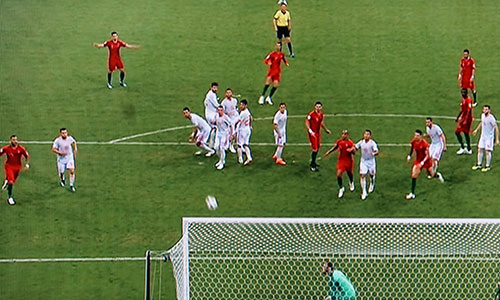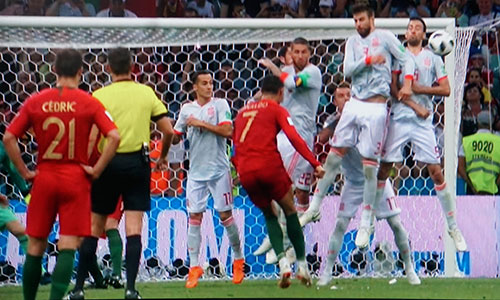 Following a corner Gazinsky opened the scoring for Russia with a header
Surely that's not two leaders shaking hands!
Cheryshev notched the second for Russia just before half time
Dzyuba got the third and he looks quite pleased about it
In added time Cheryshev got his second
In the final moments Golovin completed the easy win over a poor Saudi side
Egypt 0 Uruguay 1 June15th 2018
There was no Salah in the Egypt side and Uruguay won with a last minute goal by Gimenez
Morocco 0 Iran 1 June 15th 0218
A last minute own goal by Bouhaddouz gave Iran a surprise win
Spain 3 Portugal 3 June 15th 2018
A terrific game had a great start when Ronaldo was brought down in the area and he scored from the penalty
Costa equalized for Spain despite a possible foul
Just before half time Ronaldo shot at De Gea who somehow let the ball get past him and Portugal were one ahead
Costa equalized for Spain on 55 minutes from close range
Nacho hit a cracker to put Spain in front in a very open game
With just 2 minutes to go Ronaldo took a magnificent free kick and scored to bring the scores level in this great match
France 2 Australia 1 June16th 2018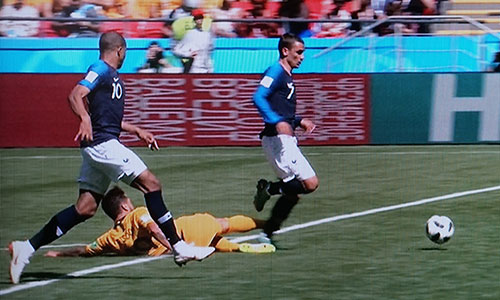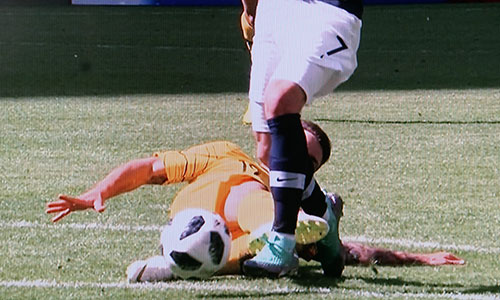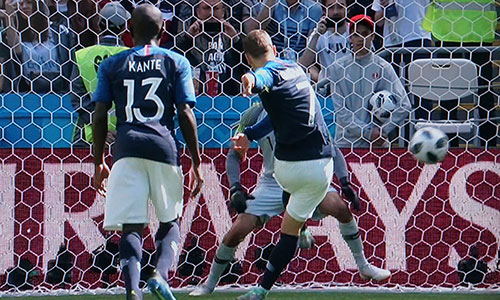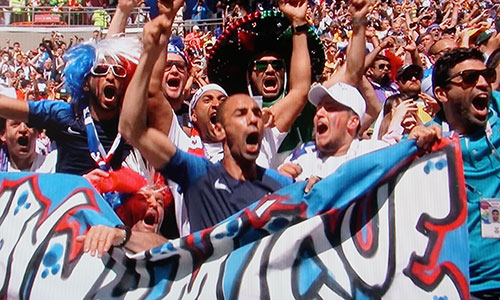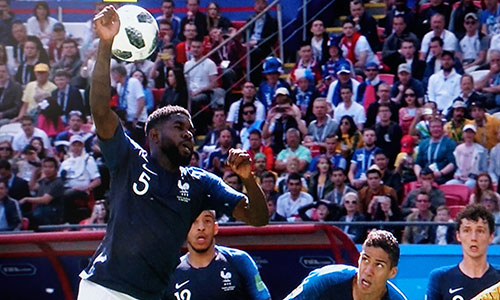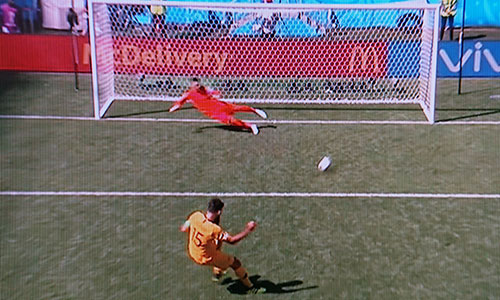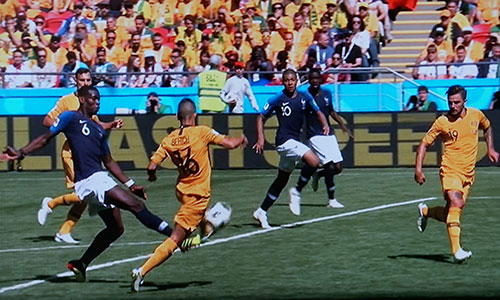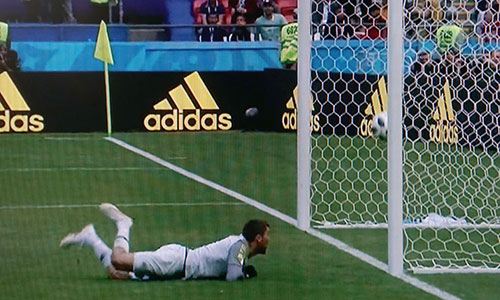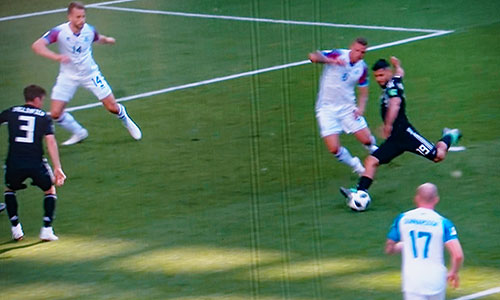 Argentina 1 Iceland 1 June16th 2018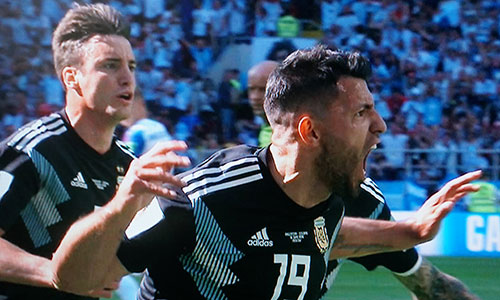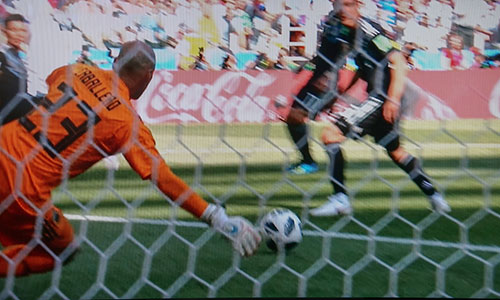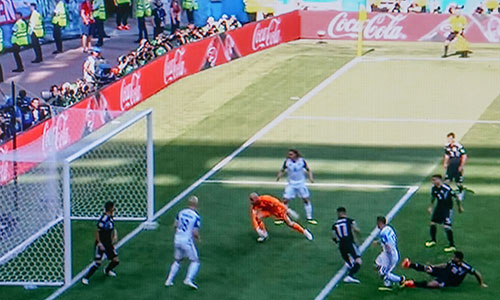 Croatia 2 Nigeria 0 June 16th 2018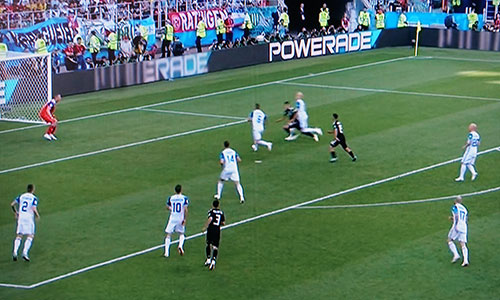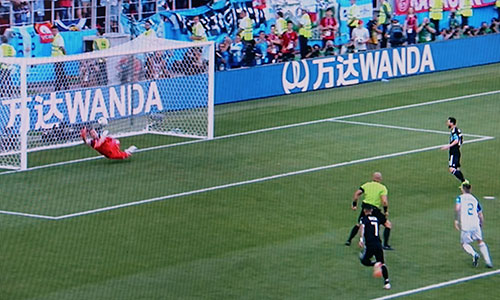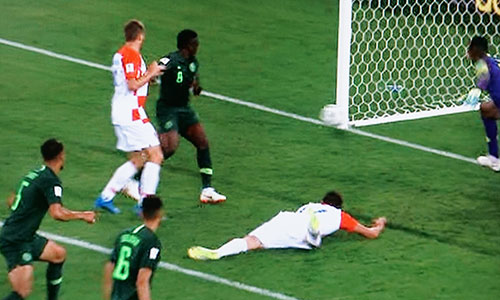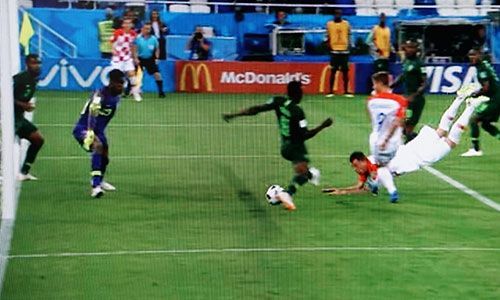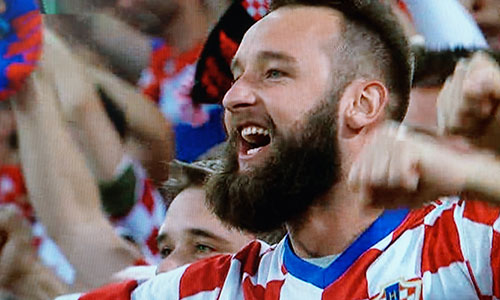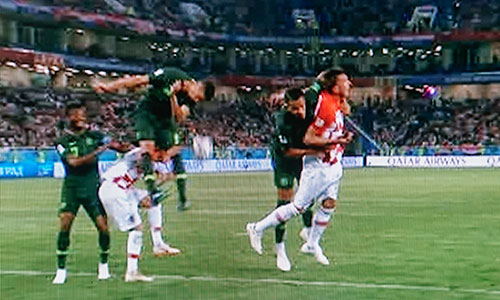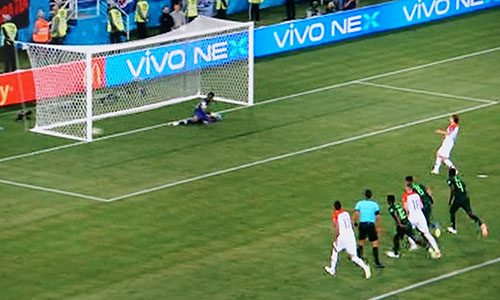 Costa Rica 0 Serbia 1 June 17th 2018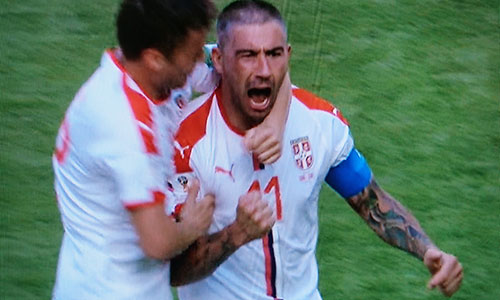 Germany 0 Mexico 1 June 17th 2018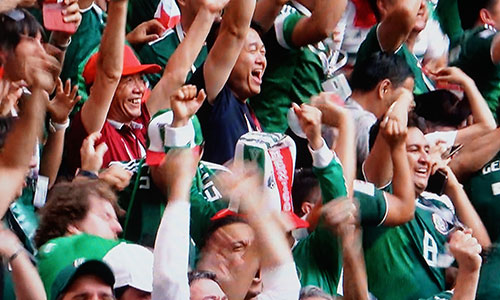 Brazil 1Switzerland 1 June 17th 2018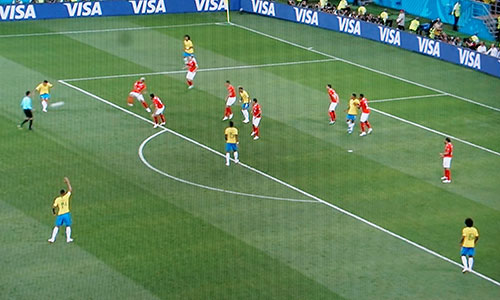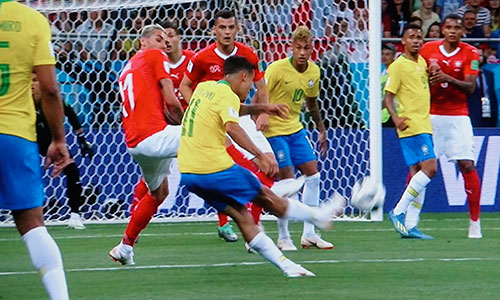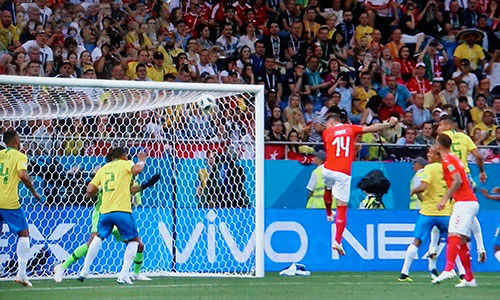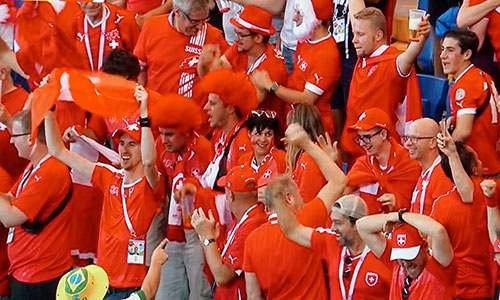 a VAR penalty award gave France chance to take the lead against Australia
Griezmann made no mistake from the spot on 58 minutes
A stupid handball by Umtiti gave Australia the chance to equalize and Jedinak scored from the spot
A deflection off a Pogba shot won the game for France on 80 minutes
Good skill from Aguero gave Argentina the lead on 19 minutes
Shortly after Caballero pushed out a shot and Finnbogason scored to put Iceland level
When Argentina got a penalty in the second half we were very surprised to see Messi have his spot kick saved and it wasn't Joe Hart in goal!
Croatia led at half time thanks to an own goal by Etebo
With twenty minutes to go they got a penalty for this tackle
Modric sealed the win scoring from the penalty spot
Guess who scored with a terrific free kick to win the game for Serbia - yes Kolarov of course!
An amazing result with Mexico winning with this goal by Lozano. That will teach them for not playing Sane!
Brazil took the lead with a wonderful shot by Coutinho from distance
It just curled into the top corner giving the keeper no chance
However there was a shock for Brazil when Switzerland equalized with a header from Zuber. If Ederson had been in goal he would have come out and cleared the cross!
Peru 0 Denmark 1 June 16th 2018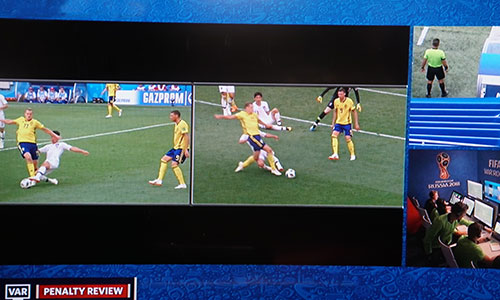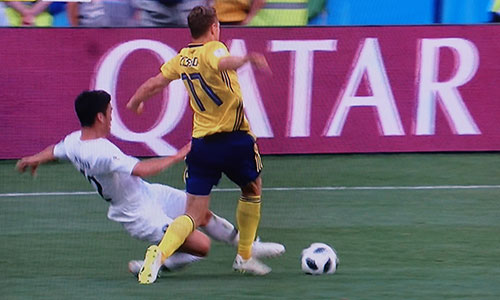 VAR used for this penalty award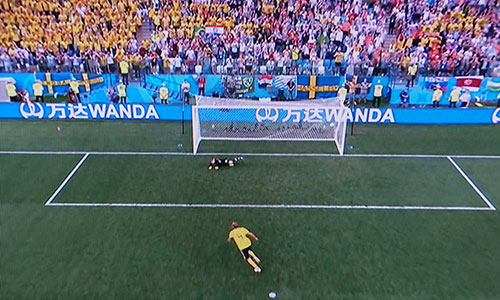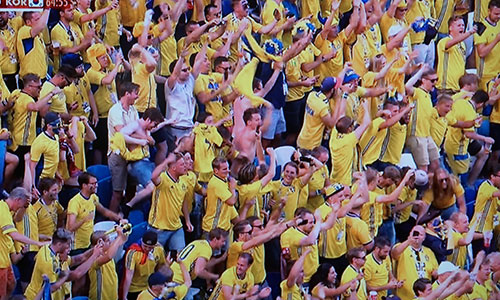 Poulsen scoring from the penalty spot
Belgium 3 Panama 0 June 18th 2018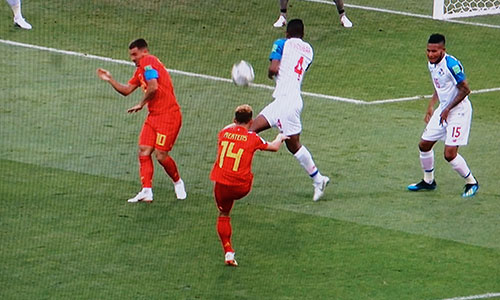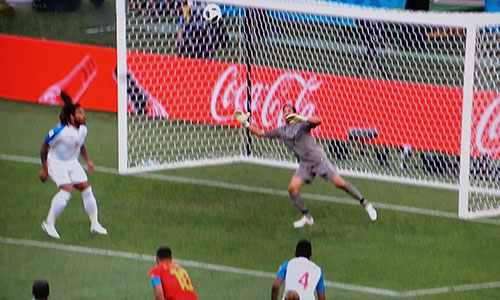 A great shot by Mertens just before half time gave Belgium the lead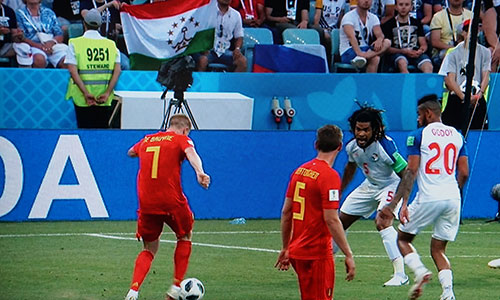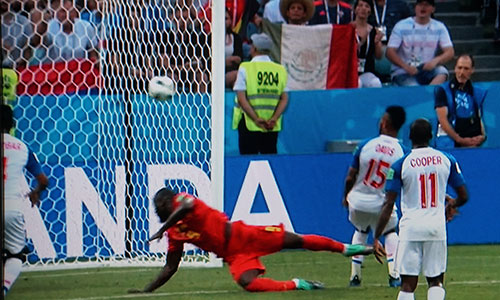 A good pass by De Bruyne gave Lukaku the second goal with his head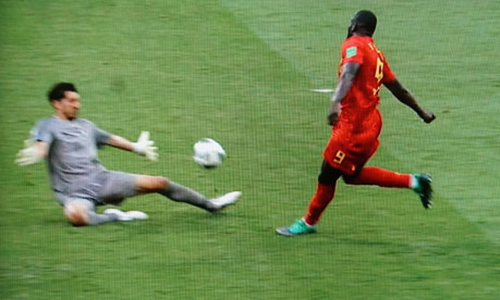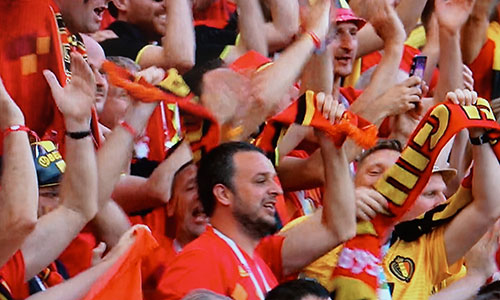 Lukaku made it three nil with a good clip over the keeper
England 2 Tunisia 1 June 18th 2018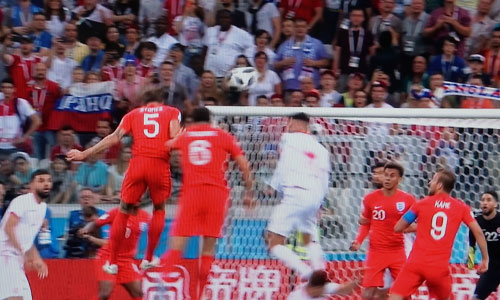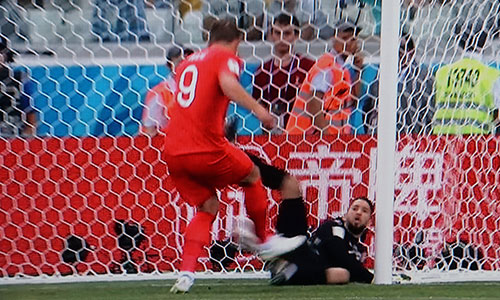 At a corner A great header from Stones was saved but Kane following up scored to give England the lead on 11 minutes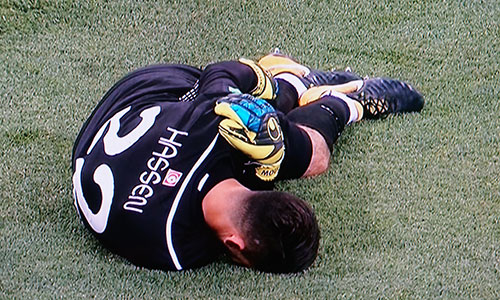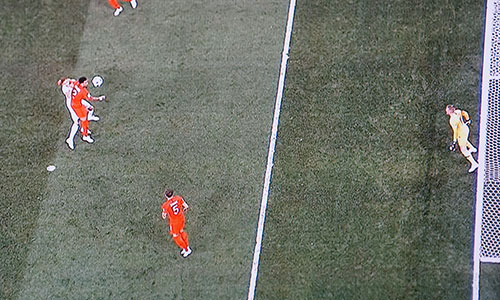 The keeper of Tunisia was injured - the secret sniper been at it again!
Tunisia get a soft penalty when Walker 'fouled' Yousseff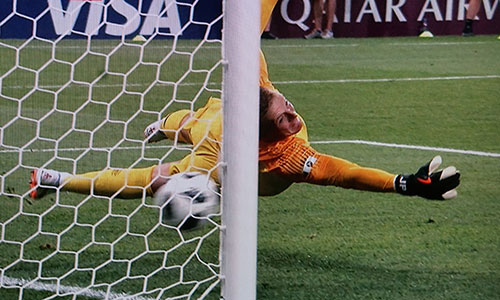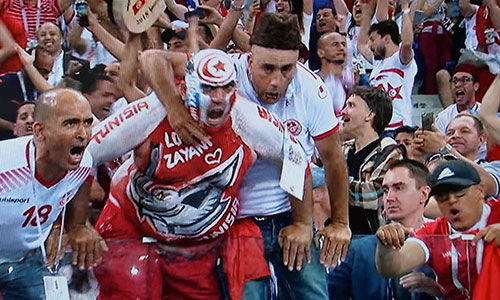 Pickford almost got the ball but it went in and the scores were level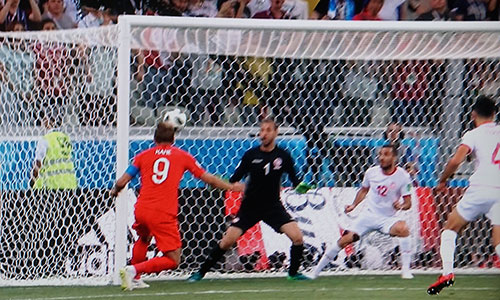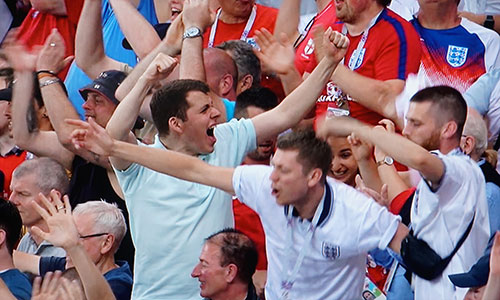 However in added time a good close range header by Kane found the net and England were the winners
Peru 0 Denmark 1 June 16th 2018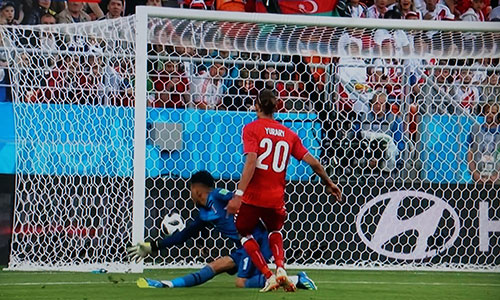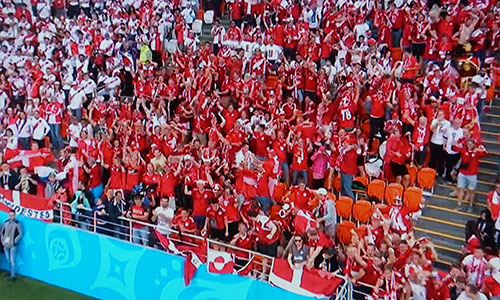 Poulsen scored for Denmark
Columbia 1 Japan 2 June 19th 2018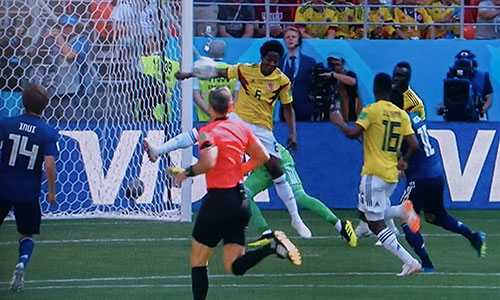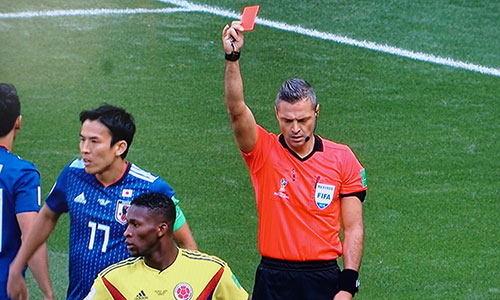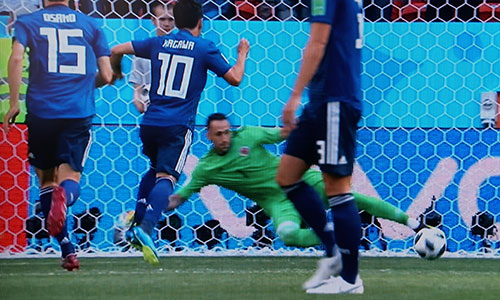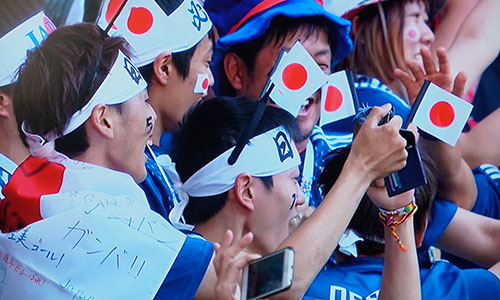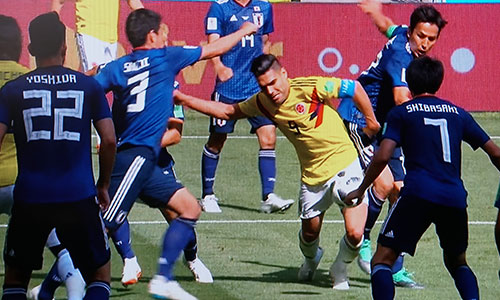 Poland 1 Senegal 2 June 9th 2018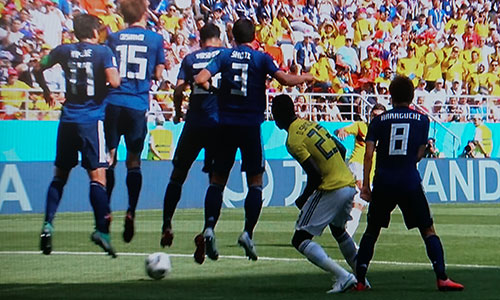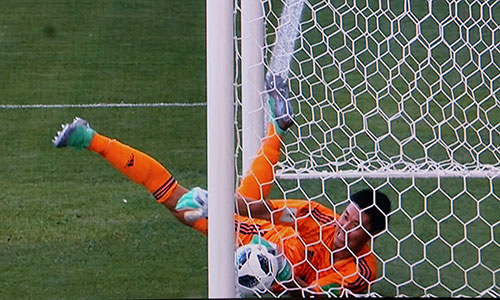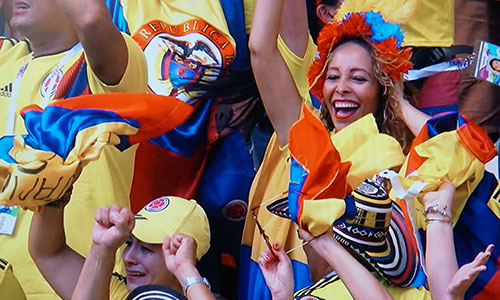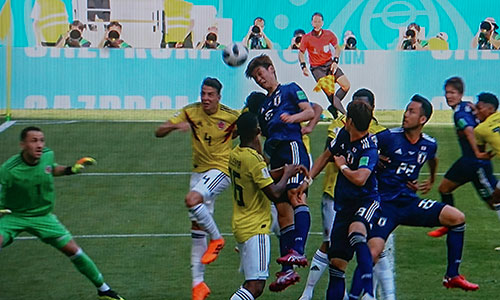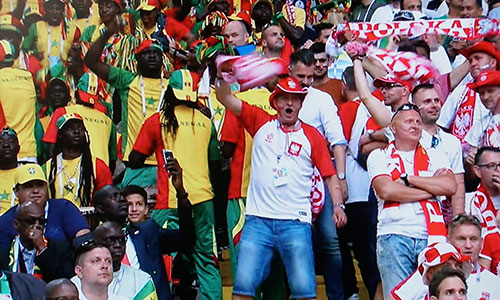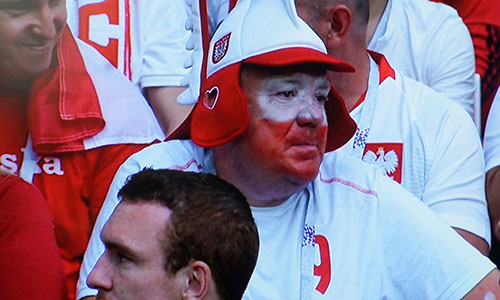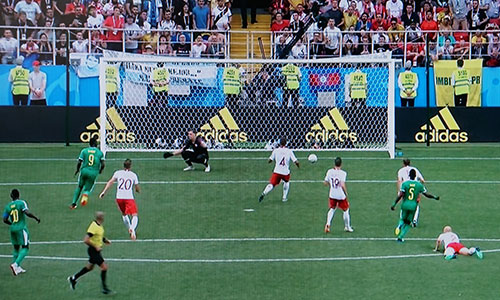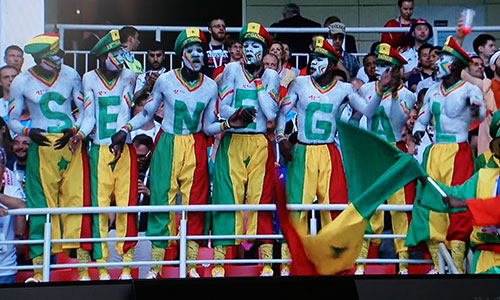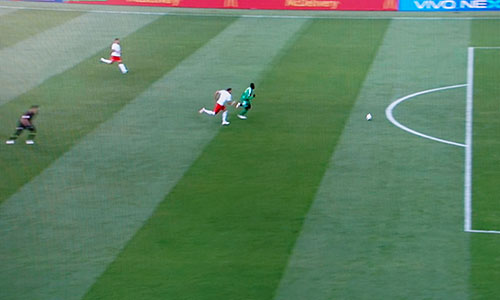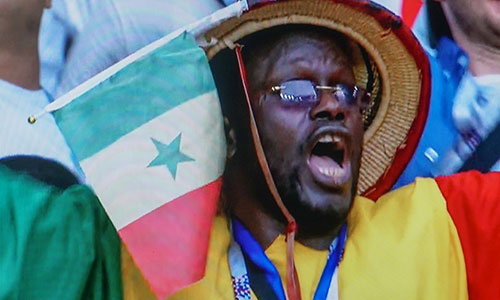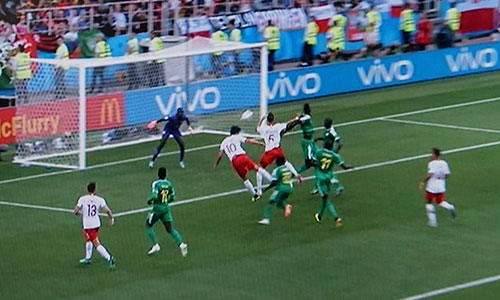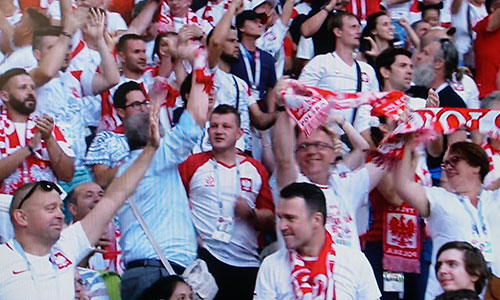 Russia 3 Egypt 1 June 19th 2018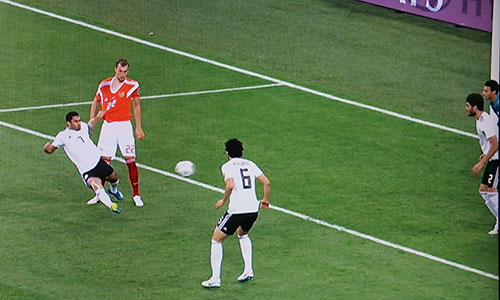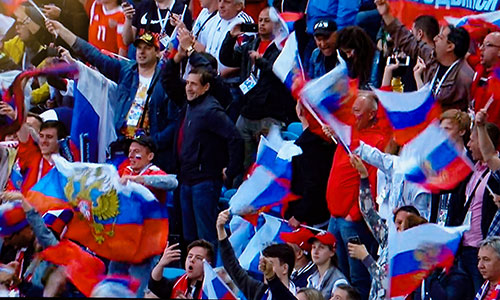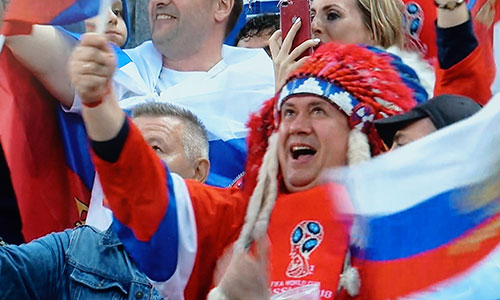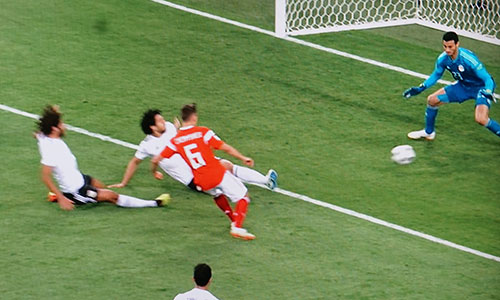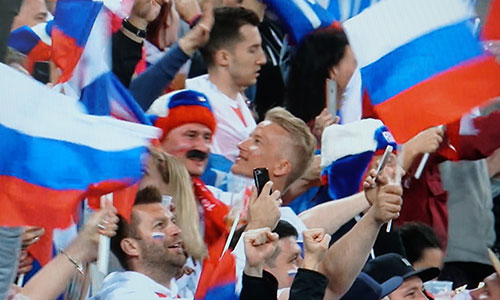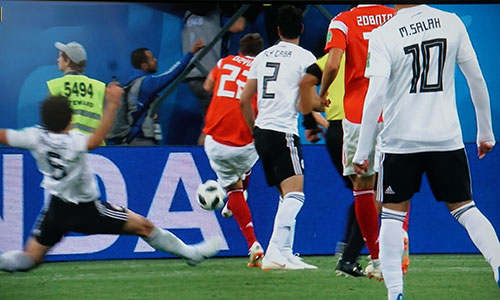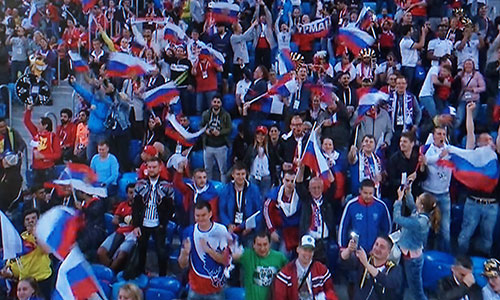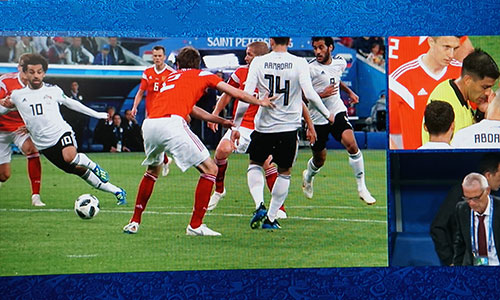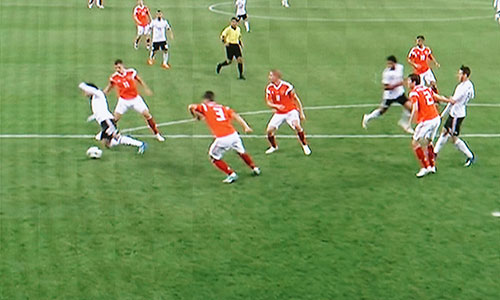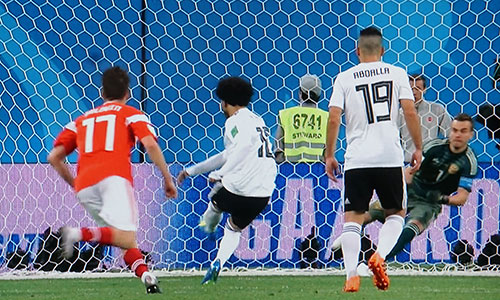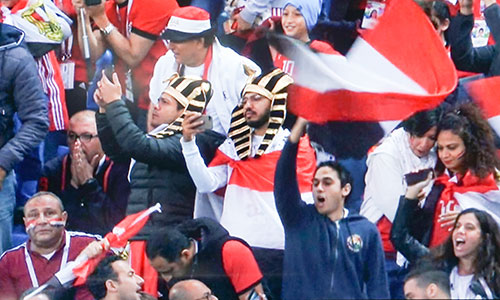 Just before half time an own goal by Fathi gave Russia the lead
There was an amazing start when Sanchez handled the ball in the area and got a red card and Japan a penalty after just 3 minutes
Kagawa converted the penalty and Japan were one up
On 39 minutes Columbia got a free kick and Quinteo (obviously had seen De Bruyne's free kick for City) shot under the wall to equalize
The keeper hoped the ball had not gone over the line!
Down to ten men Columbia had something to cheer about
Osako won the game for Japan with a header
The Senegal and Polish fans were sat close together!
Senegal took the lead through an own goal by Cionek
Senegal went further ahead on 60 minutes when a defensive error let in Niang who had an easy chance
Poland got a goal back with a header from Krychowiak with 5 minutes to go
Not the best from Egypt who had Salah playing but Russia were on the way to a second win
Cheryshev scored the second goal for Russia
A few minutes later Dzuba got a third goal and game over!
Late in the match VAR was used to check whether a foul was in the area and it was a penalty for Egypt
Salah made no mistake from the spot to give Egypt an outside chance
Portugal 1 Morocco 1 June 20th 2018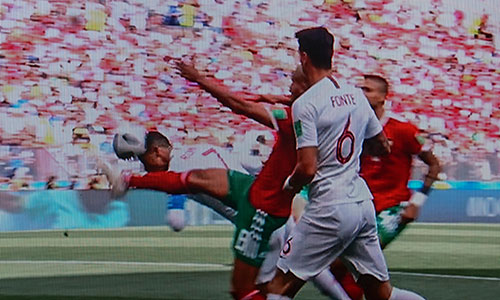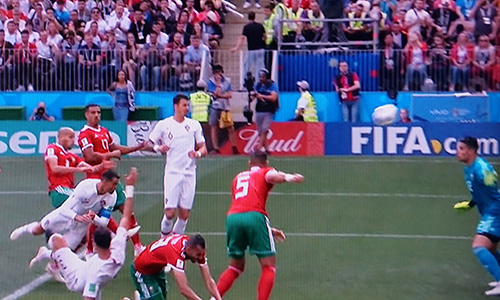 An early diving header by Ronaldo proved to be the winner for Portugal - his 85th goal for his country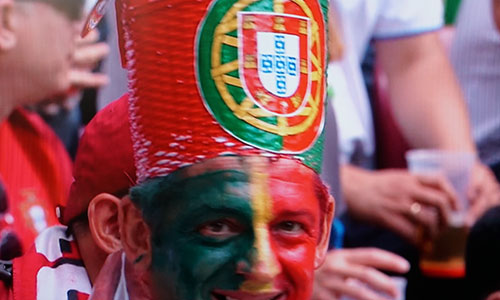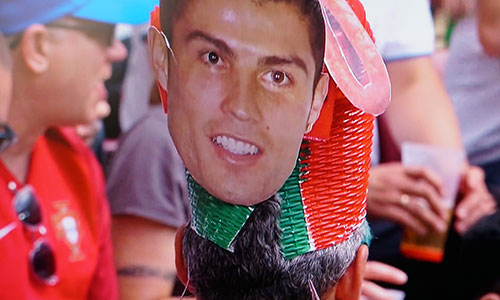 Ronaldo has now passed the number of international goals by one of my favorite players - Puskas
Uruguay 1 Saudi Arabia 0 June 20th 2018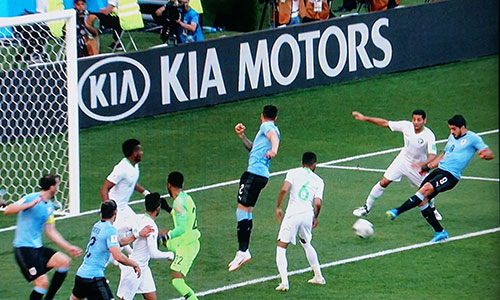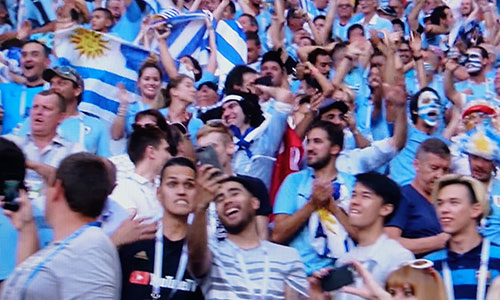 Though Saudi Arabia played better than their last game they were beaten by a solitary goal by Suarez
Iran 0 Spain 1 June 20th 2018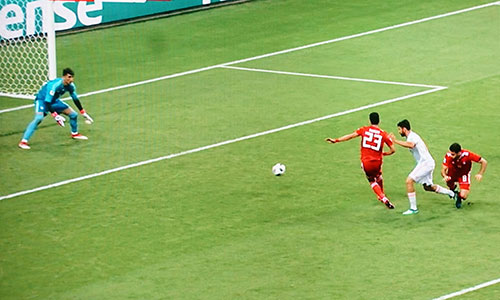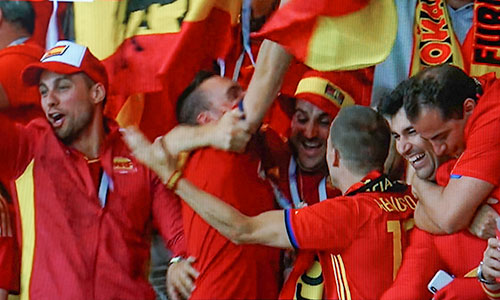 A lucky rebound gave Costa the only goal for Spain against a mainly defensive Iran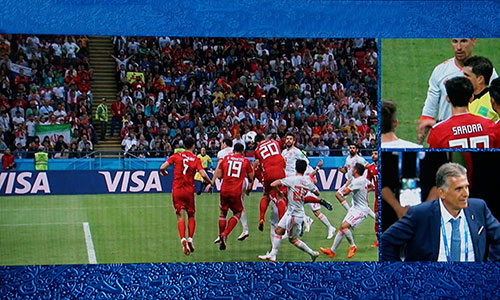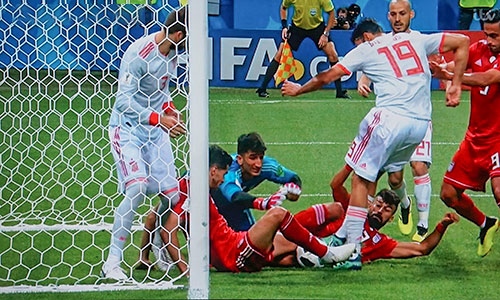 VAR used to disallow a Iranian goal for offside
Almost a rugby scrum in the second half!
Denmark 1 Australia 1 June 21st 2018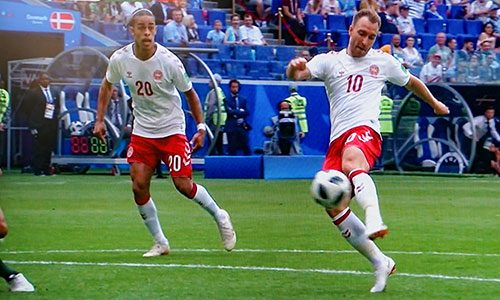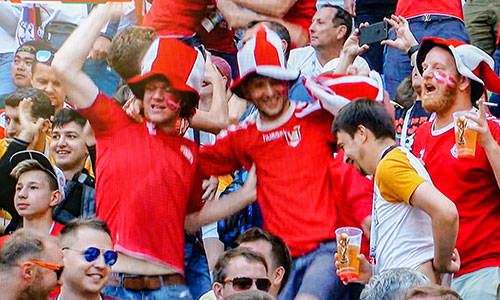 An early goal by Eriksen put Denmark ahead after just 7 minutes -it was a great shot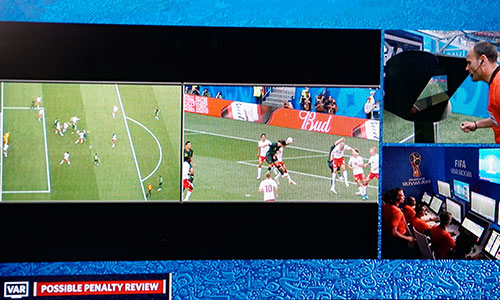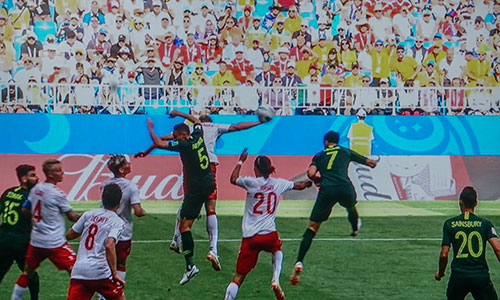 VAR was used to give Australia a penalty for handball - a tricky decision!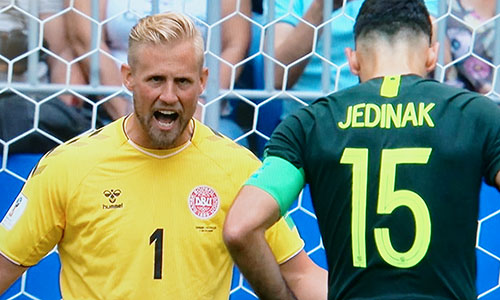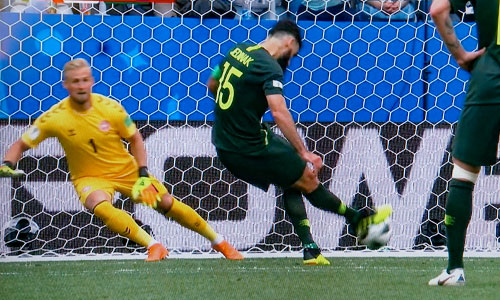 Kasper Schmeichel gave Jedinak a friendly look before the penalty kick but it made no difference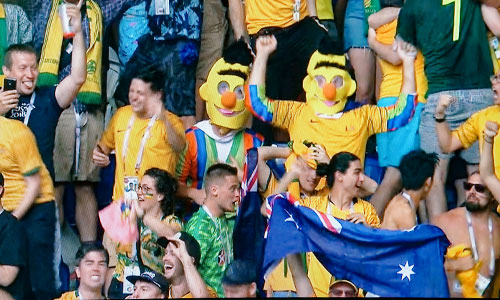 The game ended one all with the Aussies the best pleased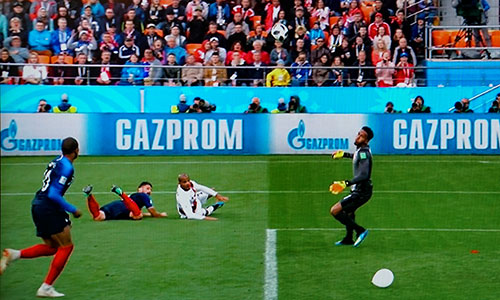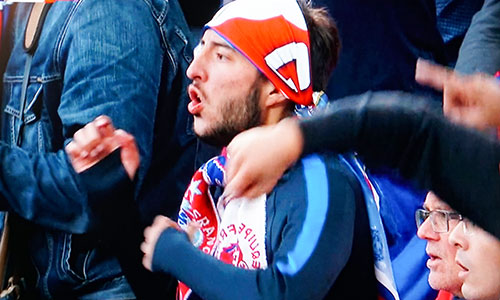 France 1 Peru 0 June 21st 2018
A first half goal by Mbappe put France through to the last 16 and Peru back home
Argentina 0 Croatia 3 June 21st 2018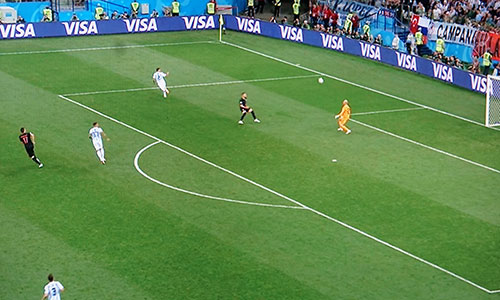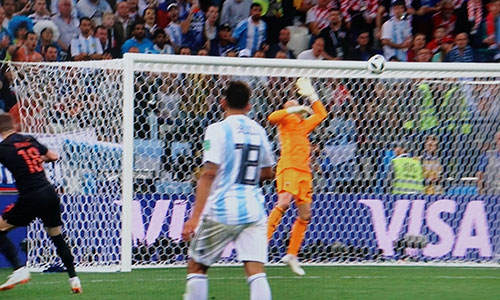 A terrible mistake by Willy Caballero gave Rebic the chance to put Croatia ahead after 53 minutes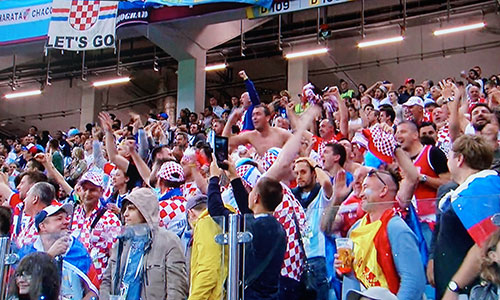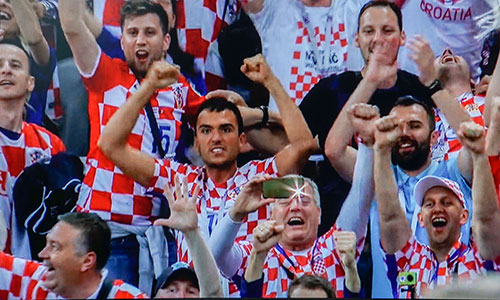 There was little to be seen of Messi or Aguero as Croatia celebrated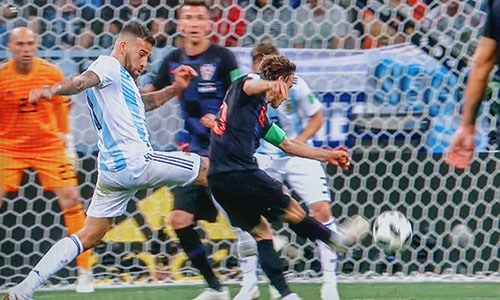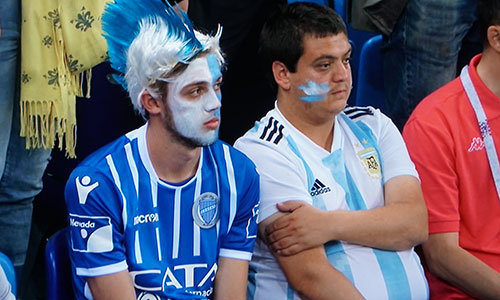 An excellent strike by Modric on 80 minutes added to Argentina's misery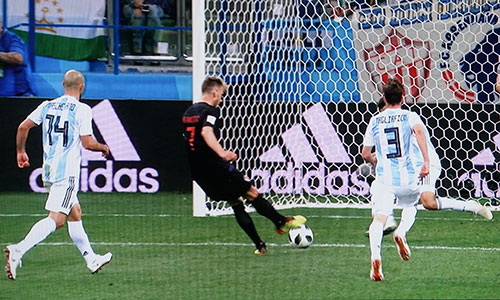 Rakitic put the game to bed with a third goal in added time and it looks like farewell to Messi and Aguero
Brazil 2 Costa Rica 0 June 22nd 2018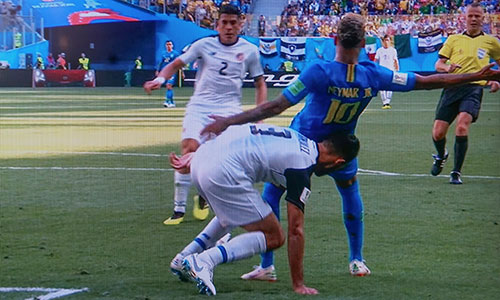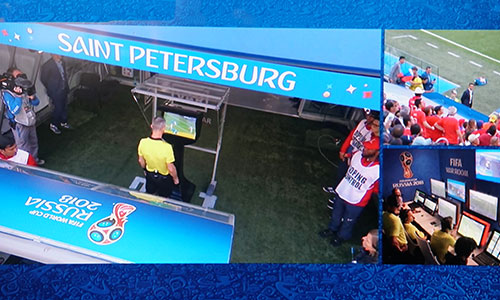 Neymar tried to get a penalty but VAR said NO!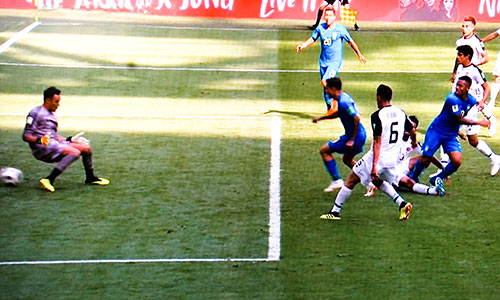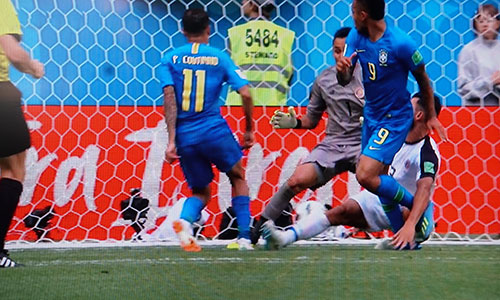 Fortunately for Brazil Cortinho managed to put them ahead in added time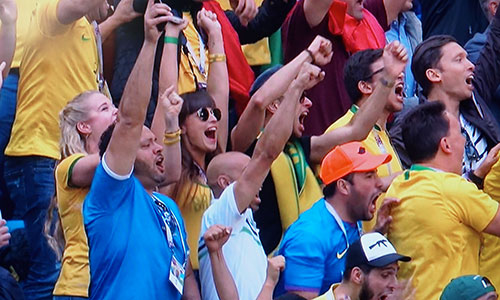 It must have been a big relief for Brazil fans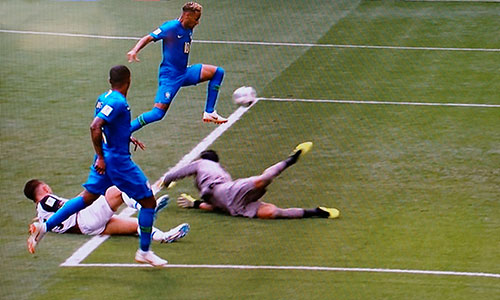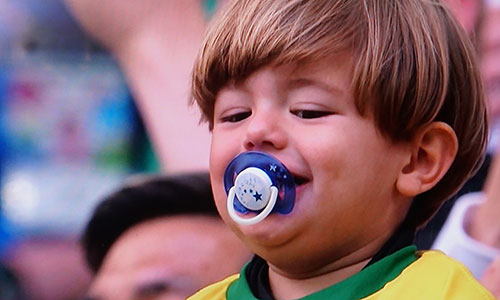 When Neymar scored a second on 97 minutes there was a big smile on this supporter!
Nigeria 2 Iceland 0 June 22nd 2018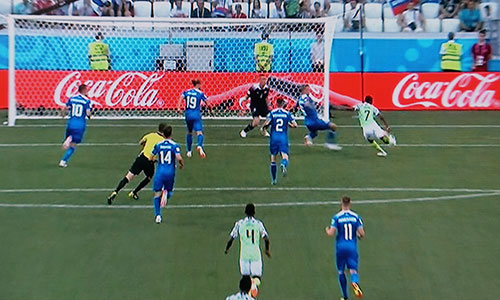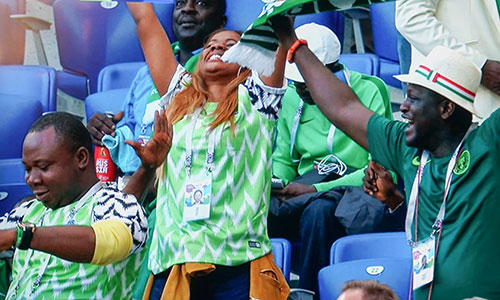 Early in the second half Musa scored a terrific goal to put Nigeria ahead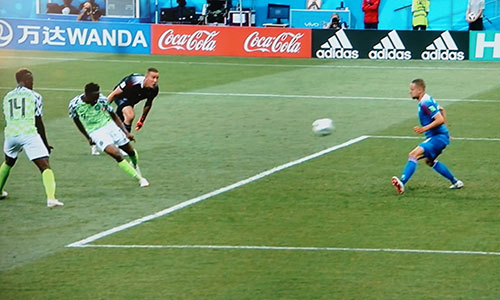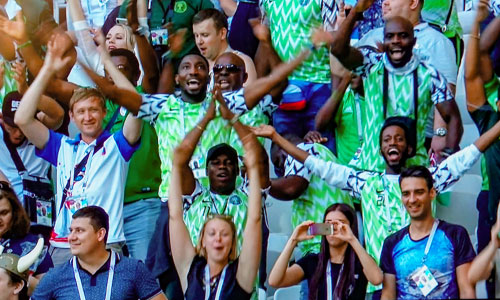 Musa scored again after 75 minutes and it looked game over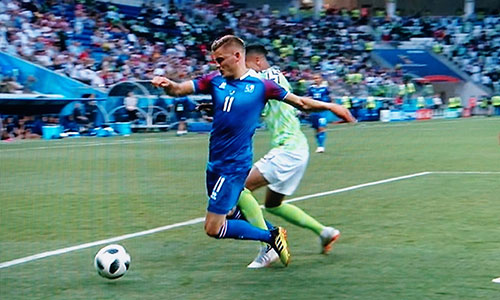 With ten minutes to go Iceland got a penalty thanks to VAR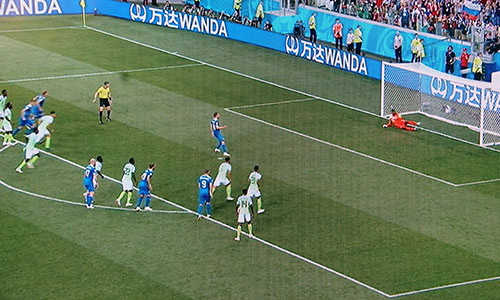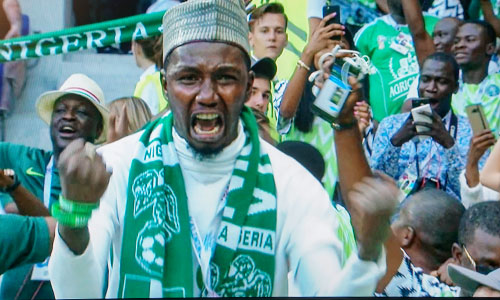 However Sigurdsson blazed the ball over the bar
Serbia 1 Switzerland 2 June 22nd 2018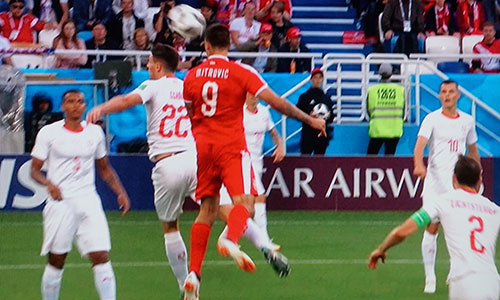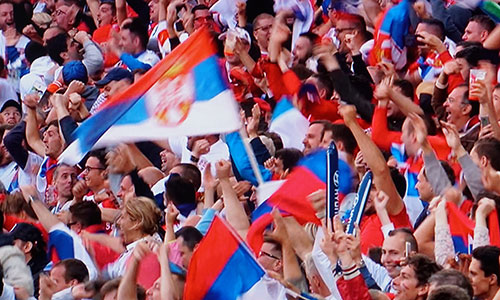 Mitrovic put Serbia ahead early in the game with a header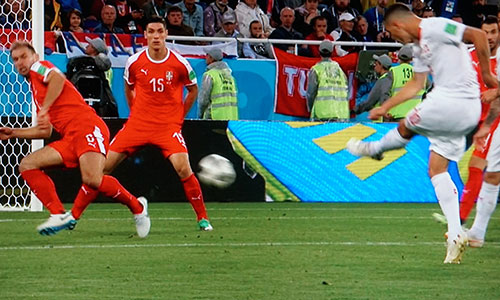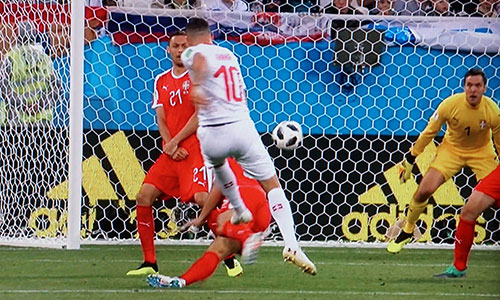 Xhaka scored a terrific goal after 52 minutes to put Switzerland level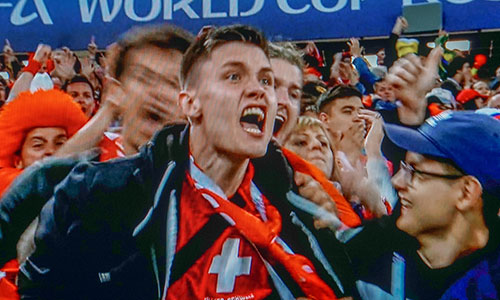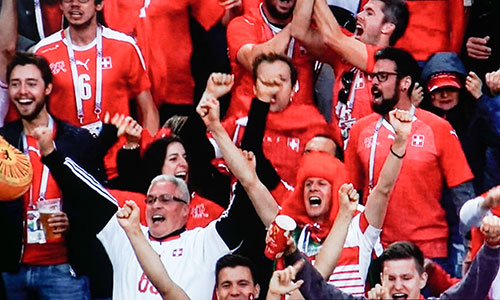 The Swiss were very happy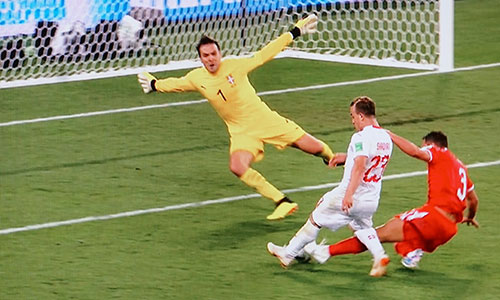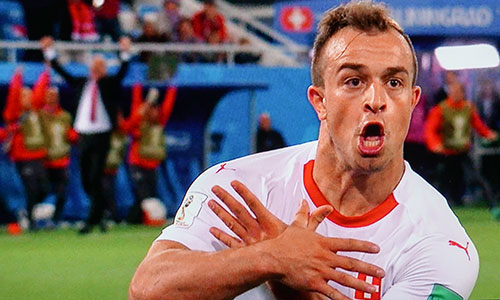 Almost on full time we had a magical moment from Shaqiri to win the game for Switzerland
Belgium 5 Tunisia 2 June 23rd 2018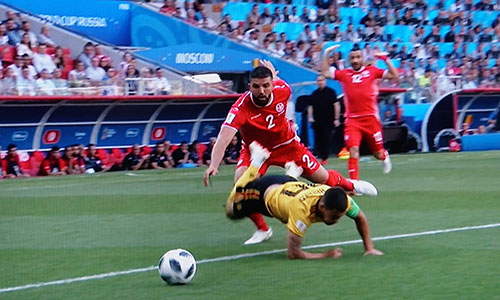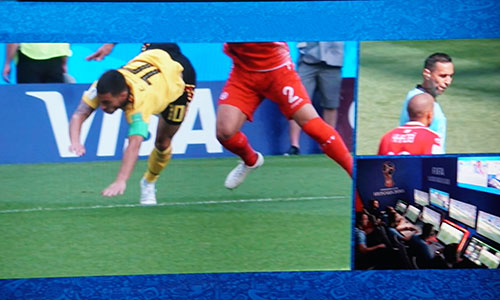 Belgium won themselves a penalty early in the game when Hazard was brought down - VAR yet again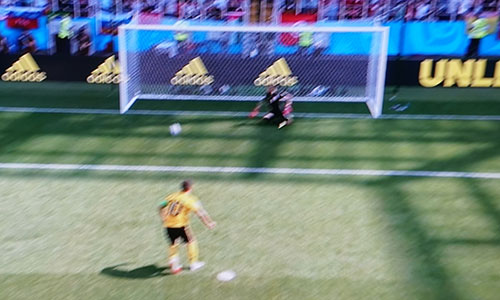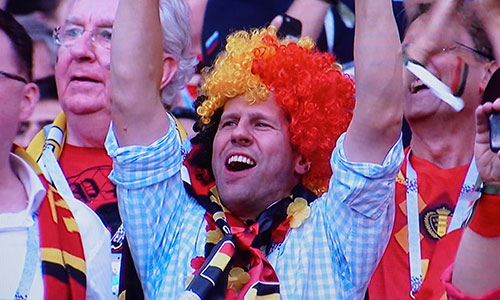 Hazard scored and Belgium were one up on 5 minutes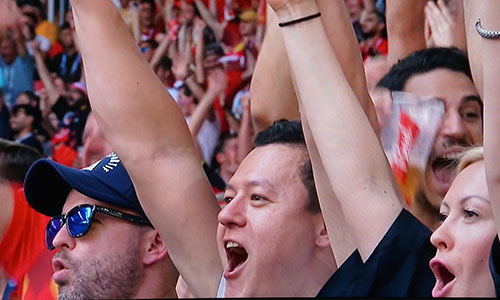 Lukaku made it two nil after 16 minutes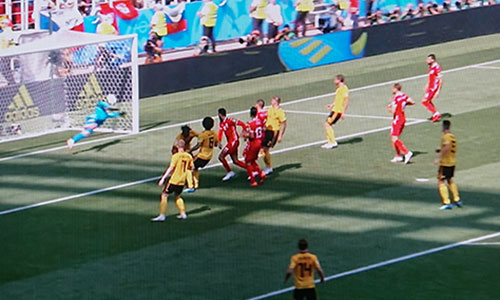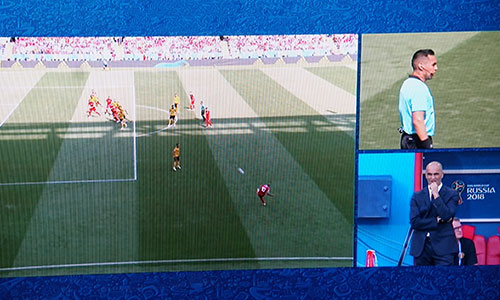 Var was used to confirm a goal by Bronn for Tunisia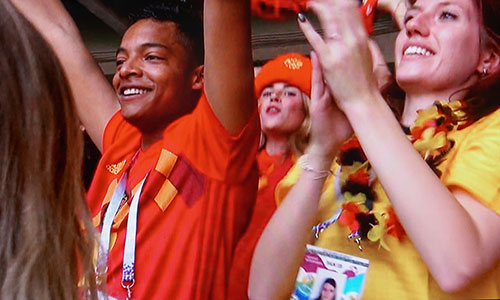 Lukakomade it three one just before half time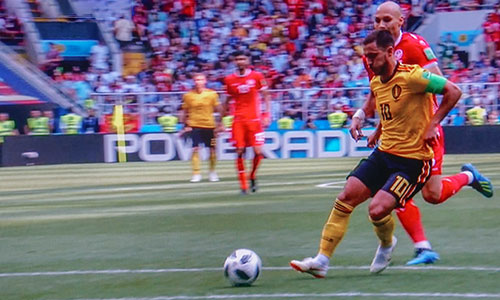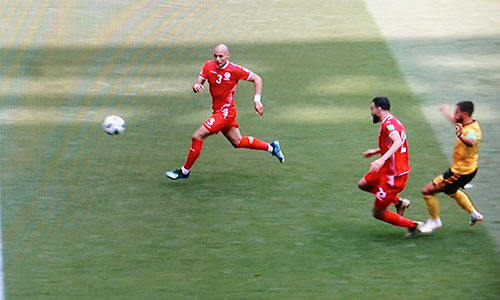 Hazard made it 4-1 early in the second half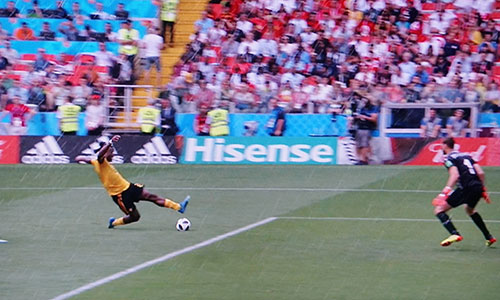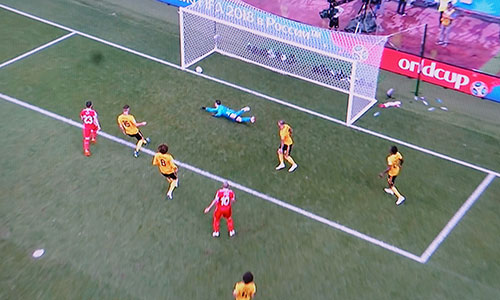 Batshuay scored number five just on 90 minutes
Khazri then got a second for Tunisia
South Korea 1 Mexico 2 June 23rd 2018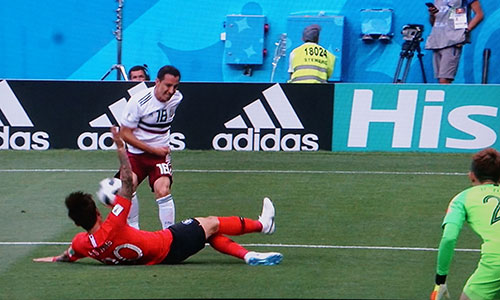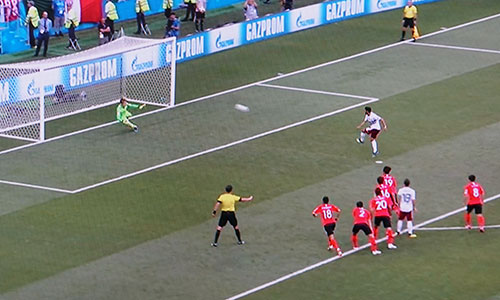 Mexico got a penalty for handball and Vela scored from the spot on 26 minutes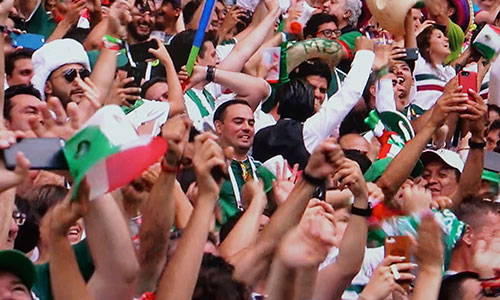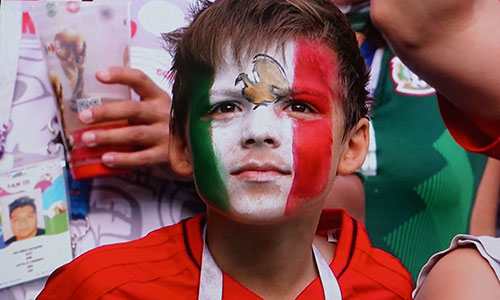 There was a lot of support for Mexico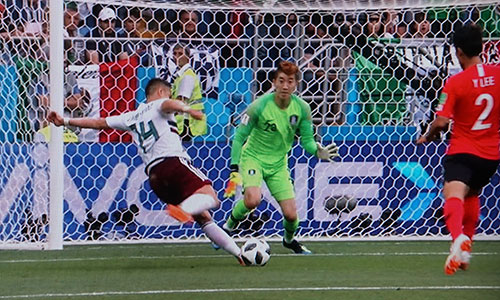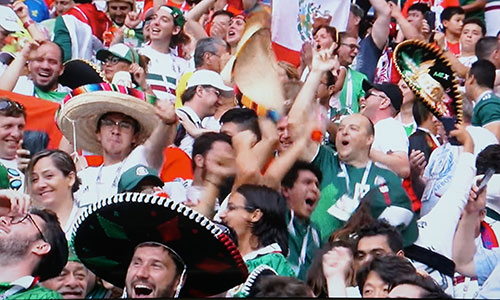 Hernandez hit a good goal on 66 minutes to put Mexico two up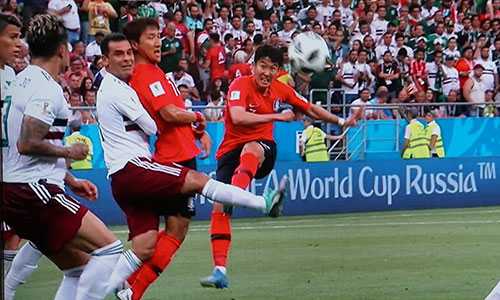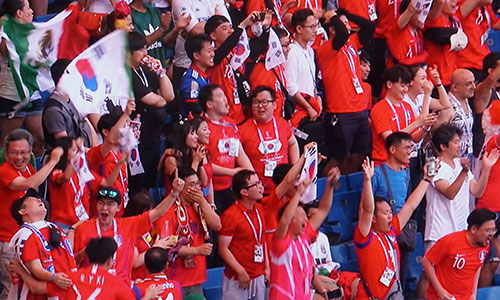 Son scored on 90 minutes to give the Koreans something to cheer about
Germany 2 Sweden 1 June 24th 2018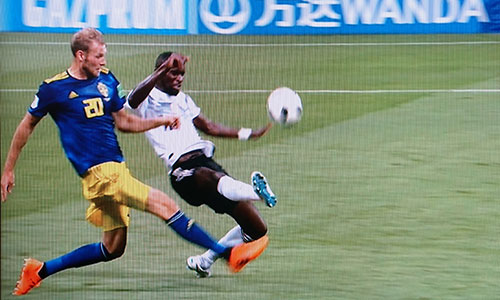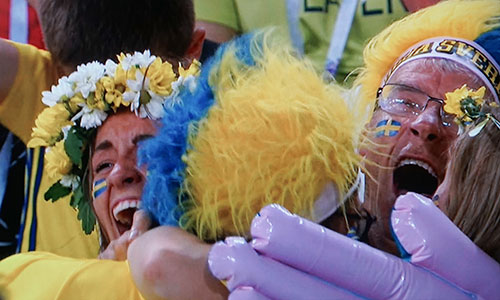 Wow there's a surprise - Sweden take the led through Tolvonen after 32 minutes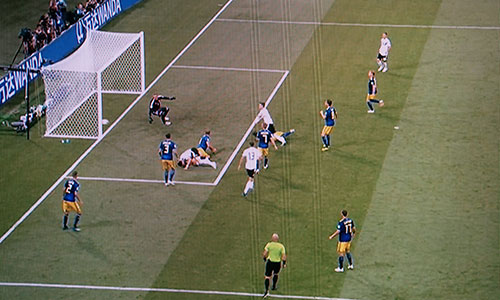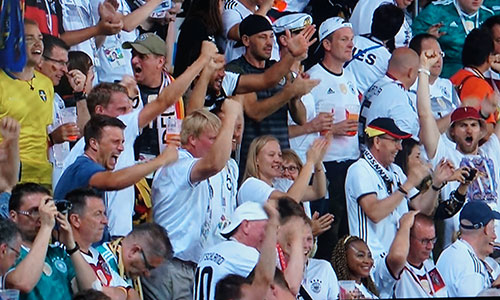 after 48 minutes Reus scored to level the score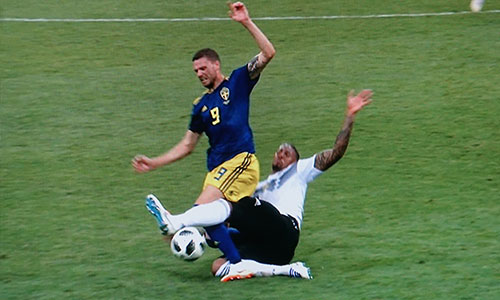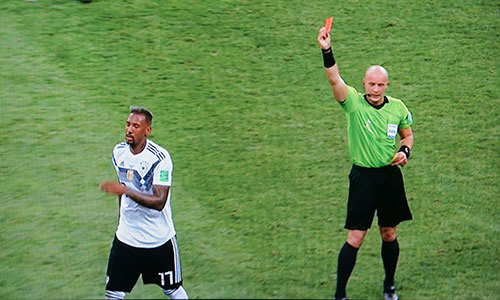 with twenty minutes to go Ex City Boateng got a red card for a second yellow -Germany down to ten men!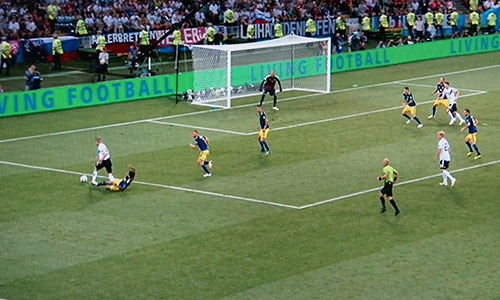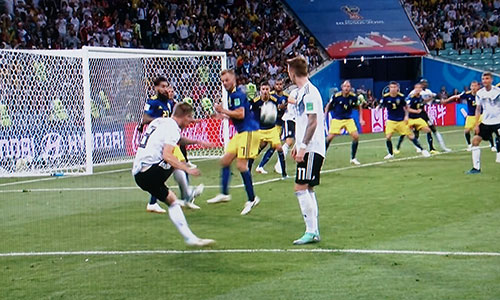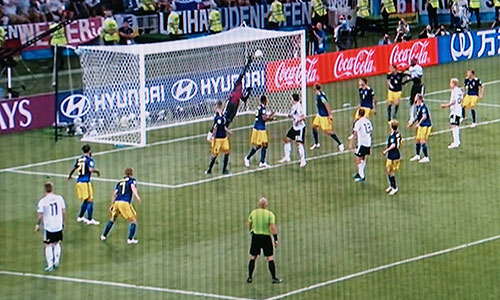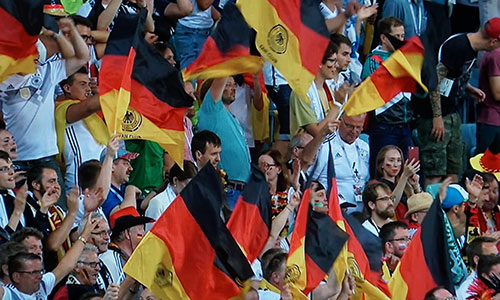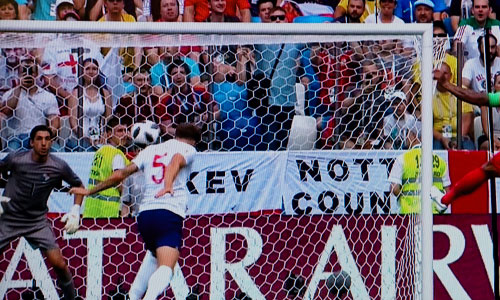 In added time Germany won a free kick and Kroos took a brilliant free kick which went over the wall .......
....and into the far top corner! What a GREAT ESCAPE that was!
England 6 Panama 1 June 24th 2018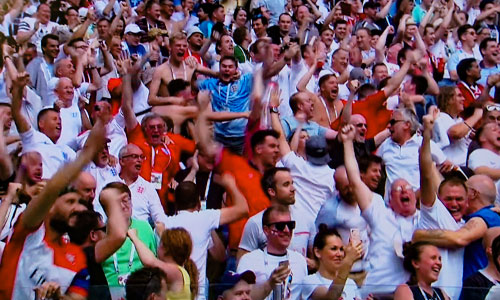 John Stones headed England into an early lead after just 8 minutes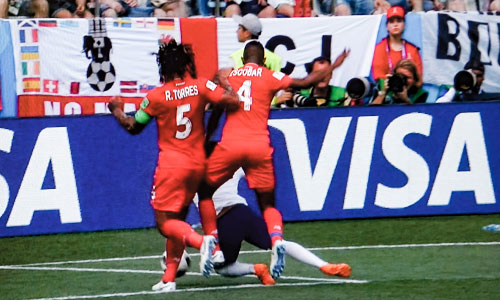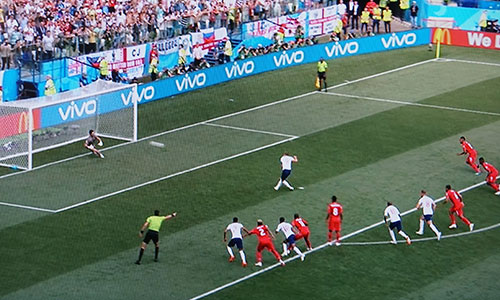 A foul on Lingard gave Kane the chance to score from the penalty - he blasted it in England 2 nil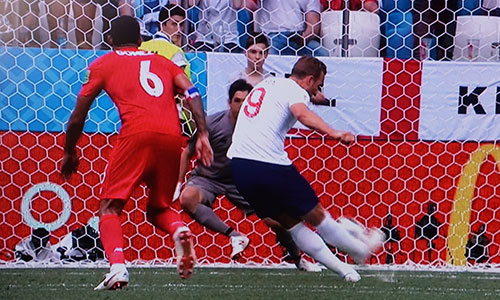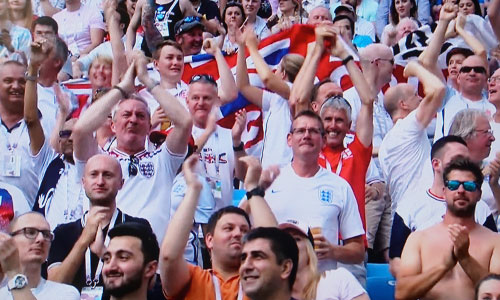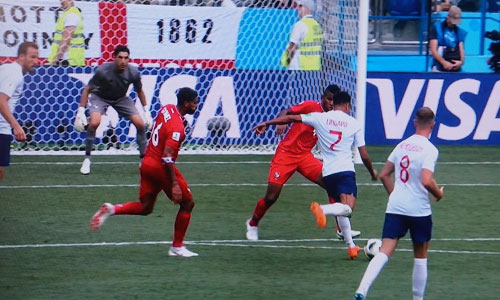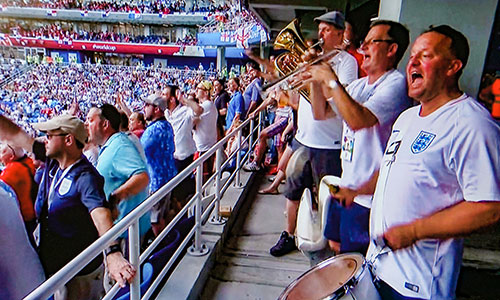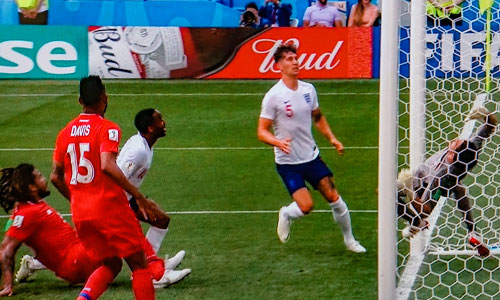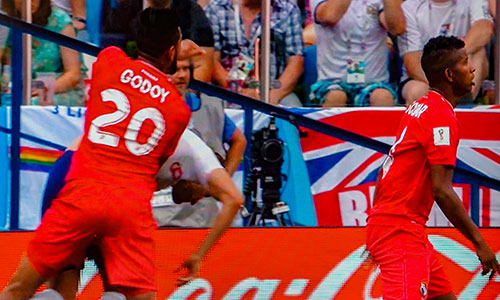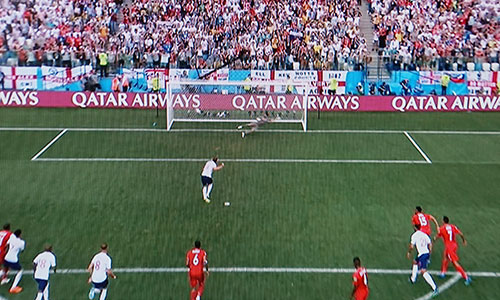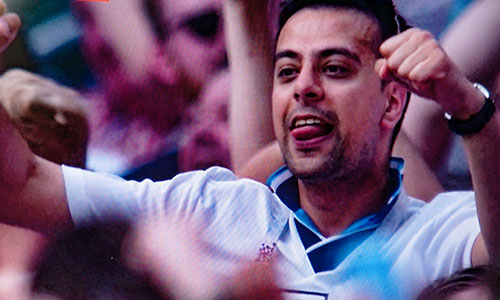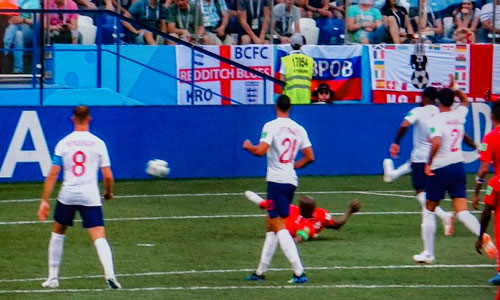 It was looking very easy for England and they were playing well
On 36 minutes Lingard took a pass from Sterling and shot past the keeper to make it thee nil
Then Stones scored again following a corner and it was four to England
Just on half time it was another penalty for England
Kane scored once more from the spot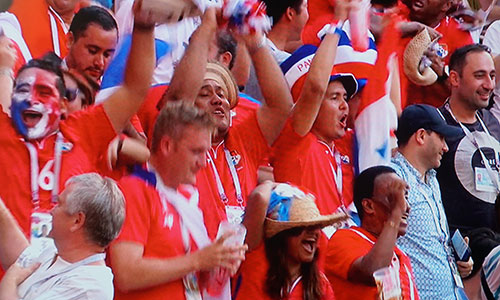 Kane completed his hat-trick on 62 minutes
Panama did score late on to give their fans something to cheer about
Japan 2 Senegal 2 June 24th 2018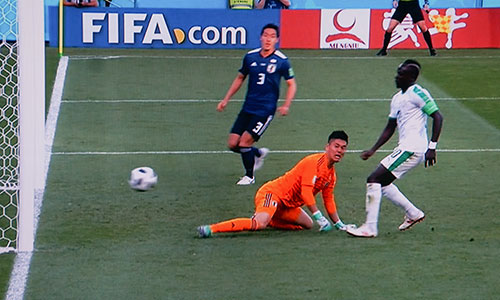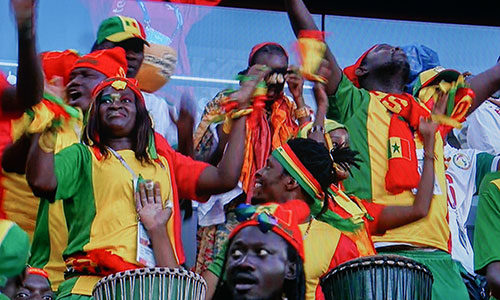 Senegal took the lead with an effort by Mane on 11 minutes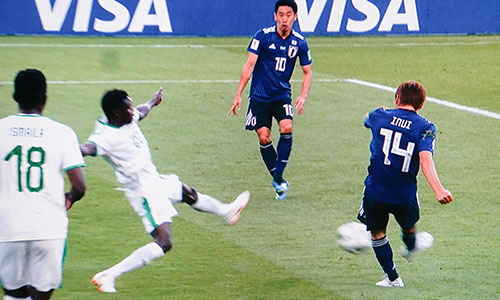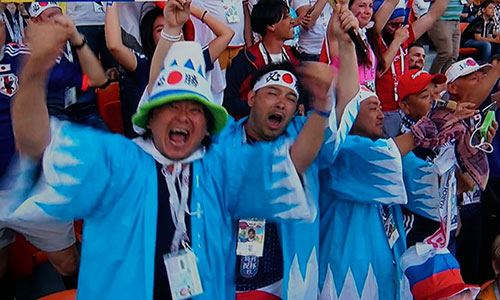 Inui equalized for Japan twenty odd minutes later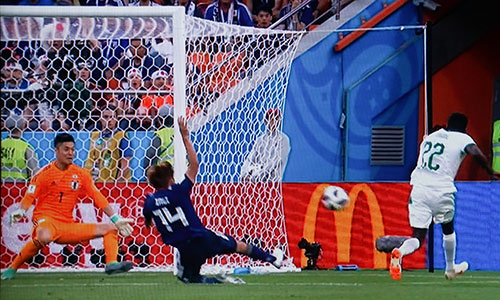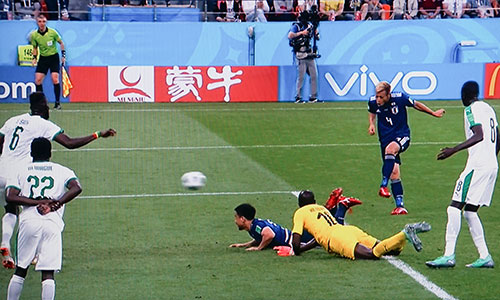 On 71 minutes Wague took Senegal ahead but 7 minutes later Honda 'drove' the ball home to equal the scores
Poland 0 Columbia 3 June 24th 2018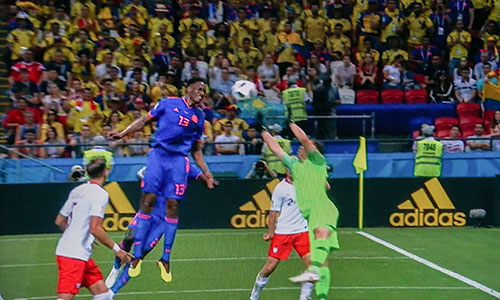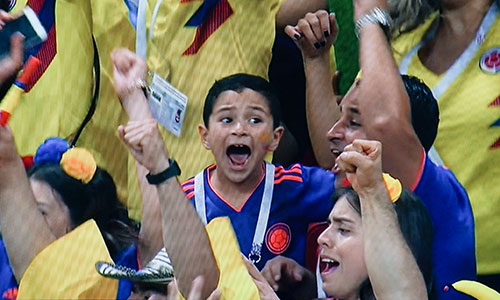 Columbia take the lead with a header from Mina just before the interval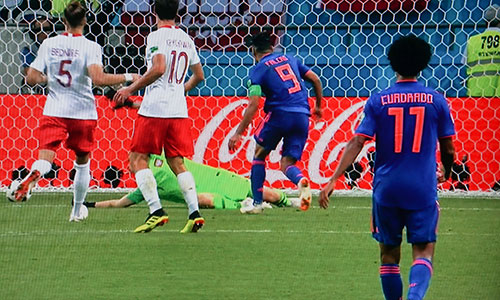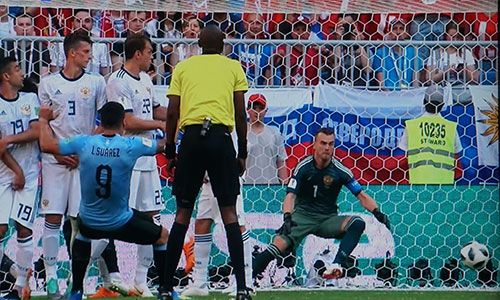 Falcao made it two nil after 70 minutes and Cuadrado added a third five minutes later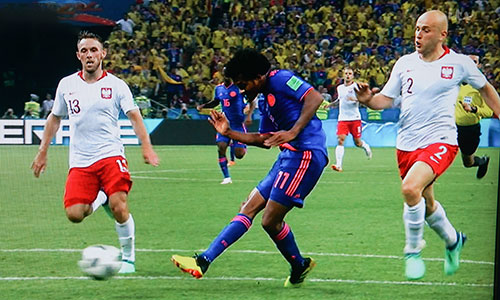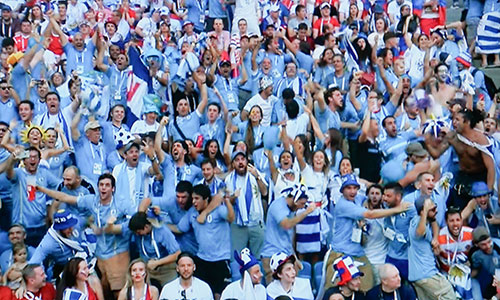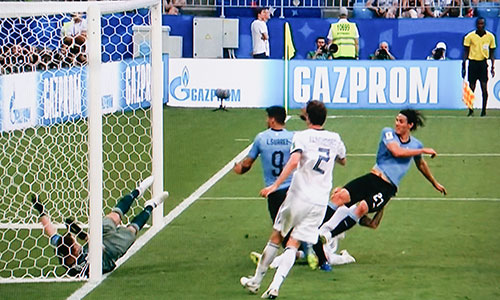 Uruguay 3 Russia 0 June 25th 2018
Suarez scored with a great free kick after just ten minutes and Uruguay were one up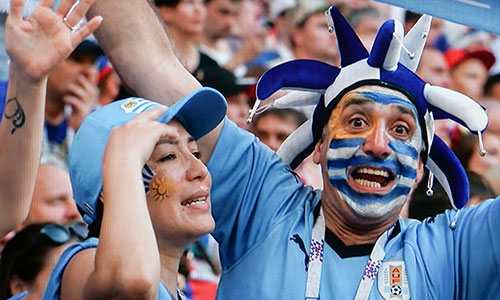 After an own goal on 23 minutes Cavani scored a third just before the end
Saudi Arabia 2 Egypt 1 June 25th 2018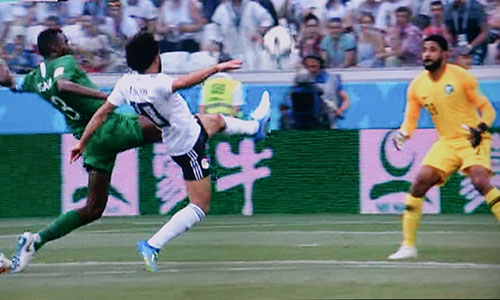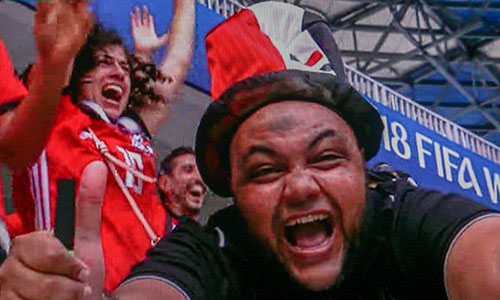 Egypt took the lead - Salah scoring after 20 odd minutes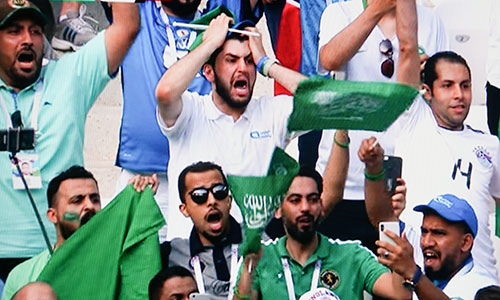 The Egyptian keeper saved a penalty by Almuwallad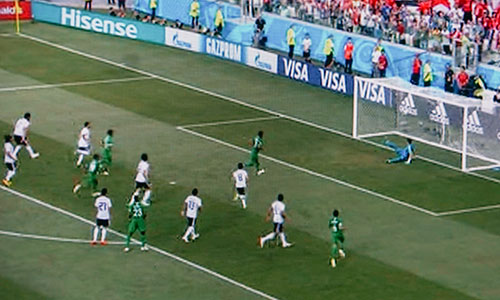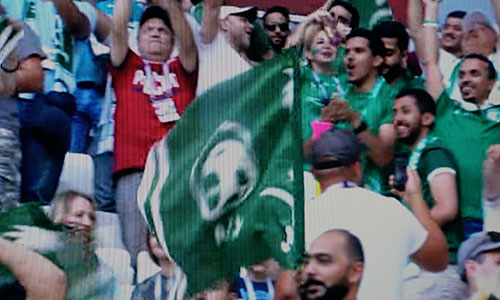 but he could not save a second penalty taken by Alfaraj at the end of the first half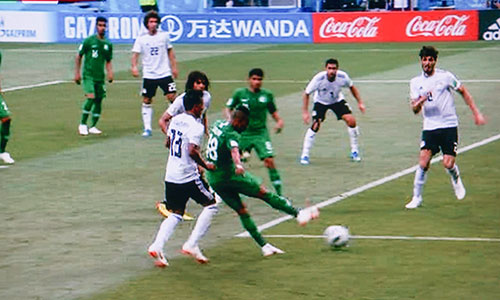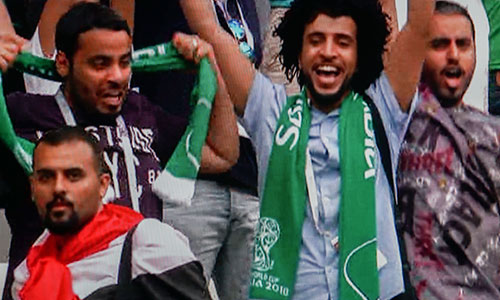 Aldawsari scored the winner right at the end of added time
Iran 1 Portugal 1 June 25th 2018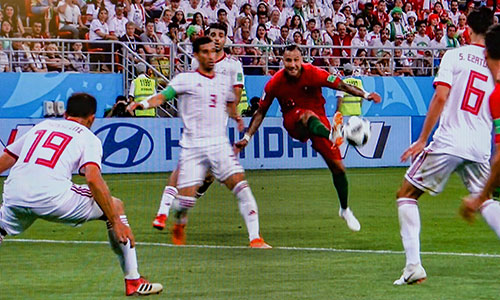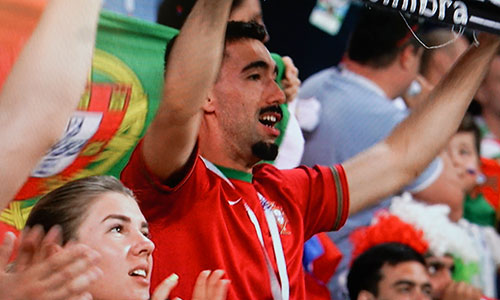 Quaresma gave Portugal the lead just on half time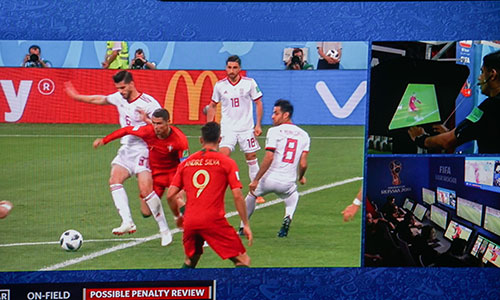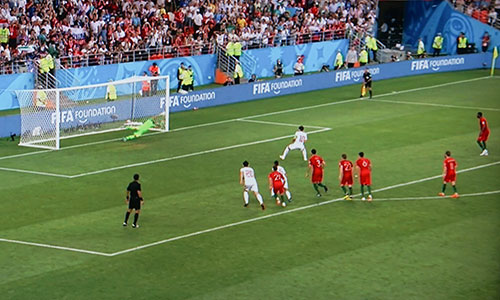 Thanks to VAR Iran got a penalty in added time to level the scores - Ansarifard scoring from the spot
Spain 2 Morocco 2 June 25th 2018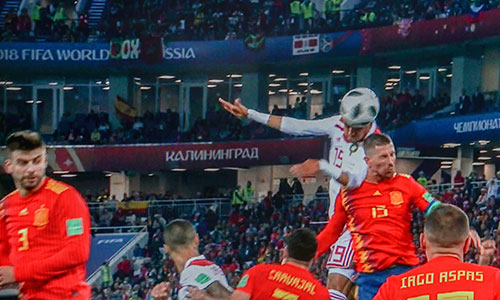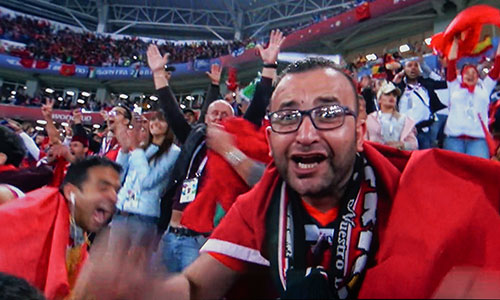 Boitaib gave Morocco the lead after 14 minutes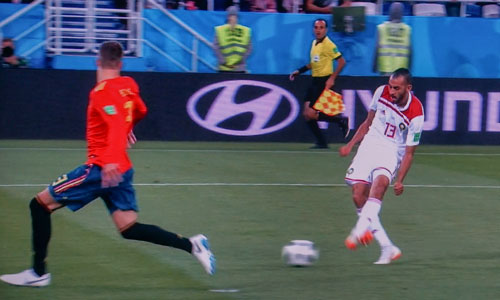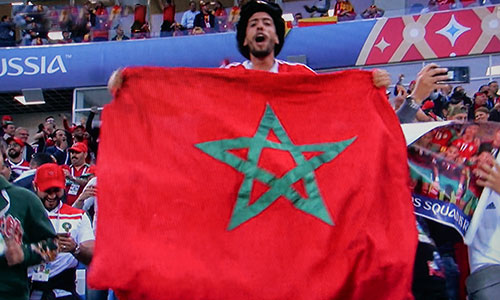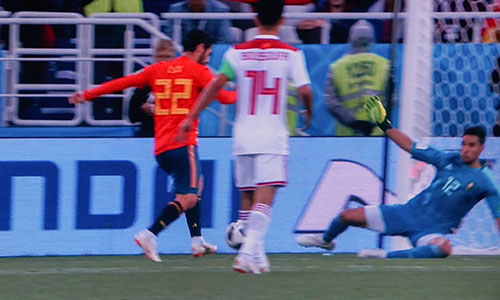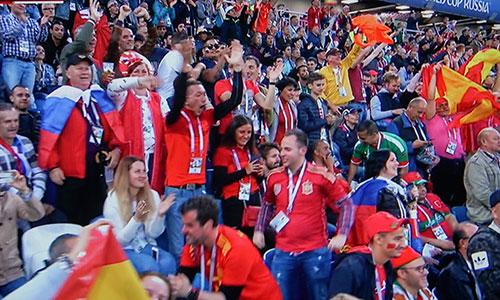 Five minutes later Isco levelled the scores
With twenty minutes to go a good header by En Nesyri put Morocco ahead again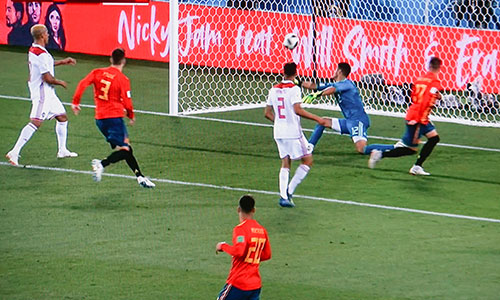 Spain left it until the final moments to score through Aspas thanks to VAR over-ruling the offside flag
Denmark 0 France 0 June 2th 2018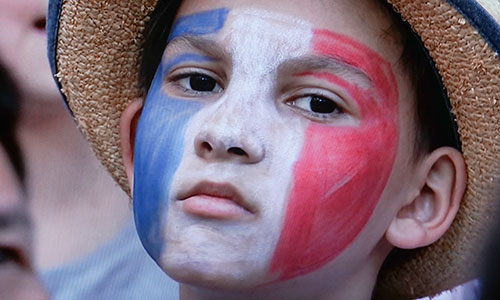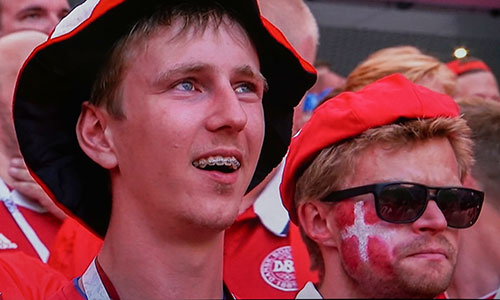 A pretty boring draw - time for a nap! The first goalless draw
Australia 0 Peru 2 June 26th 2018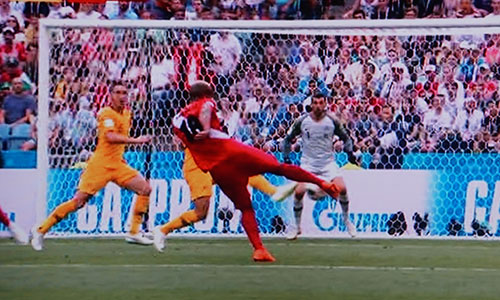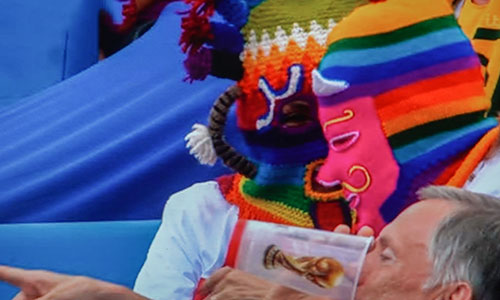 Carrillo scored for Peru on 18 minutes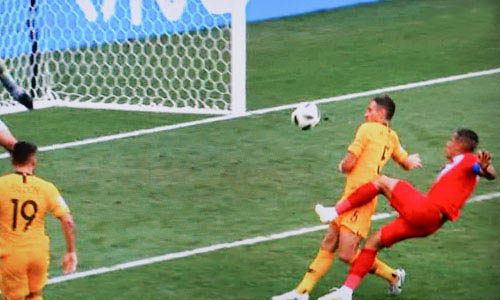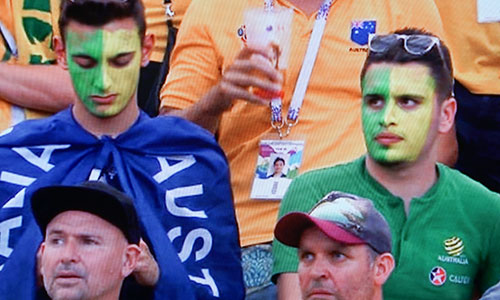 Guerrero made it two nil and the Aussies look a bit down
Nigeria 1 Argentina 2 June 26th 2018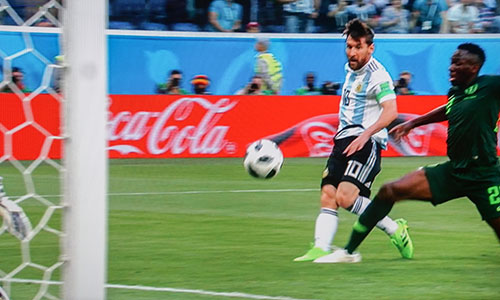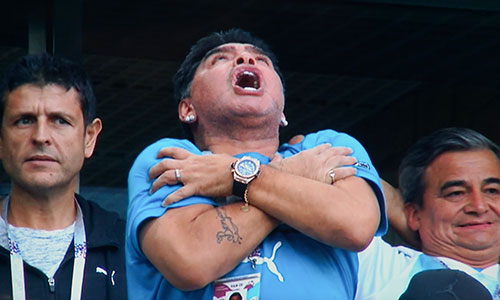 Messi scored a great goal after just 14 minutes and a certain person in the stand liked it!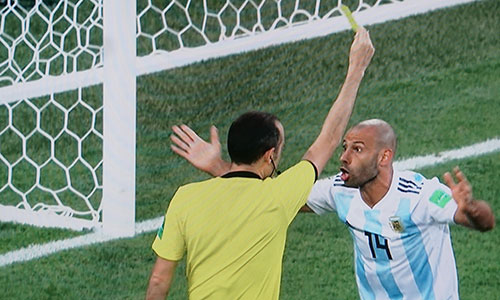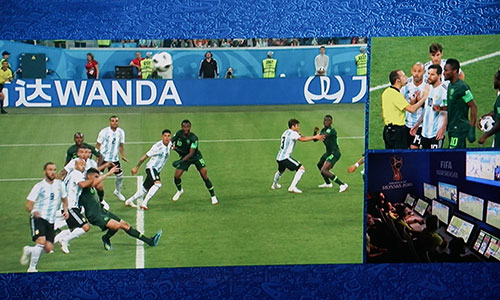 Mascherano gets a yellow card and Nigeria get a penalty thanks to VAR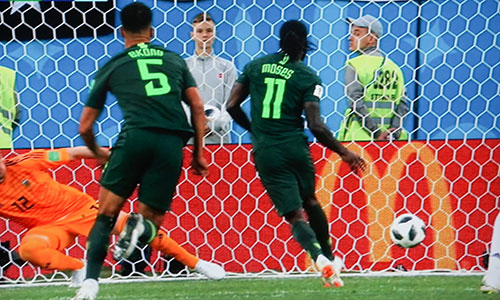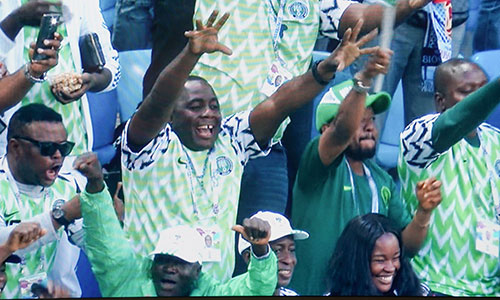 Moses scores the penalty and it's one all after 50 minutes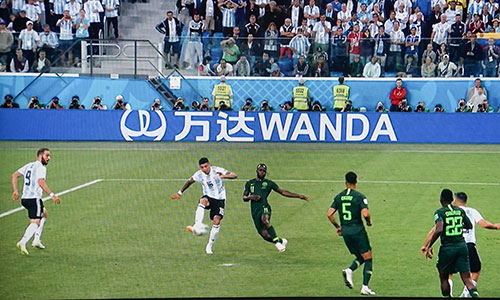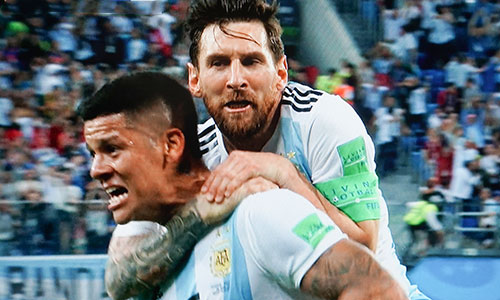 Rojo scores the winning goal and gets a special thanks from Messi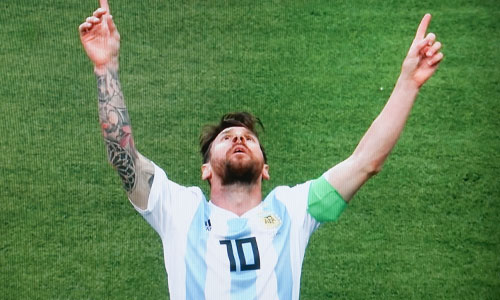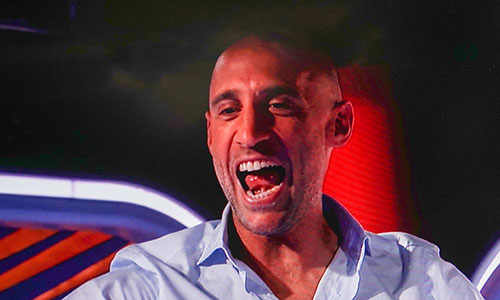 Messi was back to his best and in the BBC box Zabaleta liked the goal too!
South Korea 2 Germany 0 Jun2 27th 2018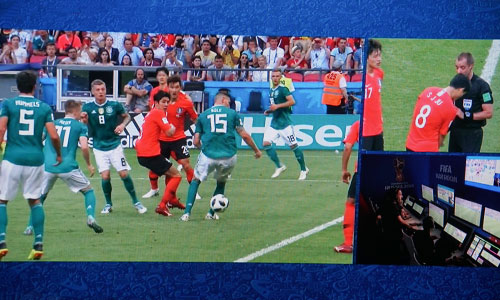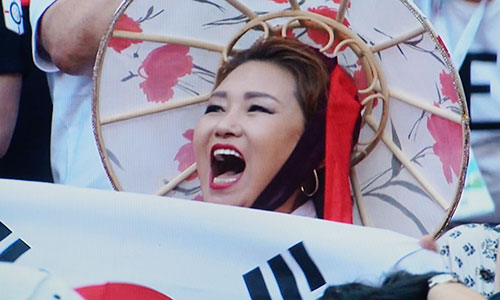 VAR proved that the ball came off a defender in stoppage time to give Korea the lead through Kim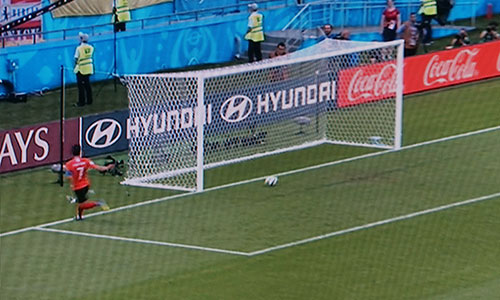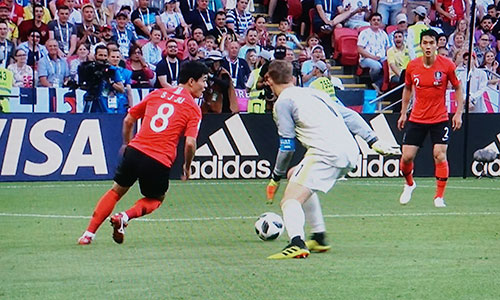 With seconds to go keeper Neuer was in midfield and when he was beaten by Son there was nobody in goal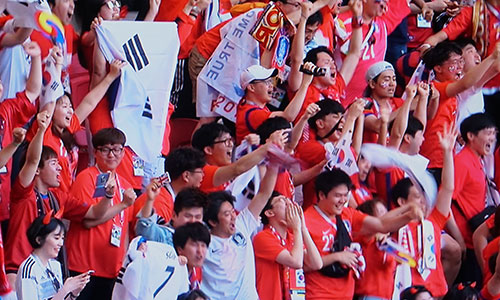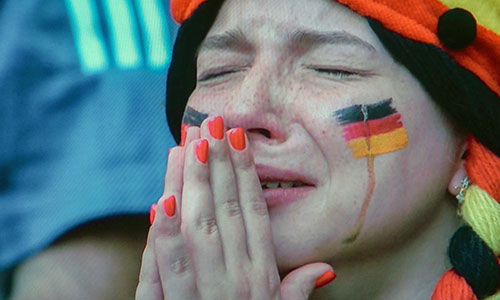 Incredible - the reigning champions were out - I wonder whether the inclusion of Sane would have made a difference!
Mexico 0 Sweden 3 June 27th 2018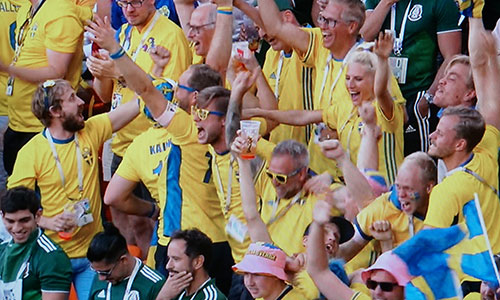 Augustinsson scored after 50 minutes to give Sweden the lead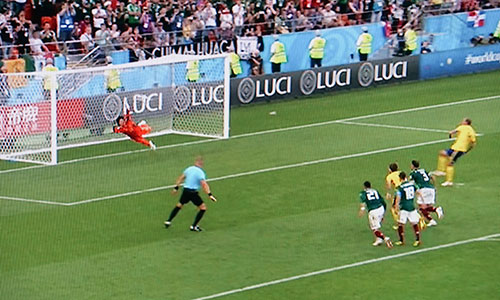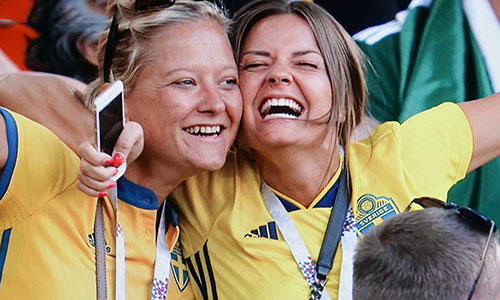 Granqvist made it two nil with a penalty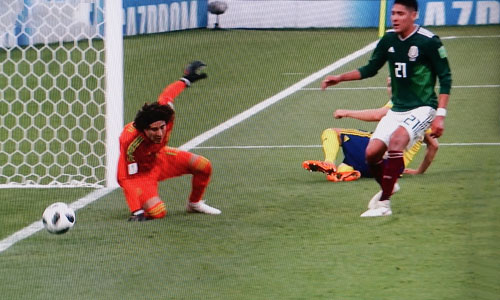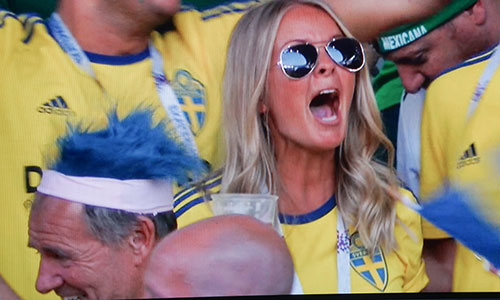 An own goal by Alvarez completed the scoring
Switzerland 2 Costa Rica 2 June 27th 2018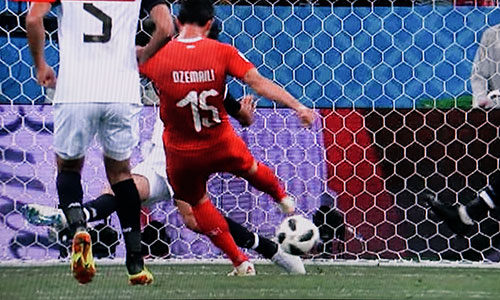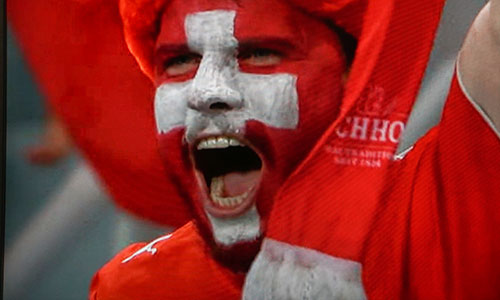 Dzemalli scored for Switzerland after thirty minutes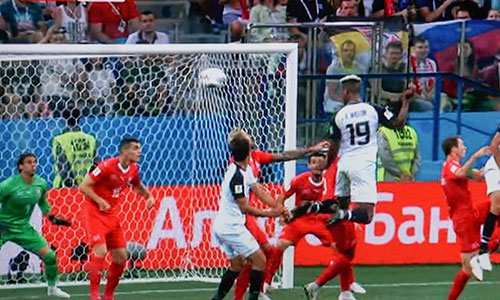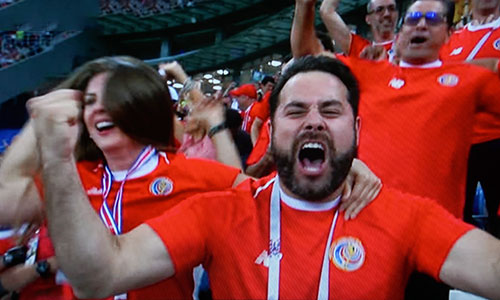 A header from Waston gave Costa Rica a goal on 5 minutes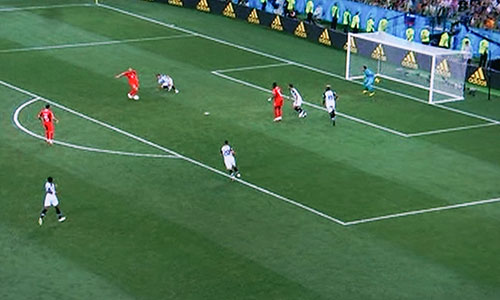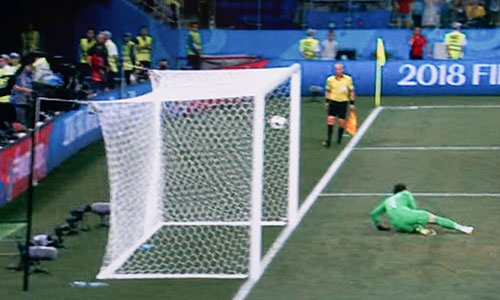 Drmic put the Swiss ahead on 88 minutes but in added time Sommer was unlucky to concede the second Costa Rica goal
Serbia 0 Brazil 2 June 27th 2018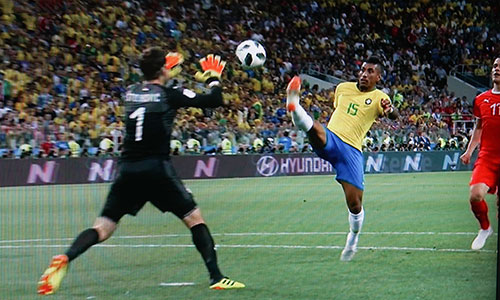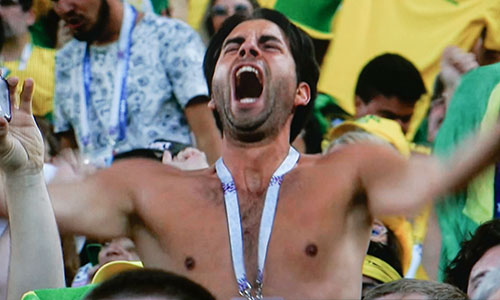 A great goal by Paulinho gave Brazil the lead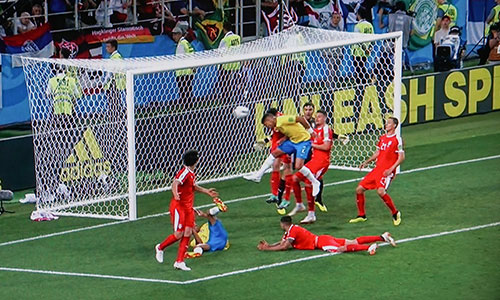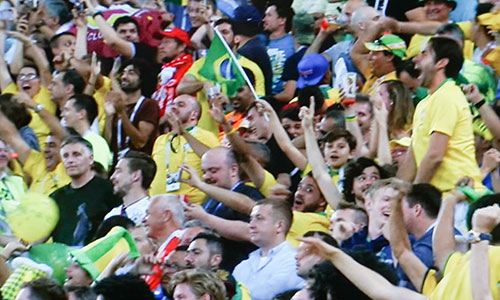 Thiago Silva scored with header at a corner to finish the scoring for Brazil
Japan 0 Poland 1 June 28th 2018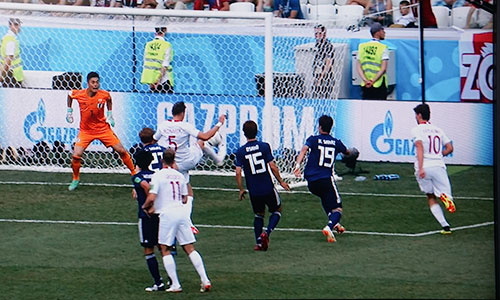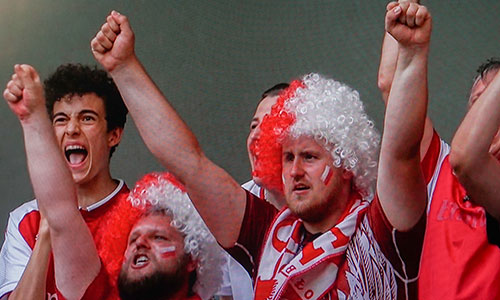 With 30 minutes to go Bednarek notched the only goal of the match
Senegal 0 Columbia 1 June 28th 2018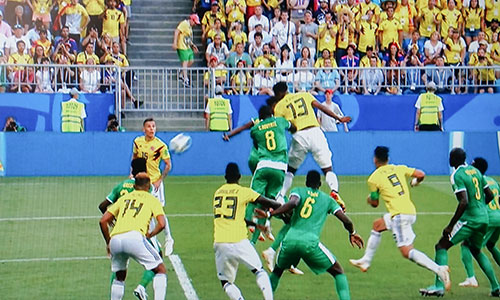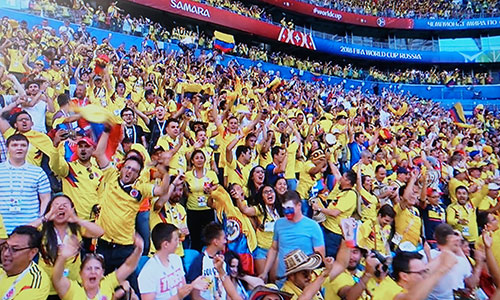 Mina scored the only goal of the game
Panama 1 Tunisia 2 June 28th 2018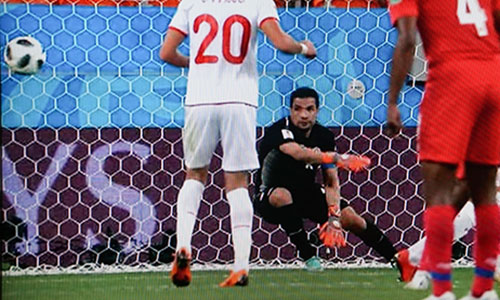 An own goal by Meriah gave the lead to Panama after 33 minutes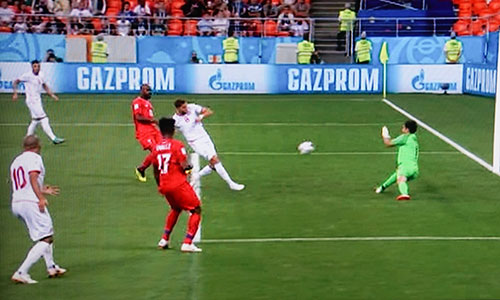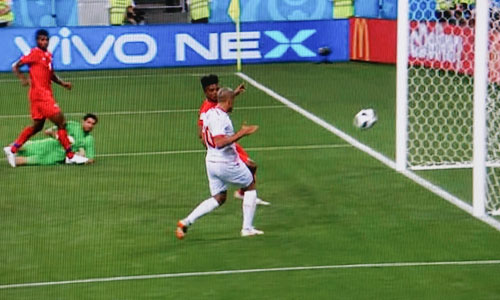 Second half goals by Youssef and Khaszri won the match for Tunisia
England res 0 Belgium res 1 June 28th 2018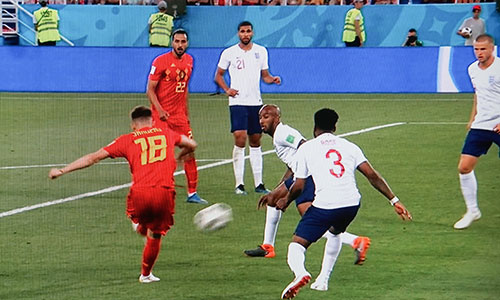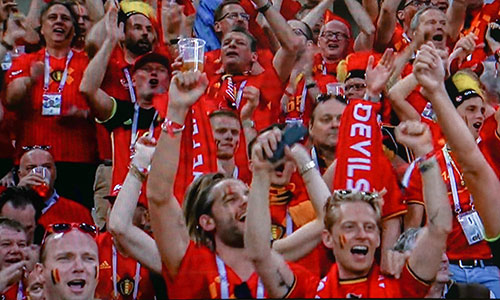 Not a game that will be remembered a great deal as both side made umpteen changes but the winning goal was scored by Januzaj
So 16 teams go through - France v Argentina, Uruguay v Portugal, Brazil v Mexico and belgium v Japan.
In the other half - Spain v Russia, Croatia v Denmark, Sweden v Switzerland and Columbia v England