World Cup 2018 -The Last 16
France 4 Argentina 3 June 30th 2018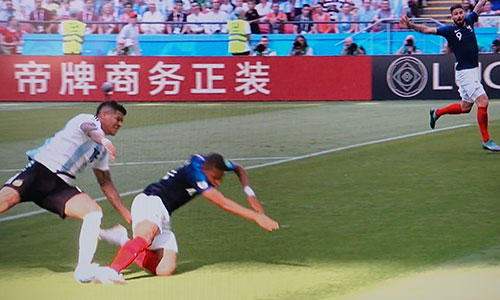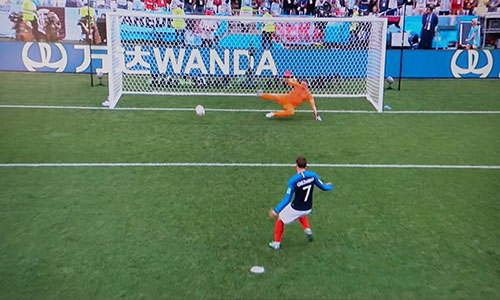 When Mbappe was brought down in the area Griezmann put away the penalty with ease to give France the lead after just 13 minutes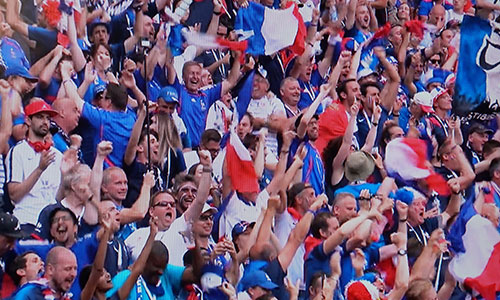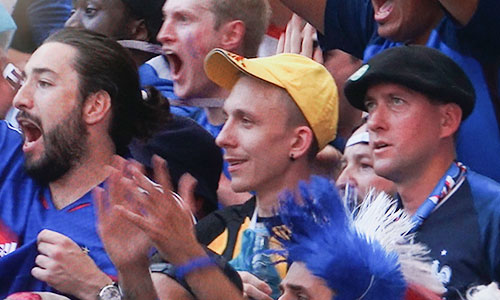 It was a terrific game and the French were the first to celebrate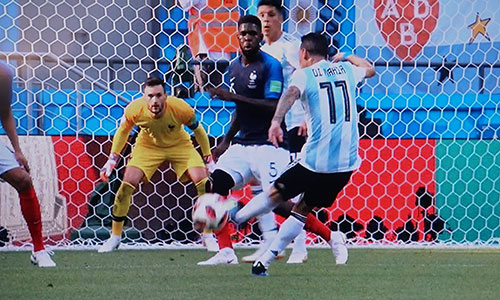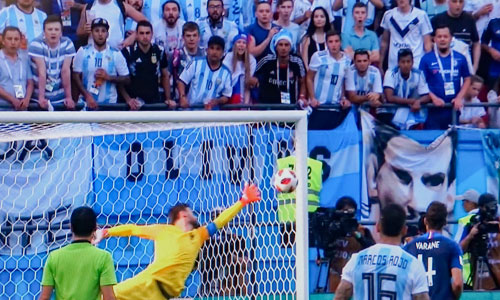 A great goal by Di Maria four minutes before half time levelled the scores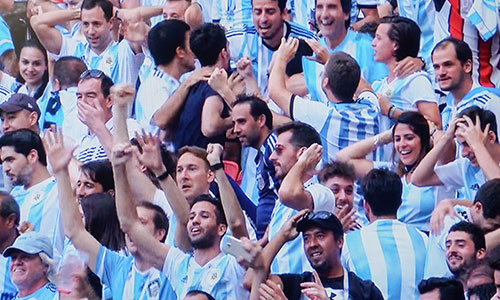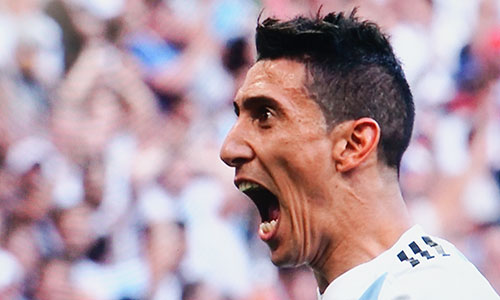 I think he was quite pleased about it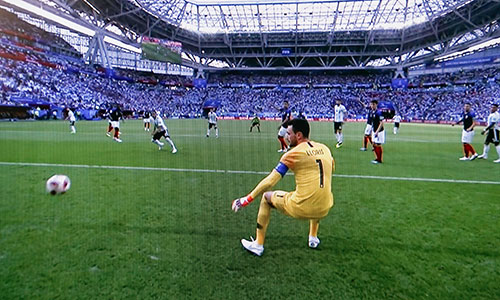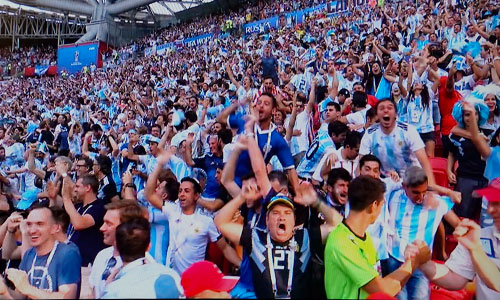 Just after half time Mercado put Argentina ahead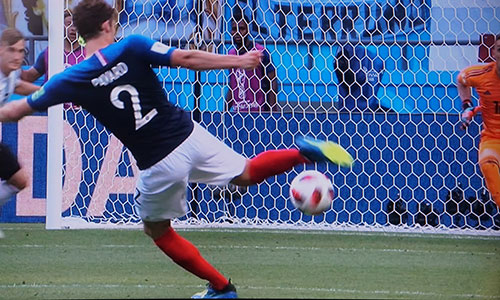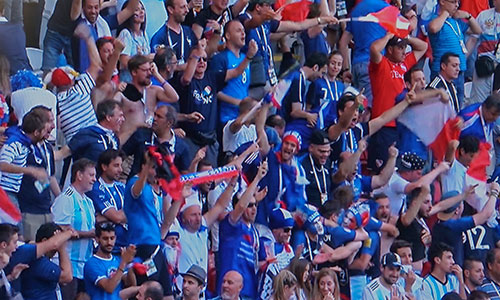 A great goal by Pavard on 57 minutes levelled the scores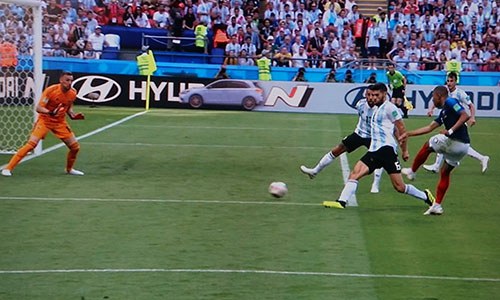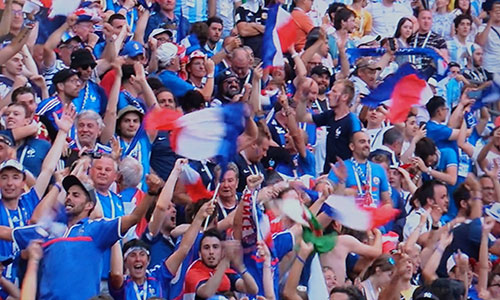 7 minutes later the ever dangerous Mbappe ( I'd like him at City!) scored to put France ahead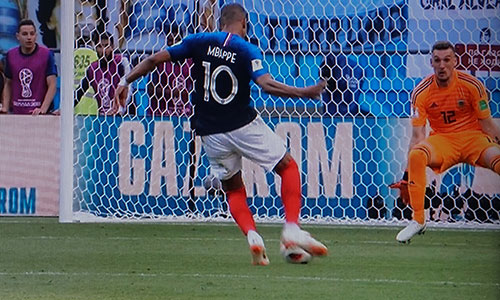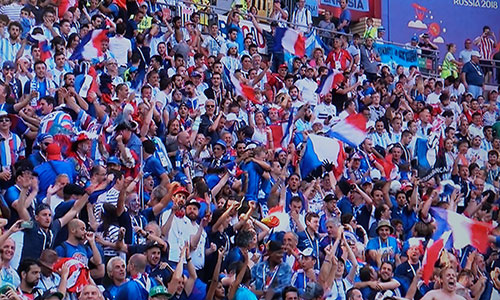 Mbappe was not finished and a few minutes later he made it 4-2 and game over - or was it!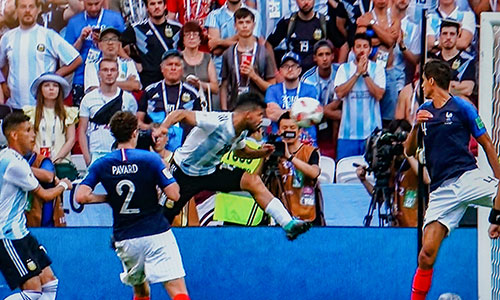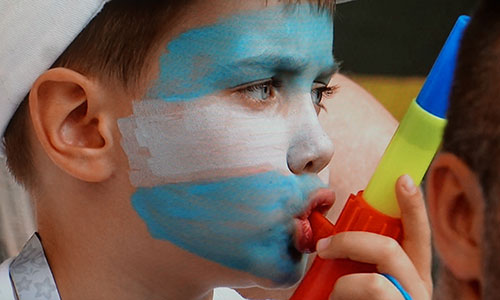 Argentina tried hard and managed a header by Aguero ( who else ) in the final seconds.
I bet this young man thought Sergio should have come on earlier!
Uruguay 2 Portugal 1 June 30th 2018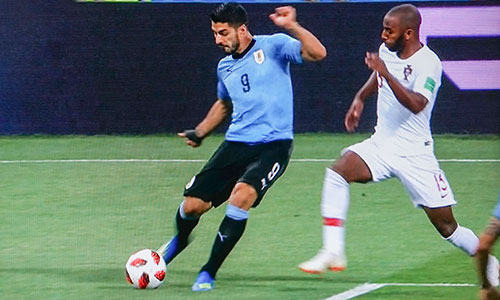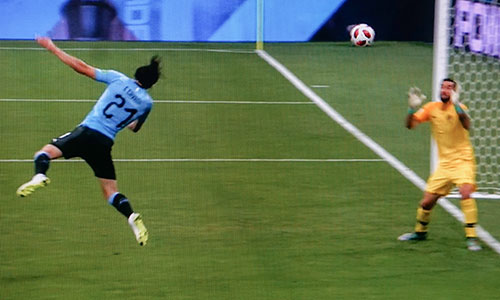 terrific play between Suarez and Cavani ended with Cavani giving Uruguay the lead after just 7 minutes.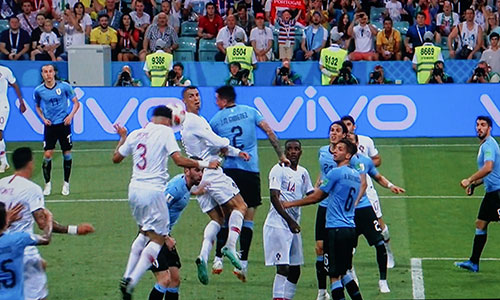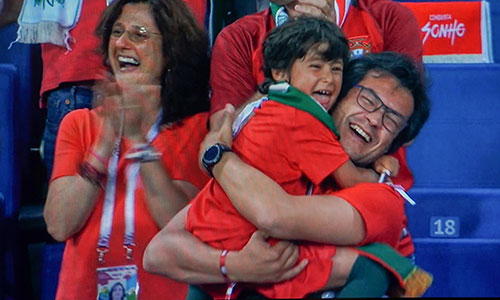 Pepe powered in a header to level the scores ten minutes into the second half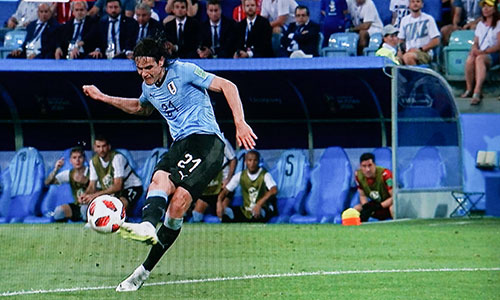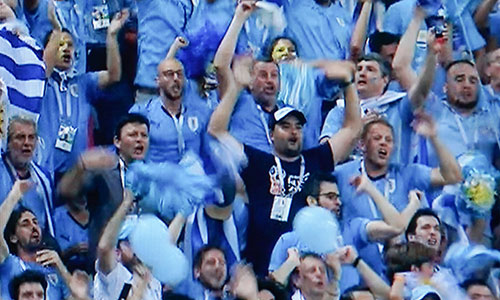 Cavani won the game for uruguay with an excellent goal on 62 minutes. Shame for Benardo Silver who worked his socks off
Spain 1 Russia 1 aet Russia won 4-3 penalties July 1st 2018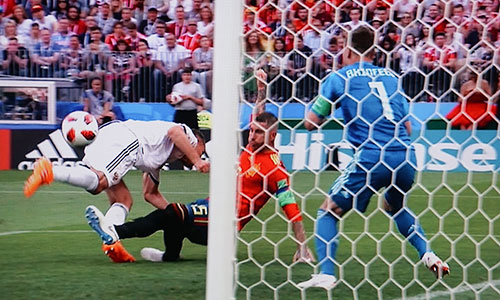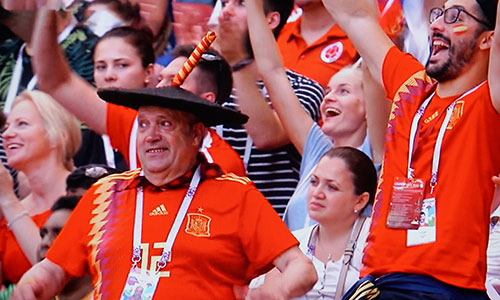 Spain took the lead through an own goal by Ignashevich after 12 minutes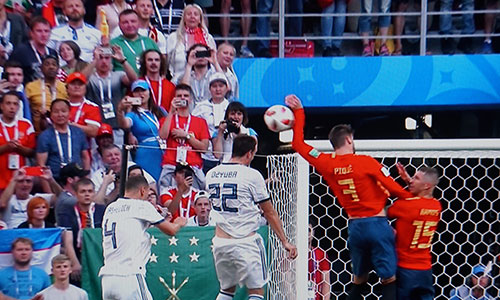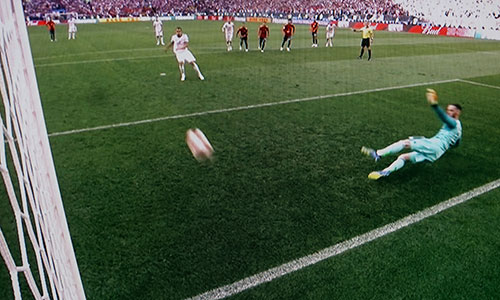 on 41 minutes a stupid hand ball by Pique gave Russia a penalty which Dzyuba put away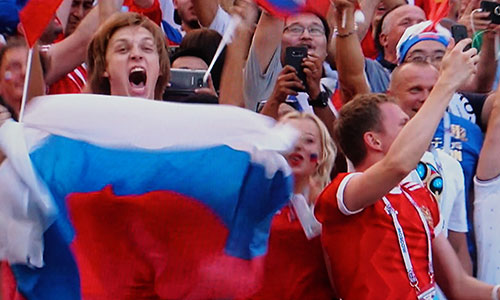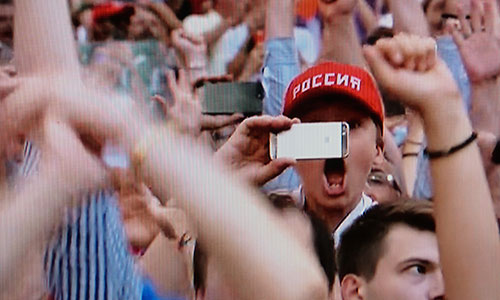 Oh the phones were out to capture the moment -Russia were level -and so were the scores after extra time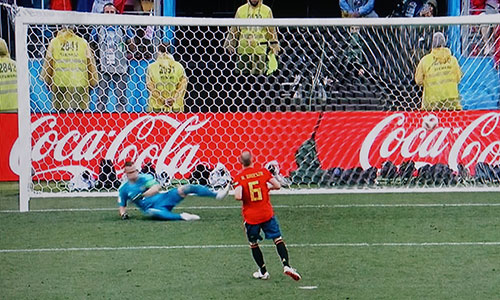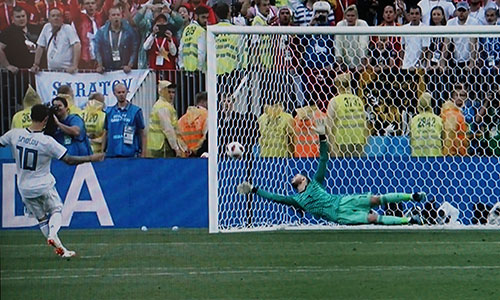 Iniesta took the first penalty and scored to put Spain ahead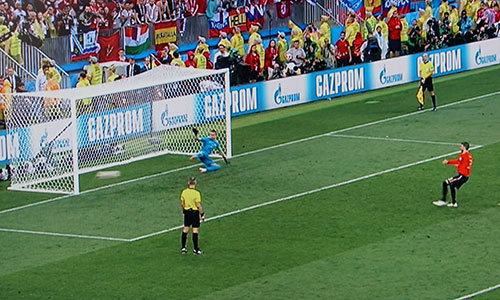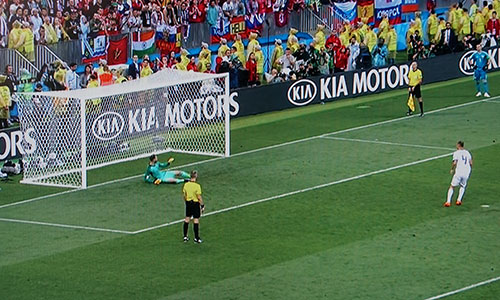 Pique and Ignashevich scored for their countries and it was two all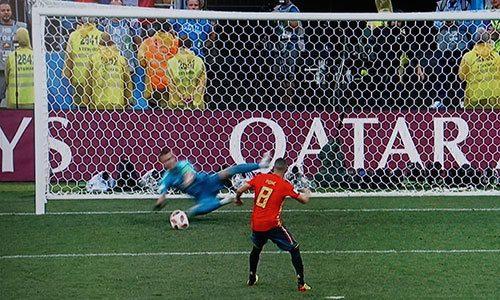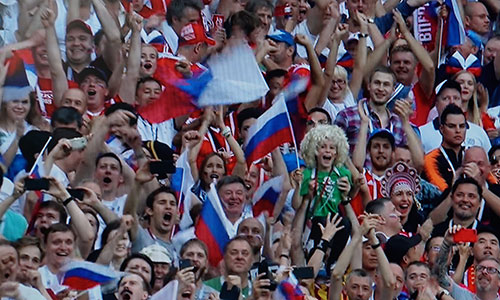 Then keeper Akinfeev saved from Koke and Russia exploded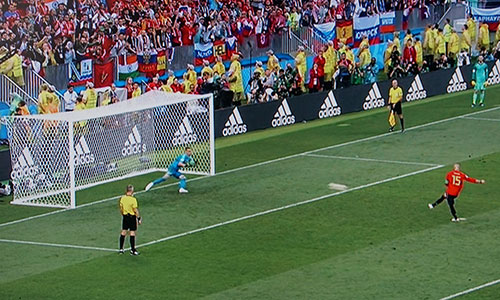 Golovin put Russia ahead but Ramos then scored to make it three all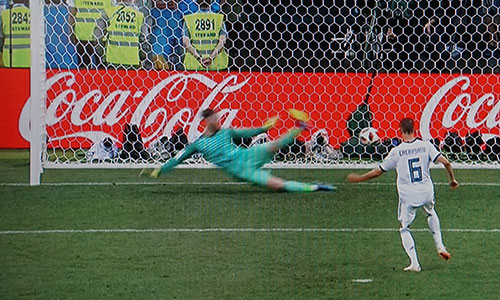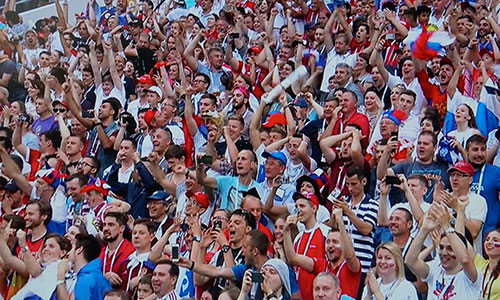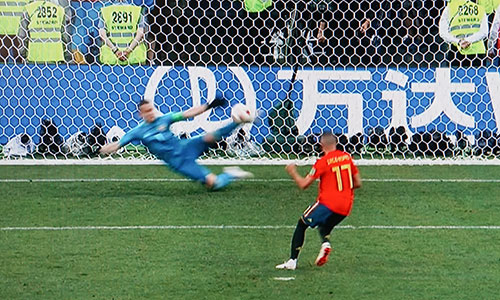 Cheryshev put Russia 4-3 ahead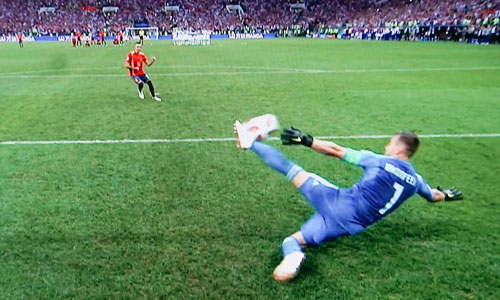 Akinfeev then saved from Aspas with his left foot and Russia had won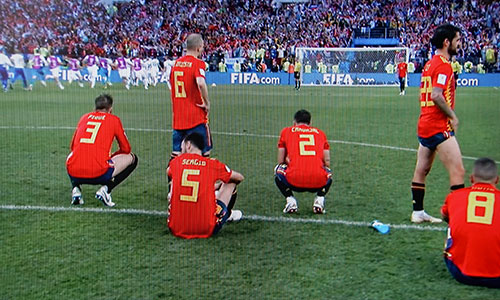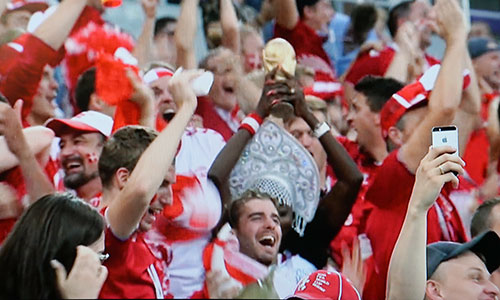 The beaten Spanish players watch the Russian players rush to their keeper and the whole of Russia celebrate!
Croatia 1 Denmark 1 aet Croatia won 3-2 on penalties July1st 2018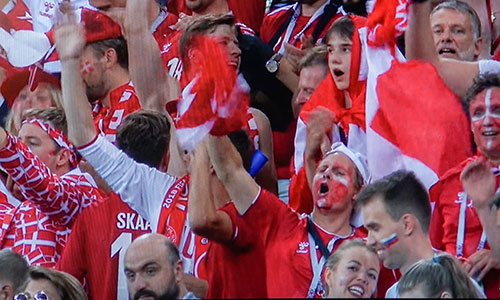 We had a goal in the first minute when Jorgensen scored from close range and Denmark were ahead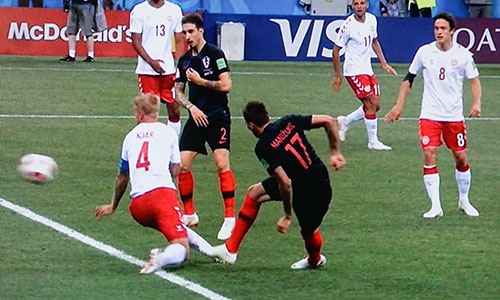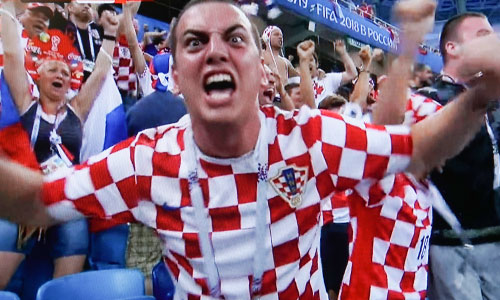 Croatia did not take too long to score and Mandzukic notched a goal three minutes later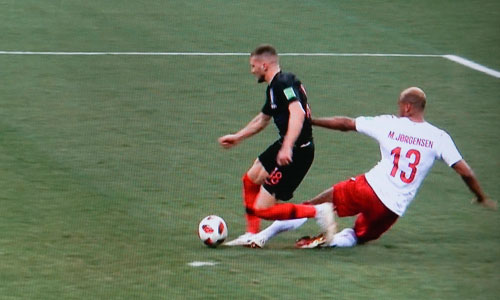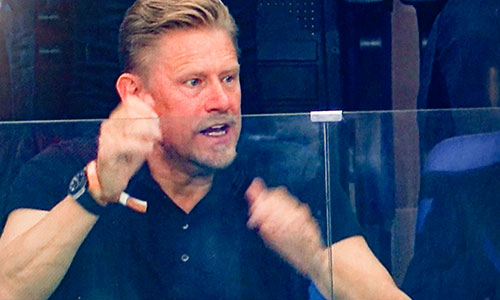 The game went into extra time and just before the end Croatia got a penalty which Modric took........
....but Kasper Schmeichel saved and his dad Peter liked that!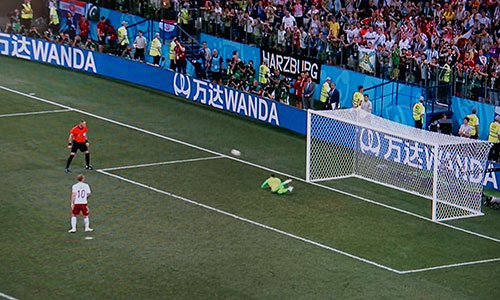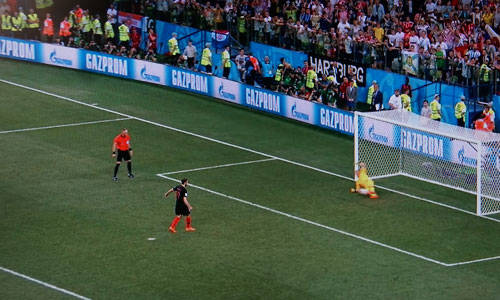 In the ensuing penalty shoot-out both the opening shots by Eriksen and Badelj were saved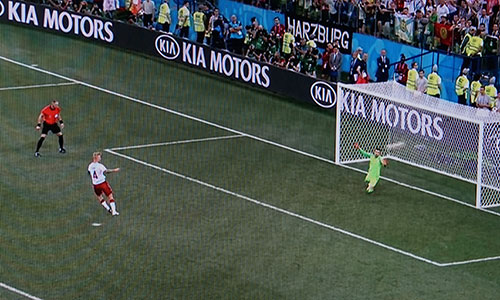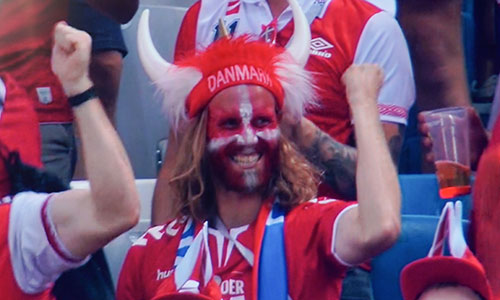 Then Kjeer put Denmark ahead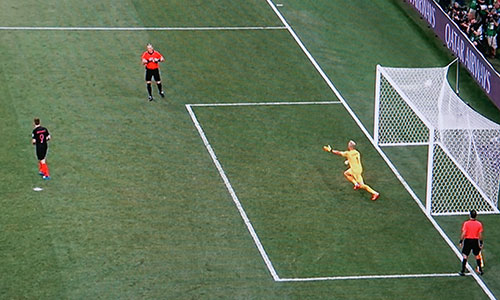 Kramaric scored for Croatia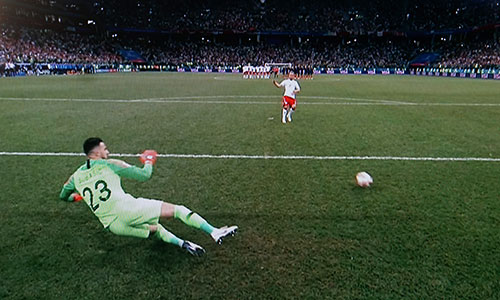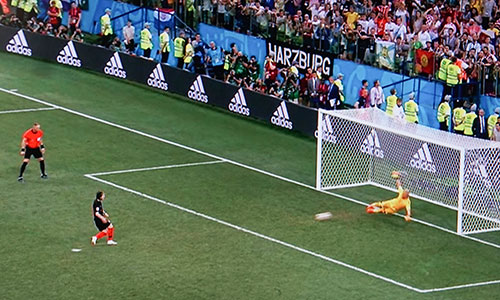 Krohn-Dehli scored for Denmark to make it 3-2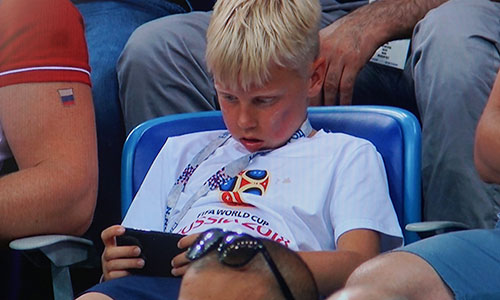 Modric shoots down the middle and beats Kasper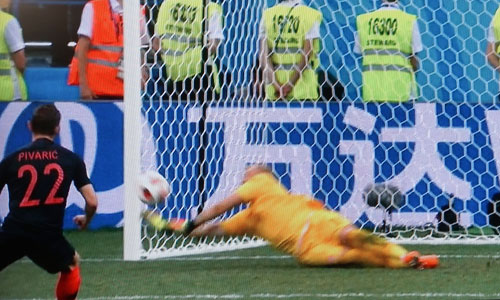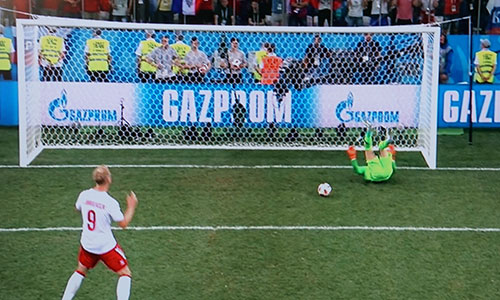 Then both keepers saved from Pivaric and Jorgensen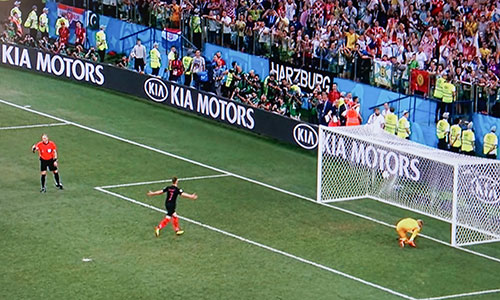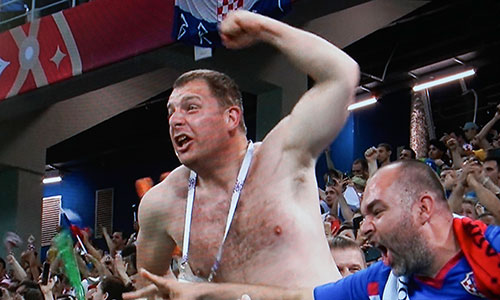 Get off the phone! You missed Schone having his shot saved!
Raditic then cracked the ball into the net and Croatia had won 3-2 on penalties
So Russia will play Croatia in the Quarter Final so Russia could be playing England in the Semi!!!
Brazil 2 Mexico 0 July 2nd 2018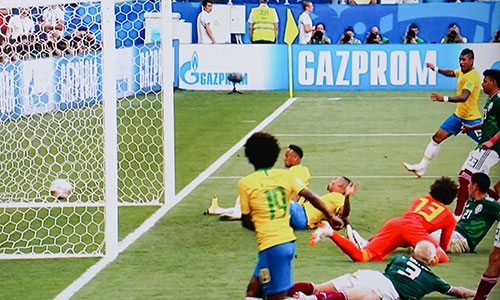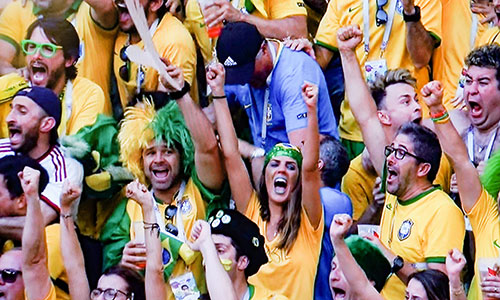 A tough game and it took Neymar until the 51st minute to score and give Brazil the lead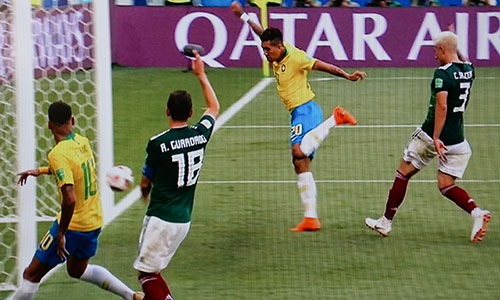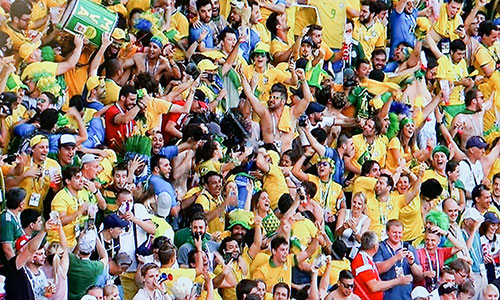 Firmino made the game safe with a second goal just before the end.
Pity we have to watch the theatrical histrionics of Neymar whenever he is touched
Belgium 3 Japan 2 July 2nd 2018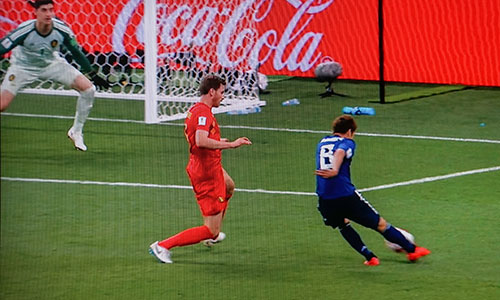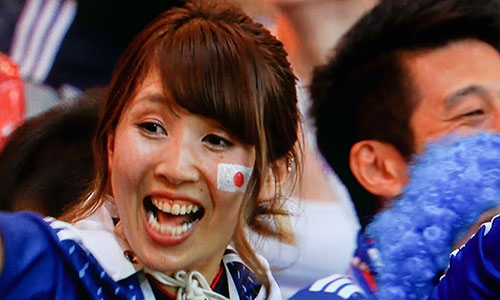 After a goalless first half we were staggered when Japan took the lead through a very good shot from Haragouchi on 48 minutes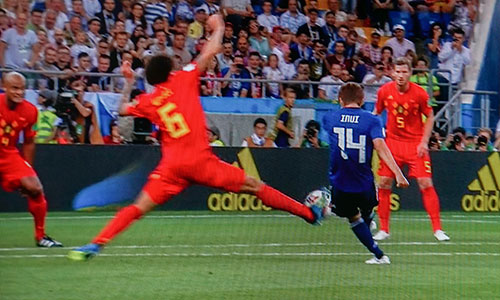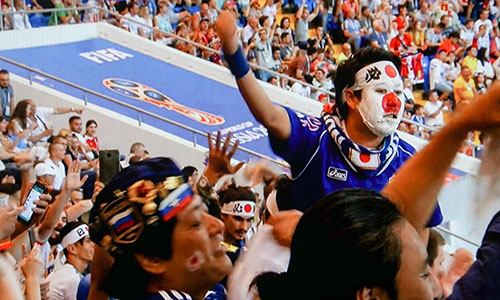 We were even more shocked when Inui scored an even better goal and Japan were leading two nil after 52 minutes!
Come on Vincent get those players going!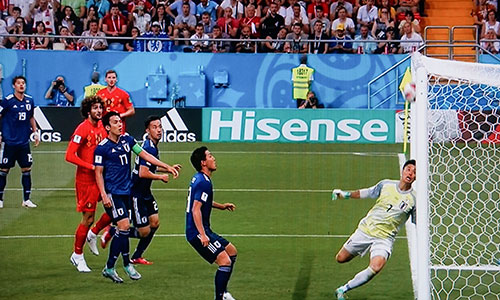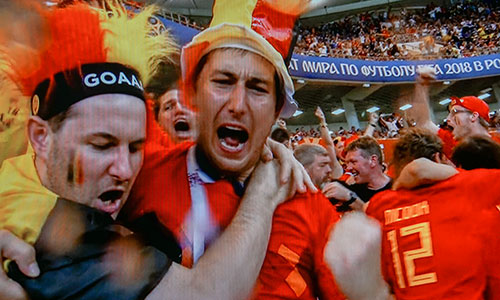 An amazing header from Vertonghen following a corner reduced the arrears after 69 minutes and it was game on!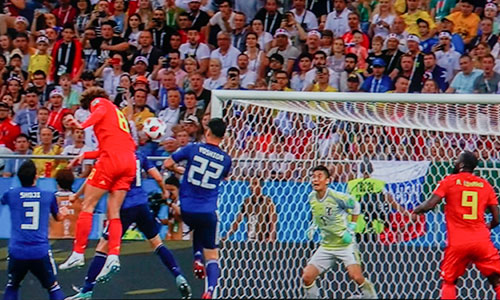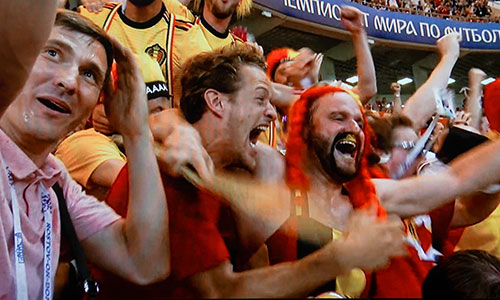 Fellaini and Chadli came on as subs and it was Fellaini with a good header that made it two all - what a cracking match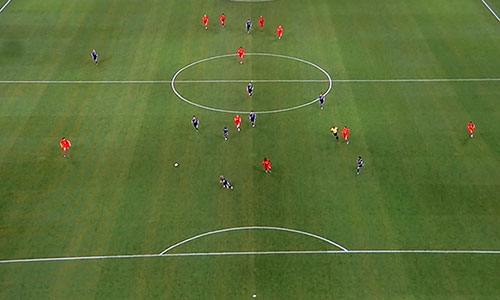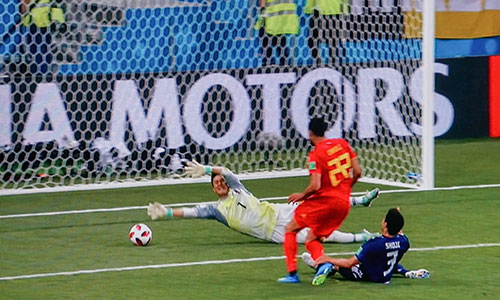 With the game heading for extra time Japan had a corner. Courtois caught the ball and quickly threw the ball out to De Bruyne who dashed over the half way line and passed to Meunier on the right wing. He crossed and Lukaku dummied to play the ball but let it run to Chadli who had an easy task to slot the ball home and Belgium had won.
A terrific goal and best team goal of the tournament so far- brilliant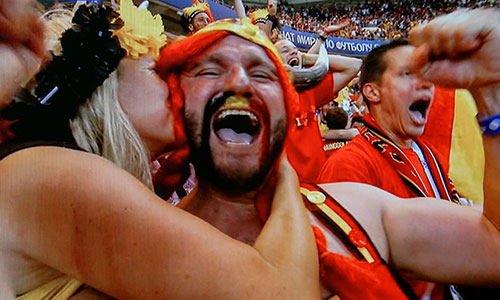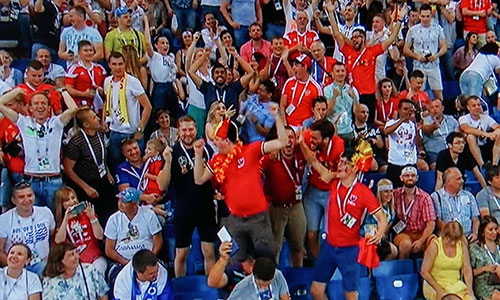 So Belgium will now play Brazil in Kazan in a few days - this must have been one of the best 45 minutes so far - amazing football
Sweden 1 Switzerland 0 July 3rd 2018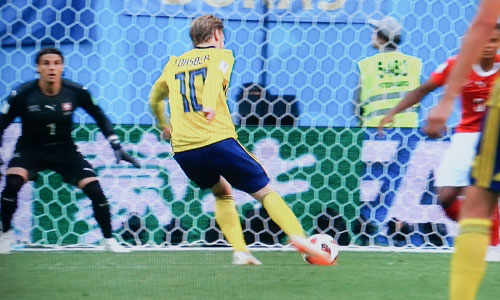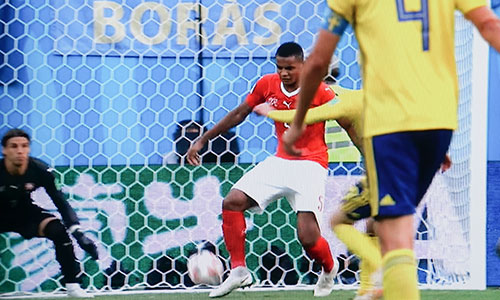 Not the best of games and won in the 63rd minute when a shot by Forsberg was diverted by Akanji into the top corner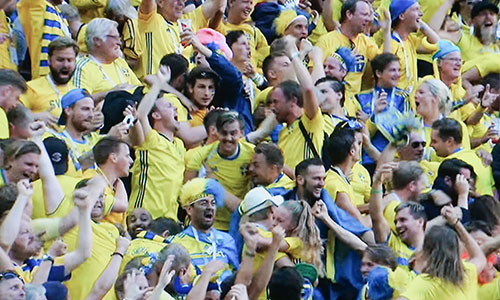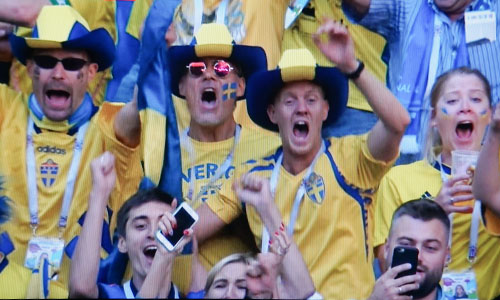 The Swedish fans had something to shout about as they go through to the quarter finals
England 1 Columbia 1 aet England won on penalties 4-3 July 3rd 2018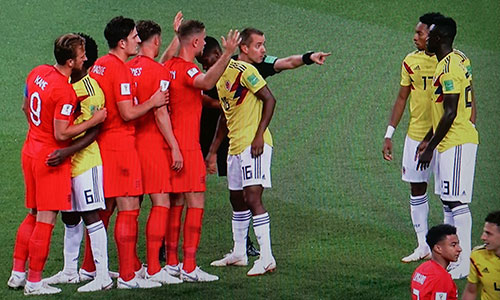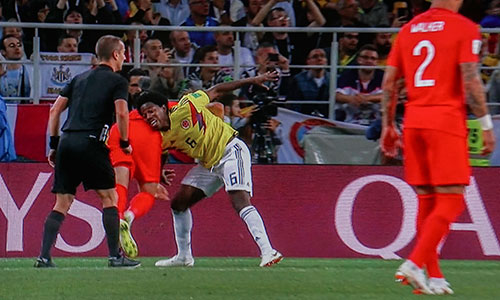 A weird England positional strategy at a corner
At another corner on 56 minutes Kane was again brought down and it was a penalty to England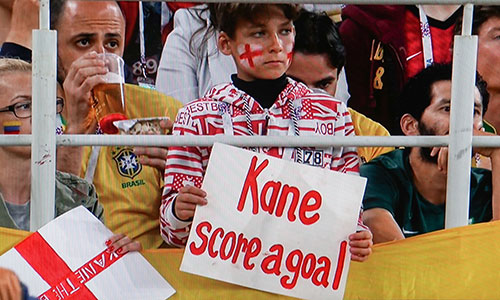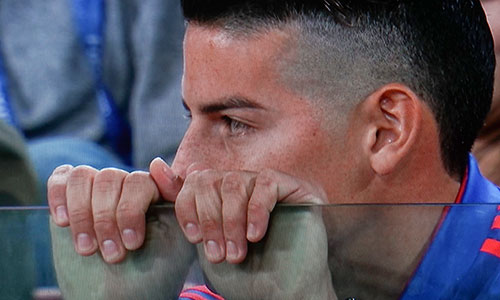 This England fan sent a message while the missing James Rodriguez in the stand looked a bit worried!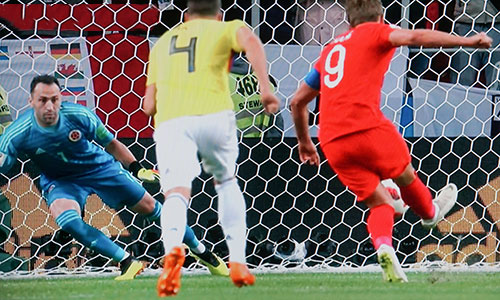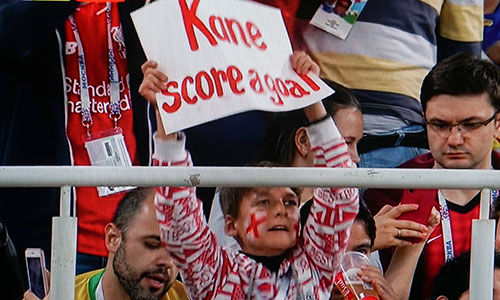 Kane did as he was asked and cracked the ball into the net - England one nil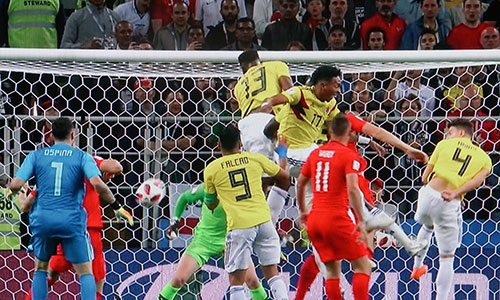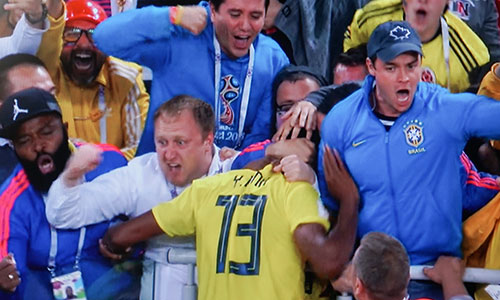 In added time we had a shock. A downward header by Mina at a corner beat the England defence and Columbia were level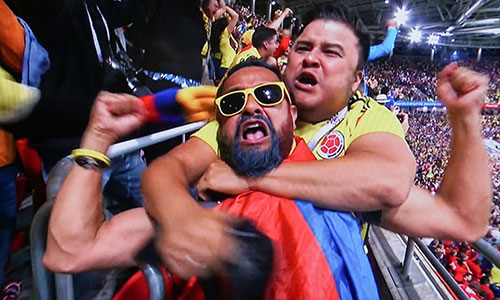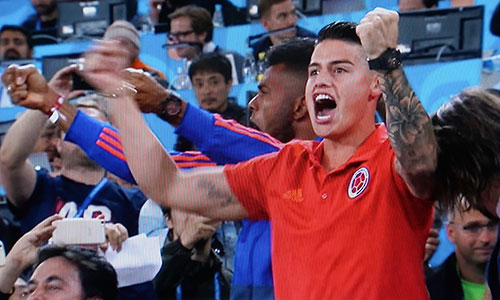 Oh dear we were in for extra time and perhaps penalties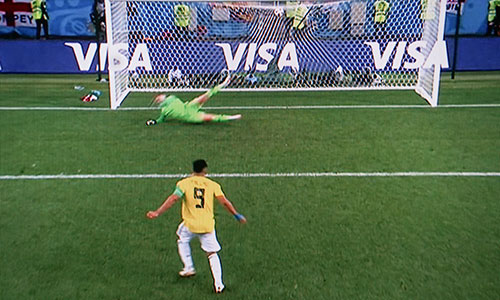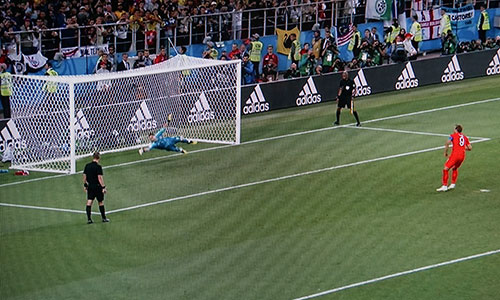 Falcao scored the first penalty and then Kane netted again to make it one all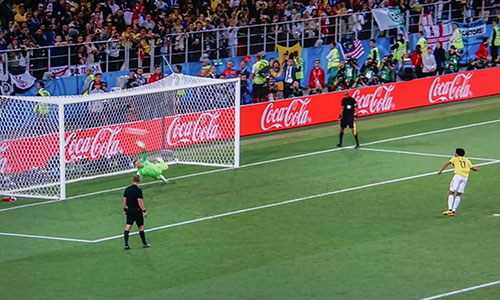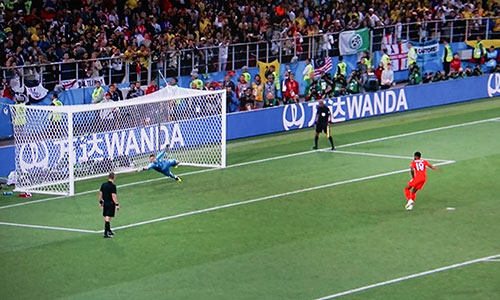 Then Cuadrado and Rashford ( on in added time) made it two all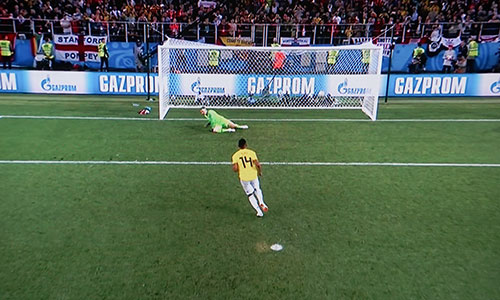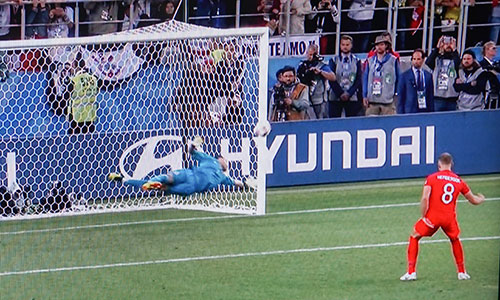 Muriel made it 3-2 but then Henderson who did not look confident had his effort saved by the keeper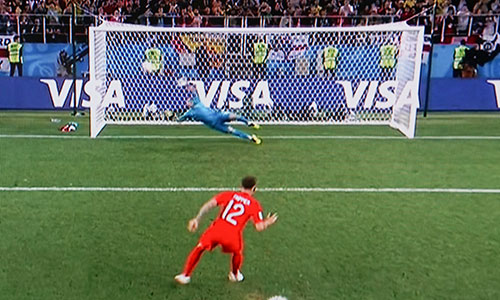 Then England had a spot of luck when the shot by Uribe hit the bar and the ever confident Trippier smashed the ball home to make it 3 all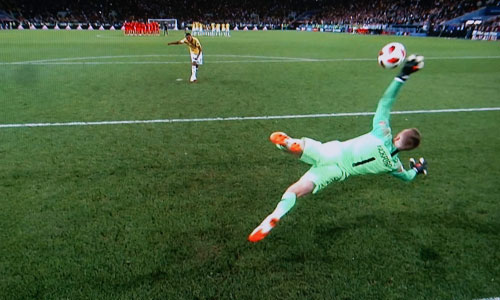 A brilliant save by Jordan Pickford from Bacca gave England a chance to win.....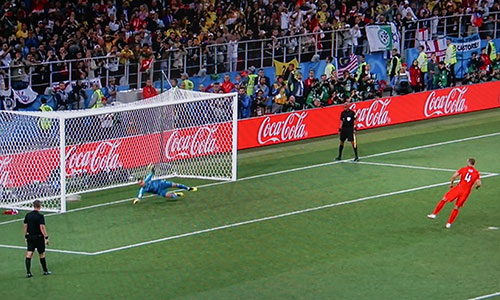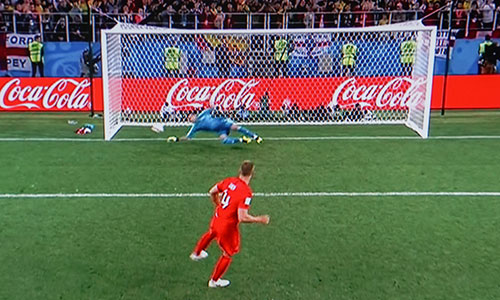 Dier was England's savior managing to get the ball into the net to take England into the quarter-final against Sweden.
Dier had come on for Ali after 81 minutes.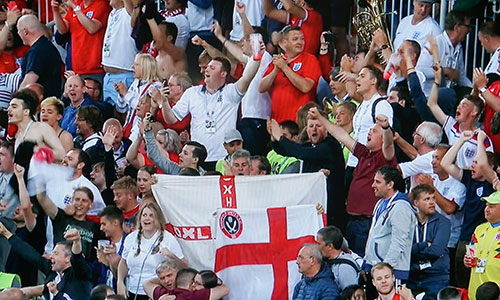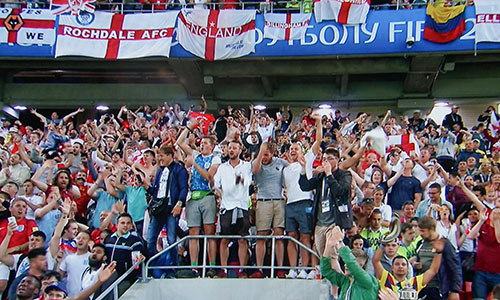 For the first time ever England had won a World Cup game on penalties - the whole country celebrated - is there better to come?!?
France 2 Uruguay 0 quarter-final July 6th 2018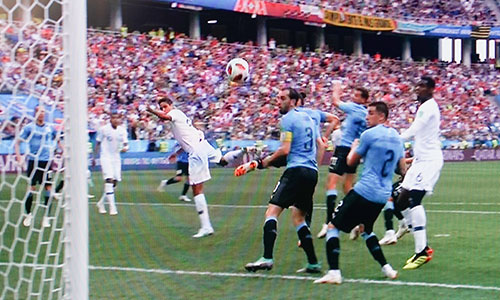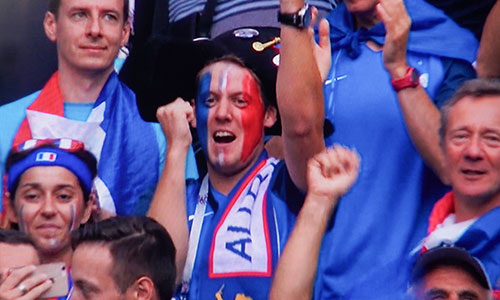 Five minutes before half time France took the lead when Varane headed in at a free kick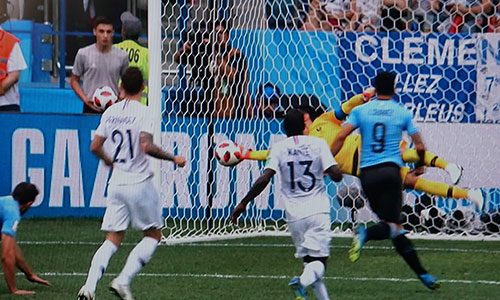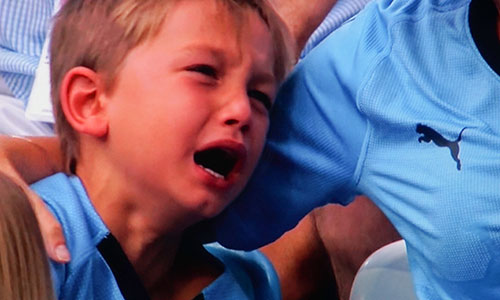 Shortly after a brilliant save by Lloris denied Uruguay a goal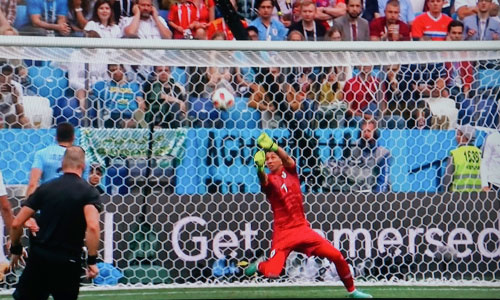 A huge error by keeper Muslera to let in a Griezmann shot on 60 minutes gave France a two goal lead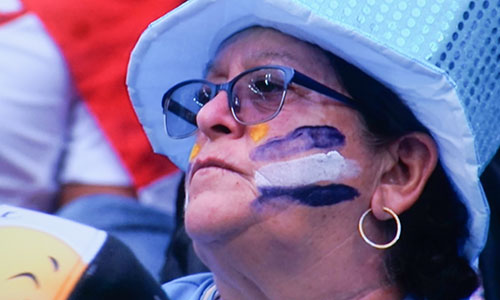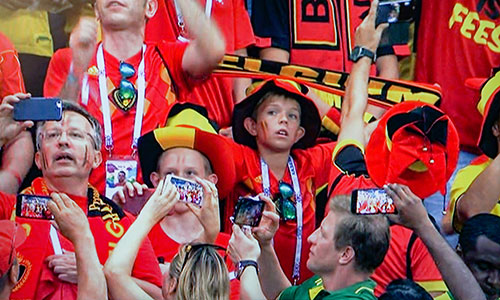 So France go through to the semi-final and Uruguay without the injured Cavani are out
Belgium 2 Brazil 1 quarter-final July6th 2018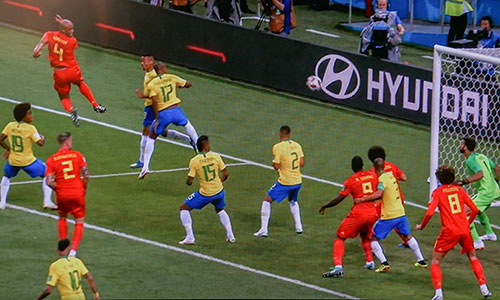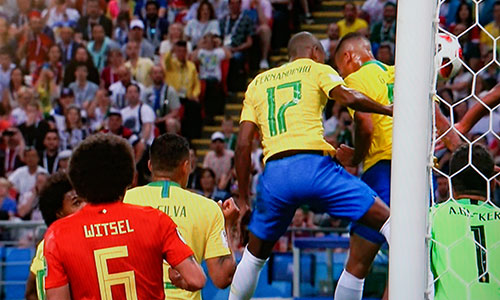 Belgium took the lead when a driven corner kick went in off the shoulder of Fernandinho after just 13 minutes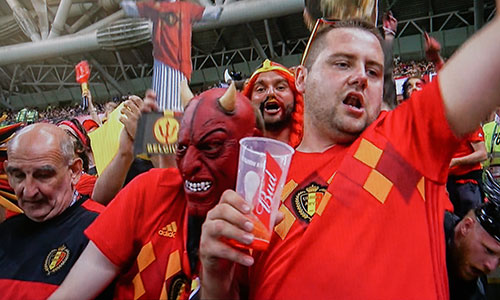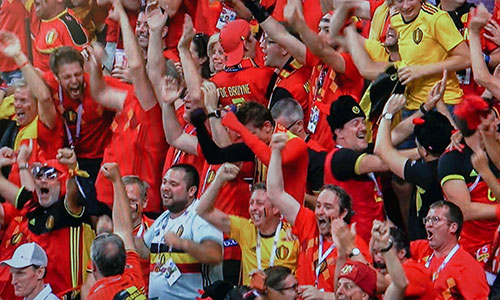 Belgium deserved their good start and there was better to come!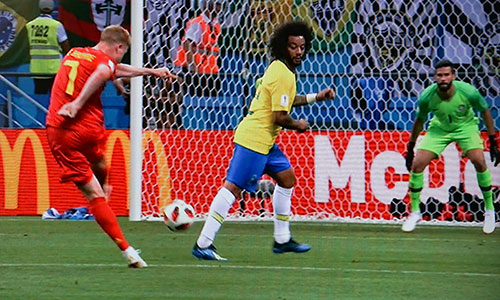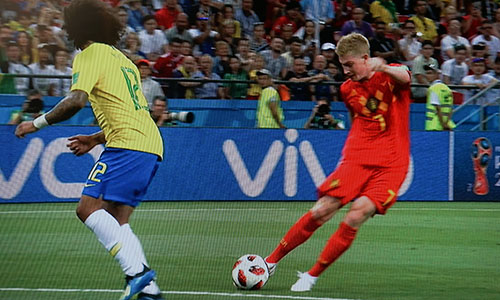 Following a corner at the other end Lukaku brought the ball into the Brazil half and passed to Kevin De Bruyne who cracked the ball into the net It was a terrific goal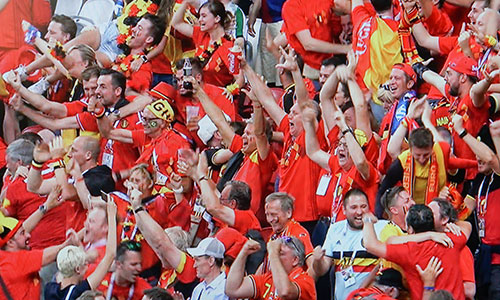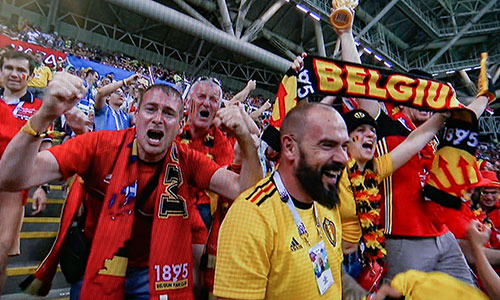 It was only just over the half hour and Belgium were two up - unbelievable!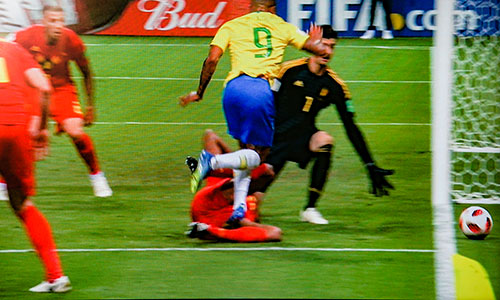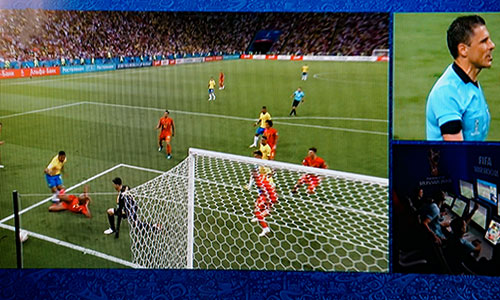 Belgium had a lucky escape when Kompany brought down Jesus in the area but VAR ruled that the ball was out when the tackle came in. A tough decision to make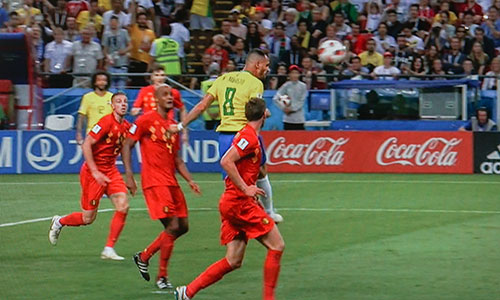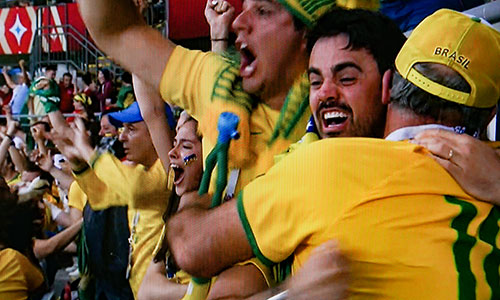 Brazil dominated the second half and scored on 75 minutes when Augusto headed in past Alisson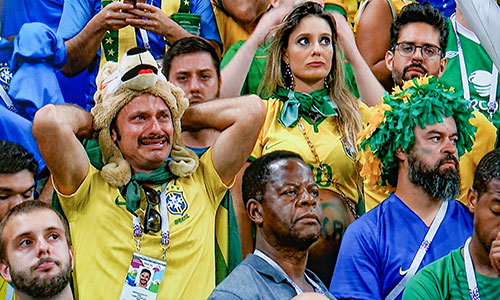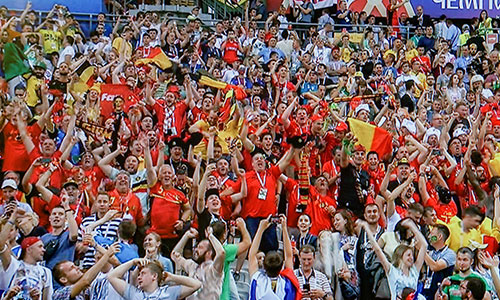 Brazil missed some good chances and go out leaving Belgium to play France in the semi-final. That will be a battle!
England 2 Sweden 0 quarter-final July 7th 2018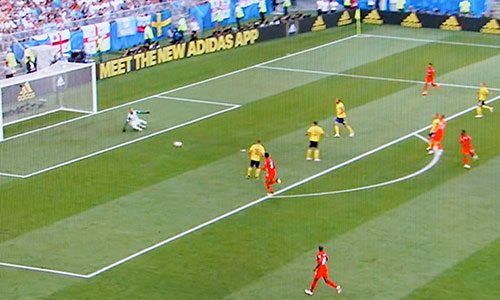 It took nearly 20 minutes before England got in their first effort on goal and it was a miss by Kane who shot wide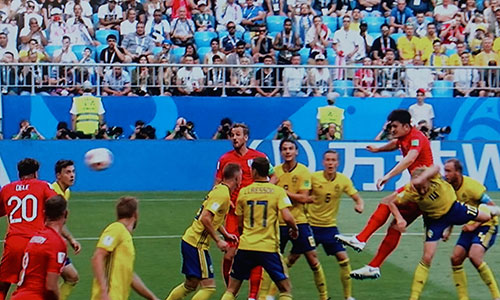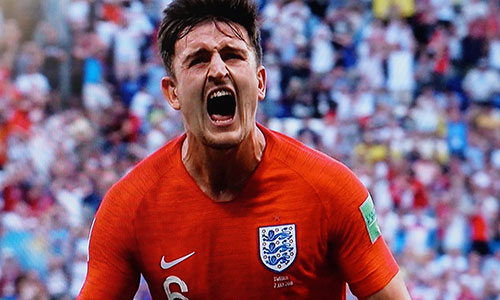 Once again it was a set piece that gave England the chance to score and this time it was Harry Maguire that headed in a Young corner It came in the 30th minute and was well deserved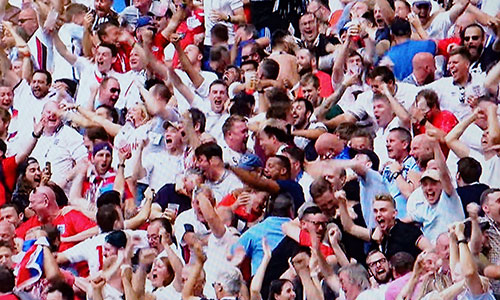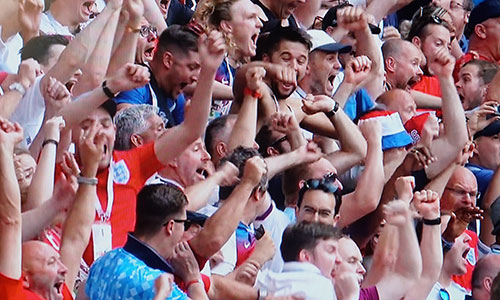 It was so important to get that first goal to open up the Swedish defence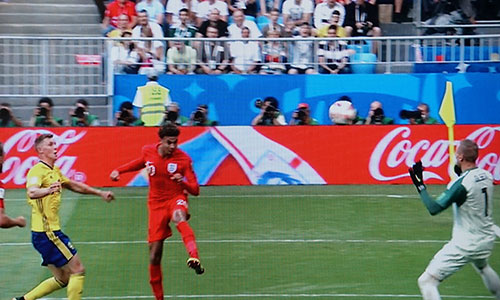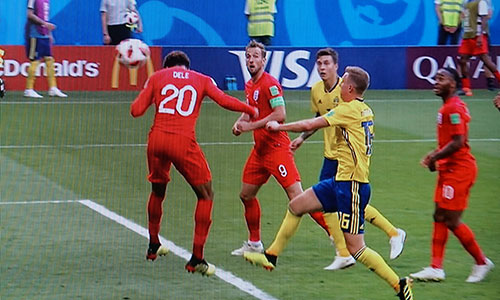 On 58 minutes a cross by Lingard found the head of Ali who made it two nil and game over - we hoped!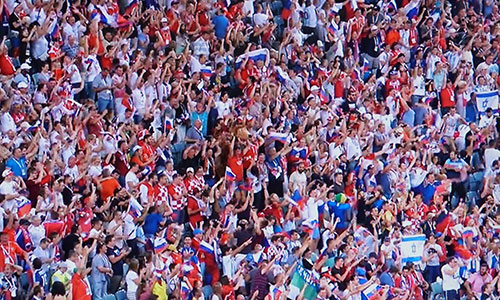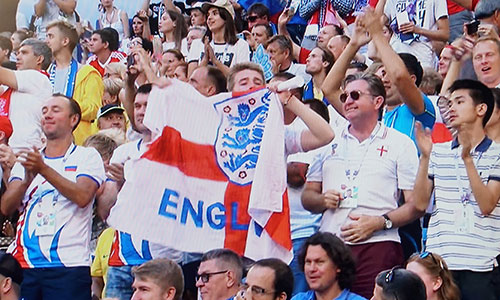 Yes England were well on their way to a vital win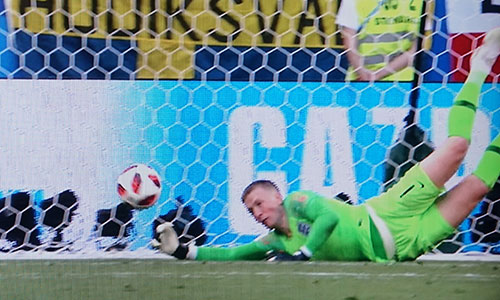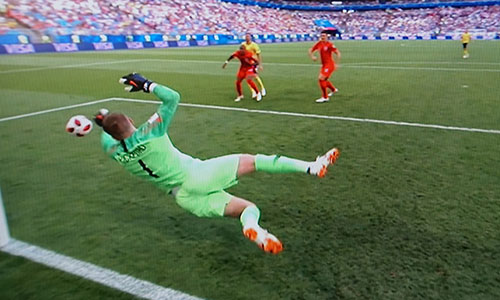 However they can thank their keeper Pickford for some terrific saves - from a Berg header on the left and a Claesson shot later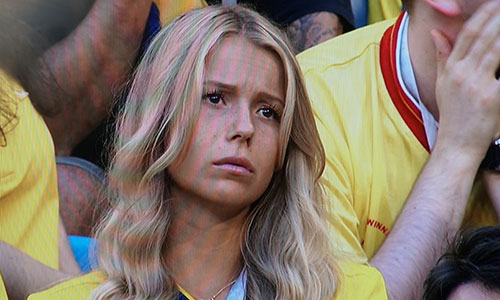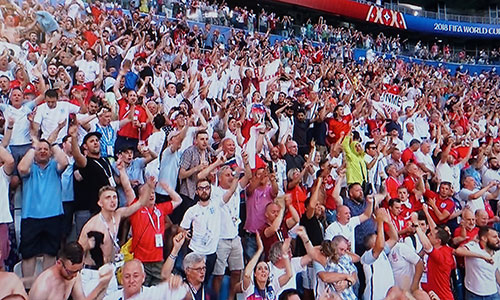 Well England have reached their first World Cup Semi-final for 28 years and could be playing France or Belgium in the final and it's possible there could be 6 City players taking part in the final!
Russia 2 Croatia 2 aet Croatia won 4-3 on penalties July 7th 2018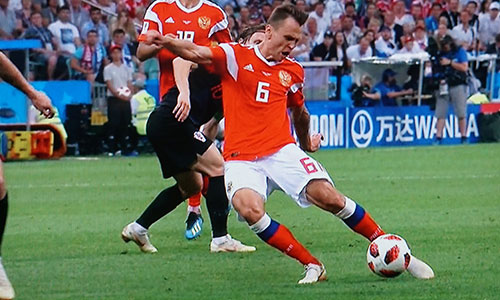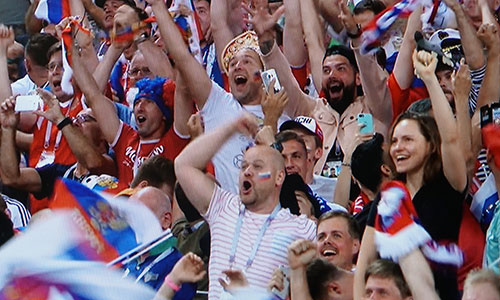 Russia took the lead with a good effort by Cheryshev on 31 minutes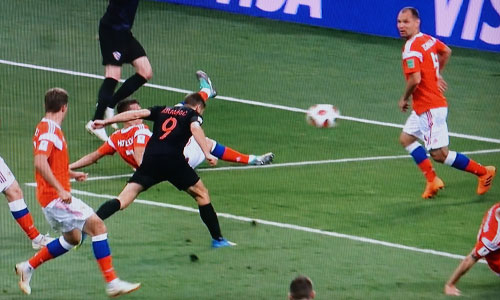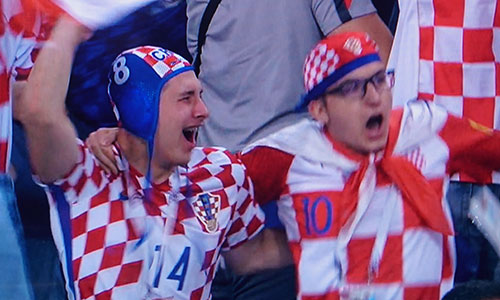 8 minutes later a header by Kramric made it one all and that was the score after 90 minutes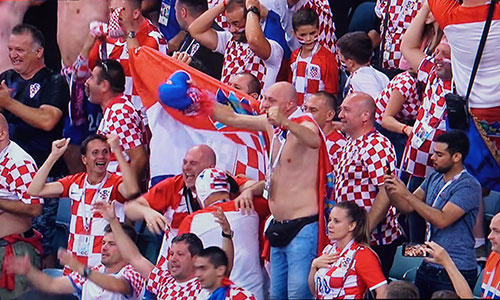 on 100 minutes a header by Vida crept into the bottom corner and Croatia were ahead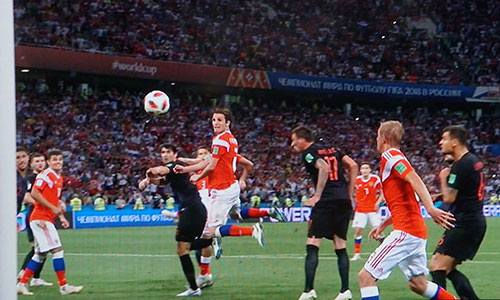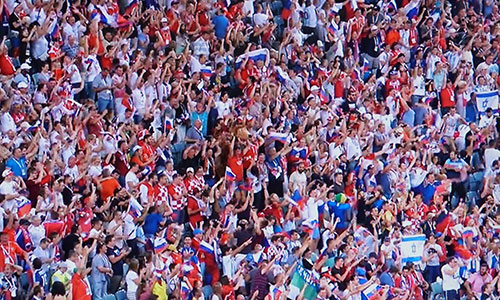 With only five minutes left a header by Fernandes levelled the scores and it was penalty time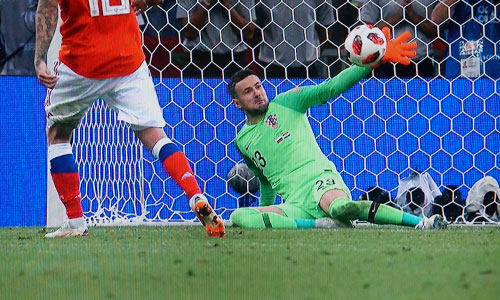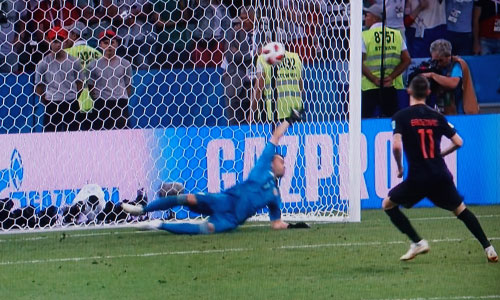 The first taken by Smolov for Russia was saved by the keeper
Brozovic put Croatia one up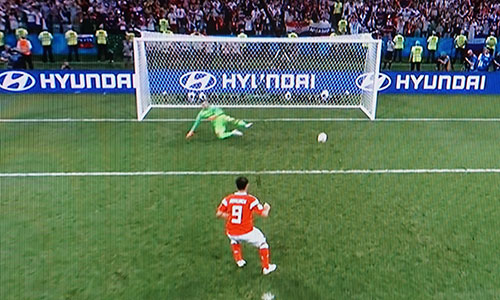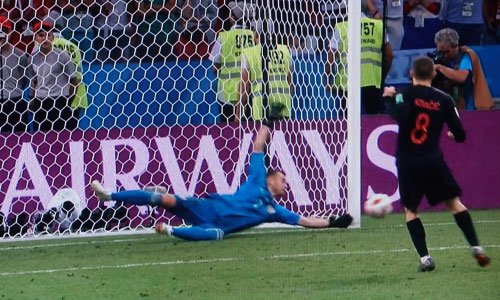 Dzagoev sent the keeper the wrong way and it was one all
Kovacic then had his shot saved by the keeper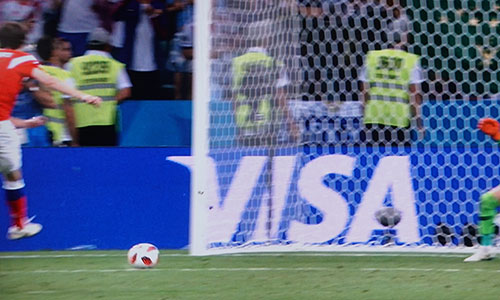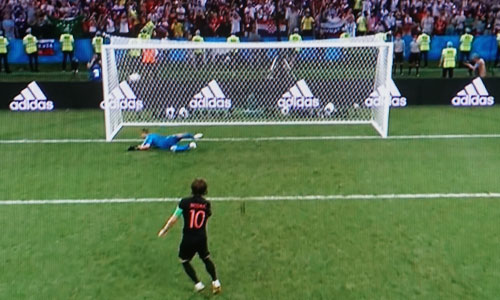 Fernandes then missed the goal completely leaving Modric to put Croatia 2-1 up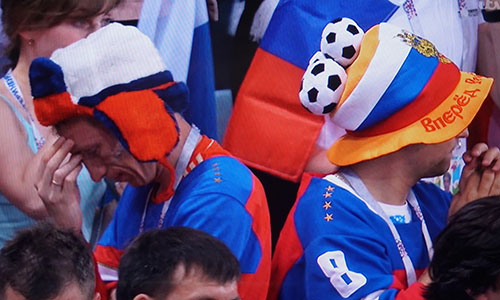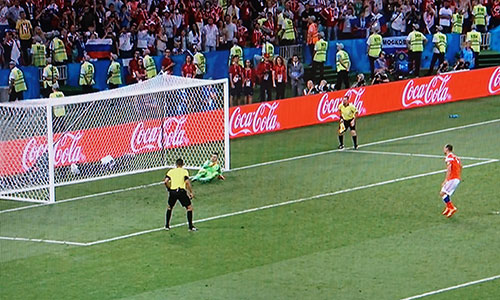 Some fans could not watch!
Ignashevich then made it two all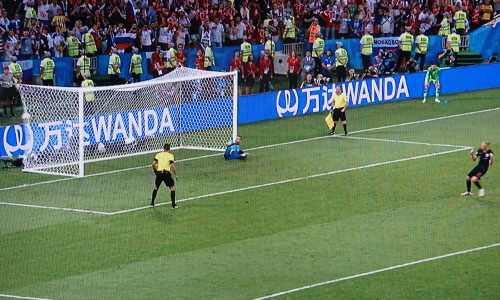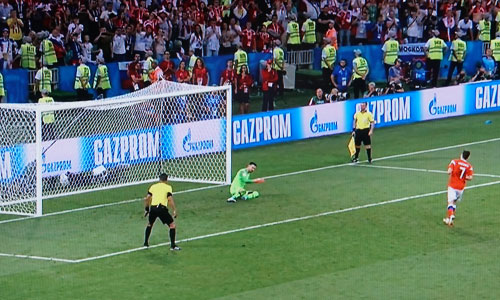 Vida made it 3-2 for Croatia but Kuzyaev made it three all with a decisive penalty to come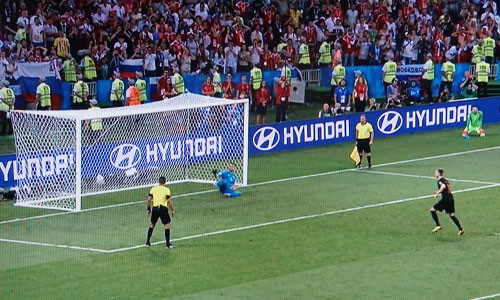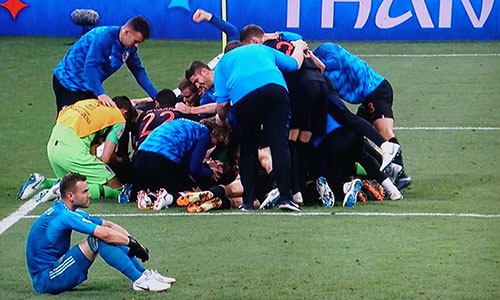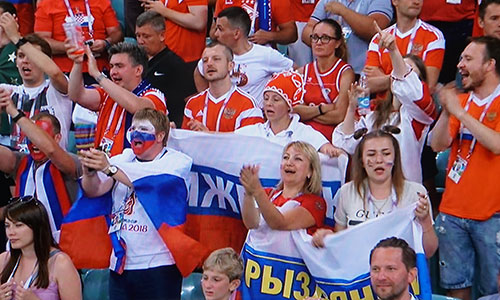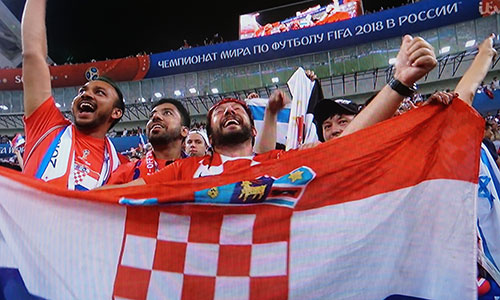 Rakitic makes no mistake from the spot and it's all over for Russia
I bet there are a few flags flying in Dubrovnik ( where I have been ) too. Well done Croatia but you play England now -