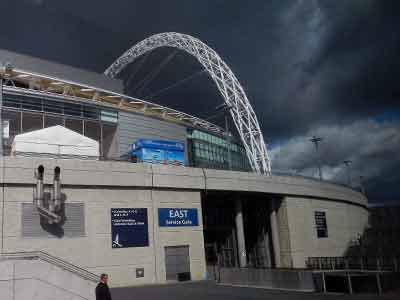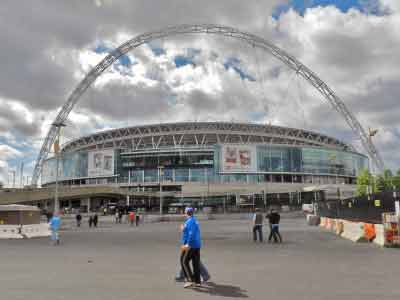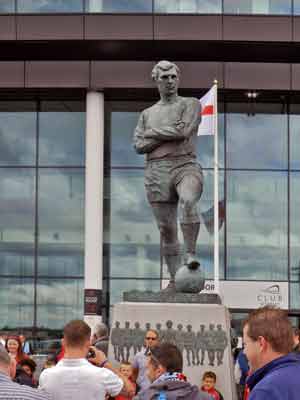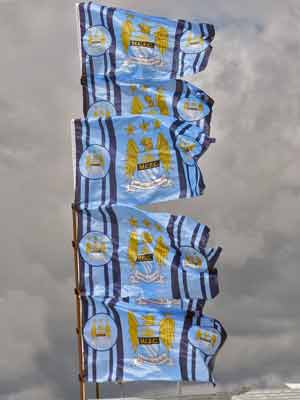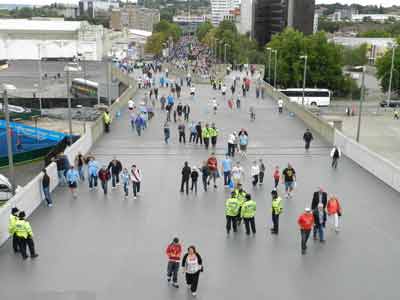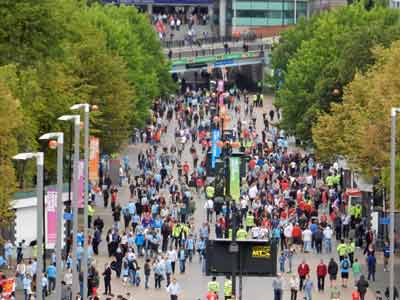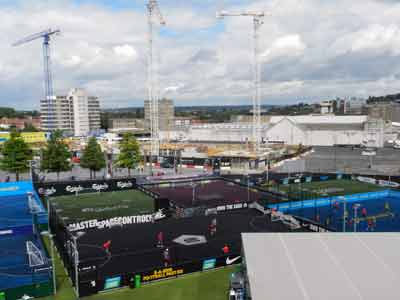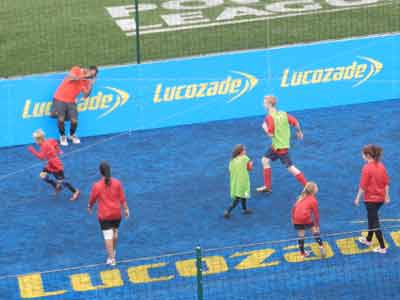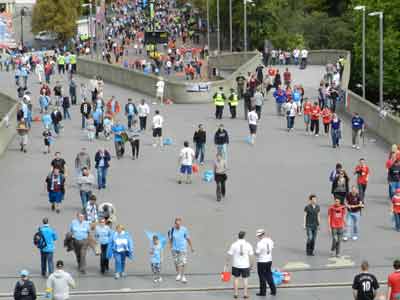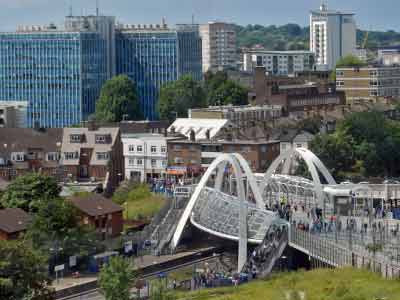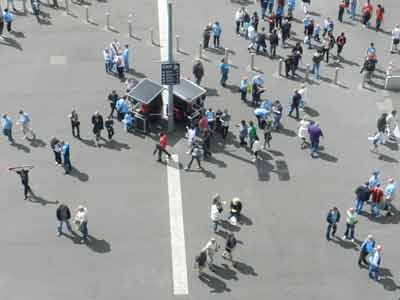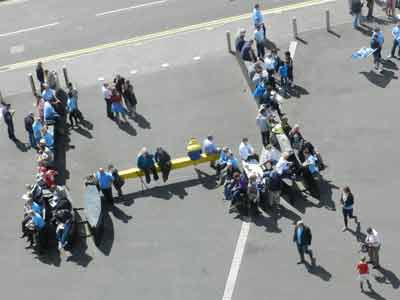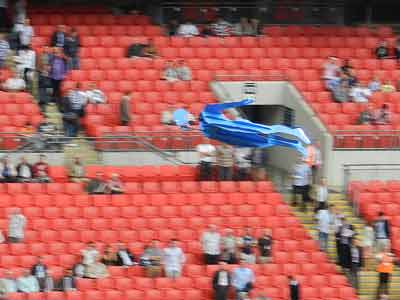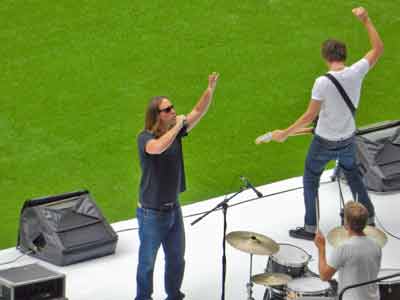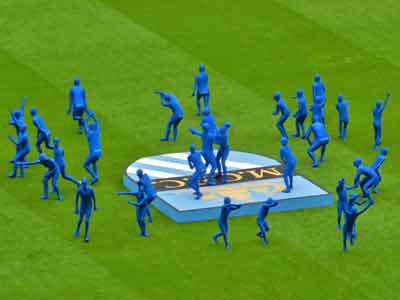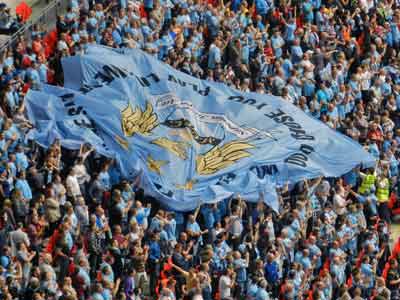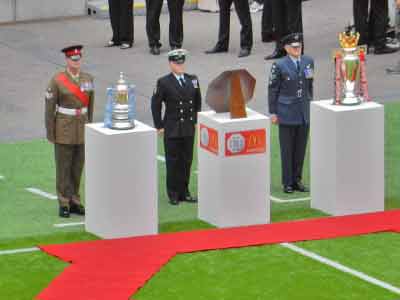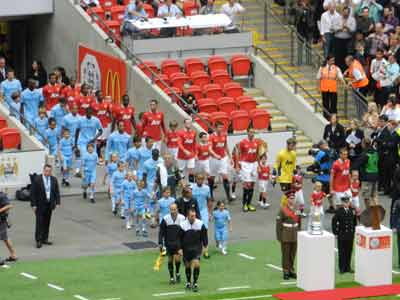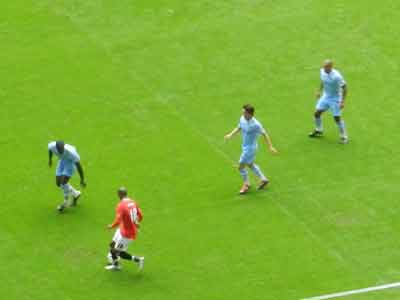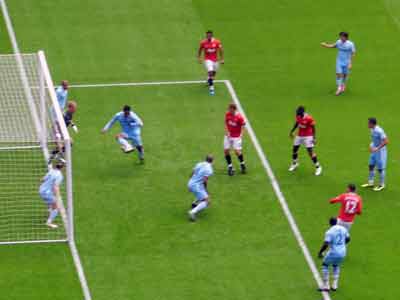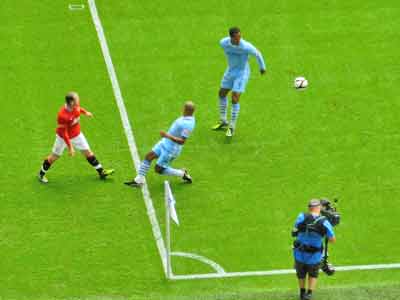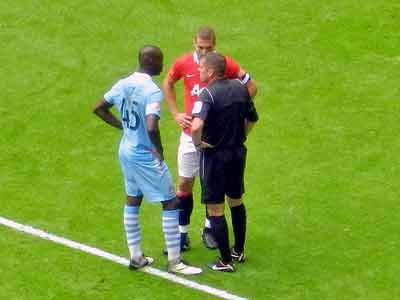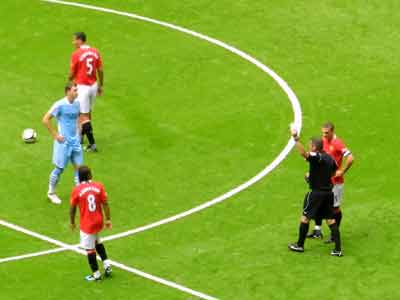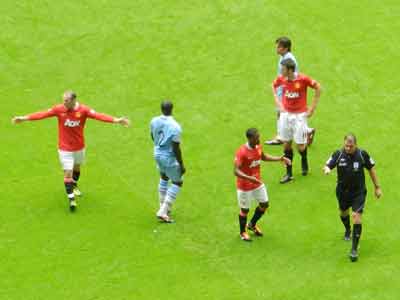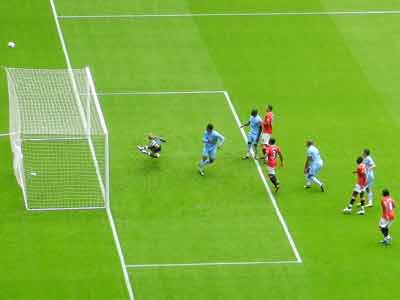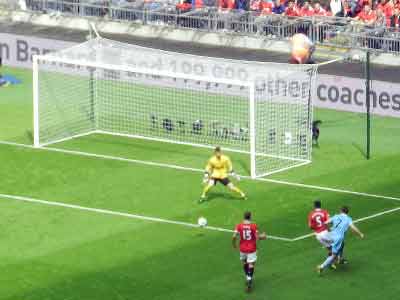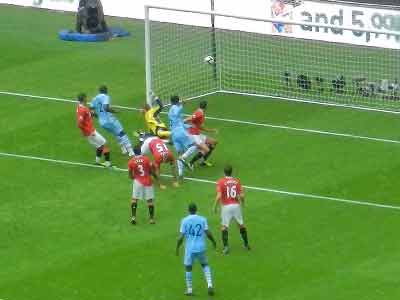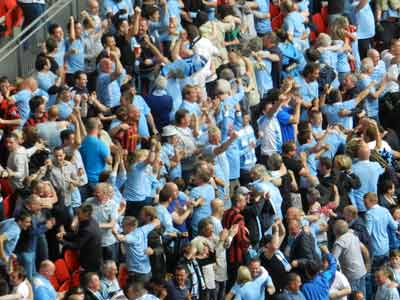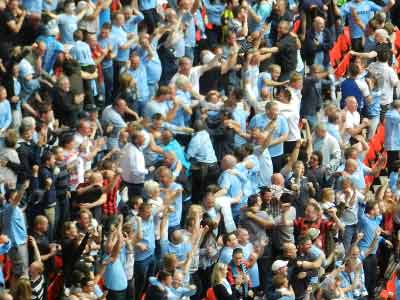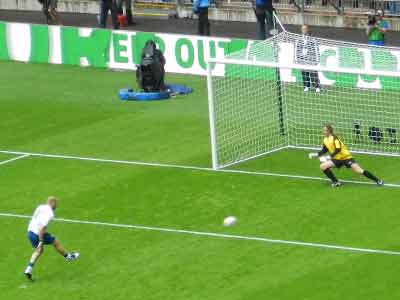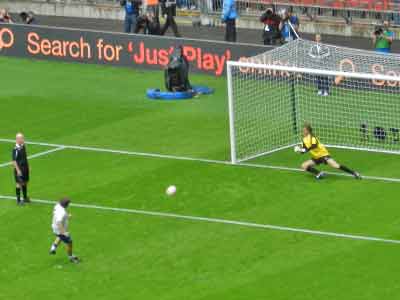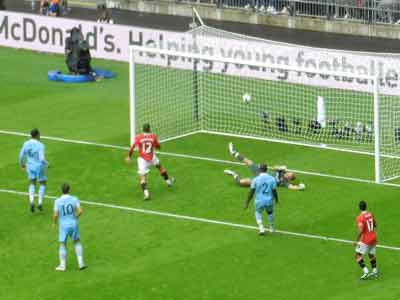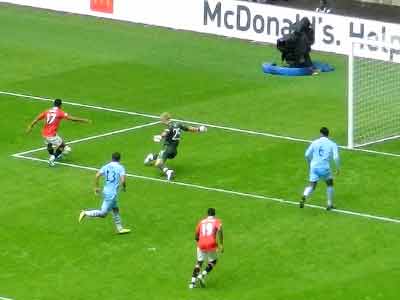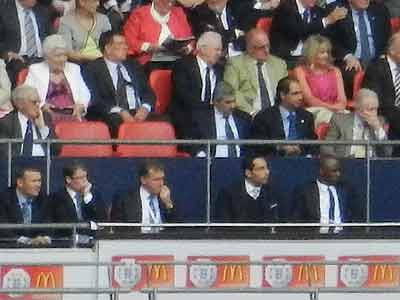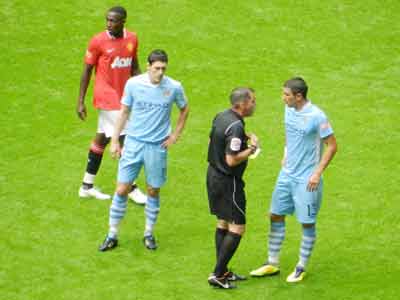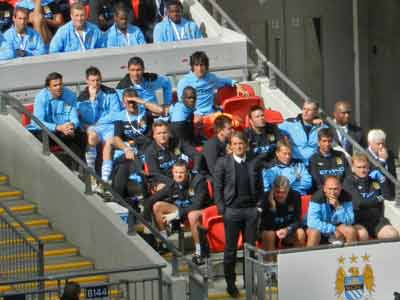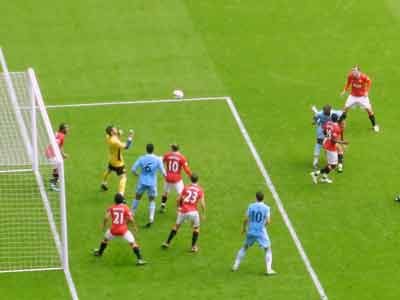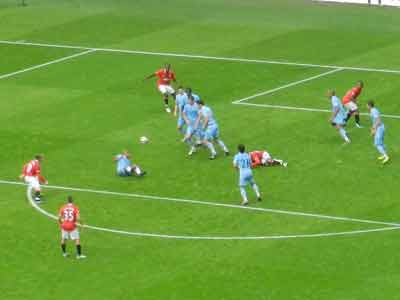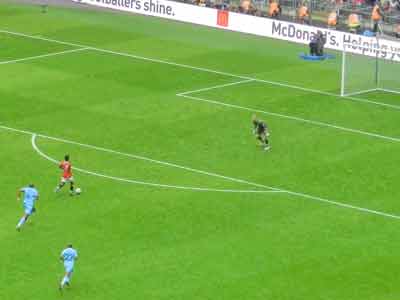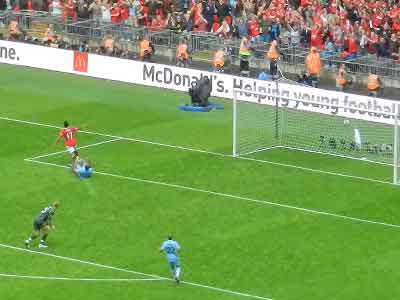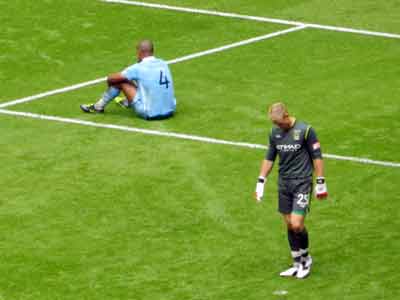 This was a very long disappointing day starting with a 5-0 am departure from home to arrive in pouring rain at Eastlands to catch the coach. Arriving far too early at Wembley really there was too much time to kill. The outside facilities at Wembley are pretty poor with little support for the elderly and inadequate toilet facilities. The sound system in the stadium is far too loud too. The game was won in the final minute of extra time so we were spared the pressure of penalties. City looked second best throughout and were very lucky to be two up at half time. Their new keeper De Gea made two errors and this covered up some of the lack luster City passing and marking. Only poor finishing stopped United scoring. In the second half this was corrected . Poor marking left Smalling the easy task of scoring from close range and good fast inter passing resulted in Nani equalizing and their winning goal was as a result of an major error by Kompany - a rare event. The manager will have some hard thinking to do before the first game against Swansea. Balotelli did little - the marking and passing by City was below par and Yaya Toure looked tired as did many of the other players. Not a performance to remember!
The refereeing alas had a red tinge to it with 5 City players being booked.
Though there were some dark thunder clouds around the cu nimbus finally made an exit and the sun came out
The Bobby Moore statue is always a focus for visitors
The breeze kept City flags flying
As time went on Wembley way got busier as spectators arrived
There is a lot of building work near to the Stadium and some of the training pitches near the stadium had early action
an unidentified flying object was spotted flying around the stadium
West country group Reef were part of the pre match entertainment
The team crest reconstruction was carried out by Morphs
The City flag makes its way above the crowd
The trophies were brought on by members of the armed forces
City did not play any of their new signings - just the usual suspects!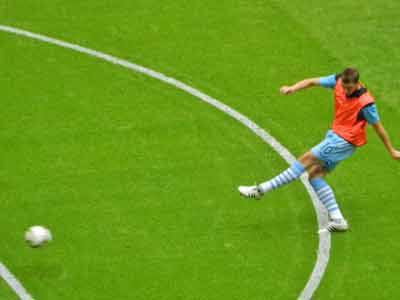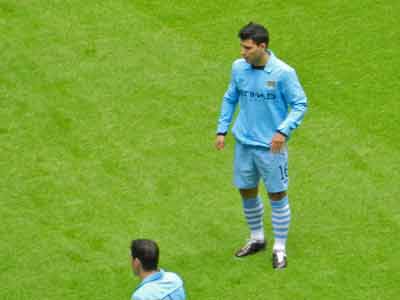 Dzeko tries out his shooting before the game
Our first look at Kon Aguero - a sub today
United were soon on the attack and Ashley Young made runs down the wing
Lescott and de Jong manage to clear from Rooney
The referee has an early chat to Balotelli
Milner tries to get to this loose ball following a corner
Dzeko gets a yellow card for apparently a late tackle
Anderson too got a yellow.
Richards got a yellow card with a little help from Rooney
Hart dives and saves from Welbeck
Milner shoots wide of the post - too tame a finish
A shot by Nani just goes past the post - note all 11 City players near or in the penalty area
On 36 minutes a free kick taken by Silva was headed home by Lescott . It looked as though the United new keeper failed to get to the ball
The City supporters welcomed this surprise lead as United had the better of the play
There was even better to come as just near half time a long range shot by Dzeko somehow beat De Gea and City went into the interval two up. Quite amazing .
During the half time break we had a shootout between Freddy Flintoff (above left)
and comedian John Bishop (above right) Flintoff scored- Bishop missed!
On 52 minutes disaster struck A free kick by Young found an unmarked Smalling who scored from close range.
5 minutes later and the scores were level. A fast passing movement in the area ended with Nani beating Hart. Oh dear!
What the City leaders thought at this stage would have been very interesting. Get the cheque book out!
Yet another City yellow card - Kolarov this time !
The bench were looking very serious but no sign of Aguero coming on
City manage to clear a United free kick
De Gea saves from Richards but the City fullback was penalized for a foul!
After 3 minutes of the 4 minutes added time a lack of understanding between Kompany and Clichy let in Nani
Nani was able to round Hart and score the winning goal. The last picture says it all. Let us hope the lessons of this game will be learnt and the City supporters who had made yet another journey to Wembley deserved more effort and a better display by these very well paid individuals.
Team
Hart 6: Richards 6, Kompany 6, Lescott 6.5, Kolarov 5 (Clichy 6): De Jong 6, Milner 5.5 (Johnson 6), Silva 6.5, Yaya Toure 5, Balotelli 4.5 (Barry 6), Dzeko 6