Lancashire v Yorkshire - Friends Provident Trophy - May 20th 2007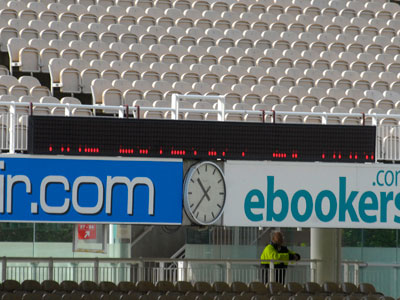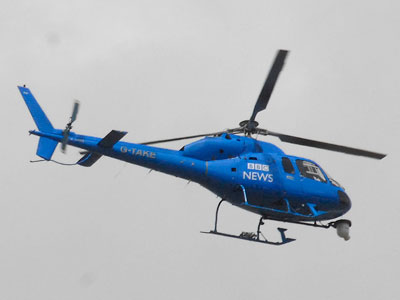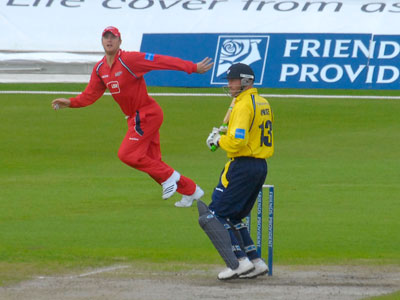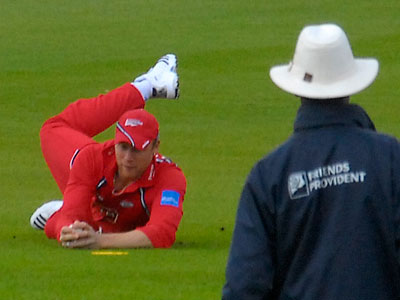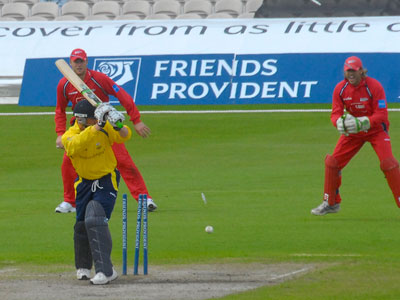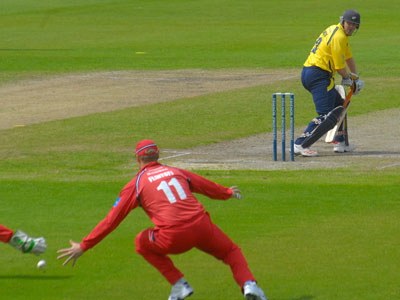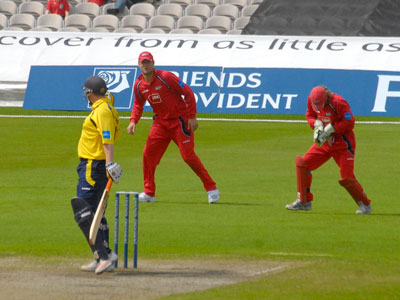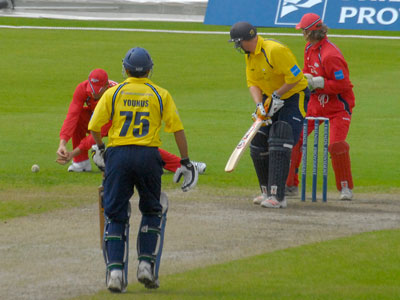 Croft appeals for leg before against McGrath. He's obviously been taking lessons from Corky in appealing!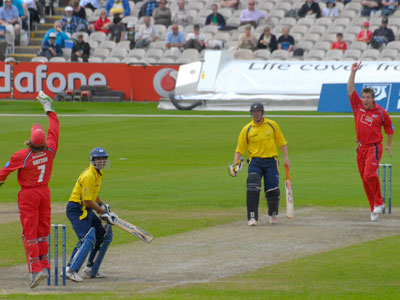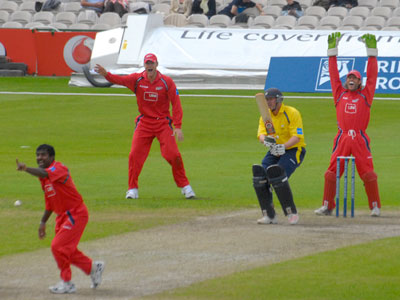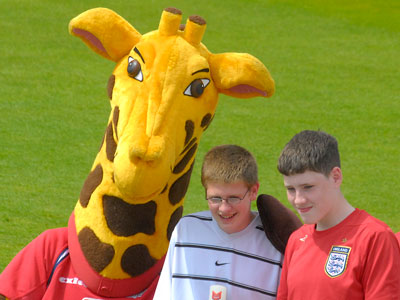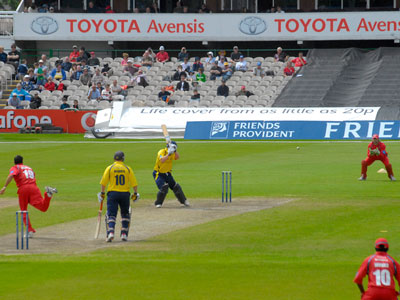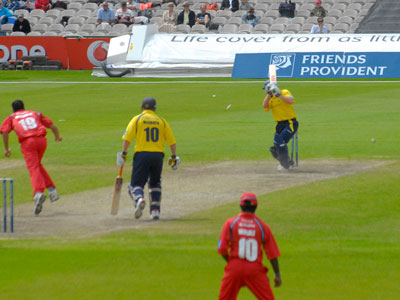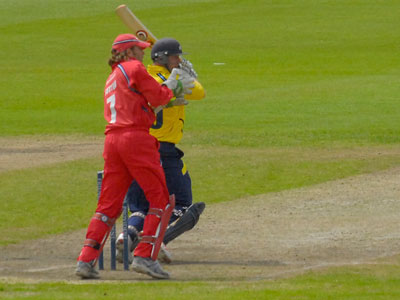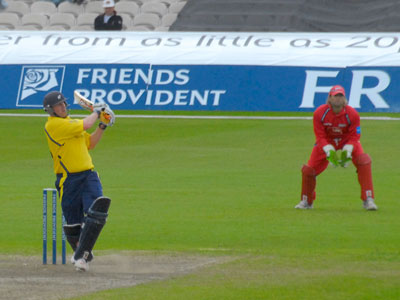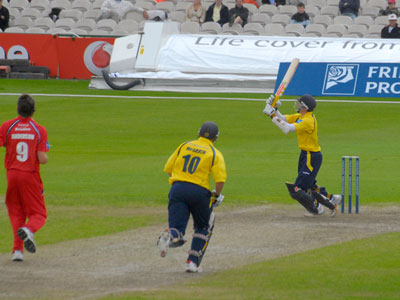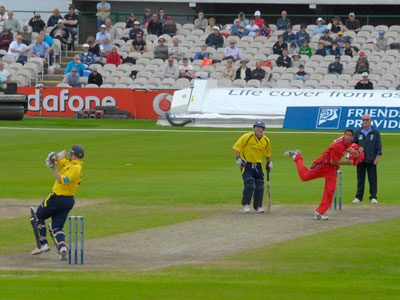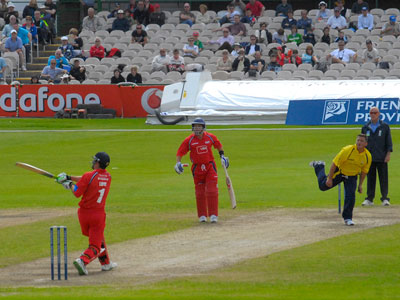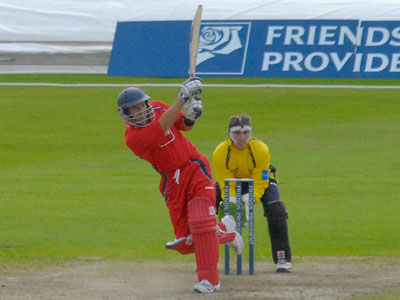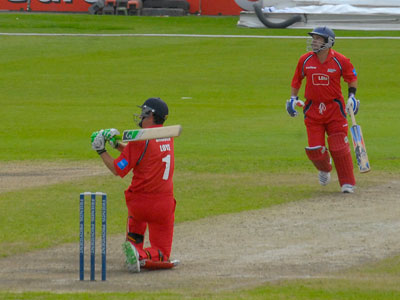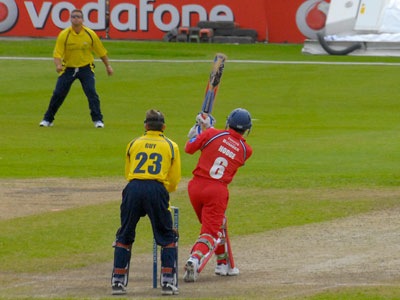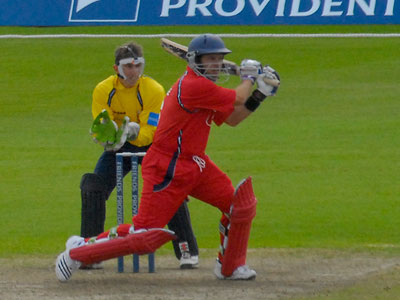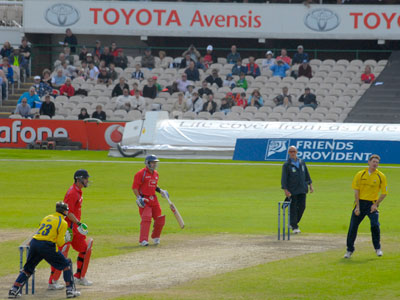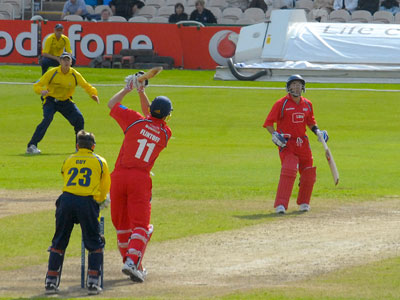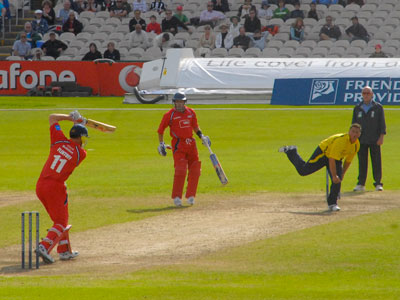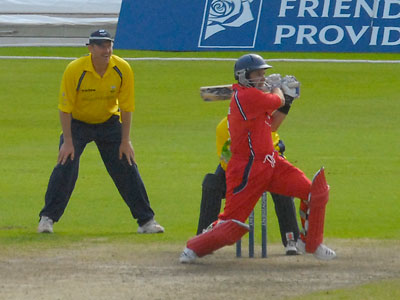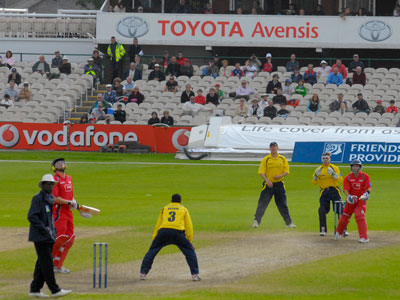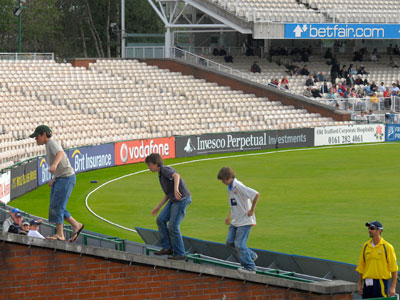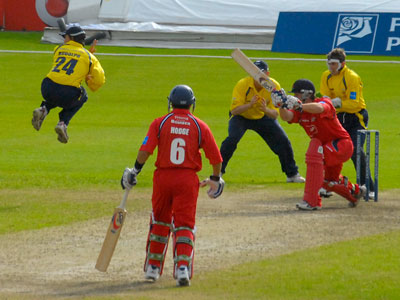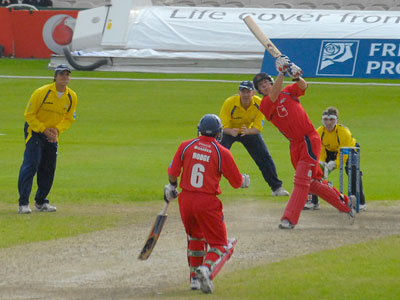 The new 'wonderful' electronic information board is impossible to read because dark red against black is far from ideal and even when one tries to copy the teams the text scans too quickly.
Even the tannoy which is some parts of the ground is unintelligible was drowned out by a BBC News helicopter covering a road race. A good start to the day!
It was a rare chance to see Andrew Flintoff albeit as a batsman only and he was soon in action diving to field a mishit by Craig White
White didn't trouble the scorers for long as he was bowled by Cork for 13. Yorkshire 1for 21.
McGrath edges Anderson for 4 past Sutton and Flintoff
Rudolph was next to go, caught behind by Sutton off Mahmood for 20. Yorkshire 2 for 70
McGrath edges Muralitharan past slip
Younis Khan is caught behind by Sutton off Croft for 20. Yorkshire 3 for 115
One of many Muralitharan appeals for leg before.
Lancy poses for a shot for the family album.
Gale is about to be caught behind by Sutton off Mahmood for 25. Yorkshire 4 for 179
Pyrah is bowled by Mahmood for 5. Yorkshire 5 for 191 of which McGrath has hit 99.
McGrath cuts Muralitharan to reach his 100
McGrath pulls Anderson for 6
Guy hits out at Anderson but is caught in the covers by Loye for 13. Yorkshire 8 for 233
Yorkshire end their innings at 250 for 8 off 50 overs with McGrath unbeaten on 135 - 2 sixes and 13 fours
a good knock
Lancs did not have the best of starts with Chilton losing his leg stump to Gough for 0.
Mal Loye pulls Darren Gough for 6
Hodge hits a six off Rashid. The Yorkshire wicket keeper is wearing an odd looking helmet!
Loye pulls a ball from Bresnan for 6
Loye is finally out caught and bowled by Pyrah for 55. Lancs 2 for 131
Flintoff wallops Pyrah for 6 with a straight drive
Hodge pulls Rashid to near his 100
Hodge hits a towering straight six off Rashid and three intrepid volunteer ball boys watched by Gillespie go in search of the lost ball
Rudolph has to jump out of the way of a drive from Flintoff who was out for 26 shortly after.
Lancashire finished with a flourish - this six by Croft helping them to win by 7 wickets with almost five overs to spare. Hodge was unbeaten with 141 - 3 sixes and 17 fours.